Whether you are a student, a working professional, or a writer, choosing between ProWritingAid vs Grammarly can be tricky. 
ProWritingAid and Grammarly are two of the most popular writing tools, with thousands of users globally. Since both have plenty of similar features, how do you decide which one is right for your needs?
To save your time, I have done the research for you! In this article, I have compared two of the most popular writing tools based on different parameters, like user interface, grammar checker, reports, pricing, and more. 
The side-by-side comparison will also help you in deciding which one fits your needs better! 
ProWritingAid vs Grammarly: Quick Comparision
Before we dwell into our detailed comparison, here is a summary of what both tools offer.
| Parameters | ProWritingAid | Grammarly |
| --- | --- | --- |
| Price | $30/month | $12/month |
| Free version | Restricted features | Excellent features for beginners |
| User Interface | Integrates everywhere you type! | Easy to navigate |
| Grammar checker | 4/5 | 4/5 |
| Plagiarism | Charges separately for plagiarism detector | Comes free in Grammarly Premium |
| Rephrasing tool | Has a lot of suggestions | Limited suggestions |
| Integrations | Doesn't have a mobile app | Doesn't have mobile app |
| Customization settings | 3/5 | 5/5 |
| Best For | Fictional writers | Non-fictional writers |
| Overall Ratings | 4/5 | 4.5/5 |
ProWritingAid vs Grammarly: Key Differences
While both tools may look similar, they certainly have differences. Here are the key differences between ProWritingAid and Grammarly.
People use Grammarly to check short content, whereas ProWritingAid is capable of handling long-form content.
Grammarly focuses on the content's punctuation, grammar, and clarity, whereas ProWritingAid focuses on the content's structure, syntax, and style.
Grammarly offers suggestions to resolve simple errors, whereas ProWritingAid thoroughly explains all the recommendations.
ProWritingAid and Grammarly both provide free versions with basic features. However, ProWritingAid has a limit of 500 words per day for checking, whereas Grammarly offers unlimited checks.
Grammarly offers free plagiarism checkers in its premium plan. ProWriting, on the other hand, charges extra for plagiarism checkers even with the premium plan.
Bonus: Looking for more options besides Grammarly and ProWritingAid? Read our list of best grammar checkers!
An Overview of ProWritingAid and Grammarly:
Grammarly and ProWriting are both excellent tools and help you in enhancing your writing. Let's go through an overview to understand what each tool offers better. 
ProWritingAid Overview
ProWritingAid is a fantastic grammar checker tool with a decent integration of AI that does the job perfectly and delivers good content for you. I mean, isn't that all you need?
There is also an excellent style-checking tool in ProWritingAid, which is useful in case you want to check your writing style for specific content and want to maintain it the same.
Additionally, ProWritingAid delivers a detailed report for all the content that you check through their software, which helps in understanding the errors and mistakes that you have made.
The best part about ProWritingAid is that it scans the content and displays it for variations and length analysis since writers might look for content structuring and proper format.
I felt that ProWritingAid does not only focus on grammar but also syntax, structuring, and styling elements in the content, which is interesting. For instance, you might have missed out on certain clinches in a sentence, but ProWritingAid detects them accurately and corrects it.
Fragmented dialogues can be tackled quickly with ProWritingAid leaving no room for errors.
Who Should Use ProWritingAid?
You can choose ProWritingAid if:
You are a fictional writer
You need detailed reports for your content
You want a tool that focuses highly on readability and writing style.
Grammarly Overview
If you want to know more about Grammarly. We have done a detailed Grammarly Review here.
Grammarly is an excellent AI-induced software with ultimate benefits. From punctuation to sentence correction to altering wordiness, Grammarly has the perfect fix for everything.
In Grammarly, you are also alerted with tone detection in the written content, which means Grammarly will tell you what kind of content it might sound like. E.g. formal or casual.
All the repetitive words are eliminated with Grammarly by producing advanced genre-specific suggestions which instantly give a professional touch to your written content.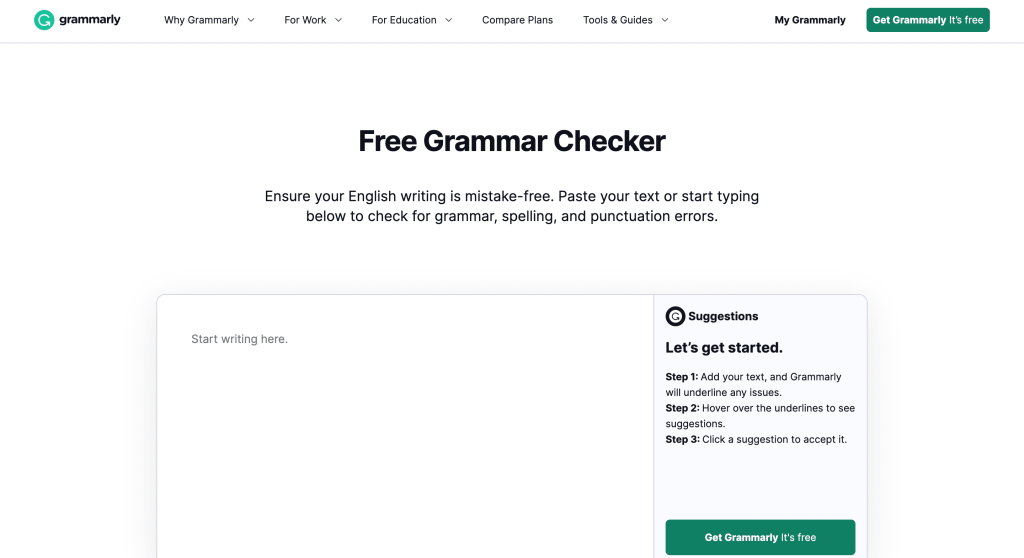 The plagiarism checker is the most significant feature in Grammarly since it helps in spotting duplicated content and content that are scrapped from already existing content. 
It greatly helps online publishers in general. Additionally, Grammarly is well-designed with a minimal interface that keeps the application simple yet significant. 
Lastly, Grammarly is a mobile-friendly grammar checker, which means you don't necessarily need a PC or a laptop to use it since it can even be accessed via the Grammarly keyboard.
Who Should Use Grammarly?
Grammarly is a robust tool. Choose Grammarly if:
You want the best writing tool in the market.
You are a student, writer, or working professional who needs assistance in checking your content. 
You need an all-in-one tool, including an AI writing assistant.
You don't want to overspend on multiple tools.
User Interface -Which One is Easy to Use?
You need a tool to ease your workload, and having a tool where you first need to figure out the UI make your existing task more difficult. With that, let's test the user interface of Grammarly and ProWritingAid.
ProWritingAid User Interface
While the UI of the tool is not 'complex,' in comparison to Grammarly, it looks cluttered. All the options are available on the top of your screen, and you can tap on the needed option.
If you want to check grammar, all the corrections will be visible on the right side of your screen. If you are using ProWritingAid for the first time, seeing so many options on your dashboard and its reports can be overwhelming.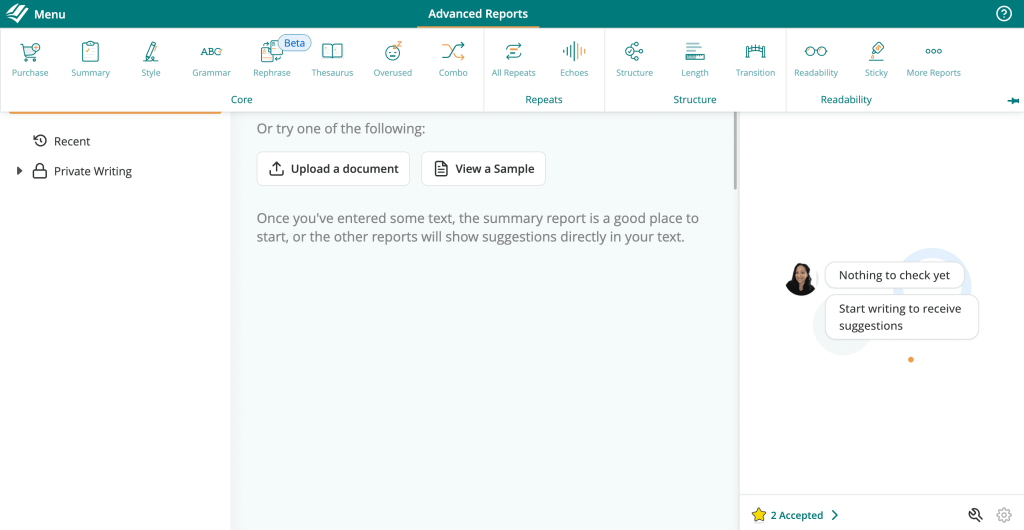 Once you spend some time knowing how ProWritingAid works, you can keep your work going easily. However, note that there is a slight learning curve.
Grammarly User Interface
Grammarly, on the other hand, has one of the most intuitive and beginner-friendly interfaces. If you are going to use Grammarly for the first time, there is no learning curve. You can add your content to Grammarly, and it will automatically underline the mistakes. 
Grammarly uses different colors, including red, blue, green, and purple. Each color shows different errors. For example, red underlines show grammatical errors, green is for vocabulary, blue is for clarity, and purple is for delivery.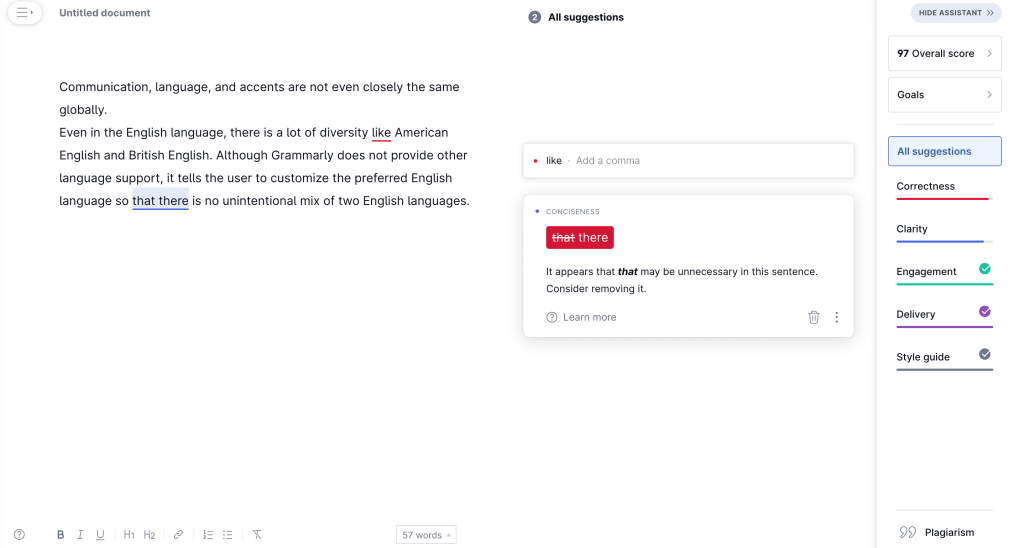 You can also customize the settings with a tap of a button. Additionally, if you want to check for plagiarism, you can simply tap on the plagiarism option at the bottom. Overall, Grammarly is one of the most easy-to-use tools in the market!
Best Features in ProWritingAid vs Grammarly (What's new)
Although you might have learned about the basic overview of ProWritingAid and Grammarly, you must have a deeper look into what the core features of ProWritingAid and Grammarly. I mean, at the end of the day, you are paying for it. At least for the premium features.
ProWritingAid Best Features
ProWritingAid offers several features apart from only grammar checking, which makes it one of the best writing assistants. I am glad to have found ProWritingAid. Thanks to the internet! ProWriting provides:
Thesaurus support
One of the most underrated features in any software or application has to be a thesaurus. However, you require grammar-checking tools; features like thesaurus help understand the availability of different words under the same meaning.
For example, you might be including specific words in your content, but after a point, it gets overused. In such cases, ProWritingAid can show synonyms for the word which are contextually related, so you can pick a word from the suggestions and replace it with the overused word.
Style enhancement
Most writers find it difficult to maintain their writing style throughout their content. ProWritingAid neglects all such scenarios and ensures that the style is enhanced.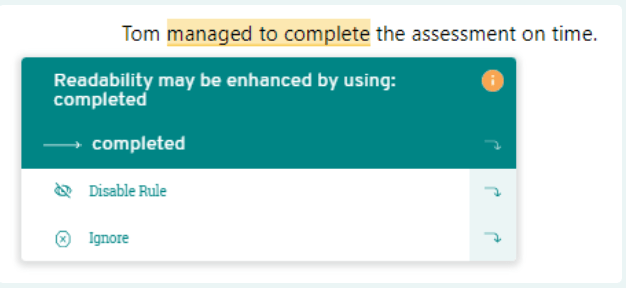 I found it helpful because, usually, when writing, I get lost in the content, and my creative mind squeezes out different styles all at once, creating a mess in my work.
Fortunately, ProWritingAid came to my aid. See what I did there?
Sticky sentence
I would say that sticky sentence removal is a follow-up feature to enhance the style of content, which means all those clinches and unwanted words in a sentence will be eliminated.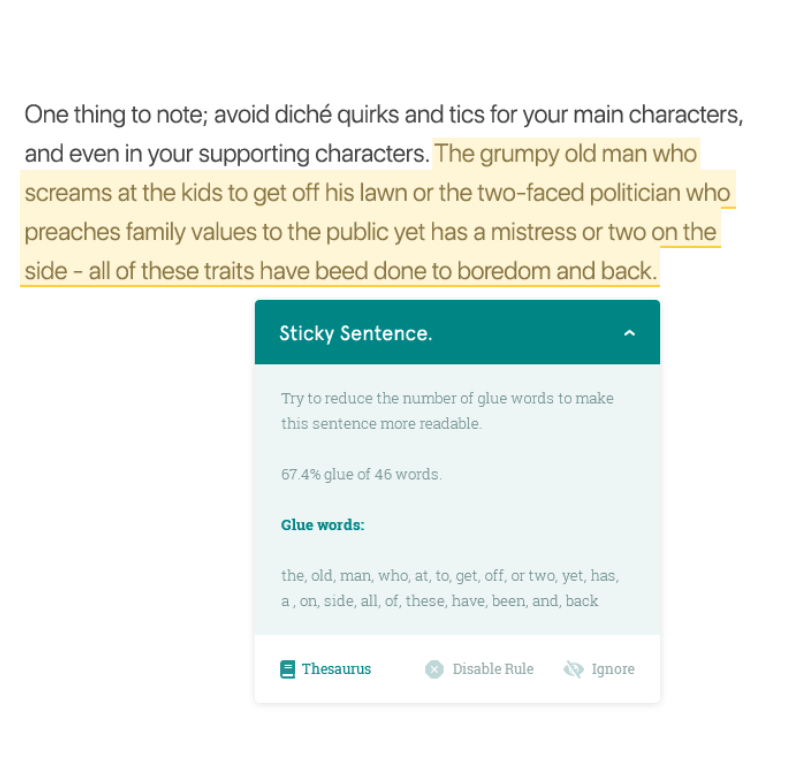 Often sticky sentences do not make it through the proofreader's vision, but ProWritingAid's strong AI will correctly detect and kick them out of your beautiful content and make it look perfect.
Detailed writer's report
Wouldn't it be easier if you could receive a report on your successes and failures?
ProWritingAid has heard and does it for you by providing a visual data analysis report covering all the errors and corrections and checking what it has done to your content.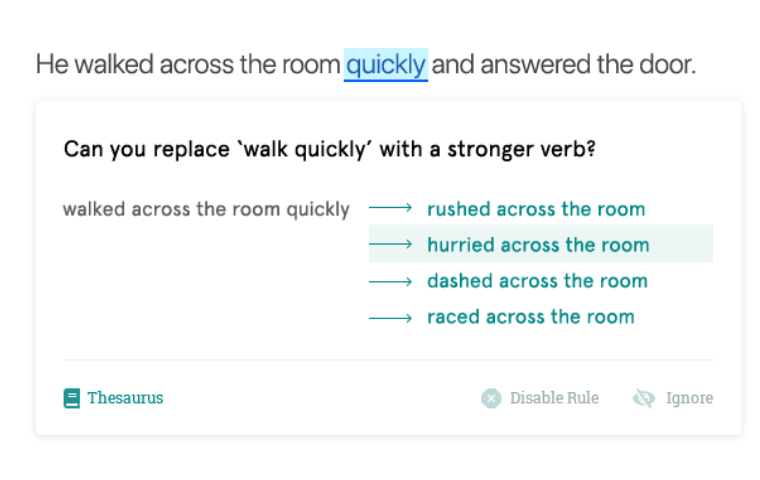 It is like getting a lab report after giving blood samples to a medical expert, but yes, ProWritingAid shows accuracy. In the report, a designated readability score will be awarded so that you know how efficient the content is and how you can improve it better.
Don't worry; it will point out the areas to be corrected so you learn where to pay attention. 
Multiple integrations
People write content, including text messages, emails, and job applications on different applications, and writing assistance is essential to proofreading through it all. ProWritingAid is accessible via web browser extensions in Chrome, Safari, Firefox, and Edge.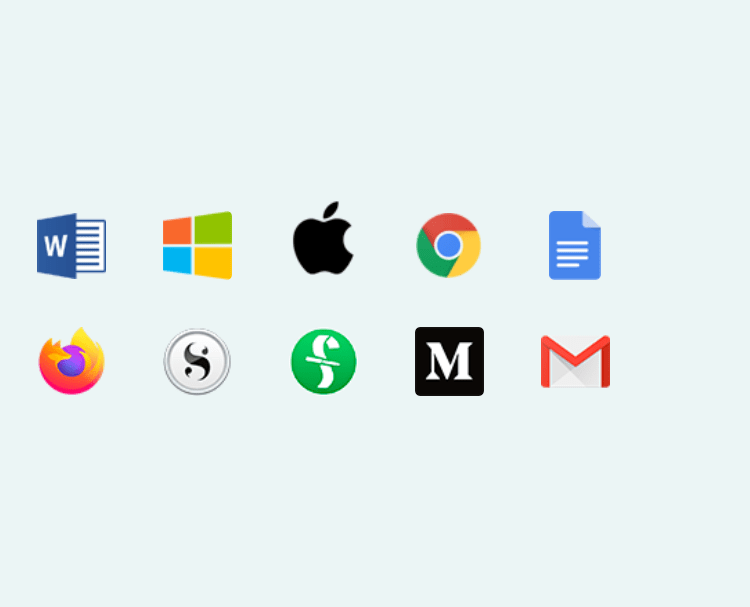 Additionally, ProWritingAid can also be integrated as an MS Plug-in in Microsoft Word, Microsoft Office, and Outlook. You can even use it in the most convenient application, Google Docs.
Grammarly Best Features
Although ProWritingAid might have provided features other than only grammar checking, it can be covered in the free version of Grammarly easily.
I am trying to say that Grammarly stood out of the league by offering features that you did not know you needed. Curious? Well, you can look for such features in Grammarly by yourself:
Tone detection
You do not want to sound informal when writing a job application or a police complaint, do you?
Even if you did, there is nothing to worry about since Grammarly will detect the tone and instantly let you know if the content sounds casual, formal, confident, or even worried.
Using Grammarly, you basically get human-like feedback after scanning through the content.
Plagiarism checker
Most grammar-checking tools do not step out of their grammar world, but Grammarly broke the stereotype and included a plagiarism checker, one of the crucial features ever to exist.
Hear me out. You are posting content online, but unintentionally it sounds similar to another piece of content already there on the internet. Now, what? You might get fined for plagiarism.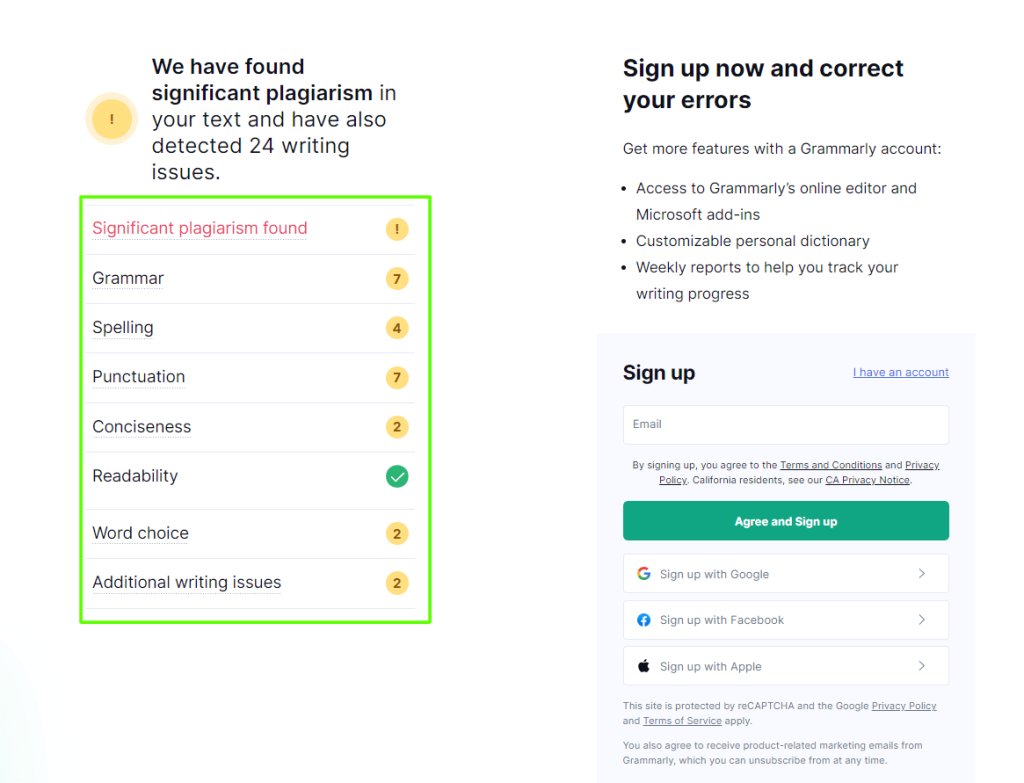 With Grammarly, you do not have to go through such scenarios since you will be altered upfront before the content gets published on the internet, allowing you to edit and alter the content.
Word enhancement
In some cases, you might accidentally exaggerate content to write longer content and forget to check the wordiness and usage of words.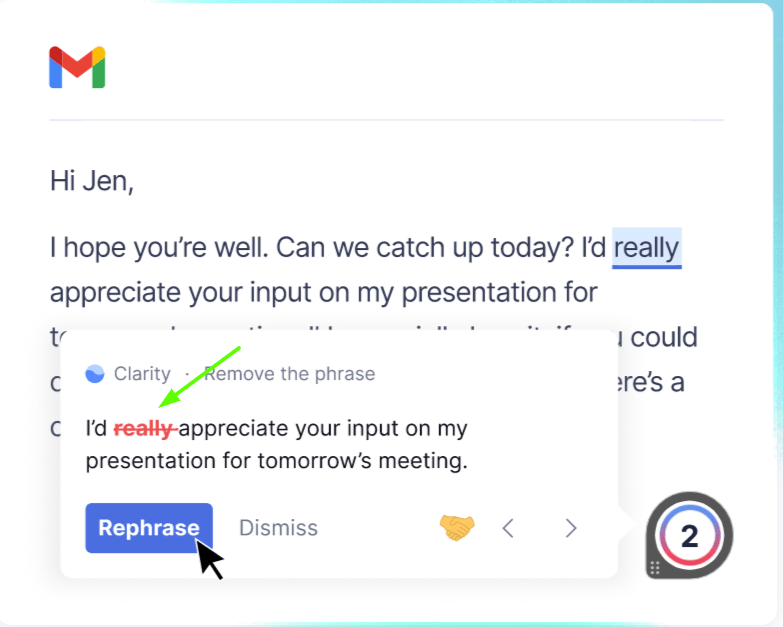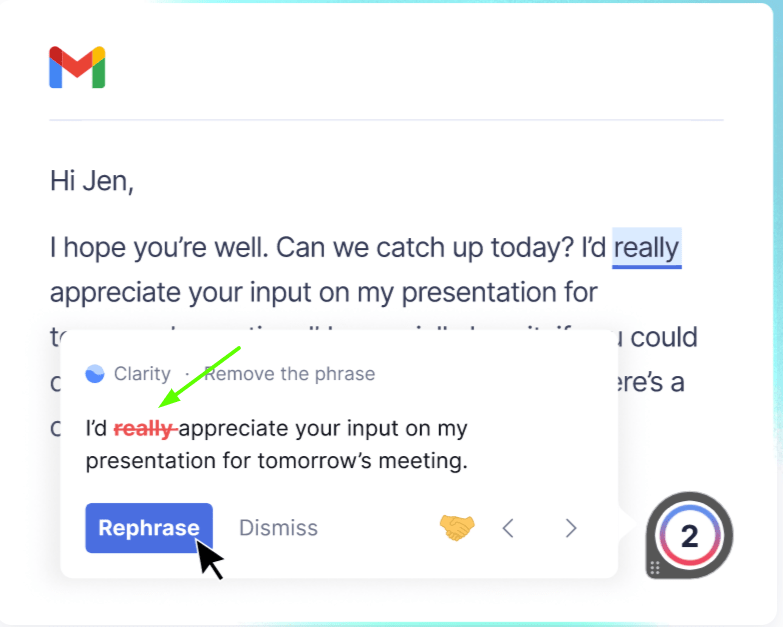 With Grammarly, such issues can be cleared in real time since it will alert you whenever something seems like an error or unusual word use.
This way, your writing is enhanced, and the usage of words is checked accurately.
Language customization
Communication, language, and accents are not even closely the same globally.
Even in the English language, there is a lot of diversity, like American English and British English. Although Grammarly does not provide other language support, it tells the user to customize the preferred English language so that there is no unintentional mix of two English languages.
Grammarly provides English in American, Canadian, Australian, and British.
Genre-specific suggestions
All grammar-checking tools show suggestions, but Grammarly has a catch. It only shows suggestions based on the type of genre your content lies on.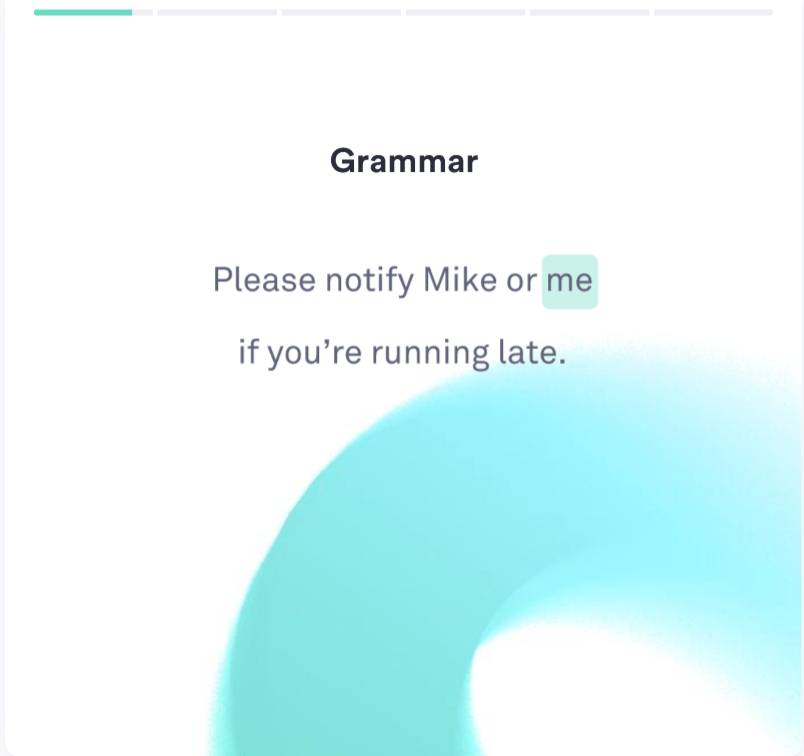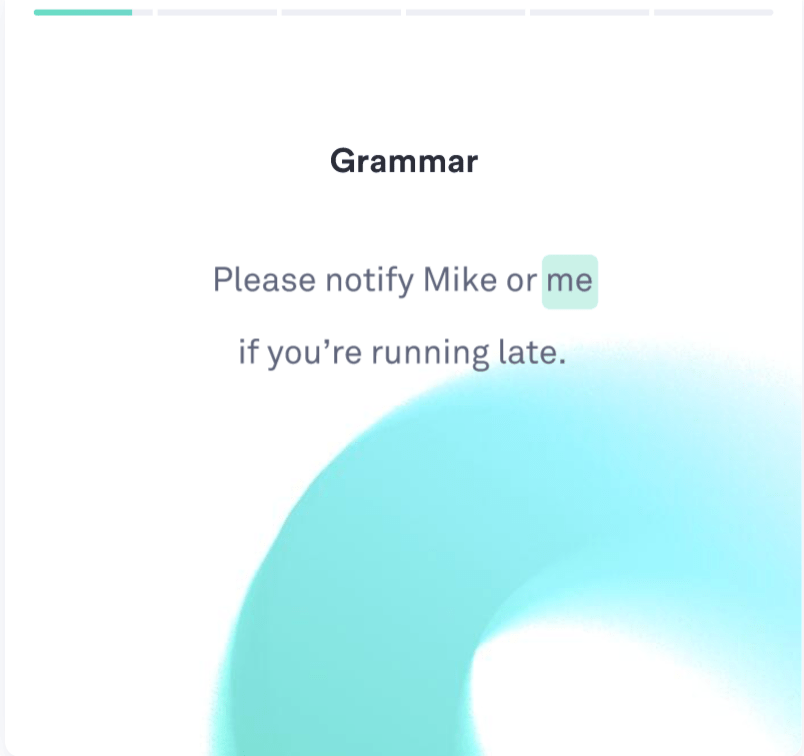 Say you are writing an essay on vacation and use casual words to keep up with the format. Grammarly analyses that you are working on casual content and shows relative suggestions.
Is ProWritingAid More Accurate than Grammarly? (My experience)
Personally, I was surprised to know that using ProWritingAid and Grammarly can create such an impact on my content, wherein there were a lot of benefits from both the grammar checking tool.
ProWritingAid had thesaurus support which came in handy for me every time I got stuck since I had to use different words in a single paragraph. ProWritingAid showed available options, and I was able to resume work and get it done smoothly. It also neglected sticky useless sentences.
In contrast, Grammarly suggested replacements for certain words based on the genre, which helped in getting going with the content, and the plagiarism checker was a life saviour to me.
In most cases, ProWritingAid and Grammarly were equally competitive and robust. The AI integration was excellent, especially in Grammarly. ProWritingAid was a bit off in general.
Besides, the plagiarism checkers in both tools weren't always accurate. Instead, you can explore other plagiarism checkers in the market.
Additon of GrammarlyGO: AI Writing Assistant by Grammarly
Grammarly has introduced its AI writing assistant that makes writing easier and quicker. This is yet another feature that makes Grammarly an all-in-one tool compared to ProWritingAid. 
Working similarly to other AI writing tools in the market, GrammarlyGO enhances your writing. You can use the existing prompts or add your own. Within a minute, Grammarly will automatically create content on your behalf.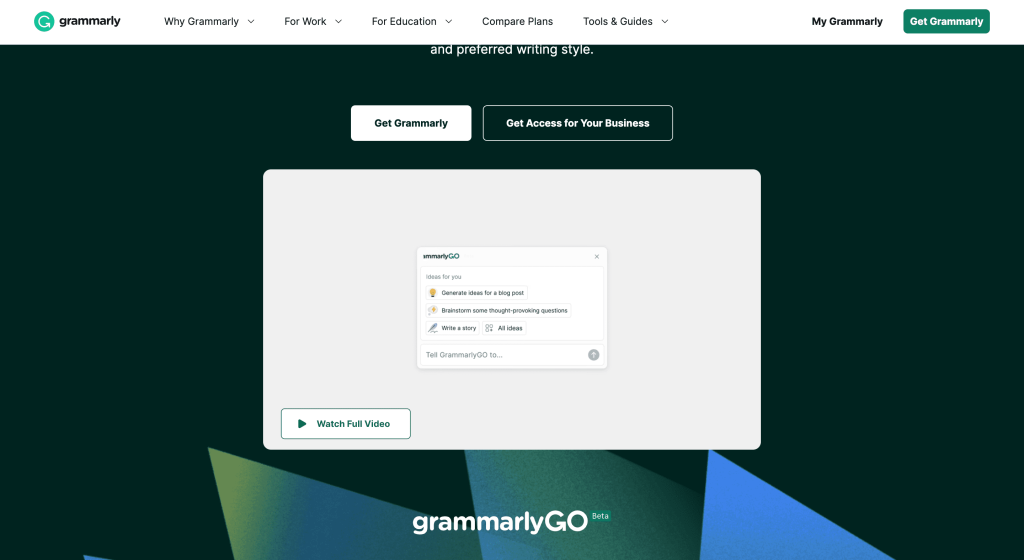 Furthermore, you can also ask GrammarlyGO to suggest changes in your existing content and recommend enhancements. For instance, if you have already written content, you can ask GrammarlyGO to recommend suggestions on how you can improve your content. 
Lastly, you can use it to generate blog outlines, emails, reports, assignments, captions, and more. GrammarlyGo is available for free and premium users. However, it's still in beta mode.
Pros and Cons of ProWritingAid
Both tools have excellent features, but at the same time, they also have certain limitations. Let's weigh the advantages and disadvantages of Grammarly and ProWritingAid below.
ProWritingAid Pros
Removal of sticky sentences.
Affordable writing assistance.
Excellent style enhancement.
An in-depth writing report is provided.
Thesaurus support is available.
ProWritingAid Cons
ProWritingAid is relatively slow.
Limited features in the free version.
Pros and Cons of Grammarly
Grammarly is an excellent tool to enhance your writing. Here are the perks and downsides of Grammarly.
Grammarly Pros
Multiple features in the free version.
Accurate tone detection is available.
A plagiarism checker is also available.
The suggestion of genre-specific words.
Smooth functioning and minimal interface.
Grammarly Cons
Expensive pricing without our discount
The plagiarism checker is not available in the free version.
Pricing: Which One is Affordable?
The time has come. After going through every feature, aspect, the benefit of ProWritingAid and Grammarly, the pricing is the only factor that is left now, and I will be disclosing it right away.
ProWritingAid Pricing: Explained
ProWritingAid comes with three subscription options, and they are: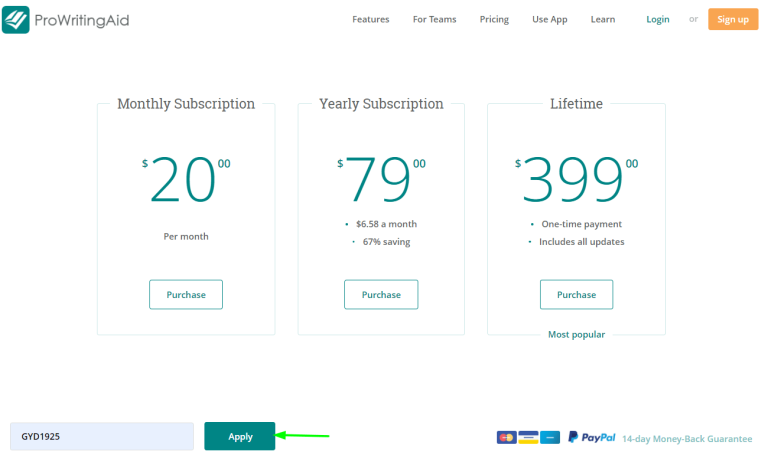 Monthly Subscription: The monthly subscription to ProWritingAid will cost you $20/month.
Yearly Subscription: The yearly subscription to ProWritingAid will cost you $79/year.
Lifetime Subscription: The lifetime subscription to ProWritingAid will cost you $399 once.
Grammarly Pricing
As mentioned earlier, Grammarly provides features like change in the preferred language, spelling correction, punctuation errors, and tone detection in its free version itself, and that is good news. Here's the detailed breakdown of Grammarly pricing.
Additionally, there are additional benefits that you are entitled to get via Grammarly Premium. The premium subscription in Grammarly is categorized into several plans. Let me break it down:
You can also check a detailed comparison of Grammarly free vs premium to know which plan is right for you!
Grammarly Premium
By unlocking Grammarly Premium, you will be getting instant access to advanced genre-specific suggestions and an incredible feature called plagiarism checker, which is a must-have feature.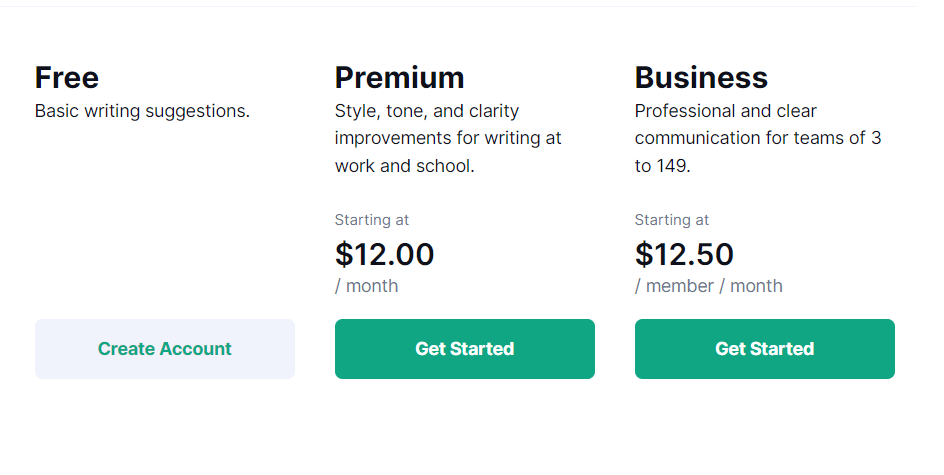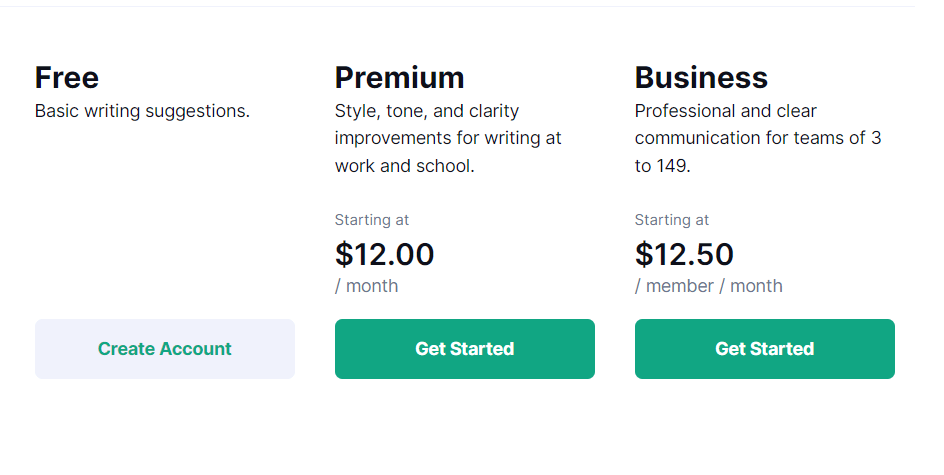 The Grammarly Premium can be purchased in different subscriptions:
Paying only $30 per month (monthly subscription)
Paying a divided $60 per three months in a single payment (quarterly subscription)
Paying a lump sum amount of $144 annually (annual subscription)
NOTE: Grammarly has made it particular that they will accept payments, including the purchase of Grammarly for Business, in any local currency, which means they will do the conversion thing for you. Additionally, all the conversions will be done based on the exchange rate during purchase.
Grammarly for Business
Although Grammarly calls it Grammarly for Business, it can be considered a team plan that supports almost 150 members, which is unbelievable. Usually, schools, publishing agencies, and marketing firms opt for Grammarly for Business since many people use it.
Grammarly for Business can be purchased only in monthly and annual subscriptions. They are:
Monthly subscription – $25 per member/month (single payment)
Annual subscription – $12.50 per member/month (3 to 9 members only)
Annual subscription – $12.08 per member/month (10 to 49 members only)
Annual subscription – $11.67 per member/month (50 to 149 members only)
A monthly subscription is a better option, but annual subscriptions allow access from 3 to more than 100 members. Hence, I would suggest opting for any of the annual subscriptions.  
You can keep an eye on our page for Grammarly Discounts and Coupons to grab Premium at a discounted price!
More Grammarly Related Read:
Final Verdict – Is Grammarly Better than ProWritingAid In 2023?
To wrap up my comparision between Grammarly vs ProWritingAid, I found Grammarly better than ProWritingAid in no time. 
However, both tools serve different users. To make your pick easier, here's my key takeaway!
You should go for Grammarly if you want an all-in-one writing tool. It is ideal for students, writers, and professionals. While the free versions helps in the basic editing, you can go for Grammarly Premium for advance suggestions. With our discount, you can grab 20% discount on the premium plans!
On the other hand, you can go for ProWritingAid if you want to focus more on your content's clarity and tone. You can use the free version if you need quick checking. However, we encourage readers to go with the premium version as you can unlock ProWritingAid's true potential! We have an exclusive ProWritingAid discount to get 20% off!
FAQs on ProWritingAid vs Grammarly
Which tool is better: ProWritingAid or Grammarly?
Both tools are amazing and have their own use cases. But ProWritingAid is not accurate as Grammarly, and its user interface also feels slower than Grammarly's. It is easier to check content on Grammarly than ProWritingAid, so ultimately, Grammarly is the best choice.
Which one is more affordable: ProWritingAid or Grammarly?
Both Grammarly and ProWritingAid come with a free version. The premium plan of ProWritingAid starts at $20/month, whereas Grammarly's monthly plan costs $30/month, making ProWritingAid the affordable choice between the two.
What are the alternatives to Grammarly and ProWritingAid?
Some of the best alternatives to Grammarly and ProWritingAid are Quillbot, Ginger, and Whitesmoke.
How accurate is ProWritingAid?
ProWritingAid is pretty accurate, and it can easily find grammatical and spelling mistakes in content similar to Grammarly. However, the plagiarism checker of ProWritingAid is not as good as Grammarly's.
Which one has a better free version: ProWritingAid or Grammarly?
ProWritingAid's free version allows you to check 500 words at once, where you can check spelling, punctuation, and grammar. Grammarly's free version allows you to check as many words as you want, even with the Chrome Extension, and you can check your content's grammar and spelling with it. That means Grammarly's free version is the obvious choice.
Latest posts by Ryan Harris
(see all)