If you are a student wondering whether you can use Grammarly at a discounted price, you are reading the right article!
Grammarly is the leading grammar and spell-check platform. It has millions of users, including students, teachers, writers, business professionals, and experts from various fields.
As of now, Grammarly does not provide discounts for students separately. However, you can still use Grammarly at slashed prices by subscribing to the existing plans.
Continue reading to find out how to get Grammarly plans at a discount.
How To Use Grammarly With A Discount As A Student?
If you want to use Grammarly for free, you can do so by using its basic plan. Grammarly offers a basic plan available to everyone for free. While it does not have many advanced features, it offers basic grammar and spelling checks.
Unfortunately, Grammarly Premium does not have a free version. The individual plan of Grammarly Premium is available in three versions: Monthly, Quarterly, and Annual.
When you subscribe to the Quarterly and Annual plans, you can get discounts. Here's a table breaking down the prices of each plan and the amount you save with each one.
| | | |
| --- | --- | --- |
| Plan | Price | Savings |
| Monthly | $30/month, $360/year | – |
| Quarterly | $20/month, $240/year | $120 (33% off) |
| Annual | $12/month, $144/year | $216 (60% off) |
As you can see, you get the hugest discount when you subscribe to the Annual plan. With a total bill of $144, you can enjoy Grammarly Premium for the whole year. You can also check detailed Grammarly pricing to decide which plan is right for you!
Bonus: You can also read our in-depth Grammarly review to learn more about it!
Steps To Buy Grammarly Plans At A Discount
Here are the steps to subscribe to Grammarly's Quarterly and Annual plans.
Step 1: Log in to your Grammarly account or sign up using this link.

Step 2: Go to the subscription page.
Step 3: Select the subscription plan of your choice.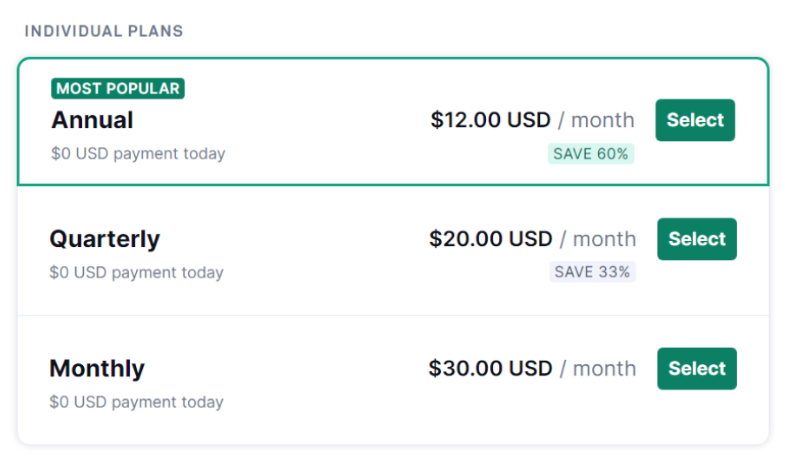 Step 4: You will then be redirected to the payment page where you have to fill out your details and check out.
Congratulations! You have successfully bought the Grammarly Premium subscription at a discounted price.
Note: Unlock Grammarly Premium at a discounted rate for superior writing here.
To answer your question in one sentence, Grammarly Free offers basic grammar and spell checks, while on the other hand, Grammarly Premium offers hundreds of additional advanced features and a built-in plagiarism checker.
Both Grammarly Free and Premium can be useful depending on the student's specific needs. Here are some reasons why we think Grammarly Premium would be ideal for students who want to excel in their academics:
It makes your writing more polished.
It enhances your vocabulary and improves clarity and sophistication.
The built-in plagiarism checker ensures originality in essays.
Tone detection helps in maintaining academic and formal content.
MS Word and Google Docs integrations provide convenience.
The bottom line is that if you are underconfident about your grammar and looking to improve, there's no need to hesitate before getting Grammarly Premium.
You can also check out a detailed comparison of Grammarly free and premium to learn the difference in detail!
Related Read:
Conclusion: Grammarly Student Discount 2023
Grammarly is the top writing tool available in the market right now. It is not surprising that many students want to use it, but not many can afford it.
Even though we cannot give you a special student discount or coupon code, we hope you will benefit from Grammarly's existing plans. Whether you're a student or an academic, Grammarly's quarterly and annual plans can help you save thousands of dollars down the lane.
Make sure to keep checking our website for upcoming updates about Grammarly discounts. We hope our article helped you. Leave your questions and feedback in the comment section below.
FAQs On Grammarly
Do you need a Grammarly coupon code to get discounts?
As of now, there are no active Grammarly coupon codes to avail of a discount on their subscription prices. However, you can save money by subscribing to their annual and quarterly plans. 
Does Grammarly Premium have a free trial?
Unfortunately, Grammarly does not offer a free trial period for their Premium version. You can use the basic version of Grammarly for free for as long as you want. However, the features are limited there. 
Should I get a cheaper alternative to Grammarly?
If you are on a tight budget, we would recommend considering Grammarly's Annual subscription, which comes at a price of $12/month. The upfront cost for the whole year is $144, which may be out-of-budget for some. If the upfront cost is too much for you, you can try cheaper alternatives, such as ProWritingAid, Ginger, etc. 
Is Grammarly Premium worth it for college students?
The best thing about Grammarly is that it caters to the needs of a wide range of people, from school students to published authors and businessmen. Grammarly Premium is a worthy investment for students and can help create flawless, error-free academic content. 
Does Grammarly offer a money-back guarantee?
Grammarly does not have a refund or money-back policy. If you wish to cancel your subscription, you can do so anytime. Your money won't be deducted from the next month, but you won't get back the amount you already paid. 
Latest posts by Ryan Harris
(see all)