Being a writer, you are entitled to be your own proofreader and editor.
Although it is fun and exciting to proofread your content, after a point, it gets time-consuming, and you might start to overlook errors, typos, and unintentional plagiarism.
Rightly, I was able to find WhiteSmoke vs Grammarly, which are two of the best grammar-checking tools out there. At first, I was sceptical about using WhiteSmoke and Grammarly.
Looking at how difficult it was to proofread, I took WhiteSmoke and Grammarly into the application. I mean, I did not know that WhiteSmoke and Grammarly could ease my proofreading so well.
Many benefits like tone detection, translator tools, genre-specific suggestions, grammar tutorials, pre-written templates, and more in WhiteSmoke and Grammarly were helpful.
After using all the features in WhiteSmoke and Grammarly, I thought of writing a full-fledged review comparing WhiteSmoke and Grammarly to find out which is the best.
In this article, I will talk about WhiteSmoke and Grammarly in detail, including critical features of WhiteSmoke and Grammarly, the pros & cons of WhiteSmoke and Grammarly, and their pricing.
Are you curious to know if I recommend Grammarly? Keep reading to find out!
WhiteSmoke vs Grammarly: In a Nutshell
Here is a quick comparison between WhiteSmoke and Grammarly that you can refer to.
| | | |
| --- | --- | --- |
| | WhiteSmoke | Grammarly |
| Ease of use | 4.8/5 | 4.9/5 |
| Features | 4.7/5 | 4.8/5 |
| Price | 4.6/5 | 4.8/5 |
| Overall Rating | 4.8/5 | 4.9/5 |
WhiteSmoke vs Grammarly: Key Differences
Here are the key differences between WhiteSmoke and Grammarly.
WhiteSmoke's pricing starts at $5/mo, whereas Grammarly premium's pricing starts at $12/mo meaning WhiteSmoke is more affordable than Grammarly.
Grammarly's user interface is cleaner and easy to use, whereas WhiteSmoke's user interface is a bit complicated.
You can set up your writing goals on Grammarly, whereas there is no such option available on WhiteSmoke.
Grammarly only supports one language on its platforms, whereas WhiteSmoke supports more languages.
You can check your text for plagiarism on Grammarly's plagiarism checker, but no plagiarism tool is available on WhiteSmoke.
An Overview of WhiteSmoke vs Grammarly:
In today's fastest-growing technology and AI, we have enough tools and software to assist and smoothen our everyday life, including Google Assistant. Similarly, applications like WhiteSmoke and Grammarly are some of the best grammar-checking tools that offer similar benefits.
But how do they differ from one another, you ask? Well, you have the answer below.
What is WhiteSmoke?
WhiteSmoke is a good grammar-checking tool programmed with an AI integration. 
The primary feature of WhiteSmoke is to ensure that you are writing error-free content with accurate punctuation. In WhiteSmoke, you are also handed translator tools that help in transforming regional content into universal wisdom and vice versa.
You can access WhiteSmoke in WhiteSmoke Web, WhiteSmoke Desktop, and even WhiteSmoke Mobile. The proofreading application has been made to all the available platforms.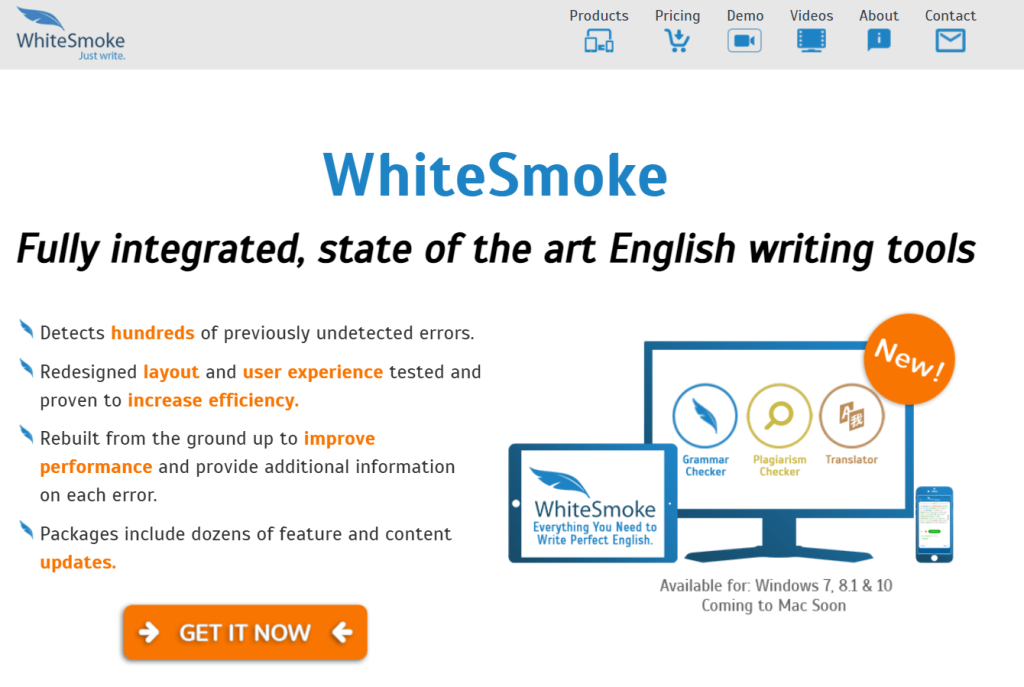 The user interface in WhiteSmoke is decently designed without distracting graphics or vibrant colours, and I can assure you that WhiteSmoke is built to do one job, that is, proofreading, and WhiteSmoke does it accurately. At least to some extent.
The best part about WhiteSmoke is that you get to check plagiarism if there is any since unintentional plagiarism is bound to happen, especially if you are an online publisher. 
What more can you ask if you are getting what you signed up for in WhiteSmoke?
What is Grammarly?
In contrast, Grammarly is yet another excellent grammar-checking tool with added benefits.
You get exciting features like spell correction, tone detection, unwanted word elimination, advanced-genre-specific suggestion, and word enhancement in Grammarly. No, that's not it.
Additionally, you get access to alteration to a personal dictionary if you are getting a detection on a word that is not an error. Such a feature is helpful for brands and labels.
Like WhiteSmoke, Grammarly also has an exclusive plagiarism checker which instantly spots duplicated content within seconds while showing accurate results.
The great Grammarly AI integration is available in Microsoft Word, Google Docs, Chrome, Firefox, Edge, and Safari. Grammarly acts as a brilliant plug-in for all users.
Yes, you heard it right. All Android and IOS devices can be accessed with Grammarly.
5 Key Features in WhiteSmoke and Grammarly:
You know what WhiteSmoke and Grammarly are. At least you might have read an overview of WhiteSmoke and Grammarly above. Let me quickly give an in-depth explanation of their features:
WhiteSmoke key features
Here are some of the key features that WhiteSmoke is providing to its users.
1. Easy language translator
Although the features in WhiteSmoke are quite limited, they are ensured to provide value and quality. Like, you are getting access to translate over 55 unique languages spoken globally.
Usually, it is rare to witness grammar-checking tools to offer language settings, especially along with other in-built features but I am glad I was able to access it. Thanks to WhiteSmoke!
2. Effective grammar tutorials
WhiteSmoke has also taken the role of an English teacher and provides exclusive grammar tutorials for new users who can benefit from WhiteSmoke in learning English better.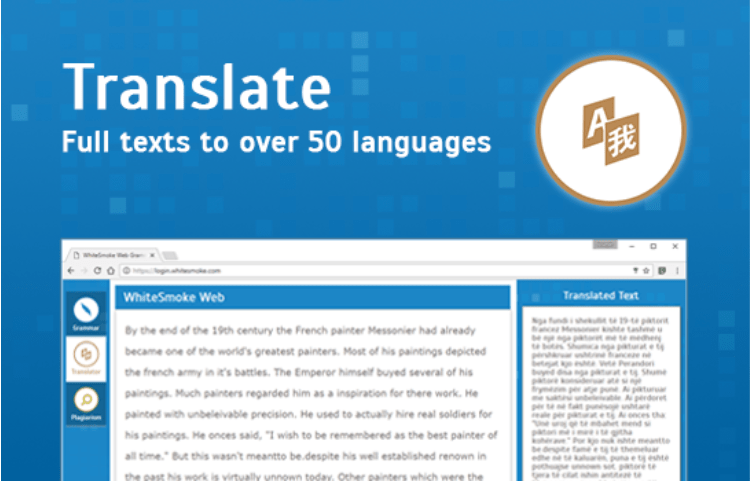 The grammar tutorial in WhiteSmoke explains everything about grammar in simple words so that even a non-English speaker can understand word structuring, sentence formation, etc.
3. Pre-written templates
Additionally, I did not expect extra resources from WhiteSmoke like pre-written templates in different formats, including resume writing, email writing, and even business writing.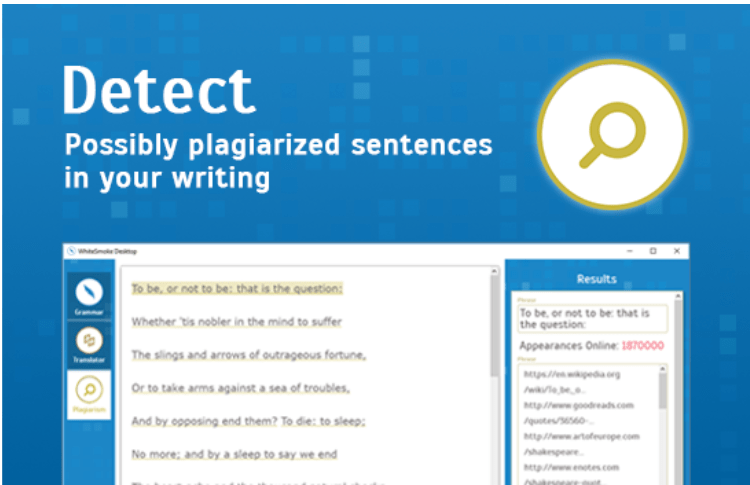 In case you are wondering how WhiteSmoke templates can help, let me tell you that using the templates provided by WhiteSmoke, you get to customize a customer apology mail, write a powerful resume that might help in getting placed, and other writing gigs that require help.
With WhiteSmoke, you get to alter the template a bit, and you are good to go. It's easy!
4. Punctuation checker
If I could say one thing that all grammar-checking tools have in common, then it would be the punctuation checker, but the question is which is the best? 
In my experience with WhiteSmoke, the punctuation checker was on-point.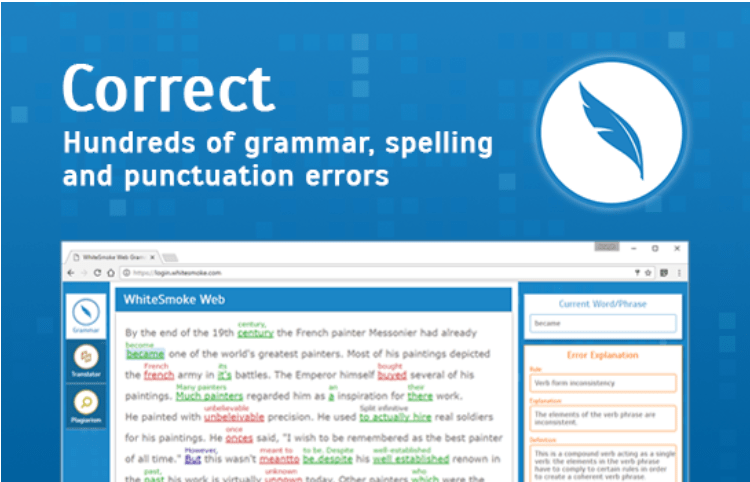 I mean, WhiteSmoke would not let me do my regular text ritual of using "your" instead of "you're", and so it was great in spotting similar incorrect punctuations.
Significantly, the forgetful mind of not using appropriate punctuation in a specific sentence can be neglected since WhiteSmoke does not give space for incomplete content.
5. Spelling corrector
It is common for people to make mistakes, with no double meaning intended. Writing content on a daily basis might enhance a person's writing, but the chances of making silly mistakes are still high.
Additionally, if you are dealing with deadlines like writing an assignment, a review, a blog, or any content piece that you work on that has a time limit might result in overlooked errors and typos.
With WhiteSmoke, you do not have to worry about all that. How?
Copy and paste the content for a spell check in WhiteSmoke, and boom, it highlights all the errors, you simply have to click to agree, and your content will be clean and beautifully drafted!
Grammarly Key Features
Let's have a look at some of the key features of Grammarly.
1. Advanced-genre-specific suggestions
One of the most underrated features in Grammarly got to be the advanced-genre-specific suggestions wherein the user gets specially curated suggestions based on their content.
Unlike other competitors, you do not get irrelevant suggestions because Grammarly scans your content and only gives a heads-up on specific words that need to be replaced.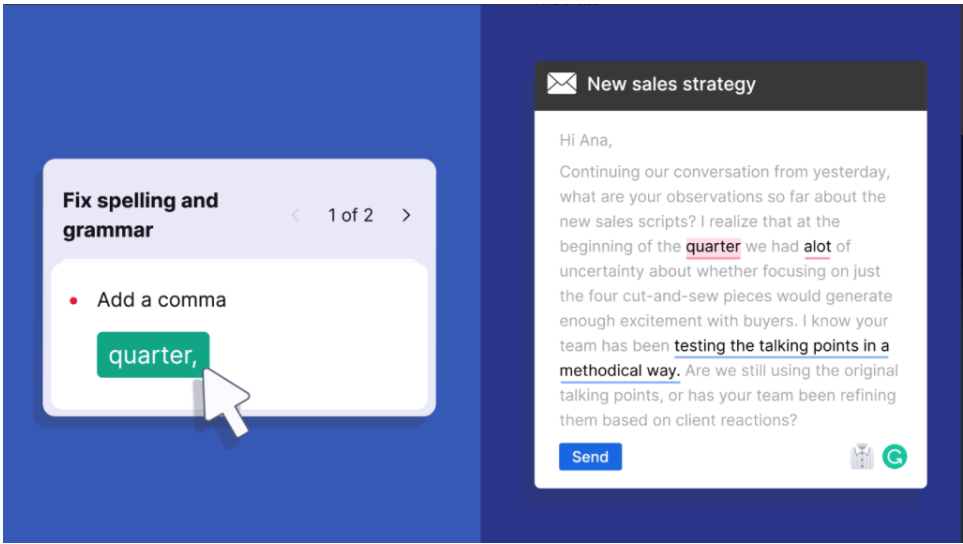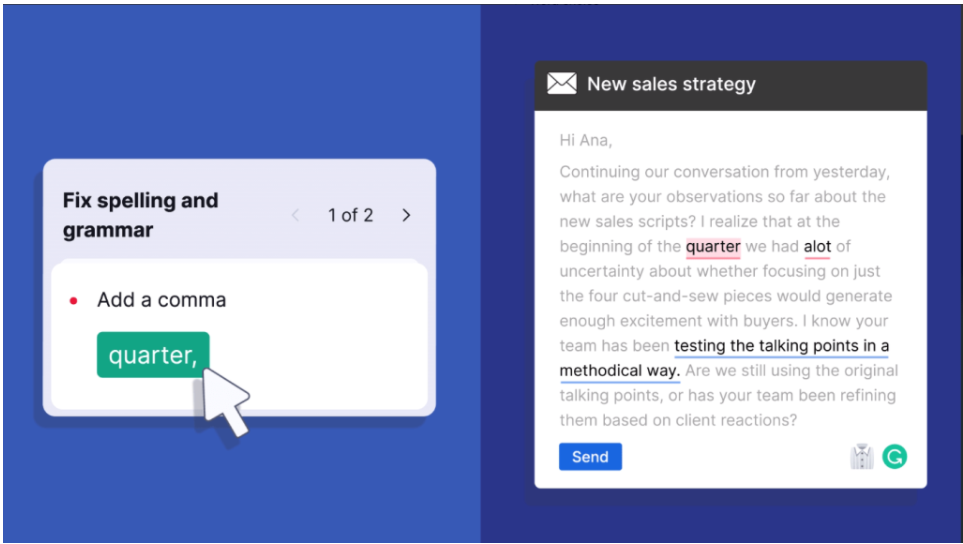 Say you are writing something casual, you would not want to make a bold or formal statement all of a sudden, and so Grammarly will suggest genre-specific keywords to enhance the content.
2. Robust plagiarism checker
Not every grammar-checking tool or software has a plagiarism checker, but Grammarly does. In fact, it was even available in WhiteSmoke, which was not effective and less likely to be used.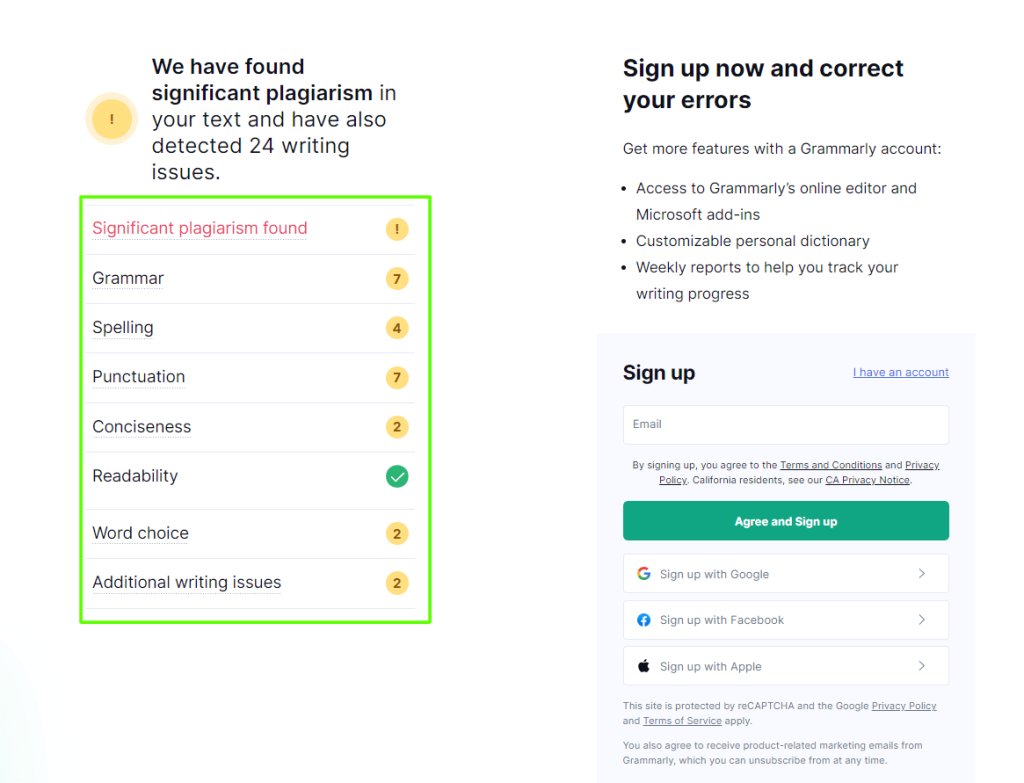 In Grammarly, the plagiarism checker was excellent to the point where you could get the results instantly, and there was no lagging. I mean, to scan through the entire internet, it is natural to think that it is humanly impossible; that's where Grammarly's AI stood out.
Even the check for plagiarism was simple and straightforward, which saves time.
3. Language customization
No, it is not clickbait or false advertising. Hear me out. It is possible in Grammarly.
You can actually change language "but in preferred English only." If you are confused, I understand because I was too. Basically, Grammarly does not provide the option of changing languages, not yet.
There is no translator tool, but you can change the preferred English language, which means the specific English you want your content to sound like.
Meaning, English is a universal language, but it is not really speak the same way globally, right? Henceforth, Grammarly has taken the initiative and provided the top four English languages.
You can customize the preferred English to Australian, Canadian, American, and even British.
4. Word enhancement
The word enhancement feature is not really a feature in Grammarly. Let me explain.
If you are writing long content or an essay, there is a possibility that you might be overusing certain words that get repeated in every paragraph. Don't worry. Grammarly can get it fixed.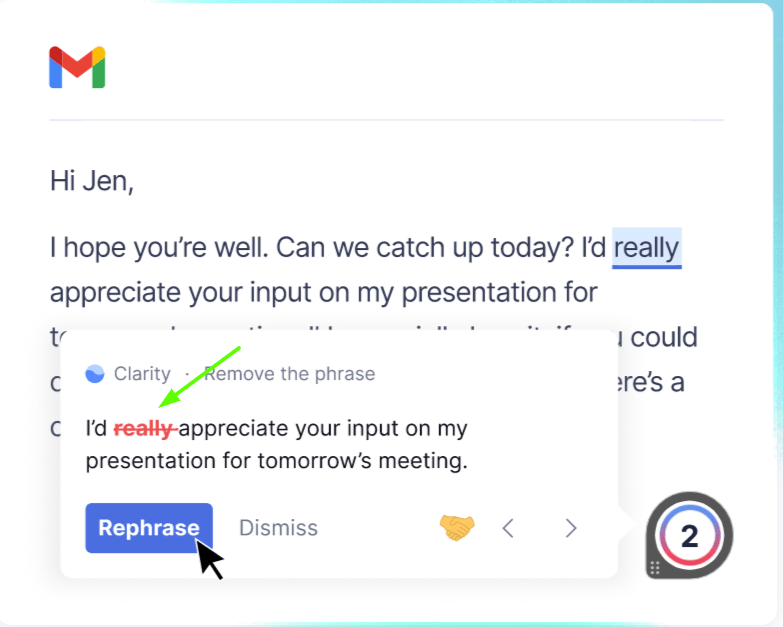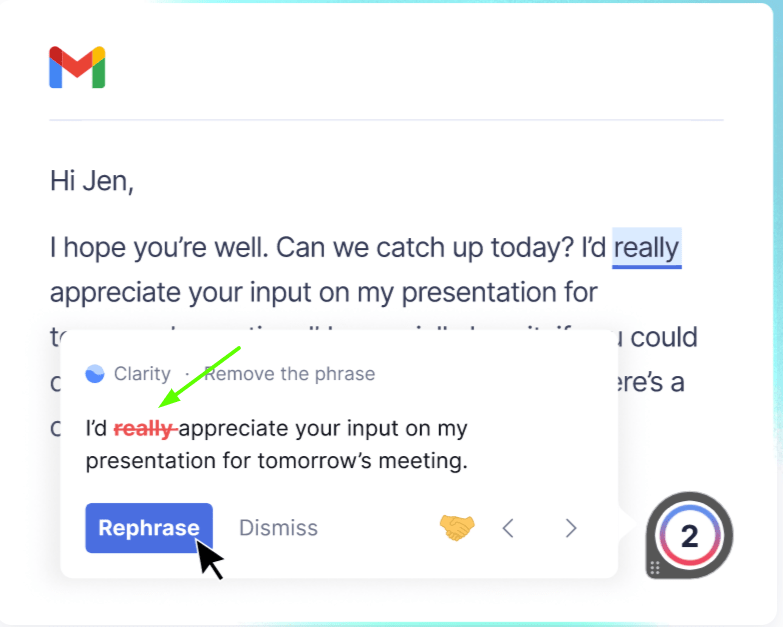 To avoid such scenarios, Grammarly removes all the repetitive and redundant words so that you have enhanced word structuring. This way, your content gets polished with better words.
Additionally, even new writers can learn new vocabulary and improve their writing quickly.
5. Tone detection
One of my favourite features in Grammarly is tone detection for various reasons. 
I mean, how motivating is it when someone can instantly tell you what they feel about your writing? Well, Grammarly does precisely that with its in-built tone detector.
The tone detector in Grammarly primarily scans the content in real-time and alerts the user about what kind of a vibe that the content is giving off. You do not want to write an informal letter to a job application, right? In such cases, Grammarly detects the tone and recommends rewriting.
The best part is that the tone detection in Grammarly tells how likely it sounds in a certain way by giving a rating out of five points to know the exact tone.
Is Grammarly Better than WhiteSmoke? (My Experience)
After using WhiteSmoke and Grammarly, I would not say that there was a tough fight between them since one of the two grammar-checking tools really stood out, and I loved it.
Significantly, the fact that Grammarly was minimalistic, easy to use, showed accurate results, and most importantly, was fast. I mean, even the plagiarism checker showed instant output.
Yes. You heard me. Grammarly is better than WhiteSmoke since WhiteSmoke could not live up to the standards of Grammarly, which is fair. Additionally, WhiteSmoke was old school and slow.
To be honest, I felt that WhiteSmoke was outdated, but it was not. WhiteSmoke is still trying its best to be in the grammar game and live up to its fullest. Considering all the factors, including security and ease of use, I think Grammarly did an extraordinary job and is constantly updating.
In contrast, WhiteSmoke needs to be brushed up a bit. If not, it might die sooner or later.
Perks of using WhiteSmoke and Grammarly:
Both WhiteSmoke and Grammarly had some excellent points. Let me list them below:
WhiteSmoke Advantages
Availability of a translator tool.
Provision of 100+ pre-written templates.
Educative grammar tutorials are available.
Affordable pricing in WhiteSmoke.
The option of browser integration.
A plagiarism checker is available.
Mobile and desktop friendly.
Grammarly Advantages
Excellent grammar checking.
Advanced genre-specific suggestions.
Change in preferred English is available.
Tone detection shows accurate results.
Word enhancement is achievable.
A plagiarism checker is available.
The free version provided multiple benefits.
Alteration to a personal dictionary can be done.
Multiple integration options are available.
User-friendly and suitable for all writers.
Downsides of using WhiteSmoke and Grammarly:
Although you could see benefits, there are some downsides to WhiteSmoke and Grammarly. They are:
WhiteSmoke Disadvantages
No free version is available.
Not appealing and outdated.
Slow and lagging.
Grammarly Disadvantages
Specific detections are repetitive.
Plagiarism checker in Grammarly Premium.
Grammarly is quite expensive in general.
Pricing plans of Whitesmoke and Grammarly (2023)
You must be curious to know what might be the pricing of the two competitive grammar-checking tools. Well, the wait is no more. I have listed the pricing plans of WhiteSmoke and Grammarly: 
Is Whitesmoke Affordable?
Unfortunately, WhiteSmoke does not offer a free version which is quite sad since the application is already outdated. It is unfair to make users buy WhiteSmoke Premium to access it.

Luckily, I was able to find that WhiteSmoke does offer a free trial which can be used to explore the various features and benefits of WhiteSmoke. Apart from that, the pricing modules in WhiteSmoke are categorized into yearly plans and 3-year plans.
WhiteSmoke yearly plans
WhiteSmoke Web – $10/m  (now discounted as $5), which is billed as $59.95
WhiteSmoke Premium – $13.33/m (now discounted as $6.66) billed as $9.95
WhiteSmoke Business – $22.99/m  (now discounted as $11.50) billed as $137.95
WhiteSmoke 3-year plans
WhiteSmoke Web – $6.94/m  (now discounted as $3.47), which is billed as $124.95
WhiteSmoke Premium – $11.11/m (now discounted as $5.55) billed as $199.95
WhiteSmoke Business – $17.82/m  (now discounted as $8.82) billed as $317.5
WhiteSmoke Web is only accessible via web browsers. In case you want to use WhiteSmoke in other applications, consider buying WhiteSmoke Premium or WhiteSmoke Business since WhiteSmoke will be compatible with Windows 7, 8, and 10 and macOS Sierra (10.12)
The difference between WhiteSmoke Premium and WhiteSmoke Business is that you get additional benefits like a 3-computer license, extended download warranty, and customer phone support.
NOTE: WhiteSmoke only accepts credit cards and PayPal*
Is Grammarly free?
Unlike WhiteSmoke, you get Grammarly for free with no hidden fees.
In Grammarly Free, there are multiple benefits like tone detection, spelling checker, and language customization, whereas you get additional benefits in Grammarly Premium.
Note: If you want to know more about Grammarly's free and premium versions, then check our in-depth comparison of Grammarly Free vs Premium here.
Grammarly Premium can be purchased in three subscription modules. They are:
You get to access plagiarism checkers and advanced genre-specific suggestions via Grammarly Premium, which are two of the most prominent features in Grammarly, or any grammar software in general. The ultimate Grammarly Premium plans are of three modules: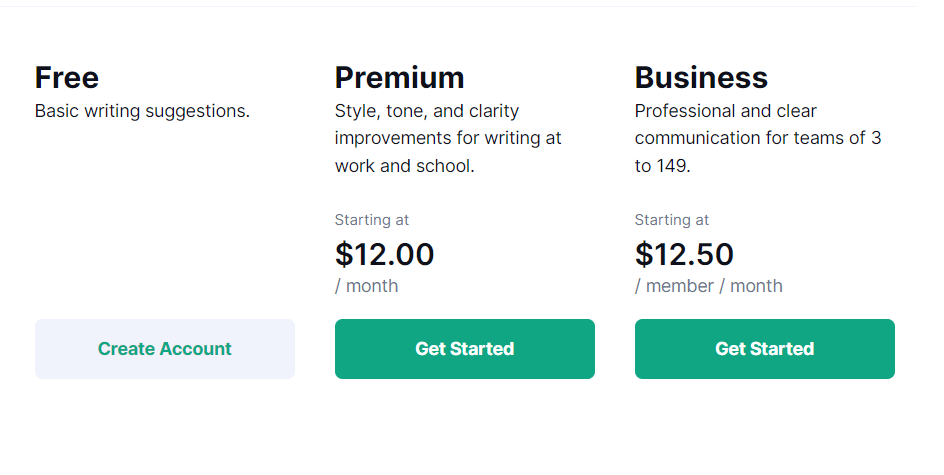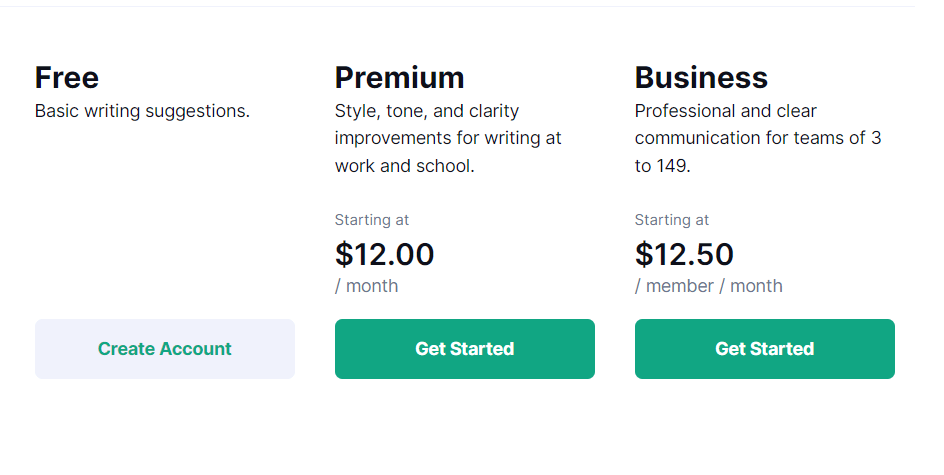 Monthly Grammarly subscription – $30 per month
Quarterly Grammarly subscription – $60 per three months (single payment)
Annual Grammarly subscription – $144, which can be paid annually (single payment)
Grammarly for Business (Team)
Even in the Business plan, Grammarly exceeded WhiteSmoke because WhiteSmoke only offers a 3-computer license in its business plan wherein Grammarly for Business can access almost 150 members. Grammarly for Business can also be purchased monthly and annually:
Pay $25 per member/month for the monthly subscription (billed as a single payment)
Pay $12.50 per member/month for an annual subscription for 3 to 9 members.
Pay $12.08 per member/month for an annual subscription for 10 to 49 members.
Pay $11.67 per member/month for an annual subscription for 50 to 149 members only.
If you manage a school, own a publishing agency, or a marketing firm, Grammarly for Business is a great investment since students, freelance writers, and bloggers can benefit.
NOTE: All payment is received in local currency via Grammarly. Users do not have to worry about currency conversion since the Grammarly team will take care of it.
More Grammarly Comparisons:
Final Verdict — Do I Recommend Grammarly In 2023?
If you had read the "My experience" section, you would have learned the answer. Still, I stick to my word and say that I recommend Grammarly 100% because of how incredible it really is.
WhiteSmoke gave a good fight, but Grammarly stood out of the game, hitting all the goals and giving a smooth writing experience, especially the fact that Grammarly has a free version.
If WhiteSmoke offered a free or standard version, it could have raised the bar. Unfortunately, even to access the basic features in WhiteSmoke, you have to buy WhiteSmoke Web at least.
Regarding Grammarly, it is quite hard to spot the downsides except the pricing. I felt that Grammarly is like a personal writing assistant that you did not know you needed.
You also get to check for plagiarism, tone detection, word enhancement, and advanced genre-specific suggestions in Grammarly, which are some outstanding features. Grammarly is basically the perfect package for writers since you have every writing tool under a single roof.
Buy Grammarly Premium and enhance your English proficiency in no time!
Latest posts by Ryan Harris
(see all)