On your way to finding the best free plagiarism checker available online? If your answer is yes, you have come to the right page!
Plagiarism has a severe impact on our content, and therefore these tools make sure that your content comes out real without any plagiarism errors or grammatical errors. While there are plenty of paid plagiarism checkers available online, not everyone would want to invest in one. 
Especially when you are a beginner, you would like to find ways to save money and write the best content, be it for your school assignment or your writing work.
We have had different experiences with plagiarism-checking tools online. Therefore, we decided to curate a list of the best free plagiarism checker based on our years of experience. Rest assured, all the tools mentioned below work perfectly and are reliable.
Top 8 Plagiarism Checker – In A Nutshell (2023)
Don't have time to go through the entire article? No problem! Here is a quick overview of our top picks of free plagiarism checker tools.
Quillbot – Quillbot plagiarism checker has been added recently in Quillbot. It quickly reviews all your plagiarised content and gives precise plagiarised reports. It offers a plagiarism checker for premium users, a grammar checking, and summarising tool.
Grammarly – Grammarly, again, is a great tool that offers an accurate plagiarised report and offers both free and premium plagiarism checkers.
ProWritingAid – ProWritingAid is a fantastic tool for plagiarism checkers. It offers a free trial, and later if you want, you can upgrade it to premium for better results.
Quetext – Quetext Plagiarism checker is a great tool that offers five free plagiarism checking per month that gives you detailed results.
SmallSeoTools – SmallSeoTool is a tool that gives you a free plagiarism checker and is valid for up to 1000 words limits per search.
Plagscan – PlagScan is a tool that checks the plagiarised content based on the words used.
Plagium – Plagium is a tool that performs both quick and deep searches and enables finding plagiarism of up to 1000 characters. 
Search Engine Reports – Search Engine Reports is a free tool suite for content writers that offer a plagiarism checker that enables you to check 2,000 words in one search.
Let's understand the features profoundly and work on the above-mentioned best plagiarism checking tool.
1. Quillbot
Quillbot is a robust tool that gives you real-time reports. It scans your documents and analyzes the plagiarised content. Additionally, Quillbot provides you with a total score and a plagiarism report. However, the plagiarism checker tool is only accessible for the premium plan, so you can opt for the paid version for a hassle-free plagiarism checking experience.

Key Features
It checks 100+ languages 
Give you accurate and real-time reports
It scans up to 20 pages a month
It gives a precise report about the changes required  
---
2. Grammarly
Note: Check my In-depth Grammarly Review to get detailed insights into it.
Grammarly plagiarism checker is a tool that gives you a free trial but offers plagiarism checker in the premium version. It not only helps check the plagiarised content but also checks other grammatical errors. Maximum users use this tool because of the level of accuracy it offers, so if you are someone who needs to check the content regularly and money is not the issue, then you can go with Grammarly.

Key Features
It gives an originality score 
Offers various corrections and feedback 
Give instant report and make sure that content is not duplicate 
Checks plagiarism from billions of web pages 
---
3. ProWritingAid
ProWritingAid is a tool that makes sure that your content is original and unique. It also helps in grammar corrections and paraphrasing the content. It offers a free trial but is not free. You have to take a subscription to enjoy using the plagiarism checker and get the original content report. You can also check our detailed ProWritingAid vs Grammarly here.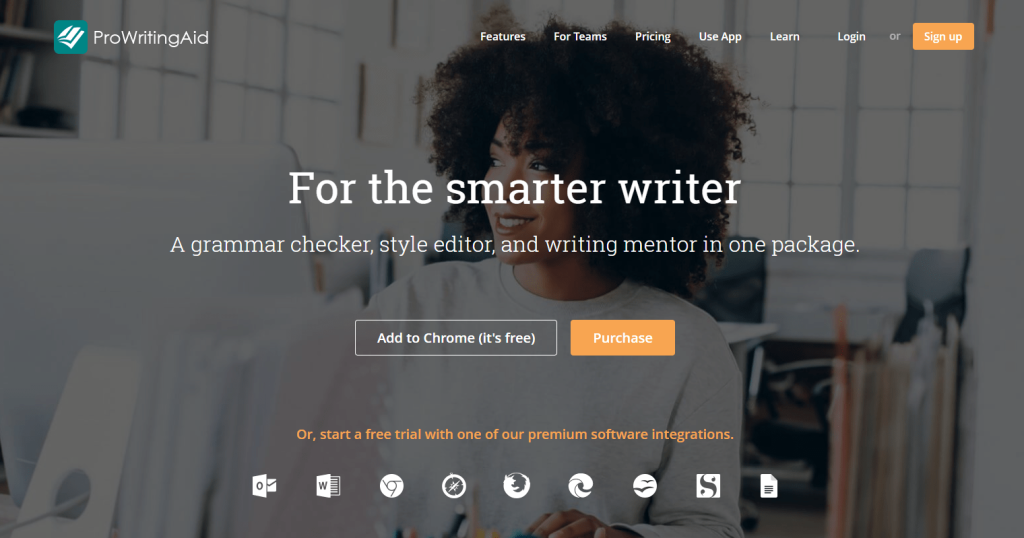 Key Features
It makes sure that the content is unique
Give quick report 
It checks the grammatical errors too
Checks plagiarism from billions of users
---
4. Quetext
Quetext content analysis the content effortlessly gives an accurate plagiarism report. It has both free and premium versions. The free gives you free plagiarism checks up to 2500 words. So, if you are someone who needs a quick check for plagiarism, Quetext will be the right solution! However, the only drawback about Quetext we find is that it takes too long to load the results compared to other tools.

Key Features
It verifies the original work with ease 
It is very fast and accurate
Give a comprehensive report and trace your content with billions of pages
Its software is paired with deep search technology. 
---
5. SmallSeoTools
The SmallSEOTool is a superfast plagiarism checker tool that gives results real quick within seconds. It is free for up to 1000 words and very convenient to use. In addition, this tool is used maximum by content writers, teachers, bloggers, students, etc., because of the authenticity it offers, and it is accurate and correct.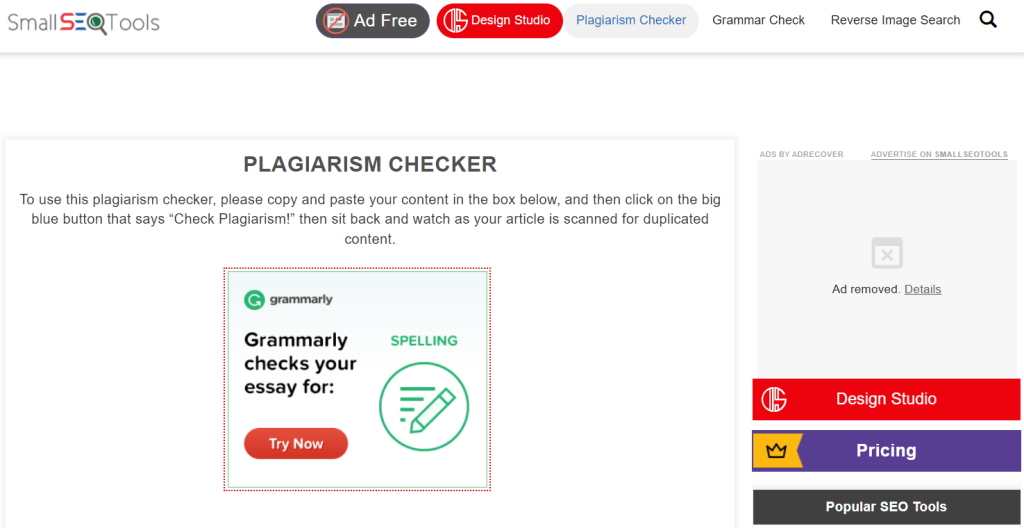 Key Features
It makes sure that your content is unique
Give the plagiarised content report instantly
Give the option to correct the plagiarised content 
It paraphrases the plagiarised content 
---
6. PlagScan
PlagScan is one of the most efficient tools that check out the plagiarism of your content and gives you a report within hours. This tool checks your content very precisely to ensure your content is not copied and unique. Plagscan is a free tool that gives you searches based on the word used and charges based on that.

Key Features
It checks the content authenticity very effectively
It gives a clear and accurate report with detailed scores
Give you instant reports 
Gives privacy protection 
---
7. Plagium
Plagium is a plagiarism checker tool that assures that your content is original and identifies the plagiarism content. This tool is very effective and easy to use. It gives free to search for up to 1000 words. You need to pay a particular amount if you want to search for more than 1000 words.

Key Features
This tool gives out the originality report
The tool checks every possible plagiarism from various websites
Very convenient and easy to use tool
Plagium gives instant and quick search reports and gives change suggestions.
---
8. Search Engine Reports
Search Engine Reports is a handy website for content writers. It offers a great plagiarism tool that helps you check plagiarised content in real-time. You can analyze up to 2,000 words with one research. The tool allows you to view plagiarism search results in three different ways; matched resources, sentence-wise results, or document view. The interface of the website is pretty much similar to the Small SEO Tool, but the accuracy level of its tool is high as paid tools. Apart from the plagiarism checker, the website offers tools like article rewriter, paraphrasing, word counter, grammar checker, spell checker, and many more.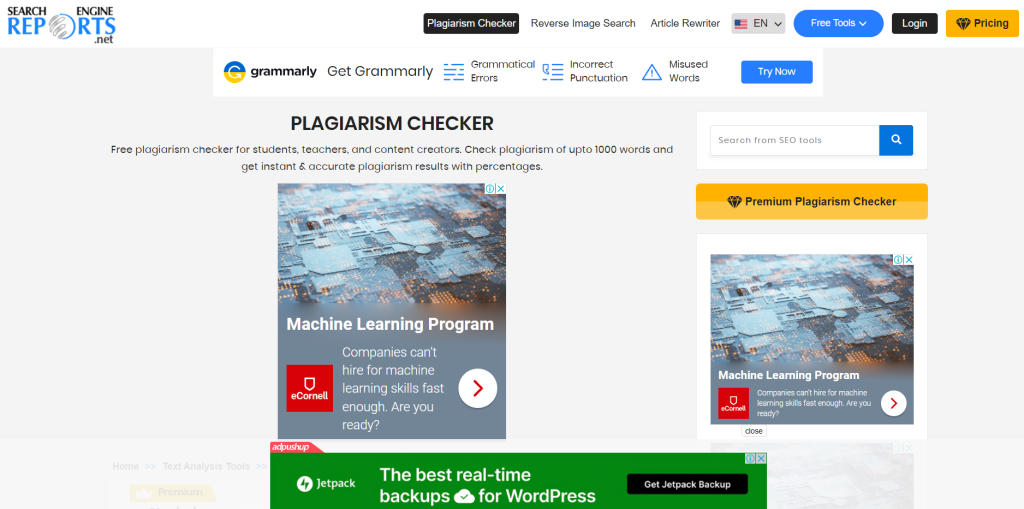 Key Features
It checks up to 2,000 words in one research
View reports three different ways
Hundreds of free tools apart from plagiarism checker
Available in 17 different languages
---
Related Read:
Final Verdict: Best Free Plagiarism Checker (2023)
As the originality of your content matters, the plagiarism checker tool plays a massive role in ensuring that your content is unique and not copied. The tools mentioned above are some of the best tools that help provide you with an accurate and effective plagiarism report and ensure that your content does not have any copied content. These tools are straightforward to use tool that is not only obtained for plagiarism but also for grammar checking, paraphrasing, and more.
If you are wondering which tool you should start with, we recommend trying Quillbot or Grammarly. Both tools ensure your content is unique and 100% plagiarism free with its powerful in-built plagiarism checker! 
We hope this article helped you find the best free plagiarism checker. Note that all the tools work for beginners, students, and professionals. Which tool did you pick from the list above? Let us know in the comments section below!
Latest posts by Ryan Harris
(see all)