The accusation of plagiarism in your thesis, journals, and books is an unforgivable offence. It may end you up in legal trouble as well.
And I'm sure you don't want to be a part of such a huge mess. Therefore, you need some robust software or plagiarism checker tools that will keep you away from copied content.
Even though none of us intends to copy from others' work, sometimes it may happen unintentionally. So running your content through such tools is crucial.
Plus, most of these tools help to keep grammar, spelling, and punctuation errors at bay. But how will you know which plagiarism checkers will be best for you?
This is where this article comes to your rescue. I have shortlisted the six best plagiarism checkers for students that will take half the stress away from your head.
My list includes both paid and free tools, so let's go ahead and help you pick the best ones.
Best 7 Plagiarism Checkers for Students In 2023 – Overview
Here is a list of some of the best plagiarism checkers you must know about-
| | | |
| --- | --- | --- |
| Sr No | Best Plagiarism Checker For Students | Rating |
| 1. | Scribbr | 4.9/5 |
| 2. | Grammarly | 4.9/5 |
| 3. | Duplichecker | 4.8/5 |
| 4. | SmallSeo Tools | 4.6/5 |
| 5. | Quetext | 4.7/5 |
| 6. | PlagScan | 4.4/5 |
| 7. | Crossplag | 4.3/5 |
Top 7+ Plagiarism Checkers Students Must Know About 
Let's start with the 7 best Plagiarism checkers for students in detail.
1. Scribbr
Students and academics must check out this fantastic plagiarism checker called Scribbr. It will not only find out the matching sentences but detect when you paraphrase the original sentences.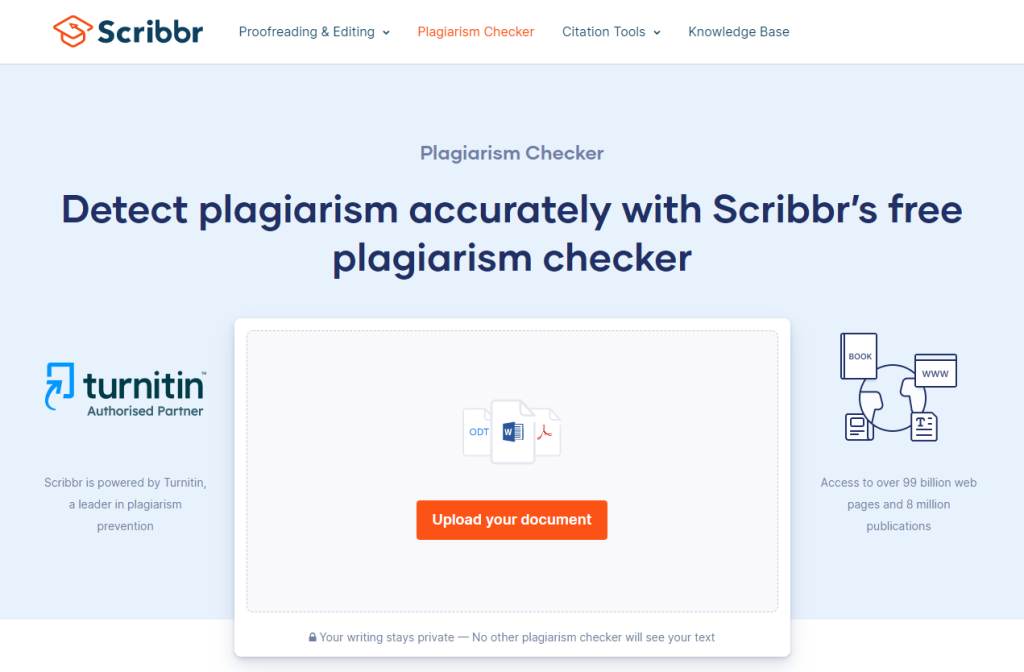 This is How Scribber Works-
Scribbr compares your writing against 69 million publications and 91 billion web pages.
That is not it. If you're working on a topic with no publications yet, you can upload your reference book or old assignments in Scribbr and compare them with your current assignment/ thesis.
Scribbr also offers expert editor checks who will edit your literary reviews, essays, thesis, or any other assignment to ensure your work is better than the rest.
But Scribbr is not a free tool. You have to pay $20 to $40 depending on the length of your work.
Pros
Citation checking.
Supports external sources as well.
Cons
This is not a free tool
You can't work directly at the tool
If you are a research scholar who is undertaking serious research work, paying for the tool will definitely be worth it. It helps you keep in check that your time and effort have not gone to waste.
2. Grammarly
The next best plagiarism tool checker on my list is Grammarly. This is an effective plagiarism checker but also helps you find out the complicated sentences in your writing. It will suggest a simpler version of the same so that your assignment is easier to read.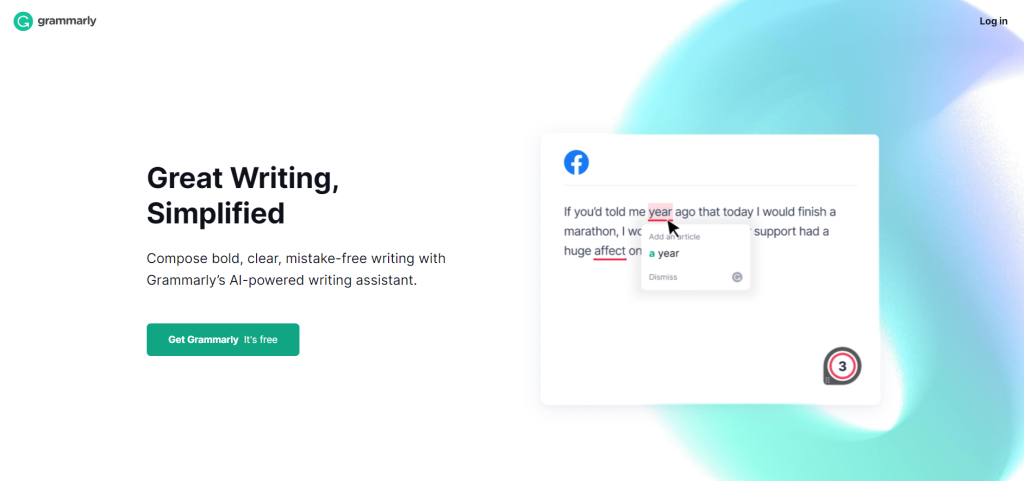 Grammarly Works By-
Tracking down sites with matching content.
Provides writing assistance.
Checks grammar and punctuation errors.
Grammarly has a free and paid version. Unfortunately, you don't get in-depth analysis in the free version, nor can you check plagiarism on it. So users must get the paid version to use all the amazing features.
Pros
Finds out plagiarized sources in seconds
Provides grammar and language assistance
Cons
Cannot detect the rephrased sentences
Has a character limit of 25,000 words
Even if Grammarly lacks in some ways than Scribbr, it's still a great tool. To check plagiarized sources, getting the paid version is worth considering.
3. Duplichecker
Duplichecker is another great tool to check plagiarism for students. The tool lets you check 1000 words for free.

This is how Duplichecker Works-
It checks your content against billions of web pages
It checks each sentence to see whether any line is matching
It shows the percentage of text matching with other sources
Duplichecker lets you download the plagiarism reports so sharing them shouldn't be an issue.
Duplichecker also does not save any data you paste on their tool. They have designed the tool in a way that the algorithm does not allow to save any data.
Pros
Instantly catches plagiarism
Easy to use
Shows the matching sources clearly
Cons
You can't check more than 1000 words in the free version
Duplichecker is a great tool for students who just have to check simple assignments or short research papers. If you have a more than 1000 words assignment to check, break it into parts. This way, you can check more than 1000 words for free. I used to follow this trick too.
4. SmallSeo Tools
SmallSeo Tools is mainly an online SEO optimization tool but it helps with plagiarism detection as well. Their plagiarism checker is absolutely free no matter of how many times you use it or how many words you check.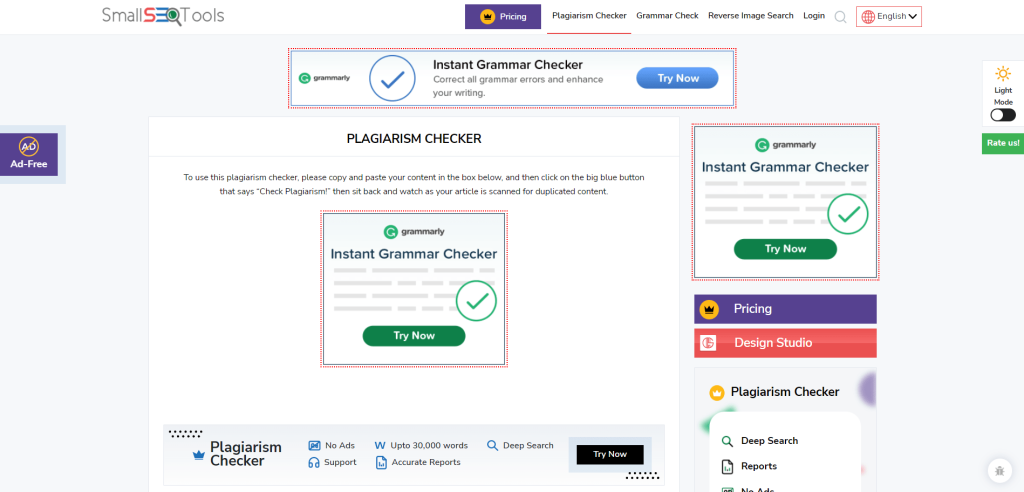 Here are Some of the Crucial Features of SmallSeo Tools-
It lets you upload .doc, .pdf, .rtf, .docx, .txt, .odt files.
You can integrate the website URL
It supports multiple languages like Spanish, French, Italian, Portuguese, and more.
You can easily download the plagiarism report and share it with others.
The tool shows plagiarism results in percentages. For instance, it will show you that 80% of your text is unique and the rest 20% has plag.
Pros
It's an entirely free tool, so there are no charges
You can check a variety of document formats
Plagiarism checking in other languages is also available
Cons
Limited chicking capacity
It does not provide the exact sources of matches
In my opinion, SmallSeo tools are great to help you assist in your writing. It has more than 15 categories that will help you optimize your content in different levels. But some of the limitations may not prove helpful for more critical research writings.
5. Quetext
Students can also check out Quetext to find matching texts or plagiarism in their writing. It is a great tool that will help you check academic documents, blog posts, news articles, and lots more.

Want to know how Quetext works? Here is how-
The tool uses a plagiarism detection algorithm called DeepSearch. It shows matching results based on word placement, contextual analysis, and deep learning.
Plagiarized words and sentences are highlighted with bolder shades.
It shows the sources of the plagiarized text.
Ultimately, it gives a score to show how your content performed.
Quetext has a free and paid plan. Using the free plan, you can check up to 2,500 words and get all the features.
Pros
Lets you check 2500 words for free.
Shows results based on in-depth scanning.
You can check your content performance based on the score.
Cons
To check more than 2500 words, you have to get the paid version.
Quetext is again a great tool to run a plag check. If you are a frequent writer, I would suggest you get the paid version which is just $10 a month, and you can check up to 100,000 words.
6. PlagScan
Another tool students can rely on to check plagiarism is PlagScan. What sets this tool apart from the rest is that it is more for educational use, so students are sure to check precise results.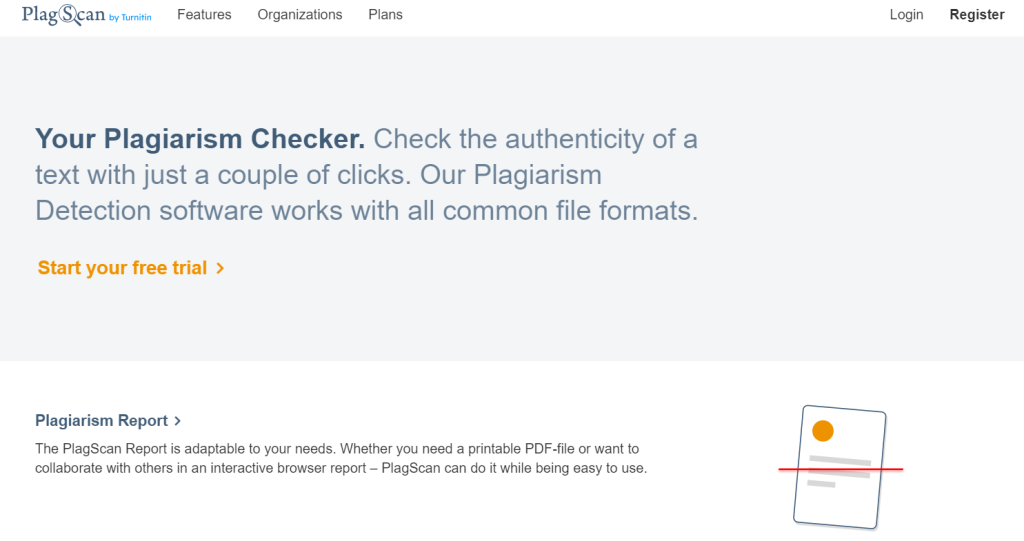 Some of the crucial features of PlagScan are-
Document, assignments, and all academic plag checking.
The side-by-side mode lets you compare your document with any possible matches.
The tool shows the matching text by highlighting it.
Show rephrased and re-worded texts as well.
You have to pay a certain amount to use PlagScan. It is not available for free. But you only have to pay for the number of words you want to check.
Pros
Finds original plagiarized sources.
Easy to use.
Not as expensive as other paid tools.
Cons
Results may not be 100% accurate.
There is no live support.
Because PlagScan is made exclusively for academic purposes, students will find it very useful. If you don't mind spending some money, this tool is worth considering.
7. Crossplag
Crossplag is a very simple and holistic plagiarism checker tool. It also offers AI content detection along with a plagiarism checker. It allows various file types like PDF, PTT, Microsoft Word, and Plain Text.
This platform offers detailed analytics for the educational institution by offering an overview panel with main insights and data regarding plagiarism prevention and user activities.
It supports more than 100 languages and compares with more than 70 billion web articles.
This is how Crossplag Works:
Crossplag uses natural language processing and machine learning algorithms. It is trained to learn patterns and characteristics so that it can detect the plag in your writing.
Pros:
Supports a wide range of files.
Plenty of features.
Latge content database.
Cons:
Not much suitable for large enterprises.
As per my experience with the Crossplag, it is a bit easy to use. This might not be a perfect choice for huge ventures though. So if you are a beginner or a student then I would recommend you to go with this platform.
My Top Three Picks From The List And Why They Are The Best?
Mentioned above are some of the top-notch plagiarism check tools for students. Although there are some cons to each tool, the ultimate results are not disappointing.
To ease your confusion even further, I have picked my top three favourites. I picked these three options based on their accuracy, ease of use, and price. Let's check-
1. Grammarly 
My reasons to keep it in the list of top three-
Easy to use.
The premium plans are not too expensive. You can get it for under $15.
Around writing assistance.
2. Duplichecker 
Here is why I kept Duplicher among my favourites-
You can check up to 1000 words for free.
Quite easy to use
3. PlagScan
Here are the reasons to get PlagScan-
Suitable for all academic usage
Highlights matching texts to sources
Related Read:
Wrapping Up: Best Plagiarism Checkers For Students (2023)
Have you found my list of best plagiarism checkers for students useful? I have tried to keep the list versatile by adding both paid and free tools. However, free versions of the tools only let you check a certain number of words.
To use the premium services, there is no other option than to sign up for the paid versions. But paid does not always mean expensive. Some paid options are available for as cheap as ten dollars.
Now it's time to pick your favorite tool from the list and get started on your work. All the best!
Latest posts by Ryan Harris
(see all)