I had a hard time proofreading and editing content on a daily basis and was clueless. Coincidentally, I saw advertisements for Grammarly, which claims to be a replacement to a human proofread editor.
That's when it got me thinking about knowing more about Grammarly Free vs Premium. So, I went for it.
I opted for Grammarly Free and was already impressed with the accurate results with punctuating detection and spelling correction. Being an editor, sometimes I overlook errors and end up in rejected content, but Grammarly came as a life savior.
Additionally, Grammarly Premium excelled with additional benefits like plagiarism checker, tone adjustment, and formality level. Numerous features helped with my workflow.
Hence, I decided to write a detailed comparison review between Grammarly Free vs Premium. In this article, I differentiate Grammarly Premium from Grammarly Free and share my experience using both, including the ease of use, pros & cons, and many more.
In the end, I also answer the ultimate verdict – "Is Grammarly Premium better than Grammarly Free?"
An Overview of Grammarly
Note: If you want to know more about Grammarly then check out our detailed Grammarly Review here.
Grammarly is an Al-induced software that helps with error detection, punctuating corrections, checking plagiarism, and transforming the writing experience into a smoother workflow.
The best part about Grammarly is that it is more than just a text editor. Unlike other competitors, Grammarly ensures that its users get the best benefit from their software.
You can find various features in Grammarly that help in upscaling your writing journey.
For example, Grammarly is effective in suggesting grammar tips, correcting concise words, and neglecting repetitive sentences to produce well-drafted work. Beneficial, right?
Additionally, Grammarly shows the most accurate results in real-time, which makes it the best.
What's the difference: Grammarly Free vs Premium
Grammarly does not disappoint its users by unnecessarily limiting certain practical features to their premium version that might significantly benefit an average writer who wants valuable features in the standard version itself. Still, they have ensured to give additional benefits to the users who buy Grammarly Premium. That's where Grammarly stood out with its strategy.
Although Grammarly free has good features, Grammarly Premium gives greater experience to a writer in perfectly structuring their draft and bettering their content without a proofread editor.
Grammarly Free
Since the standard version in Grammarly does not cost any money, the benefits are restricted, but they are effective in sculpting a writing piece into a clean and nourishing touch.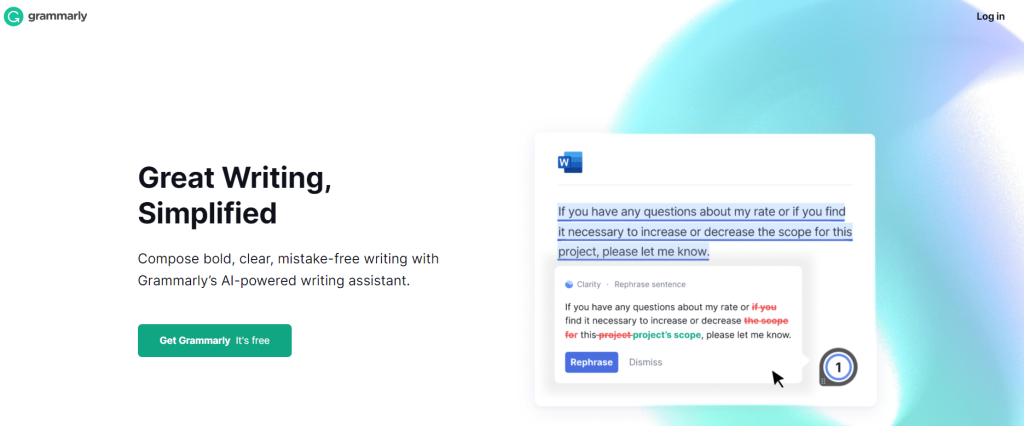 Basically, in Grammarly Free, the in-built AI takes care of the Grammar of the content precisely while also looking out for errors and typos. Grammarly free ensures to suggest certain words which may add flavor to the type of content that you write.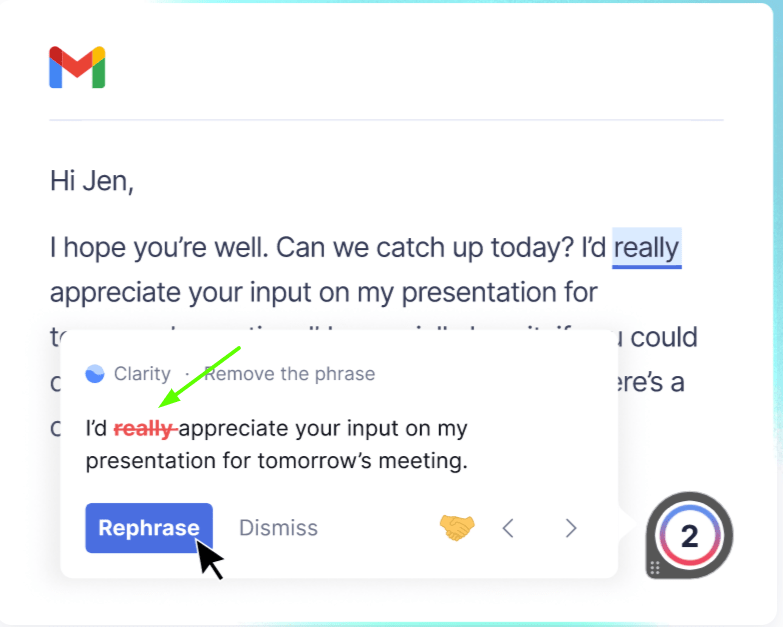 Last but not least, Grammarly Free thoroughly scans your entire work and fixes punctuation.
NOTE: There is no free trial; Grammarly Free is available for free on Android, IOS, and Web.
Grammarly Premium
On the other hand, Grammarly Premium allows users to get various benefits. They can instantly transform their unedited writing piece into one of the best-written content ever.
Exaggeration? I guess not because Grammarly Premium indeed does its job. There is a feature called tone detector in Grammarly Premium, which is a game-changer.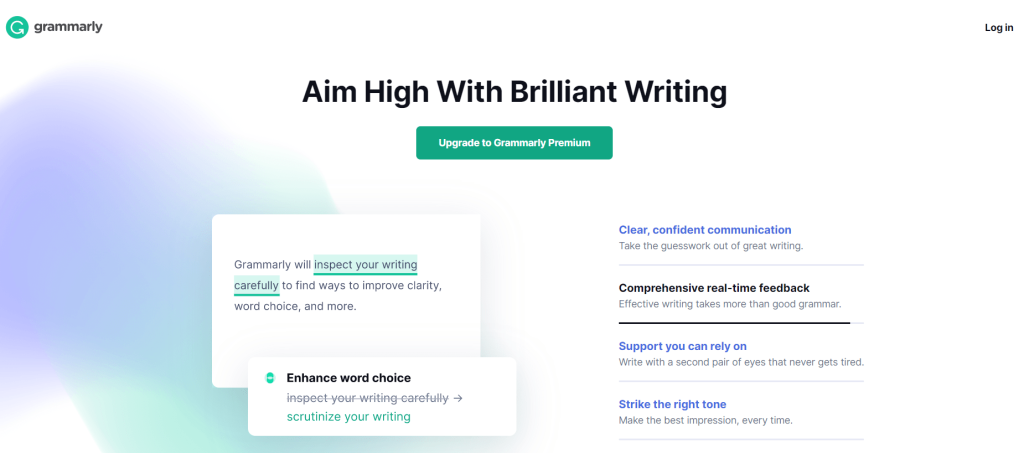 For example, if you are writing a formal letter to a higher official or the principal, you might be unclear about the tone that the letter carries and accidentally write it informally. If you use Grammarly Premium, it automatically detects inappropriate tones and suggests alternatives.
Even the word choice is checked in Grammarly Premium to ensure that it is managing the tone of the content. Additionally, in Grammarly Premium, fluency and readability are also calculated so that the written content delivers a detailed message in an understandable way.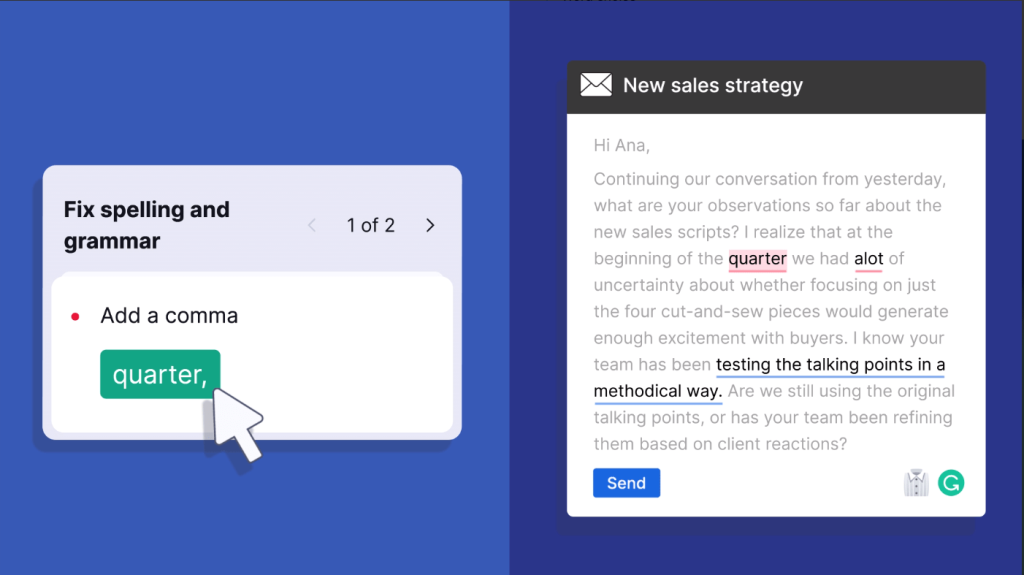 One of the best features in Grammarly Premium is the plagiarism detector which can instantly capture duplicated content within seconds. This is a life savior when it comes to online publishing because usually, writers may find trouble in getting plagiarised content unintentionally.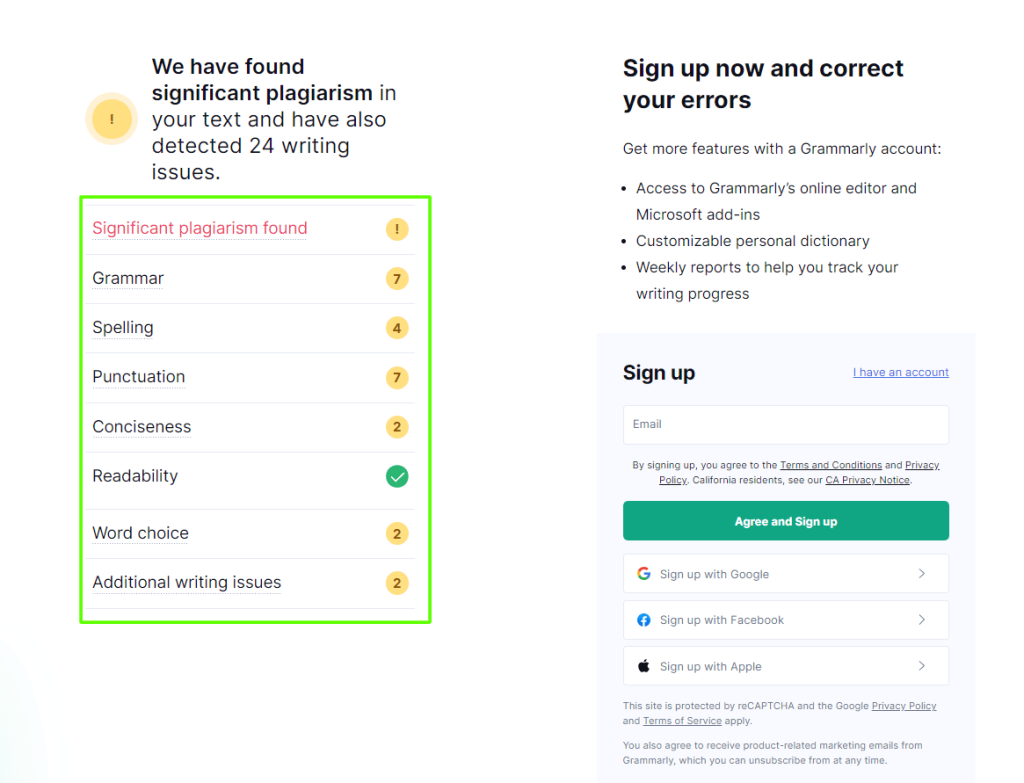 The thing I loved about Grammarly Premium is that the software also rewrites specific sentences, so it is communicable and sensible for the common crowd. I mean, even if the content requires the usage of technical words, Grammarly will give advanced suggestions for understanding.
Best Suitability of Grammarly: Which One Excles?
Although Grammarly is versatile and can be accessed by anyone who is finding trouble with writing content, when it comes to choosing between their standard version, Grammarly Free, and their premium version, Grammarly Premium, it is categorized to specific groups.
As mentioned earlier, I have been relentlessly stating that Grammarly Free has good features. Still, it may not be enough for an experienced writer or an editor who needs a professional touch.
I would suggest Grammarly free can be used by:
Average writers who are struggling without a proofreader.
Students who deal with regular assignments and writing.
Social media managers who have to write content formally.
Anyone who repeatedly makes typos while texting.
Grammarly Premium has multiple detecting options like plagiarism checker, tone detector, and fluency detector. It also helps in improving readability and enhancing vocabulary. Even word choices are suggested and rewritten for better understanding.
Hence, Grammarly Premium benefits a lot of people, including:
Bloggers, copywriters, and content writers who demand professionalism.
Content marketers and content publishers who need effective proofreaders.
Journalists who have to write content for news journals and articles.
Authors and story writers who do not have a personal proofreader.
Grammarly Ease of Use
Grammarly transforms the usual way of writing by providing a smoother experience. For example, proofreading in real-time is a no-brainer feature in Grammarly. Similarly, other features in Grammarly also help ease the workflow.
The most exciting thing about Grammarly is that it does not take time to load the content and show results because the AI in Grammarly will start its work instantly after turning the application on. So, it saves a lot of time, and the results are mostly accurate.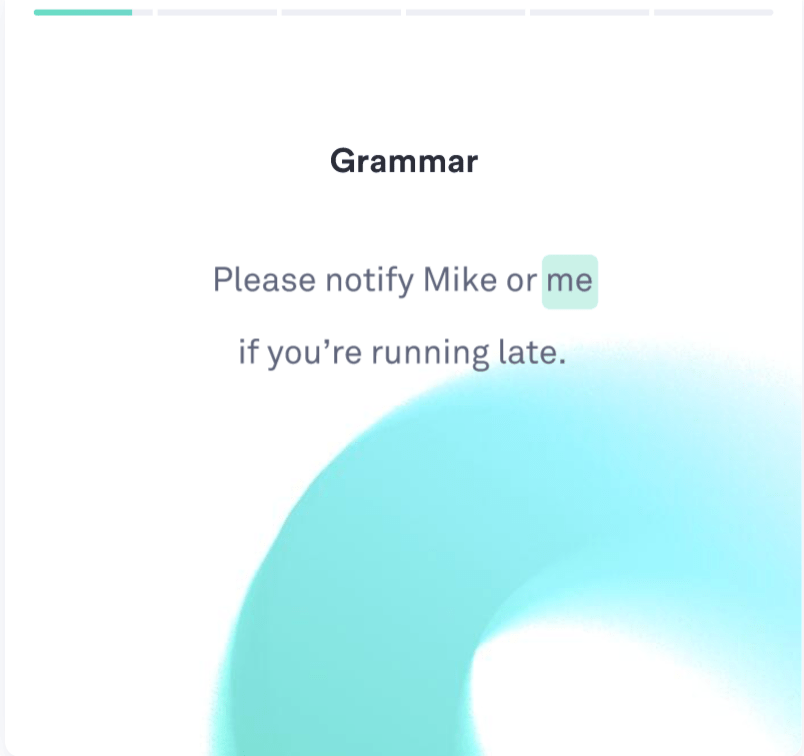 In Grammarly Free, only the spelling and punctuation is detected, but it fairly does it right. I mean, in my experience with the standard version of Grammarly, I found no problems with it.
The ease of use in Grammarly Premium is something else because of the additional benefits I could make use of. All the detectors in Grammarly Premium worked perfectly fine.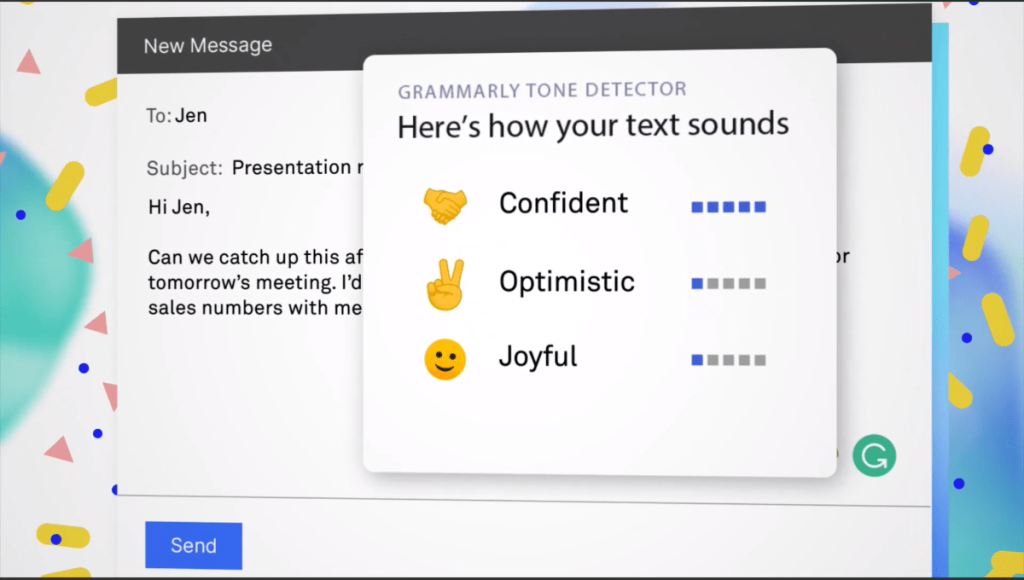 In fact, the tone adjustment tool immensely helped alter the content and neglect unwanted words. I was carried away with the workload once, but Grammarly Premium came to my rescue.
Additionally, Grammarly Premium made it even more convenient than Grammarly Free.
New Updates in Grammarly (2022)
Grammarly has ensured to update their software with the latest advancement in technology constantly. Recently, I noticed a few changes in their AI, which seemed incredibly cool.
Although there were changes in Grammarly, the standard version of Grammarly remained the same. Hopefully, future updates in the Grammarly software bring in additional benefits so non-premium users can use it without paying any money.
Grammarly Premium — New Updates Rolled Out
The update that I did not know I needed was to set up goals in Grammarly Premium.
As the name suggests, it helps in personally tailoring the writing suggestions so that you get customized proofreading according to the goals that you have set in Grammarly Premium.
It basically allows users to pick the type of audience they are targeting, the content like Expert, Knowledgeable, and General. On top of that, even the formality level can be altered.
For example, if it is going to be written for a fun and creative project, a neutral and informal setting can be selected. In the case of professional writing, it can be set as formal.
Although the formality level only checks the slang and jargon used in the content, the domain setting in Grammarly Premium can be chosen from various options like Technical, Creative, Business, General, Casual, and Academic, which will apply with medium restrictions.
Grammarly Premium has also added overlay-emojis with the tone detection setting.
Can you change languages in Grammarly Premium?
It is natural to expect innovative features and exceptional benefits in a premium version. Unfortunately, Grammarly has not updated its software with other languages except English.
Although you have the advantage of changing the preferred language in English since English is not written and communicated in the same way globally hence, Grammarly allows its users to change their preferred English from Australian, American, Canadian, and British. 
Benefits Of Upgrading To Grammarly Premium
If you want to write more professionally and avoid any silly mistakes, then you should consider upgrading to Grammarly's premium version. The premium version gives you access to a plagiarism checker tool, advanced suggestions, and more features. Grammarly Premium will help reduce your cost of editors and speed up your publishing process.
However, you must also review the premium suggestions because they are not always right. You need to use your judgment when approving Grammarly's suggestions. Sometimes their suggestions do not make any sense. All-in-all it will be beneficial for you to upgrade to Grammarly premium.
Grammarly Pros & Cons
Although I liked Grammarly for the most valid reasons, there were also some downsides.
Grammarly Free Pros
Improves readability and fluency
Accurate results with suggestions
Accessible and easy to navigate
No lagging or glitching
Grammarly Free Cons
No style enhancement
Basic word suggestions only
Advanced word suggestion is available
Effective in-built plagiarism checker
Tone detection is incredible
Inconsistent style is detected
Wordiness is also detected
Most likely suitable for professional writing
Repetitive suggestions on certain words
Pricing Battle: Grammarly Free vs Grammarly Premium
Although Grammarly Free does not charge and is available for free to all users, you might have to create an account or sign in with a Google account to access it. In contrast, Grammarly Premium has several plans that the user can choose according to his budget and convenience.
Grammarly Free
Grammarly Free is the standard version of Grammarly, which can be accessed for free with no hidden fees, but the features are essential and restricted to a certain level.
All the benefits in Grammarly Premium are the same regardless of the pricing plan. In Grammarly Premium, the software allows users to check for plagiarism, get advanced suggestions, detect the tone of the content, and improve fluency better.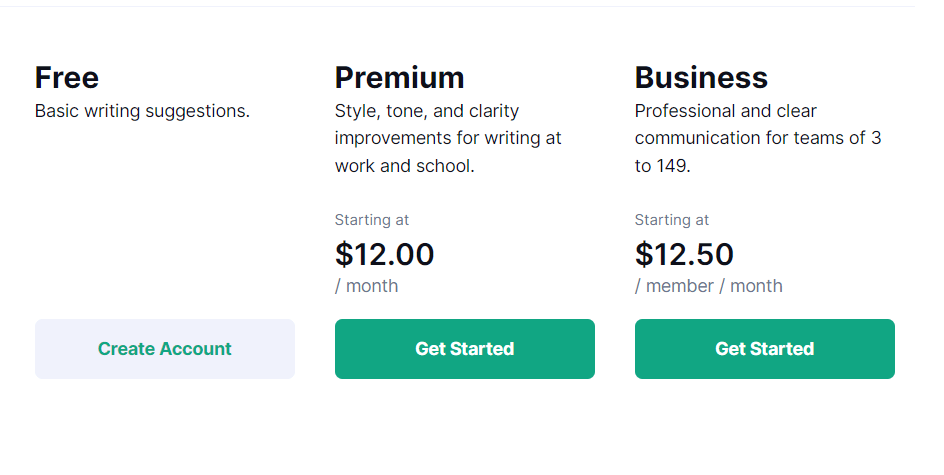 There are three subscription modules in Grammarly Premium. They are:
Monthly subscription which costs $30 per month (on a monthly basis)
Quarterly subscription which costs $60 per three months (billed as one payment)
Annual subscription which costs $144 per year (billed as one payment)
NOTE: An user should remember that any purchase done in Grammarly Premium will be considered in their local currency only since Grammarly automatically converts it according to the exchange rate at the time of purchase.
Related Read:
Grammarly is by far one of the most convenient and user-friendly AI-induced software that I have ever used. The performance, the accuracy, the delivery, Grammarly was top-notch.
Although when it comes to the decision of choosing between Grammarly Free and Grammarly Premium, things got a little serious since both the versions in Grammarly offer brilliant features.
After using both versions for a reasonable period, I would say that the additional benefits in Grammarly Premium excelled the limited features in Grammarly Free.
I mean, who doesn't like extra? Grammarly Premium had features that perfected content in a professional way where an average editor would have overlooked the flaws in it.
In fact, I suggested using Grammarly Premium for college applications, job applications, and any content that requires a bit of professionalism and formal touch. What are you still thinking?
Grammarly Premium is the writing assistant you didn't think you would need. Forget about unwanted errors and typos anymore; Grammarly Premium has got you covered!
FAQs
Which one is better: Grammarly free or premium?
Both of them have their own importance. If you just want to check the simple grammar of your essay, blog post, or anything you've written then the Grammarly free version is enough. But if you want more advanced suggestions and features then you should upgrade to Grammarly premium.
Does Grammarly offer a free trial?
No, there is no free trial available on Grammarly. You can only use the free version with its limited capabilities.
On how many devices I can use the Grammarly account?
You can use one Grammarly account on up to five different devices. So you don't need to buy a separate account to use Grammarly on a new device.
Latest posts by Ryan Harris
(see all)