Grammarly, unlike other writing assistants, competes with itself in Grammarly Free vs Premium rivalry. 
Its free and premium plans are designed keeping different users in mind. For instance, Its free version is best for correcting your assignments or basic documents. However, if you write professional documents, go for Grammarly's premium version to correct your content ideally. 
As someone who used both the paid and free versions of Grammarly, I've compared every aspect of the Grammarly plans, including their features, pricing, and suitability, in this article. 
So, as we go through this Grammarly free vs premium comparision, I'll help you in picking the right version for your needs.
In the end, I also answer the ultimate verdict – "Is Grammarly Premium better than Grammarly Free?"
With that, let's get into the details!
Before getting into the details of the Grammarly Free vs Grammarly Premium comparison, you can take a glimpse of this article here.
| | | |
| --- | --- | --- |
| Parameter | Grammarly Free | Grammarly Premium |
| Ratings | 4.3/5 | 4.9/5 |
| Features Ratings | 4.2/5 | 4.8/5 |
| Best for | Newbie writers, students, and digital marketers. | Professional content writers, screenwriters, journalists, teams, and organization owners |
| Price | $0 | Starts from $12/month |
Who Is The Grammarly Free Plan Right For?
Grammarly's free version is perfect for the following individuals.
Students: Students can do basic grammar corrections in their assignments without spending money through the free version of Grammarly.
Freelance writers: Freelance content and copywriters, especially the newbies, can use Grammarly's free version and sound professional.
The premium version of Grammarly is beneficial for the following individuals.
Authors & Book writers: With premium tone suggestions and corrections, books, magazines, etc., can become even more engaging.
Professional writers: Professional writers can ensure their content has highly accurate grammar with Grammarly Premium.
Agency owners: With Grammarly's premium plan, content writing or marketing agency owners can manage writers and allow them to follow a similar brand tone in each piece of content.
Proofreaders: Proofreading becomes easy and accurate with Grammarly's premium suggestions.
An Overview of Grammarly
Grammarly is an Al-induced software that helps with error detection, punctuating corrections, checking plagiarism, and transforming the writing experience into a smoother workflow.
The best part about Grammarly is that it is more than just a text editor. Unlike other competitors, Grammarly ensures that its users get the best benefit from their software.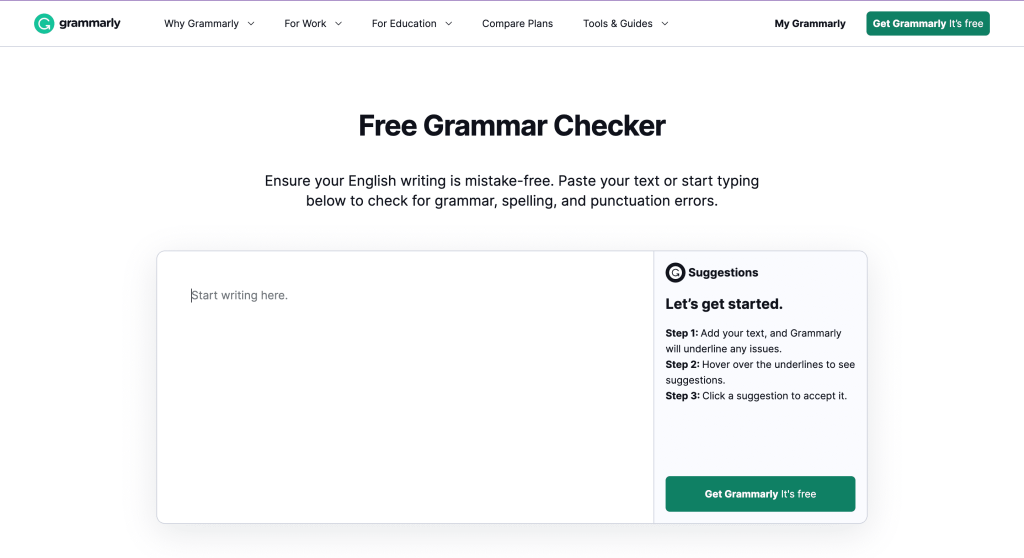 You can find various features in Grammarly that help in upscaling your writing journey.  For example, Grammarly is effective in suggesting grammar tips, correcting concise words, and neglecting repetitive sentences to produce well-drafted work. Beneficial, right?
You can read my complete Grammarly Review, where I have shared my experience with the tool!
What Features Are Available In Grammarly's Free Plan?
Grammarly Premium includes basic features to improve your writing. Check out the details of each feature below.
Basic Grammar Correctness
Basic grammar corrections, like grammar errors, spelling, punctuation, etc., are available freely on Grammarly.
These errors are shown as underlines, and their suggestions are offered in suggestions cards along with detailed explanations.
Integrations
Grammarly provides its desktop and web app for free to its users. Additionally, the basic plan of Grammarly allows multiple integrations, including Safari and Chrome extensions.
So, you can use it on Google Docs, Gmail, MS Word, etc., to get grammar suggestions while working on your post. 
Here are some of our helpful resources:
Tone Detection 
With Grammarly's free plan, you may copy-paste your content and see if your tone is formal, informal, or neutral.
Unfortunately, the free version does not provide tone suggestions and just detects the tone.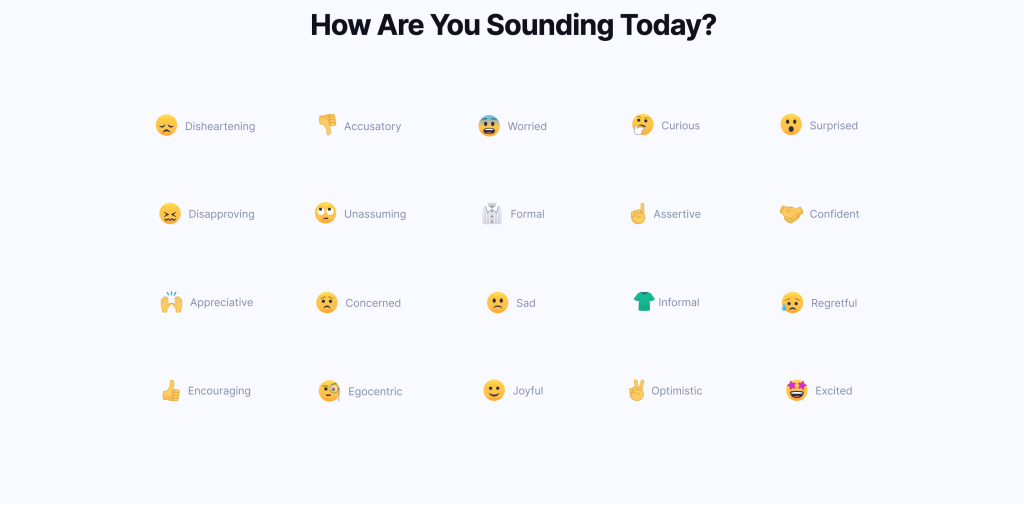 Citation Suggestions 
Grammarly's auto-citation feature saves time for nonfiction writers who wish to generate citations for online sources without navigating multiple websites.
This function is also helpful for students and academic writers who require citations for material like bibliographies from prominent websites such as Wikipedia, ScienceDirect, DOA, Springer, PubMed, and so on.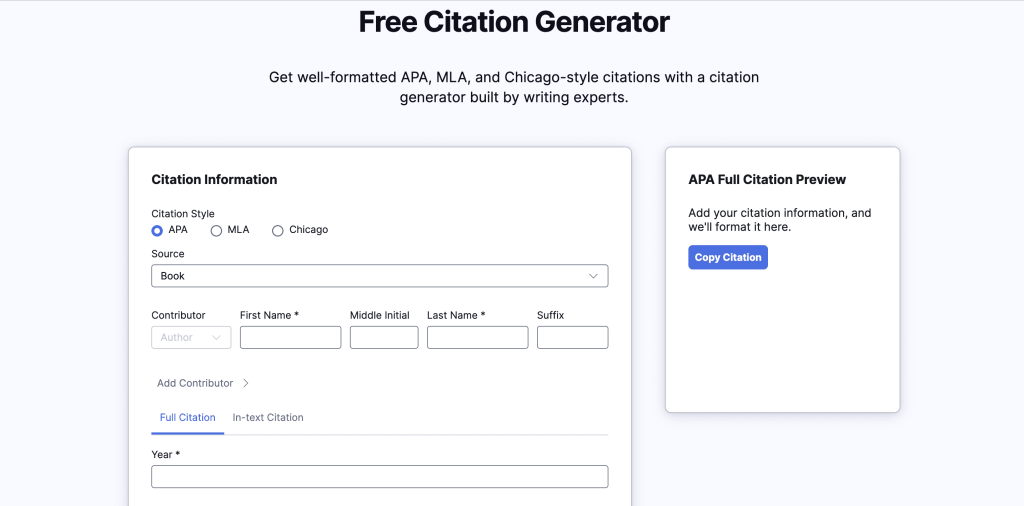 Dialect
Grammarly does not provide various language options for its users and only works with English.
However, you can switch between American, Canadian, Indian, Australian, and British English through its free version.
Since you now know what features the free version offers, it's time to look into the premium version's features to understand the complete difference between Grammarly free vs premium!
You get all the basic features of Grammarly in your premium plan. Additionally, you get these features to enhance your writing further.
Style Enhancement
The AI writing assistant of Grammarly Premium reviews your style and removes and replaces hard-to-read sentences or clunky words. Simply put, It detects misfit words or sentences and provides suggestions according to your writing style to improve readability.
Advanced Suggestions
Grammarly Premium provides advanced genre suggestions to its users. These suggestions maintain the flow of content throughout by providing word choices, sentence variety, tone detection, etc.
All in all, these writing suggestions will transform your content into a confident, friendly, diplomatic, constructive, etc., as you desire.
Performance Analysis Report
The performance analysis report in Grammarly Premium is a perfect feature to understand your writing improvement areas.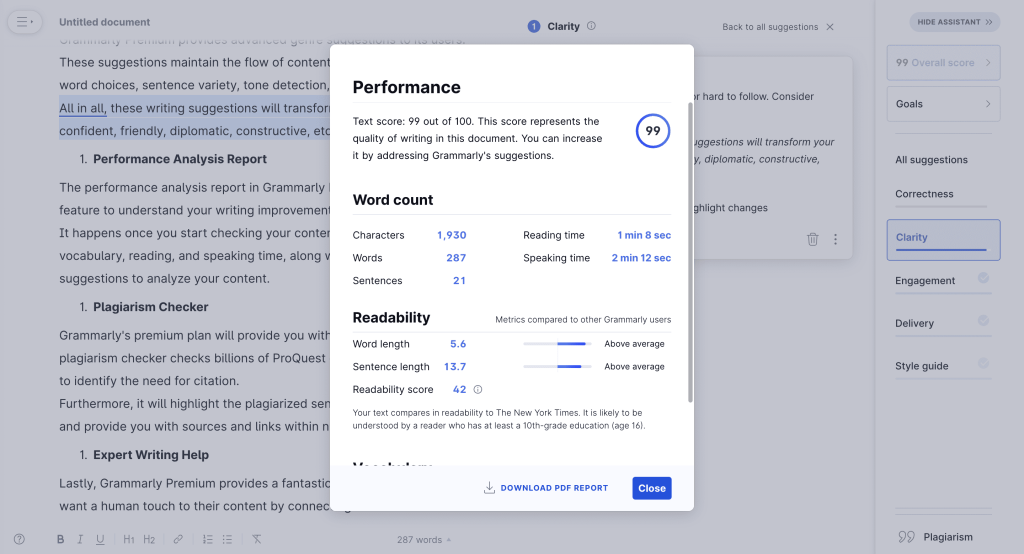 It happens once you start checking your content and get readability, vocabulary, reading, and speaking time, along with many other suggestions to analyze your content.
Plagiarism Checker
Grammarly's premium plan will provide you with a plagiarism checker. Its plagiarism checker checks billions of ProQuest databases and web pages to identify the need for citation.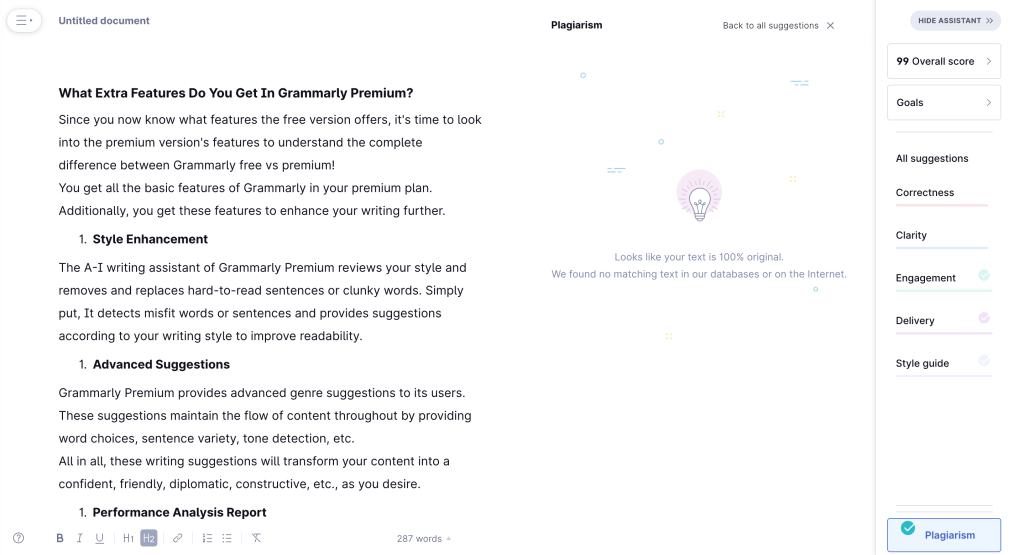 Furthermore, it will highlight the plagiarized sentences in your content and provide you with sources and links within no time.
Expert Writing Help
Lastly, Grammarly Premium provides a fantastic feature to its users who want a human touch to their content by connecting them with a human expert. Grammarly assigns you a human proofreader to assist you with expert guidance and suggestions on your content. 
However, the fees of this feature are quite heavy on the pocket since the expert writer might charge you somewhere between $45-$120.
GrammarlyGo is an excellent Grammarly add-on for marketers, writers, and students. Within seconds, It ideates, composes, personalizes, replies, and rewrites any sentence.
It is available to both premium and free users. However, Grammarly's basic version users receive GrammarlyGo's 100 monthly prompts for free, while premium users receive 1000. Its key features include.
Content Creation From Scratch 
GrammarlyGo can create an entire blog post from a single line with its powerful AI assistant. However, it's not a great idea to generate long-form content from GrammarlyGo.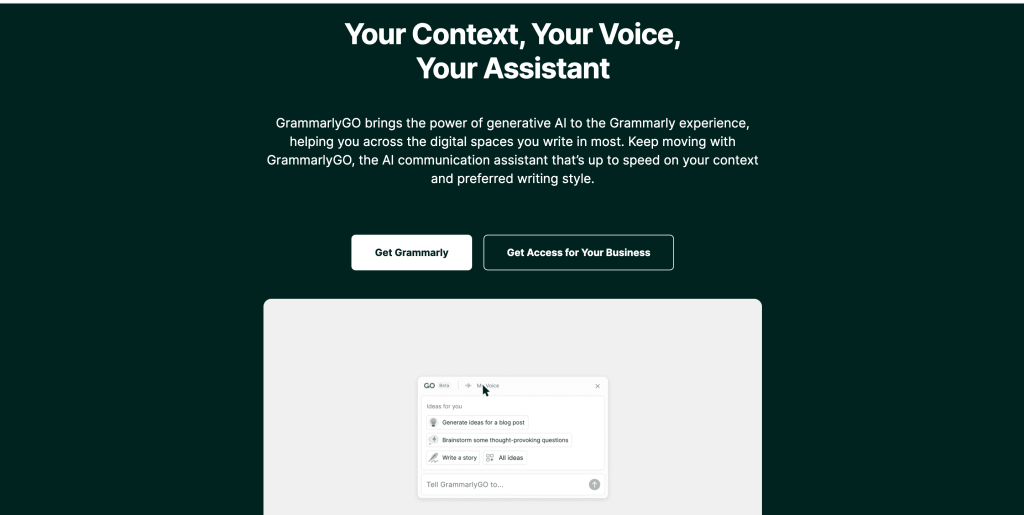 But if you want to write engaging social media posts, Twitter threads, etc., you can get it within seconds using GrammarlyGo.
Personalized Content
GrammarlyGo allows you to select your content's specific tone and formality to provide a personal touch. However, A-I-generated content has a major drawback of sounding robotic. 
GrammarlyGo's tone-centered content ensures all your blogs, newsletters, posts, etc., get a personalized touch by providing personal, empathetic, witty, confident, engaging, direct tone suggestion options and neutral formal and casual formality options.
Prompt Suggestions 
If you have written content and want to add a few touch-up lines to it to finish it, select a sentence from your content and go to GrammarlyGo to find relevant prompt suggestions to improve your content.
Availability On Multiples Browsers 
The best thing about GrammarlyGo is that it is available practically anywhere to simplify your work because Grammarly is available on multiple browsers and apps.
So you can use it in Google Docs, Microsoft Word, Gmail, Linkedin, Twitter, Instagram, etc.
Can you change languages in Grammarly Premium?
It is natural to expect innovative features and exceptional benefits in a premium version. Unfortunately, Grammarly has not updated its software with other languages except English.
Although you have the advantage of changing the preferred language to English since English is not written and communicated in the same way globally, Grammarly allows its users to change their preferred English from Australian, American, Canadian, and British. 
Grammarly has a straightforward pricing option. You can check out complete Grammarly pricing, where I discussed different plans and help you pick the right one!
Besides, Two premium plan options are available for Grammarly users; you can check their pricing here.
| | |
| --- | --- |
| Premium Plan | Price |
| Individual | $12/month |
| Business | $15/member/month |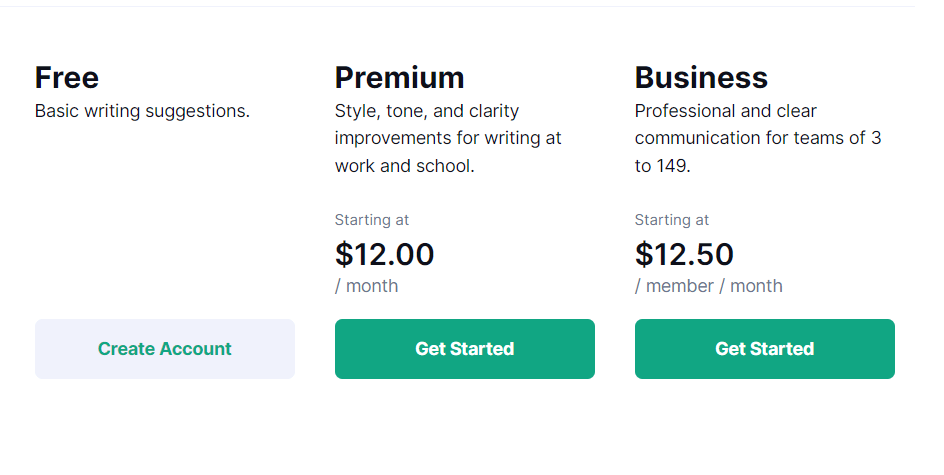 Monthly: $30/ per month
Quarterly: $60/ per three months
Yearly: $144/ per year
Individual premium plans are suitable for people who seek premium features. Furthermore, businesses and teams should use Grammarly's business plan to manage their team.
Save 20% Extra with our Grammarly discount & coupon code!
Now, let's quickly check the pros and cons of the Grammarly free and premium here.
Grammarly Free Pros
Readability score provided.
Saves previous documents automatically in its dashboard.
Offers quite good features for free
Integrates on different platforms
Gives access to GrammarlyGO
Grammarly Free Cons
Ineffective plagiarism checker.
No tone corrections.
Style enhancement is unavailable.
Unavailability of citation style formatting.
Advance grammar suggestions.
Corrects unclear structure.
Removes writing inconsistencies.
Detects overuse of words and wordiness.
Premium plagiarism checker.
Word choice and sentence variety are available
Plagiarism detection is inaccurate.
Suggests unnecessary changes.
Which One Should You Choose?
People on a tight budget can use Grammarly's free plan to edit their writings with basic grammar suggestions. Honestly, the free plan is pretty full in and of itself, delivering speedy error fixes and fixing misplaced commas.
However, advanced suggestions, plagiarism detection, and several vocabulary ideas are still missing in this plan.
So, if you are a professional such as a writer or a teacher whose work requires grammar perfection, go for the premium edition of Grammarly, and you will get full sentence rewrites, smooth sentence flow, and much more.
Overall, Grammarly is a robust tool for grammar corrections; its free plan offers many great features.
However, its premium plan takes you to the next level in your writing game, so it's also a no-brainer!
You can use the Grammarly free version if you don't have many requirements. For instance, you can use the free version if you just want to check for an email or two. On the other hand, I recommend upgrading to the Premium version for better features, especially if you have regular writing and editing requirements.
I hope this comparision between Grammarly free vs premium helped you know which one to pick!
Finding Grammarly Premium expensive? Don't worry! Grab our Grammarly discount and get your hands on the best price for the premium version!
FAQs
Which one is better: Grammarly free or premium?
Both of them have their own importance. If you just want to check the simple grammar of your essay, blog post, or anything you've written then the Grammarly free version is enough. But if you want more advanced suggestions and features then you should upgrade to Grammarly premium.
Does Grammarly offer a free trial?
No, there is no free trial available on Grammarly. You can only use the free version with its limited capabilities.
On how many devices can I use the Grammarly account?
You can use one Grammarly account on up to five different devices. So you don't need to buy a separate account to use Grammarly on a new device.
Are there any alternatives to Grammarly?
Plenty of Grammarly alternatives are available, and some offer similar features as Grammarly: Ginger, Quillbot, Whitesmoke, ProWritingAid, and Wordtune.
Can Grammarly Chrome Extension catch grammatical errors?
Yes, Grammarly Chrome Extension can easily detect grammatical errors, and it also gives you suggestions to rectify those errors. The Chrome Extension works on almost all online platforms where you need to add text. With Grammarly Extension, you won't need to go to the official website to check your text.
Is Grammarly premium worth it?
Grammarly premium is a good option for those who need to create content on a daily basis. It will help them improve their writing for better, and the text will also be grammatically error-free. They can also use the premium version to write the text formally.
Latest posts by Ryan Harris
(see all)