Are you looking for an answer to How to use Grammarly for PowerPoint? Or are you stuck with how to add a Grammarly extension to PowerPoint?
Well, this article has the answer. No matter what you write, you need a grammar checker to check your writing or content and correct your mistakes. 
Grammarly is an excellent tool that you can use to check your correctness and make your content error-proof.
Here is a complete walkthrough of Grammarly for PowerPoint and how Grammarly helps in improving your writing.
Let's quickly have a look at the guide to Grammarly for PowerPoint.
How to add Grammarly to PowerPoint
Clearly speaking, Grammarly does not support Microsoft Office like Excel or Powerpoint as well as it can not be used with MS Office applications directly. There are also no plugins you can add to PowerPoint, but that will not stop you from checking your grammar from the Powerpoint.
Though Grammarly supports Outlook integrations and MS Word, there are various methods that you may use to check your grammar and spelling in PowerPoint. 
Here are some methods that you can use to correct your PowerPoint content.
1. Grammarly Desktop Application:
Grammarly Desktop Application is the easiest way to check your grammar from PowerPoint. Grammarly provides desktop apps for Windows as well as Mac users for an easier checking process.
You can follow this link to download the Mac software. You can click on the install button directly and follow the instructions to complete the installation process, like signing up for your account. 
After the successful installation of the application, the Grammarly editor will appear on the menu bar of your screen.
Likewise, for Windows, you can download Grammarly using this link. Same as Mac, you will need to sign up with your account, and then you are ready to go with the Grammar checking.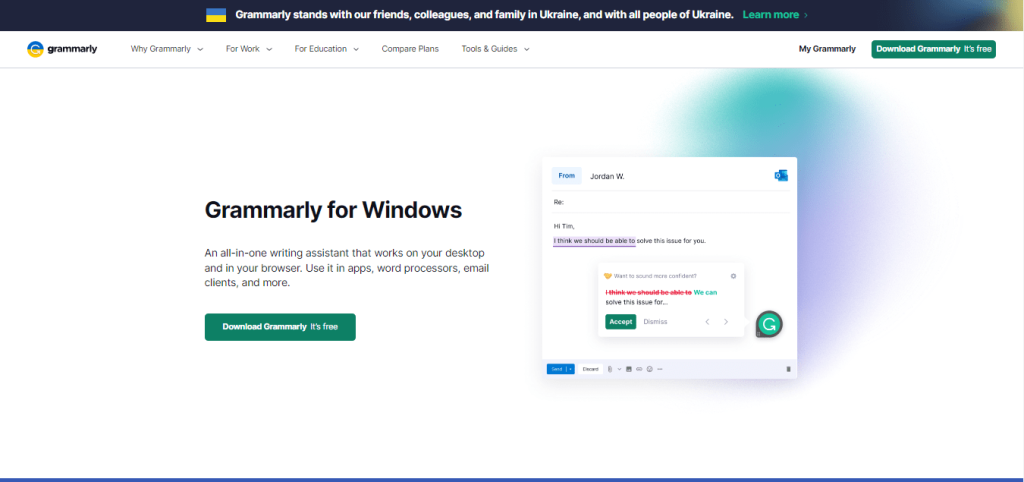 If you need a step-by-step guide on how to install and sign up with Grammarly, then here is our article that you can refer to. 
Then you are ready to go with checking grammar and spelling mistakes. Simply copy your content from the PowerPoint and paste it into the Grammarly dashboard. Grammarly will help you to change all the mistakes in your content. Then again copy the changed writings and paste them into your PowerPoint file.
2. Grammarly Web Application
This is also an easy way to check your grammar from the PowerPoint. This method is really easy to follow as you don't need to download any extension or application to check grammatical mistakes or spelling.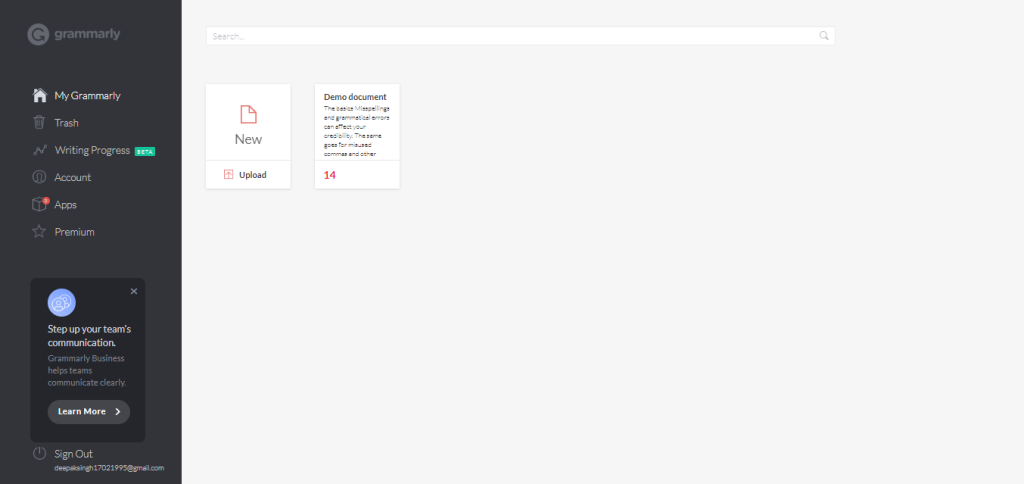 You can simply open the web browser you use, and go to Grammarly's website. You will need to log in to your account, and then you are ready to go with grammar checking. Copy and paste your content or directly upload your presentation as a Word file. Then after the connection part, you can paste it again into the PowerPoint.
3. Grammarly MS Word Integration
The third method is installing the Grammarly extension in MS Word. Firstly you need to visit the Grammarly website by which you can install Grammarly for MS Word.
After the installation, you will see a notification that will direct you to open the website from MS Word, and finally, you will get Grammarly for MS Word. 
Then you can check your PowerPoint content from MS Word just by copy-pasting the content. Grammarly will highlight the grammatical errors and spelling mistakes in the content and provide you with fluent and better suggestions to make your writing readable and perfect.
Using Grammarly for PowerPoint
Grammarly helps you to develop writing your presentation skills though there is no extension for your PowerPoint.
Still copying and pasting to the above-mentioned methods help you to check your writings in PowerPoinr. Let's have a look at how Grammarly works and what features it provides.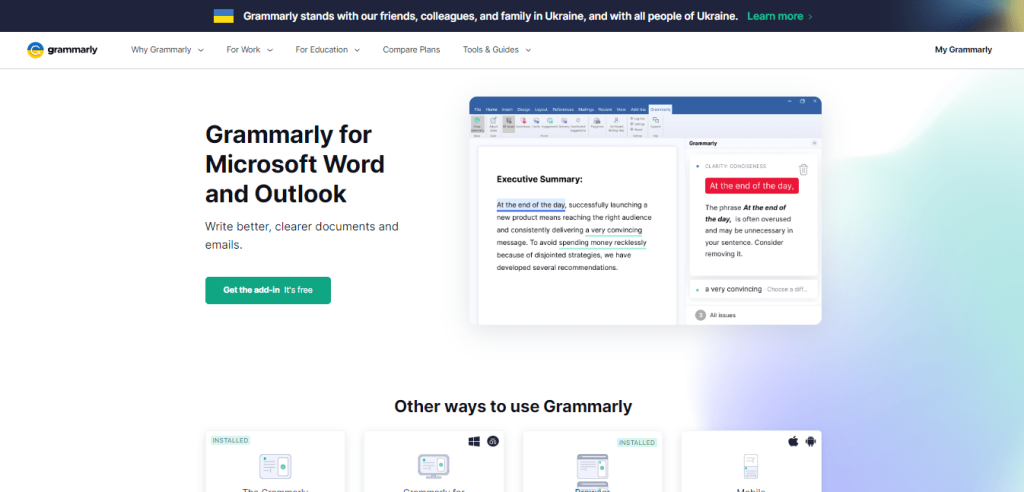 1. Grammar Editing
Grammarly offers various advanced features along with Grammer editing. You will get to see the grammar tools of Grammarly after opening your file. Grammar tools will help you to change and improve your grammar. 
It will highlight the part with yellow that you need to improve with grammar. It also shows some suggestions related to your sentences so that you can quickly change them and make them readable.
It also detects the passive voice within your content and gives suggestions to rewrite it. So with Grammarly's Grammar editing feature, you can make your content easy to read and fluent.
2. Spelling checker
Another great feature of Grammarly is the spelling checker by which you can detect spelling mistakes. Grammarly helps you to detect your spelling mistakes and also provides you with the correct spelling.
Grammarly highlights the incorrect spellings with red color and provides suggestions in the right side panel from which you can correct your mistake. This is a quick and easy way to clean up all your mistakes in your writing.
3. Plagiarism Checker
Along with the amazing features mentioned above, Grammarly also provides a plagiarism checker with the premium version.
Plagiarism checkers go through more than 16 billion websites that will check if you have content that matches pre-existing content. This feature will highlight the plag in your content in bold so that you can change and remove the plan within the writing.
Grammarly also shows the engagement, clarity, delivery, and correctness of your content which will help you to improve and develop your writing and make it readable.
Grammarly Pricing
Grammarly has various pricing plans that provide many features as per the plan.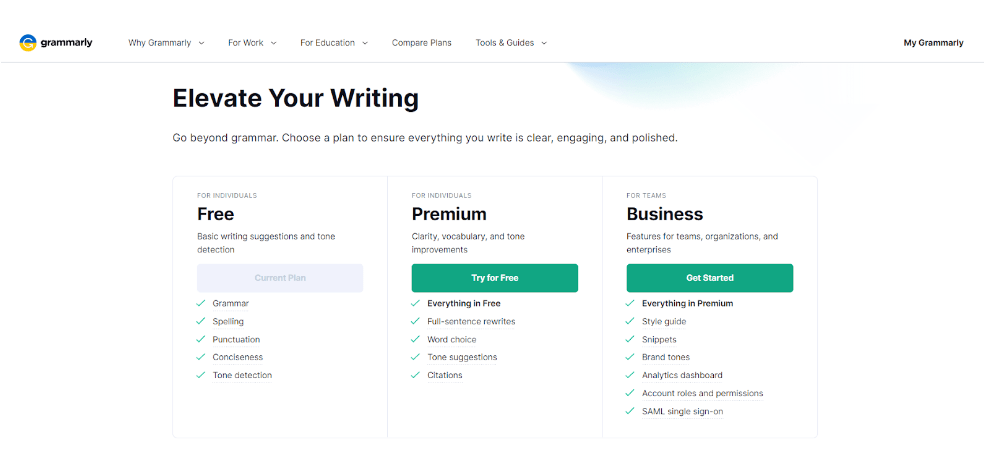 Basic Plan:
The basic plan is completely free and will provide you with basic writing suggestions and tone detection.
This plan provides various features like spelling correction, grammar detection, punctuation, tone detection, and conciseness.
This plan is perfect if you don't use PowerPoint on a regular basis.
Premium Plan:
The premium plan includes three options for payment mode. If you pay annually, it would cost you $12/month. Likewise, if you wish to pay quarterly, then you will pay $20/per month.
And if you want to pay on a monthly basis, then it will cost you around $30/per month.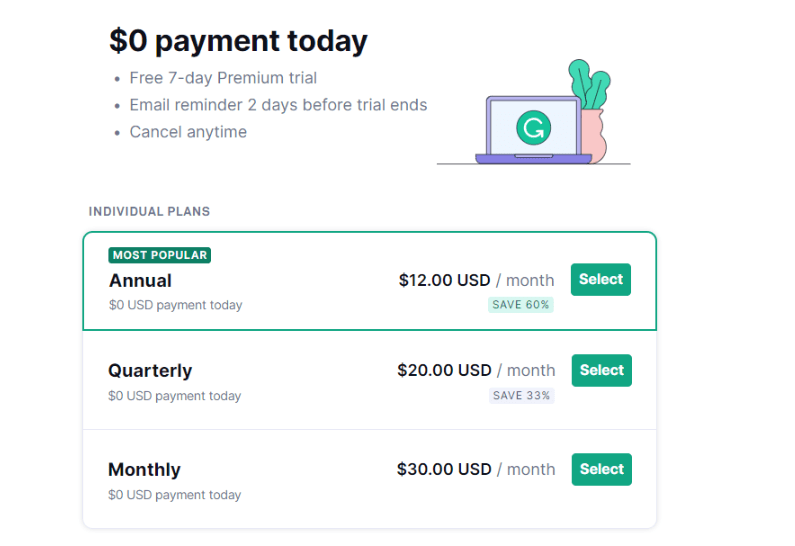 The premium plan provides you with excellent features like word choices, tone suggestions, English fluency suggestions, spelling and punctuation, clarity, and full sentence rewrites.
Business Plan:
The business plan is mainly for teams and organizations as well as some enterprises. It starts at $15/month as per your need. You need at least 3 members to get started with the business plan.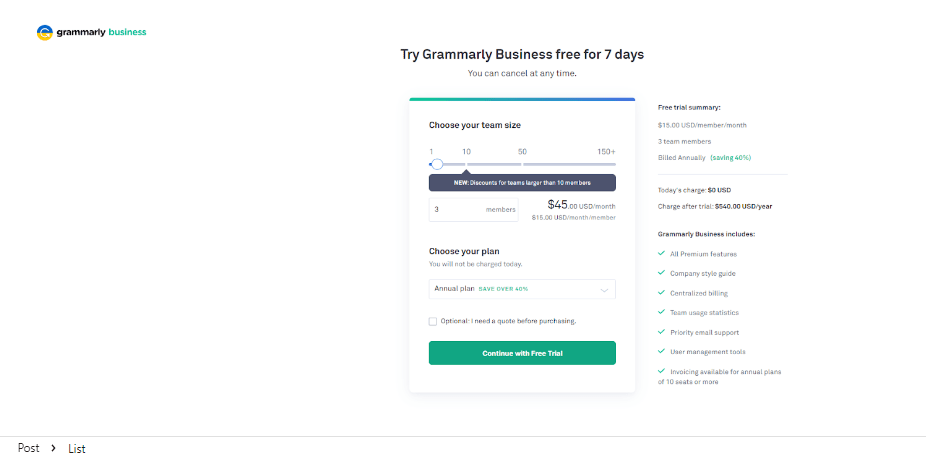 The business plan provides you with all the features of the premium plan, plus you get centralized billing, priority email support, team usage statistics, and various user management tools.
Final Verdict! Grammarly For PowerPoint
Now I have covered all the details on Grammarly for PowerPoint in this article. Though you can not add Grammarly extension directly to the PowerPoint, you can use the methods that I have mentioned above to check your grammar. 
 I hope this guide helped you to understand the method to use Grammarly for PowerPoint. Still you have any doubts, then let us know in the comment section below.
Latest posts by Ryan Harris
(see all)