Looking for Grammarly Premium pricing? Don't worry. We have got you covered! In this article, we will discuss how much Grammarly premium is.
Grammarly has a free version that is enough to catch basic grammatical errors and misspellings. However, the premium version is more suitable for professional or academic writers. In this article, we will focus on the Premium features, what it costs, and whether the subscription is worth it.
Note: Check my in-depth Grammarly review here to get detailed insights into it.
So, make sure you stick until the end of this post to understand which plan is suitable for your needs.
Grammarly Subscription Plans
Grammarly offers two different subscription plans that you can choose from:
Grammarly Premium for Individuals who want to improve upon their writing
Grammarly Premium Business for Teams who would benefit from the extra features to ensure professional writing and effective communication.
Now that you know which two plans Grammarly offers, let us take a deep look into what each plan provides and its pricing in the next section.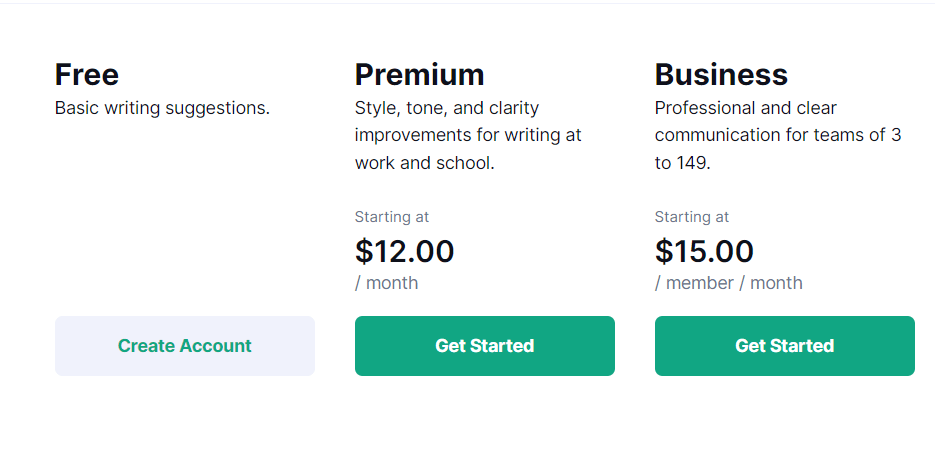 Grammarly Individual Plan
Individual users get the option to customize their plans for the period they will use them. The longer the subscription, the more discount they will get.
The individual plan is also broken down into three parts which are explained below.
Monthly: This plan costs $30 per month. Since you pay monthly, you will only pay for Premium for as long as you use it. This plan would amount to $360 per year.
Quarterly: This plan costs $20 per month. Since you will pay quarterly, this plan will cost you $60 per payment. If you want to commit to Grammarly Premium for longer, this plan is suitable for you. This plan is also beneficial because you can save up to $10 every month!
Annually: The annual plan costs $12 per month. In this case, you will have to make a one-time payment of $144. This subscription plan is the most cost-effective and would suit anyone wishing to use Grammarly Premium for an extended period.
Grammarly Team Plan
Businesses can make use of Grammarly premium's business plan to manage their content as well as their businesses. Grammarly team plan offers a variety of features. It has monitoring tools and a centralized billing system, which would come in handy to run a business efficiently.
Grammarly's team plan costs $15 per month per user if you go for annual payments. But if you want to pay month-to-month or if you wish to try it out for a month. It will cost you $25 per person per month. To avail of this business plan, a minimum of three users are required.
Grammarly Student Plan
Grammarly doesn't offer any special plans for students. Students can get the free version, but it has its limitations. However, they can also go with the individual plans, which would cost them $30 a month.
However, Grammarly does offer special enterprise plans for academic institutions. You can get a customized plan at a discounted price for your institute by filling up the form at this link.
Now that you know the price for each Grammarly plan, let's take a look at what you get with a Grammarly Premium account.
Along with everything that comes with the free version, Individual Premium plans include:
Tone adjustments
Plagiarism check
More advanced suggestions
Sentence rewriting suggestions focused on clarity.
Formatting
Checks for the level of formality
Checks for fluency in language usage
Usage of inclusive language
The business team plan includes some additional features along with all the features included in the Individual plan. Some of them are:
Priority Email chat support
Style guide for maintaining consistency
Brand Tones
Analytics dashboard
Snippets- a feature that allows you to create short text snippets for repeated questions.
Centralized billing
Control over assigning roles
Control over managing permissions
After using Grammarly for one year, I can say without a doubt that Grammarly premium is definitely worth it. Grammarly premium helped me improve my writing skills a lot. Before Grammarly, I was making typos and spelling errors in my articles, and even after proofreading, I still missed one or two errors here and there which was not good for my business.
Then I found Grammarly, and I used its free version for a week, and after a week, I knew I had to buy the premium version because it was really good, and since then, I have never made any easily avoidable errors. Now Grammarly helps me not only proofread articles for my clients but also create new articles in the tone I want to convey. If you are a student and don't have that much budget, then you should stick with the free version because it is also a great tool to have.
Comparison of Different Subscription Plans
Below is a quick comparison of all the subscription plans offered by Grammarly! The table below will make your pick easier.
1. For Individual Plans
| | | | |
| --- | --- | --- | --- |
| Plan | Price per month | Price Per Payment | Annual Cost |
| Monthly subscription | $30 | $30 | $360 |
| Quarterly subscription | $20 | $60 | $180 |
| Annual subscription | $12 | $144 | $144 |
2. For Business Plans
| | | | |
| --- | --- | --- | --- |
| Plan | Price per member per Month | Total Cost per Month(For a team of 3 Members) | Annual Cost(For a team of 3 Members) |
| Monthly Subscription | $25 | $75 | $900 |
| Annual Subscription | $15 | $45 | $540 |
Related Read:
Grammarly is a helpful companion for anyone who wants to write better. Though it can never replace a human proofreader, it does come close.
Whether Grammarly Premium is for you or not, it all boils down to what type of a user you are. Your needs and what you want out of the premium plans would determine which plan you should go for.
We recommend going for the annual subscription if you want a cost-effective plan that saves your dollars!
We hope this article was useful in understanding the pricing plans of Grammarly and which one you should opt for. So, which plan are you picking? Let us know in the comment section below!
Can you get Grammarly premium for free?
Unfortunately, you have to pay if you want to get Grammarly premium. However, Grammarly rolls out offers frequently for a free trial of the premium version through which you can get access to the premium for free. 
Does Grammarly offer student discounts?
Grammarly does not specifically have a discount for students. However, many universities have tied up with Grammarly and offers free premium version to their students. So, you can contact your university or educational institution to check if they offer a free premium to their students. 
Which is the cheapest Grammarly premium plan?
If you are looking for a pocket-friendly plan, the annual subscription will help you save up to 30% on the regular pricing. The annual plan for the premium version is $12 per month billed as a one-time payment of $144. 
Is Grammarly premium worth paying for?
Absolutely! Grammarly premium is worth paying for. Whether you are a student or professional, Grammarly provides excellent features to ensure your content is grammatical-error-free, plagiarism-free, and polishes your content to generate the highest quality! 
Latest posts by Ryan Harris
(see all)