If you want to write the perfect content with zero grammatical errors, you must possess excellent literature knowledge. But is it humanely possible? Of course not. This is when bots come in. Chances are that even then, it might not be possible to generate error-free content. But they are sure to help a lot.
With AI-powered software like Quillbot and Grammarly, you can write the finest content with minimal and even zero mistakes.
The use of AI in Quillbot and Grammarly will ease the workflow by producing various features like paraphrasing, proofreading, and punctuation.
I used both Quillbot and Grammarly, and the results turned out to be impressive. Wanna know my verdict? Check to know more.
Quillbot vs Grammarly: Quick Verdict 🆚
Quillbot is an AI-powered writing tool, and it helps you paraphrase content and also helps you check Grammar. Like Grammarly, it also offers a grammar checker and plagiarism tool, but it is not as powerful as Grammarly. You can choose Quillbot if you're looking for a reliable paraphrasing tool.

Grammarly is robust AI-powered writing assistant software available for all devices and apps. It offers multiple beneficial tools such as grammar checker, clarity, plagiarism checker, tone detection, etc. In comparison to Quillbot, Grammarly has got a lot to offer. If you are a student, professional, or someone looking to polish your writing — Grammarly is for you! If you're looking for a reliable AI-powered writing assistant, choose Grammarly.
With added benefits like a summarizer tool, plagiarism checker, and tone detection in Quillbot and Grammarly, the writing experience was immaculate, and so I wrote a comparison review.
In this article, you will learn everything about Quillbot Vs Grammarly, including the best features of Quillbot and Grammarly, the suitability of Quillbot and Grammarly, and pricing plans of Quillbot and Grammarly. Ultimately, this article will help you make the right decision in choosing the best!
Quillbot vs Grammarly: In A Nutshell 2023
Here is a quick comparison before we dive into details.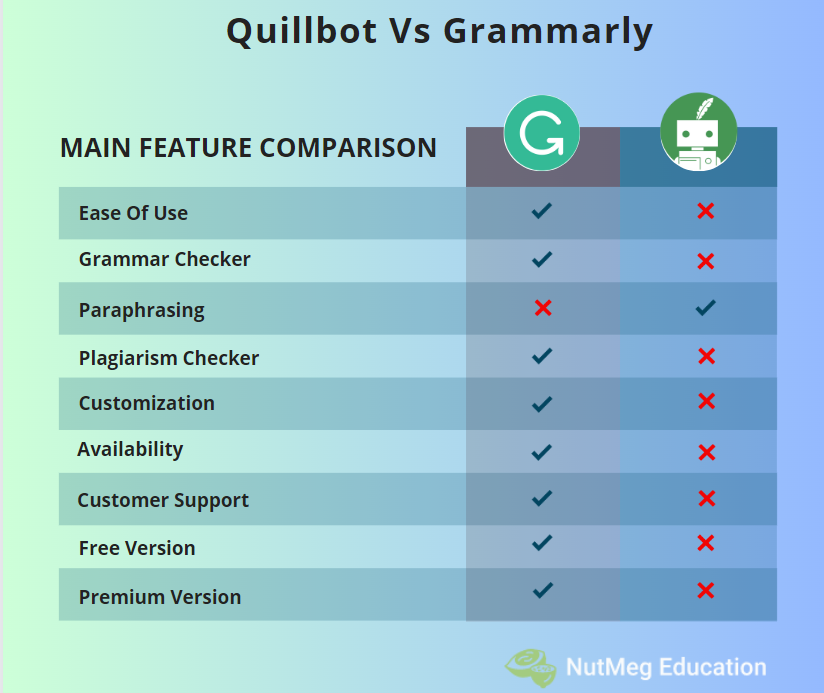 Quillbot vs Grammarly (Overview of the Ultimate Battle)
Writing can be a tedious process when you have to develop perfect grammar content with zero errors and mistakes constantly. I mean, who even thinks grammatically correct all the time?
At least, not me. There are instances when I would write something in my casual English, and somehow it gets grammatically incorrect when being written, but it felt right in my mind. 
Have you been in similar situations? Well, I am going to break down Quillbot and Grammarly, which are two outstanding AI-induced grammar and writing tools that will improve your writing.
Let me give an overview of Quillbot and Grammarly so that you get to know these bad boys!
What is Quillbot?
Feel free to check our in-depth Quillbot review to get detailed insights into it.
Quillbot is known for its enthralling paraphrasing capability, where an incorrect sentence gets detected and transforms into a well-drafted grammatically correct statement.
Using Quillbot is a butter-like smooth experience. You literally have to copy and paste the content and click a button. Boom, you are good to go with the best-rephased content.

In Quillbot, you get plenty of writing modes which include standard, fluency, formal, simple, and creative. Say you are writing an employment letter to your superior, and obviously, you would want to sound formal, but you might accidentally use certain informal words.
In fact, you can also cross-check what each mode sounds like by comparing two modes in Quillbot so that you can pick the most appropriate sentence. It's a win-win situation.
In such cases, Quillbot becomes a life savior and rewrites the content in a formal tone for you. You are basically getting fully drafted content by artificial intelligence. How cool is that?
Even if you had written an essay on something but did not hit the word count marked by your teacher, Quillbot has got your back since it has unique features like expanding and shortening, which literally expands and shortens the desired paragraph or sentence that has been pasted.
What's more? Quillbot is supported via Google Docs, a great advantage for students and freelance writers since most of them use Google Docs for their school essays, writing gigs, and projects, respectively.
What is Grammarly?
An AI-integrated tool that helps in modifying, correcting, and proofreading the desired content is Grammarly. It also provides other significant features like advanced genre-specific suggestions.
In case you have written content with concise words, Grammarly can help suggest relevant words that can match the tone of the content. Yes, you heard me.
Grammarly also has a tone detection feature which makes it easier for writers to receive feedback instantly on how their content is sounding because it takes longer to read fully.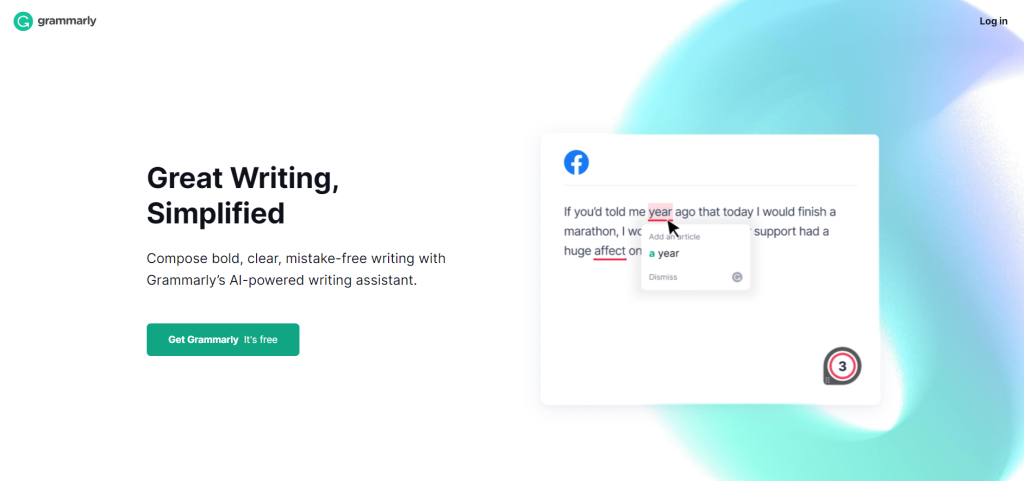 There will be no room for hidden errors, grammatical errors, punctuation, or even spelling mistakes since everything will be taken care of by the robust AI technology in Grammarly.
You can kiss goodbye to all the mistakes in your content once you have installed Grammarly!
Best features of Quillbot and Grammarly
Although Quillbot and Grammarly offer similar benefits, some features make each platform outstanding. Let me quickly name it down below:
Quillbot key features
Following are the features of the Quillbot that make it stand out from other tools.
1. Paraphrasing tool
Paraphrasing is one of the most talked-about features in Quillbot, and it does justice to the platform wherein any sentence that you drop in Quillbot gets paraphrased in no time.

2. Writing modes
Furthermore, the content can be transformed in different modes depending on the type of content that you are expecting to deliver. I mean, there are 7 unique modes in Quillbot.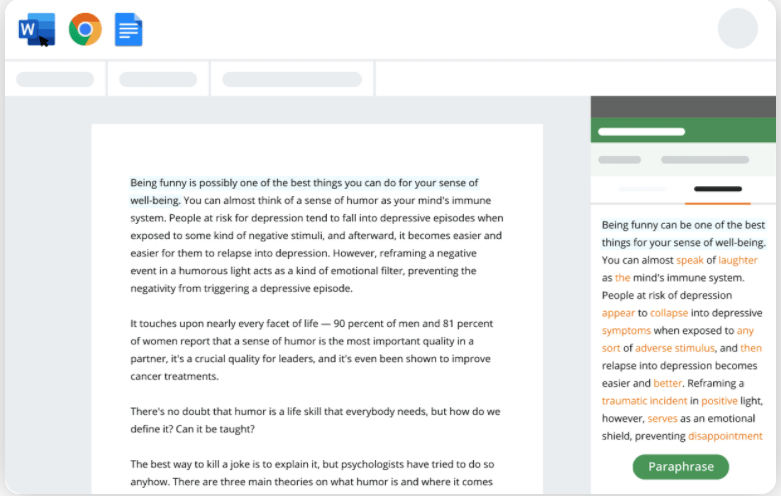 3. SEO optimization tools
Quillbot can also help in optimizing your content for SEO purposes if you are running a business online and are desperate to bring in a generous amount of traffic.
With Quillbot, you are in safe hands because Quillbot has impeccable SEO optimization tools that will elevate your content.
4. Summarizer tool
Are you wondering what a summarizer tool could be? Well, as the name suggests, it literally summarizes the content and delivers a highlighted overview of what is to be read.

I was surprised because the summarizer tool in Quillbot exceeded my expectations.
5. Thesaurus support
One of the most anticipated features in a grammar-checking tool is Thesaurus support, and Quillbot has it. The AI-powered thesaurus works like a wonder and gives the perfect synonyms.

Grammarly Key Features
Let's have a look at the exceptional features of the Grammarly.
1. Grammar checking tool
Known for its powerful grammar-checking effect, Grammarly can be trusted and used for all types of content regardless of the format or the genre it is based on.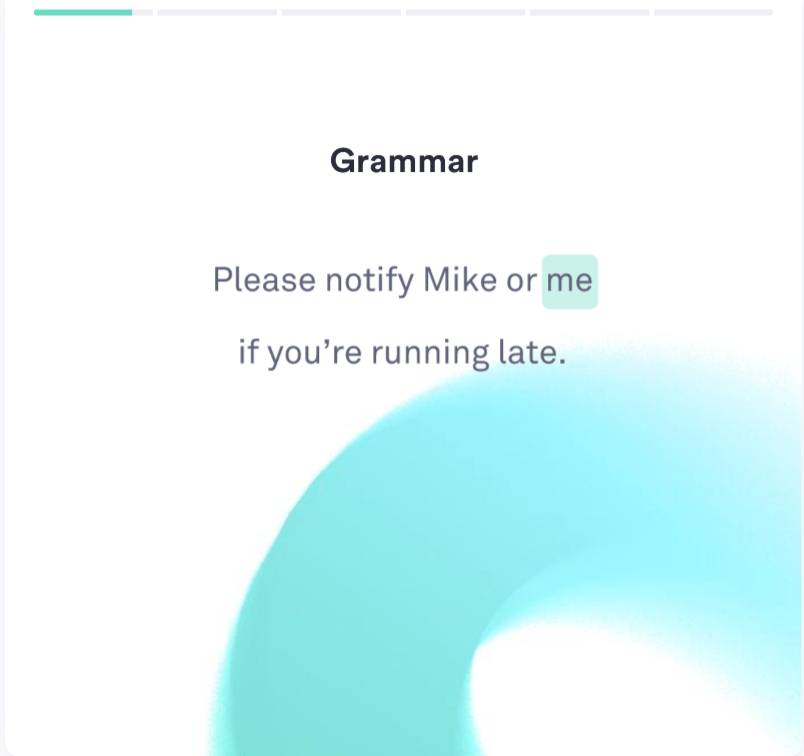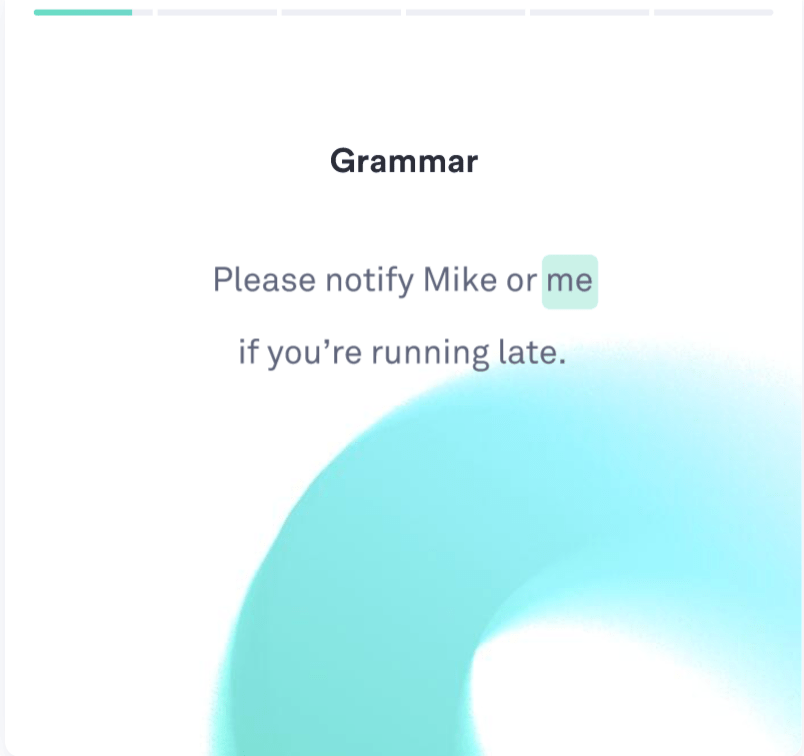 The grammar checking spots all the errors in real time and instantly enhances the content.
2. Advanced genre-specific suggestions
Although you might have written the content in a specific genre, the third-party proofreader cannot grasp the genre and replace specific words.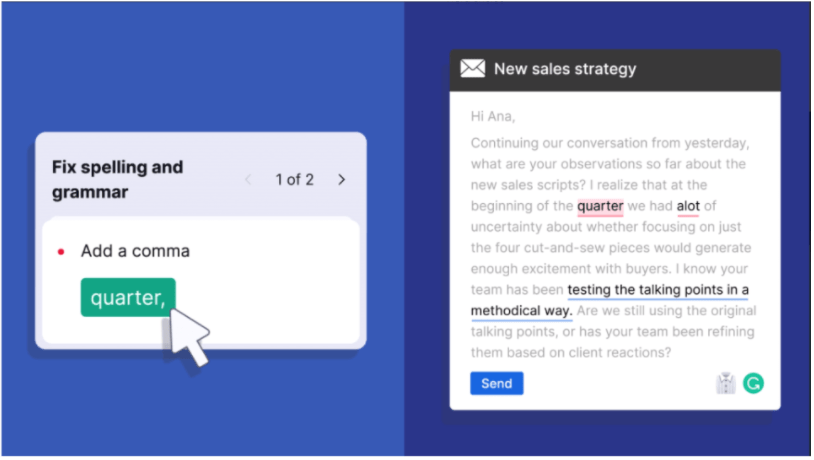 With Grammarly, you can forget all that since the advanced genre-specific suggestions perform excellently well and show accurate results.
3. Tone detection
Isn't it amazing if you could instantly get human-like feedback on how your content sounds?
Grammarly has the outstanding feature of tone detection, which can detect the tone of your content within seconds and tell you if it is formal or admiring or worrying or emotional.
4. Plagiarism checker
Most grammar-checking software does not provide a plagiarism checker, but Grammarly had other ideas; why? Well, Grammarly has a plagiarism checker that can highlight and show if there is scraped duplicated content present in your content.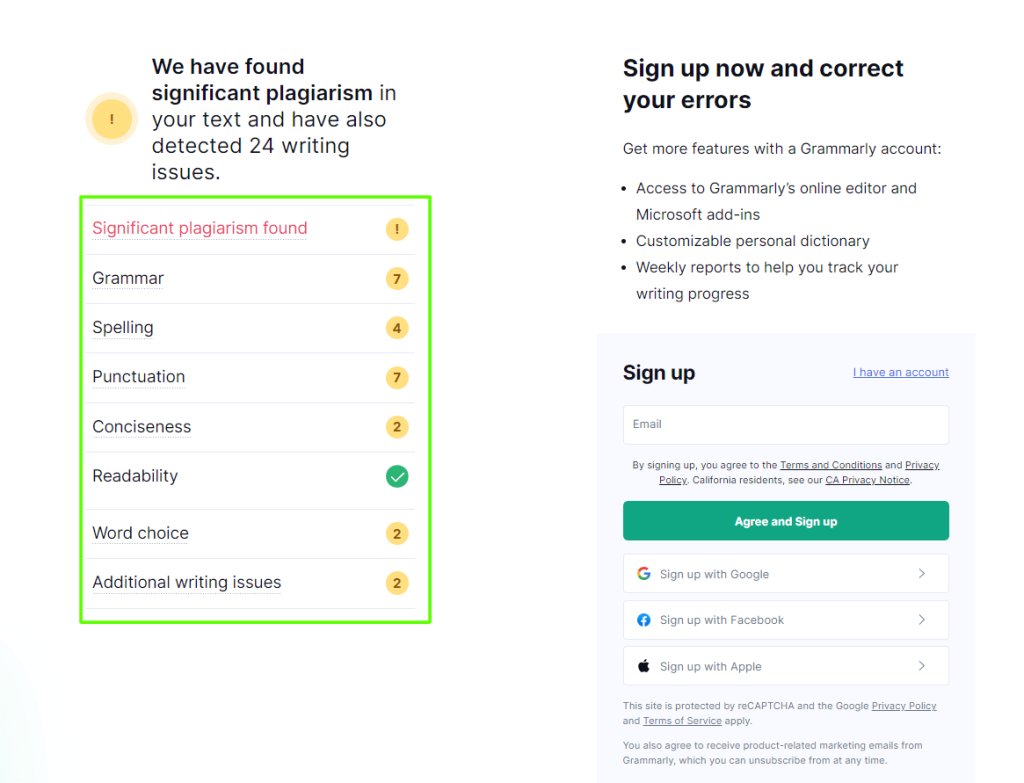 Usually, online publishers require plagiarism checkers not to get fined for the repetition of duplicated content from elsewhere. Even teachers use it to ensure that their students do not perform plagiarism on their essays and assignments.
5. Word enhancement
One of the most underrated features in Grammarly is word enhancement.
Although it is not mainly a feature per se, users can enhance and improve their writing using Grammarly since the suggestions show adequate grammar tips in general.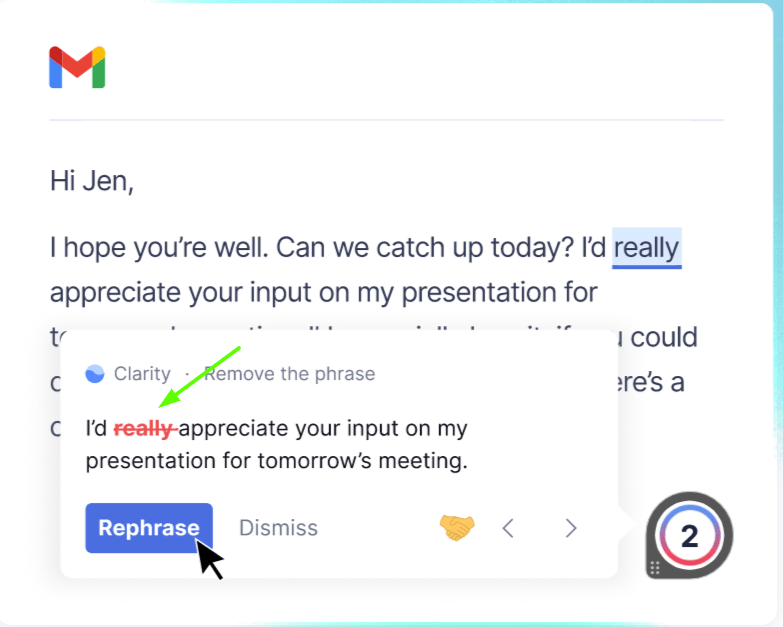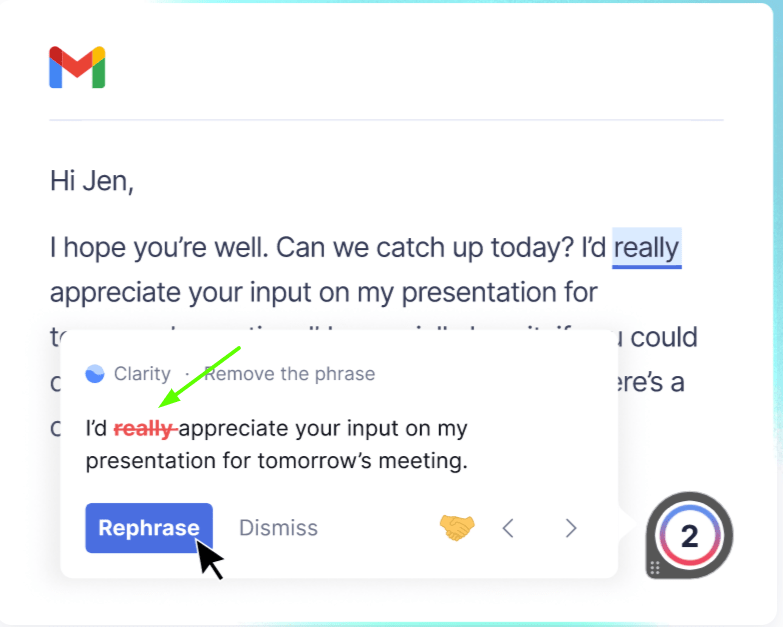 It is evident that Grammarly definitely works towards improving its users' English better.
Main Differences: Quillbot vs Grammarly (My Experience)
You have read about the features and what all Quillbot and Grammarly hold in store for you, but what makes Quillbot different from Grammarly? I used both Quillbot and Grammarly, so let me enlighten you with the main differences.
1. Grammar checking
There is no denial on the fact that Quillbot provides a grammar-checking tool, but Grammarly has the best AI-powered grammar detection and does it perfectly.
I noticed that Quillbot tried its best to spot the errors, but Grammarly won.
2. SEO optimization tools
The most powerful feature that is absent in Grammarly but present in Quillbot is the SEO optimization tools feature which plays a significant role in optimizing your written content.
As a writer, the SEO tool in Quillbot immensely helped with the optimization process.
3. Paraphrasing tool
The most talked-about feature in Quillbot is extraordinary.
Although Grammarly can rephrase concise words into a new sentence with zero mistakes, the paraphrasing tool in Quillbot does it better. Additionally, you can rephrase sentences only if it is detected by Grammarly, but Quillbot allows users to do it overall.
4. Plagiarism checking
Like the paraphrasing tool in Quillbot, Grammarly has its competitive feature called plagiarism checker, which performs significantly well.
You can detect duplicate content in no time and instantly replace it with original content with the help of Grammarly.
5. Summarizer tool
A tool that minimizes the workflow and smoothens your experience would be the summarizer tool in Quillbot, which is absent in Grammarly.
Although Grammarly has other interesting tools to back up your content, the summarizer tool is an added feature that is less likely to be present in other competitors in general.
The summarizer tool allowed me to get an overview of the content I wrote. Instead of reading the entire article, I used the summarizer tool to get it done within 2 minutes.
6. Addons & Extensions
Addons and Extensions are the best way to check any document through Quillbot and Grammarly without logging in to your account repeatedly. Grammarly offers more extensions and plug-ins than Quillbot. You can use Grammarly through a Chrome Extension, Safari Extension, on MS Word, Firefox, and Google Docs.
Quillbot also offers MS Word extension, Chrome Extension, and Google Docs add-on. These extensions save you a lot of time because you don't have to go back and forth on the official website to check your documents.
Best Suitability of Quillbot and Grammarly
Quillbot and Grammarly can be used simultaneously for different reasons and purposes since both Quillbot and Grammarly offer different benefits and features.
Regarding the suitability of Quillbot and Grammarly, you might have to look through certain criteria and make a wise decision. Let me help you with that from my experience:
Who should use Quillbot?
Quillbot is suitable for:
Content publishers who require SEO optimization tools.
Students who demand a paraphrasing tool to write essays.
Anyone who wants to expand/shorten their content to hit the word count.
People who need a summarizer to give an overview of specific content.
Who should use Grammarly?
Grammarly is suitable for:
Anyone who wants a personal AI-integrated writing assistant.
Writers, bloggers, and content marketers need effective writing tools.
Content publishers who require plagiarism checkers neglect duplicate content.
Marketing agencies that demand proofreaders and editors can use Grammarly.
Quillbot vs Grammarly (Ease of Use)
To be honest, there were not many differences in the ease of use criteria of both Quillbot and Grammarly since both are accessible via browser extensions, MS Word, and Google Docs.
Although using Quillbot after writing my content was helpful, I was able to use Grammarly in real-time while writing my content, which reduced the workflow quickly. Grammarly wins!
Tools like the summarizer in Quillbot greatly helped in giving an overview of my content, while Grammarly ensured to show the report of word enhancement with analytic results.
Since Quillbot and Grammarly come in free versions, you can use both simultaneously. I did that, and it was effective, primarily with features like tone detection and expanding/shortening tools.
Quillbot vs Grammarly: Pros & Cons
Here are the benefits & drawbacks of using Quillbot and Grammarly.
Quillbot Pros
AI paraphrasing tool allows you to rewrite content quickly.
Get a citation generator in the free plan of Quillbot.
Quillbot also works with MS Word and Chrome.
You can use the summarizer tool to summarize your text quickly.
Affordable pricing if you choose to pay annually.
Quillbot Cons
Quillbot does not have a tone detector like Grammarly, so you can't know if your text is formal, creative, or simple.
You can only check 20 pages per month for plagiarism.
Grammarly Pros
You can see all the major mistakes on your document because Grammarly underlines them in red, and you can change them in real-time.
It offers you advanced suggestions that can help you write better.
The Grammarly business plan can help give your brand a boost with its brand tone, style guides, snippets, and analytics features.
You can do unlimited checks for plagiarism with the Grammarly premium version.
You can use Grammarly Chrome Extension to make changes to your document without visiting the Grammarly web app.
Grammarly Cons
It is expensive compared to Quillbot for individuals.
It does not have a summarizer tool like Quillbot.
Pricing Verdict: Quillbot vs Grammarly (2023)
Offering incredible benefits and features? Well, that must be pricey.
If you thought this, you might be partially right but guess what? Quillbot and Grammarly have standard versions set up for free so that users can access them without paying any fee.
Quillbot Free
You can use Quillbot for free simply by going to the official Quillbot website or clicking on www.quillbot.com. There are no hidden fees or limited-period free trials, Quillbot is entirely free. Still, certain features in Quillbot are limited because you have to pay for the premium.
Quillbot Free allows users to paraphrase 150 words with two writing modes only. How sad!
Quillbot Premium
In Quillbot Premium, you basically unlock all the additional benefits like a summarizer tool, freeze words, compare different modes side by side, and paraphrase unlimited words.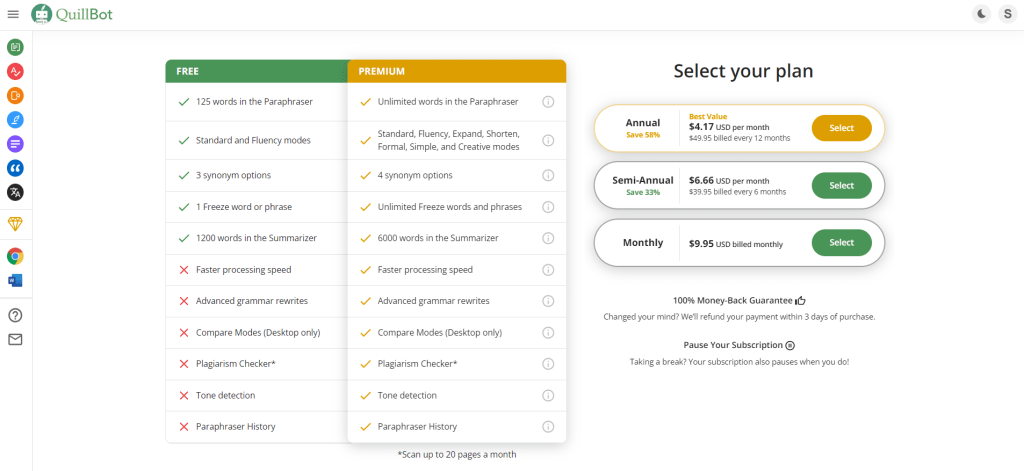 Isn't that good news? Quillbot Premium is a writing tool that is on a budget. Trust me. In Quillbot, the premium version can be bought in three subscription modules. Let me explain it all to you and recommend which would be the most appropriate pricing plan for you:
| | |
| --- | --- |
| Plan | Price |
| Monthly | $9.95/month |
| Semi-Annual | $6.66/month |
| Annual | $4.17/month |
I obviously settled for the mid-ground, but ultimately the annual subscription turns out to be the best purchase since you are getting access to all the features in Quillbot for a whole year.
Unlike other competitors, Quillbot is stepping ahead and offering users the choice of pausing their subscription if they are not using it on a regular basis. That is such a thoughtful feature!
NOTE: In Quillbot, there is a 100% money-back guarantee which can be requested within the first 3 days of purchase which I don't think would be necessary because Quillbot is just good.
Grammarly Free
Like Quillbot, Grammarly also provides a standard version that can be accessed for free with no hidden charges. In Grammarly Free, the features include changing the preferred language, spelling correction, tone detection, and punctuation errors.
Grammarly Free can be integrated via MS Word, Google Docs, or even a Chrome Extension. Even the official Grammarly website allows you to proofread your content within a few minutes.
Since the features in Grammarly Free might be limited, it is a better idea to upgrade to Grammarly Premium if you need powerful features like a plagiarism checker.
Grammarly Premium
In Grammarly Premium, you get the advantage of using other robust features like advanced-genre-specific suggestions and get an analytic report on your performance.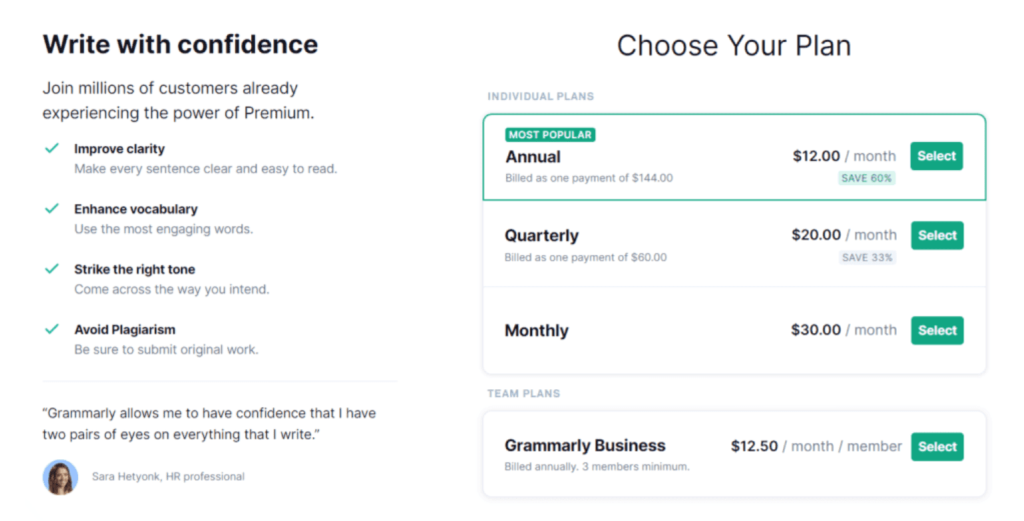 Grammarly Premium is categorized into different subscription modules, namely,
| | |
| --- | --- |
| Plan | Price |
| Monthly | $30/month |
| Quarterly | $20/month |
| Annual | $12/month |
NOTE: You do not have to worry if you are making the payment in your local currency since Grammarly will take care of all the complicated conversion things for you.
Grammarly for Business
Unlike Quillbot, Grammarly offers a team, referred to as a business edition, where almost 150 members can access Grammarly in a single plan. Most schools, marketing firms, and publishing agencies opt for Grammarly for Business due to the strength of users.
Grammarly for Business is categorized into four subscription modules, namely,
You can pay $15 per member/month as a single payment for the monthly subscription.
You can pay $12.50 per member/month for the annual subscription if you want 3 to 9 members only.
You can pay $12.08 per member/month for the annual subscription if you want 10 to 49 members only.
You can pay $11.67 per member/month for the annual subscription if you want 50 to 149 members only.
Although the monthly subscription in Grammarly for Business might seem like a feasible option, it is better to get the annual subscription so that you get access to more than 50 members.
More Grammarly Comparison:
Final Thoughts: Which One To Choose — Grammarly vs Quillbot
Using Quillbot and Grammarly eased my workflow in various circumstances. Be it the paraphrasing tool, plagiarism checker, summarizer tool, tone detection, and whatnot?
I ensured to make the best use of both worlds, but Grammarly stood out. Yes, it was quite flexible to use Grammarly. Although I did not get the benefit of paraphrasing in Grammarly, other features like advanced genre-specific suggestions and plagiarism checkers greatly helped.
Plus, the grammar-checking feature of Quillbot was relatively weak, but Grammarly was very competent and excelled immensely. Grammarly eliminated all sorts of errors within minutes.
Still, Quillbot can be used as a secondary option for its most known feature, the paraphrasing tool, since Quillbot is available for free. I would recommend using Grammarly for compelling features like a grammar checker, plagiarism checker, and punctuation checker.
Simultaneously, Quillbot can be accessed for changes in writing modes and paraphrasing. Sounds easy? Start by using Grammarly to improve your English and get better at it!
FAQs
Which one offers a better free version — Grammarly or Quillbot?
If you are searching for a tool that can help you proofread your article and help you correct your grammatical errors then Grammarly's free version is the best. If you just want to paraphrase a few sentences in your content then Quillbot can be a good choice.
Is buying the premium account on Grammarly or Quillbot worth it?
If you want advanced features such as creating content faster, better grammar suggestions, sentence rephrasing, and more then buying the premium subscription to Grammarly or Quillbot is totally worth it.
Are paraphrasing tools good for students?
Is Grammarly's plagiarism checker accurate?
Yes, Grammarly's plagiarism checker is fairly accurate but when the capability of this tool is less in comparison to other plagiarism-checking tools such as Copyscape.
Which one is affordable — Quillbot or Grammarly?
Both of these tools are affordable and you can save a lot of money if you purchase their annual plans. But in the price comparison, Quillbot is cheaper than Grammarly.
Latest posts by Ryan Harris
(see all)