Wordtune vs Grammarly is one of the common challenges people face, and with their similarities, it can be difficult to pick between the two.
Simply put, both tools have similarities, yet they serve different audience needs. I tested both tools, and this article will give you a complete walkthrough of how both tools work, what they offer, price, user interface, and more. 
By the end of this article, I'll also simplify the process of helping you pick the right one based on your requirements.
Wordtune Vs. Grammarly: In A Nutshell
Before you jump into the details, you can check this nutshell and get a glimpse of the comparison.
| | | |
| --- | --- | --- |
| Parameter | Wordtune | Grammarly |
| Ratings | 4.4/5 | 4.7/5 |
| Ease of use | 4.5/5 | 4.8/5 |
| Features | Rewriter tool, tone-centered content, summarizer tool, spices, grammar checker. | Detailed writing suggestions, plagiarism checker, content generation from prompts, security, and team management. |
| Best for | Academic writers, students, fiction writers, and digital marketers. | Bloggers, authors, content writers, or marketing agency owners. |
| Accuracy | Best accuracy in rewriting suggestions. | Best accuracy in grammar suggestions. |
| Plagiarism Detector | No | Yes |
| Free version | Available | Available |
| Price | Starts from $9.99/month | Starts from $12/month |
Wordtune Vs. Grammarly: What's The Difference?
Wordtune is popular for its sentence-rewriting ability. On the other hand, Grammarly is made for grammar checking and proofreading.
Both Wordtune and Grammarly provide grammar checkers, but Grammarly's newly introduced feature GrammarlyGo feature provides additional functions similar to ChatGPT, making it an all-in-one platform for writers.
Conversely, you can generate an entire LinkedIn post, Twitter thread, and meeting agenda for free with WordTune's powerful A-I.
However, some features of WordTune are irreplaceable, like word tune provides an excellent summarizer tool to its users, whereas Grammarly doesn't include one even in its premium version.
But Grammarly wins the race if you want extensions available for various browsers, as WordTune supports Google Chrome extension.
Grammarly offers multiple options in terms of extensions, including Chrome, safari, edge, Firefox, etc.
Planning to use Grammarly on other platforms? Here are quick resources that you might find helpful.
Who Is Wordtune Best For?
Wordtune is best suited for:
Freelance Writers
Students
Marketers
Who Is Grammarly Best For?
Grammarly is best for you if you are:
Agency owner
Professional writers
Proofreaders
Students
Authors
Marketers
Anyone who needs an all-in-one writing tool
Wordtune Vs. Grammarly: User Interface
The user interface of any platform is the first thing that leaves a positive impression on its user.
After using both tools, I found that both Wordtune and Grammarly had a user-friendly interface. So I've mentioned every detail of the user interface for you to decide your best one.
Wordtune User Interface
Wordtune's user interface is butter-like. It allows you to paste your content and presents all the options above the screen.
The right-hand side dashboard is visible after you press the editor's note icon at the top right corner of the screen. You can click on any suggestion to select it and rectify your grammar mistakes.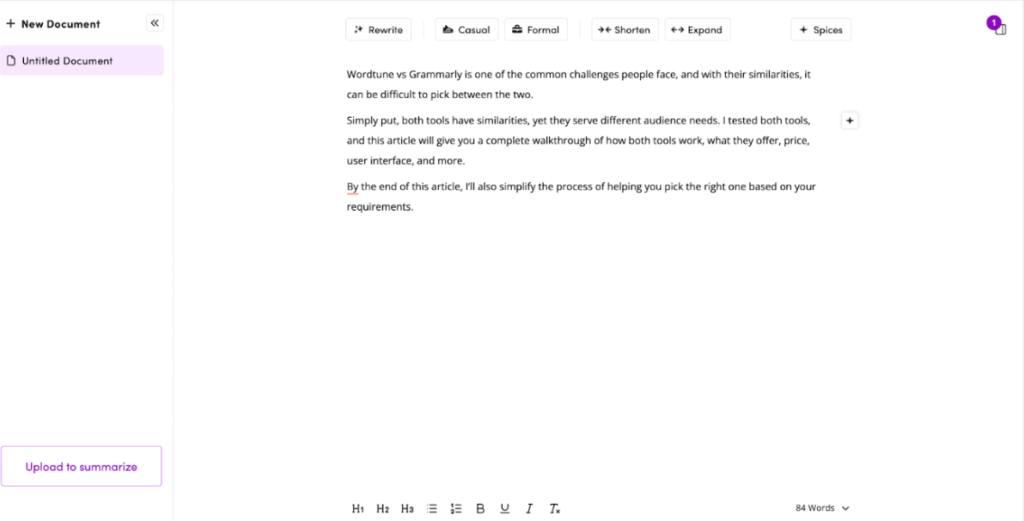 The grammar corrections are visible as underlines. The spices feature is also at the top and easy to use.
Furthermore, you can go to the left corner of the screen and click on the arrows to view the document panel.
Grammarly User Interface
Grammarly's user interface is clean, minimalist, and simple. Once you copy and paste your content on Grammarly, it will start checking the grammar errors.
The right side of the Grammarly screen will display the areas of improvement in correctness, delivery, engagement, and clarity.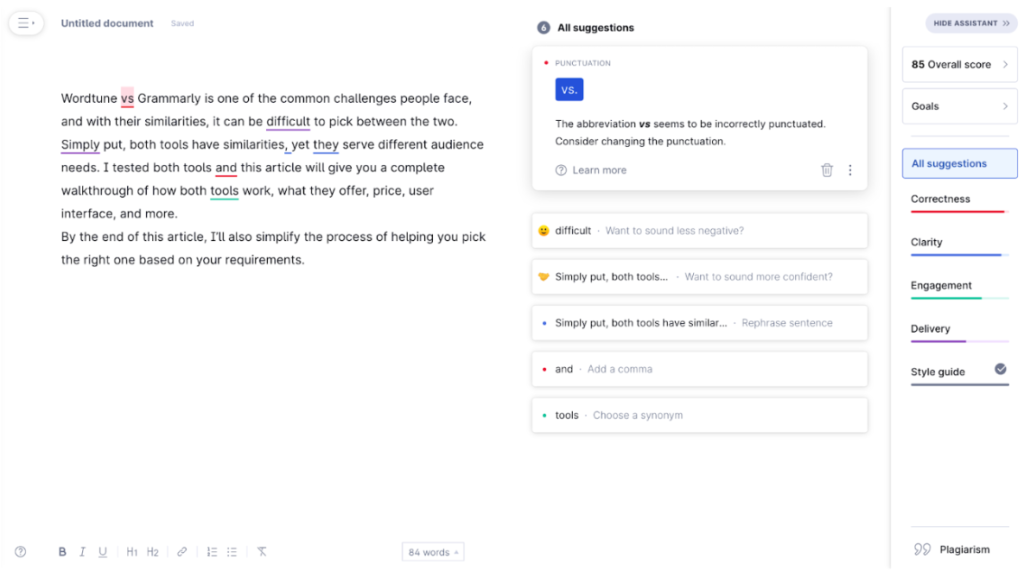 Plus, Grammarly underlines your writing errors. Once you click this underlined text, the suggestion cards will be displayed.
You can click on the suggestion and accept the recommendation or dismiss it.
The underlines are made in different colors depending on different areas of improvement.
Red underline: Grammar and spelling mistakes
Blue underline: Clarity
Green underline: Synonyms
Purple underline: Delivery
Every option, from the upgrade to trash, is visible in the front, so you can easily navigate through the website, even if you are using it for the first time.
The only drawback of Grammarly is its time-consuming correction process since you have to click on each suggestion individually to correct it.
You can explore Grammarly in detail by reading our in-depth review.
Verdict: Both has an easy-to-use interface. However, Grammarly takes the lead in being more clean and quick to understand!
Wordtune Vs. Grammarly: Features
Many of us think Wordtune and Grammarly have similar offerings, but their features differ in many other ways.
Let us take a detailed look into their features individually.
Wordtune Features
Wordtune provides some fantastic features to its users. Here are a few of them.
Rewrites: the rewriting feature of Wordtune will help you rewrite your sentence in different ways to avoid plagiarism and help you sound like a pro writer.
Casual & Formal Tone: The two-tone suggestions offered by Wordtune are differentiated from the casual and formal suggestions. After pasting your content on Wordtune, you can click on the desired tone, and your content will be entirely converted to fit the desired style.
Summarizer: Wordtune offers a summarizer tool to its users. With the summarizer tool, you can copy and paste any text, upload a link or document and get a summary of its most relevant points. It not only summarises text but videos to convert them into value-packed short passages.
Spices: Spices are probably the best feature of Wordtune to enhance your writing with facts, humor, analogy, nature fact, inspirational quote, examples, emphasis, numerical facts, and counterarguments.
Shorten & Expand: The shorten and expand feature of Wordtune can rewrite and convert your sentence length to shorter or longer. 
Grammarly Features
Grammarly eases its users' work by providing these features.
Detailed writing suggestions: Grammarly provides advanced genre suggestions, including word choice, formatting, conciseness, grammar, spelling check, and much more to its users, along with detailed 
Explanations: The writing assistant of Grammarly acts like a human and polishes your content improving its overall quality, and shows you examples to explain errors in your content.
Team management: Grammarly turns its dashboard into a team workspace and provides brand tone, snippets, style guides, and an analytical dashboard with its premium plan.
Generative A-I assistant: Grammarly is now providing a generative A-I assistant to its users called GrammarlyGo to ideate, compose, personalize, rewrite, or reply to any prompt within minutes.
Set goals: You can set your audience and goals on Grammarly through its goals option available in the assistant. You can choose your audience from general, knowledgeable, and expert. 
Personal Dictionary: Grammarly's dictionary is handy, so if you constantly find an error in your content, you can add it to the dictionary.
Grammar Checker: Is Grammarly Better Than Wordtune?
Wordtune's grammar checker is questionable and ignores some grammar suggestions, while Grammarly's grammar-checking tool is highly reliable.
Grammarly provides more grammar-checking options to its users and solely focuses on grammar-checking in the content.
To check each tool's accuracy, I copied and pasted the same paragraph on Grammarly and Wordtune; these snapshots show the results.
Grammarly instantly found an error in the paragraph, whereas Wordtune's grammar checker declared the section completely alright. Furthermore, Grammarly extensions are also problematic and can ignore a few grammar errors visible by copy-pasting content on its website.
Verdict: Wordtune provides basic grammar corrections that can be sufficient for regular assignments, but for high accuracy and quality, go for Grammarly.
Wordtune Vs. Grammarly: Plagiarism Checker
Grammarly provides a reliable plagiarism checker to its premium users. The plagiarism checker of Grammarly checks content from billions of web pages and the ProQuest database to make sure there is no duplication.
However, Wordtune disappoints you in this comparison factor by not providing a plagiarism checker.
Wordtune claims its rewrite suggestions are plagiarism free but does not provide a plagiarism detector for cross-checking.
Verdict: Grammarly wins over Wordtune in terms of plagiarism checking
Can I Use Grammarly And Wordtune Together?
Yes, you can use both Grammarly and Wordtune together.
You can use the Grammarly free version to edit your text and find any grammatical mistakes in there. With Wordtune, you can rephrase up to 10 sentences daily for free. So you can use their free version simultaneously according to your needs.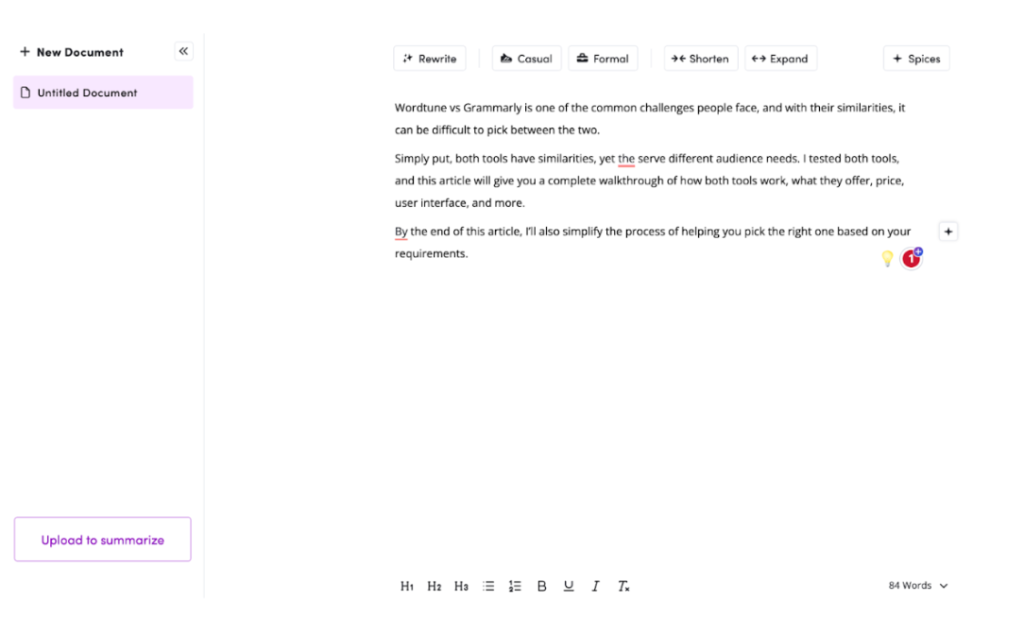 However, you don't need to use the premium version of both together. Because it will be heavy on your pocket, and their premium features are mostly similar. So you would be better off using only the premium version of one tool. I would recommend you buy the premium version of Grammarly because it offers better features than Wordtune.
Pricing Battle: Wordtune vs Grammarly
You know about the features, the differences, the ease of use, but what about the costs of Wordtune and Grammarly? Well, let me break down their pricing plans right away!
Wordtune Pricing 2023
Like other grammar checker tools, Wordtune also offers a free version, but there is bad news.
Unfortunately, most features are restricted, and you can only rewrite sentences with the standard (free) version of Wordtune. At least Wordtune could have added the translator tool.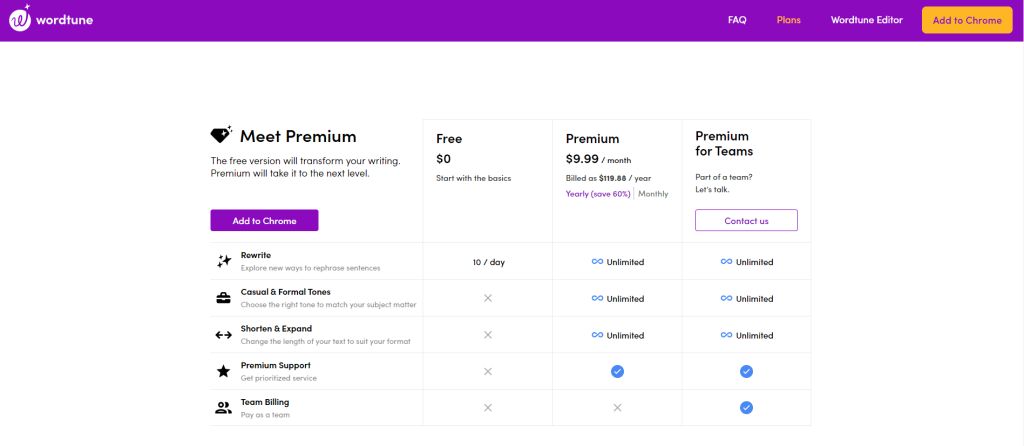 Wordtune Premium
The good news is that there is an affordable premium version of Wordtune, which offers all the benefits at an appropriate budget. I mean, look at the price for yourself. Seems cheap, right?
Wordtune Premium – $9.99 per month (billed as $119.88 annually)
Wordtune Premium for Teams – You are advised to contact Wordtune's official team since they will get back to you on the pricing based on the number of members.
Wordtune Premium is the best investment if you are looking for a cheap grammar-checking tool that can translate, shorten, extend, and still rewrite the errored sentences accurately. However, it could have been better if Wordtune Premium included plagiarism checkers in their features.
NOTE: The only difference between the individual and team plans is the billing structure.
Grammarly Pricing
Grammarly provides three plans to its users. You can read detailed Grammarly pricing here.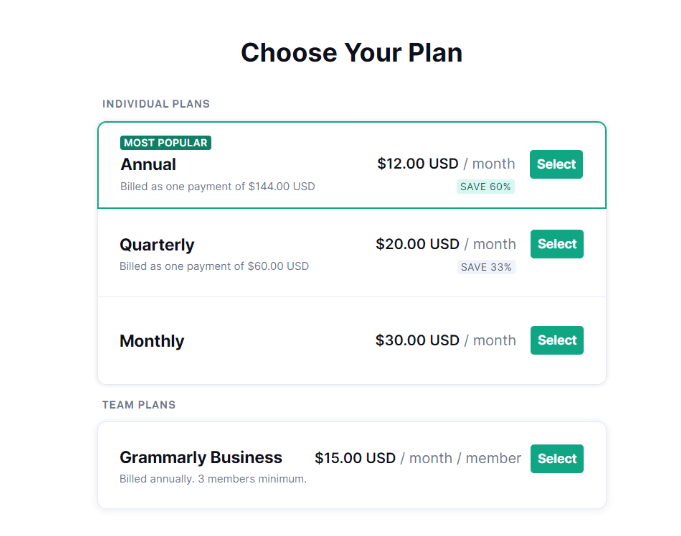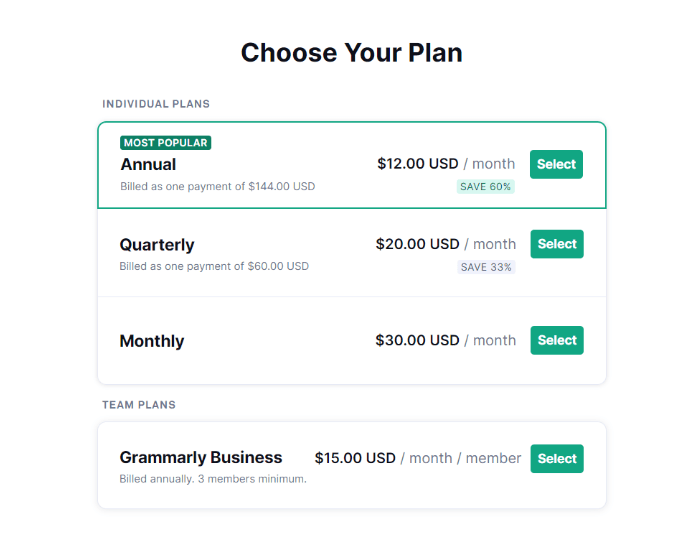 | | |
| --- | --- |
| Plan | Price |
| Free | $0 |
| Individual | $12/month |
| Business | $15/month/member |
The free plan is sufficient for regular work, but choose the individual plan if your profession demands high grammar accuracy. You can read our comparison between free and premium.
Moreover, the business plan is created for agencies and businesses with individual plan features for teams along with an analytical dashboard, brand tone, snippets, etc.
Grab our exclusive Grammarly Discount to get up to 20% off on your plans!
Pros & Cons: Wordtune Vs Grammarly
Even if Wordtune and Grammarly might have been advertised as the best, some honest points need to be addressed, followed by some downsides. They are:
Wordtune Pros
Excellent rephrasing tool.
Availability of a translator tool.
Spices, rewriter, and summarizer tools are freely available.
Change the tone of the written content.
Free unlimited text corrections.
Wordtune Cons
No plagiarism checker.
Lack of integrations
Grammarly Pros
Real-time grammar checking
Can be integrated anywhere you type.
Plagiarism checker included
advanced-genre-specific suggestions.
Built-in AI content generator
Grammarly Cons
Plagiarism checker is paid.
Doesn't have a separate paraphrasing or rephrasing feature.
Which One Should You Choose?
Suppose you want to enhance your writing without spending a penny. In that case, Grammarly is the way to go since Grammarly allows you to check unlimited words for grammar, punctuation, spelling, and tone suggestions freely.
Whereas, Wordtune has a tight word limit for free users. Additionally, Wordtune is excellent for someone who writes complicated instructions or manuals and wants to turn them into easy-to-digest paragraphs.
More Grammarly Comparisons
Wordtune vs Grammarly – Final Verdict
Both tools are revolutionary and remarkable in their place.
Since I have got the opportunity to experience botht tools for work, I consider Grammarly better than Wordtune. Grammarly's best part, in my opinion, is that it gives a lot to free users.
But an underrated quality of Wordtune is its processing speed. Wordtune provides suggestions quickly, but Grammarly takes a long time to do the same. Both platforms are different, and you can also use them together for the best of both worls!
Latest posts by Ryan Harris
(see all)