Grammarly is one of the most popular digital writing tools used by over 30 million people. This AI-powered software checks for grammar errors, plagiarism, word choice, and more to help writers enhance their work. 
However, concerns around privacy and security often arise when sharing your writing through any online platform.
In this article, let's find out whether Grammarly is safe to use for your writing and personal data. We'll look at what kind of access the software requires, how your content is stored and shared if it could compromise your security, and overall best practices when using Grammarly.
Is Grammarly Safe To Use?
Grammarly is safe for most users based on their privacy and security policies. However, users should know the risks of sharing their writing data online. It's ultimately up to each individual to determine their comfort level. Lower-risk options include only using browser extensions or deleting documents after use.
Does Grammarly Steal Your Data?
One of the biggest concerns people have is about their data privacy. When you use Grammarly, you're giving the company access to all of your writing. Naturally, this raises questions about what they do with your data and who can access it.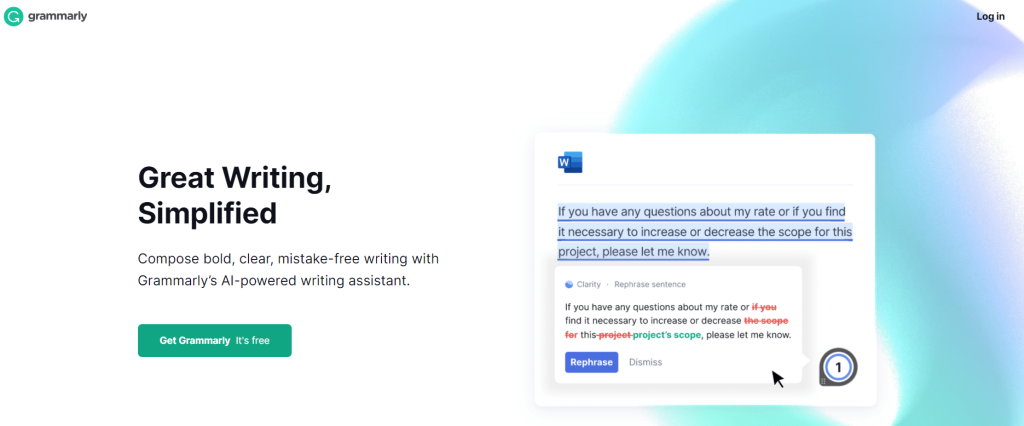 According to Grammarly's privacy policy, they collect different types of data from users, including:
The content you type or speak into Grammarly's applications, which includes text, images, audio, video, etc. This is used to check for errors and suggestions.
Information about those errors and suggestions.
Browser and device data like IP address, operating system, etc.
Data about how you interact with the application.
The company states they do not sell user data. However, they use data to improve their services, train their AI models, share with business partners, and research purposes.
User data is stored and processed through Grammarly's contracted third parties, which opens up some risk. There have not been any known security breaches that exposed user data. However, given the highly sensitive nature of people's writing, an inherent level of trust is required with a service like Grammarly.
Bonus: Check my in-depth Grammarly review here to get detailed insights into it.
Does Grammarly Save Your Data?
In addition to scanning your writing in real time, Grammarly also saves user writings to your account. This allows you to access your previous writings and recheck them later.
According to their policy, Grammarly retains content you directly upload to their applications, comments you write, and documents you explicitly save to your account. This data stays on their servers unless you delete it.
Grammarly states they use industry-standard encryption to secure user data. No known cases exist of someone's saved writings being hacked or leaked online. However, a breach could expose private user writings.
Suppose you are concerned about saving and storing your Grammarly writings on remote servers. In that case, you can always delete pieces after checking them or avoid saving anything to their cloud system altogether. Using their browser extensions and desktop apps keeps the scanning isolated to your local device.
Also Read: If you want to look at the detailed pricing and need help with choosing the right plan, you can read our guide on How Much is Grammarly Premium.
Is Downloading Grammarly App Safe?
Grammarly offers free browser extensions for Chrome, Firefox, Safari, and Edge. They also provide desktop apps for Windows and Mac. You can also access Grammarly keyboard apps for iOS and Android mobile devices.
Are these apps safe to download?
Based on independent reviews, Grammarly browser extensions and desktop apps do not contain known malware, viruses, or security risks. By only running in your browser or locally on your computer, they offer a secure way to check writing without sending data back to Grammarly's servers.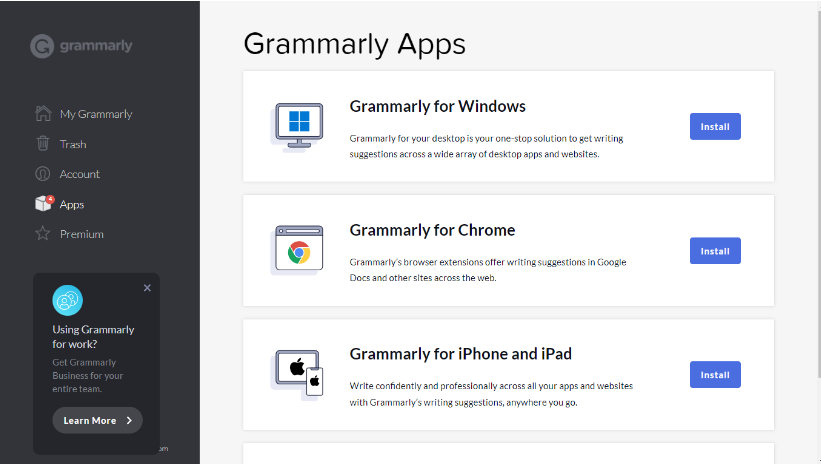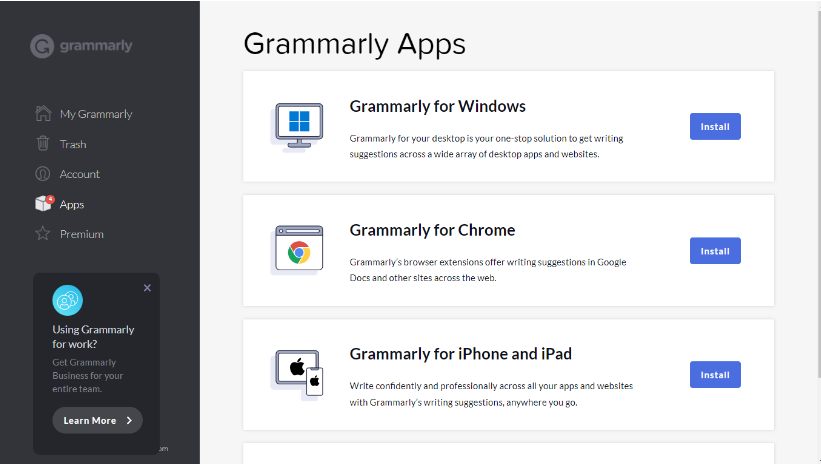 The Grammarly Keyboard app for mobile requires broader access and permissions, including the ability to monitor everything you type on your phone. This app sends all typed data back to Grammarly, so you are trusting them with your mobile activity.
However, the app itself does not contain any clear malware dangers. If you limit the app's permissions or only enable it for certain writing use cases, downloading Grammarly's mobile keyboard app does appear to be safe from a cybersecurity standpoint.
As with any app, you need to consider the required permissions and comfort level with a third party accessing your local device and data. But Grammarly's official apps do not set off any specific security concerns based on reviews of their code and behavior.
Grammarly Resources:
Is Grammarly A Keylogger?
One concern that sometimes gets raised is whether Grammarly is a type of keylogger that tracks your every keystroke. Since it scans documents as you type, does that mean it's logging raw data like a hidden surveillance program?
The answer is no. Grammarly is not a keylogger that secretly records everything you type. Keyloggers invisibly record all keystroke activity, often for malicious purposes like stealing passwords and financial data.
Grammarly only captures your typed writing within its interface that you actively engage with. The browser extension only monitors typing activity on sites you've allowed it to access. The mobile app requires permission to read device typing, which you must manually enable.
Offer: Want to save a few bucks on Grammarly, here, we have mentioned an exclusive discount offer on Grammarly.
Does Grammarly Claim Ownership Of Your Documents?
Grammarly's Terms of Service state that when users upload content to their systems, it gain a worldwide license to access and utilize that data. This allows them to scan, analyze, and sometimes share your writing.
However, Grammarly only uses uploaded writings and personal data to provide and improve its writing assistance services. They do not claim full ownership or rights to resell, distribute, or reproduce your documents.
The non-exclusive license covers what Grammarly requires to function and train its AI models technically. You still own and retain copyright over anything you write, even if checked by Grammarly.
Related Read:
Final Verdict: Is Grammarly Safe (2023)
Based on their policies and practices, Grammarly does take data privacy and security seriously. They are transparent in what data is gathered and stored. Your documents remain under your ownership despite their limited license. And there is no evidence Grammarly sells or misuses private user data.
However, users must place a high degree of trust in these claims from Grammarly. For most writers, Grammarly strikes a reasonable balance of enhancing your writing experience without significant privacy downsides in how they handle your data.
FAQs
Does Grammarly read everything you type?
After granting permission, Grammarly only monitors your typing and writing within its interfaces and apps. It does not secretly read everything you type across all programs and devices.
Is my writing safe with Grammarly?
Grammarly uses encryption and cybersecurity protections for stored user writings. There have been no known breaches exposing user documents. However, there is always some risk of sharing writings on the cloud.
Can Grammarly plagiarize me?
Grammarly cannot legally plagiarize or steal your work. You maintain full copyright ownership over your writing even when checked by Grammarly. They only gain a limited license to process your documents to provide their service.
Should I avoid Grammarly for sensitive writing?
It may be smart to avoid using Grammarly's syncing services for financial, medical, or highly private documents. The browser extensions offer a more secure real-time option. Or you can occasionally manually copy-paste writing samples into Grammarly's web editor when needed.
Is Grammarly required to disclose data to authorities?
Like most technology companies, Grammarly may be compelled to share specific user data with authorities if legally required. However, they carefully review all requests and push back when deemed overreaching. But some disclosure risk always exists.
Latest posts by Ryan Harris
(see all)