Are you ready to transform your damaged and non-structured writing into pleasant and perfected content? Well, Quillbot is ready to do it for you.
I had used Quillbot for my writing projects and was stunned by the results, so I decided to share my experience with Quillbot in a full-fledged review.
In this article, you will learn everything about Quillbot, including the working of Quillbot, the best features of Quillbot, the pros & cons of Quillbot, and the pricing of Quillbot.
I also share my honest verdict on Quillbot towards the end. Watch out!
Quillbot Review: In A Nutshell
Quillbot is an AI-powered rephrasing software that can instantly deliver beautifully crafted content regardless of the number of words in less than 10 seconds.
Despite giving a helping hand in transforming complex sentences into more straightforward wordings, Quillbot also has several sets of writing modes that enhance your work.

From creative writing to formal writing, any kind of writing can be achieved with Quillbot, and the entire process of using Quilbot is smooth like butter. Not kidding!
Even if you are finding trouble with writing more extended essays or compiling a short story, Quillbot has unique features like expanding and shortening that does the job perfectly.
Related Read: We have already compared Quillbot with Grammarly thoroughly you can check our detailed Quillbot vs Grammarly comparison here.
In fact, Quillbot can be integrated into Google Docs, making it accessible for most students dealing with essays, assignments, and homework.
Last but not least, Quillbot has thesaurus support that delivers the best synonyms.
How Does Quillbot Work? (My Experience)
You might be amused by all the benefits you get with Quillbot, but how exactly does it work? Well, I have used Quillbot personally for quite some time.
Let me quickly brief you on the working of Quillbot with my experience and how efficiently you can make the best use of Quillbot. Shall we begin? I guess it's time!
The working of Quillbot is straightforward. Using Quillbot is one of the most smooth experiences because you literally have to just copy and paste your content.
Voila! Your confusing wording and broken sentences get transformed instantly with a click in Quillbot. Additionally, I got the advantage of expanding my content better.
Using the expand/shorten features that I explained earlier, it was easier to edit my content better according to the required word limit, especially if there were essays!
In my experience with Quillbot, I also found out that there is an exciting tool called summarizer. It instantly highlights the pasted content and shows a base overview for easy understanding. You can skim through the content without leaving any details.
There was no lagging, and every tool featured by Quillbot was just good. Plus, the different writing modes were beneficial as I could tailor my content accordingly.
To wrap up with my usage with Quillbot, I'd say that Quillbot is a personalized writing assistant with added benefits that you might not find in other big competitors.
Best Features In Quillbot (What's new)
By now, you might have got the gist of Quillbot and how it works, but there might have been some points that I overlooked earlier, or did I not? Don't worry; even if I did, the following in-depth inspection of the best features of Quillbot would serve you better:
Thesaurus Support 
An underrated feature rarely spotted in grammar-checking software is integrated with Quillbot, and you can see it without any hassles.
It gets annoying to go to Google for every word that you want to know the meaning of or gather new sets of vocabularies for better writing. You can say goodbye to such horrible experiences because Quillbot has an excellent thesaurus.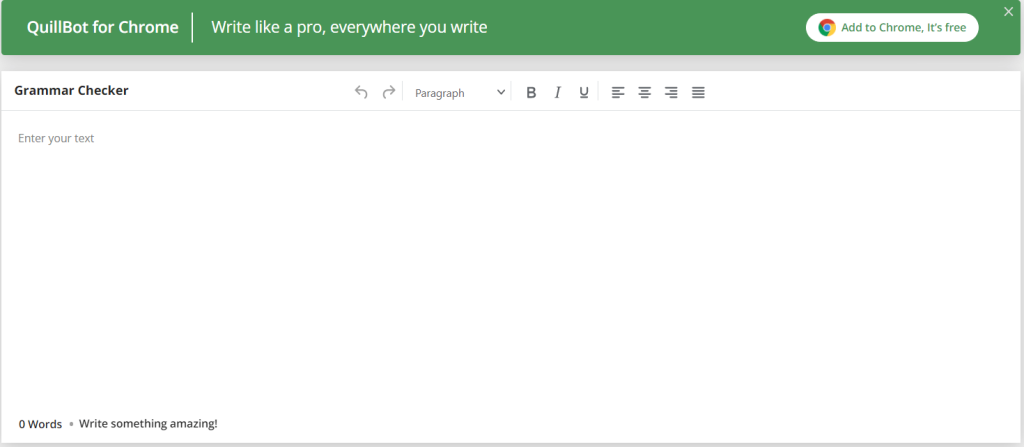 With the thesaurus support in Quillbot, you can instantly grab synonyms in no time.
SEO-friendly tools
Are you hearing what I am hearing? SEO optimization tools in grammar software? YES! Quillbot is breaking the stereotypes and has included optimization tools for you.
With the SEO optimization tools in Quillbot, you can take your content to the next level, rank at the top in Google search results, and get a wider reach.
In case you are a small business owner or have an online retail store, such SEO-friendly tools that are incorporated in Quillbot might be beneficial!
The SEO optimization tools in Quillbot will instantly optimize your content resulting in better engagement and impressions. That's how you run a small biz, baby!
Paraphrasing tool
The paraphrasing tool in Quillbot is literally what Quillbot is famous for. I mean, there is no denying that because the AI-powered paraphrasing works tremendously well!
It is stunning to know that computer programming in Quillbot has the power to gulp in crappy words and perfect them like a diamond in less than 10 seconds. Even the working of the paraphrasing tool is simplified where it is made on a clicking basis.
The minute you paste the content you want to rephrase, you get it done the next second. It is THAT powerful. Thanks to Quillbot for setting up such a robust tool!
Summarizer tool
Quillbot is the only AI-induced software that features a summarizer tool out there.
The summarizer tool enables you to read a brief overview of your content (or any content) without the need to read every single word written in the content. If you are not getting it, let me rephrase it for easy understanding.
With a summarizer tool in Quillbot, you are basically provided with a highlighted brief of the already written content. Isn't it impressive?

Imagine you want to listen to a story but do not want to read the entire story by yourself and want your friend to narrate it to you. Quillbot works similarly.
Still, the summarizer tool does not read it out to you, but you can visibly see a "summarized version" of the desired content without excluding essential data.
Adjustable writing mode
You might be surprised to witness writing modes in Quillbot, but here we are. In Quillbot, you are getting a whopping of seven adjustable writing modes.
Quillbot will quickly scan through your content and grasp the tone. After understanding the tone of the content, the AI will suggest several modes.
In the list of suggested writing modes, you have options like creative, casual, formal, informal, knowledgeable, and advanced in Quillbot that can be adjusted accordingly.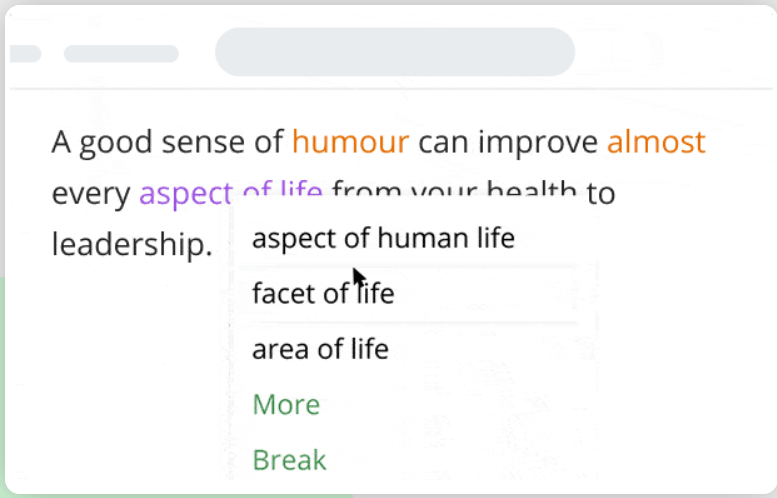 If you have written informal content but want to make it sound more "formal," you can instantly get it done by changing the writing mode in Quillbot.
Likewise, other writing modes can be used in similar circumstances efficiently.
Expand/Shorten
After a point, writing can get tricky, or your creative juices might have run out. In such cases, Quillbot has got you covered with its expand/shorten feature.
Using the "expand" feature, you can basically elaborate your restricted content without the need to manually write sentences because Quillbot will do it for you quickly.
Similarly, the "shorten" feature also shrinks your content without neglecting important information that you might not want to remove.
Both the expand and shorten feature goes hand in hand because the content value is not disturbed; only unnecessary words are removed, and strong vocabulary is added.
Freeze Words
The freeze words feature allows you to freeze a few words which you don't want the AI to modify. With this feature, you can freeze certain quotes, nouns, or any other unreplaceable section of your article. In the free version, you can only freeze one word however in the premium section, you can freeze as many words as you want.
To use this feature, you just need to click on the snow icon and enter the word or phrase that you want to freeze. You can also select the text directly on the editor and click on the freeze to freeze that right there and then.
Quillbot Hotkeys
There are certain shortcuts available on Quillbot that you can use with the help of selected hotkeys. You can use these hotkeys directly to make it easier for you to paraphrase your content. To see what are the hotkeys, you just need to click on the "Hotkeys" button on the dashboard and it will show you all the shortcuts and their hotkeys.
These modifications are also color-based which makes it easier for you to identify them. If you don't want this option, then you can just disable this option directly from the settings.
Compare Mode
One of the best features of Quillbot is the compare mode. It is a premium feature of Quillbot where you can see different phrases and how they will look together. This feature can help you save time in structuring sentences, and you can find the phrase for your sentence. Using this feature, you can remove all the unnecessary words from those sentences. To use this feature, you need to upgrade your free Quillbot account with a subscription plan.
Is Quillbot Reliable and Safe to Use?
After personally using Quillbot for my writing projects, I can firmly say that Quillbot is reliable and safe to use at all times because the security is top-notch.
There is no need to worry about data leakage or malware into your system. In fact, Quillbot is trusted by big companies, and even most schools are recommending it.
In case you are having mixed feelings about Quillbot, you can request a refund and get 100% money back instantly, but it might not be necessary since Quillbot has a robust database with compelling features. You would not get disappointed for sure!
Related Read: Grammarly is considered as one of the direct competitors of Quillbot; check our detailed Grammarly Review here.
Who Should Use Quillbot?
Quillbot is an amazing tool that implements AI to write unique content based on the input provided by the user. So it is not a good option for authors to write a book with it. Most of the time, writers who write on a daily basis can get stuck when writer's block hits them. In that case, if they are not able to write, they can use Quillbot's paraphrasing tool to get rid of their writer's block and write unique and amazing content using AI.
Quillbot is a great tool for anyone who has to rewrite their work on a daily basis. People who need to sort out a long research paper but can't do it can use Quillbot's summarizer tool, which will summarize their research papers within a few minutes.
Quillbot: Pros & Cons
Quillbot is a spectacular AI-powered software with unique features. Still, Quillbot has certain drawbacks that might be considered as downsides. Let's look at them deeply:
Quillbot Pros
A free version is available.
7 unique writing modes are offered.
The option of a summarizer is available.
You can expand/shorten sentences easily.
Quillbot is integrated with SEO-optimization tools.
A robust paraphrasing tool is programmed in Quillbot.
A rare feature of thesaurus support is in-built and accessible.
Quillbot Cons
Most features are restricted to Quilbot Premium.
Grammar checking is not compelling.
What Is The Pricing Of Quillbot?
Quillbot is literally a game-changer with unique features often absent in competitors. Features like the summarizer tool and paraphrasing tool are extraordinary.
Regarding pricing, let me tell you that Quillbot is accessible for free. That's correct! You can use Quillbot without paying a penny on the official Quillbot site.
Unfortunately, the standard version (Free) is limited to features including two writing modes and only 150 words per paraphrase. Still, it is worth testing in Quillbot.
Quillbot Premium
Although the standard version is rolled out for free, Quillbot Premium is based on subscription modules wherein you can either pay monthly, annually or even semi-annually. Let me explain the pricing plans in Quillbot Premium:
You can purchase Quillbot Premium as:
Monthly Subscription – $9.95/-
Semi-annual Subscription – $6.66/- (billed $39.95 for six months)
Annual Subscription -$49.95/- (billed $4.17 every month)
Quillbot Premium also allows you to pause your subscription if you are not using it. Even if you are not satisfied with Quillbot Premium, you can quickly get a 100% refund!
The official Quillbot Team smoothly handles the entire pricing structure, including the refund policy. Even the customer support in Quillbot is excellent.
Related To Quillbot:
Final Thoughts: Quillbot Review (2023)
What more can I say? Quillbot has impressed me in ways I did not expect!
The features in Quillbot are something that I would celebrate for life because most competitors only focus on the grammar aspect. Still, Quillbot stepped ahead and delivered a user-friendly experience with zero lagging.
In my experience with Quillbot, I also noticed that Quillbot is trying to keep up with frequent updates and is changing according to the users' understanding.
I am sure you can expect a lot of cool features in the future in Quillbot. Go ahead, step out of the shell and give Quillbot a try for free! You would be surprised by the results!
FAQs On Quillbot
Is Quillbot free?
Yes, Quillbot is free but has limited writing modes and only 150 words per paraphrase use.
Can you change the writing mode in Quillbot?
Yes, you can change the writing mode in Quillbot. In fact, Quillbot has at least seven adjustable writing modes. 
Is Quillbot easy to use?
Quillbot is user-friendly, and everything is just a click away. You simply have to paste the content and click on the desired feature, and you are good to go.
What is the best feature in Quillbot?
Quillbot is known for its paraphrasing tool, which can instantly rephrase any given content.
How much is Quillbot Premium?
Quillbot Premium can be purchased in three subscription modules, namely a monthly subscription priced at $9.95/-, a semi-annual subscription priced at $6.66/- (billed $39.95 for six months), and the annual subscription priced at $49.95/- (billed $4.17 every month)
Latest posts by Ryan Harris
(see all)