Do you want to enhance your writing experience and elevate your workflow? I got the best paraphrasing tools that can do the job of perfecting your content in seconds!
In this article, I have handpicked the best paraphrasing tools in 2023 for different users. Based on your requirements, you can select the right paraphrasing tool!
The list contains free and paid paraphrasing tools. As a bonus, I have also included tips to help you shortlist the right paraphrasing tool.
With that, let's get into the details!
8+ Best Paraphrasing Tools (2023): In A Nutshell
If you are on the go and need help, here is the complete list of paraphrasing tools!
| | | |
| --- | --- | --- |
| Sr No | Best Paraphrasing Tools | Rating |
| 1. | Quillbot | 4.9/5 |
| 2. | WordAi | 4.6/5 |
| 3. | Wordtune | 4.5/5 |
| 4. | Clever Spinner | 4.4/5 |
| 5. | Spinbot | 4.6/5 |
| 6. | Chimp Rewriter | 4.5/5 |
| 7. | Spin Rewriter | 4.7/5 |
| 8. | Small SEO Tool | 4.6/5 |
Best Paraphrasing Tools For 2023
Let's have a look at the best paraphrasing tools in detail.
1. Quillbot
If you want to know more about Quillbot, check our in-depth Quillbot Review here.
Quillbot is a writing tool that has earned its name in the content drafting spectrum for its impeccable accuracy in paraphrasing. The fact that Quillbot is ready to use without having to spend a single penny has made Quillbot the go-to writing tool.
The AI in Quillbot works like a wonder in terms of paraphrasing your content. Still, Quillbot has stepped up and leveraged its game by introducing changes in tones.
If your content sounds casual, but you want to make it formal – Quillbot got you. Likewise, there are several tones in Quillbot that might be useful to you at times.

In case you have overwritten your content but do not want to eliminate crucial points, you can use the "shorten" feature in Quillbot and get it done in seconds.
Quillbot has rolled out significant changes in the latest update by incorporating an in-built plagiarism checker that can instantly spot duplicate content.
The most underrated feature that I found in Quillbot is – the summarizer tool. As the name suggests, the feature helps in summarizing your entire content in a readable manner.
For instance, if you have an essay but do not have the time to read it entirely. You can quickly go to Quillbot and let it summarize the essay so that it is easy to read.
2. WordAi
WordAi is yet another AI-programmed writing tool that primarily deals with paraphrasing, which means you can let the AI rewrite for you without wasting time.
You can instantly enrich your content with an enhanced professional touch and ensure that your content does not miss out on any clarity using WordAi.
The best thing – WordAi considers the readability of your content very seriously and improves it accordingly!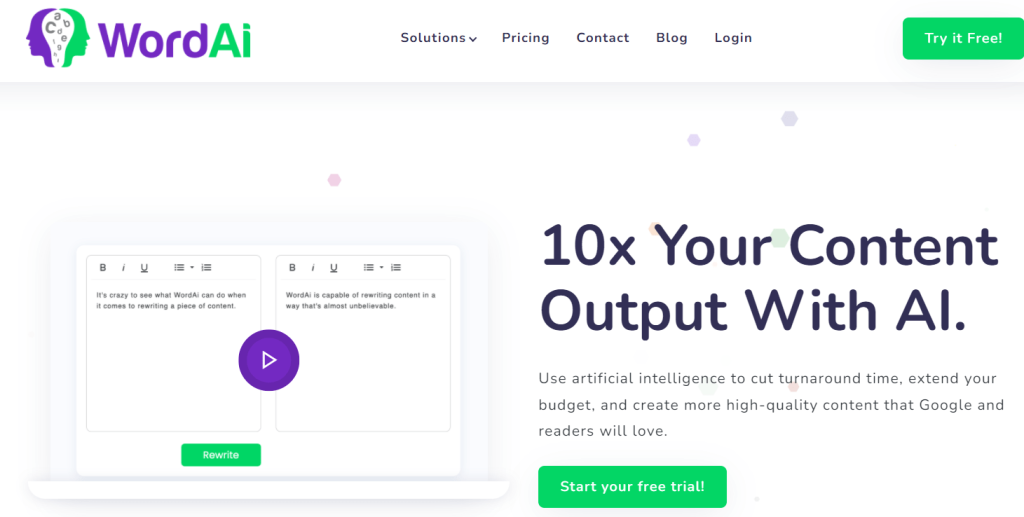 Most competitors have restrictions in rewriting, but WordAi sticks to its word and allows you to bring in bulk articles to rewrite all at once. A great feature that might be helpful to programmers is that WordAi also supports HTML content – Yes, it's true.
Although WordAi does not promise to expand your content, it will get your content short and crisp so that the viewers find it easier to read and skim through the page.
While rewriting, you need to ensure that it does not impact the context of the content, and WordAi did exactly that. The context remained the same – Thanks to WordAi!
You can also refine your dead content and update it with fresh copies using WordAi.
3. Wordtune
Upfront, let me take you that Wordtune is a restricted version of Quillbot.
You might find similar features like change in tones, expansion, and shortening in Wordtune, but the fact that Wordtune does it with great accuracy is fantastic.
If you are someone who is surviving through broke English in job applications or email marketing, Wordtune is your best bet. You can instantly enhance your content.
Be it an essay as an assignment or a formal police complaint, Wordtune comes in handy for all sorts of help regarding content improvement. The key features in Wordtune are rewriting, casual, formal, shortening, and expanding – that's all you get.

Although Wordtune is caged with minimal features, it does the job accurately. I mean, the expand and shorten features would help you immensely for essays.
The casual and formal features might outrank your average writing skills. I would write in a casual tone and use Wordtune to change it into a formal-sounding article.
As Wordtune enters the next update stage, I noticed unique features like writing and translating that allow you to rewrite a sentence in a bilingual statement.
Last, but not least, it does not matter where you write your content – Wordtune can be integrated into it. From Slack to Google Docs to Microsoft Word, Wordtune is available!
4. Clever Spinner
Clever Spinner is a great way to spin your content and rewrite it effectively.
Although Clever Spinner might seem old school, it does the job and delivers the content you need with a revised version. I mean, Clever Spinner rewriters efficiently.
The AI used in Clever Spinner is extremely responsive, so the content delivery seems to be accurate. There were not a lot of features to experiment with within Clever Spinner, but if you only need a writing tool to paraphrase, then it might be helpful.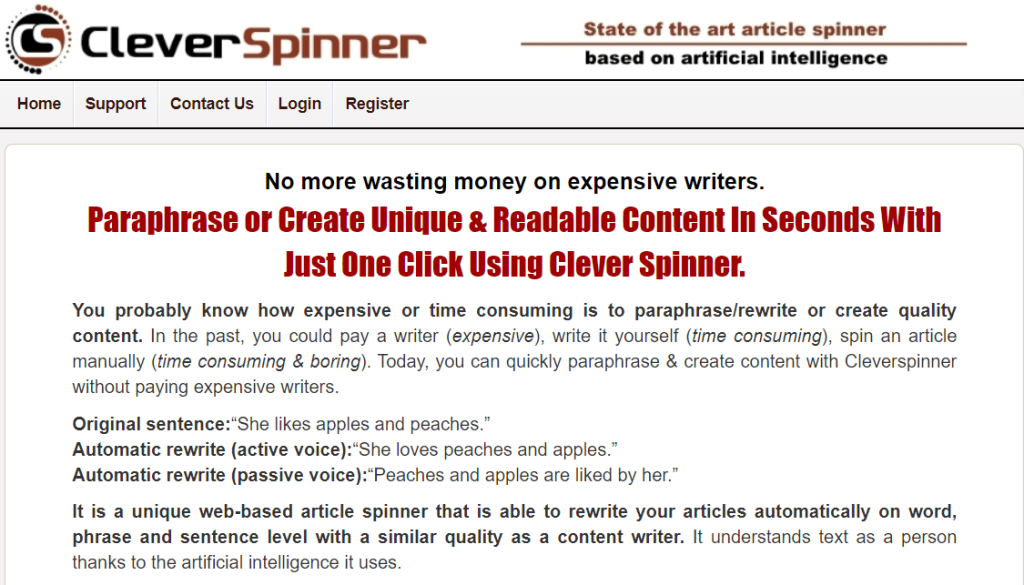 You can receive keyword-focused content at the push of a button in Clever Spinner. The fact that Clever Spinner also ensures enhanced readability is impressive.
Lastly, Clever Spinner does not overlook duplicated content and cross-checks for it.
5. Spinbot
Spinbot has the right tools to elevate your paraphrasing experience to the next level.
One of the key aspects that I loved about Spinbot is that you can actually choose not to let Spinbot touch certain keywords while paraphrasing or rewriting. As you know, keyword placement is vital for SEO purposes, and Spinbot takes care of it entirely.

I noticed that Spinbot does not change the narrative or the tone of your content despite rewriting it in a different style. I mean, although you use Spinbot to paraphrase your content, it will still sound like how you wrote the content first.
Yet, I tried to run a Copyscape test on Spinbot, and unfortunately, Spinbot did not pass. Similarly, there are minor drawbacks like the demand for manual correction.
6. Chimp Rewriter
Chimp Rewriter is all-in-one writing software that enhances your content.
You can use Chimp Rewriter to cover up for school assignments like essays, long-form articles like guides, or even if you need content for SEO purposes.
Additionally, Chimp Rewriter claims that it is more than an article rewriter. Yet, I tried testing Chimp Rewriter on certain writing projects, and it did a fairly good job.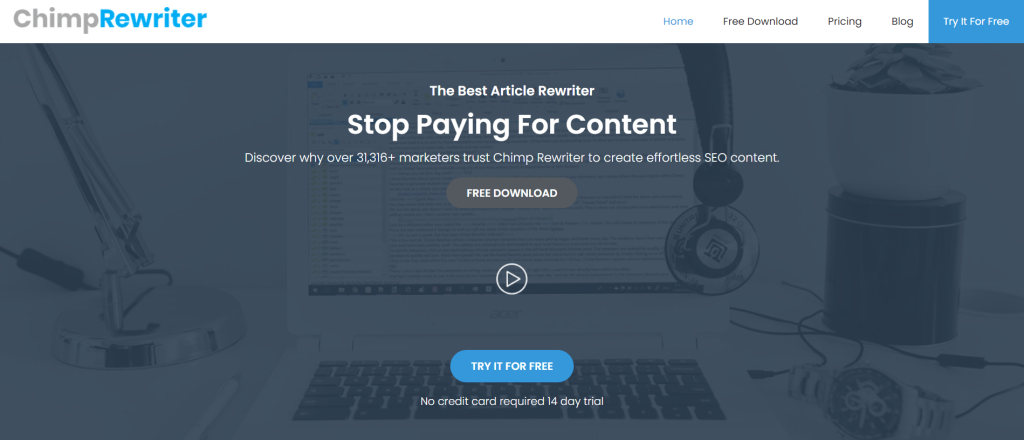 Although Chimp Rewriter advertises it to be the best in everything, there are some features that did not stand up to my expectations, like the rewriting. I mean, sometimes it truly felt like my writing was actually better than Chimp Rewriter.
I am saying it only after writing professionally for many years, yet if you are a beginner or an amateur, then Chimp Rewriter will benefit you in many projects.
Using Chimp Rewriter might not be a problem if you only need software to paraphrase or rewrite your content. It would be great if there were other features.
7. Spin Rewriter
Spin Rewriter is one of the best paraphrasing tools because it uses emulated natural language to rewrite content. The content Spin Rewriter creates is human-like, which is also the best thing about it. It can completely change the content with just one click. It also comes with some exciting features, such as bulk content spinning, stock photo integration, and mass export.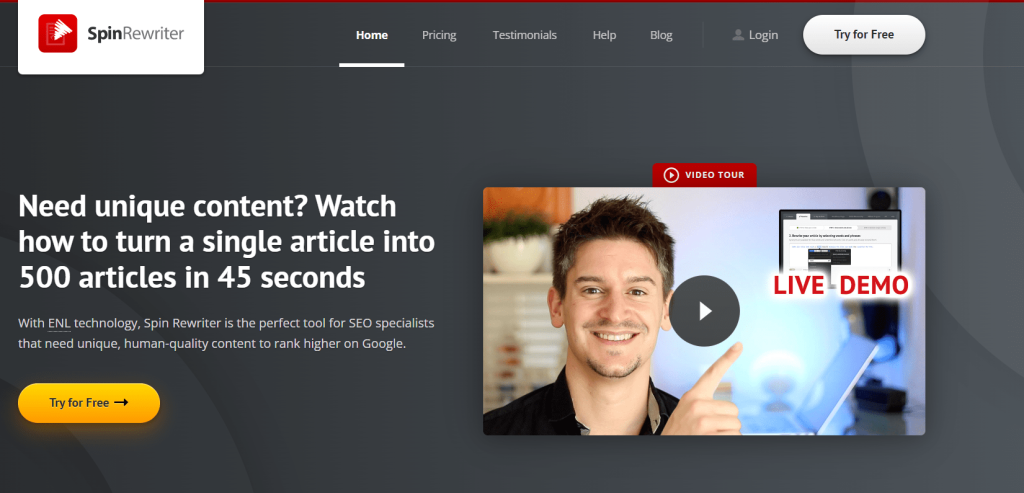 You can use this tool on all the devices, such as desktops, mobiles, and more. You can also see the meaning of the words it rewrites. It also gives you the option to compare the original content with the spun content.
You can directly add relevant images to your content with its editor. If you want multiple versions of content, then just use the bulk spin feature, where you can create up to 1000 spin content. It will also show you the uniqueness of every content.
The pricing of Spin Rewriter is $47/month, and if you want to pay annually, then you have to pay $197/year. There is a lifetime plan available, which costs $497 once. With all these plans, you can spin unlimited content.
8. Small SEO Tools
Another best free paraphrasing tool, if you want to save your money, is Small SEO Tools. This tool has an extensive user base. This tool will analyze the writing and will work on the core message.
This tool can paraphrase more than 2000 words and allows various files like txt., doc, docx, pdf, etc.
Small SEO Tools work by technical reading and understanding the text that you enter and then rewriting it to produce a different and readable version of your content.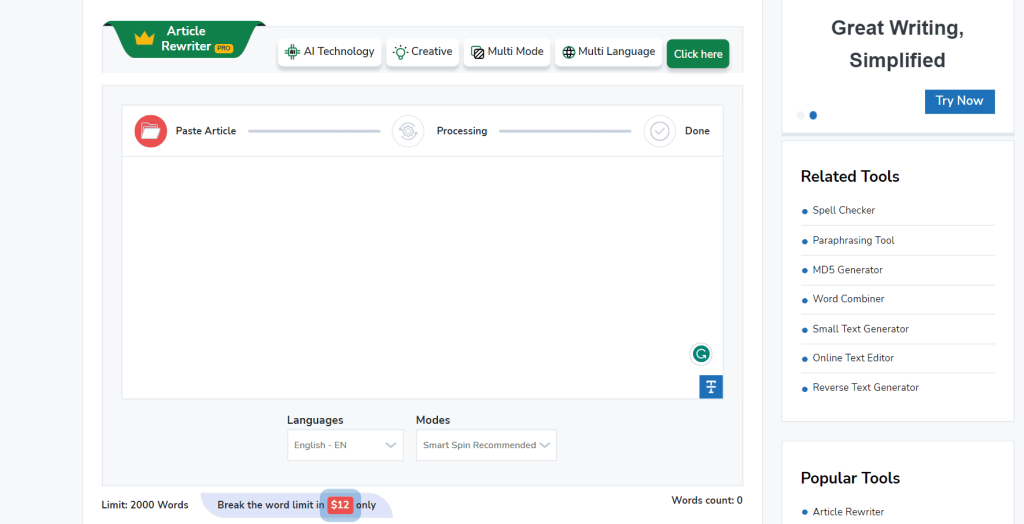 It is built for maximum performance, and it provides more than 700,000 well-matched new synonyms.
In addition to the article rewriter, this tool provides a plagiarism checker, free grammar checker, word counter, and spell checker.
This tool has a free version but also provides a basic and premium plan that cost around $22/month and $29/month, respectively.
How to Find the Best Paraphrasing Tool?
You might find yourself in a position where you are caught up with several paraphrasing tools claiming to be the best. Although I have reviewed and listed some of the best paraphrasing tools, how do you spot the key elements in them?
I got you covered with some of the must-have features in the best paraphrasing tools. If you notice the following elements in those tools, you got the best of the best!
1. Ability to rewrite
It is evident that no paraphrasing tool can be considered a "paraphrasing tool" if it does not offer the mere benefit of rewriting or rephrasing, or paraphrasing.
By saying this, I'd like to give more clarity on the subject by highlighting the fact that each paraphrasing tool that you find must have enough limits for you to rewrite.
I have noticed paraphrasing tools that only allow you to rewrite 3-5 times only. Try out the free trial before upgrading to the premium to test out the rewriting power.
2. Grammar checking
Nowadays, most paraphrasing tools are rolled out with in-built grammar checking, which means you do not have to do the old-fashioned way of adding extensions.
Yet, if you find a paraphrasing tool that produces excellent accuracy, you might have to consider grammar checking in the tool as well. In case you use the desired paraphrasing tool, you do not want to check the grammar manually.
If the paraphrasing tool comes with integrated grammar-checking support, it will save you plenty of time, and you can enhance your workflow efficiently.
3. Change in tone
Gone are the days when paraphrasing tools offered only the feature of rewriting. In today's new age, paraphrasing software lets you change the tone of your content.
The most exciting part about the change in tone features in the paraphrasing tools is that it does not change the context of your content and rewrites it in a different tone.
You might have to try it for yourself in order to believe it. Once, I did not agree to such a promise, I tested it, but the result blew my mind. Yes – it changed the tone!
4. Resize your content
I do not mean the size of your content but the word count used in your content. For instance, you might have overwritten content as you got deep into the subject.
Yet, the target was only a specified number, and now what do you do? Now, you might be clueless because you do not want to erase since you got some crucial points embedded within the content. That's when features like shortening help.
You can instantly cut short your content and make a fair copy out of it right away. In fact, you can also expand your content if you want to increase the word count.
Such benefits are added in the best paraphrasing tools like Quillbot and Wordtune.
Still, looking for more options? Explore our handpicked list best AI writing tools!
Final Thoughts: Best Paraphrasing Tools (2023)
Since we have reached the end of our article, let's help you pick one to make your decision easier.
Quillbot -Overall Best Paraphrasing Tool. Ideal for students.
Wordtune -Best free paraphrasing tool
WordAI -Best for professional use.
Besides, most tools offer free version or free trials. So you can test them and decide which one fits your requirements the best!
Still, need help? Let us know your questions in the comment section below!
FAQs On Best Paraphrasing Tools
How to use paraphrasing tools?
You have to paste your content into the paraphrasing tool and click on "rewrite." Voila! You will get your well-polished content ready in seconds. 
Are paraphrasing tools free?
Most paraphrasing tools like Quillbot and Wordtune are free, but you might have to upgrade to premium if you want to use advanced features.
Which is the best paraphrasing tool?
In my experience, Quillbot is the best paraphrasing tool.
Is there a word limit in paraphrasing tools?
Yes. Most paraphrasing tools have a certain word limit to rewrite. 
Latest posts by Ryan Harris
(see all)