While Pluralsight is an amazing platform, it might not be the best and only option out there, which can make you look for the best Pluralsight alternatives.
I understand different needs when it comes to online education, and based on my experience with different platforms, I have shortlisted some of the best alternatives to Pluralsight.
Each alternative on the list is curated based on my experience, and I have also shared my separate reviews on each platform. Additionally, I took more parameters into consideration such as instructor quality, course curriculum, additional benefits, and pricing plans. 
So, let's get into the details and help you find the best alternative to Pluralsight!
The 11 Best Pluralsight Alternatives (2023)
Pluralsight is known for its tech-based courses for creative professionals, yet you might not be entirely satisfied with the experience of Pluralsight. Hence, I have gathered the best Pluralsight alternatives that you might find interesting to try:
Coursera
Udemy
LinkedIn Learning
Skillshare
CBT Nuggets
edX
Udacity
Treehouse
AlgoExpert
MasterClass
DataCamp
Note: In case you haven't gone through our Pluralsight review, we suggest checking the review. After going through the review, you will get to know — Is Pluralsight Worth It?
1. Coursera (The #1 Pluralsight Alternative)
Coursera is one of the best MOOCs known for its partnership with universities like Yale and Stanford in producing the most high-quality content. With in-house industry experts, the curriculum followed by Coursera is promising, and you cannot deny the fact that you are learning directly from top-ranking colleges.
Additionally, Coursera is diversified, which means you get courses in 10+ languages and specialization in various degree programs and courses. In fact, you are promised a virtual degree if you opt for exclusively curated degree programs. You can audit 1000+ selective courses for free, but only paid courses offer certificates. You can also claim your Coursera Plus free trial to test the platform!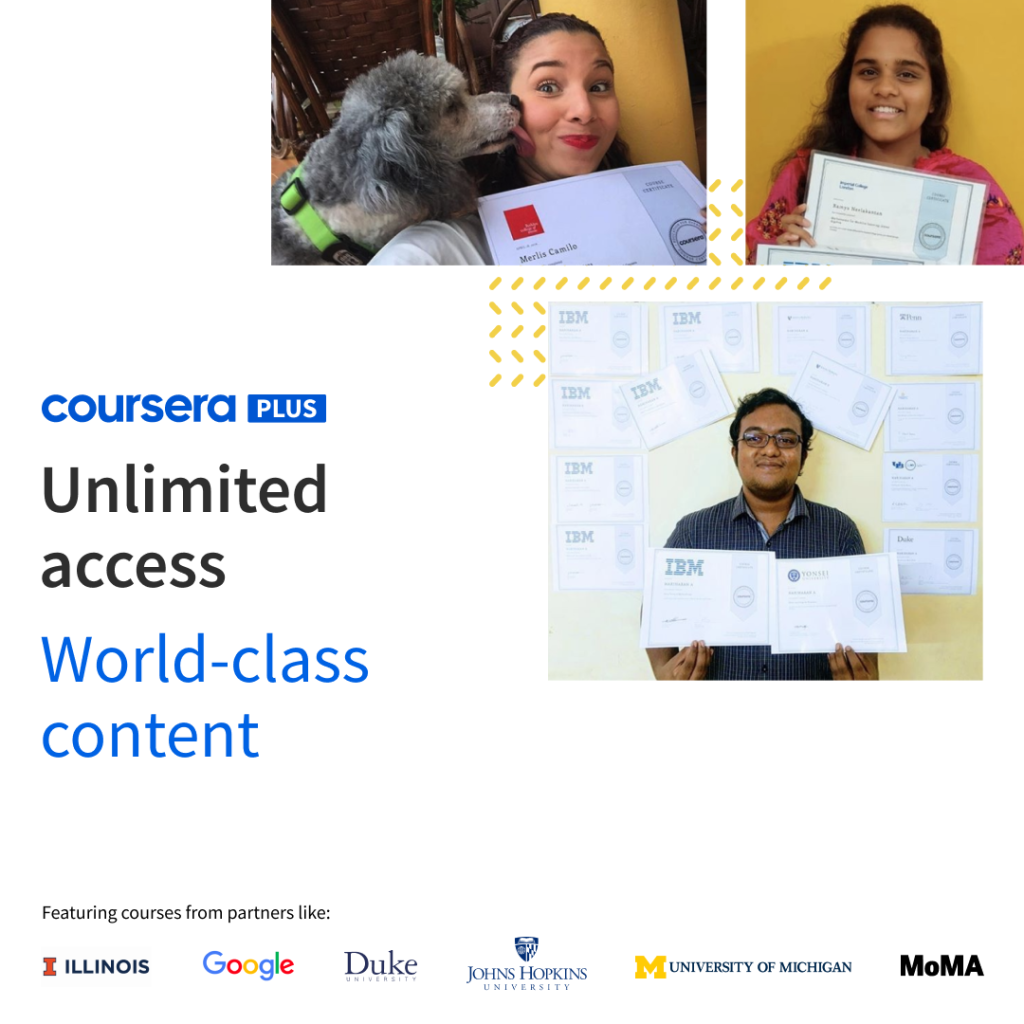 I have been an avid learner of Coursera. You can read my experience with Coursera to know how it works!
Highlights:
Industrial expert-led courses.
Auditing a course is available.
Well-structured curriculum.
Multiple languages are supported.
Exclusive degree programs.
You can get an actual degree.
Financial aid is provided in Coursera.
Lifetime access is guaranteed.
You can get a certificate on completion.
We have already made a detailed comparison of Coursera vs Pluralsight that will give you a complete idea of how they stand against each other.
Budget: Although only 1000+ selective courses are free on Coursera, to receive certificates, you have to opt for the paid courses, which can cost anywhere from $29-$99. Still, you can pay for an annual subscription at $399 and access it all.
Best suitability: If you want to get a virtual degree in a specific subject, Coursera is the go-to learning platform. You can also opt for Coursera if you'd like to audit courses to experience industrial-level learning.
2. Udemy
Udemy ranks at the top with its exceptional quality and categorization of courses. You can find courses in diverse fields like marketing, designing, writing, coding, etc. Udemy supports 50+ languages, which means non-English speakers can also make the best use of it. Additionally, Udemy lets anyone curate a course and teach students globally via self-paced modules and instructive lessons.
Bonus: Check our detailed Udemy vs Pluralsight comparison here.
Highlights:
150,000 courses in all niches.
Minimalistic and well-designed interface.
Easy-to-navigate options and tools.
Multiple languages are supported.
A mobile application is available.
You can purchase a single course.
On-screen note-writing is enabled.
The speed limit of a course can be adjusted.
Budget: Unlike other competitors, Udemy lets you purchase a course anywhere from $19-$200, depending on the desired module and instructors' expertise.
Best suitability: Anyone who'd like to learn creative or tech-based courses from experts under a single roof without having to pay for the entire subscription.
---
3. LinkedIn Learning
Overview: LinkedIn Learning is a versatile learning platform that produces compelling in-demand courses yet updates employment opportunities so that users can learn and search for high-paying jobs simultaneously. LinkedIn Learning also produces video tutorials in each course with commentaries, making it understandable for all beginners.
Plus, LinkedIn Learning has a course library that is valuable for your career, which means it will be beneficial for your job or land you a job somehow. Lastly, LinkedIn Learning also supports 5 distinctive languages for non-English users.
I have also reviewed LinkedIn Learning in detail, which you can check out!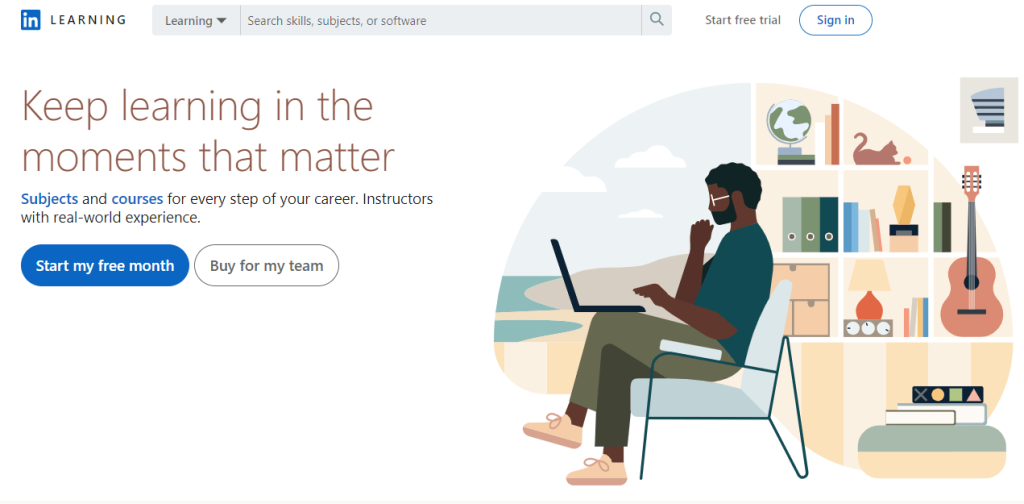 To understand the difference between the two platforms in detail and make your decision easier, here is a detailed Pluralsight vs LinkedIn Learning comparison!
Highlights:
Any company can sponsor LinkedIn Learning for its employees.
The employer can view the employee's progress.
High-quality content led by industrial experts is guaranteed.
You can search for jobs while learning a specific skill.
Video tutorials are available that make learning easy.
Five different languages are supported in LinkedIn Learning.
Ease of use is excellent, with handy features and tools.
The option of a 30-day free trial can be accessed.
An adjustable speed limit is also available.
Budget: LinkedIn Learning can be purchased at $19.99 or $29.99 per month. The only difference between the plans in LinkedIn Learning is that you can download the courses for offline use.
Best suitability: If you are searching for potential jobs while also learning in-demand skills, LinkedIn Learning is the best option, especially if you want to connect with similar interest employees or get guidance from experts on the desired subject.
---
Skillshare is an exclusive e-learning platform entirely dedicated to all creative-minded people out there. Due to its top-notch quality and digestible content, you might find Skillshare engaging and insightful. You can also participate in skill-oriented workshops hosted for creatives only.
Only qualified experts teach the courses on Skillshare, which means the instructor quality is promising. Like Udemy, you can instantly turn into an instructor and teach thousands of students worldwide.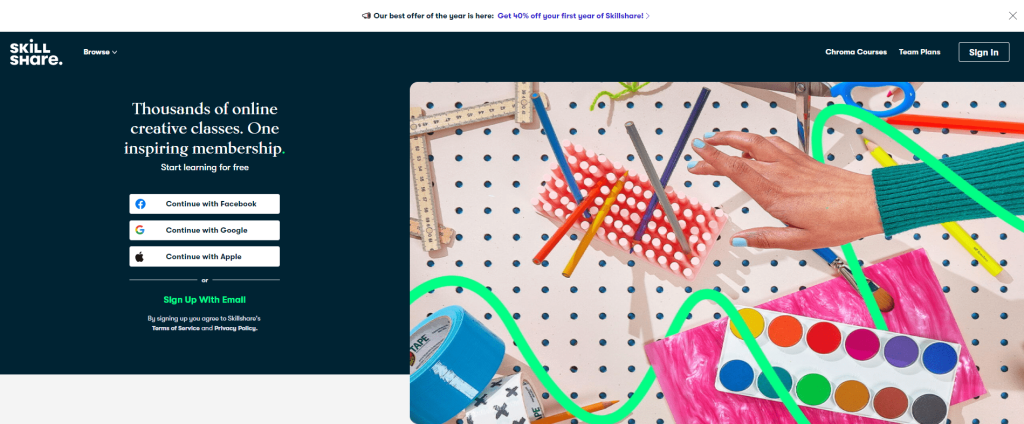 Also Read: Skillshare vs MasterClass
Highlights:
Easy, short, and digestible content only.
Downloadable offline access is available.
Beginner-friendly courses are offered.
Insightful workshops are hosted.
30-day free access is available on Skillshare.
Subscription-based modules are followed.
You can join an engaging student community.
Ad-free content on all 40,000+ courses. 
Budget: You can access Skillshare by paying for the subscription at $19 per month or $99 per year, whichever is convenient for you. Still, you cannot buy a single course!
Best suitability: Skillshare is best suited for students, creatives, or anyone trying to slide into an unconventional field because the course library in Skillshare is filled with creative niches like designing, writing, and marketing.
---
5. CBT Nuggets
CBT Nuggets is an online learning platform that takes e-learning to the next level with intuitive lessons and a curriculum. In CBT Nuggets, trained professionals teach in-demand skills that will elevate your career and shape your learning better. CBT Nuggets offers exclusive access to in-built virtual labs and quick quizzes to get a hands-on learning experience instantly.
All the courses in CBT Nuggets are curated for self-paced learning, which means there is no fixed time to finish them. Lastly, CBT Nuggets promises professional teaching by tech experts.
Highlights:
Extraordinary course quality.
Hands-on learning experience.
Customizable learning pathways.
You get certificates on completion.
Insightful short quizzes and tasks.
Availability of virtual labs for testing.
A 7-day free trial is available on CBT Nuggets.
Budget: You can avail all the benefits in CBT Nuggets by paying $59/- per month or $599/- per year. If not, try the free trial and explore CBT Nuggets for 7 days straight!
Best suitability: CBT Nuggets is an excellent option for a geek or a techie because most courses are constrained to technology, and only tech folks find it beneficial.
---
6. edX
Overview: edX is one of the top learning platforms known for its collaboration with prestigious universities like Harvard and MIT, wherein you are promised high-quality content in a simplified format. In edX, you are given the option of auditing all the courses for free and gaining insightful knowledge on various categories.
Plus, edX is generous enough to offer financial aid to those who want to get a virtual degree through their platform. Last but not least, edX offers courses in four languages. I have handpicked my favorite edX courses with certificates that you can check to get an idea about which course to start from!
Check my detailed edX Review to learn about edX in detail!
Highlights:
You can get an actual degree virtually.
edX offers certificates on completion.
Easy pathways are available in edX.
Beginner-friendly courses are available.
You can audit any course for free in edX.
Financial aid is offered for all students.
Promising course quality and lessons.
Multiple degree programs are available.
Budget: edX allows users to take courses for free (audit courses) or buy a verified track filled with a set of courses anywhere from $30-$500 depending on the desired course, yet the degree programs have a fixed rate from $10,000-$25,000 in edX.
Best suitability: edX is a trusted e-learning platform for anyone who wants to get certified with a qualified degree or wants to learn an in-demand skill on a budget.
Related Read: You might want to check out a detailed edX vs Coursera comparison.
---
7. Udacity
Udacity is an underrated tech-based learning platform that aims to take your skills to the next level with hands-on projects and a well-structured curriculum. In Udacity, you can take up to 200 courses without paying a single penny, which means the call for knowledge gaining is free, and you can make the best use of it.
Udacity offers courses on all difficulty levels with customizable options. From business analytics to data science to product management, Udacity covers it all. Plus, Udacity lets you download the entire syllabus for external learning.  You can also check — Udacity vs Coursera comparison to know how the two platforms differ.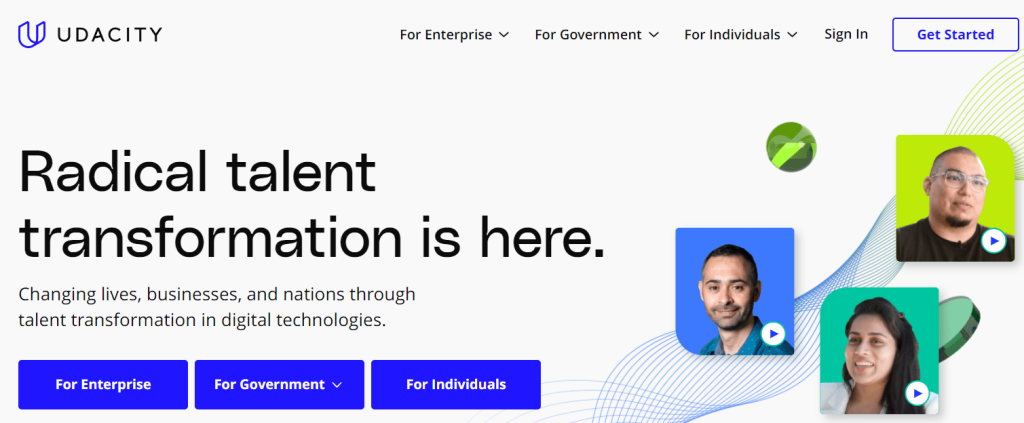 Highlights:
High-quality content.
Extraordinary mentorship.
Hands-on learning experience.
Intuitive and well-designed interface.
200+ courses can be accessed for free.
You can request financial aid/support.
You can find beginner-friendly courses in Udacity.
Programs like nano degrees provide certificates on completion.
Budget: Udacity does not follow a fixed subscription plan; instead, the budget varies according to each nano degree (paid course) in Udacity and can cost anywhere from $89-$1200. Udacity is still expensive, but you get certificates, hands-on learning, one-on-one mentorship, career opportunities, and more, so it is worth the money.
Grab Udacity at a discounted price using our Udacity Coupon Code!
Best suitability: Udacity is recommended to anyone who wants to learn tech-based skills from great mentors and get hands-on experience on real-life projects.
---
8. Treehouse
Overview: Treehouse is a well-curated learning platform entirely designed for technology, which makes it a solid alternative to Pluralsight. With exclusive learning tracks called Techdegree, you get relevant course modules under a single roof, resulting in a simplified learning experience.
Additionally, Treehouse provides real-like projects with extensive workshops to get a deep understanding of the desired subject. In fact, Treehouse invites you to a private cohort community and provides bonus content in elective courses in Treehouse, which is an added benefit.
I already did a detailed Treehouse review where I shared my experience with the platform.
Highlights:
Real-like projects are provided.
Handled by professional tech experts.
The option of a 7-day free trial is available.
Easy boot-camp-style programs can be taken.
All the courses are in-depth and well-explained.
Techdegree, unique learning tracks are available.
You are provided with additional content in Treehouse.
The courses in Treehouse can be downloaded for offline use.
Budget: You can buy the courses in Treehouse either at $25 or $49 per month, depending on your preference. The pro plan at $49 allows you to download courses and get unlimited access to Treehouse. Techdegree can be purchased at $199/m.
Best suitability: Treehouse is highly recommended for users who want to learn core tech topics directly from professional experts and get adequate guidance.
---
9. AlgoExpert
Are you smacking your head around to prepare for your coding interviews? Well, AlgoExpert has compelling video lessons in high-quality coding questions that are often asked in an interview. The best part is that each question is handpicked by the AlgoExpert team.
Plus, you get resourceful materials like journals and booklets to get going. The entire learning experience in AlgoExpert is smooth.
To get detailed insights into AlgoExpert, you can check my detailed AlgoExpert review.
Highlights:
Provision of 400-paged resourceful books.
AlgoExpert speaks 9 programming languages.
From JavaScript to Python to TypeScript, AlgoExpert got you.
You can experiment with real-code execution in AlgoExpert.
AlgoExpert offers only hand-picked questions for easy learning.
Provision of a certificate on successfully the assessments.
Straightforward teaching approach with no confusing patterns.
Budget: All three plans in AlgoExpert are priced at $49, but the uses and benefits vary for each plan offered by AlgoExpert. You can check working AlgoExpert coupons & promo codes. The other two plans are MLExpert and SystemsExpert – you can learn machine learning and system design, respectively. Yet, AlgoExpert only focuses on coding.
Best suitability: AlgoExpert is best suited to anyone who is preparing for a coding interview or wants to have prior experience in attending a coding interview.
10. MasterClass
MasterClass is one of the best online learning platforms out there. Unlike the competitors, MasterClass is known for following conventional ways rather than the non-conventional way like others. The learning gets more interesting, and the users feel more engaged.
The industry giants from different fields will help you clear your doubts and make your base more strong. MasterClass has made sure to keep the classes short and easy to understand for its users. You can download and pick from where exactly you left off. 

The Quality which they offer is at its best. The Audio mode is one of the important features that helps you to listen to it even if you are driving. 
Overall, it is indeed a 'MasterClass.' The Quality and the flexibility are amazing and very difficult to compare. 
My experience with MasterClass has been amazing. I reviewed MasterClass, which you can check to know if it's really worth the hype!
Key Features:
Learn at your own pace with the flexibility
Can download it and listen to the audio whenever and wherever you want
Best Quality
Easy to understand and can be picked at any given time
Conventional ways of teaching 
Industry Giants to Guide you
Budget: Masterclass is billed annually, and to avail of any course, it costs 180 Dollars. 
Best Suitability: It comes with great quality, be it with the video quality or the content quality. People who like learning at their own pace and time will be perfect for them. The Best part of MasterClass is you can continue from where you left off, and you won't feel like missing out on any relevant information.
11. DataCamp
DataCamp, as a learning platform, offers excellent courses and certifications in data science, programming, and statistics. The classes are made in a way that will help learners understand the advanced skills of their respective courses. It offers high-quality content that offers in-depth information on coding exercises and much more.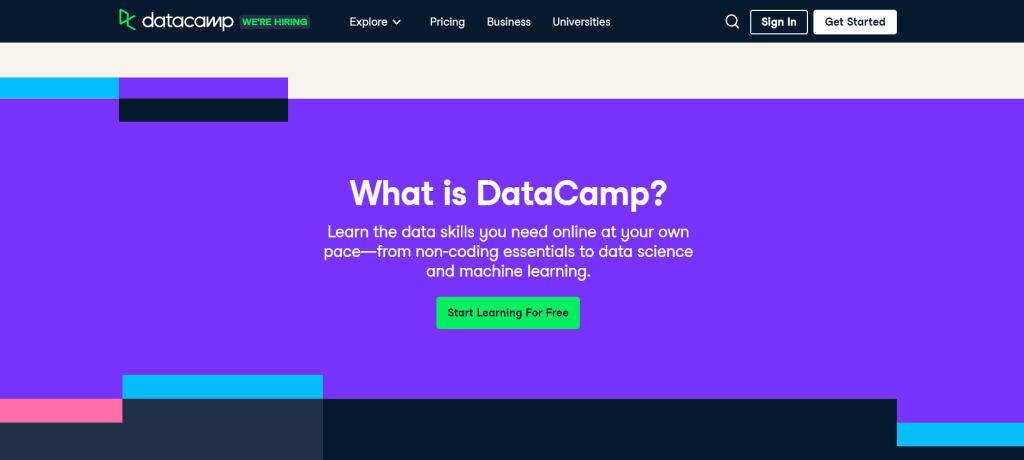 If you are a newbie who's getting fascinated by data science and wants to start a career in data science, then this course is for you. It offers a free plan and a paid plan, which can be done monthly or annually. There are plans for Teams & Businesses. We would recommend starting with the free course, and then later, you can switch to the premium plan.
Check my detailed DataCamp Review to learn how it can benefit you!
Highlights:
Offers Free Plans for Newbies
 Easy to use and understand 
Available on 'n' a number of platforms
Amazing Content Quality 
Instructors are well-trained and experienced
Budget: There is a free plan and a Premium Plan, which costs $6.17 / if paid annually.    
What if you can save up to 50% on DataCamp? Grab your DataCamp discount and get access to your favorite course!
Best Suitability: For beginners who are looking to start a career in Data Science.
Final Thoughts — Which is The Best Pluralsight Alternative as of 2023?
Many of the above-listed Pluralsight alternatives might have better features and benefits that you can make the utmost use of.
In fact, all the Pluralsight alternatives mentioned above offer degree programs, extensive workshops, hands-on learning, and real-life projects, making them intense competition. Although, our top pick is Coursera!
Udemy and Skillshare are incredible e-learning platforms that also give the advantage of anyone turning into an instructor—followed by CBT Nuggets, edX, and Udacity, which lets you turn into a technical wizard by enrolling in top courses.
Lastly, Treehouse and Coursera are two robust tech-dedicated platforms that offer high-quality content. With the best Pluralsight alternatives right in hand now, you are guaranteed to get the most promising learning experience with insightful benefits.
Latest posts by Ryan Harris
(see all)