Udacity and Coursera both provide skillfully developed courses as well as industry-recognized certificates. There are, however, particularly key distinctions to consider when choosing one over the other.
Coursera and Udacity have different types of education, degrees, certificates, and prices. Depending on your objectives, this can mean the difference between a worthwhile learning experience and a complete waste of time.
We understand that you don't want to waste your time or money on a course or platform that isn't up to par. Therefore, we compared the two platforms to save your time and money and make it easier to decide the best.
We have had a good experience with Udacity and Coursera. So, this comparison will help you lay out the differences and understand which platform is best for you.
So, let's get going!
Udacity vs Coursera: Key Differences
Here are the key differences between Udacity and Coursera.
Lessons on Coursera courses are in a university teaching style similar to a classroom, whereas Udacity has vocational training programs, and its lessons are taught using visualization.
You can get access to most of the Coursera courses with a single subscription to Coursera Plus, whereas, on Udacity, you can't get access to all the courses at just one price. You need to buy one Nanodegree at a time to get access to it.
Most Coursera courses are offered by prestigious universities & companies and are thoughts by their instructors. Udacity Nanodegrees are created by programmers.
Udacity also offers free courses in their free course library, whereas you can try most of the courses of Coursera for free in the audit track.
You get accredited certificates from Coursera if you're taking the course in the verified track, whereas Udacity's certificates are not accredited, but they do add value to your resume.
Udacity vs Coursera: Overview
Before we get into the details of our comparison, let us go through a quick overview of Coursera vs Udacity below!
Udacity Overview
Udacity is a free online learning platform with classes for students of all educational levels. However, it focuses on computer science and programming. Many of their courses are free, but they also have premium options, including validated credentials, instructor comments, and mentoring.
Additionally, they collaborate with institutions on some of their programs, offering their nano degrees. Udacity's paid courses are often more expensive than Coursera. Free online courses are often self-paced and lack a sense of community.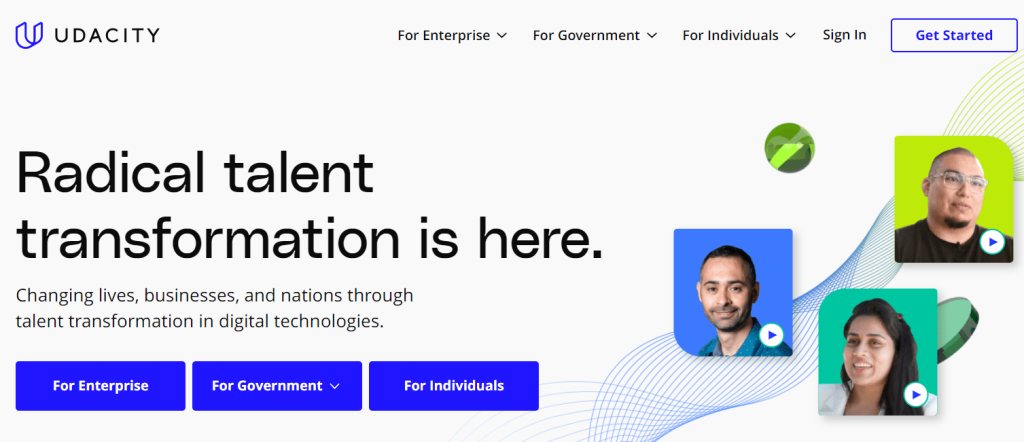 Whereas Coursera is more intellectual, Udacity is more focused on skills. It provides professionals with the practical knowledge and technical skills to work in computer programming, self-driving cars, and web development.
Coursera Overview
Coursera collaborates with several prestigious colleges to provide high-quality courses. Individual courses and specializations are available. A specialization is a collection of courses aimed at helping you enhance a specific skill. It also provides several degree programs that are fully approved. Check my detailed Coursera review here to know more about this platform.
Coursera is an excellent option if you're seeking free or low-cost courses. They even provide financial aid for their more expensive programs in certain circumstances. Furthermore, it is a comprehensive online learning platform that includes all aspects of online education. Some of their courses are self-paced or on-demand, while others have a start and end date.

Individual classes typically last four to twelve weeks, and completing a specialized track takes many months. You can audit most Coursera courses for free. Only pay if you want a certificate of completion after the course or if you want to participate in in-class projects and tests in extraordinary oral situations.
Peer assessments are something unique to Coursera. It has been demonstrated that having your work examined by peers can be more enlightening than simply taking computer-assisted assessments.
Udacity vs Coursera: Interface
The user interface is one of the vital aspects when picking an online learning platform. You do not want to spend most of your time understanding the interface. So, let us check out the interface of Coursera and Udacity.
Udacity User Interface
You'll notice that the interface of Udacity is simple to navigate, and you can select My Classroom in the top-right corner.
My Classroom is where you can locate all of your Nanodegree applications and the free courses available. This centralizes and organizes all of your learning programs.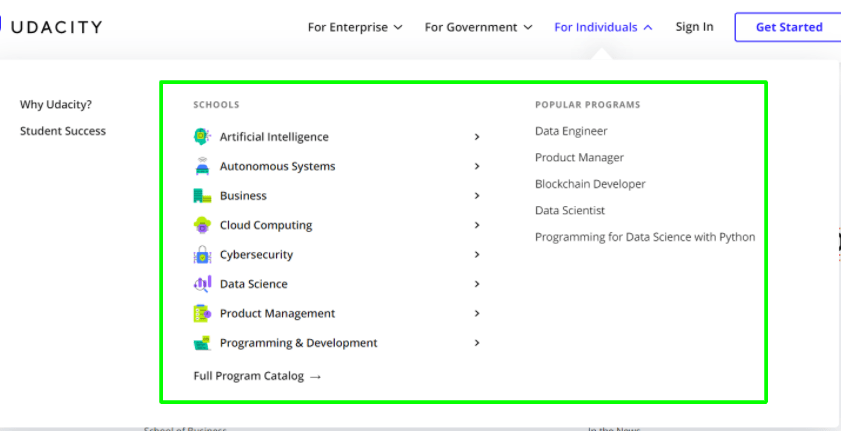 When you first arrive on the Udacity homepage, you will notice the various subject categories available. New, popular, top-rated, and router labels are attached to these learning programs. This makes it simple for a new user to locate the appropriate learning program.
Udacity does not have any mobile apps, which is unfortunate because working on the go is an appealing aspect of learning for many of us.
Coursera User Interface
Coursera, on the other hand, takes a more individualized approach, allowing you to construct a learning profile. My learning profile will aid Coursera in making course recommendations based on your interests and objectives. You can also set learning objectives to help you change careers or improve your abilities.

Your courses are put into In Progress or Completed sections throughout the platform, demonstrating this personalized approach. This organizes and structures your learning experience.
Udacity vs Coursera: Instructors
Having good instructors who provide value to the course is essential. If your instructor is not good, you are likely not going to have an interest in taking the course. Therefore, let us see which platform stands out when it comes to instructors.
Coursera Instructors
Coursera's courses are structured, partnered, and designed with some of the biggest educational institutes and universities, including, Duke, Stanford, IBM, and even Google, ensuring quality. Before making the courses available to the general audience, Besta testers are used, which use experts and enthusiasts to evaluate and provide feedback.
In Coursera's interactive community, you can ask questions and talk with other users. The community is active and responsive, and that may be beneficial to new users. Instructors on Coursera tend to be picked more for their academic credentials than for their professional expertise.
Many Coursera instructors are professors at prestigious universities or hold a doctorate in their subject. This is in contrast to other smaller, more casual learning sites, where you may not clearly understand who your instructor is or what credentials they have.
Udacity Instructors
To work as an instructor at Udacity, one must demonstrate extensive professional expertise in their field. Furthermore, Udacity curates its content with major corporations such as Amazon, Uber, and Google, ensuring excellent course content.
You'll be able to communicate with other students and course mentors at Udacity, who are available to answer any questions you may have. Udacity prioritizes experienced workers from large corporations like Amazon, Facebook, YouTube, and Google.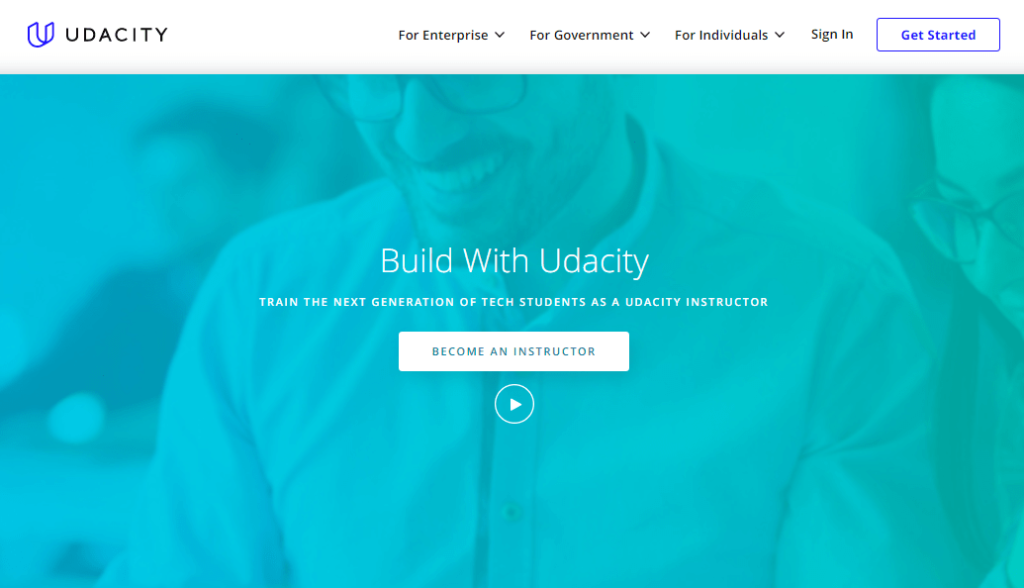 Your tutor may be an IBM data scientist or a firm president if you're studying business. You may be confident that teachers on Coursera and Udacity are experts in their fields and can provide you with high-quality material.
Udacity vs Coursera: Customer Support
Customer support is needed whenever you get stuck. No matter how easy the platform is, you may need assistance. If you have a reliable support team on the platform, you can count on them and get your query solved right away. Let us see where each platform stands in terms of customer support.
Udacity Customer Support
The support system at Udacity is well-organized and simple to use. It also has articles that answer any questions concerning the online learning community. Contacting the customer service team is simple.

You need to go to its help section and click on the help chatbot button; after typing in your issue, we'll be able to contact a (human) support representative for assistance – Users who are on a free plan may have to wait longer for a response.
Coursera Customer Support
Coursera's support system is similar to Udacity's, including standard help articles and popular themes like Account Setup, Payments, and Enrollment.
If you're logged in, Coursera also has a live chat option. They aren't easy to locate, and they may take some time to answer. Although both feature a similar help center, Udacity's chatbot is easier to use.
Udacity vs Coursera: Free Courses
Udacity has just about 200 free courses available. The filtering method makes it simple to find free courses. While there aren't as many as other learning platforms like Udemy, this is to be expected given that it has fewer running programs overall.
Coursera's free courses are delivered in a unique method. You can study for free but won't receive a certificate. Coursera's free courses are an excellent alternative if your main goal is to study a high-quality course without the associated accreditation.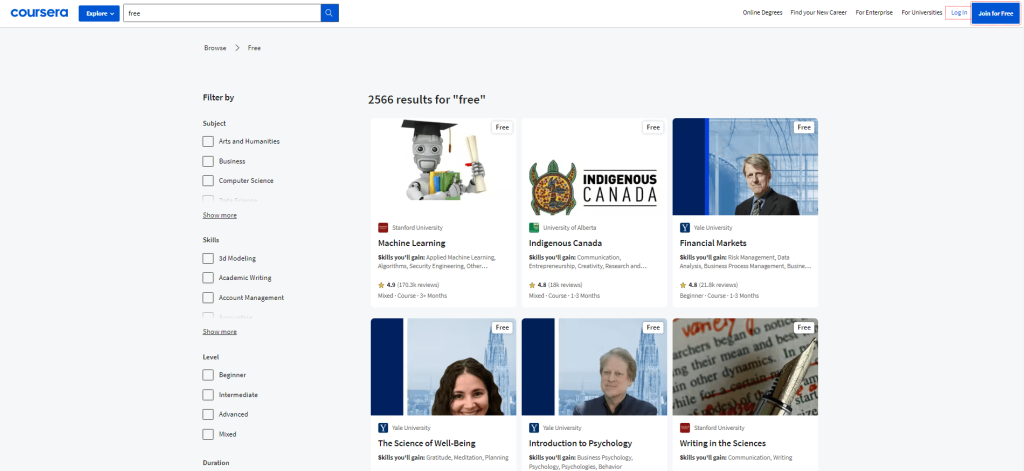 Coursera has a significantly more extensive collection of courses on 11 different disciplines that you may learn for free from prominent universities and institutions.
Udacity vs Coursera: Subjects/Topics Taught
While Udacity covers a wide range of topics, it is primarily renowned for its emphasis on technology. The following are some of their most popular programs:
​Artificial intelligence
Programming and development
​Business
​Cloud computing
​Autonomous Systems
​Data science
Coursera covers a broader range of topics. Because Udacity courses are produced by professors and other experts from academic institutions, they often follow a university or college-style framework.
Coursera covers a variety of topics, including:
Arts and humanities
​Business
​Computer science
​Data science
​Health
​Information technology
​Language learning
​Math and logic
​Personal development
​Physical science and engineering
​Social sciences
So, Coursera appears to have the finest course variety and coverage outside of technology-related disciplines.
Udacity vs Coursera: Pricing
Lastly, you need to pick a platform that is affordable and goes easy on your pocket. Let us check the pricing for both platforms below.
Udacity Pricing
Note: If you wanna save a few more extra bucks on Udacity. Well, Check our working Udacity Coupon & Promo Codes here.
Nanodegree Programs at Udacity begin at $399 per month. It has two options: Pay as you Go, which costs $399 per month, and All Access.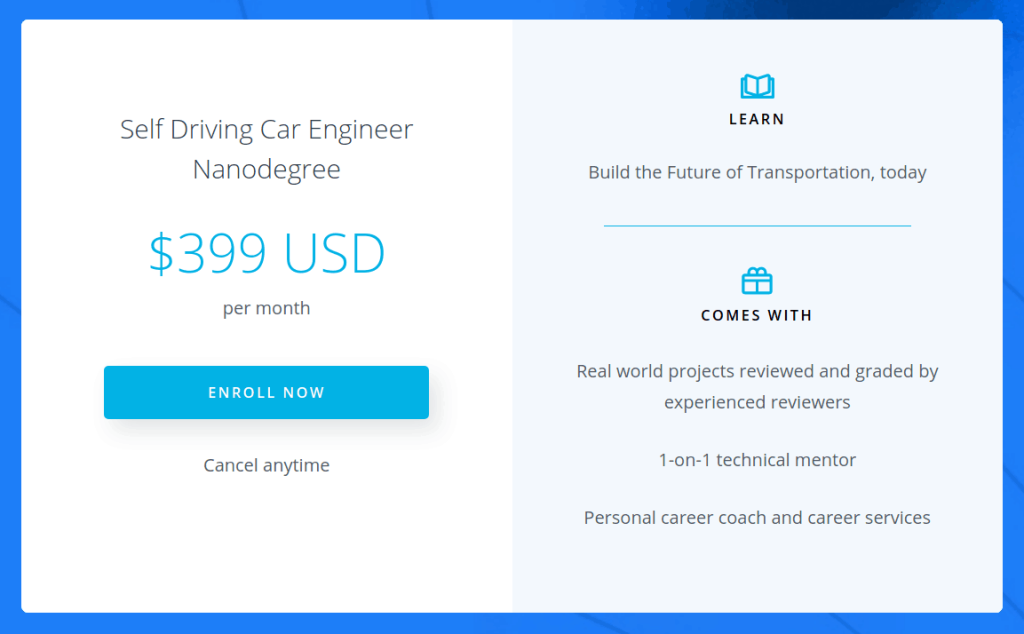 In the All Access option, each Nanodegree will specify how long it will take you to finish the program, such as 5-month access. This means you'll pay for the entire access package upfront, and if you need additional time, you may switch to the Pay as you Go option (monthly access).
Coursera Pricing
We have already done a detailed breakdown of Coursera cost here.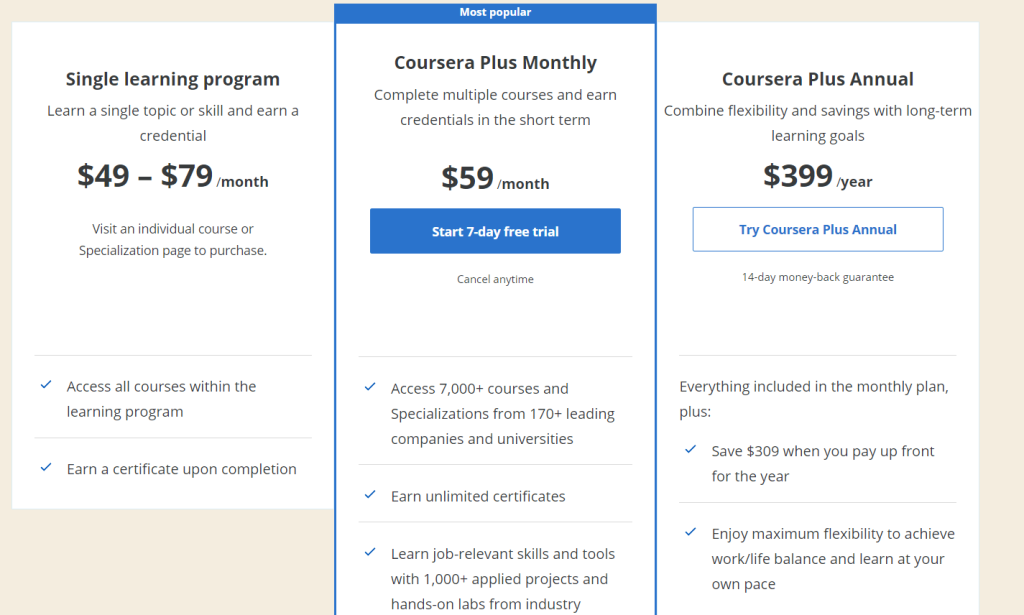 Single Learning Program: The price of a single learning program is from $49 to $79. You will get access to all the courses within the learning program. You will also get access to a certificate of completion when you finish the program.
Coursera Plus Monthly: The price of Coursera Plus is $59/month. With the subscription, you will get access to 7000+ courses, earn as many certificates as you want, learn job-ready skills, and choose from 15 professional certificate programs from the industry leaders like Facebook, Google, and so on.
Coursera Plus Yearly:  The price of Coursera Plus yearly access is $399/year. It will give you access to all the features of the monthly plan, and you will also save a lot of money with it.
You can also save a few bucks on your purchase of a Coursera Plus subscription with an exclusive Coursera Plus discount.
Who Should Choose Udacity?
Anyone interested in learning new skills in programming, business, data science, and other fields should check out Udacity. Its courses are meant to provide you with real-world skills based on real-world projects, and you may learn on your own time and get support from mentors at any time.
Who Should Choose Coursera?
Coursera is an excellent learning platform for anyone seeking hard skills and knowledge and documentation that they have completed the courses.
Coursera's courses are accredited and offered through significant colleges, so that's a plus. As a result, Coursera is highly beneficial to those seeking to complete certified education.
Related Read:
Final Verdict: Udacity vs Coursera (2023)
If you want to finish a course, improve your skills, or learn something new, you need a laptop and internet connection. Because most courses offer independence and flexibility, students will be able to absorb knowledge and information at their speed.
Coursera and Udacity offer high-quality course content. However, Coursera is more cost-effective. Coursera offers more courses and is less expensive than Udacity. However, Udacity's more robotic nano-degree programs will stand out if you're looking for professional certification.
In the end, picking the right platform depends on your needs and budget. We hope our article helped you pick the best online learning platform. So, which platform are you choosing? Let us know in the comments section below!
Latest posts by Ryan Harris
(see all)