Are you stuck choosing between Udacity vs Pluralsight? Don't worry. I got you.
I used and reviewed Udacity and Pluralsight in a detailed comparison article with my personal experience taking courses in Udacity and Pluralsight.
In this article, you can find the main differences between Udacity and Pluralsight, the key features, their benefits, suitability, pros & cons, and pricing plans.
I have also shared my final thoughts on choosing between Udacity and Pluralsight!
Udacity vs Pluralsight: Key Differences
Here are the key differences between Udacity and Pluralsight.
Pluralsight gives you access to all of its courses on a subscription basis, whereas you can buy courses separately on Udacity and also get access to free courses.
To complete a course on Udacity, you will need to complete projects, assignments, exams, and forums, whereas Pluralsight offers real-life projects with its courses.
Udacity offers courses in different niches, whereas Pluralsight offers courses in tech and business niches only.
There is a 10-day free trial available on Pluralsight, whereas Udacity does not offer any free trial.
Udacity vs Pluralsight: In a Nutshell
Before we dive deep, let's have a quick comparison between Udacity and Pluralsight.
| | | |
| --- | --- | --- |
| | Udacity | Pluralsight |
| Ease of use | Easy to Navigate | Simple to handle |
| Content Quality | 4.6/5 | 4.7/5 |
| Price | Starting from $29/month | Starting from $399/month |
| Number of Courses | 500+ | 7000+ |
| Number of users | 11.5 million | 1 million |
| Course Level | Beginner to Advanced | Beginner to Advanced |
| Customer Support | Average | Good |
| Specialization | Nanodegree specialization | Available |
| Certificates | Free | Paid |
| Features | 4.4/5 | 4.7/5 |
| Overall Rating | 4.7/5 | 4.8/5 |
Udacity vs Pluralsight: Overview
Although Udacity and Pluralsight are similar learning platforms, each has its own distinctive features that differentiate one other. Let's better understand Udacity and Pluralsight before digging into their core features, shall we?
What is Udacity? (An Overview)
Udacity is an online education company that provides in-demand courses primarily on technology. Each course in Udacity has a well-curated curriculum reviewed by industrial experts and leaders worldwide, so there are no quality compromises.
You can find hands-on projects in Udacity, resulting in one of the finest learning experiences. This way, you learn insightful lessons directly by involving in the work.
Additionally, Udacity provides personalized feedback so that you do not miss out on your progress throughout the learning and spot your mistakes as and when you make them. The experts at Udacity have got your back even if you are a beginner.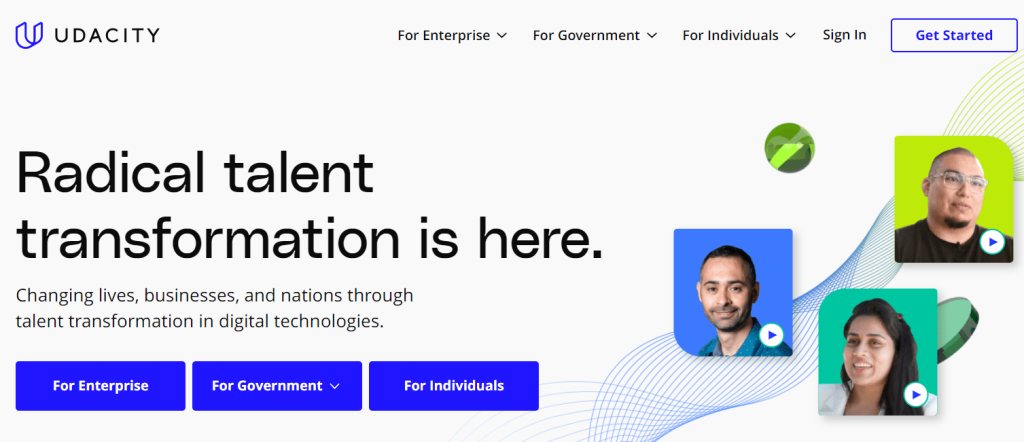 The course catalogue is huge, and you get a plethora of options to choose from AI programming to UX designing to digital marketing in Udacity. In fact, most courses in Udacity are partnered with top IT companies like Google, Facebook, and Microsoft.
In Udacity, you can filter the courses based on the difficulty level and instantly find the desired course. The courses can take 7 weeks to 4 months to complete.
Some courses in Udacity are called Nanodegree, which is basically considered a credential program that trains and certifies you for a specific skill. All the Nanodegrees help in enhancing your skills and advancing your career.
You also get exclusive prerequisites and downloadable syllabus options in Udacity!
What is Pluralsight? (An Overview)
Although Pluralsight is well-known for its production of technology courses, it balances the perfect ratio of courses for all creative professionals. There are 7000+ courses from IT operations to business development to photography fundamentals.
Picking the right course in Pluralsight is easy since you get helpful assessments like Skill IQ and Role IQ that find courses based on your understanding and weakness.
Like Udacity, you also get a hands-on learning experience in Pluralsight by playing with the cloud stations on real projects and assignments. Plus, you can find relevant courses on similar interests under a single roof called Paths in Pluralsight.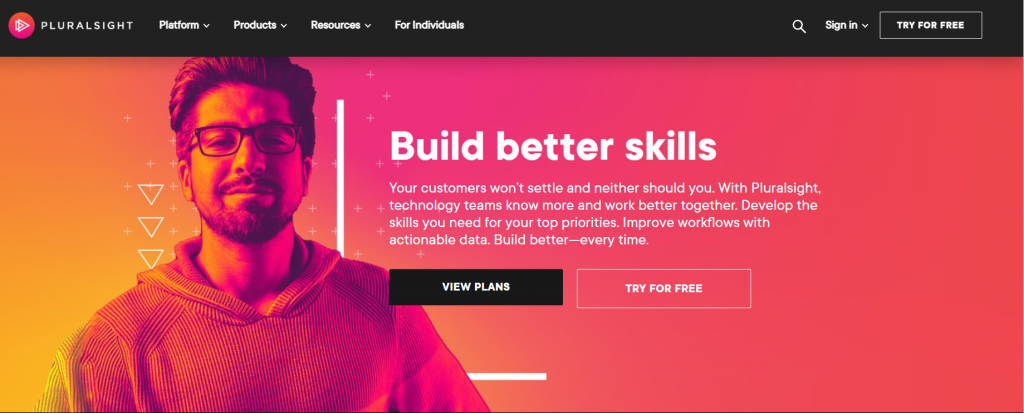 Pluralsight is ensured to offer everything that you need in a single platform, from resources to projects to guidance. In fact, Pluralsight supports 50 languages, so there is no language barrier, and you can take courses even if you don't know English.
You are also promised a certificate on completing the courses, which can boost your resume and help you get a potential job in a related field.
As an extension, Pluralsight also streams educational podcasts on certain topics and has excellent customer support 24/7 if you face any learning issues.
Udacity vs Pluralsight: Features Compared
Despite having similar features, there are major differences in Udacity and Pluralsight when brought into the limelight together, so I differentiated them for you below:
You can choose the right course using Role IQ or Skill IQ which uses AI to determine your understanding level and analyze the perfect course setting in Pluralsight. In contrast, Udacity does not provide any assessment tests.
Both learning platforms provide hands-on learning experiences with real projects, yet Pluralsight leads by offering pre-configured cloud stations.
Even if you are a non-English speaker, you can take courses in 50+ languages in Pluralsight, but Udacity supports only English and has not been updated yet.
Udacity is entirely on technology, but Pluralsight has expanded its platform by offering courses for all creative professionals like photography.
Pluralsight curates similar courses under a single roof called Paths, but you have to search for relevant courses in Udacity if needed manually.
Udacity hosts credential programs called Nanodegrees that get you certified on a certain subject, yet Pluralsight also offers certifications on completion. 
You take live classes in Udacity, but Pluralsight has only recently updated its platform with live classes by following a blended learning method where you can learn from experts in real-time. Still, Pluralsight provides the best quality.
Udacity lets you become an instructor or a mentor if you are qualified enough, yet Pluralsight has its set of professional experts as authors to teach you.
Looking at the base surface, Udacity and Pluralsight turn out to be the same. Still, the above-listed points show vast differences, and you can benefit from both learning platforms differently. Hence, keep reading to know more in detail!
Udacity vs Pluralsight: Course Quality
Do not get blinded by all the fancy features in any learning platform because you have logged in to learn a new skill and enhance your career and so ensure that the course curriculum is well-structured and you are assured of high content.
Considering Udacity and Pluralsight, the quality quotient was similar, yet Pluralsight stood out with an in-depth explanation and follow-up teaching.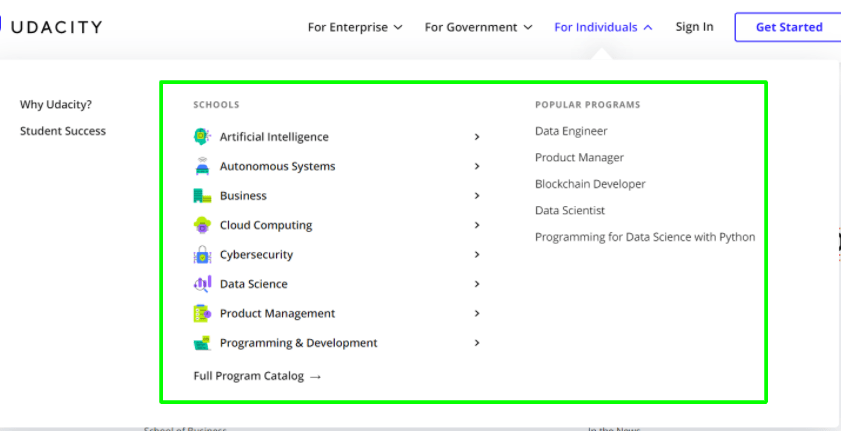 In contrast, Udacity provided expert guidance and strategic tips. I also found that Udacity instructors are hired after 5 competitive rounds, reflecting on their excellent teaching style. Each instructor ensured to simplify the lessons in Udacity.
See. It is quite hard to differentiate the course quality between Udacity and Pluralsight because I enjoyed learning tech courses on both platforms equally.
Yet, I can guarantee that the instructors in Pluralsight are engaging, whereas the instructors in Udacity stick to the standard teaching protocol in a course module.

Udacity vs Pluralsight: Best Suitability
Although I liked taking Udacity and Pluralsight, I felt that both the platforms were intended to target a certain set of crowds, so I have listed them below. If you found yourself in any of the options, find yourself lucky and go for it!
You can choose Udacity if:
You want to take a certificate course on technology.
You like to learn skills, work on projects, and get insightful help.
You are ready to advance your career by getting hands-on learning.
You can choose Pluralsight if:
You need to take multiple courses in a related field.
You have to take courses based on your understanding level.
You are switching careers and need to acquire an in-demand skill.
Even if you did not tick off the boxes, don't worry. You can use the 7-day free trial in Pluralsight and make the utmost benefit of it by exploring all the features easily.
Regarding Udacity, you can also do the same, but there are not a lot of features! I would suggest going through the courses and their difficulty levels of them. Still, finding the right course is easy in Pluralsight, but Udacity can be a little upsetting.
Udacity vs Pluralsight: Pricing Comparison
Forget the course quality, features, and all that; let us check if the pricing of Udacity and Pluralsight justifies the benefits that both the learning platforms offer, shall we?
Udacity Pricing
Since Udacity does not offer any free courses, all the courses in Udacity are considered Nanodegree programs, which I explained earlier in the article.
You can pay for the Nanodegree programs in Udacity either monthly for $399 or pay $1695 and get 5-month access. In fact, it is the most recommended plan in Udacity.
Although 5 months is the average period required to complete Udacity courses, you can switch to a monthly plan if you did not complete the course within 5 months.
If you are not satisfied with either of the plans after purchase, you can anytime.
NOTE: You can pay for the 5-month access upfront and save up to 15% in Udacity!
Pluralsight Pricing
You get two options in Pluralsight wherein you can either purchase individual plans or opt for team plans if you are an organization. Don't worry! I'll share the benefits: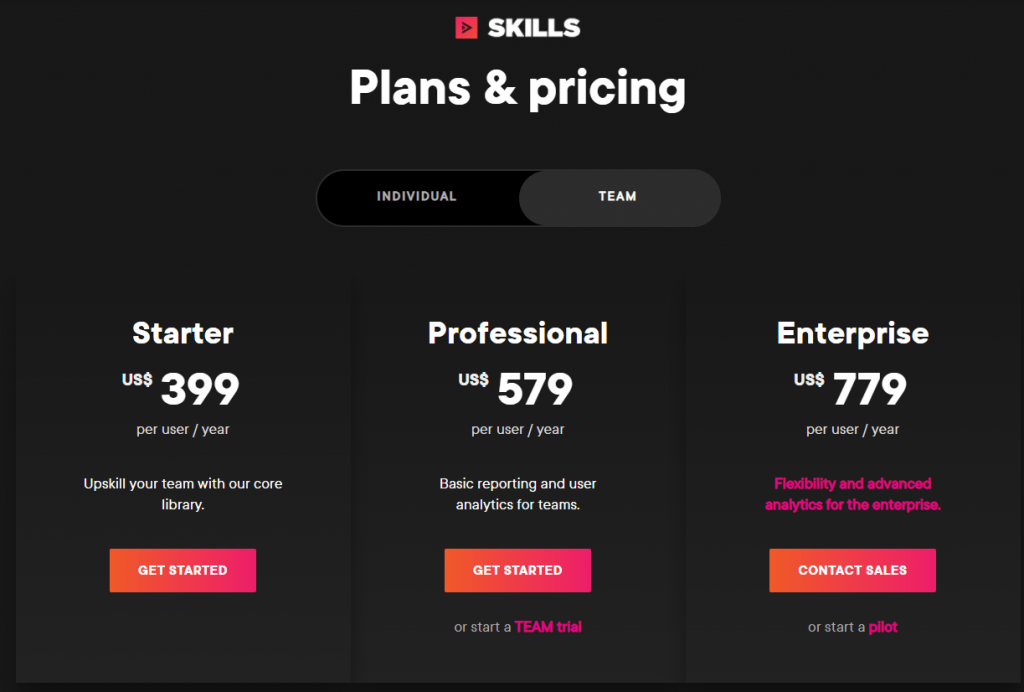 Pluralsight Individual plan
In the individual plan, you can either purchase the starter plan at $299 or purchase the premium plan at $449. The difference between the sub-plans is that you get access to skill assessments, paths, and the course library in the starter plan.
Still, the premium plan offers hands-on learning and provides real projects.
| | | |
| --- | --- | --- |
| Billed | Standard  | Premium |
| Monthly | $29/month | $45/month |
| Annually | $299/year | $359/year |
Pluralsight Team plan
In the team plan, you get three options, including the enterprise plan, priced at $779, which unlocks all the core features and detailed analytics.
The other two plans – you can buy the starter plan at $399 per user and the professional plan at $579 per user. While the starter plan gives access only to the course library in Pluralsight, the professional plan unlocks analytics and reports.
You need to remember that each pricing plan is considered yearly, and so if you purchase any plan, it is calculated annually. Watch out for the price before paying!
| | | | |
| --- | --- | --- | --- |
| Billed | Starter | Professional | Enterprise |
| Monthly | $33.25/month | $48.25/month | $64.91/month |
| Annually | $399/year | $579/year | $779/year |
NOTE: Each plan offers at least a 10-day free trial that you can use efficiently.
Udacity vs Pluralsight: Pros & Cons
Udacity and Pluralsight were great platforms to learn innovative skills, yet there were also downsides with the advantages. Let me quickly highlight the pros and cons:
Udacity Pros
You get a hands-on learning experience.
Udacity provides real projects to work on and learn.
From beginner to advanced, Udacity covers it all.
Partnership with big companies guarantees quality.
You get 24/7 support from the Udacity team.
Each student receives personalized feedback.
Provision of certificates on Nanodegree completion.
Udacity Cons
Udacity provides courses on technology only.
Pluralsight Pros
Skill assessments like Role IQ and Skill IQ are available.
You can find relevant courses in a single roof called Paths.
Pre-configured cloud stations provide hands-on learning.
From photography to business to software, Pluralsight got you.
Live classes through blended learning have been updated.
The option of a free trial is available to explore Pluralsight.
You can also take additional free weekly courses.
Pluralsight Cons
The certificate provided by Pluralsight does not add value.
Related Read:
Final Thoughts: Udacity vs Pluralsight (2023)
Using Udacity and Pluralsight was a great learning, yet small differences between the two learning platforms were quite visible, and I noticed them right away.
The hands-on learning and projects in Udacity were excellent but choosing the right course was a hectic process. In contrast, the skill assessment in Pluralsight found the appropriate courses instantly, and I enjoyed the learning experience effectively.
Comparing the projects offered by Udacity and Pluralsight, I felt that Pluralsight gave a bit more insight into the workflow while Udacity only slipped the base surface.
To wrap up with the comparison between Udacity and Pluralsight, I'd say that Pluralsight was engaging, insightful, and interesting to get going with the lessons.
FAQs On Udacity vs Pluralsight
Does Udacity offer creative courses?
No. Udacity only offers courses on technology.
Is Pluralsight only for tech enthusiasts?
No. Pluralsight is open to all creative professionals.
Is the Nanodegree in Udacity a degree course?
Not entirely, it is a credential program by Udacity.
Do you get certificates in Pluralsight?
Yes. Pluralsight provides certificates on completion, but it does not add any value.
Latest posts by Ryan Harris
(see all)