Are you confused about choosing between Pluralsight and Coursera?
I took some courses in Pluralsight and Coursera and had a personal experience on both the learning platforms, so I wrote a detailed comparison review.
In this article, you might find everything you need to know about Pluralsight and Coursera, including the course quality, instructors, ease of use, and pricing.
In fact, I also answer the verdict – "Pluralsight vs Coursera: Which is better?"
Pluralsight vs Coursera: Key Differences
Here are the key differences between Pluralsight and Coursera.
The instructors of Coursera are real-life teachers from popular universities, whereas the instructors of Pluralsight are tech experts focusing on skill training and assessment.
Pluralsight is a great platform for anyone who wants to gain demanding tech skills, whereas Coursera is great for anyone who wants to explore different subjects and gain various skills.
There are no free courses available on Pluralsight, whereas, on Coursera, you can audit almost all the courses for free, but to get a course completion certificate, you have to pay.
You get accredited certificates from Courses, whereas Pluralsight offers no course completion certificate.
The pricing of a Pluralsight subscription is affordable compared to a Coursera Plus subscription. But you can also buy single courses on Coursera, whereas there is no such option available on Pluralsight.
Pluralsight vs Coursera: In A Nutshell
Despite choosing two of the best e-learning platforms online, you might know to ensure that you select the best without compromising any aspect.
Regarding Pluralsight and Coursera, I have highlighted my honest experience with both so that you can make your final call and start learning online instantly!
What is Pluralsight?
Suppose you are on the search for the best technology-based learning platforms. In that case, Pluralsight could be your perfect choice since it curates high-quality courses on topics like web programming, IT operations, and cybersecurity. You get a whopping of 7000 courses.
Note: We have already done an in-depth review of Pluralsight on NutMeg Education, rollover to check — Is Pluralsight worth it?
To give a heads-up, all the courses in Pluralsight are structured with adequate learning modules making it convenient for you to get going with the desired subject.

If you are new to Pluralsight, you can instantly pick the most appropriate for you by taking the Role IQ and Skill IQ assessments that help search for the best Pluralsight course based on your interest, strength, and weakness.
Pluralsight is also known for its exceptional hands-on learning configurations, which allow you to test cloud stations and pre-designed labs for practical learning. Plus, you get courses in 50+ languages in Pluralsight.

Even Netflix does not offer movies in that many languages.
What's more? Pluralsight compiles specific courses under its belt in pathways where you can find multiple courses in similar categories for easy understanding. The paths in Pluralsight reduce the time in searching for relevant courses again.
Last but not least, the interface is well-designed, and the ease of use is responsive. Since Pluralsight is constantly updating its platform, you might not see any lagging.
What is Coursera?
Coursera is a solid competitive learning platform that provides more than technology-based courses. That's a little shade on Pluralsight, yet it is true! check my detailed Coursera review here to know more.
In Coursera, you get a college-led curriculum wherein prestigious universities collaborate with Coursera to produce the best quality content.

Wait. Yale? Stanford? Yes – many more top-excelling universities offer courses via Coursera that allow you to get an actual degree being at the comfort of your home.
You also get specific specialization on various categories and niches, which means even if your subject is a sub-category under a topic, Coursera got you covered.
To extend the language barrier to learning, Coursera delivers courses in universal languages like German, Spanish, Russian, Korean, and many more.
Despite allowing learning in-demand skills via well-formatted courses, Coursera also provides certificates on completion and offers financial aid, if needed.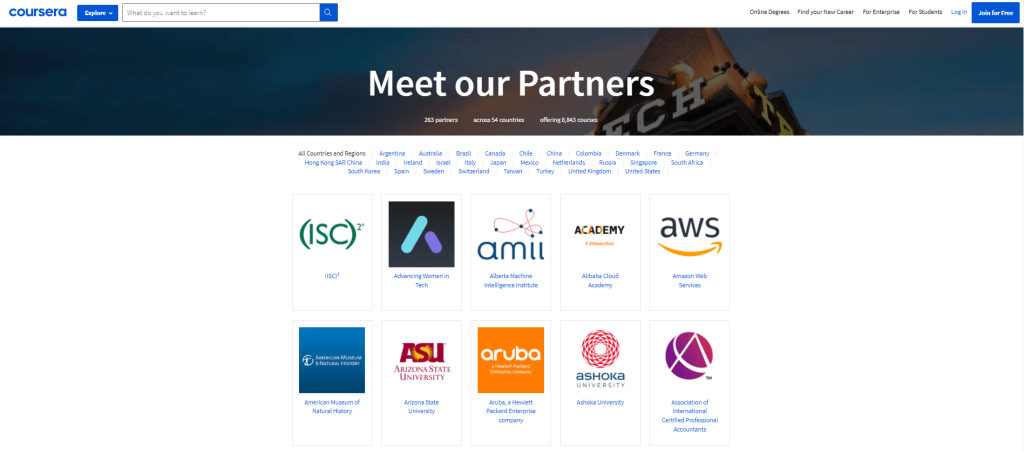 That's a bonus benefit. Coursera is trying to help students get educated through scholarship-like services via financial aid by welcoming the global student database.
What's more? You can also audit 1000+ selective courses for free without paying!
Pluralsight vs Coursera: Course Quality
Picking Pluralsight and Coursera based on the interface and frequent ads on Google is okay, but how compelling is the course quality in both the learning platforms?
I used Pluralsight and Coursera by taking different courses, so I am sharing my verdict on the quality aspect. Let's see if they make justice to all their claims.
How is the course quality in Pluralsight?
Only professional and industrial experts handle the courses in Pluralsight, which means you learn directly from instructors who have years of expertise.
While the instructor took care of the quality of the courses, Pluralsight ensured to structure the modules in a way that it is easy to follow each section one by one.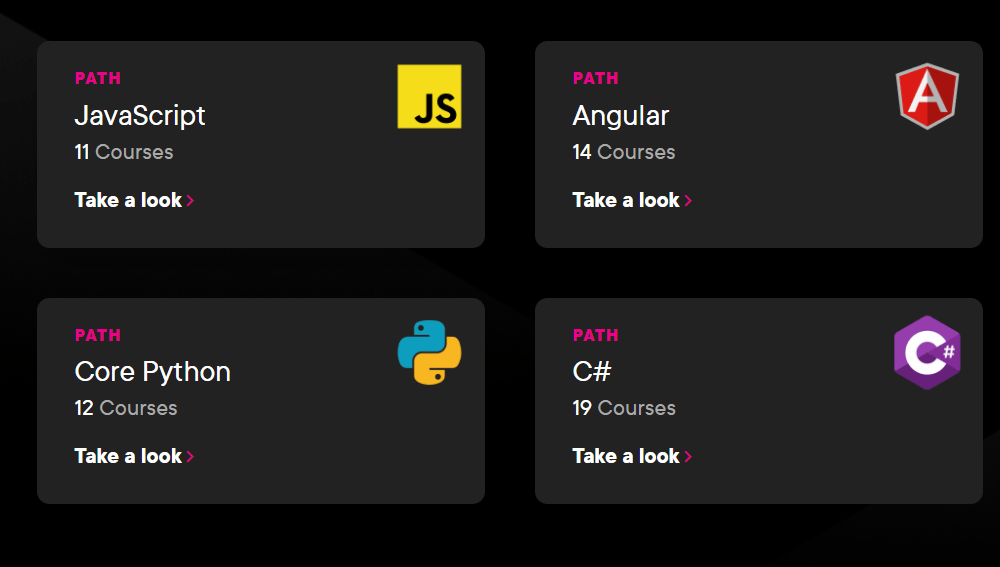 The instructors dropped insightful tips on the desired subject along with the teaching, making it more engaging throughout the course. Most courses were beginner-friendly, so it was great news since I had no prior experience.
Lastly, you also get hands-on learning with real-like projects as practical tasks.
How is the course quality in Coursera?
Regarding course quality, Coursera offers university-led courses, which means there are no compromises in terms of quality at any cost.
All the courses are explained in-depth with relevant examples and assignments to get going with the learning. You are in for a treat of boundless learning in Coursera.

In fact, not all professors teaching in prestigious universities get accepted into Coursera because it follows a strict protocol and reviews each course module.
Before releasing the courses online in Coursera, the courses are carefully curated in the review process and officially launched on the platform.
If the course quality is not convincing enough for you, auditing a course in Coursera is suggested.
Pluralsight vs Coursera: Ease of Use
Now is the time to brief you about the user experience and how smoothly you can take the courses in Pluralsight and Coursera without any hassles.
Do you get annoying ads or face slow loading? Keep reading to find out!
How is the user experience in Pluralsight?
I would vouch for Pluralsight for its top-notch user experience any day because it is constantly updated with easy-to-navigate tools that simplify the ease of use.
As mentioned earlier, the path recommendations in Pluralsight are accurate because you get multiple courses of the same category under a single roof within the platform. So you do not have to hop on different platforms to learn them.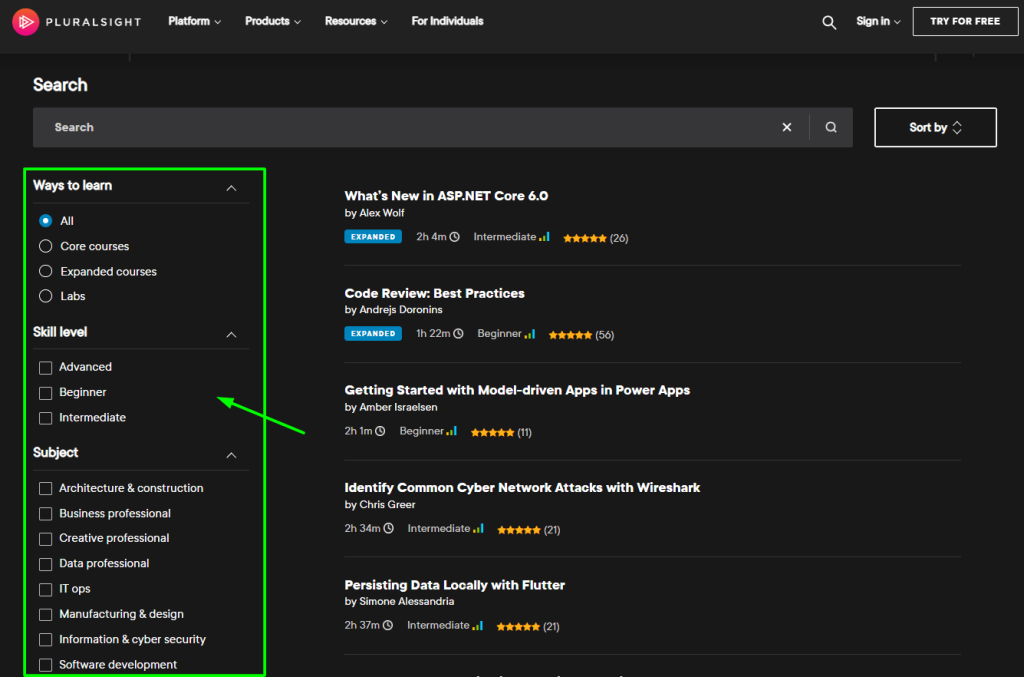 With paths, cloud stations, and labs, the user experience in Pluralsight is next level, and there is no doubt about that. I'd also highlight that Pluralsight has no outdated courses.
How is the user experience in Coursera?
In contrast, Coursera does not step down and gives a smooth user experience so that you are not disappointed by the ease of use while taking the courses.
The self-paced modules in Coursera have handy tools making it convenient to jump from one course to another without affecting the progress earned so far.
Although you cannot expect hands-on learning like Pluralsight, Coursera compensates it with the course quality, the finest among competitors.
Pluralsight vs Coursera: Best features
Learning platforms are not like products to provide the best features, yet Pluralsight and Coursera guarantee great benefits for which you can settle for them instantly.
How is Pluralsight different?
I keep bragging about this, but Pluralsight is excellent in giving hands-on learning with practical tasks. In fact, the projects that you get in Pluralsight are real.
Choosing the most appropriate is easy in Pluralsight since you can take skill assessments for free and find out your strengths and weaknesses within minutes.
Additionally, Pluralsight offers courses in all difficulty levels which means even if you are a newbie, you got enough resources to learn and get certified from it.
Speaking of certifications, Pluralsight also provides certificates on completion. Still, the certificates are not accredited, but they can hold value if you apply for jobs.
How is Coursera different?
The majority of the platforms give limited access to the desired course module, whereas Coursera gives lifetimes access. That being said, you can also share it with your friends upon completion or revisit the courses for later purposes. 
Coursera also offers free courses which you can audit without paying a single penny. As an extension, Coursera takes a specialization in courses as well.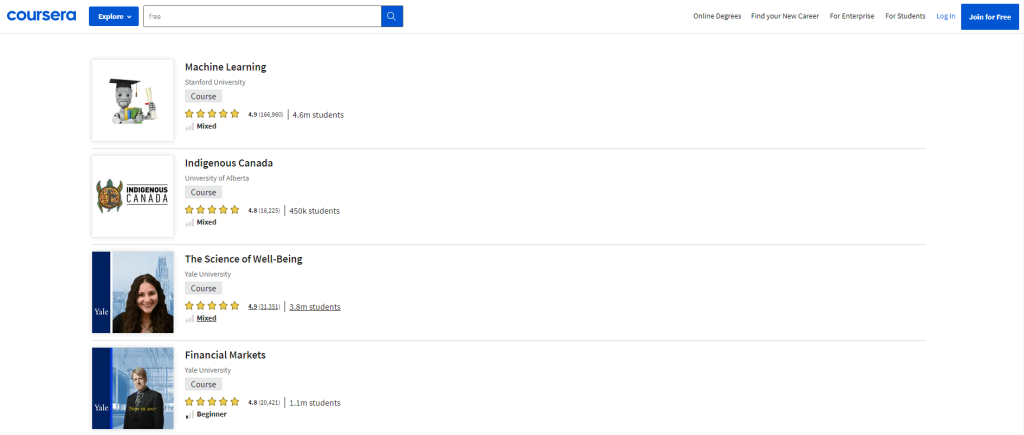 In fact, Coursera allows you to get an actual degree virtually via exclusive programs, and the quality is also promising. Even if you cannot afford a degree, Coursera provides financial aid that can be considered a scholarship to complete your education.
Pluralsight vs Coursera: Time Flexibility
Here I will explain the time flexibility of both Pluralsight and Coursera in detail.
Pluralsight: Time Flexibility
The best thing Pluralsight offers, which I like, is that it allows you to learn at your own pace. There is no time boundation in completing the assignments or quizzes, whereas some of the courses of Coursera do have these things. To get the most out of your Pluralsight course, you still need to pass a few exams to see how much you've learned with the course. However, the length of the courses is another matter.
The Pluralsight individual courses can take you from four weeks to 40 weeks, or probably more than that depending on your learning speed. There are a few courses on Pluralsight that you can finish within hours. The Pluralsight paths consist of several courses, so finishing a path on Pluralsight can take you months. Pluralsight also offers a mobile app so you can also learn on the go.
Coursera: Time Flexibility
The specialization and courses of Coursera take you much more time than Pluralsight's paths and courses. You can complete specialization courses within a few weeks or maybe months however the MasterTrack courses can take you years to complete because you will be getting university grade education in them. There are a few limitations on Coursera which I don't like, such as you need to finish certain exams and assignments to move forward in the course.
You also need to pass those exams to access the next lessons or chapters of the course. You can not learn at your own pace here because you need to complete assignments before the deadline ends however they have given you the feature to reset the deadlines if you miss completing a certain task on time, so that's a plus point.
Pluralsight vs Coursera: Suitability
Okay. Hold up. How do I know if suitable for Pluralsight or Coursera?
Listen, mate. I got you. After using Pluralsight and Coursera, I figured out to whom both learning platforms are targeted. Let me list them below.
Pluralsight is Best Suited to:
Upcoming programmers, developers, or even tech students.
Anyone who loves technology and wants to learn an in-demand skill.
Users who want to get hands-on learning on tech-related projects practically.
Coursera is Best Suited to:
Students who aspire to get a qualifying degree virtually.
Anyone who cannot afford education and get financial aid.
Visual learners who would like to learn compelling courses and get certified.
Aspiring enthusiasts looking for courses on multiple niches in a single place.
Both are great platforms, yet Pluralsight is a better option if you are a geek or tech-wizard. On the other hand, Coursera is a good choice if considered overall.
Pluralsight vs Coursera: Pricing Battle
I have explained everything about Pluralsight and Coursera so far except the crucial factor that allows you to fix on the desired learning platform. Yes – pricing plans!
How much does Pluralsight cost?
You can access all the paths and core libraries in Pluralsight by paying only $299 as a standard plan. If you want to acquire hands-on learning, you can pay $449 for the premium plan and get real-like projects with practical exams. (Individual Plan)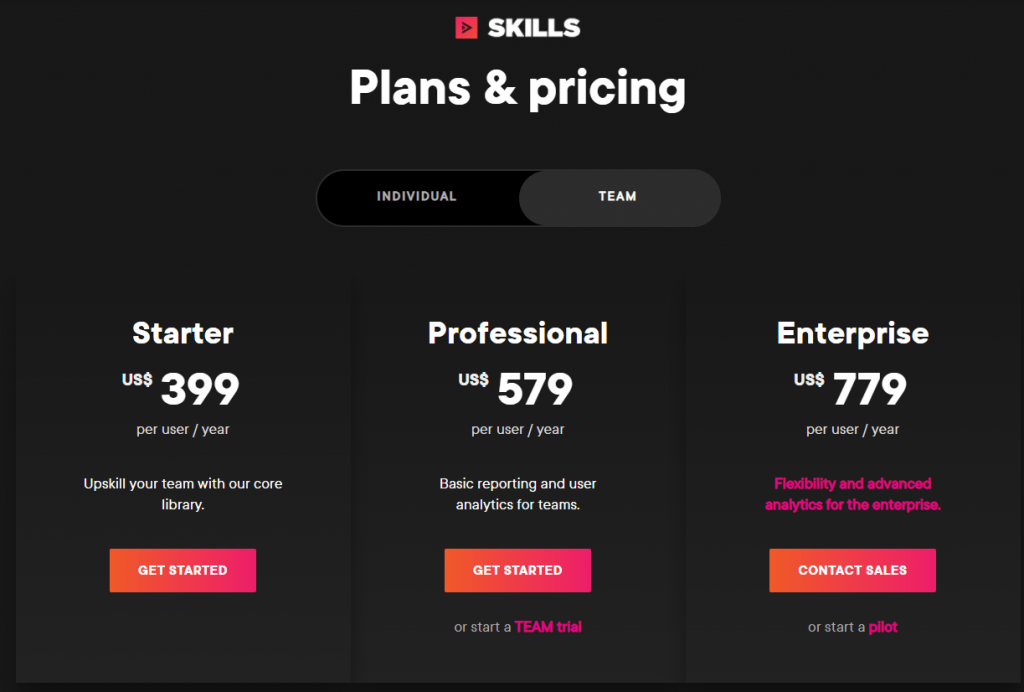 In case you are a team or an organization and want to offer in-demand skill courses to your members/employees, you can purchase Pluralsight at
$399 as a started plan
$579 as a professional plan
$779 as an enterprise plan
Only the enterprise plan gives access to advanced analytics in Pluralsight. You can use the Pluralsight free trial on all the plans except the starter plan in Team plans.
How much does Coursera cost?
We have already done a detailed breakdown of Coursera cost here.
Regarding the pricing in Coursera, there is a slight twist since Coursera follows individual pricing and subscription service for its courses. Let me explain.
You can audit 1000+ selective courses for free.
Buy courses anywhere from $25-$99 and get lifetime access.
Pay $399 as an annual subscription and get access to everything in Coursera.
Get a virtual degree from Coursera by paying anywhere from $10,000-$25,000.
You need to buy courses from the verified tracks only to earn an accredited certificate. Audit courses do not guarantee a certificate on completion in Coursera.
Alternatives to Pluralsight and Coursera:
It is fair and understandable if you are not satisfied with Pluralsight and Coursera and want other options to make your final call in choosing the best e-learning platform. In my research, I also found other learning platforms that might help:
edX
edX is a solid alternative to Coursera, which also offers financial aid and the option of auditing courses of your choice. In fact, edX allows you to audit any course on its platform. Like Coursera, edX is also partnered with prestigious universities and offers accredited certificates on completing the desired courses successfully.

Udemy
Udemy is one of the popular learning platforms where you get courses on all niches in 60+ universal languages, making it accessible for global users. The courses in Udemy are short and digestible. Additionally, anyone can become an instructor and get paid in Udemy. There is no subscription service to buy a single course in Udemy. Lastly, Udemy also promises a certificate on completion.
Related Read: We have already done a detailed Udemy vs Pluralsight comparison here.
MasterClass
MasterClass could be your last option since it primarily offers courses on entertainment. Still, the quality is promising, and the fact that all the courses are led by celebrities and world-expert makes MasterClass stand apart from its competitors. You get insightful resources and workbooks to get going with the learning. Well, we have already done a detailed Masterclass Review here.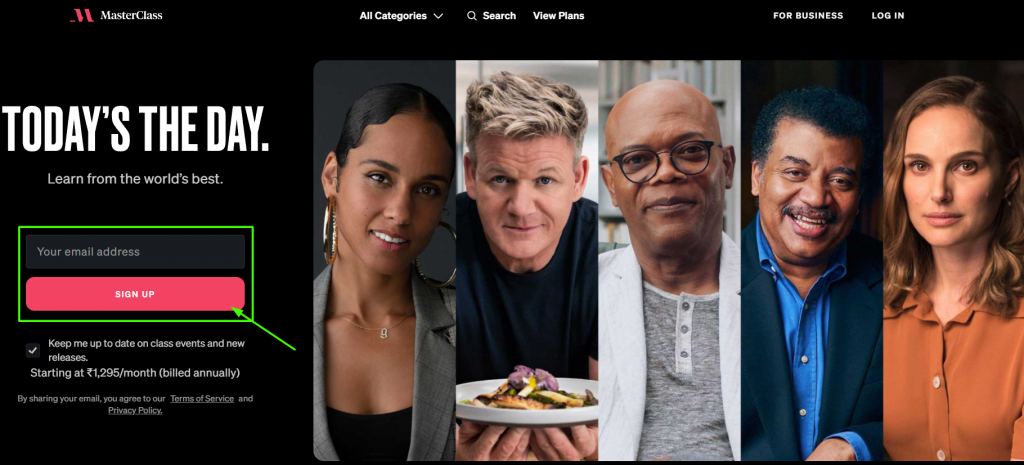 Related Read:
Final Verdict – Which One Is The Best?
Uff. It's been a long ride. Do I have the verdict yet? Yes, I do.
After closely reviewing Pluralsight and Coursera, I must say that both the learning platforms delivered the best in different aspects. For example, Pluralsight exceeded the hands-on learning aspect while Coursera was excellent in the course quality.
The main downside with Pluralsight is that it is constrained to tech-related courses only, which could be a doubting factor for most users. On the other hand, Coursera is open to multiple niches and categories. In fact, Coursera provides virtual degrees.
About the budget, Pluralsight follows a subscription-based service, while you can audit a course for free in Coursera. You also get an accredited certificate in Coursera, which might help you apply for a job in the desired field.
To wrap up my verdict, I'd suggest getting a free learning experience before paying any money by using the free trial and the auditing option in Pluralsight and Coursera, respectively!
FAQs On Pluralsight vs Coursera
Is Pluralsight free?
No, Pluralsight is not free, but you can try the Pluralsight free trial.
Can you get a degree in Coursera?
Yes, Coursera offers many degree programs anywhere from $10,000-$25,000.
Is Pluralsight any good?
Pluralsight is an excellent choice if you are searching for tech-based courses.
How much does Coursera cost?
Coursera can cost anywhere from $25-$99, but you can pay $399 as Coursera annual subscription without any additional costs.
Latest posts by Ryan Harris
(see all)