If you are looking to learn new skills, our edX review will help you determine if the platform's worth it.
When it comes to learning on an online platform, edX is a popular name. edX courses are considered high-quality and well-structured.
Curious to know whether edX courses are worth the time and money, I took some courses offered by the platform to gain first-hand experience.
In this article, I'll share my reviews and insights about edX's courses, their ease of use, the quality of instructors, etc.
Let's dig in!
edX Review: Key Takeaway
Here's a quick table for your ease summarizing the content of the whole article.
| Parameters | My review |
| --- | --- |
| Types of courses | A diverse range of subjects (medicine, law, technology, engineering, nutrition, etc.) |
| Course structure | Well-organized |
| Mode of learning | Self-paced and flexible |
| Instructors | Experienced university-level educators |
| Career benefits | Skill enhancement for jobs and completion certificates |
| Study materials | Access to supplemental materials |
| Cost | Both free and paid options are available |
edX: Pros & Cons
Although edX offered excellent benefits, there were some downsides. I'll jot it down:
edX Pros
Self-paced learning is available.
You can download courses for offline use.
Accredited certificates on completion are provided.
An excellent 14-day refund policy is available in edX.
All the courses are led by real experts from prestigious universities.
edX Cons
No consistent format in specific courses.
Casual courses like baking are not available.
Who is suitable for edX?
edX might be suitable for:
Anyone who wants to learn a compelling skill guided by a real expert.
Anyone who wishes to earn an accredited certificate to boost their resume.
Anyone who prefers self-paced learning in a digital format with resources.
Anyone who intends to acquire a new skill unrelated to their profession.
What is edX? (An Overview)
edX is not just another online learning platform but a new way of pursuing education virtually. 
The non-profit online course provider, edX, has partnered with prestigious universities like MIT, Harvard, Berkeley, and even top excelling companies like Microsoft, which means the quality is top-notch and the teaching style is at an advanced level. That's the A-grade package right there.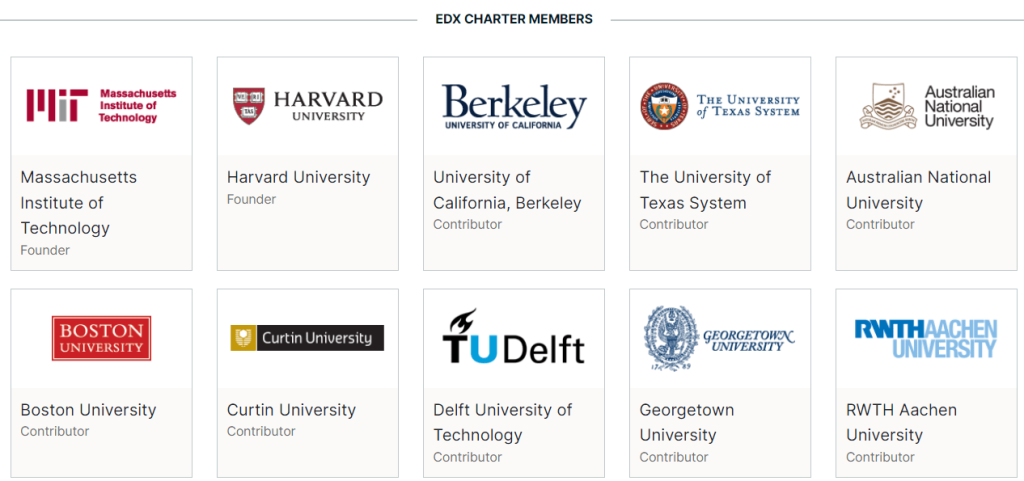 edX ensured to raise its professionalism with millions of dedicated users globally. In edX, you basically get college-level curated content, easy-to-navigate resources, instructor-led courses, and accredited certificates for completing certain courses. edX offers a lot of benefits. 

edX has made its platform versatile and accessible for users of all understanding levels. Even if you are a beginner, you might find various valuable course categories and options in edX.
Speaking of diversity, edX also offers courses in multiple languages like French, Spanish, English, and even Italian. In case you are a non-English speaker, edX can help easily.
More than 3,000 courses are available in edX. The best part about edX is that the categories on which the courses are divided are endless. For instance, there are plenty of courses from architecture to business to design to law to history to music. edX is indeed diversified.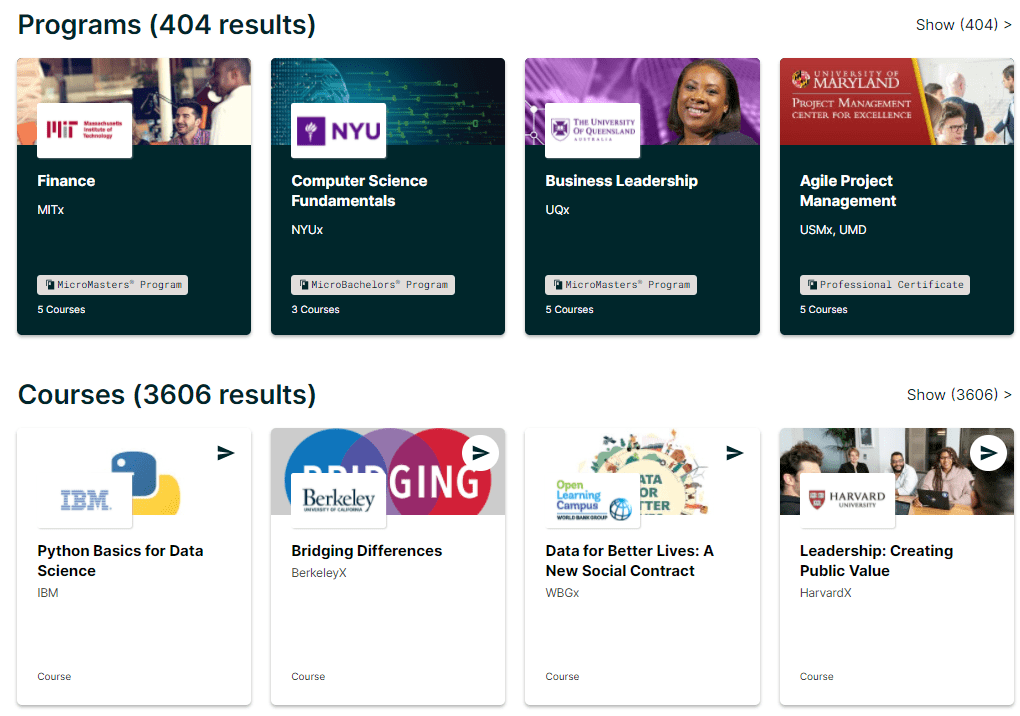 What's more? edX is flexible, which means you can take the courses in edX on any device. All IOS and Android devices are compatible with edX so that you do not miss out on learning.
How Does edX Work?
Many edX courses are available for free, where you can audit all the content without paying a single penny. But you will need to get a course completion certificate to go through the entire content. For that, you need to purchase the verified track of the course. To get access to any course, you just need to click on the enroll button and sign up for that course using your credentials.
After you finish the sign-up, you will be redirected to a page where you will be asked to choose between the verified track (paid) and the audit track (free). You can choose anyone and upgrade later on.
edX does not work on a subscription basis; you will need to buy each course separately to get unlimited access to the course material and a course completion certificate.
What Type Of Courses Are Available On edX?
edX offers more than 3,000 courses from top universities and colleges, and all of them vary in terms of duration, subjects, and commitment. You can build new skills and get advancement in your career with edX courses.
All the courses of edX are divided into subjects, and these subjects have multiple topics, and every topic contains at least 2-3 courses.
Here are some of the subjects available on edX:
Architecture
Art
Biology
Business Administration
Chemistry
Business Communications
Computer Programming
Design
Data Analytics
Education
Economics
Environmental Science
Engineering
Healthcare
Nutrition
Science
Physics,
If you want help in deciding the right edX course, I have handpicked some of the top courses on edX that you can check out.
All the courses of edX vary in difficulty and also require prerequisites. These courses last between 4 to 12 weeks, and you need to give 5-10 hours every week to complete the course on time.
If you're just auditing the course, you can take as much time as you want to complete it, but if you want a certificate for the course, you will need to finish the course on time.
Instructors on edX: Who Are They?
edX instructors come from a diverse range of backgrounds. From industry experts to professors from universities like Harvard and MIT, edX instructors are a group of individuals who are exceptionally good in their respective fields. 
The tutors are engaging and offer real-world knowledge. Most edX instructors hold the highest of degrees and have contributed to academics and research. Since many of them belong to an academic background, they possess the ability to offer a classroom-like experience through the computer screen. 
edX instructors understand the importance of engagement as a part of the learning experience. So, they often conduct discussion forums, live Q&A sessions, and peer collaboration.
Top 3 Courses on edX
There are thousands of courses available on edX. Here is our top 3 pick!
HarvardX's Introduction To Computer Science. 
When a course has Harvard written in front of it, there is no reason to doubt its quality! The prestigious Harvard University offers this self-paced course for entry-level learners. You're taught topics like abstraction, algorithms, data structures, and languages like Python and JavaScript.
MIT's Introduction To Computer Science And Programming Using Python. 
MIT is another prestigious university that students dream of studying in. This computer science course is instructor-paced and free of cost, although you can upgrade with additional costs. Students don't require prior knowledge of CS to opt for this.
TOEFL's Test Preparation: The Insider's Guide.
This course is for people who want to score high on their TOEFL exam and improve their English language skills. The best thing about this course is that it was developed by experts who create, administer, and score the TOEFL iBT test.
5 Best Features in edX: (What's new)
edX has greatly developed its platform with added benefits. You might have read about the overview of edX earlier. Let me briefly explain the best features in edX to date now.
Easy Pathways
Unlike other expensive competitors in MOOCs, edX has really curated a well-crafted pathway for its users so that there is no trouble in finding the best learning courses according to their needs.
Say you are opening a learning platform but are unsure how to pick up the right course despite looking at the pricing, quality, ease of use, and requirements. In that case, edX helps deliver accessible pathways home to multiple programs under a single roof. It is the best feature.
The programs in edX include the MicroMasters program, MicroBachelors program, Bachelor's Degrees, Master's Degrees, Professional Certificates, Executive Education, and Bootcamps.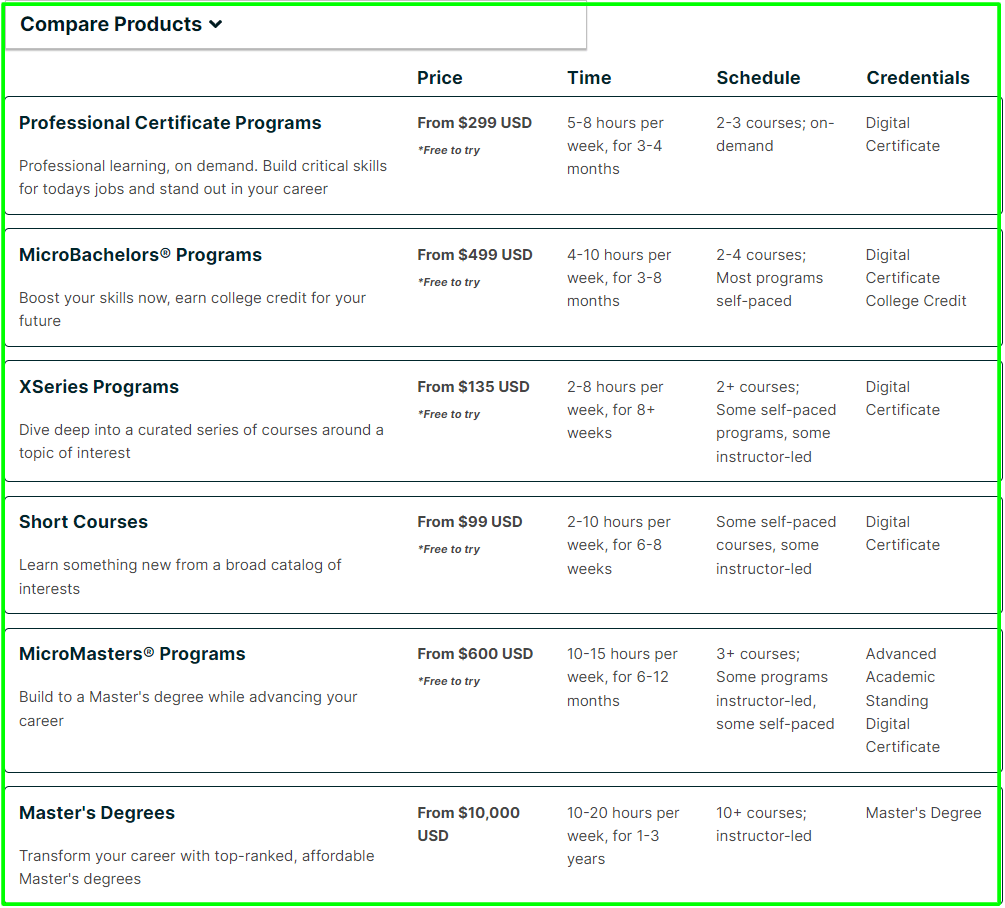 Let me explain. All the listed programs are curated with special courses destined for specific needs. For instance, students looking for certificate courses to boost their resumes can go for Professional Certificates. Likewise, Degree courses are also available.
Customization
Although edX has introduced pathways for users to skim through various courses and programs, the customization feature in edX is very helpful. You get to filter out certain factors in edX and find the most appropriate course that suits your requirements. Sounds easy, right?
In edX, the search for courses is easy wherein you simply have to select the subject you are opting for, the partnering institution where you want to learn from, the desired edX program, the level of understanding from beginner to advanced, and the availability of the courses in edx.
In fact, you can also customize the search results to find out if there are any upcoming courses on a specific niche that you want to learn about in the future. Even customization based on language is available.
Financial aid
Are you worried that you cannot afford quality education since it is highly priced or is in an abroad country? edX does not discriminate and can lend a helping hand to you.
With the financial assistance offered by edX, you get to take up courses and programs and complete them without any hassles or worrying about the budget. You can call it scholarship since it works similarly in edX. All you have to do is apply for financial aid in edX, which is easy.
Like college applications and scholarship programs, edX will review the application for financial aid and send approval in a couple of days. On receiving the confirmation mail, you will get a unique code that can be availed at the payment process in edX.
I was glad to have found the financial aid feature in edX since there are several potential students out there who cannot pursue their dreams due to the financial crisis in their families.
Self-paced learning
The best part about taking courses on the internet, especially in edX, is that you get to take them whenever you want, wherever you want, and however you want. 
The availability of a relaxed study schedule in edX with no pressure and zero deadlines is a relief for most students and even users who are full-time workers. At least, for me, this was one thing that kept me going without feeling pressurized.
Since college-going students may not find time to take the courses at a particular time religiously, the self-paced courses in edX come to their rescue. Even if you get overwhelmed after certain sections, you have the option of taking a break and resuming learning after a while.
Beginner-friendly
No other big learning platform would offer beginner-friendly courses easily. edX is different. It has ensured to consider users' needs and the demand for learning new skills.
In edX, most courses are beginner-friendly. Even if you are looking for advanced-level courses, you still have the option of customization and getting the best results. All the beginner-friendly courses are well-structured for easy understanding and are taught by experts in each field.
There is no compromise in quality, and edX delivers the best, even in its beginner courses.
My Experience With edX (Honest Review)
Taking multiple courses in edX was one of the best decisions I have ever made.
The experience of learning new subjects in edX was exciting, and I was able to grasp complicated concepts in a simplified manner. I also had the bonus of taking beginner-friendly courses since some topics were foreign to me, and I had no prior knowledge about them.
edX made learning easy and accessible. There were no complications in navigating resources, and the user experience was splendid. Still, in some cases, edX was crashing, but it was not a long-term issue. I took courses like Marketing Management, Becoming an Entrepreneur, and Business Foundations, which were beneficial and well-formatted. The ease of use was good.
The self-paced learning and offline downloadable options were a life savior to me. That way, I was able to manage college and courses simultaneously. I would easily give 4 out of 5 stars.
edX is exceptionally programmed, and it was evident that the platform aims to produce high-quality content. I noticed that edX regularly updates its platforms with new course sets.
How is edX for Business Useful?
edX is probably one of the very few e-learning platforms that offer a business edition wherein employees in an organization can coordinate and develop skills under the same platform.
Regarding edX for business, most benefits available in the standard version are also applicable in edX for businesses with added corporate-focused content.
Unconventional job fields like writing, leadership, and communications are also included. Over 1000+ courses are available in edX for business, and the administrator gets an insightful overview of their employees' learning via a progress tracker.
edX for business is a great way to train employees in an organization without foreign programs since all the employees can be monitored under a single platform by their employer.
Pricing plans: Is edX Affordable?
edX has a different approach toward its pricing plans.
Simply put, there are no plans in edX. 
You only get two options referred to as Audit Track and Verified Track in edX wherein,
Audit Track – You can choose to audit a course for free as a self-paced course, but you cannot get any study materials, resources, or accredited certificates in return.
Verified Track – You can choose to buy courses from the verified track, which can cost anywhere from $50 to $300, providing certificates and essential materials.
Still, edX is quite expensive, but it is fair since you are getting college-level content in an accessible platform with added benefits. I feel it would be great if you consider it an investment because you are getting certificates and valuable learning to upscale your career.
NOTE: The pricing of each course in edX varies accordingly, so there is no fixed pricing.
edX free trial
Unfortunately, there is no free trial in edX, but you can still audit a course that is available for free. Till now, there have been no updates from the edX team on bringing free trials or discount coupons.
In case you are a bright student who desperately wants to take specific courses, then the option of financial aid in edX might be helpful since you get financial assistance from edX itself.
To know more about financial aid in edX, read the best features of the edX section mentioned above.
edX Alternatives:
edX is an amazing e-learning platform that offers some amazing courses for students to try, but not everyone is going to like this platform. Some of them might be looking for alternatives. Here are some edX alternatives that are equally good as edX.
1. Coursera:
Coursera offers courses on various subjects from the top universities and educational institutions across the globe. From science to arts, it covers various topics and offers individual courses and specialization tracks.
Coursera is a similar platform to edX and provides courses from universities that you can use to get college credit. Offering over 3900 courses, degrees, and specializations, you can also enjoy its free courses.
We have also compared edX with Coursera, so you can read the differences and decide between the two!
2. Udemy
From programming to business to personal growth, Udemy offers a vast array of courses on diverse subjects. Instructors from all around the world can create an account with Udemy and create and upload their courses. Learners can learn at their own pace or according to the instructor. 
While it offers a variety of courses for students to try, they do not offer university-accredited courses like edX. On the other hand, they do offer the cheapest courses in the industry.
You can check our Udemy vs edX comparison to learn more about the two platforms!
3. Skillshare
SkillShare focuses more on artistic skills, such as writing, design, photography, and more. SkillShare has a subscription-based model, where you can take as many courses as you want under one price. It is an economical option compared to platforms that require you to buy individual courses. 
You can also explore more options by checking our list of best online learning platforms.
Final Verdict – "Is edX Worth the Hype In 2023?"
edX checked all the boxes of the best quality, complete ease of use, adequate study materials, availability of offline modes, mobile-friendly applications, and beginner-friendly courses.
That justifies the fact that edX is worth the hype because it is rare to spot e-learning platforms that deliver the best user experience and accurate explanation of concepts in various courses.
Additional benefits like the provision of accredited certificates and financial aid took edX to the next level since competitors generally fail to produce certificates. Still, certain downsides, like expensive pricing and unavailability of casual courses, were present in edX.
So, if you look at the bright side of using edX, you are getting benefits that cannot be found elsewhere. Since it also has few free courses, you can take them and decide to proceed ahead!
FAQs On edX Review
Is the edX certificate worth paying for?
Yes, it is definitely worth paying for an edX certificate. You can also try a few courses on edX for free, but you need to buy a paid course to get a certificate. These certificates are a good way to show educational institutes & employers that you are serious about your education or career.
Is edX a legit online learning platform?
edX was launched by the scientists of MIT and Harvard, and it has connections with a lot of educational institutes from all over the world. So it is definitely a legit platform, although you might find some negative reviews of some of its edX courses online. Everyone is entitled to their opinion, and every online learning platform has its fair share of good and bad reviews.
Are the courses of edX certified?
If you are looking to get academic credit through an edX course, then you can enroll in the verified courses of edX. Although not every course will get you academic credit, so you need to check the course before enrolling in it.
Does edX offer financial aid?
Yes, edX offers financial aid to those learners who can't pay for the courses. You can get up to a 90% discount on edX courses. To get the discount, you need to fill up a financial aid form and wait for it to get approved; after that, you can purchase the course at a discount. You can get financial aid up to 5 times in a year.
How much does an edX certificate cost?
The pricing of edX certificates varies from course to course. The pricing range of these certificates is $50 to $300.
Can I use an edX certificate to get a job?
An edX certificate is a good way to get recognized, and they add value to your resume. But you can not get a job based on an edX certificate alone.
Latest posts by Ryan Harris
(see all)