Are you sceptical about choosing between Udemy vs edX? Well, I was, too.
I used Udemy and edX and reviewed both learning platforms in a full-fledged comparison review where I differentiated the features of Udemy and edX.
In this article, I discuss Udemy and edX in several aspects, including their course quality, instructors, best features, ease of use, benefits, and pricing.
I also share my final thoughts on Udemy vs edX so that you can make your final call!
Udemy vs edX: In A Nutshell
Although you might find Udemy and edX similar in certain aspects, both have varying differences and essential features that make each other stand out.
Before diving into the core features of Udemy and edX, take a minute to grasp the overview of Udemy and edX for an easy understanding of its functionality below:
| | | |
| --- | --- | --- |
| | Udemy | edX |
| Ease of Use | 4.6/5 | 4.5/5 |
| Price | Starting from $19.99 | Starting from $50.00 |
| Content Quality | 4.7/5 | 4.6/5 |
| Customer Support | 4.5/5 | 4.7/5 |
| Number of Courses | 100k+ | 2.6k+ |
| Course level | Beginner to Advanced | Beginner to Advanced |
| Number of Users | 35 million+ | 24 million+ |
| Certification | Yes | Yes |
| Learning Material | Video Material, quizzes, Written material | Video Material, written material |
| Features | 4.5/5 | 4.7/5 |
| Overall Rating | 4.9/5 | 4./5 |
Udemy vs edX: Overview
Let's have a detailed overview of Udemy and edX.
An Overview of Udemy
Udemy is a versatile e-learning platform where you can either purchase a single course or pay for a subscription and get full access to 35 million+ unique courses.
You can acquire skills in various categories, from personal development to industrial niches to creative learning; Udemy promises to produce courses on every topic.
For instance, you can learn about blockchain technology, SEO optimization, or business growth, the options are limitless in Udemy, and you can find any course.
Udemy breaks the language barrier and offers courses in 60+ languages which means if you are not an English speaker, you can still use Udemy to learn a skill.
Additionally, Udemy ensured to make most of its courses beginner-friendly so that it is accessible for users of all difficulty levels. You can also access it anywhere at any time since Udemy has a dedicated mobile application that is user-friendly.
Udemy does not settle for less regarding the design aspect and has a great UI!
An Overview of edX
If you are curious to know more about edX. Then check our detailed edX review here
edX paves the way to a new learning format by partnering with some top-ranking universities globally like Harvard and Stanford. In fact, edX also has collaborated with software companies like Microsoft to produce unique courses.
Although the course count is limited to only 3000 courses in edX, there are no compromises in the course quality, and you get college-led content directly.
The courses are diversified from business to history to architecture, so you do not end up dead-end when searching for a course in edX. Even the language barrier is stretched to an extent where you can take Spanish, Italian, and French courses.
Like Udemy, edX also produces beginner-friendly courses, yet the instructor quality is promising, and the curriculum has a different approach. edX offers financial aid, and it is recognized as a non-profit course provider – two reasons why edX stands out!
The ease of use is convenient as you get a dedicated mobile application with easy-to-navigate tools and features. Lastly, you'll receive accredited certificates for completing edX courses. Hands down, edX is an online school!
Udemy vs edX: Their Instructors
It is evident that the instructors in a learning platform are the reason for its success, but how are the instructors in Udemy and edX different from one another? Find out!
The instructors in Udemy are professional experts who have learned and acquired knowledge of a particular craft. Since Udemy also lets anyone curate a course and become an instructor, the instructor quality is not constant throughout the platform.

In contrast, edX does not let anyone outside its platform become an instructor and allows only professors from top universities to handle its courses efficiently.
That is why edX has a different approach and course curriculum compared to Udemy and many other e-learning platforms on the internet today. edX basically bridges the gap between college education and access to learning through a portal.
In fact, some edX instructors are from big companies and businesses globally.
Udemy vs edX: Course Quality
You can trust the instructors and go ahead with Udemy and edX, but the structuring of lessons, teaching style, and process of taking the course matter.
I took the courses in Udemy and edX to comprehend the course quality and the experience with edX was much better than it was with Udemy. Let me explain.
Although Udemy had a narrow approach towards the lessons in a course, it started getting boring after a while. In contrast, edX was engaging and produced quality.
If you are a slow learner, you might find Udemy interesting, but edX keeps you sitting on the edge of your chair, wanting to learn more about the desired subject in detail.
The fact that edX tackled tough chapters into simple modules was convincing, whereas Udemy ran over some complicated chapters without explaining them.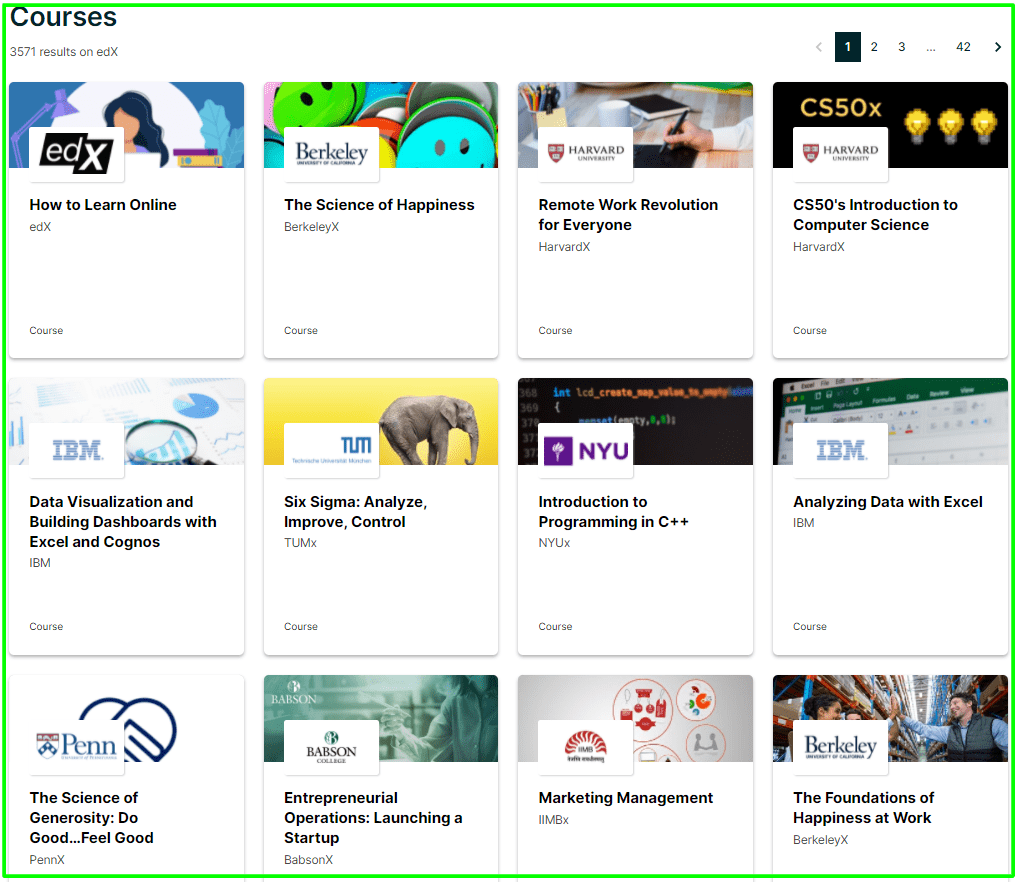 Additionally, Udemy does not have a standardized format wherein the instructor or course quality differs. In contrast, each edX course is worth taking.
Since ease of use plays a major role in the course quality, Udemy took over edX in certain aspects as it is well-developed and updated with the latest technology!
Udemy vs edX: Features Compared
You might have got a better understanding of the working of Udemy and edX by now. Yet, I dug a little deeper and found the main differences by comparing their features so that you can find how exactly Udemy and edX are different:
You can use edX for free by using the "audit a course" option that lets you take any course in any category for free with no limitations. In contrast, Udemy does not let you take any course for free, but some basic courses for free.
You get more than 185,000 course options in Udemy, whereas edX is limited to only 3000 courses which means Udemy gives plenty of options to choose from.
edX makes education accessible for students globally and introduced financial aid support as a scholarship option for potential students. Yet, Udemy does not provide any such support or scholarship.
Udemy and edX offer courses in more than one language, yet Udemy takes the lead by producing courses in 60+ universal languages. 
edX has teamed up with top universities and lets you get a degree virtually in its platform, while Udemy only offers accredited certificates on completion.
edX also produces easy pathways that allow you to take similar courses under a single roof, whereas you have to search them in Udemy manually.
Despite having differences in several aspects, Udemy and edX offer similar features like self-paced learning, beginner-friendly courses, and offline access.
The above-listed points might help make the final call between Udemy and edX.
Udemy vs edX: Time Flexibility & Commitment
Udemy offers you plenty of courses, and you can choose any one of them; once you purchase the course, you will get lifetime access to it, so you can complete the course however you want at your own pace. You can access that course's content from the Udemy website whenever you want. Every course has limited videos which require you a certain amount of time to complete so that you can complete them at your own pace.
There are two types of courses available on edX: instructor-paced and self-paced. In the self-paced course, you can complete the course whenever you want at your own pace. However, in the instructor-paced course, the length of the course is usually 8-12 weeks. If you want the certificate, then you need to complete the course before the specified date.
Udemy vs edX: Best Suitability
Considering the features, benefits, and main differences, I have categorized Udemy and edX into certain groups and found their utmost target audiences.
You can choose Udemy if:
You are looking for in-demand courses on the Internet.
You are a student and want to upscale your skills.
You are on a budget and need certificate courses.
You can choose edX if:
You want to learn from universities like Harvard and Stanford.
You want to get a degree while staying in the comfort of your home.
You want to become a pro at something and get certified for it.
You want to take a specific course without paying a single penny.
Even if you cannot find yourself in any situations above, I'd suggest taking edX considering the course quality and auditing option because you cannot take any Udemy courses without purchasing a course or paying for its annual subscription.
TIP: You can audit a course in edX for free and explore all the features hassle-free!
Udemy vs edX: Pros & Cons
You might have spotted differences and similarities in Udemy and edX, yet both learning platform has advantages and disadvantages in certain aspects.
Udemy Pros
Udemy is budget-friendly.
A plethora of courses to choose from.
The option of purchasing a single course.
Udemy courses are available in 60+ languages.
A dedicated mobile application for easy learning.
Provision of certificates on completing a course.
Udemy offers a wide variety of categories and niches.
Udemy Cons
No constant instructor quality.
Udemy certificates are not accredited.
edX Pros
You get quality content from top universities.
The option of getting a virtual degree is available.
You can download the courses for offline use.
Similar courses are clubbed as easy pathways.
edX offers financial aid to potential students.
All the certificates are accredited by edX.
You can audit any course for free.
edX Cons
edX is quite expensive.
You get a limited course category.
Udemy vs edX: Pricing Explained in 2023
The fight between Udemy and edX is not over until we determine the pricing plans. Only then can we conclude the ultimate verdict for the comparison. Keep reading!
Although Udemy and edX offer pricing plans, there are ways through which you can access Udemy and edX for free without paying a single penny. Let me tell you how:
Udemy Pricing
You can purchase Udemy courses anywhere from $20 to $200 and get lifetime access which means you can take the course whenever you want with no limit.
Although Udemy offers FREE introductory courses, it is quite limited, and if you wish to acquire a certificate on completion, you might have to purchase the entire course.
If you are facing any issues or are unsatisfied with your Udemy experience, you can request a refund within the first 30 days of purchase to get back your money!
You can also check out Skillshare if you are not fully satisfied with Udemy!
edX Pricing
Although Udemy lets you take courses for free in a limited category, edX lets you audit any course for free without paying a single penny. Yet, you need to pay if you wish to acquire an accredited certificate on completion.
Unlike Udemy, edX offers accredited certificates which means it holds value and can be used to get a potential job in a relevant field. It can also boost your resume easily!
The paid option in edX is, referred to as Verified Track, can cost anywhere from $50 to $300 depending on the type of course and category. You also get materials.
Because you get the course curriculum to that of Harvard, the pricing is fair, and you can use the audit option if you are sceptical about buying edX courses.
In fact, if you are struggling financially for education or cannot afford the courses in edX, you can opt for financial aid provided by edX. The application for financial aid is simple and can be done within 5 minutes on the official edX website.
Upon filing the application and sending it to the edX team, you will receive a confirmation on whether it is accepted. If not, edX will tell you why it was rejected.
Either way, edX cares about your education and has got your back! Cheers to edX!
A solid alternative to edX would be Coursera which offers similar features to edX, including auditing a course, financial aid, etc. Give it a read – Coursera vs edX.
Related Reads:
Final Thoughts: Udemy vs edX [2023]
The rollercoaster ride has come to an end. Yes, I am talking about comparing Udemy and edX since there was a lot to discuss and differentiate.
In my experience with Udemy and edX, I have to say that edX took the lead on most aspects like course quality, free courses, financial aid, engaging instructors, etc.
Still, I liked the fact that Udemy offers courses in 60+ languages and a plethora, of course, options to choose from. If you are on a budget and want to take a single course, Udemy might be the best bet because you also get lifetime access to it.
If you wish to benefit from your investment fully, edX is a perfect choice. Note that you can also audit the courses in edX for free without spending a single penny!
FAQs:
Is Udemy free?
No, Udemy is not free, but you can take some introductory courses for free.
Do you get a certificate if you audit a course in edX?
Unfortunately, you do not get a certificate if you audit a course in edX. Still, you can pay and receive an accredited certificate.
How many courses are there in Udemy?
There are more than 185,000 courses in Udemy.
Can you really get a degree in edX?
Yes. You can get an actual degree in edX.
Latest posts by Ryan Harris
(see all)