If you are looking for the pricing plans of edX, you have landed on the right page.
In this article, you can find all the pricing details of edX, including the details of various programs in edX. In fact, I have also given an overview of each program.
edX Pricing At a Glance
Here is a table showing the edx pricing overview:
| | |
| --- | --- |
| edX Course | Pricing |
| Professional Certificate Programs | $299 |
| MicroBachleros Programs | $499 |
| XSeries Programs | $135 |
| MicroMasters Programs | $600 |
| Degree in specific Subject (Virtual Learning) | Around $10,000 |
| Free Courses | Available |
edX Pricing in Detail
If you want to get accredited certificates on completing specific courses in edX, you might have to pay anywhere from $50-$300. Additionally, the paid courses in edX provide resourceful materials to get going with the learning.
Did you know? You can also get an actual degree in edX virtually from the comfort of your home by enrolling in degree programs which can be priced at $10,000/-
Other significant programs curated by the edX team are also available. Let me quickly give an overview of each program in edX for easy understanding.
Professional Certificate Programs – You can buy it at $299 and get an accredited digital certificate on successfully completing the program.
You can learn in-demand skills from professional experts directly through the program. The duration for the professional certificate programs is usually 3 months. If you spend only 5-8 hours per week on 2-3 courses, you can complete it in no time.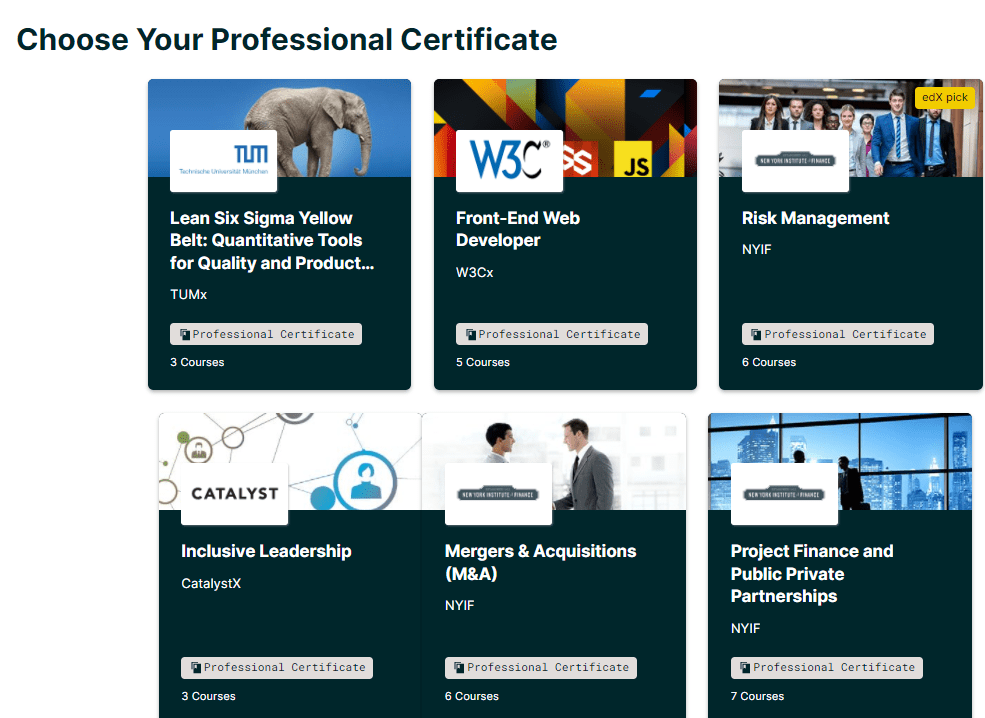 MicroBachleros Programs – You can buy it at $499 and earn college credit.
You can access self-paced courses in MicroBachelors Program. The duration can be anywhere from 3-8 months, depending on the collection of courses in the program. You will also get a digital certificate which means it is a win-win situation. Spending only 4-10 hours per week productively for these programs is more than enough.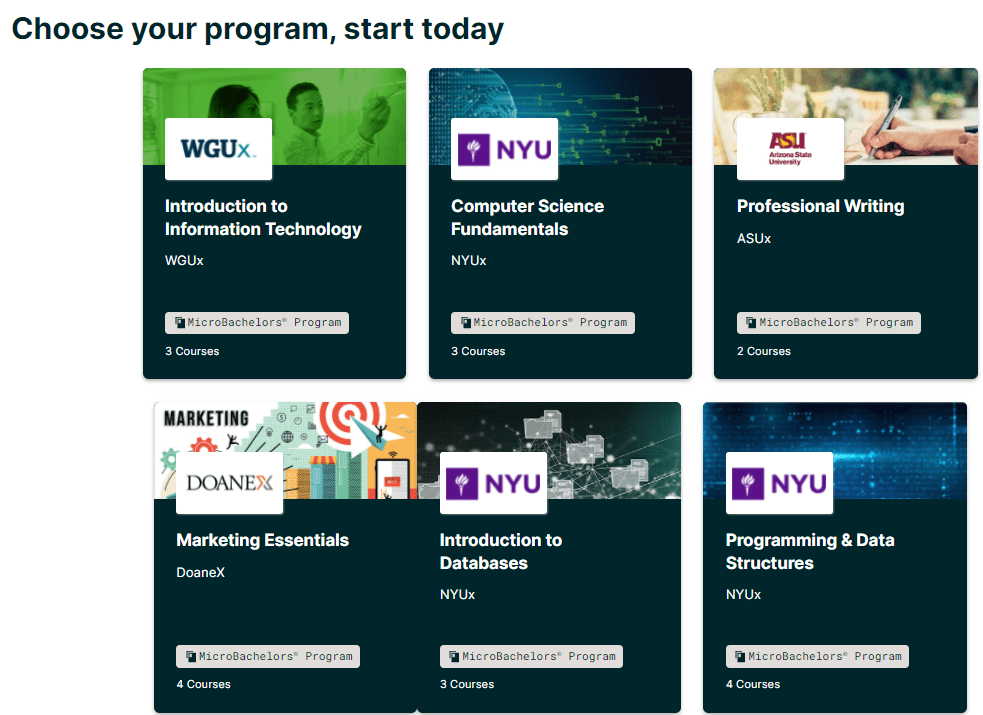 XSeries Programs – You can buy it at $135 and get an accredited digital certificate on successfully completing the program.
You can instantly dive into a course library set with multiple courses of similar interests. This way, you can acquire relevant skills without buying too many courses. edX ensured to club all the best courses under a single roof for quick learning.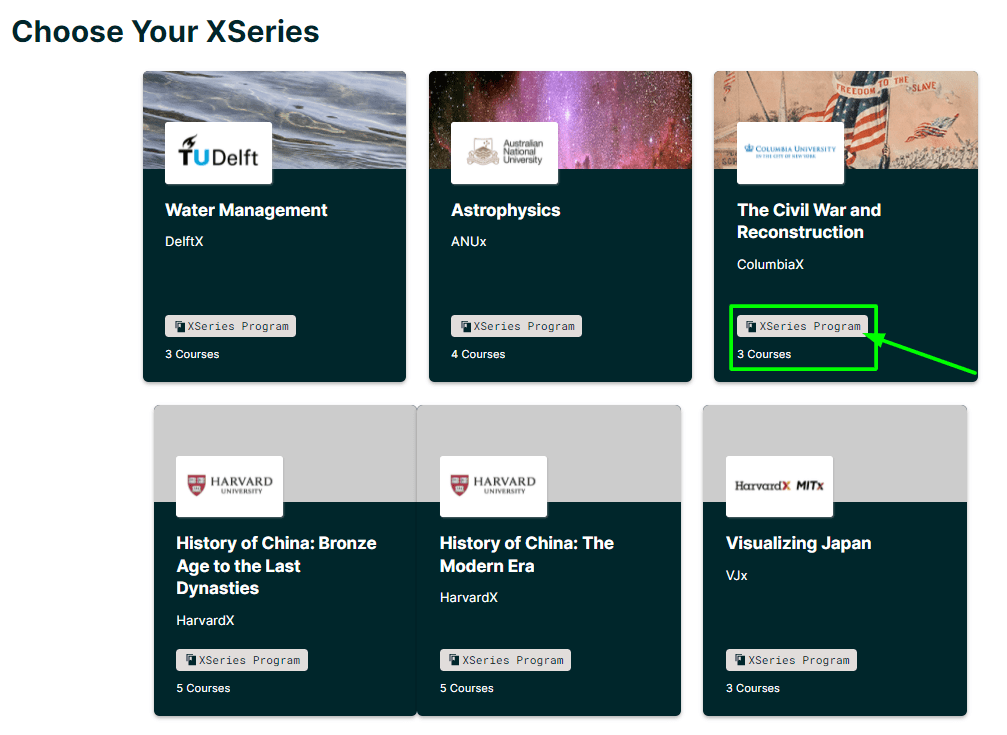 Although some courses are self-paced, the majority of the courses are instructor-led. You need to spend 2-8 hours only per week. The duration can be at an estimation of 8 weeks and more. Some XSeries Programs have only 2 courses.
MicroMasters Programs – You can buy it at $600 and get an advanced academic standing digital certificate on successfully completing it.
By enrolling in MicroMasters, you can actually build to a Master's degree while advancing your career. Since it is a vast program, the duration can be anywhere from 6-12 months to fully complete. You might have to spend 10 hrs per week.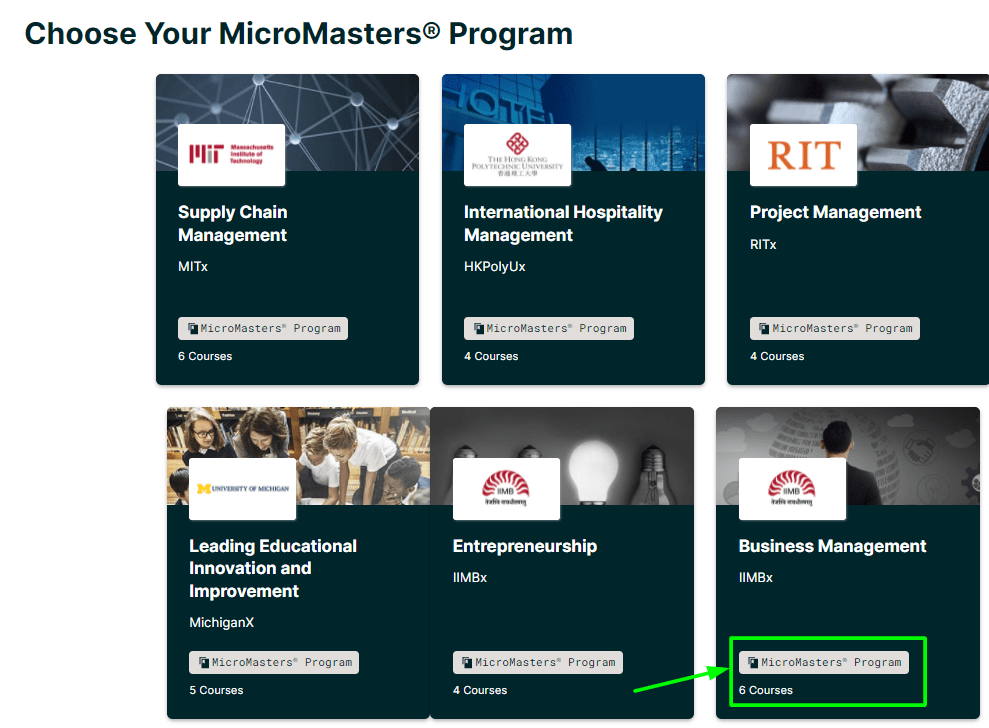 Master's Degrees – You can buy it at $10,000 and get an actual degree.
edX literally made the option of getting a Master's degree on a budget. You need to spend 2-3 years on the program and take 10+ courses led by professional instructors like a college curriculum. By spending 10-20 hours per week, you can complete your Master's degree without having to go to college or pay a visit to the campus.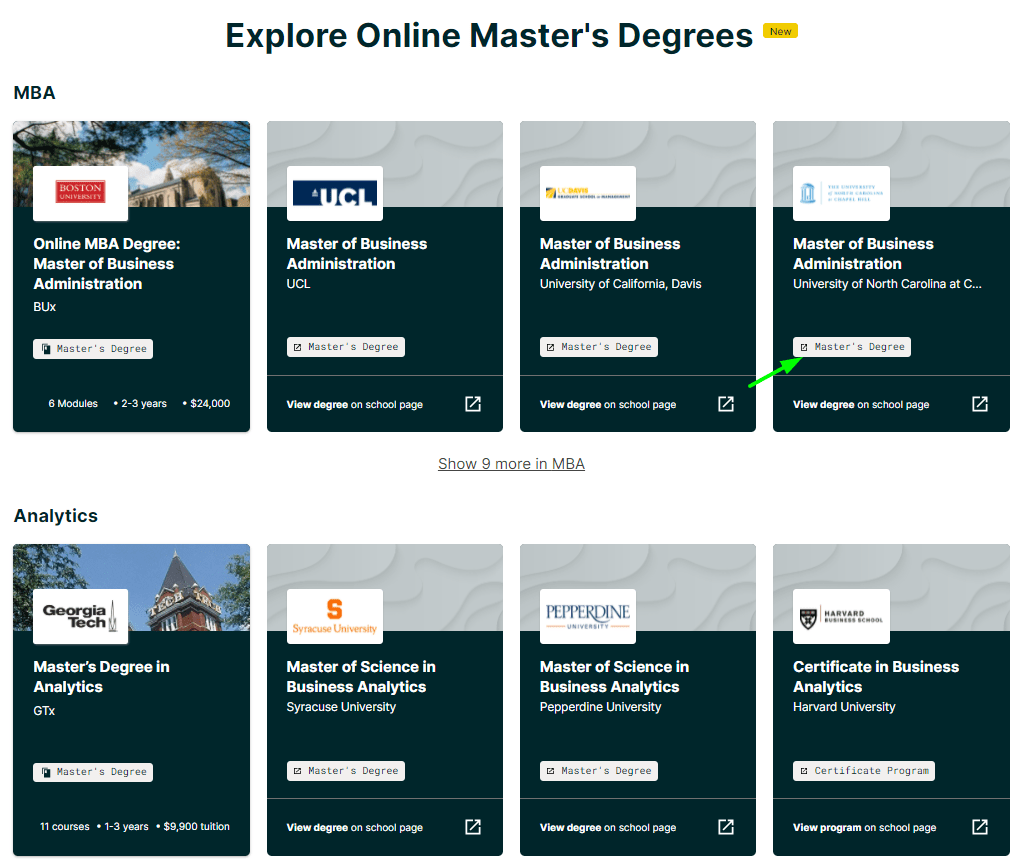 edX: Free Courses
Apart from the paid courses and degree programs in edX, you can actually audit any course of your choice in edX without paying a single penny. The only downside with the auditing option in edX is that you might not receive a certificate on completion.
Looking at the bright side, you get the opportunity of getting a glimpse of any course in edX for free. Instead of free trials, edX offers free courses directly for you to stream.
Regarding the free courses in edX, there are no restrictions or limitations, and all the lessons are accessible, giving an overall learning experience.
Related Read: Coursera is a top-notch competitor of edX, check our detailed edX vs Coursera comparison here.
edX Financial Aid
edX also offers financial aid to those who can't afford to pay for the courses, and they can get up to 90% discount on the courses. But the financial aid option is only available for a few courses. You can't get financial aid for all the courses of edX. Students can apply for financial aid up to 5 times a year. You can't also apply for financial aid for the courses that have a free audit track.
If you want financial aid for MicroBachelors and MicroMasters programs, then you will need to apply for financial aid for every course in that program separately. You also have to complete the courses one by one. No financial aid option is available for Boot Camps, Executive Education courses, and professional education courses. To apply for Financial Aid, you need to send a formal request where you need to confirm your household income and a letter. You will get a response within 2-4 days.
Does edX Offer Value For Money?
Whenever we purchase something, the first thing we analyze is: does it offer value for money or not. The same goes for edX as well; it offers amazing courses from top universities and companies but are those courses really justify the pricing of edX? We are going to tackle all these questions here. Let me tell you right out the bat, yes, edX offers value for money, and let me explain how.
Many students get into debt just to complete their education at prestigious universities. If we compare the price of their fees to edX's prices, then it is the best deal you can get because you can learn the same courses on edX from the same universities for much less. You will also get a course completion certificate for completing these courses, which you can add to your resume to get career advancements. edX also offers a few free courses for you to try.
Final Thoughts: edX Pricing (2023)
The pricing structure in edX might feel like a pain in the bum, yet I simplified and listed everything you need to know about edX pricing and its confusing plans.
In conclusion, let me recall it once. You can audit all the courses in edX for free, buy paid courses anywhere from $50-$300 and get accredited certificates.
If you dig a little deeper, you can get an actual degree at $10,000. Additionally, there are paid programs in edX ranging from $135-$600 that you can enroll in.
edX might be the best choice if you are looking for a platform to learn in-demand skills and get an accredited certificate that might help in boosting your resume!
Latest posts by Ryan Harris
(see all)