Have you decided that edX and Coursera will be your teaching guide but are unsure which one to choose? Well, this article will solve your confusion in less than 30 minutes!
I religiously took several courses on edX and Coursera and experienced hands-on learning. So, I decided to write a detailed comparison review of my experience with edX and Coursera.
With benefits like getting a degree, auditing a course, resourceful study materials, and lifetime access in edX and Coursera, you might be taken aback and so I am here to help you choose between edX and Coursera.
In this article, you will learn everything about edX and Coursera, including an overview of edX and Coursera, their course quality, ease of use, and pricing.
In the end, I also answered the verdict "edX vs Coursera – Which is the best?" Watch out!
edX vs Coursera 2023: In A Nutshell
If you are on the go, here is a quick summary of edX and Coursera in a comparison table:
| | | |
| --- | --- | --- |
| | edX | Coursera |
| Features | Customization tools beginner-friendly courses easy pathwaysSelf-paced learning Financial aid | Lifetime access specialization in courses and degree accredited certificate get a real degree financial aid |
| Auditing a course | Any course can be audited | 1000+ selective courses only |
| Budget | $50-$300No annual subscription | $29-$99Annual subscription – $399 |
| Quality | Decent but not up to the mark | Excellent |
| Ease of Use | edX is good but needs to be updated with certain options | Easy-to-navigate |
| Overall Rating | 4.7/5 | 4.8/5 |
edX vs Coursera 2023: Overview
Before digging deep into the core subject of edX and Coursera, let me help you understand what edX and Coursera are with a brief overview comprising all the best features and benefits that you might get in edX and Coursera. Trust me. There are a lot. Grab a note and join me!
This might give you an idea of how edX and Coursera work.
What is edX? (An Overview)
edX has changed the game of getting degrees the traditional way.
Let me explain. edX has partnered with prestigious universities like Berkeley, MIT, and Harvard, which means you can get quality education online while being at the comfort of your home, and there are no compromises with the instructor quality as well. It's a win-win situation.
Note: We have done a detailed edx review on NutMeg Education.
There is no need to worry about the instructor quality because edX gives a complete insight into an instructor's details, including their experience and knowledge. You can check it to be sure.
In edX, you get easy-to-navigate options that smooth the study flow and offer courses on all difficulty levels. It is good news for beginners to learn something fresh and new.
The best part about edX is that it is a non-profit online course provider, which means the primary motive of edX is to put quality over everything, unlike competitors who do it for money.
Even well-established companies like Microsoft have collaborated with edX. Additionally, you basically get 3000+ courses in several categories ranging from business to architecture to design too many more. edX has an abundance of courses in all various niches.

To make their platform diversified, edX provides courses in other distinctive languages like Spanish, Chinese, Italian, and French, which makes it accessible for non-English speakers.
edx knows how to encourage their dedicated students in the right way, and so edX is offering accredited certificates on successfully completing the courses on their platform. edX is also accessible on all Android and IOS devices, making it easier to use.
Last but not least, edX also gives financial aid to students, which is a great initiative by edX. Some students who cannot afford it due to a financial crisis may find it rewarding.
What is Coursera? (An Overview)
Coursera is another excellent MOOC giving the opportunity to get a degree through virtual classes literally. Like edX, Coursera has also teamed up with prestigious universities. Well, check our detailed Coursera review here.
In Coursera, you get college-curated content directly from universities like Yale and Stanford, which means the quality is top-notch and promising.

You basically get well-formatted information about a course before starting it. This way, you can picture how the study flow will be so that you can plan and create a schedule accordingly.
You are exposed to more than 4000 courses in 10 different languages, which means you can find the desired course in the most suitable language. A few on the list of languages are Portuguese, Korean, Russian, Spanish, Japanese, and German. Talk about diversity! 

Plus, the courses come with degrees and specializations, making them beneficial. Taking it to the next level, Coursera gives more certificates than edX on various courses in different niches.
Similar to edX, Coursera offers financial aid to dedicated students who cannot afford to pursue education at an esteemed university with terms and conditions applied.
With a free trial and audit courses, you can browse through several courses on Coursera for free of cost, through which you can get a hands-on learning experience without paying any fee.
edX vs Coursera: Ease of Use
Being programmed in the virtual model, the ease of use should justify a user's experience in taking a course online. In my experience with edX and Coursera, there were ups and downs.
edX Ease of Use
Everything, including the interface, layout, and design in edX, gives a fling to your eyes wherein all the arrangement of courses, details about the courses, and offerings were professionally framed.
Although in some places, the materials were off-putting, it was decently maintained. If a visual learner is fully focused on learning and getting guided by experts, it will not affect them.
Coursera Ease of Use
If you want an exceptionally curated website, edX may not be the right learning platform, whereas Coursera had a perfectly curated site with all the essential resources.
The ease of use is splendid with no problems complained about. Everything you need is to click away in Coursera, giving one of the finest user experiences in taking courses online.
TIP: To give a heads-up, I would say that if you are fully devoted to your studies and are desperate to get a qualified degree, then you can overlook the ease of use and focus on the course quality.
edX vs Coursera: Course Quality
Both learning platforms have partnered with prestigious universities and institutions, but how do they differ in terms of content and course quality? Keep reading to find out. I got the answers!
How is the course quality in edX?
As mentioned earlier, the instructors in edX are recruited from top universities, and a brief description is outlined, providing adequate information about their experience, expertise, and social links. Also, the courses taught by an instructor are clubbed together under their profile.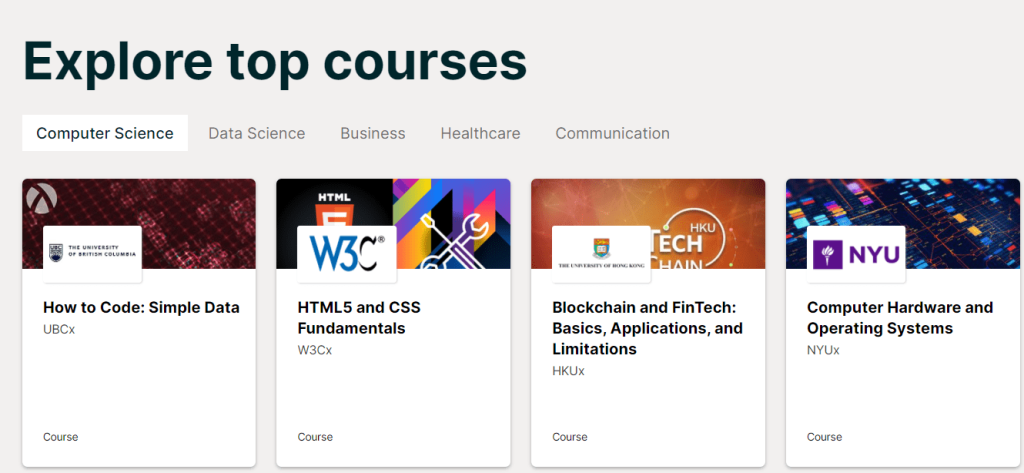 In my experience, the courses in edX were well-drafted, and the instructors handled it pretty well, yet some courses seemed to be disappointing. I am not blaming edX directly because the quality was not constant throughout edX and varied according to the courses.
If edX reviews every instructor before approving the course, it can get fixed.
Best Courses on edX
Here is a list of some of the top courses on edX.
MIT's Introduction To Computer Science And Programming Using Python
HarvardX's Introduction To Computer Science
A Hands-On Introduction To Engineering Simulations
Nutrition And Health: Food Safety
TOEFL's Test Preparation: The Insider's Guide
How is the course quality in Coursera?
Coursera takes quality seriously and ensures it delivers properly structured content with no lagging. Despite hiring professors from top renowned universities, the courses in Coursera get reviewed by experts and educators before making them online and available to users.
After the review process, by default, all the poor quality content gets rejected, and freshly curated content with excellent instructor quality is provided to students. If you are still in doubt, look out for the rating section under the instructors' description in Coursera. It is really assuring, I swear.
Best Courses on Coursera
Here is the list of the best courses on Coursera:
Google Data Analytics
Google IT Support
IBM Data Science
Meta Marketing Analytics
International Business Essentials Specializations
The rating section is yet to be included in edX, though. Apart from that, Coursera wins!
edX vs Coursera: Best Features
Despite being called two of the best learning platforms on the internet, there are significant features that make edX and Coursera stand out from one another.
What Are the Best Features of edX?
Firstly, you get customization tools for easy search of courses according to your preference. The filtering feature in edX greatly helps in finding the most appropriate course for you.
From the level of understanding to choosing the partnering institution to select the subject to looking for the availability of courses, everything is a click away in edX. 
Additionally, edX offers various beneficial features on a program basis termed as pathways, namely the MicroMasters program, MicroBachelors program, Bachelor's Degrees, Master's Degrees, Professional Certificates, Executive Education, and Bootcamps.  
With pathways in edX, you get to pick a course and get a degree on completion. It's that simple. You also get beginner-friendly courses even if you are a freshman on a particular course.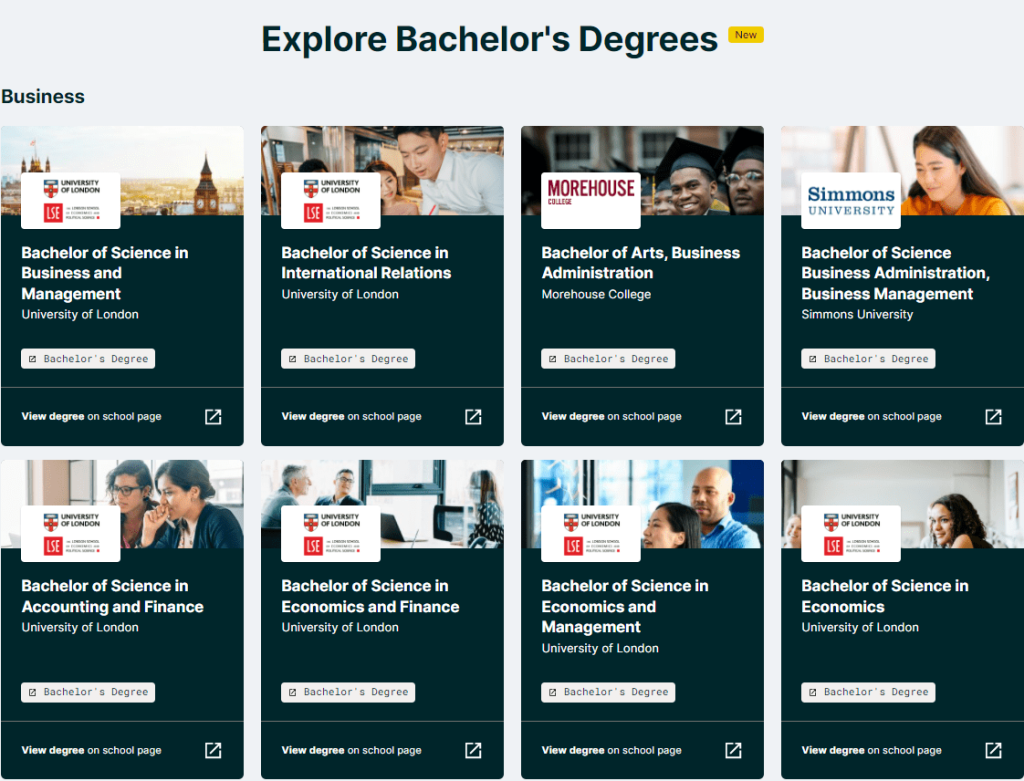 edX follows a self-paced learning module which is a great relief for part-time employees trying to get a degree by hustling on the side. Even students can study with no time limit.
The most anticipated feature in edX is financial aid which is not commonly offered by most institutions. You basically get financial assistance directly from edX, which can be considered as a scholarship. How cool is that? It is such a reward.
Still, the student has to meet certain requirements to avail of financial aid in edX.
What Are the Best Features of Coursera?
The primary thing in Coursera that makes it stand out is that it features a specialization in courses and does not limit to a specific category.
A bunch of sub-categories are provided in Coursera, which also come with degrees. Although you will be receiving an e-degree via Coursera, the learning experience is very similar to in-person college learning. 
The exciting option of auditing a course in Coursera works pretty well, wherein you get to benefit from helpful quizzes and resourceful materials to get going with the course.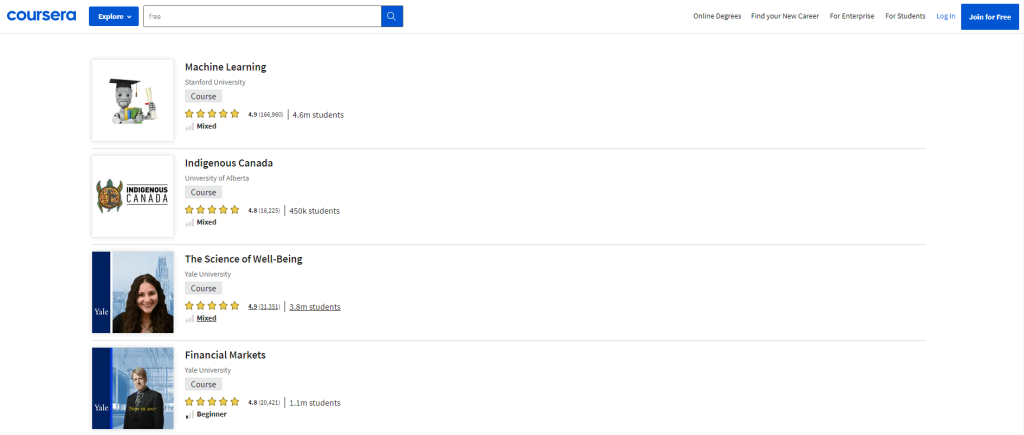 The feature of auditing gives lifetime access to the course materials in Coursera, which means even on completion, you can still consume the resources for future studies.
Additionally, you get to take verified courses and get certificates on completion with added benefits which is a great way to wrap up an online learning module.
Like edX, Coursera also provides financial aid to students along with certain conditions.
edX vs Coursera: Course Certificates
Now I will compare the course certificates of edX and Coursera.
edX Course Certificates
After successfully completing a course on edX, you will get an accredited verified certificate. In the certificate, you can see the name of the course, the signature of the instructor, the logo of the partnered institution, and a certificate ID. However, you will not get a certificate if you take the course in the audit mode. To get a certificate in audit mode, you need to pay a minimal fee that can vary from course to course.
Coursera Course Certificates
The certification process on Coursera is also similar to edX. Once you complete the course on Coursera, you will get a verified certificate which includes the name of the course, the signature of the instructor, a verification URL, the logo of the partnered institution, and a statement of course which says that you have successfully completed this course. You can easily share and download your certificates.
edX vs Coursera: Benefits
Here are the benefits of learning from edX and Coursera.
edX vs Coursera: Benefits of using edX
Here are a few benefits of using edX you will get if you decide to learn from its courses.
edX offers courses from real universities. All the courses of edX are taught in the real world, which means you don't need to attend these courses physically to get the knowledge.
A lot of edX courses also count as credits to your diploma. So you not only just earn a certificate for the course but also credits which can help you in landing your dream job.
edX has degree programs, meaning you don't need to go to college to graduate from respectful colleges.
You can learn whatever skill or subject you want from anywhere in the world. You can also learn on the go with the edX mobile app.
edX vs Coursera: Benefits of using Coursera
Here are a few benefits of using Coursera to learn from it.
All the courses on Coursera are from top companies and universities from all over the world, and you can learn these courses in your own comfort without ever being physically present on any campus.
Coursera certificates are the best way to show off your skills. If you have completed one of the free courses on Coursera, then it will be best if you pay to get the certificate for that same course so that you can include it in your resume.
Coursera also comes with a mobile app, so just like edX, you can also learn from Coursera on the go.
The course videos come with 40 different language subtitles, which makes it easier for any kind of student to learn from Coursera.
edX vs Coursera: Best Pricing
Unlike other competitors, edX and Coursera have relatively different pricing plans categorized with selective courses. It might seem not very clear but allow me to brief it out.
edX vs Coursera: edX Pricing
Check a detailed breakdown of edX pricing here.
There are two unique ways you can access the courses in edX by either
Audit a course – You literally get self-paced classes in return for free of cost.
Buy verified tracks – You get certificates and resourceful materials on completion, excluding degrees wherein the budget, could be anywhere from $50-$300.
For other degree plans and programs in edX, you might have to pay a lump sum amount of $10,000-$25,000. Hold up, it might seem like a bag of gold but looking at the bright side and the benefits that you get right from the comfort of your home, it is worth it to get a degree in edX.
FUN FACT: The biggest benefit of edX is that all the courses are eligible to be audited for free.
edX vs Coursera: Coursera Pricing
Yes, check a detailed breakdown of Coursera's cost here.
Similarly, Coursera also provides courses on individual plans and with the option of auditing, but there is a catch. Not much of a difference, but note it carefully!
Only 1000+ courses are valid to be audited by a user in Coursera at a slashed price wherein you can audit selective courses from $29-$99 maximum, which is affordable and reasonably priced.
Like edX, the degree programs will cost the same $10,000-$25,000 for obvious reasons.
However, Coursera provides an annual subscription module where you can buy
Coursera Annual Subscription at $399 and take as many courses as you want.
The annual subscription does not include the degree and other exclusive programs, but you will be rewarded with course certificates on completing each course, which is an added benefit.
Related Read:
Final Verdict: edX vs Coursera
After exploring edX and Coursera in all aspects, including the ease of use, pricing, features, and benefits, I have decided which is the best, and that is, Coursera. Hear me out.
In Coursera, you get excellent instructor quality, course certificates on all courses, financial aid, and the option of getting a virtual degree. You get similar benefits in edX, but Coursera did it better, and I was satisfied with it.
edX gave a good fight regarding course quality and format, especially the option of beginner-friendly courses was good news because most students might be new.
The part where Coursera actually made it to the top is that the maximum budget for an individual course was only $99, which is affordable compared to edX, which is priced at $300.
Therefore, you can get the best learning experience in Coursera than edX if you are still in confusion, audit a course for free in edX, and get a hands-on experience for yourself!
Latest posts by Ryan Harris
(see all)