LinkedIn Learning and Coursera are two of the most popular online learning platforms. However, both cater to different audiences.
Simply put, LinkedIn Learning is good for people who want to opt for a new skill or polish their existing skills. 
On the other hand, Coursera is better for people who want professional certification courses, including degrees. 
Besides these basic differences, LinkedIn Learning and Coursera have a lot more to offer.
In this article, I'll compare Coursera and LinkedIn based on all the important parameters, such as courses, quality, cost, certifications, and more.
By the end, we will determine which platform is worth investing your time and money!
Coursera vs LinkedIn Learning: Key Differences
Here are the key differences between Coursera and LinkedIn Learning.
| Parameters | Coursera | LinkedIn Learning |
| --- | --- | --- |
| Number of courses | 7,000+ | 21,000+ |
| Categories | 30+ | 11+ |
| Price | $49 | $35 |
| Free Trial | 7 Days | 30 days |
| Certificate | Accredited certificate | No Accredited certificate |
| Course quality | 4/5 | 4/5 |
| Areas of speciliazation | University quality and level education | Professional skills |
| Free Courses | 17,000+ | 8 |
| Instructors | Certified university teachers | Industry experts |
Coursera vs Linkedin Learning: Best Suitability
Here in this section, we have explained for whom Coursera and LinkedIn Learning are suitable.
Coursera is best suited for
For students and professionals
Anyone who wants a certificate from a reputed university to enhance their profile
For students who want to opt for bachelor's and Master's degrees online.
Linkedin Learning is best suited for
For graduate students who are searching for jobs
People who want to grow skills in a particular area.
People who don't need an accredited certificate
Coursera vs Linkedin learning: Overview
First, I will discuss Coursera and LinkedIn learning by providing a piece of general information then we will compare both platforms using statistics.
Then we will deep dive into more information like the study environment, fee structure, certificate, etc.
What is Coursera?
Being one of the most popular choices of learners worldwide, Coursera is an excellent option to learn a new skill or enhance an existing one. If you are interested in technology and programming, Coursera can be a good platform.
The best part about this is you can learn at your convenience at your home. At the same time, you can get certificates from very reputable and prestigious universities.
Bonus read: Check my detailed Coursera review here to know more about this platform.

Coursera allows you to learn directly from some of the most reputable universities, including the University of Michigan, Yale University, California Institute of Arts, and many more.
Coursera covers a wide range of subjects and fields. Besides, you can also opt for a full-time bachelor's degree and programs. Overall, it lets you learn from the comfort of your home.
What is Linkedin learning?
LinkedIn Learning can be a better choice for those more interested in management and technology.
Linkedin learning helps you to get in-depth knowledge about your chosen course. It is like an honest tutor who will provide you with the knowledge you deserve. 
Linkedin provides more than 16,000+ online courses, enhancing your skills and making your resume look better.
Linkedin learning works on a subscription basis. Once subscribed, you will have access to all their courses and videos.
Linkedin learning is like access to a library of courses where you can get more than one book course.
That means it gives you the freedom to choose whatever course you like at your convenient time. Linkedin learning also allows you to learn from your home.
Coursera vs Linkedin learning: Statistics
With the help of statistics, you will get a vivid idea about both the online platform.
| | |
| --- | --- |
| Coursera | Linkedin learning |
| Registered students= 92 million (2021) | Over 27 million users (2021) |
| They have four offices worldwide with 779 employees | They have 33 offices worldwide with over 16,000 full-time employees |
| Revenue increases by 36% year on the year 2022. The platform has more than 100 million registered users. | Revenue will increase by 36% year on the year 2022. The platform has more than 100 million registered users. |
Coursera vs Linkedin Learning: Similarities
Both Coursera and Linkedin learning will help you fill the gaps in your personal and professional knowledge. Both platforms have the same purpose, which is why they also have similarities, which will help you clear your doubts.
Both platforms are online learning platforms.
Well-known and well-educated instructors will train you.
These platforms allow you to learn from home, and it offers flexibility in time.
Coursera and LinkedIn Learning collaborates with world-reputed universities.
And et the end of your course you will receive a certificate from these universities.
Coursera vs Linkedin Learning: Courses & Certification Offered
Coursera provides 7000+ courses. World-class courses guided by experts at 250+ reputed universities and companies.
Here are some popular courses by them-
Data Science– 425 courses
Social science- 401 courses
Language learning– 150 courses
Business– 1095 courses
Personal development– 137 courses
Information technology- 145 courses
Computer Science– 668 courses
Art and Humanities- 338 courses
Math and logic-70 courses
Coursera provides a certificate. After completing the course, you can also get degrees from bachelor's to master's. 

Coursera provides you with different certificates, such as professional certificates, master track certificates, university certificates, and many more.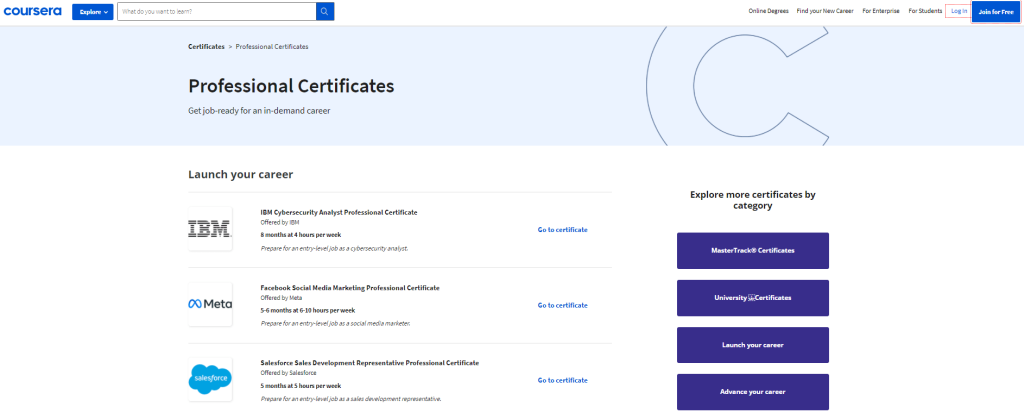 On the other hand, Linkedin learning provides more than 16,000 courses. And mostly, the curator of those courses will guide all along.
Popular courses from Linkedin Learning-
1. Ecommerce Fundamentals (2020)
2. Introduction to content marketing
3. Google anniversal Analytics Essential Training (2020)
4. UX Foundations: Research
5. Introduction to Data Science
6. Graphic Design Tips and Tricks
7. SQL Essential Training
8. Creating a Communication Strategy
After your training, you can download the certificate from Linkedin Learning. One good feature of this is that you can upload the certificate on your LinkedIn profile to enhance your account.
But there is a backdrop that the university does not authorize the certificate you get from LinkedIn Learning.
Verdict: When it is time to evaluate from personal experience, I would like to add that Coursera is better at providing certification.  LinkedIn provides the best environment to enhance your skills. However, Coursera's certificate will add more value to your profile and is accredited.
Coursera vs Linkedin Learning: features and Study environment
Here we have explained the features & study environment of Coursera and LinkedIn Learning.
Coursera features
 Coursera provides unlimited access to over 90% of courses.
You can explore topics and skills
It is lifelong learning where you can earn your degree certificate
It provides Adobe-guided projects where you can work with Adobe software to get your expertise.
You can also personalize your schedule in your preferred course.
 Also, you will be assigned projects with deadlines. And also, you will get to analyze your time speed to finish the project.
Coursera study environment
Coursera brings world-class Universities into your pocket. 
The post-COVID situation created a great barrier with the outer world. But Coursera is the key to those doors. 
Innumerable students from all over the world getting enrolled in their preferred courses. And earning the best certificate from the best and most reputed colleges without spending much money.
The video courses and projects will help you overcome obstacles and gain confidence.
LinkedIn Learning Features
Professionals with noteworthy accomplishments deliver all of the courses.
You can start or stop streaming courses anytime. Your progress is saved automatically.
The software is automated to provide recommendations based on your profile.
You can also download courses for offline learning.
You can also save data by switching to audio-only mode.
Support for multiple devices is also available. As a result, you can keep streaming a course while switching devices.
LinkedIn Learning Study Environment
The study environment of LinkedIn Learning is designed to motivate and increase the appetite for knowledge.
Intricate details and make sure you do not get distracted while learning. For instance, the platform automatically displays your progress by chapters so that you do not have to keep track.
You are also provided with a course overview to be prepared. You shall also be provided with a transcript of the audio-visual lectures to ensure that you do not miss any content.
Gripping quizzes and exercises are preloaded so that you can test your learning and gain more confidence.
The platform also offers complete transparency, which means you have access to everything from information on your instructor to course statistics.
Coursera vs Linkedin learning: The Course fee
Both platforms offer a bunch of free courses that you can opt for. However, many courses are premium, which means you need to pay for them. Let's take a look at Coursera and LinkedIn Learning's pricing structure.
Coursera Course Price
Coursera gives you free access to their courses for seven days, but you will not get a certificate during free courses.
Once the free trial gets over, they will charge you for every course. The price may differ according to the program you will choose.
Coursera offers a simple pricing structure. You can either choose to purchase a single course or opt for Coursera Plus, which gives you access to all the courses. When you purchase a Coursera Plus subscription, you can enjoy multiple courses without worrying about the pricing. 
On the other hand, the single course will restrict access to all the other courses, and compared to Coursera Plus, it can be expensive. 
Additionally, all the plans are backed by a two-weeks refund policy.
| Plan | Price |
| --- | --- |
| Single Learning Program | $49-$79 |
| Coursera Plus Monthly | $59/month |
| Coursera Plus Annual | $399/year |
You can view our detailed Coursera pricing breakdown to understand what each plan offers and which one is right for your requirements!
Tip: Finding Coursera too expensive? Grab Coursera Plus at a discount with our exclusive discount!
Linkedin Learning Course fee-
LinkedIn Learning offers a one-month free trial.
When it comes to its paid plan, you can individually pay for courses. The price will vary based on the courses. 
Approximately the price range will be between $20- $50 monthly or $239.88. The annual plan allows you to save up to 33% on the price you pay monthly.
You can save extra on the plans with our exclusive discount! Check out our LinkedIn Learning discount!
Note that LinkedIn Learning doesn't provide you with a refund option.
Coursera vs LinkedIn Learning: Pros & Cons
Here are the benefits & drawbacks of using Coursera and LinkedIn Learning.
Coursera Pros
Extensive course catalog to choose the right course. 
Plenty of assignments and learning resources. 
Multiple language transcription of courses
You can easily audit any course you want on Coursera.
Offers specialization and degree programs from prestigious universities.
Coursera Cons
You can not do assignments and quizzes from the mobile app.
To get the certificates on Coursera, you might have to pay a heft price, but they are definitely worth it.
LinkedIn Learning Pros
Offers a lot of variety of courses for you to choose from.
You will get a course completion certificate for every course you complete on LinkedIn Learning.
Learn at your own pace with no deadlines.
Provides a free trial of 30 days
All the courses are available in more than seven languages.
LinkedIn Learning Cons
Covers a limited number of subjects when it comes to its course library.
The courses on LinkedIn Learning can be short.
Coursera vs Linkedin Learning: Alternatives
It is acceptable if you are not satisfied with any of these platforms. In this era of competition, there are plenty of other online platforms for different groups of people.
While doing some research, I learned about other online platforms, which might be a good alternative option.
edX
With thousands of students globally, edX takes online learning to a different level. To make education easier and accessible to everyone, this popular platform has partnered with some of the leading universities, including MIT, Harvard, Boston, Berkeley, and more.
You can opt for courses by different subjects or enroll yourself in programs and degrees. Some of subjects include writing, AI, data science, supply chain, economics, sales, psychology, and more. The pricing for each course is specified different, so there is no fixed plan or pricing.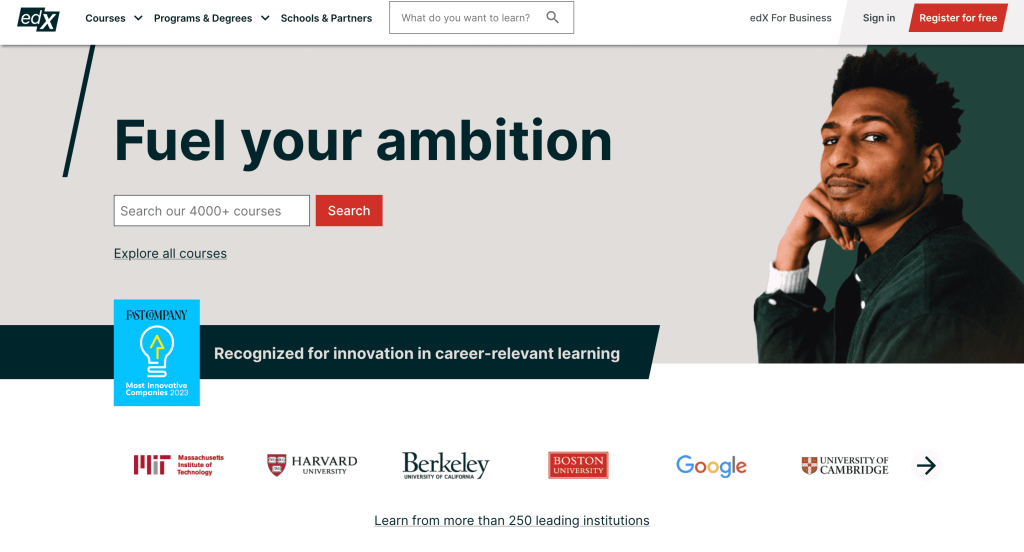 Udemy
Udemy is a subscription-based online course website. Here you can curate your course and promote it. It offers a wide range of courses from basic to advanced levels. More than 35 million people use Udemy. Organizations often recommend courses from Udemy to their employees to enhance their functionality.

Public Review
Coursera enables organizations to provide informative courses from top multinational conglomerates like Google and IBM. Subscribers who complete these courses get academic credit and certificates.
It is a good option to explore different topics and acquire new skills.
LinkedIn Learning's all courses are flexible, which means you have the freedom to learn wherever and whenever you want.
You can purchase individual courses or subscribe to a monthly or annual plan. Thus it proves to be a suitable learning platform for beginners and experts.
Cousera vs LinkedIn Learning: Which One is Best?
While no official information states a distinction between the two platforms, they are often preferred by distinct groups of users.
Coursera has proved to be more suitable for aspiring students. The courses offer in-depth but simplified learning of concepts and skills. Such an approach provides foundational learning based on which the students can garner their abilities and understanding.
Professionals, on the other hand, have always favored LinkedIn Learning. This is because the platform is more focused on assisting users in acquiring the better abilities required to do their jobs effectively. As a result, everyone from beginners to associates can enroll to improve or learn new abilities.
Tip: You can also check out other online learning platforms if Coursera and LinkedIn doesn't cater to your requirements!
Other comparisons that you can check out!
Conclusion: Coursera vs LinkedIn Learning (2023)
That brings us to the end of our comparision!
While you can use Coursera if you want to make your resume look better, you can opt for LinkedIn Learning for upskilling and getting experience with the real-world experts!
Make sure to go through the whole article before deciding on the best online learning method for yourself.
FAQs
Do I have to connect with my LinkedIn profile?
It is not necessary to connect with the Linkedin profile. But it is always a better option to connect your learning profile with your Linkedin profile.
What happens at the end of my free trial?
Your membership will be renewed at the end of your free trial. During the trial period, you can cancel your plan at any time.
How many certificates can I earn with Coursera Plus?
With Coursera plus, you can get as many certificates as you want. But before that, you have to complete each course.
What can I do with my certificates once I've earned them?
You can attach your newly earned abilities to your CV., which will give weight to your resume and will help to create a good impression on recruiters.
Latest posts by Ryan Harris
(see all)