Coursera is one of the most recommended learning platforms – It's true, though!
In this article, I have listed the confusing pricing of Coursera in simple words so that you can find it easy to understand. I also suggested ways to use Coursera for free.
I ensured to answer several questions like, "Can I buy a single course in Coursera? How much is Coursera Plus? Is the degree course expensive on Coursera? Is Coursera free?
I got you covered, from Coursera pricing to refund policy to purchasing options.
Well, to get detailed insights on Coursera, check our detailed Coursera Review here.
Coursera Cost: Explained
Although Coursera offers courses like many other online learning platforms, it is certainly not easy to comprehend its pricing structure. In fact, even I got confused the first time I checked the pricing plans laid down by Coursera.
Hence, I ensured to make it clear and precise so that you do not end up in a similar situation while purchasing a course in Coursera or simply viewing Coursera's pricing.
Starting, let me highlight that Coursera offers courses and learning materials in different forms, categories, and programs. I mean, you can literally get a degree!
Free Courses
Yes – Despite offering paid courses and programs, you can take free courses on Coursera without paying a single penny. In fact, Coursera offers up to 1800 courses for free. In case you want a certificate, you can pay for it individually and get it.
There is another option to take courses for free on Coursera – Audit a course.
In specializations, you can find individual course units with the option of auditing. You do not have to pay for a course if you audit a course. Consider it as a free trial.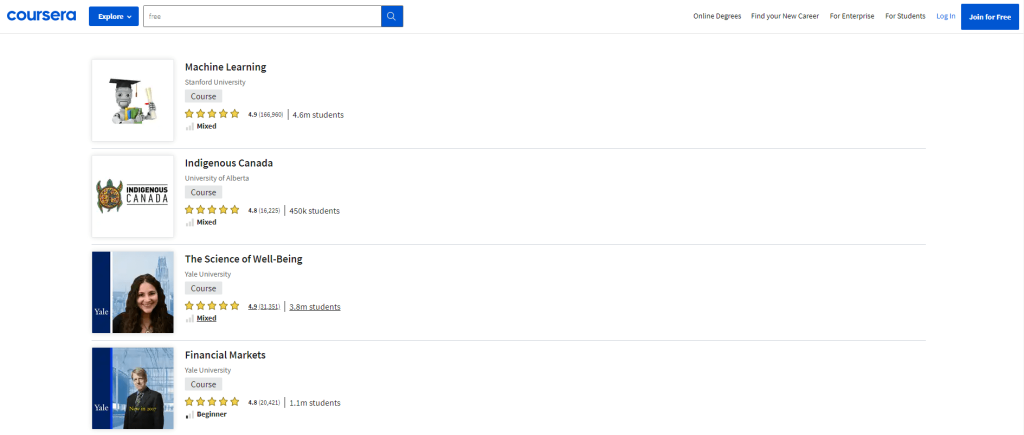 If you like the course you audited, you can purchase the course later. Still, the pricing for a certificate starts from $49 onwards. Additionally, if you wish to explore the paid courses for free, the free trial in Coursera lets you access everything.
You can use Coursera for free in three ways – Free courses, Audit a course, and free trial.
Is It Necessary to Purchase the Course in Coursera?
Although it is more of a personal choice, I can suggest some valid points why it is necessary to purchase a course on Coursera if you are learning a new skill:
You can make use of the entire learning experience and not get stuck in a specific module, resulting in incomplete progress.
You can actually get a certificate that might boost your resume and eventually land you a potential job.
You will get the opportunity to access study materials, projects, and assignments that might enhance your learning better.
In contrast, if you do not purchase the course, you will get nothing. That is why it is highly recommended to purchase a course. You can consider it as an investment!
Coursera Plus
Coursera Plus is the only subscription module that Coursera offers. You can either pay $59 per month or $399 in a single payment as an annual subscription.
Purchasing Coursera Plus will unlock almost everything in Coursera, including accredited certificates on completion, study materials, and fun assignments.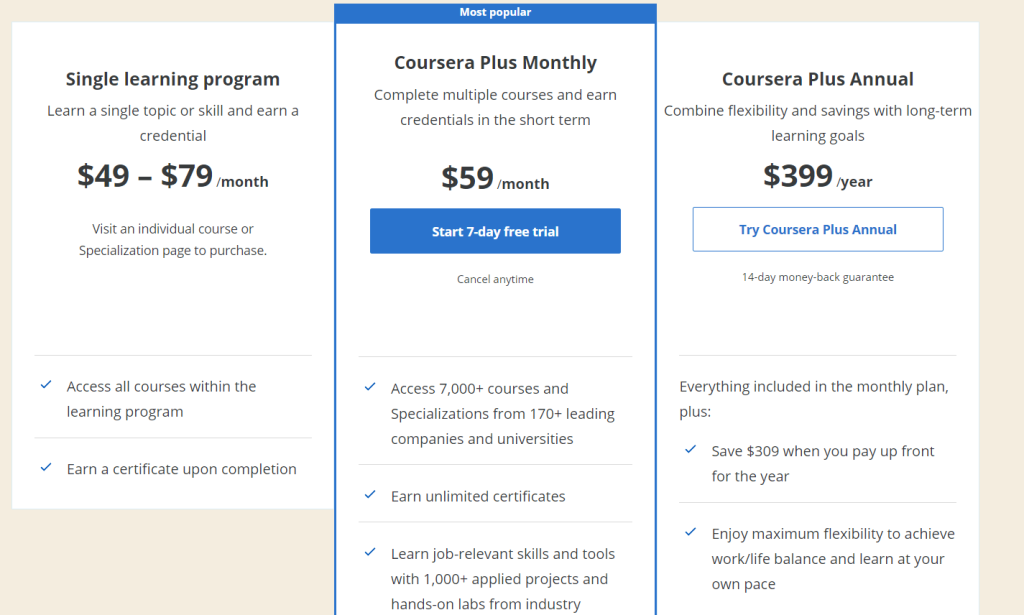 Still, Coursera Plus has a catch wherein the monthly subscription gives a 7-day free trial, whereas the annual subscription only gives a 14-day money-back guarantee.
In simple words, you can access specializations, guided projects, paid courses, and professional certificates in Coursera if you purchase Coursera Plus. Yet, the degree programs are excluded from Coursera Plus since it involves huge investment. We also have an exclusive Coursera Plus discount which can help you save a few bucks on your purchase.
Coursera For Business
Like many other learning platforms, Coursera also has a dedicated business module that an employer can purchase to educate their employees with compelling courses.
Still, Coursera for Business is categorized into two options: Coursera for Teams and Coursera for Enterprise, wherein the team plan is suitable for relatively smaller agencies or firms. In contrast, the enterprise is best for big companies.
Coursera for Business has pricing similar to Coursera Plus, which is at $399 that unlocks quite benefits, including 1900+ Guided Projects, 100+ SkillSets, and complete access to 5000+ courses in Coursera. The enterprise plan has custom pricing.

You need to contact the Coursera team to help with the enterprise pricing. Yet, the enterprise unlocks exclusive benefits like curating a course according to a job's need, a dedicated account managing setting, in-depth metrics, and analytics.
Degree Programs
Coursera has teamed up with top universities to provide degrees virtually, and it might cost anywhere from $10,000 to $35,000. Still, not every degree program in Coursera costs the same as it varies according to the desired subject.
The curriculum followed in the degree programs offered by Coursera can take up to 2 to 4 years to complete. You will receive the degree only on successful completion.
If you are not satisfied, you can request a refund, but you cannot claim it from Coursera directly. Instead, you are advised to contact the degree provider.
The degree programs in Coursera are led by the same professors who handle top universities like Harvard, so the course curriculum and teaching style are the same. Yet, the teaching medium is different, which means you take in online.
Regarding the teaching format, you will get live instructions in a community forum, and the tutors will resolve your doubts if there are any. Coursera has got your back!
You get a plethora of options and categories to choose a degree program in Coursera, including marketing, data analytics, web development, Business, etc.
I would say that there are 33+ degree programs in Coursera.
Coursera MasterTrack
As of now, Coursera offers 20+ in data science, computer science, social science, and business design. All the MasterTracks in Coursera can take up to 7 months to complete. The starting price of MasterTracks is from $2000 onwards.
The MasterTrack covers everything from live instructions to interactive teamwork to real-world projects to the community forum. Getting the certificate wraps up your Master's degree in Coursera.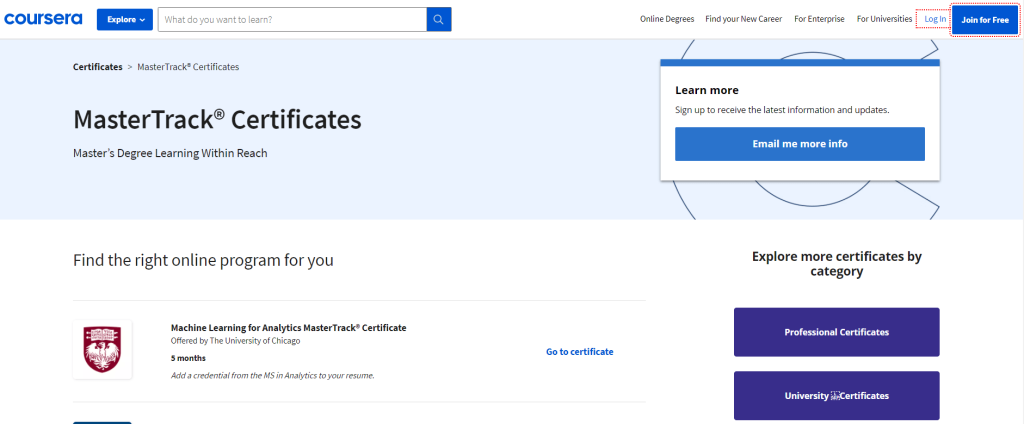 Still, Coursera likes to call it as MasterTrack program. Regarding payments, Coursera lets you either purchase the MasterTrack program in a single payment or four-quarter payments in a year, which might benefit certain students.
Additionally, Coursera gives a 14-day money-back guarantee, but if you'd like to request a refund, then you are advised to contact the course provider directly.
Although you are taking the program in Coursera, it is sponsored by other education companies, so Coursera might not be able to help you out with the refund policy.
Guided Projects & Specializations
As the name suggests, the Guided Projects in Coursera are structured in a way that guides you to become job-ready so that you can land a potential job after the course. All the Guided Projects courses help you become a pro in a field.
In Guided Projects, the instructor will teach you step-by-step from scratch so that you can comprehend the subject at ease with no confusion. To get an immersive learning experience, Coursera allows you to take up a shared screen with the tutor.
Coursera offers 2,300 Guided Projects to pick the one you want and get a hands-on learning experience while working on the project simultaneously.
The Guided Projects in Coursera mostly cover topics like Business and technology. If you wonder about the duration, the Guided Projects can take up to 2 hours.
You can purchase the Guided Projects from $9.99 onwards regarding the pricing.
Coursera Financial Aid:
Coursera provides a fruitful option of financial aid, which is basically a scholarship for students who cannot afford to purchase degree programs or certificates.
It is a great initiative by the Coursera team to make education accessible for all students. You can apply for financial aid only through a computer or a laptop.
Although not all courses in Coursera offer financial aid, you can look out for financial aid next to the enrollment option. If the course provides financial aid, you might see "Financial aid is available," which means you can apply for it.
Still, you might find to fill out an application form for financial aid by listing why you are requesting financial aid in Coursera.
Coursera Might Ask Questions like:
Why do you need financial aid?
What is your educational background?
Can you share your parents' income details?
How do you find the specific course interesting?
You have to be precise in answering the questions. Although you might not get the same questions, it is somewhat like the ones I have mentioned. You should ensure that you are not writing any fluff and are authentic towards each answer you give.
Upon applying for financial aid in Coursera, it might take less than 20 days for the Coursera team to review and reply. If you didn't receive financial aid from Coursera, you will report what went wrong and can resubmit again.
Let me recall that you cannot find financial aid in all the courses in Coursera.
Coursera Refund Policy
Since the payment options and subscriptions in Coursera vary from one another, it also reflects on the refund policy, so let me quickly explain it for you.
Coursera Plus (Monthly)
The Coursera monthly subscriptions come with a 7-day free trial, and so if you exceed the period, you will be charged for the recurring period. Yet, if you prefer to receive a certificate, you must pay for it individually. You can only cancel the trial.
Coursera Plus (Annual)
There is a huge difference between the monthly subscription and annual subscription in Coursera, wherein you do have to pay for the certificates individually in Coursera Plus annual subscription and get an extended trial period (14 days). If you'd like to request a refund, you must do it within the first 14 days of purchase.
One-Time Purchase
Even the individual purchase options in Coursera offer a 14-day free trial and follow the same protocol as the Coursera Plus annual subscription, wherein you need to request a refund within the first 14 days of purchase. Coursera does not accept later.
Degree and MasterTrack Programs
Although Coursera provides degree programs, it collaborates with various universities outside Coursera. So if you'd like a refund for some reason, you need to contact the course provider who had sponsored the particular program.
Guided Projects
Unfortunately, you cannot request a refund in any Guided Projects in Coursera. Considering the affordable pricing and learning module, you will like the Guided Projects in Coursera because it will eventually mold you into a skilled person.
Purchasing in Coursera (Payment)
Lastly, let me give a heads-up on the payment methods followed in Coursera. You can either pay through PayPal or any credit card like JCB, Discover, VISA, or MasterCard.
If a course is priced in American dollars, you can also use American Express to buy it.
Is Coursera Worth It?
Coursera offers great value for money because all the courses available on Coursera are from prestigious universities like Yale, Princeton, Imperial College Landon, and some companies like Microsoft, Google, and Meta. All the instructors who teach at Coursera are renowned experts in their fields, some of whom are famous university teachers. Students have rated an average of 4.7 out of 5 Coursera courses.
It is one of the few online learning platforms that teach you real-life skills which you can use to land a job. Many students have said that taking a course from Coursera gave them a boost in their careers. You can also pursue career-oriented degrees and specializations on Coursera, which you would normally do at universities. So I would say it is definitely worth investing in Coursera because you're investing in your future.
Related Read:
Final Thoughts On Coursera Cost (2023)
Coursera is one of the best options when it comes to e-learning, with options like guided projects, specializations, and degree programs. Coursera is the best bet!
Although I found it very interesting, an online platform called edX has similar features and offers the same benefits as financial aid and auditing options. If you are in for Coursera yet still confused about it, you can check out – edX Vs Coursera.
Regarding course quality and instructors' teaching, Coursera ensures to provides one of the finest learning experiences. In fact, Coursera provides hands-on projects.
With a whopping 7000+ courses in different categories, you are guaranteed to find a course that might help upscale your skill or build a job-ready skill set. To wrap up the article, I'd suggest trying the free trial on Coursera and exploring it right away!
FAQs On Coursera
Is Coursera free?
Coursera is not entirely free, but you can take courses for free Coursera. Still, you should pay to receive certificates.
Is it possible to take a Coursera degree using a free trial?
Unfortunately, it is impossible to take the degree programs using any free trial options on Coursera.
How much is Coursera Plus?
You can either buy Coursera Plus as a monthly subscription at $59/m or an annual subscription at $399 in a single payment.
Is there financial aid available for Coursera courses?
Yes, financial aid is available for most Coursera courses. You can find the financial aid option on the course page. To apply for financial aid, you need to fill up where you have to fill up your details like, name, educational background, and financial circumstances. You also need to follow Coursera's code of conduct and honor code to get financial aid.
Can I add my Coursera certificates to my resume?
Yes, you can add Coursera certificates to your resume. After completing the course in the verified track or under the Coursera Plus subscription, you will get a professional certificate that adds a lot of value to your resume.
Does Coursera offer refunds?
There is no refund available on Coursera Plus monthly subscription. But they do have a 14-day refund policy for the annual subscription. As for the individual courses and programs, the refund process is really complicated.
Latest posts by Ryan Harris
(see all)