You might have considered Coursera to acquire in-demand skills, but is it worth it?
I used Coursera to take some courses, and the experience was immaculate. Later, I thought of writing a detailed review by sharing my experience with Coursera.
In this article, you will learn everything about Coursera, how Coursera works, the benefits of using Coursera, the pros & cons of Coursera, and its pricing.
In fact, I also suggest some popular Coursera courses give a head start for you.
Coursera Review: In A Nutshell (2023)
Coursera is a one-of-a-kind learning platform that brings quality education from prestigious institutions at a slashed price and allows you to take compelling in-demand courses while casually sipping coffee on your comfortable couch.
It is all about getting closer to your dream. Coursera assures to deliver high-quality content in 7000+ degree programs and courses. Hold up, did you hear degree?
YES! Coursera gives accredited certificates and degrees to potential students who have successfully completed the desired program in Coursera. That's big news.
Regarding quality in Coursera, let me recall that you are getting the course curriculum directly from top-ranking universities like Standford and Yale.
In fact, Coursera has a plethora of courses in the specialization which means even the core subjects are covered in different modules, and you can learn them easily.

To be precise, I'd say that you can find guided projects to specializations to degree programs under a single platform – Coursera, along with accredited certificates.
Instead of caging up all the courses, Coursera broke its gates and allowed you to take a variety of compelling courses for free without paying a single penny.
During my research on Coursera, I found that even top fortune companies trusted Coursera and recommended it to their employees to upskill their abilities. As an expansion, Coursera for Business is also available for enterprises and companies.
In case you are caught up with a lesser crowd like a team or a group of students, Coursera for Teams and Coursera for Campus are great options for you to try!
Have you ever heard of getting a scholarship on an online program?
Well, Coursera is the first to offer financial assistance to dedicated students who cannot afford a degree.
Who Are the Instructors in Coursera?
It is evident that the instructors in the desired learning platform are its backbone and the ultimate reason for the platform's success. Regarding Coursera, the instructors are experts, executives, authors, and professional workers from top companies. 
Earlier I mentioned that Coursera has teamed up with top-ranking colleges, so professors from prominent universities are also handling the courses in Coursera.
Isn't that convincing? I mean, you are basically getting the learning experience that you'd get from Harvard at the comfort of your home via online-formatted content.
Each instructor brings remarkable things to the table, and you will get insightful tips throughout the desired course module, which is a win-win situation.
In fact, each instructor in Coursera goes through a strict review process as an application and only gets officially selected as an instructor. If Coursera finds the instructor producing poor quality, the instructor might get rejected instantly.
In terms of course and instructor quality, Coursera is very promising and trustable!
The Working of Coursera (Explained)
Take a deep breath. Coursera has a lot to offer in multiple ways you cannot think of.
No, I am not bragging. Let me remind you that you can:
Access Coursera for free by taking up selective courses
Buy Coursera Plus (at $399) and access all the courses on the platform
Pay for a verified track ($29-$99) and get certified for each course in Coursera
Enroll in several degree programs called MasterTracks and earn a degree
Coursera ensured to smoothen the entire process of joining one of the biggest online learning platforms and made easy-to-navigate features within its platform.
To kick start your journey with Coursera, you have to log in or sign up for free, and you are already provided with a plethora of free introductory courses.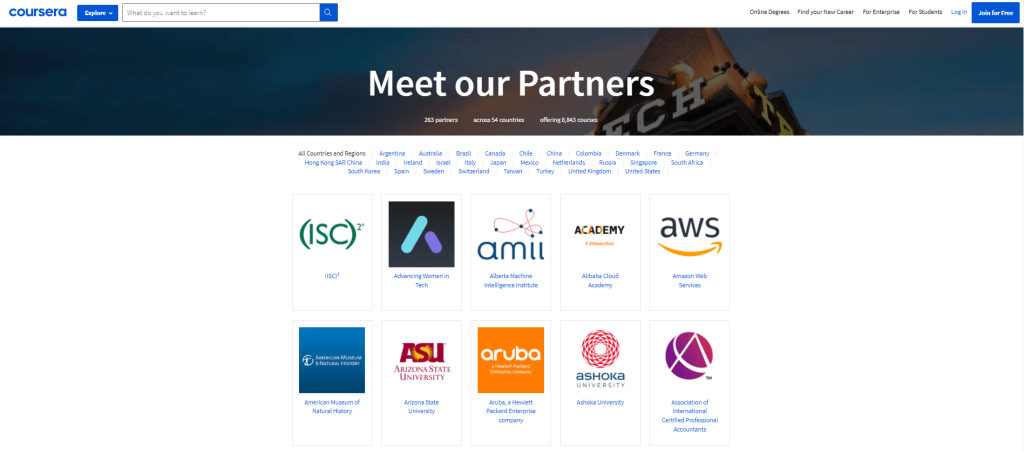 YES – FREE COURSES! You might see courses on IT, computer science, marketing, business, science, and many more in-demand skill-developing courses.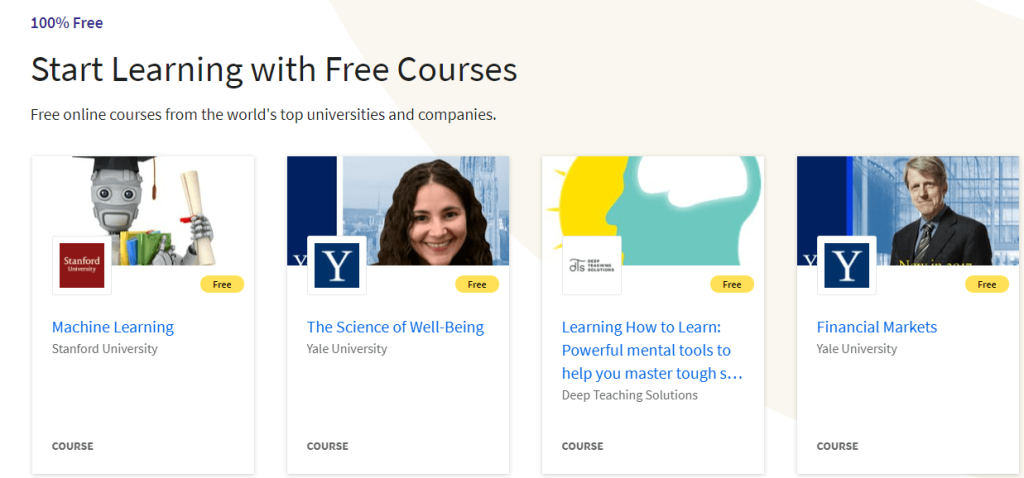 It is your call. You can either choose from the listed courses in Coursera for free.
Still, if you want an accredited certificate to level up your resume and get a potential job, opting for a verified track is recommended since only verified tracks offer certificates in Coursera. Note that accredited certificates differ from the regular certificates you get from competitors. Meaning, the value is HUGE.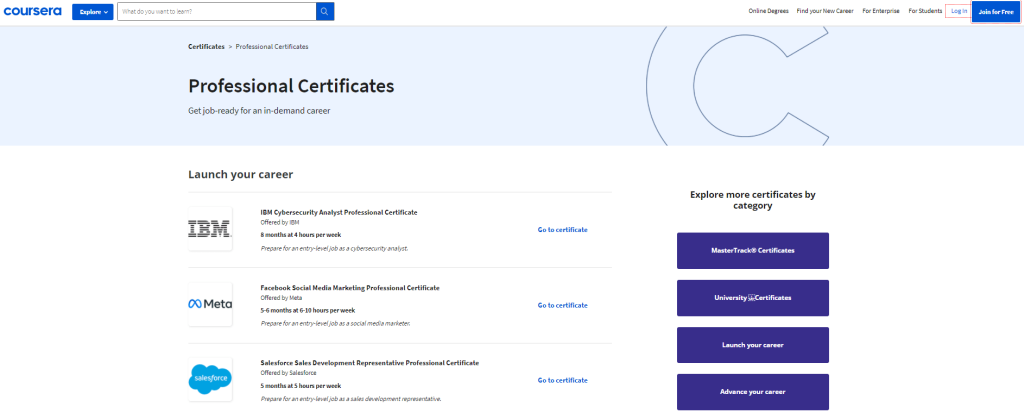 In fact, the courses that you buy in Coursera give lifetime access which means you can come back to those courses whenever you feel like it, and Coursera might help.
Let's say you want to take multiple courses in each category in Coursera but do not have the budget for it. Don't worry. That's where Coursera Plus comes in handy.
The Coursera Plus is a subscription service that you can pay in split amount as an annual subscription and get access to everything that Coursera has to offer. Unfortunately, you might not get access to one thing with Coursera Plus.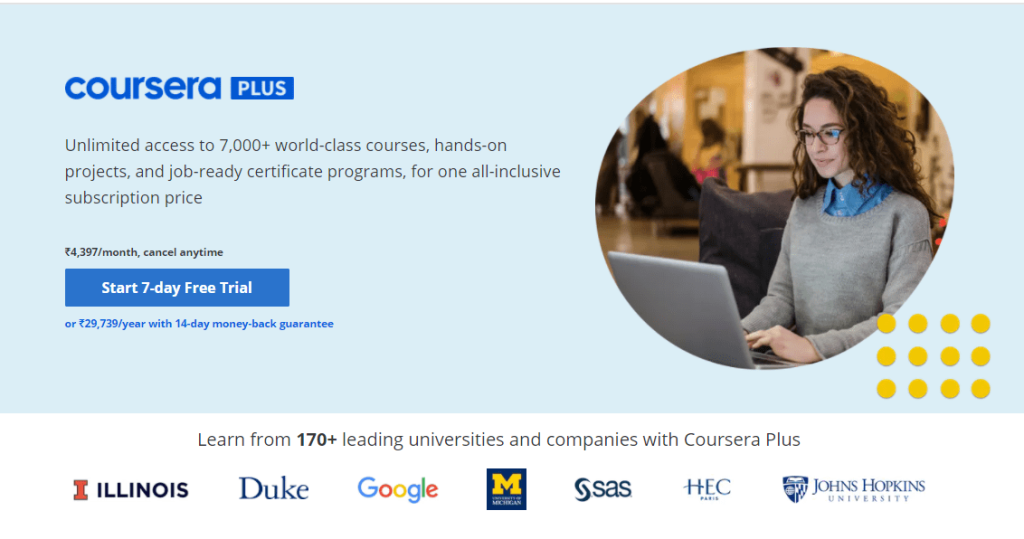 Any guesses? Okay. Let me tell you that the degree programs in Coursera have a separate evaluation and pricing, which means you are most likely to pay more for the degree programs called as MasterTracks in Coursera to access and get the degree.
The only exception is that Coursera Plus gives instant access to all the courses, which means you do not have a deadline or an expiry date, and so as long as the subscription is active, you can enjoy all the benefits from Coursera at ease.
Plus, the self-paced learning modules are well-structured and can be accessed even if you are on the go and do not want to miss out on your learning. The explanation in each course is in-depth, allowing you to fully understand it.
To wrap up with the working of Coursera, I'd say that the entire process of acquiring a new in-demand skill from scratch to becoming a pro at it, Coursera does a fantastic job, and it deserves all the hype. The fact that it gives lifetime access is brilliant.
Now that I have explained how Coursera works, let me quickly highlight everything that you will get from each service that Coursera offers. Keep reading!
What Type of Courses is Available on Coursera in 2023?
Coursera offers five different types of courses. You can also take any individual course, pursue a full degree, choose a specialization, or choose to pursue a professional certificate. All of these courses vary in difficulty, cost, and length. If you are planning to make your career in a particular skill, then there is a possibility you will find a course for that on Coursera. You can also take long courses to build your career in fields like AI, IT, and cloud engineering.
Data Science
Business
Computer Science
Personal Development
Information Technology
Language and Learning
Physical Science and Engineering
Coursera also offers courses for business organizations. If you are a business entity and want to train your employees then you will most likely find a course for that on Coursera. There are loads of opportunities available on Coursera that can help you build your career from the ground up. You can get access to most courses of Coursera with the Coursera plus subscription. For online degree programs, you have to pay extra.
Coursera: Guided Projects, Specialization & Degrees
The free courses give high-quality content with resourceful information.
The guided projects in Coursera allow you to get a hands-on learning experience wherein Coursera will provide you with a split screen that allows you to work and learn simultaneously.
In Coursera, such courses take only 2-12 hours maximum to complete and get certified in Coursera, whereas the other programs might demand a more extended period.
The specializations in Coursera will give hands-on projects, helpful assignments, and practical tasks to get going with learning along with an accredited certificate.
The professional certificates act similar to specialization, but it consists of in-demand courses that might help in fetching a high-paying job. Due to the program's nature, you might have to spend 3-6 months on these programs.
The degree programs are priced at a lumpsum amount of $10,000-$25,000 with no additional cost, which means you basically get a college education in a budget.
Still, the degree programs called MasterTracks might demand at least 6 months, and so you need to dedicate your time and energy to learning the desired course.
Only then can you successfully complete the program and get an actual degree virtually. Who knows? You might also get a job offer instantly on completion.
Have your fingers crossed and get going with the learning in Coursera. Do I recommend Coursera yet? Continue reading because I got a lot for you.
Most Recommended Courses In Coursera: (My Experience)
Coursera is all cool, but how are the popular courses in its platform?
Are they really worth it? Or did Coursera use some marketing gimmicks?

I took the most recommended courses in Coursera as a task to share my honest Coursera experience with you so that it might help in choosing Coursera or not.
Facebook Social Media Marketing (Meta – formerly Facebook)
Google Ads for Beginners (Coursera Original)
The Science of Well-Being (Yale University)
Being a beginner in marketing, the course unlocked various aspects in leveraging social media, attracting a potential audience, and building a following.
I got the opportunity to take up six lessons on different topics relating to the subject and a hands-on project that allowed me to get a practical learning experience. Daniel Kob, Meta, taught strategic ways to use Facebook as a marketing tool.

On successfully completing the course in Coursera, I got certified by Coursera and Facebook Digital Marketing Associate. The course is suitable for new marketeers.
Google Ads for Beginners
An extraordinary learning experience with Coursera. I got a split-screen option where I got to learn and apply the learning simultaneously by following an instructive video.
I mean, which learning platform does it? Only Coursera does. 10+ brownie points!
The course was led by Ishita Sinha, a marketing head at Coursera. She narrowed everything about using Google ads from creating new Google ads accounts to managing your Google ads dashboard to monetizing successfully.
In fact, I learned various marketing strategies and product positioning. So I would recommend this course for literally anyone who is trying to leverage Google ads and start making money using social media and even students pursuing marketing.
NOTE: This course is Original, which means it is sponsored by Coursera.
The Science of Well-Being
As the name suggests, the course talks about our well-being. Although I took this course for fun and to understand the working of Coursera, it was quite intriguing.
There was a whopping of 26 lessons, but it was short and digestible. Along with the course, I got fun quizzes to get going and an accredited certificate on completion.
Since it is a free course, I'd suggest this specific course for anyone who is trying to be productive and wants to rethink the aspects that make them happy. Note that if you want a certificate from Yale University, you might have to buy the course.
Do You get Certificates on Completion in Coursera?
Anything that you do must reward you somehow, primarily if you invest something in money. Likewise, yes – Coursera offers certificates on completion.
Still, there is a twist to the courses offered by Coursera, which means all the certificates are accredited and holds value in applying for job opportunities.
In fact, students who are reaching out to big companies for internships can benefit from Coursera because they can take a short course and get an accredited certificate that might potentially result in getting accepted by the company.
Companies like Google and Microsoft have partnered with Coursera to offer courses, which means you easily get certificates recognized by top-ranking companies.
Although Coursera offers certificates, not all courses provide certificates. This is a misconception overlooked by most users. Only the verified track in Coursera, the paid courses, provides certificates on completion. You pay, you receive!
What I liked about Coursera:
Hands-on, Coursera delivers one of the finest learning experiences, and there is no denial in that. To give a heads-up, I am listing some of the things I liked:
Free Courses
Who wouldn't like free stuff or bonuses? Coursera offers many free courses. The emphasis on "many" is real because you get almost 2000 courses for free.
Free courses in Coursera are different and worth taking compared to its competitors because you get high-quality content without any fees.
I admire Coursera because it makes quality content accessible for global users so that anyone who wishes to learn can use Coursera.
You can also access free courses in Coursera to explore the platform, like the quality, structuring of lessons, the duration, and other benefits. Try it out yourself!
Get a Real Degree
How on earth is it possible? I don't know. Ask Coursera, maybe?
Coursera is one among the very few online learning platforms that allows students or literally anyone to get an actual degree virtually by enrolling in a masters' program.
The degree programs are well-curated with an adequate curriculum so that the students do not miss out on the potential learning that they might get in college.
In terms of quality and accessibility, Coursera is promising and safe to use.
Financial Assistance
Again. Coursera stands out by offering financial aid to dedicated students.
Most young adults cannot fully complete their education due to expensive fees, so Coursera has taken the initiative to give financial assistance to its users.
The procedure is very simple. You need to fill out an application which the Coursera Team will review. Upon confirmation, you will receive financial aid.
This is a great opportunity for students who could not pursue their dreams due to financial crises at home. Additionally, it encourages people to get a qualified degree.
Downloadable Options
This is my favorite feature in Coursera since it does not require an internet connection and so it was convenient for me to access the courses anytime.
For instance, even if there is no signal and an unstable internet connection, you can download the courses to avoid unnecessary lagging and buffering.
As a follow-up, let me remind you that Coursera also gives lifetime access.
What I Think can be Improved In Coursera:
Although I had a great time using Coursera, I noticed a few downsides which might seem like a problem for some users and so I decided to address them below:
No Constant Quality
In my experience with Coursera, the quality was noticeably different in each course. I am not claiming that the quality was bad, only the indifference was concerning.
Still, the quality was not constant throughout the platform. For instance, if you like a specific course in Coursera, you cannot expect the same curriculum in the next.
I don't think it might be a problem for all the users, yet it might not be very pleasant.
Unclear Pricing
To be precise, there is no fight over the pricing structure, yet the pricing that differs from one course to the other is not transparent and might lead to confusion.
I witnessed this issue myself while searching for the pricing of some courses in Coursera. Still, after so long, I had to open different tabs and figure out the price.
If Coursera could readily label the pricing on all the courses without the user manually going to each course, it would be helpful and save time.
Who is Most likely Suitable for Coursera?
Coursera ensured that its platform was accessible for users of all difficulty levels, especially beginners who might be struggling with a specific subject or topic.
After carefully analyzing the benefits that Coursera offers, I was able to find out the target audience of Coursera and who might be interested in Coursera:
Students who'd like to learn compelling courses from global experts.
People looking for job opportunities can learn in-demand courses.
A person who wants to get an accredited certificate for an internship.
Anyone trying to get a degree on a specific stream virtually.
Honestly, despite the above-listed people, I can say that Coursera is suggested to anyone because of the simplified curriculum and engaging lessons.
In fact, you are getting certificates that can literally boost up your resume like a rocket. Let me also add that some certificates are recognized by Google.
If you want to claim that you studied from Google proudly, this is an easy way!
Coursera Review: Pros & Cons
Here we have mentioned the pros & cons of using Coursera.
Pros
Coursera allows you to audit almost all the courses for free. You will get access to all the course material for a limited time.
The courses available on Coursera are divided into various categories like business, design, computer science, health, personal development, etc.
Coursera offers different types of course options, such as regular courses, specializations, degree programs, and master track courses.
There is a seven-day free trial available on the Coursera plus subscription, which gives you access to the entire library.
After completing any course on Coursera, you will get a professional certificate. With your Coursera Plus subscription, you can get as many certificates as possible.
Cons
Courses disappear as soon as you audit them, and you can't access their content again.
MasterTrack programs of Coursera are expensive.
Pricing: Is Coursera Expensive?
You have read everything about Coursera by now, yet the most vital aspect that finalizes your call to choose the best learning platform has not been explained.
Without further ado, let me quickly jot the pricing structure of Coursera now:
I'll make it simple for you. You can either access Coursera by auditing for a free introductory course or buy a verified track worth $25-$99 and get certified.
You cannot get certificates on completion in the free courses offered by Coursera.
Coursera For Business
Coursera also offers a custom-made plan for businesses apart from individual learning plans. This plan is for large enterprises with hundreds of employees. If you have a small team, then you can simply opt for Coursera for teams plan. In the Coursera for business plan, you will get unlimited access to all Coursera courses, team collaboration, skill metrics, and user analytics. With this plan, you can rapidly enforce training for in-demand skills, track the progress of your employees, and get hands-on training.
Coursera Plus
Still, you can purchase a subscription model named Coursera Plus by paying $399/- annually. Using Coursera Plus, you can unlock the entire course library in Coursera and access everything on the platform without any hassles.
Also, you need to know that Coursera Plus does not include the degree programs since the degree programs in Coursera can cost anywhere from $10,000-$25,000.
Coursera Refund Policy
Oh god. Coursera also has a confusing refund policy that varies accordingly.
Don't worry. I read the entire policy and understood something about it. The Coursera refund policy states that the monthly subscription has to be met within 7-days.
In contrast, you can request a Coursera Plus refund within the first 14 days of purchase. For the guided projects in Coursera, there are no refunds.
If you request a refund for the degree programs, the respective course provider will contact the desired student and handle it personally.
Alternatives to Coursera:
Not everyone might like Coursera for apparent reasons, and it is fair. Still, if you are on the quest to find the best learning platform online, I have solid alternatives for you.
In fact, I took some courses on the listed platforms as well and so you can trust me:
edX vs Coursera
Well, we have already done a detailed edX vs Coursera comparison here.
In the quest to find the most suitable platform, I noticed that edX offered similar features and benefits to Coursera, and I was stunned. Like, you can audit courses for free, pay and get accredited certificates, and receive financial aid.
Related Read: Check our detailed edX review here.

You can find all such benefits in Coursera. In fact, edX has also partnered with prestigious universities like Harvard, which guarantees a promising course quality.
Unlike Coursera, edX allows you to audit all the courses on its platform for free.
Udemy
Udemy is an excellent choice as an alternative to Coursera. Hear me out.
You get compelling courses on different niches like marketing, technology, business, designing, and even creative niches like baking, painting, and writing. Plus, Udemy breaks the language barrier by offering courses in multiple languages.
In Udemy, anyone can become an instructor and get paid for handling a course.
Related Read: Pluralsight is another alternative to Coursera plus. Check our detailed comparison of Coursera vs Pluralsight.
Final Thoughts On Coursera In 2023: Worth it?
Damn. It has been a rollercoaster in writing such an in-depth article about Coursera.
You better take Coursera, at least for my research and time. Just kidding.
Jokes apart, Coursera is a unique platform that allows you to get a college-led curriculum without actually going to the college or even visiting the campus.
You can literally get an actual degree virtually at the comfort of your home. With courses in different languages, you can find in-demand courses in other languages.
Coursera is a great way to acquire in-demand skills and land a potential job!
Latest posts by Ryan Harris
(see all)