Linkedin Learning was originally Lynda.com, an online site where anyone could learn a new skill after paying a subscription fee. In 2015 Linkedin bought this Massive Open Online Course platform to benefit everyone wanting to learn a new skill in technology, business, and creative fields and renamed it Linkedin Learning.
But since it's a paid plan, everyone wants to know some honest Linkedin Learning reviews before buying it. In this guide, I'll take you through a detailed review, share my personal experience, and tell you whether it's a reliable platform for everyone.
But before we dive into the actual review, let's take a quick look at what Linkedin Learning is. 
Linkedin Learning is one of the most popular online learning platforms with numerous course options. There are no time boundaries, and subscribers can learn a new skill at their own pace. The learning platform is available globally, and it currently has over 800 million users.
What Is Linkedin Learning? What Kind Of Courses Does Linkedin Learning Offer?
Linkedin learning is a MOOC platform to learn about business, creative skills, and technology-related courses from expert professionals. There are over 18,000-course options prepared by industry experts. 
All professional fields have become super competitive in the current times; therefore, it requires constant upskilling. It doesn't matter how many years of experience you have or what your expertise is; you must stay updated with the current trends in any industry.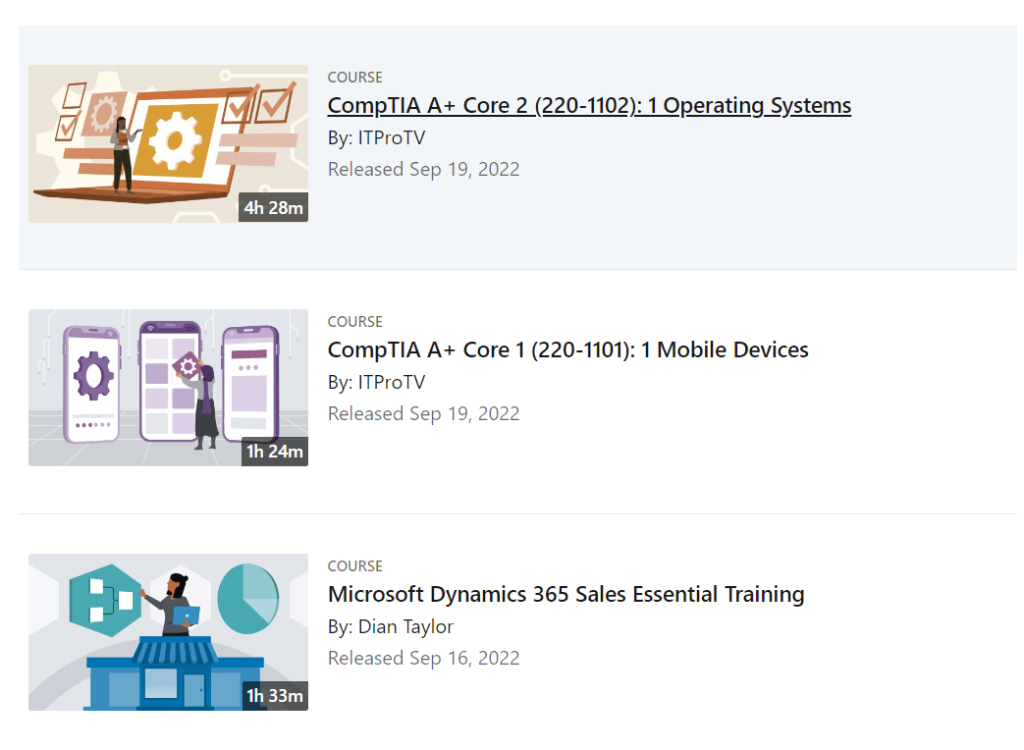 But working and attending physical classes simultaneously isn't a feasible option. This is where Linkedin learning comes into the scene. It's an online learning platform; if you subscribe to it, you'll get access to the entire Linkedin Learning library. 
Some of the Linkedin Learning courses also come with course assessment exercise files, downloadable videos, and video transcripts. Moreover, you can also leave your feedback on courses, and Linkedin tries to improvise them accordingly.
Overall, Linkedin Learning promises to provide you with everything you need to hone your skills in multiple on-demand fields like- introduction to graphic designing, marketing strategy, iOS development, different computer skills, motion graphics, programming languages, cybersecurity awareness, financial literacy, communication skills, and the list continues.
Who Should Opt For Linkedin Learning?
Linkedin Learning is for anyone trying to upskill themselves in the business, technology, and creative fields. All the courses have extensive course material backed by videos, assessment files, quizzes, and more.
Moreover, Linkedin Learning allows you to download the course materials on your computer or smartphone, so you can learn them anytime, anywhere.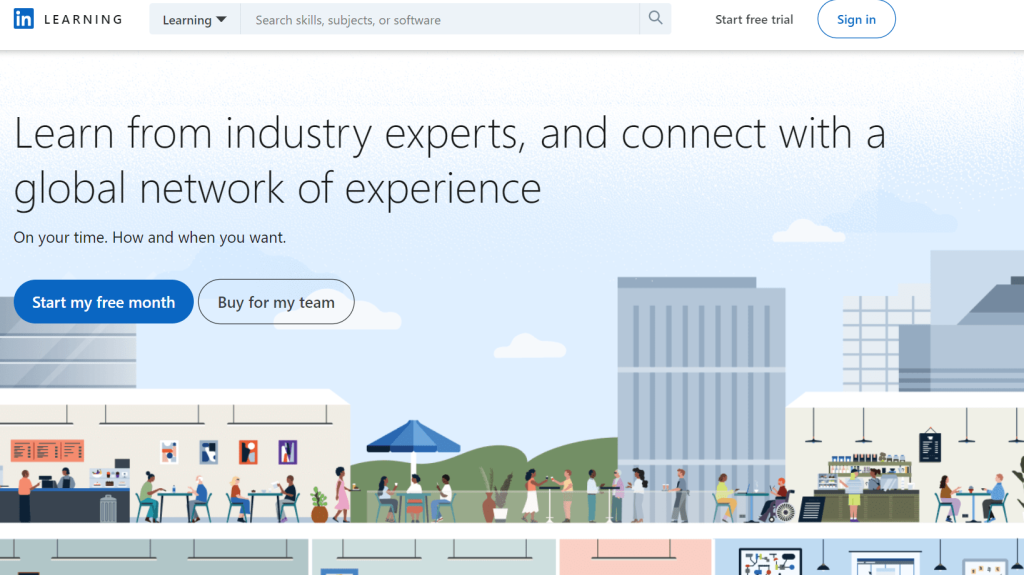 Because of the high-quality course materials, Linkedin Learning has more than 800 million users. If your business or job belongs to any of these fields, Linkedin Learning can actually be a great platform to learn from.
Plus, after you complete your course, Linkedin gives you a course certificate that you can upload to your Linkedin profile and help you get recommendations based on your skill.
Also, the video content of the course is available in multiple languages apart from English- French, German, Japanese, Chinese, Portuguese, and Spanish.
Apart from individual plans, Linkedin Learning also has plans for organizations or small teams. The team learning plan is for smaller groups of less than 20 people, and the organization plan is for larger groups of more than 20 people.
Therefore, company owners with small or large groups can buy a collective course to help upskill their employees.
I have also used Linkedin Learning to learn marketing strategies and have found positive outcomes. I'll share my personal experience of Linkedin Learning in the coming sections more extensively.
Linkedin Learning Course Pricings Explained (2023)
I know you all are waiting to know how much Linkedin Learning courses cost. Linkedin Learning for individuals has two plans- monthly and annually. Here is the pricing for both plans.
Linkedin Learning For Individuals
| | |
| --- | --- |
| Linkedin Learning Monthly Plan | Linkedin Learning Annual Plan |
| $39.99/ per month = $479.88 annually (with a one-month free subscription) | $26.99/ per month =$323.88 annually (with a one-month free subscription) |
Linkedin will remind you seven days before your free trial ends, and if you think the course is not benefitting, you can cancel your subscription. You won't be charged anything till your one-month free trial ends.

If you want to take more than a couple of courses, I think the annual plan will be best for you. The yearly plan is cheaper, and you'll save more than 150 dollars by opting for the annual plan. Moreover, if you have a hectic schedule and can't dedicate a lot of time to everyday learning, the annual plan will help you learn at your own pace.
When you subscribe for any Linkedin Learning paid plans, you get-
Unlimited library access to 18000 plus courses.
You can access short videos, in-depth learning material, offline viewing of the materials, etc.
Linkedin will recommend personalized courses based on your interests, job, or profession.
To help you with the revision, you get exercise files and quizzes.
If you take the course, you also get access to Linkedin premium, where you will find job and salary insights, InMail credits, profile viewing, and much more.
Lastly, when you finish your courses, Linkedin will give you a Certificate of Completion, which you can add to your Linkedin profile.
But I know not everyone is willing to sign up for the monthly or yearly plan, and for some people, the budget can be a hindrance too. But not to worry, there is another option.
You can go through all the courses and pick the one you want to purchase. Then you have to click on the course, and you'll find the Buy This Course Option. Click on that and provide the details and required and that's it; you can start learning.
The prices for individual courses range from $20 to $40, including taxes, and there is no time limit. You can access the course whenever you want and learn at your own pace.
Another way to access Linkedin Learning is by subscribing to the premium account. If you get Linkedin Premium, you can access their courses. Linkedin premium account prices start at $39.99 per month. This, too, is a great option if you are an active Linkedin user, interact with your connections and want to explore your businesses.
Linkedin Learning For Teams
Now let's talk about the pricing of team plans. There are also two options for Linkedin Learning for teams- one is for smaller teams of less than 20 people, and the other is for organizations with more than 20 people. The following are the prices for both categories-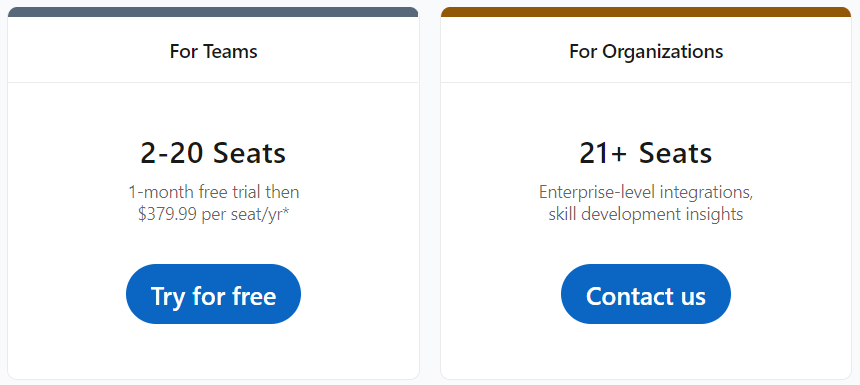 | | |
| --- | --- |
| Pricing for teams 2 to 20 people | Pricing for teams of more than 20 people |
| $379.99 per year & per seat (one-month free trial included) | You have to contact Linkedin Learning to get the custom quote. There isn't a fixed price for Linkedin Learning for organizations |
Is Linkedin Learning Worth Buying in 2023? My Honest Linkedin Learning Experience
I would say Linkedin Learning is worth buying if you are ready to put in the hard work. The materials they provide are of top-notch quality. The instructors in the videos speak clearly and slowly so that we can understand the content better.
Additionally, the video presentations are also well put, with animation in some slides, and some slides were plain texts. I have a Linkedin premium account, so I got access to Linkedin Learning automatically.
Over the course of two years, I had taken multiple courses, but my first course on Linkedin Learning was Marketing Strategy Case Studies From Leading Brands. This is an audio-only course where the instructor, Brian Honigman, taught us the top brands' marketing strategies and how they work.
I learned the secrets behind successful marketing of both B2B and B2C campaigns. And how to limit the risks of losses by launching creative yet successful marketing campaigns that my customers love.
Overall my experience with the marketing course was great. But I found some of the lecturers to be a bit repetitive. And it was an audio-only course with no video presentations; I would have preferred that too.
I work as a growth marketing manager, so I took up some other related courses because I had a premium account. And the content of other courses added up to my knowledge.
If you are interested in learning and expanding your knowledge in your field, you can take the yearly or monthly plan; otherwise, I would suggest you take an individual course. Also, if you use Linkedin as your primary source of expanding your connection and attracting more clients, you can upgrade your account to premium and access the courses.
Linkedin Learning: Pros & Cons
Now that I have told you enough about Linkedin Learning, let's brief them down on the pros and cons. Here they are-
The pros-
Premium quality course materials
Easy to follow
Wide range of course choices
Extremely helpful if you're trying to expand your business
Helpful for learning both soft and hard skills
One month free trial
Allows to download the course materials
The cons-
Course categorizations are confusing at times. For instance, some technical skills are in the creative field instead of technology.
Linkedin Learning does not provide a course certificate from any accredited university like Coursera.
What Other People Have To Say About Linkedin Learning: User Testimonials
Most of you may not want to trust or rely on a single person's review. Therefore, I have asked my colleagues and some of the other Linkedin users I communicate with about their experience with Linkedin Learning. And here is what they have to say-
"For me, Linkedin Learning worked great. My college gave me access to this platform, and I took a personal finance course. I really liked the course material; it was top-notch. I learned lots of new information, but yeah, it is quite expensive"- Mason Smith, Accounting student.
"Linkedin Learning is one of the best platforms for anyone trying to learn and grow their business irrespective of their background. I took multiple courses related to social media and digital marketing and have applied the strategies and saw definite growth."- Maria Jose, Social Media Manager.
"I would say it's good but not great. Maybe I already had some knowledge about the courses I took, so I didn't find a lot of new information, but yes, Linkedin Learning has numerous course options". – Stephen Hennessy, Growth Specialist.
Are There Any Better & Cheaper Substitutes For Linkedin Learning?
Yes, there are cheaper alternatives to Linkedin Learning, but I am not sure whether they are better than Linkedin or not. Before using Linkedin Learning, I learned mostly from YouTube videos and bought some e-books but didn't get any other paid courses.
But I have done some research and found these cheaper alternatives to Linkedin Learning. Make sure to carry your own research as well before signing up for any paid subscriptions.
Udemy (cheaper than Linkedin Learning)
Khan Academy (Free subscription)
Udacity (not a cheap option)
Coursera (not a cheap option)
Skillshare (cheaper than Linkedin Learning)
Masterclass (cheaper than Linkedin Learning)
Related Read:
LinkedIn Learning Review Conclusion (2023)
In my opinion, Linkedin Learning is a reliable platform. It not only helps you acquire new knowledge but also shows the right mark to expand your knowledge and client base. The wide range of courses prepared by industry experts is extremely beneficial and helps us learn from their real-life experiences.
As I mentioned in my review section, I had a great experience with the marketing strategy course, and I am looking forward to the social media course as well. I would give Linkedin Learning a big thumbs up and would recommend it to anyone trying to hone their skills in the mentioned fields.
FAQs
Is there a free trial available for LinkedIn Learning?
Yes, LinkedIn Learning offers a 30-day free trial on their premium version. You can sign up for the free trial using your details, and if you don't want to continue with the subscription after the free trial is over, then cancel the free trial before it expires.
Does LinkedIn Learning offer a mobile app?
Yes, LinkedIn Learning offers a mobile app for iOS and Android devices. You will get all the major features of the browser version in the app.
Does LinkedIn Learning course completion certificate add value to your resume?
Yes, the certificates you receive from LinkedIn Learning add a lot of value to your resume. It shows that you've completed a certain course and learned a new skill that can help you in your career.
Is there a money-back guarantee available on LinkedIn Learning?
No, LinkedIn Learning does not offer any refund on their premium subscription. However, if you buy a single course, then you can ask for a refund within 30 days of purchase.
Can I watch LinkedIn Learning videos offline?
You can watch course lessons offline only if you download them on the mobile app. Other than that, there's no way of watching those videos offline.
Latest posts by Ryan Harris
(see all)