LinkedIn Learning has empowered many individuals to create successful careers through its creative courses. However, some might find it a little heavy on the pocket.
Hence, we have some exclusive LinkedIn Learning discount codes that are perfect for you to grab at an affordable price or even for free!
LinkedIn Learning is a powerful e-learning platform with some exceptional courses for beginners and professionals. So if you are someone who wants to develop software, business, or creative skills, LinkedIn Learning can help you do that.
Today's article is all about LinkedIn Learning discounts and everything they offer. You will also find an easy step-by-step guide on redeeming the discount offers.
With that, let us quickly plunge into the article!
LinkedIn Learning Current Offers (2023)
As of now, LinkedIn Learning is offering its users some exciting offers. To know all about the latest discounts on LinkedIn Learning, read the information below.
LinkedIn Free Learning For College Students
If you are a student, you will probably be caught up with several expenses plus the burden of heavy tuition. However, students do have some advantages to enhance their learning; some universities offer students a free LinkedIn Learning subscription included in their package.
Students who do not have access to LinkedIn Learning can get a direct discount from the official website, as it has student offers that allow you to get their monthly and annual subscriptions.
This discount could significantly help your academic skills and help you in your career future. LinkedIn Learning enables you to learn or improve your technological, business, and creative skills. You can take up as many courses as your want and earn multiple certificates.
LinkedIn Learning 30-day free trial
Even if you are not a university or school student, you can still use LinkedIn learning for free by availing of its 30-day free trial. This trial is for all learners who want to experience the powerful e-learning platform.
Anyone eager to learn can grab this free trial and enhance their skills. Moreover, you can cancel your LinkedIn Learning free trial anytime you want within your trial period, and you will not be charged any cancellation fees.
LinkedIn Learning's 30-day free trial offers you all the perks of its premium subscription, including its massive course catalog, quizzes, assignments, projects, etc. But, unfortunately, you cannot earn any course certificates during the trial period.
Note: This trial is only eligible once a year on a LinkedIn Learning Premium subscription.
How to Redeem LinkedIn Learning Student Discount Offer in 2023
Now that you know all about the current LinkedIn Learning discounts let us find out how you avail them as quickly as possible. Follow the below step-by-step guide to avail LinkedIn Learning's student discount.
Step #1: Visit the official LinkedIn Learning website by clicking HERE.
Step #2: On the home page, click on the 'Sign in' button present in the top right corner of the screen.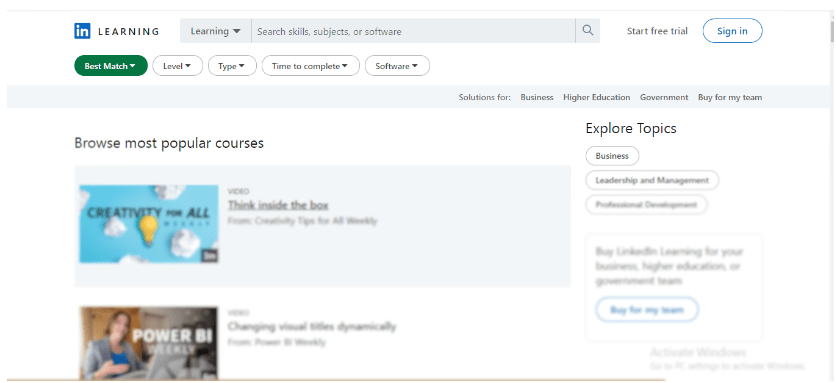 Step #3: If you have an existing account, you can log in, or in you are a new user, signup by clicking on 'Join now. Ensure that you use your school or college email id and enter into LinkedIn Learning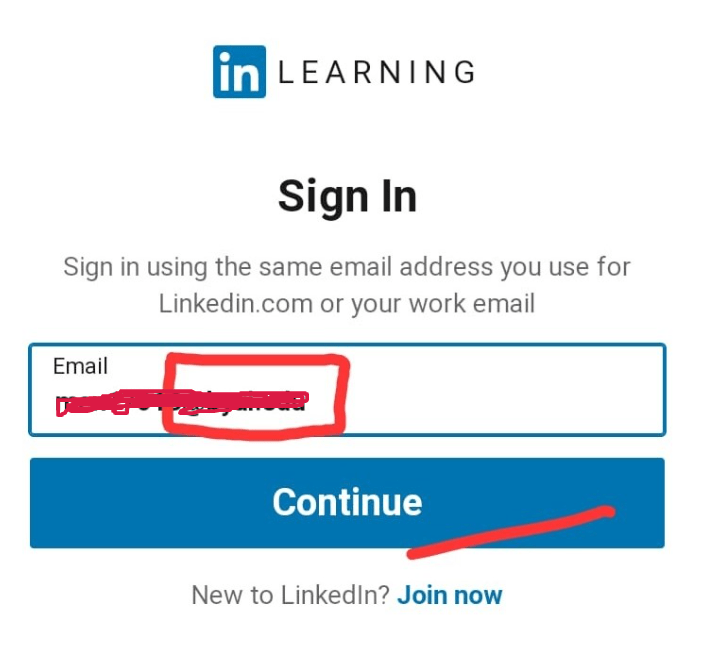 Step #4: Select your university from the given list.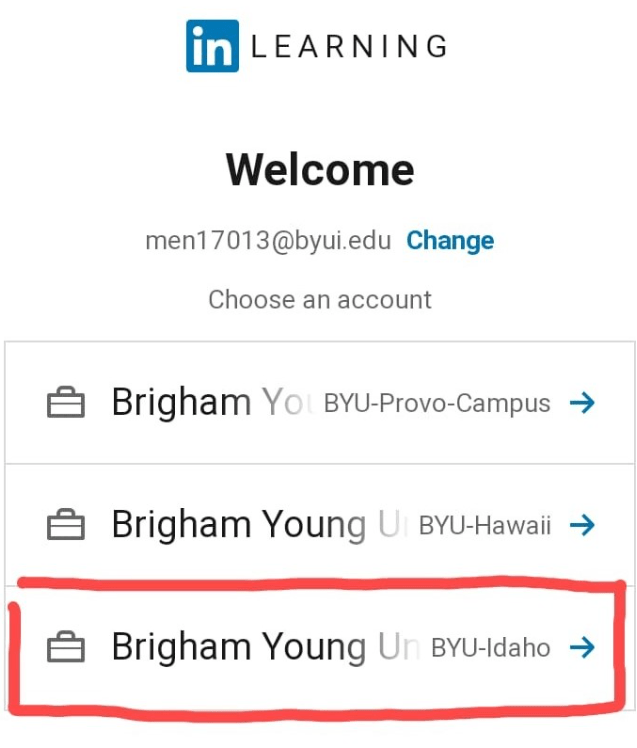 Step #5: Enter your university credentials and click on 'Login.'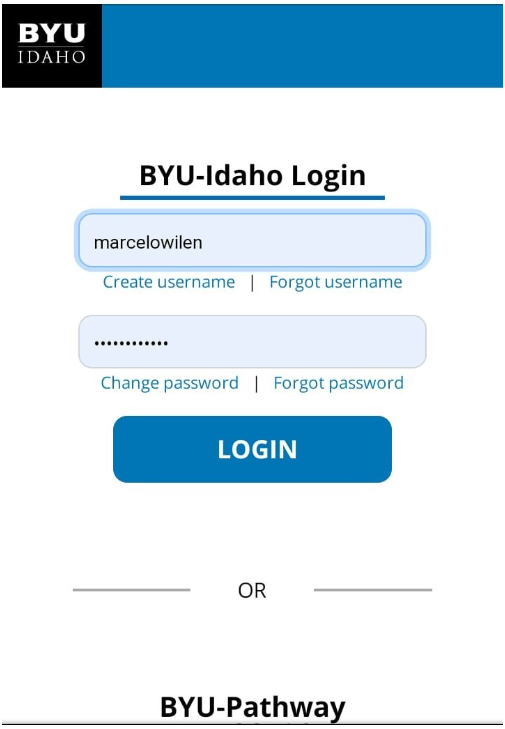 Congratulations! You have availed LinkedIn Learning's student discount. So enjoy your favorite courses for a year free!
How to Avail LinkedIn Learning Free Trial in 2023?
Here comes the next LinkedIn Learning discount offer available for all enthusiastic learners. Without wasting any time, let us go through the elaborated step-by-step guide of the free trial.
Step #1: Head to the official LinkedIn Learning page using our link HERE.
Step #2: Click on the home page's 'Start my free month' button.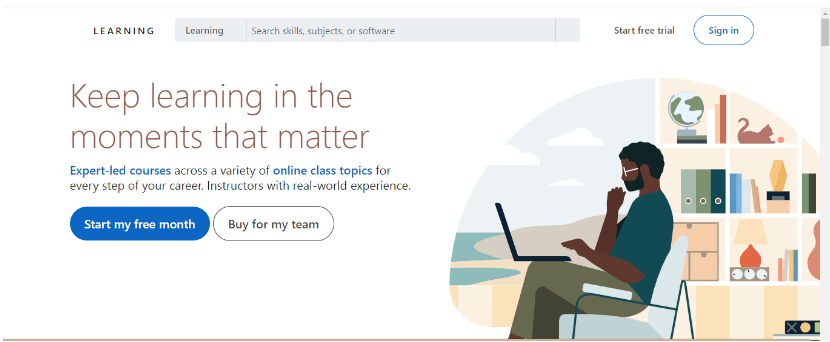 Step #3: Next, LinkedIn Learning will direct you to the pricing page. Here you have to select a plan from their Annual or Monthly subscription and tap on 'Try for free.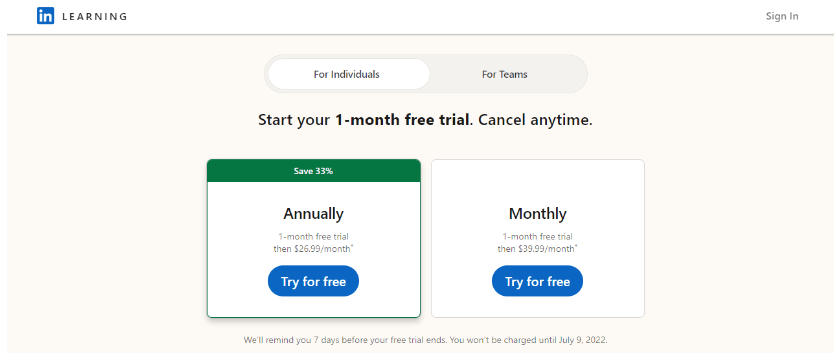 Step #4: Now, fill in all the required details and log in to your LinkedIn account. If you are a new user, you can create your account by clicking on 'Join now.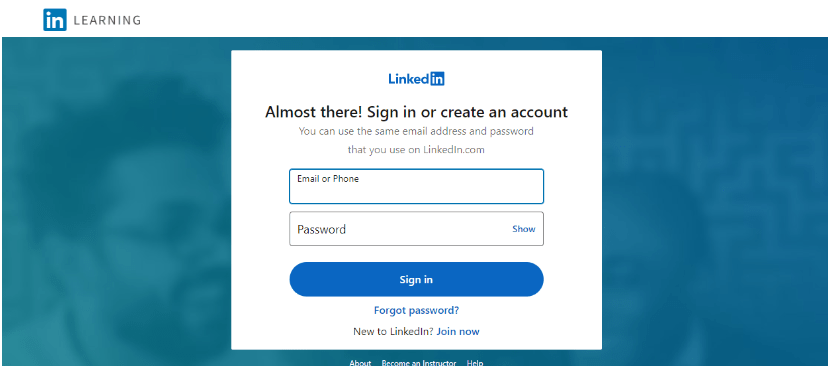 Step #5: After entering LinkedIn Learning, you will land on the checkout page, where you have to review your payment.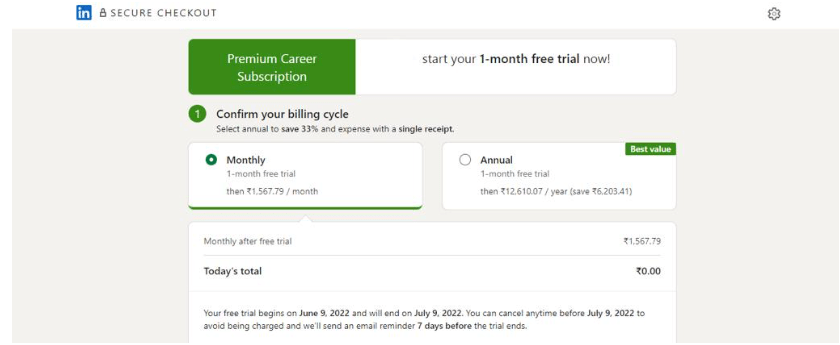 Step #6: Enter your credentials and click on 'Review Order' after reviewing the final bill.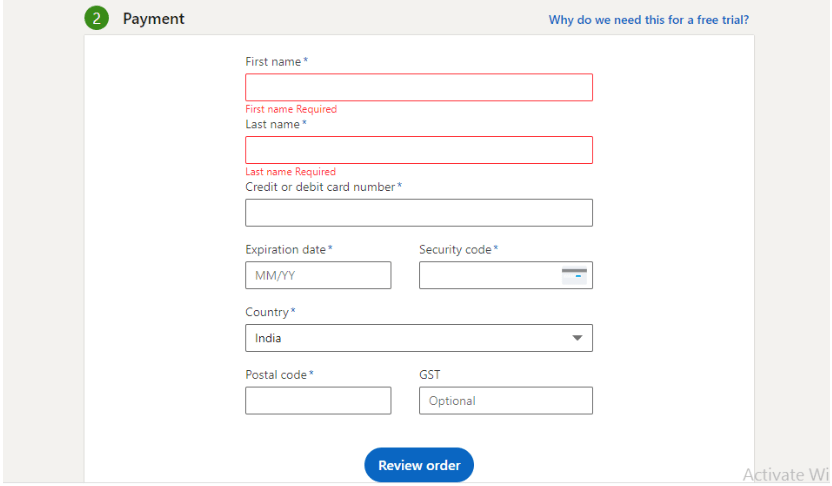 Congratulations! You have unlocked LinkedIn Learning's exclusive 30-day free trial. Enjoy its massive course catalog for a month without any charges.
LinkedIn Learning Pricing Explained!
LinkedIn Learning has simple curated pricing for its users. In addition, they have a premium subscription available in monthly and annual memberships.
The monthly subscription is best for people who want to learn for a short period and select courses. It is priced at $29.99 a month.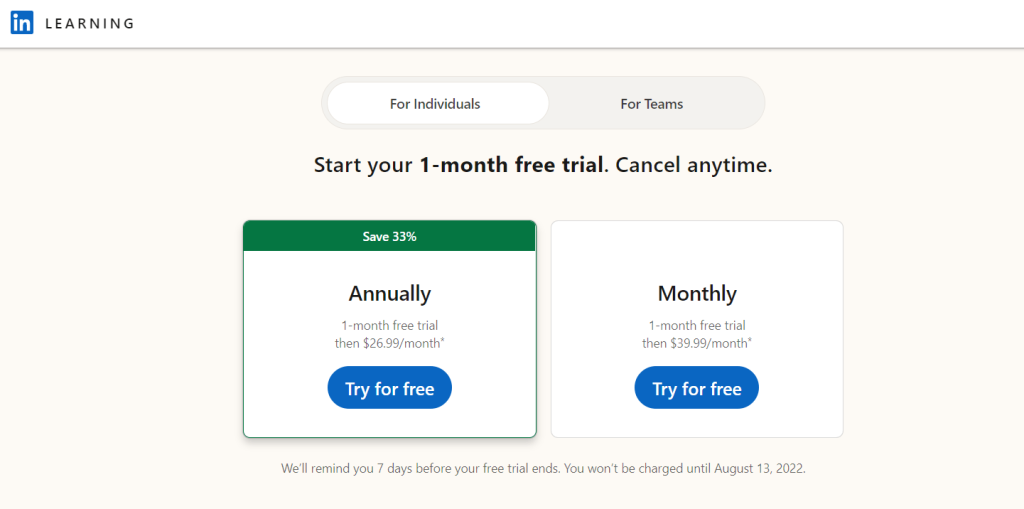 The annual membership is ideal for someone who wants to take up several courses and earn multiple certificates to learn new skills. It starts at $359 a year.
Related Read:
Final Thoughts: LinkedIn Learning Discount (2023)
Undoubtedly, LinkedIn Learning has some excellent courses for students and professionals. So whether you want to upgrade your academic skills or upscale your portfolio for your dream job, LinkedIn Learning tailors to everyone's needs.
LinkedIn Learning discounts aren't something you should miss. For curious learners like you, this is the perfect opportunity to fulfill all your goals. So go ahead and grab the discounts!
We hope this article helped you get a LinkedIn Learning discount. Before leaving, let us know your reviews about LinkedIn Learning in the comments section below!
FAQs On LinkedIn
Will I be charged during my free trial?
You won't be charged anything during your LinkedIn Learning 30-day free trial. However, once the trial ends, your subscription will be renewed automatically. So if you want to cancel your plan, do it before your trial ends.
Does LinkedIn Learning have a money-back guarantee?
Yes, LinkedIn Learning does have a 30-day money-back guarantee. So, if you are not completely satisfied with it, you can demand a refund within the first month of your subscription. 
How much discount can I get on LinkedIn Learning?
You can get around 30% to 50% during LinkedIn Learning Sales. However, these sales last for a very short period so make sure you grab them before they are gone.
How many certificates can I earn on LinkedIn Learning?
You earn unlimited certificates from several courses. Take up any course you like finish it and earn a certificate at the end.
Latest posts by Ryan Harris
(see all)