Choosing a course on the internet can be confusing, especially if you have found two learning platforms like Skillshare vs MasterClass that offer similar benefits and features.
But what makes Skillshare different from MasterClass? You need to know all the crucial features of Skillshare and MasterClass before buying the courses right away.
Skillshare and MasterClass are advertised to deliver the best quality out there, but do they?
All your questions will be answered in this article where I will be comparing Skillshare and MasterClass on different criteria including the categories, instructors, suitability, and more.
In the end, you can find the winner of the verdict "Is MasterClass better than Skillshare?"
Following is a quick comparison of Skillshare vs MasterClass that will give you an overview of both platforms.
| | | |
| --- | --- | --- |
| | Skillshare | MasterClass |
| Budget | Pocket Friendly | Quite Expensive (value for money) |
| Ease of use | Simple and easy to navigate | Easy to use |
| Courses | More than 40k courses available Free courses available | More than 180 classes.No free courses are available |
| Instructors | Experts | Industry experts and celebrities |
| Additional Resources | No extra resources provided | Assignments, PDFs, workbooks and practical tasks. |
| Level | Beginner to intermediate | Beginner to Advanced |
| Course Quality | Varied from course to course | Well-designed, HD quality |
| Overall Rating | 4.8/5 | 4.9/5 |
You can take courses in all difficulty levels.
A plethora of niches to choose from.
Free courses are also available.
Skillshare is budget-friendly.
Instructor quality can vary.
MasterClass (Key Objectives)
MasterClass is the most advanced.
All the courses are handled by celebrities.
Limited course categories and niches.
No availability of free courses.
MasterClass is quite expensive.
The content quality is excellent.
You also get helpful resources. 
Choosing between two of the most competitive online learning platforms can be a challenging task but knowing an overview about both Skillshare and MasterClass earlier can ease the process and so I will be disclosing Skillshare and MasterClass in a nutshell below:
Skillshare is a versatile e-learning platform where users can take and curate courses in a single place. In Skillshare, you can become an instructor and teach thousands of students globally.
Since the courses are handled by different industrial experts in various niches like illustrations, writing, gardening, programming, and many more, there is no shortage of courses in Skillshare.

I found that Skillshare is one of the most budget-friendly e-learning platforms. Additionally, the quality in Skillshare is exceptional since only real experts are allowed to take the courses.
Therefore, you are directly guided by certified instructors who have prior experience in the desired field that you have chosen on Skillshare.
What is MasterClass?
Ever wondered what it feels like to be instructed by some of the most influential celebrities like Christina Aguilera, Gordon Ramsay, and Hans Zimmer? Well, MasterClass does exactly that.
MasterClass is yet another e-learning platform where the greatest experts around the globe join hands with a structured module to present one of the finest learning experiences for a user.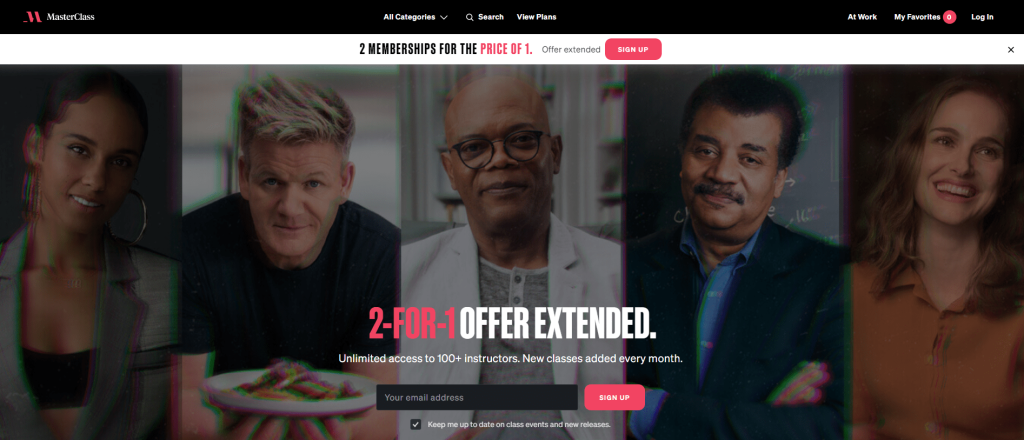 In MasterClass, you get a plethora of 100+ courses in different creative fields like magic, baking, negotiation, singing, writing, and many more. What's more? You also get rewards.
The rewards include fun assignments, tasks, and resourceful materials to keep up with the desired course. You might even get insightful tips from the legends directly. Watch out!
You might be curious to know who the instructors in Skillshare and MasterClass are and why they are hyped on the internet. Calm down. Let me unveil the instructor list on both Skillshare and MasterClass so that you get an idea of how the instructors are allocated on each platform.
In Skillshare, all the instructors are qualified and professional experts.
The best part about Skillshare is that anybody can become an instructor, which can be rewarding to potential educators in different fields who are struggling to find a platform.
Although it can be beneficial that Skillshare is allowing users to turn into instructors, it can also be a doubting criterion when it comes to choosing courses since the instructor quality is not the same throughout Skillshare. Still, you might find valuable content by great instructors.

Nowadays, Skillshare has started collaborating with influencers and internet celebrities in coming up with brand-new content for the next generation. The celebrities include Lilly Singh and Marques Brownlee. Even if you find unfamiliar names in Skillshare, don't worry.
You can casually go through the review section and find out if the instructor is legit, that's it!
Who are the instructors in MasterClass?
It is evident that the instructors in MasterClass made MasterClass what it is today.
I mean, there is no secret recipe or magic that gave birth to the success of MasterClass except courses like Penn and Teller's MasterClass on magic and Gordon Ramsay's MasterClass on cooking that actually made it possible. Those two courses are only the icing on the cake.
In MasterClass, plenty of other courses in different creative niches are handled by celebrities who are known for their craft. The instructor list may include Alicia Keys, Steph Curry, Natalie Portman, Aaron Franklin, Timbaland, and many other A-grade celebrities across the world.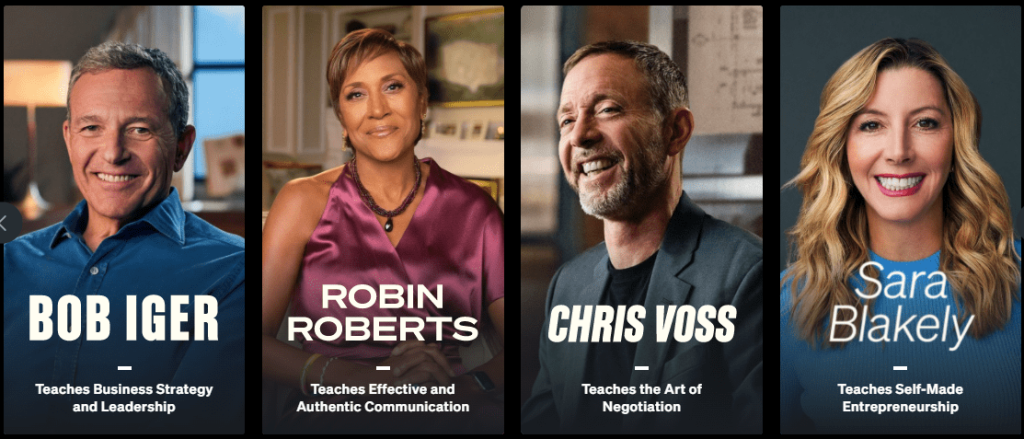 The instructor's quality is top-notch. Most of the instructors are engaging and deliver an enthusiastic tone so that you are motivated throughout the course period.
By now, you know that both Skillshare and MasterClass have several courses on various niches and categories but exactly what are the categories and how are they different? Find out!
Well, I did the research and came up with every category that is covered in both Skillshare and MasterClass so that you can figure out which one of them has better categories.
Since the courses are created by the various instructors on Skillshare, there is no standard format for lessons. The courses on Skillshare vary from 5 to 10 short lessons to 30 long lessons.
These courses are varied according to the depth of the subject and instructors' teaching style. There is also a student community on Skillshare where you can connect with other students and share feedback on your courses.
The categories covered in Skillshare include,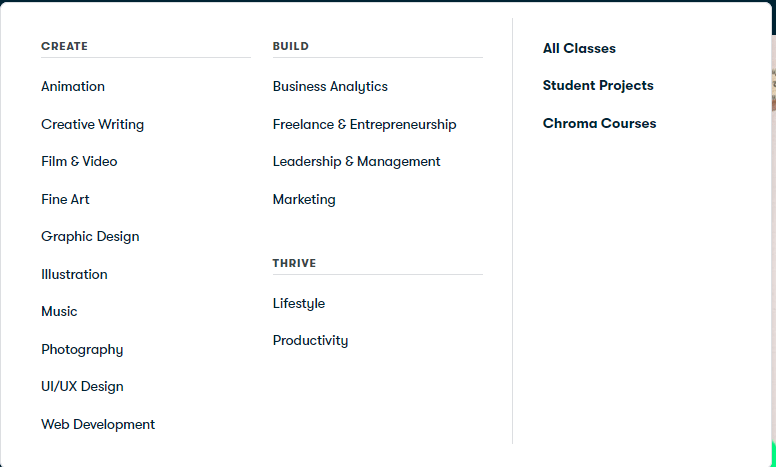 Sports
Entertainment
Culinary Arts
Illustration
Graphic Designing
Photography
Science
Technology
Fashion
Writing
Business
The following are the best courses on Skillshare that you should check out:
Animation: Procreate Animation with Rich Armstrong
Creative Writing: Copywriting for Beginners by Jesse Forest
Fine Art: The Art and Science of Drawing by Brent Eviston
Film and Video: YouTube for Beginners by Ali Abadaal
Music: Learn Guitar by Marc Barnacle
Illustration: Introduction to Procreate by Brooke Glaser
Photography: iPhone Photography by Dale McManus
What are the course categories covered in MasterClass?
The MasterClass provides very specific and detailed courses that are instructed by the industry's top instructors. They are well designed with an average of 10 minutes per lesson depending on the subject.
Along with the detailed lessons, MasterClass provides additional resources in the form of PDFs, workbooks and other resources. You will also have various assignments to help you gain practical knowledge.
Moreover, MasterClass also provides a student-dedicated community hub that helps you to connect with the other students and get feedback.
Whereas the categories covered in MasterClass are limited to,

Entertainment
Acting & Film
Photography
Culinary Arts
Comedy
Here is a list of some of the best MasterClass courses that are worth taking in 2023.
Gordon Ramsay MasterClass teaches Cooking
Annie Leibovitz Masterclass teaches Photography
Christina Aguilera Masterclass teaches Singing
Ron Howard Masterclass teaches Directing
Hans Zimmer Masterclass teaches Film Scoring
Neil DeGrasse Tyson Masterclass teaches Scientific Communication
Aaron Franklin Masterclass teaches Texas-style BBQ Cooking
Both Skillshare and MasterClass excel in all the courses that they provide but Skillshare has better options when it comes to the additional choice of course category. Here, Skillshare wins!
Regarding the inclusion of new celebrity-led courses, it can be hard for MasterClass to come up with different niches that a specific celebrity can handle since MasterClass follows the pattern of hiring experts who are known and celebrated by the common folk and are termed as celebrities.
Despite producing content in various categories, you are advised to look out for key features in both Skillshare and MasterClass so that you know you have chosen the right learning platform.
Skillshare is a simplified e-learning platform with significant features and capabilities.
The aim of Skillshare is to give a flexible and user-friendly experience for the members enrolling in their courses including the option of curating a course and making it accessible to the world.
In Skillshare, certain courses offer workshops that are helpful to students who are finding regular classes are not entertaining enough. Additionally, Skillshare allows video annotations.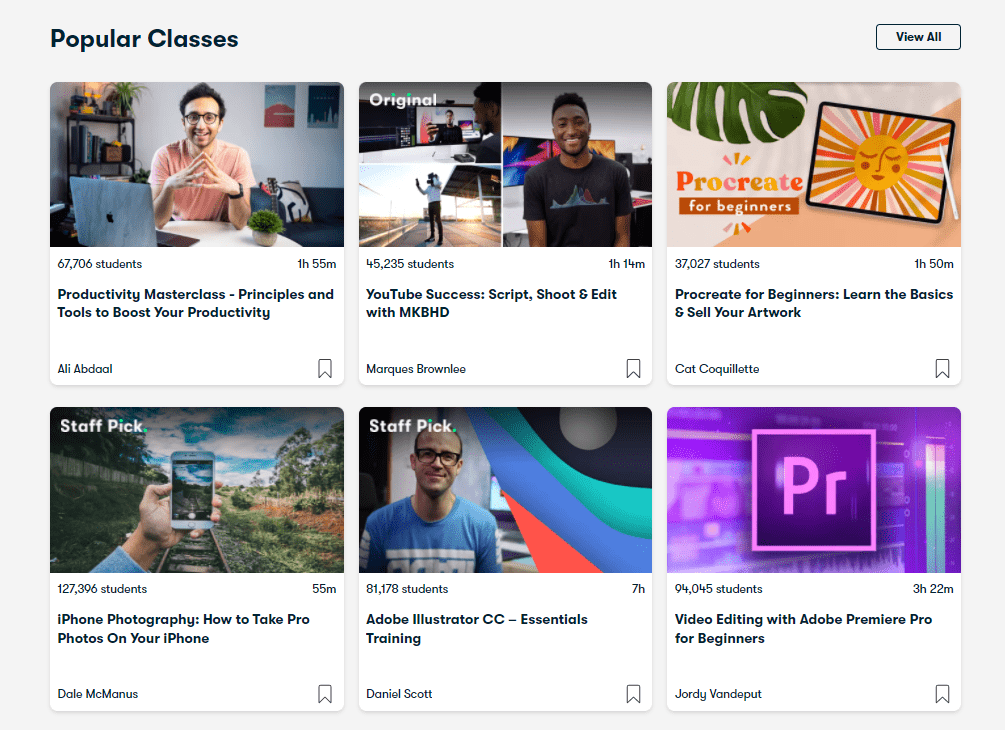 Talking about compatibility, Skillshare can be taken on any device including all IOS and Android devices which means you could be travelling yet Skillshare can be used on your mobile easily.
MasterClass Best Features
MasterClass is known for the quality that it is delivered in the courses. Pretty much like Netflix.
Since MasterClass is run on a huge budget, it ensures to provide the best and most smooth experience for taking a course.
All courses are handled only by experts and celebrities which means you cannot go wrong and accidentally fall into compromised online course content. Who would miss such a chance?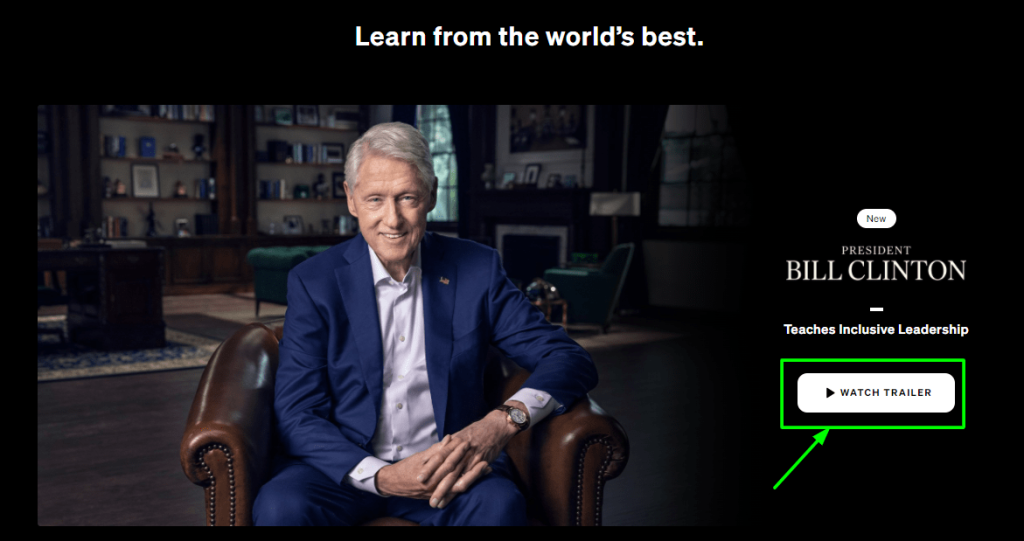 In MasterClass, self-paced learning is the standard format that is being followed. Meaning, you get to take a few chapters in a MasterClass in the morning and complete the rest in the evening.
Lastly, you are provided with perfectly crafted workbooks to keep up with the course along with insightful tasks and assignments.
There is an abundance of materials for learning in MasterClass. Some celebrities drop tips too!
Let's talk about the suitability of Skillshare and MasterClass, shall we?
Although Skillshare and MasterClass are learning platforms, there are quite some criteria that differentiate one from the other resulting in a difference in the suitability of the users.
Skillshare is a great learning platform with unlimited categories and niches and so Skillshare is recommended to:
Anyone who wants to improvise their skill set.
Students looking for courses via online resources.
Educators who want to teach and sell a course.
People who demand courses on a budget.
Who is suitable for MasterClass?
MasterClass is a celebrity-led online platform but it may not be the only reason people opt for the platform and so MasterClass is recommended to:
Anyone who wants quality content in their courses.
Anyone who wants additional resources and learning materials.
Amateurs in a certain field since not all courses are beginner-friendly.
Fans of specific celebrities who want to take advice directly from them.
Even if you are still baffled about choosing between Skillshare and MasterClass, the ease of use of both Skillshare and MasterClass will let you decide the ultimate verdict in no time.
Skillshare is budget-friendly and so you get to take multiple courses from different instructors on a budget which means even if you are not satisfied with an instructor, you can opt for another.
In Skillshare, you can take courses in all difficulty levels from beginner to intermediate to advanced making it easier for users to opt for courses according to their learning.
There are no additional resources or workbooks provided with Skillshare and that could be a downside but the entire user experience is good and fair. Skillshare is a decent online platform.
MasterClass Ease of Use
MasterClass offers a butter-like smooth experience for its users.
As mentioned earlier, MasterClass does not compromise its quality and all the courses are well-structured with appropriate descriptions under each section.
You are also provided with helpful learning resources which help in getting going with the course. In MasterClass, the teaching method followed is exceptional and neatly executed.
Taking courses in MasterClass does not feel like a stressful class but an inspiring session.
Here are the benefits and drawbacks of using Skillshare and Masterclass.
Skillshare offers a lot of free courses.
It comes with a 7-day free trial.
Skillshare offers courses from different categories, which means you can find the course you're looking for.
You also need complete assignments in the courses.
The courses are not that popular and don't add any value to your resume.
You rarely get to interact with your instructor.
Masterclass Pros
All the instructors in Masterclass are celebrities.
The video content of the courses is of high resolution, which means they have spent a lot on its production.
The course structure is straightforward and easy to follow.
Masterclass offers courses on a lot of interesting topics.
Masterclass Cons
There is no free trial option available on Masterclass.
Masterclass courses do not add value to your resume.
You might have read everything about Skillshare and MasterClass by now but the pricing plays a crucial role when it comes to choosing between the two. Let's not wait anymore.
I am going to break down the ultimate pricing structure of both Skillshare and MasterClass: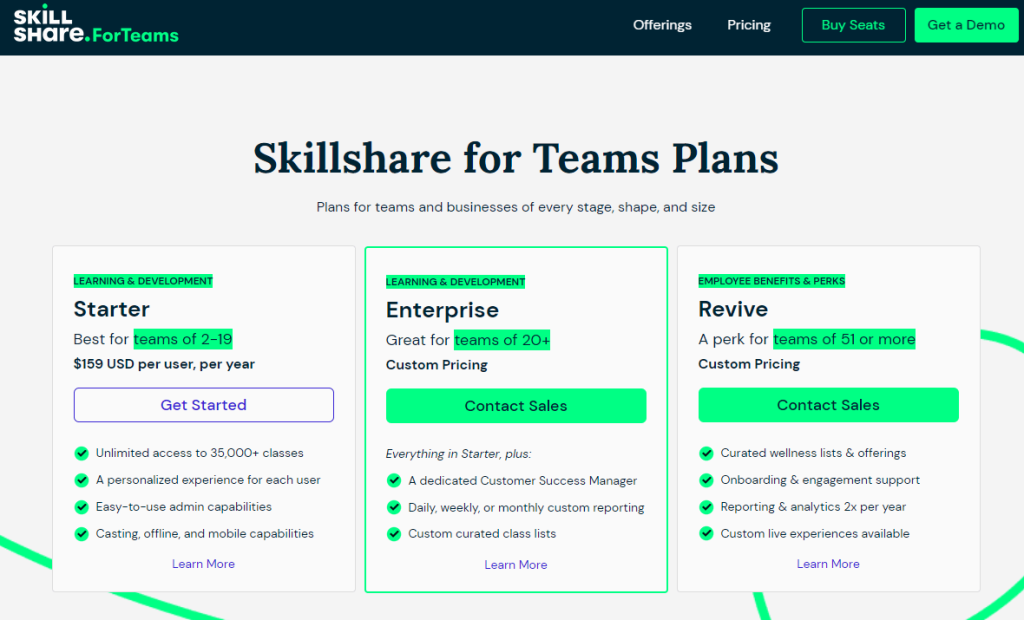 MasterClass Pricing
MasterClass has a well-curated pricing structure where you can buy one course and get access to 100+ courses in MasterClass. Sounds insane, right? Well, that's how MasterClass works.
In MasterClass, you can buy the MasterClass All-Access Pass for $180 and get full access to the entire platform which allows the users to take courses in 100+ creative niches, which is incredible.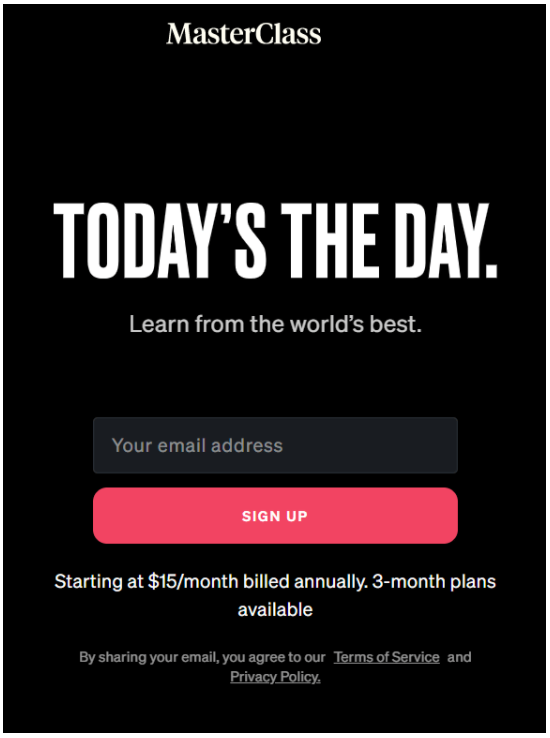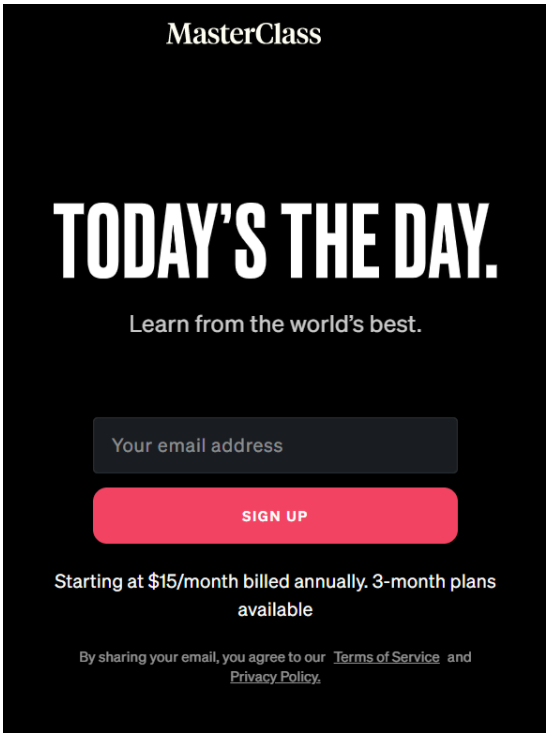 There are no additional charges for the workbooks, assignments, and tasks since all the costs are included in the All-Access Pass itself.
Additionally, MasterClass promises a 30-day satisfaction guarantee. I am sure you would love MasterClass. I mean, there is no reason not to since you are learning from the legends directly.
Pricing tip: To make the best out of the All-Access Pass in MasterClass, I would recommend taking multiple courses simultaneously. Say one course per week. By following this, you can easily complete four courses in a month so that you do not waste $180 on a single course.
There might be a case where Skillshare or MasterClass would not give you the results that you want. So here are some of the alternatives to Skillshare and MasterClass that you can consider:
Coursera: Coursera is a great alternative to Skillshare and MasterClass as it offers thousands of courses and various learning programs. It provides professional certificates and partners with world-class universities and companies to create its courses and learning programs. Along with the courses, Coursera has an affordable price range as compared to MasterClass and Skillshare and provides Coursera plus free trial. Hence, Coursera can be a good start if you are looking for alternatives to Skillshare or MasterClass.
Udemy: Udemy is another excellent choice if you are looking for a variety of courses and lessons. Udemy provides more than 200k courses guided by industry experts. Moreover, pricing is more affordable and lies in a fair budget.
edX: edX is a credible platform that provides more than 3000 online courses and over 300 programs that are created by top partners and institutions like Harvard and Berkeley University. This platform provides courses in various categories instructed by industry experts. This platform can be a good alternative if you are looking for in-detail courses.
Who would have thought taking online courses in Skillshare and MasterClass could be fun, especially in MasterClass? I mean, I was taking a course by GORDON RAMSAY!
That is like a dream. The execution, the content delivery, the format, the ease of use, the provision of additional resources, the instructors' quality, and whatnot? MasterClass nailed it all.
Although it was fun taking Skillshare, MasterClass ensured to provide the best quality and well-structured teaching and so I have no other option but to choose MasterClass for the verdict.
Regarding the budget, Skillshare clearly wins since you are getting access to multiple courses on a budget and the experience of taking courses with different instructors. Additionally, unlike MasterClass, Skillshare provides courses on all difficult levels which is a bonus feature.
To conclude my overall experience in using Skillshare and MasterClass, I would say that MasterClass is the best and so what are you still looking for?
Buy the All-Access Pass and take courses from legendary icons around the world right now!
FAQs
Do Skillshare and MasterClass offer free trials?
MasterClass does not offer a free trial to their classes; you need to buy its all-access pass to get access to its courses, whereas Skillshare has a 7-day free trial of their premium version. You can also get an exclusive 30-day free trial of Skillshare with our link.
Which one is better: MasterClass or Skillshare?
Skillshare courses are for those learners who want to learn more creative courses and become professional in their field, whereas MasterClass gives you a more cinematic experience and its courses give you a chance to learn from your favourite celebrities.
Is there a money-back guarantee available on MasterClass and Skillshare?
Both MasterClass and Skillshare offer money-back guarantees. You can get a refund on MasterClass within 30 days of purchase, whereas Skillshare offers only a 14-day money-back guarantee.
Do Skillshare and Masterclass have mobile apps?
Both Skillshare and MasterClass have mobile apps which allow you to learn from your mobile devices whenever and wherever you want.
Which one is affordable: MasterClass or Skillshare?
Skillshare premium membership costs $168/year, and MasterClass All Access Pass costs $180/year, which means Skillshare is more affordable than MasterClass.
Latest posts by Ryan Harris
(see all)