Regarding the best e-learning platforms, the debate between Udemy vs Coursera is never-ending. However, investing in the appropriate media is essential to mastering your chosen skill.
Udemy and Coursera are the top online learning platforms today and offer excellent courses in various niches. While Coursera focuses more on a strict curriculum, Udemy provides more flexibility to learners.
Depending on your needs, you must make the right choice. After all, you will invest considerable time and money in your chosen course. So, today we will be discussing everything about Udemy vs Coursera.
This unbiased and honest review will prevent you from making the wrong choice and regretting it later. So without further ado, let us dive into the details!
Udemy vs Coursera: Key Differences
Here are the key differences between Udemy and Coursera.
There are many courses available on Coursera that you can audit for free, and to get a certificate for that course, you will have to pay as low as $49. Udemy courses range from $40 to $200, but you can get them as low as $10 when there is a deal going on Udemy.
Anyone can become an instructor on Udemy, but you must be an expert, professional instructor, or educator to become an instructor on Coursera.
You can learn any particular skill you want to learn through specializations because there are learning paths available on Coursera. Udemy does not have playlists or learning paths.
Coursera offers a subscription called Coursera Plus which gives you access to 7000+ courses, and the cost of the subscription is as low as $59 per month or $399 per year. There is no subscription available on Udemy.
Udemy vs Coursera: Overview
Before digging into the intimate detail of Udemy vs Coursera, let us briefly overview what these e-learning platforms offer and how they function.
Udemy Overview
Udemy is a popular platform amongst free learners and people looking to learn a new skill. The courses here are niche-based and short-term, which provide the perfect flexibility.
While Udemy is an e-learning platform that offers courses that help learners to develop new skills, they are not entirely professional. They might not have significant value on your resume.

However, these courses offer excellent and engaging content that helps you learn fast, and you know anything from computer skills to photography to marketing tricks. Udemy has a wide range of courses that experts and experienced teachers lead.
Udemy courses do not require any high position or background; anyone who wishes can create a course on Udemy, unlike Coursera, where only reputable colleges and universities are allowed.
Coursera Overview
Coursera is an exceptional e-learning platform with incredible courses and programs. Considering the curriculum on Coursera, the programs offered are elaborate and detailed. It is safe to say that Coursera is like an online school for learners worldwide.
With Coursera, you can access top courses from high-brow universities of the world. Not to mention IVY League schools and institutes like Yale, Oxford, Harvard, etc., provide research-based and academic courses on the e-learning platform.

Although the courses here can be extensive and some topics might be difficult to understand, Coursera has a highly flexible timeline for learners. Last but not least, the e-certificates of these courses possess great value and are highly credible for resumes.
Udemy vs Coursera: Key Features
After briefly revising the e-learning platforms, you must remember the fundamentals of Udemy vs Coursers. So, let's start with the key features of both platforms.
Udemy Key Features
More than 5000 courses
Course certification
Focuses on a specific skill
Mobile-friendly
Free and paid courses
Flexible schedule
Self-paced courses
Quizzes and assignments
Coursera Key Features
Massive course catalog of over 7000 programs
Shareable e-certificates
Graded assignment, quizzes, and final project
Free and paid courses
Interactive feedback sessions
Accurate and private assessments
Degree programs
Quality education
Udemy vs Coursera: Courses
Knowing what type of courses Udemy and Coursera offer will help you understand which platform is better for the topic you want to opt for. Both these platforms have their expertise in different niches. To know better, let us list the top courses of Udemy and Coursera in 2023.
Udemy Courses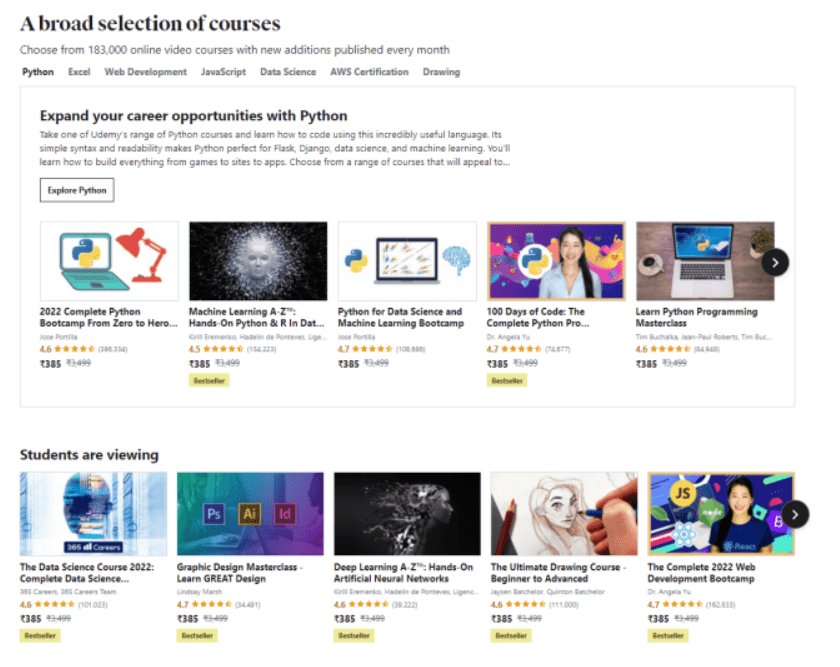 The Complete Digital Marketing Course – 12 Courses In 1
The Complete SQL Boot Camp: Go From Zero to Hero
Microsoft Excel – From Beginner to Advanced
Illustrator CC 2022 Masterclass
iPhone Photography – Take Professional Photos on Your iPhone
The Complete Copywriting Course – Write to Sell Like Pro
Complete Blend Creator: Learn 3D Modelling for Beginners
Mindfulness Practitioner Course
Coursera Courses

Google Project Management: Professional Certificate by Google
The Science Of Well Being by Yale University
Cloud Computing by University of Illinois
English for Career Development by University of Pennsylvania
Epidemiology for Public Health by Imperial College London
Optical Engineering by the University of Colorado Boulder
Data structures and algorithms by the University of California San Diego
Graphic Design by California Institute of Arts
Udemy vs Coursera: User interface
Any well-reputed e-learning platform must have a user-friendly interface. If the e-learning platform has a rather complex website interface, learners will be confused and will have to spend a lot of time figuring it out. So let us see whether Udemy and Coursera offer ease of use.
Udemy User Interface
Udemy has a straightforward interface, and it is entirely beginner friendly. You can find any course you want with just one click. You must enter the topic or course you are looking for and hit the search button.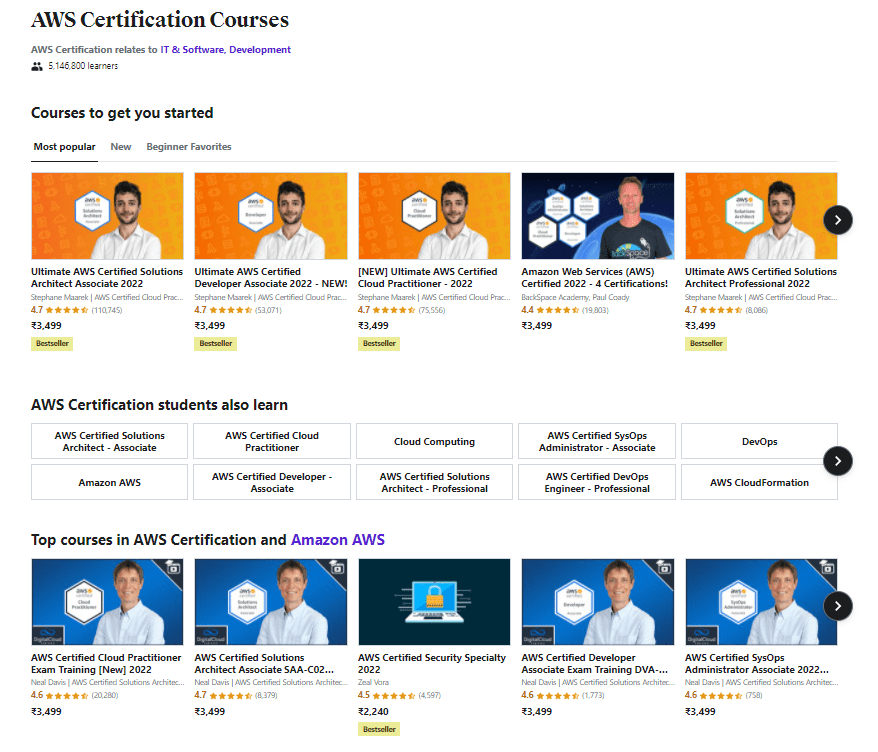 Moreover, the overall navigation of the Udemy website is quite simple, and anyone can figure it out within minutes. On the upper bar, there is a dashboard where you can find everything you want. The dashboard is organized and holds all the necessary tabs and functions.
Coursera User Interface
Coursera offers some excellent features and functionalities which make the platform convenient and beginner friendly. Anyone new to the course can adjust to the e-learning platform quickly.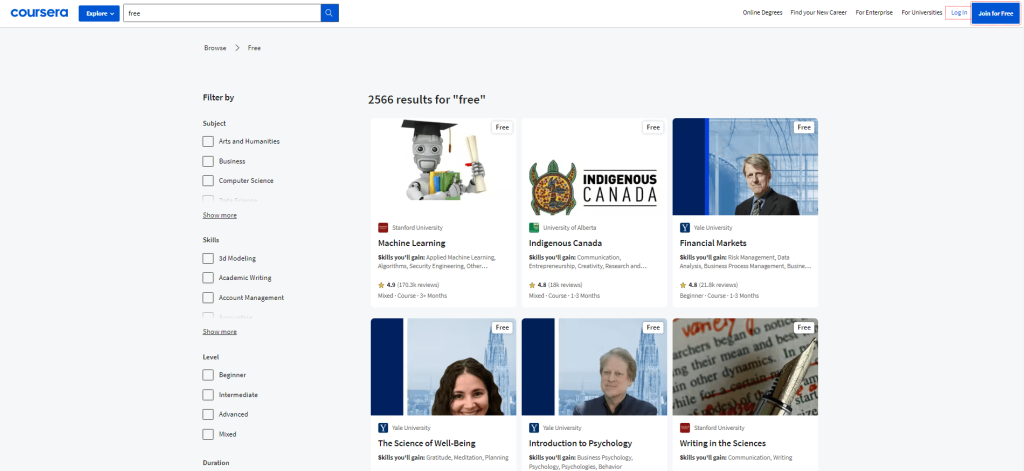 The website has a neat and organized look, making it easy for learners to navigate different sections of the e-learning platform. Moreover,r the best part is that it is divided into two parts, Coursera and Coursera Plus, making it easier for users to find courses.
Udemy vs Coursera: Customer Support
An e-learning platform must have support and responsive customer service for its users. To know how Udemy and Coursera help in times of crisis, read the customer support comparison below.
Udemy Customer Support
Udemy has a separate section called Udemy Support, where you can contact their support team. Here you will find a 'How may I help you?' section where you can enter your queries or issues and get suitable solutions. This service is available to all users who have opted for free or paid courses.
The support team is available 24/7, 365 days a year, to solve any issues you are facing with their platform. There are various FAQs, blogs, and tutorials on their support page for several queries. If that does not fix your problem, you always reach out to the support team via email.
Coursera Customer Support
Coursera has a student service portal that is open 24/7, all days of the year for each student. In this section, you can find articles for your questions or any obstacle you are facing while learning from your course.
If the articles are not helpful, you can get in touch with their support team by filling in your details and the issues you are facing in detail. Coursera's support team will get back to you within 24-48 hours via email.
Udemy vs Coursera: Pricing
It is vital to understand the pricing of Udemy and Coursera before choosing between them. By determining the pricing plans of each platform, you will know which one fits into your budget. You can also check our Coursera Plus discount page where we have mentioned exclusive Coursera Plus offers.
Udemy Pricing (2023)
| | |
| --- | --- |
| Udemy Plan | Pricing |
| Individual course plans | $13.99-$194.99 |
| Udemy Business | Custom pricing |
Coursera Pricing (2023)
| | |
| --- | --- |
| Coursera Plan | Pricing |
| Monthly subscription | $59 per month |
| Annual subscription | $399 per month |
Udemy vs Coursera: Pros and Cons
There is no better way to comprehend a comparison than a pros and cons list. So let us get into the most exciting part of Udemy vs Coursera.
Udemy
| | |
| --- | --- |
| Udemy pros | Udemy Cons |
| Udemy offers lifetime access to its users | Lack of quality check of the courses |
| Wide range of free courses | Udemy certifications have minimum credibility |
| Affordable pricing | |
| Paid courses to come with a completion certificate | |
Coursera
| | |
| --- | --- |
| Coursera Pros | Coursera Cons |
| Peer-checked quizzes and assessments | Degree programs are expensive. |
| Enables offline learning | Entry-level courses might require background experience |
| High-quality course content | |
| Mastertrack certificates | |
Who is Udemy Ideal For?
Udemy is an excellent platform for various niches. You can learn a skill to perfection with the help of the courses here and master any existing skills too. The courses here have a wide range; from beginners to experts, anyone can find the course of their choice. 
However, the programs on Udemy are short-term and primarily focus on one targeted skill. So if you are looking for an extensive course program with proper certification to add to your resume, Udemy courses might not fit your checklist.
Although it is an excellent fit for individual learners and teams looking to upgrade their skill set, the time flexibility and easiness of the curriculum make Udemy the ideal e-learning platform for working people or students enrolled in a degree program.
Who is Coursera Ideal For?
When we talk about the best high-brow courses with quality education, Coursera tops the list of e-learning platforms. With the IVY League institutes and academic level of education, Coursera enables people to learn from any part of the world.
Coursera has a massive course catalog offering thousands of courses. However, almost all these courses require time to complete, and some of them are challenging to cope with. It also has some great courses that are beginner-level and do not require any prior experience or knowledge.
With its robust functionalities and creative and engaging courses, Coursera is perfect for users who want to excel in their field and make their resumes stand out by adding professional certifications.
Even though some courses on Coursera are extensive, the e-learning platform has a flexible timeline that lets you reschedule your deadlines. Moreover, all the courses are self-paced so you can finish them per your timetable.
Related Read:
Wrapping Up! Udemy vs Coursera (2023)
Arriving at the end of the article, you must know the tools and type of courses Udemy and Coursera offers. When it comes to answering the question, which e-learning platform is better? The answer is none of them is better than the other.
Udemy and Coursera are great platforms to learn from; however, declaring one better than the other does not seem fair. While Udemy has a targeted approach towards the courses, Courses focus more on academic achievements in their courses.
If you want our advice, go through all the critical elements of both platforms and see which one fits your needs and budget the best once you decide, you will choose within seconds.
We hope this article helped you decide which e-learning platform, Udemy vs Coursera, is a better fit for you. Over to you, which online learning site did you choose? Let us know in the comments section below!
Latest posts by Ryan Harris
(see all)