While the world is going through a massive digital revolution, everyone wants to be the best at what they do. The increasing competition in the learning field calls for the best online course platforms for all online educators to build award-winning courses.
However, creating an online course packed with knowledge is challenging yet keeps the student glued to their screen for the entire session.
To ensure you get the most value for your time and money, you must invest in the best online course platforms that meet all your requirements. So in today's post, we will discuss the best online course platforms of 2023 to create the course of your dream.
Without further ado, let us dive into the details!
Best Online Course Platforms: Our Top 7 Picks!
If you are tired of reading extensive reviews, this section is for you. Here we have handpicked the seven best online course platforms to create courses in 2023!
| | | | | |
| --- | --- | --- | --- | --- |
| Sr.No. | Online course platforms | Rating | Pricing | Best For |
| 1. | Thinkfic | 4.3/5 | Starts from $49 per month | Best comprehensive online course platform |
| 2. | Teachable | 4.4/5 | Starts from $39 per month | Best platform for creating engaging courses |
| 3. | Learnworlds | 4.7/5 | Starts from $29 per month | Best for people who are on a budget |
| 4. | Kajabi | 4.5/5 | Starts from $149 per month | Best for professional online course makers |
| 5. | Podia | 4.7/5 | Starts from $39 per month | Provides value for money |
| 6. | Ruzuku | 4.2/5 | Starts from $99 per month | Best for beginners or first-time course makers |
| 7. | WizIQ | 4/5 | Starts from $25 per month | All in one online course platform |
List of 12+ Best Online Course Platforms In 2023
Now, let's move to the primary section of the article. Below is the list of the 12 best online course platforms with excellent tools and functionalities. 
1. Thinkfic
| | |
| --- | --- |
| Rating | Pricing |
| 4.3/5 | Starts from $49 per month |
Thinkfic is the most popular and reliable online course platform. More than 50,000-course creators use Thinkfic to establish systematic and engaging courses. The software offers several top-notch features and tools that help you curate courses that can instantly grab students' attention.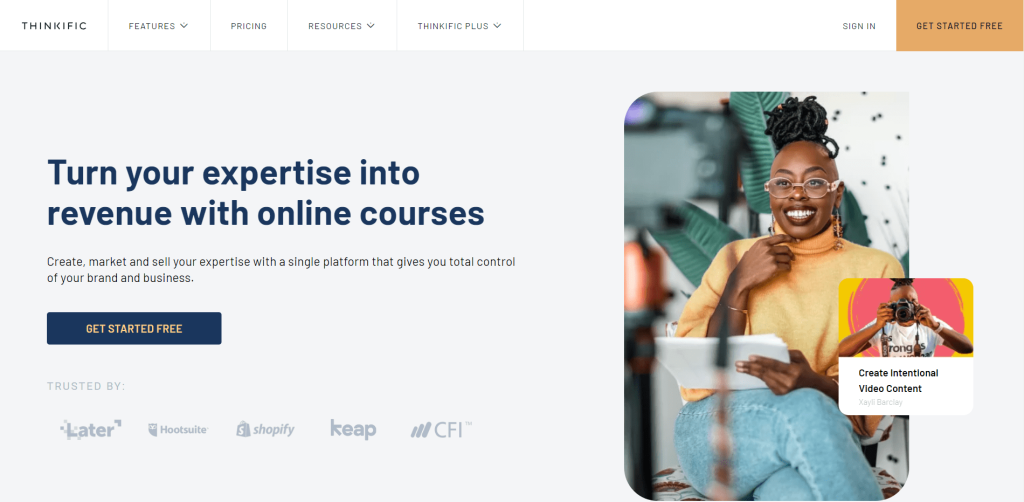 Every student who invests in your course will look for a particular value that they can take from it. Thinkfic enables you to provide that value to your student using functionalities like open API, tracking your student's progress, hosting live classes and on-demand sessions to clear their doubts, etc.
The best part is even though Thinkfic has such robust features, the online course platform is beginner friendly. So if you are about to launch your first course, you do not have to worry about having prior experience.
Thinkfic Key features
Easy drag-and-drop tool
Pre-designed templates
Offers adding graded quizzes and assignments
Certifications
Customized domain
HTML and CSS access
2. Teachable
| | |
| --- | --- |
| Rating | Pricing |
| 4.4/5 | Starts from $39 per month |
With over 100,000 users, Teachable is one of the most trustworthy and excellent online platforms for creating high-brow courses. The plus side of Teachable is that you will never have to worry about your taxes, as the platform takes care of it.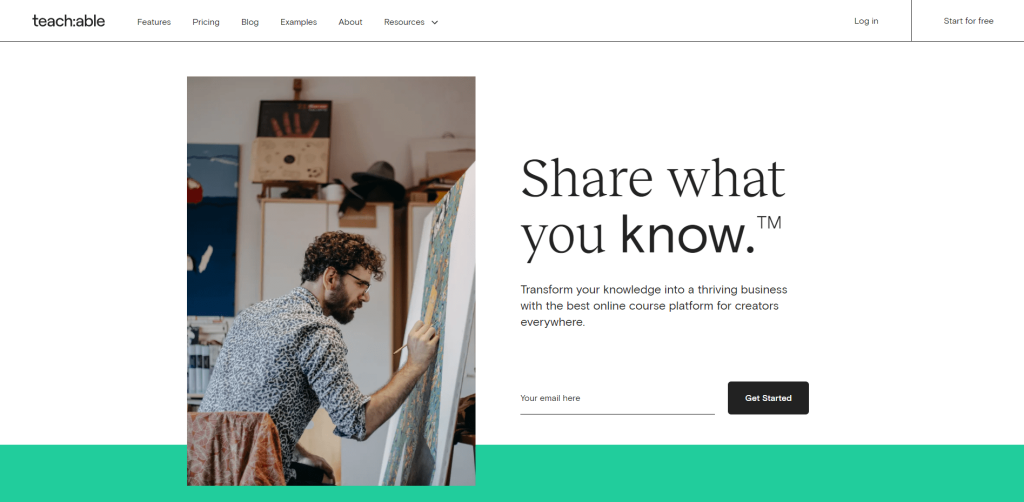 Teachable allows users to share and monetize their knowledge to help others grow. Several experts and top mentors use Teachable to teach and build a community of like-minded individuals.
Additionally, it is a highly easy-to-use online course platform with an elegant and straightforward interface. Teachable ensures that all new users must feel instantly connected to the platforms and can navigate through them with ease.
Teachable Key Features
Ample customization is available.
A custom domain that also connects you to your existing website
Several integrations available
Trach course sales and students
Unlimited bandwidth
Unlimited students per course
3. Learnworlds
| | |
| --- | --- |
| Rating | Pricing |
| 4.7/5 | Starts from $29 per month |
Learworlds is an all-in-one online course platform. You can build, sell, and market your course with a single tool. So you do not have to keep switching between different applications for each aspect.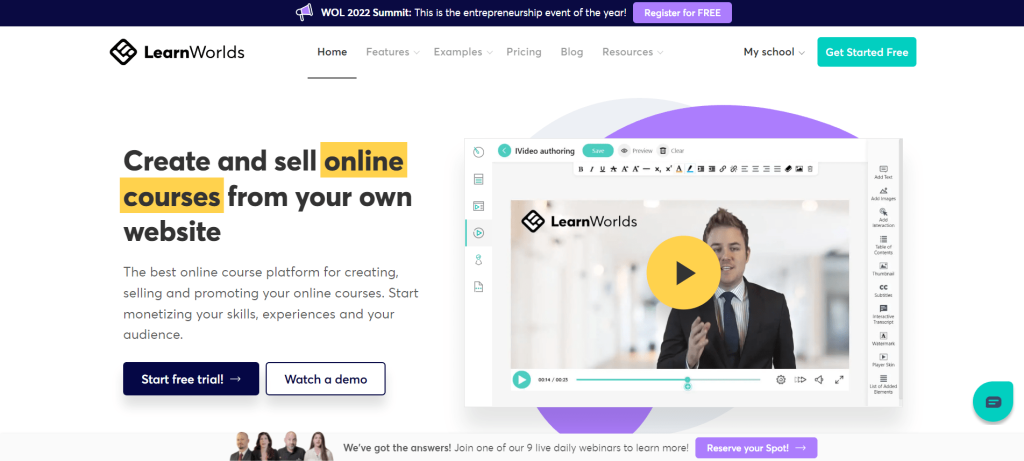 Many popular platforms like Sendibule and Adidas rely on Learnworlds for their user-friendly interface and exceptional customer support. Learn world is perfect for beginners and professional online course makers who want their courses to be engaging and have a good market value.
Learnworlds is known for its integration availabilities like Google Analytics, Facebook Pixel, ZenDesk, Fomo, Mailchimp, etc. Moreover, with Learnworlds, you can also create websites, generate reports, and analyze your current course to track its growth.
Learnworlds Key Features
Mobile friendly
API Integrations
Building websites and pop-up pages
Course certification available
Multiple payment methods
Daily data backup
4. Kajabi
| | |
| --- | --- |
| Rating | Pricing |
| 4.5/5 | Starts from $149 per month |
Kajabi is an exceptional online course platform with over 3.5 million users. It offers a massive collection of more than 300,00 products to empower course creators to build customized and high-quality courses.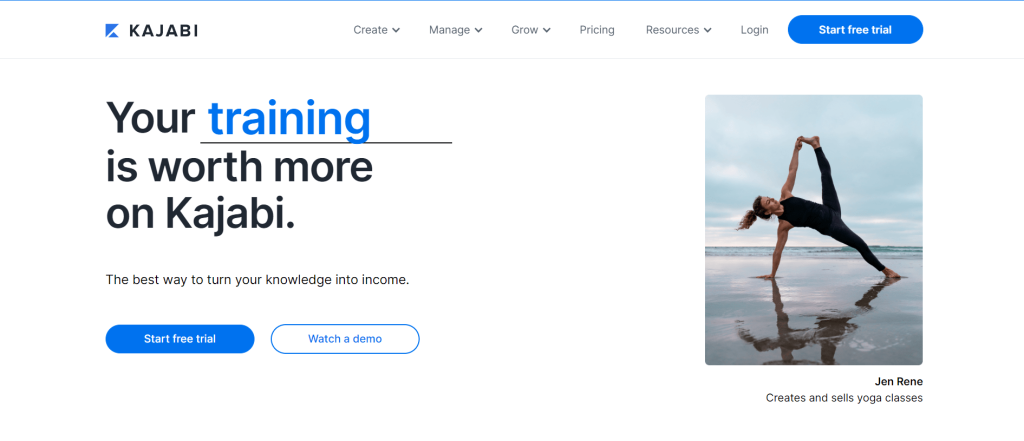 While Kajabi offers some excellent functionalities as an online course platform, it is also a proficient platform for various online businesses. Kajabi provides several entrepreneurs, influencers, and coaches to share their knowledge and experience with others to help them grow.
The best part is that Kajabi has a wide range of free resources like training videos, downloadable videos so you can learn offline, expert guidance, etc. These resources benefit new online course makers with minor to no experience on how to make their online classes a hit among students.
Kajabi Key Features
Ready-made templates
Unlimited landing pages
Stripe and Paypal available for payments
Automated marketing tools
Integrated webpage-building tools 
Customs domains and ready-to-use themes
5. Podia
| | |
| --- | --- |
| Rating | Pricing |
| 4.7/5 | Starts from $39 per month |
The fundamental of Podia was to create a user-friendly online course platform. The basic idea was to make new users, first-time course makers, feel comfortable and confident in their work. So if you are looking for an online course platform that is not overwhelming yet provides you with the best feature and functionality, Podia is the one for you.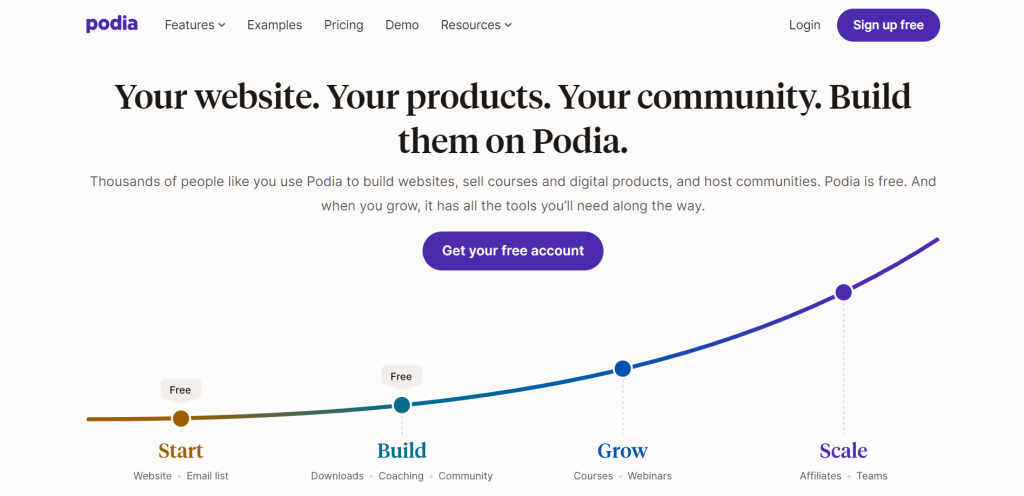 Podia is a robust cloud-based platform and has an affordable pricing range. So you do not have to worry if you are on a budget and want to avail all the features that top course makers use.
Moreover, Podia has a 24-hour support team that helps you solve all kinds of problems and high-level integrations that enable you to provide a supreme learning experience to your students. 
Podia Key Features
Email marketing
Create a custom website
Build unlimited courses
Host webinars
Podia subdomain
Quizzes and offer coupons
6. Passion
| | |
| --- | --- |
| Rating | Pricing |
| 4.6/5 | Starts at $97 per month |
Passion is an exceptional online course platform that allows you to establish personalized applications without coding. You can use the drag-and-drop tool to create the app according to your design and theme preference.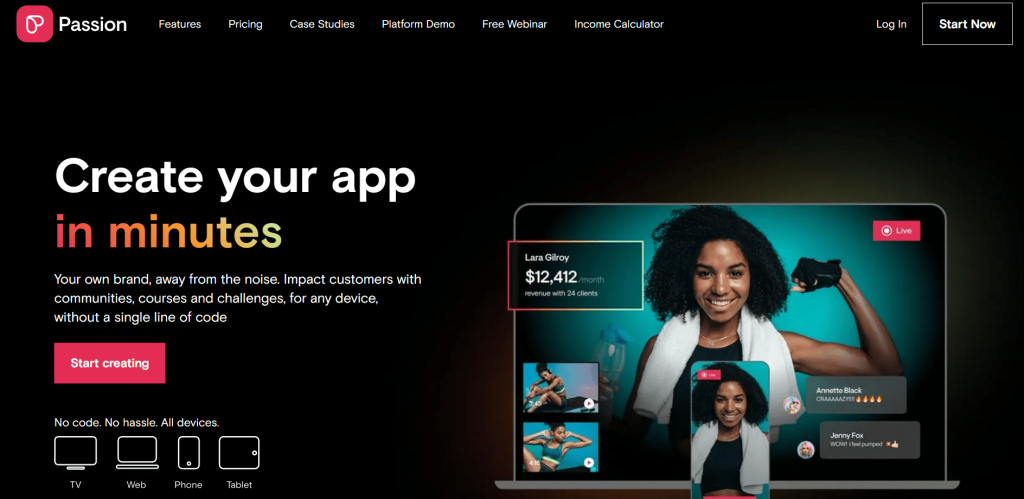 The app system makes it super convenient for students to learn from your courses, as they have their personal space to grow. Moreover, your application helps you create your brand identity in the market to challenge competitors and set new standards in the online education field.
It has the most simple and uncomplicated course-creating tools and functionalities, which help you establish your course quickly without any hassle.
Passion Key Features
Upload unlimited courses
Live streaming your courses
Advanced tools
In-built marketing tools
Easy payments
Excellent compatibility
7. LearnDash
| | |
| --- | --- |
| Rating | Pricing |
| 4.8/5 | Starts from $29 per month |
LearnDash is the best platform for creating elegant and engaging courses. The template designs and theme have a beautiful layout to create eye-catching courses. In addition, it offers automated notifications for your student, so they never miss a session and seamless integrations.
Not only does LearnDash allow you to create and share certificates with your students, but you can also award students with badges according to their performance. LearnDash has several exciting tools that help you make your course activity-based.
The cloud-based technology in LearnDash ensures users maximum security with all their data and payment credentials. Plus, the user-friendly interface helps users navigate the online course platform without inconvenience.
However, if you face any insure or have queries, contact their customer support as the team consists of experts and professionals who will solve your problems in no time.
LearnDash Key Features
Convenient drag-and-drop tool 
Enables you to schedule classes
Stripe and Paypal available
Several integrations available
Analytic and reports to track student progress and performance
Add additional images and videos
HTML and SCORM
8. WizIQ
| | |
| --- | --- |
| Rating | Pricing |
| 4/5 | Starts from $25 per month |
WizIQ is a unique online course platform that has a virtual classroom. It is excellent for students and courses to constantly share and learn new things. Not only does WizIQ allows you to create courses, but you can also host tutoring session on the online course platform.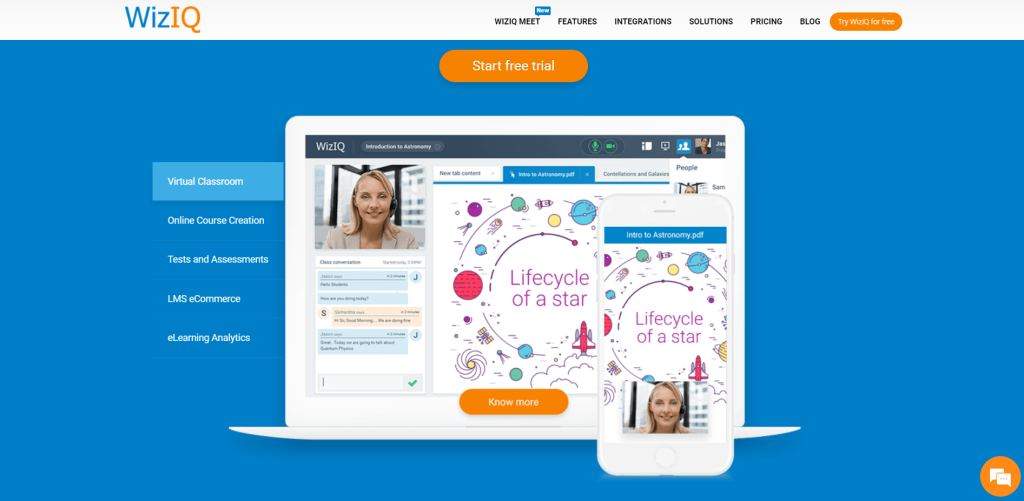 From vocational skills to corporate training to higher education courses, WizIQ enables you to teach your area of expertise by helping you create beginner to advanced-level classes for your student. 
The systematic display and functioning of WizIQ help all users understand the platform quickly. You can find everything you need in front of you, so you do not waste time searching for tools or features.
WizIQ Key features
Mobile friendly
Enables you to include PPTs, PDFs, Docs, etc., in your course
Excellent integration for marketing
Unlimited student enrollment
Responsive customer support
In-built collaboration tools
9. Udacity:
| | |
| --- | --- |
| Rating | Pricing |
| 4.6/5 | Custom |
Udacity is a MOOC or Massive Open Online Course platform. With Udacity, you can create, sell and market your courses just inside one software. Moreover, you do not have to worry about your payment, as all the payment methods on Udacity are legitimate and highly secured.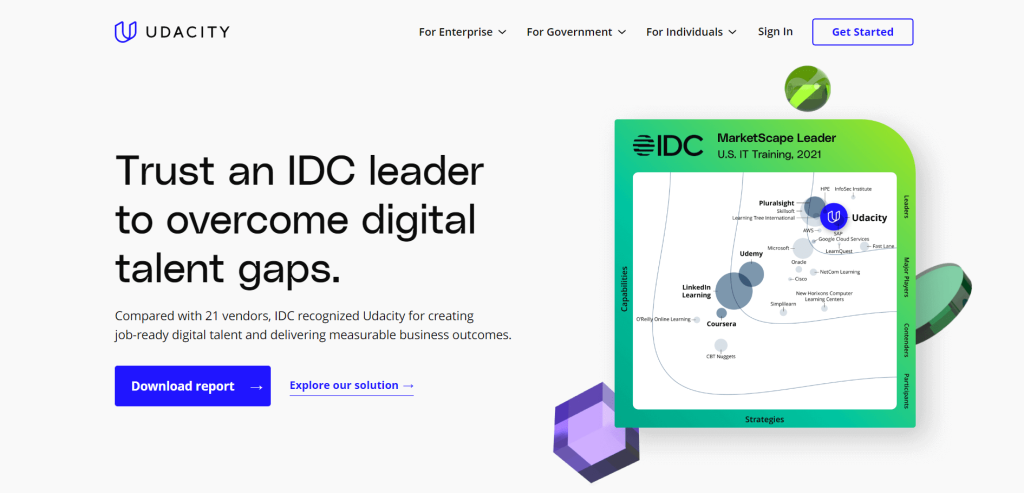 Udacity has one of the most accessible course-making software, with a simple yet appealing interface. You can refer to their support team if you have any doubts while creating your course. Additionally, Udacity provides several courses making resources for new creators who are building their first-ever course. 
Udacity is one of the most popular learning platforms and a strong competitor of Coursera and Edx. Building your course on Udacity not only gives to access to its robust tools, but you get a potential market to sell your courses.
Udacity Key Features
Digital Analytics
Customer data platform
Email marketing
Event management
Conversion rate optimization
Content marketing
10. Mighty Networks:
| | |
| --- | --- |
| Rating | Pricing |
| 4.6/5 | Starts from $99 per month |
Mighty Networks is not just another online platform where students buy pre-created courses, learn and gain certificates. It also enables you to form a community where all the students, experts, and mentors of a particular field can support and communicate.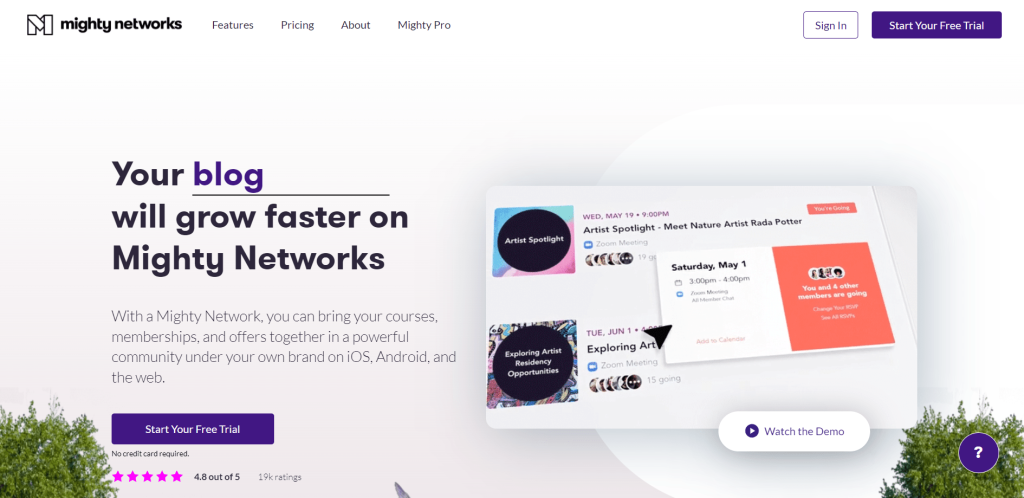 Along with communication, you can also host frequent quizzes and polls to keep your community or student engaged in your program and constantly challenge themselves to learn new things. On the plus side, you can refer to the data analysis and reports related to your course t decide the pricing range and other aspects.
Even though Mighty Networks has a simple user interface, if you have used a different online course platform before, Might Networks might be a new experience altogether for you. This is mainly because of its out-of-the-box approach to online course creation.
Mighty Networks Key Features
Mobile friendly
Unlimited hosts
Unlike students
API integration
Online events
Zoom integration
11. Ruzuku:
| | |
| --- | --- |
| Rating | Pricing |
| 4.2/5 | Starts from $99 per month |
Ruzuku is a globally loved online course platform. Hundreds and thousands of top experts and mentors prefer using Ruzuku for its easy-to-use software and seamless integrations. In addition, you will find best-selling authors, speakers, famous bloggers, and professional coaches on Ruzuku, as it has unique customizations.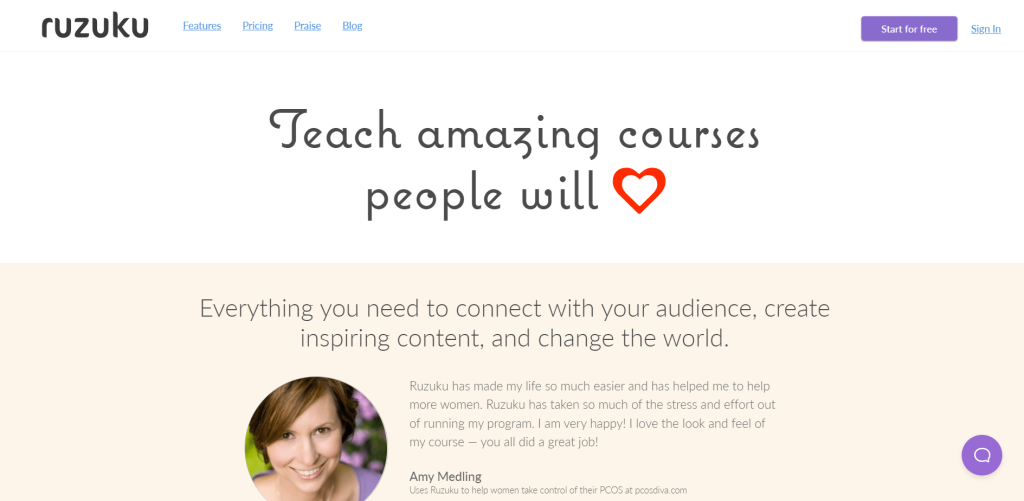 If you are looking for an online course platform where you require minimal effort in creating your course, there is no better tool than Ruzuku. It also has a 5-step tutorial for course creation to help all the new users create doubts and engage their students in courses.
You can also market and sell your courses using Ruzuku's integrations with top platforms with millions of users. To ensure your students take maximum value from your class, Ruuzku also enables you to host live webinars for question and answer sessions.
Ruzuku Key Features
Host polls and quizzes
Multiple payments options
Personalized domain
No transaction fees
Personal account manager
14-day free trial
Skillshare is one of the all-in-one learning and course platform. This platform has more than 4 million students and over 25,000 lesson course marketplaces.
As an instructor, you can shoot and upload short classes and upload it to Skillshare. You will start the income monthly royalties for every Skillshare member who watches your course.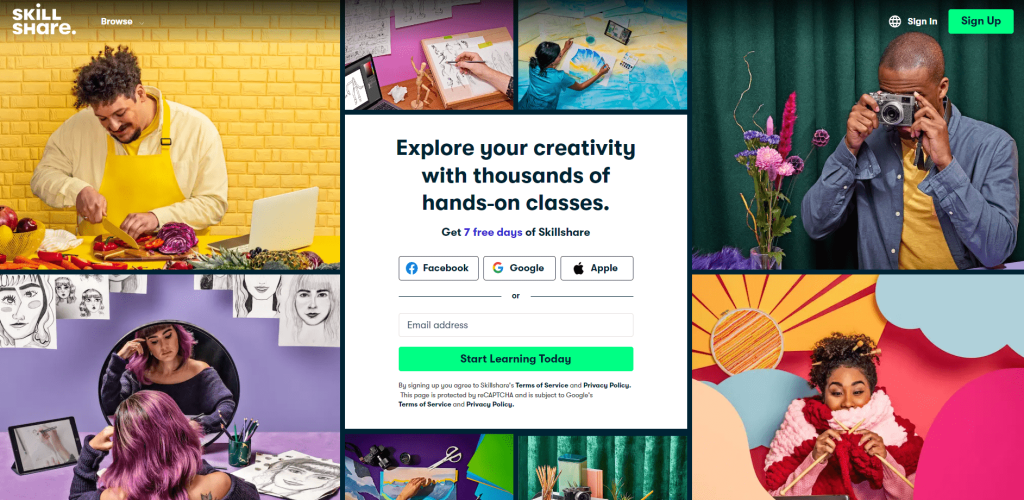 The amount you will earn will be based on how many minutes your course students watch. Moreover, if you refer a student to your course you will earn a bonus. You can publish your course with the help of the class upload tool. You can teach any popular topics like design, creativity, lifestyle, entrepreneurship, business and photography.
Skillshare Key Features:
Get various tools to promote your course.
Build your skillshare channel with ease.
Class quality guidelines.
step-by-step uploading guide.
Earn from your teaching.
Related Read:
Wrapping Up!
Choosing the best online course platforms for building your course is vital. The platforms mentioned above share some similar qualities. However, each has some exceptional characteristics that make them better for different requirements.
If you want our advice, make sure to make a checklist of all the tools and functionalities you need in your online course platform and have a fixed budget. Once you compare all the parameters, you will choose within no time.
We hope this article helped you find the best online course platforms that fit your needs. Over to you, which online course platform would you choose and why? Let us know in the comments section below!
Frequently Asked Question
Which is theebst online coure plafotrm?
There are several excellent options available in the market. However, if you want to know the top platforms for creating online courses, Thinkfic, Learnworlds, and Teachable are suitable for various course makers.
Which is the best online course platform for free?
If you want to create a course without investing money into different platforms, you can try Ruzuku, as it offers a 14-day free trial and 30-day money-back guarantee. However, if you looking for a free version of the online course platform, you can opt for Skillshare or Podia.
Can I create courses with higher education on online course platforms?
Yes, plenty of online course platforms enable you to create full-fledged courses about any topic you want. Depending on your topic and course length, you can design a program from start to end. 
Latest posts by Ryan Harris
(see all)