Exploring different MindValley alternatives? Your search ends here!
MindValley is an excellent online learning platform that provides you with in-depth courses. However, it may not be the right fit for everyone. Since Mindvalley offers self-transforming courses, you might not find courses to learn new "skills," eventually leading you to explore other options in the market.
Note: If you are looking for a Mindvalley alternative simply due to its high pricing, you can grab courses with our Mindvalley discount to save maximum on your plans!
As someone who is always keen to learn new skills by taking up courses, we have had a fair share of using various online learning platforms. Therefore, in this article, we have hand-picked some of the top MindValley alternatives based on our experience. 
As you read the article ahead, you will find the appropriate alternative to MindValley according to your needs. So, are you eager to see your options?
Let's get into the details!
Mindvalley Alternatives: Key Takeaway
We already reviewed Mindvalley, which laid out every detail about the platform. However, since it may not be the right choice, here is our complete list of alternatives to Mindvalley.
Whether you are looking for a specific niche course or exploring all the alternative options, we have got you covered! Below is a quick overview of all the MindValley alternatives. 
| | | |
| --- | --- | --- |
| Sr. No. | Mindvalley Alternative | Best For |
| 1. | MasterClass | Best overall Mindvalley alternative |
| 2. | Udemy | Best for users looking for courses in multiple niches. |
| 3. | edX | Best for users who want to pursue bachelor's or master's degrees online. |
| 4. | Coursera | Best for users who are looking for certified courses |
| 5. | Class Central | Best for learners who want all the courses under one roof |
| 6. | KelByOne | Best for photographers and cinematography learners. |
| 7. | Ed2Go | Best for job-seeking learners who want certified courses to enhance their resume or CV. |
| 8. | EduCBA | Best for skill development courses |
| 9. | Khan Academy | Best for school learners |
| 10. | SkillShare | Best for free courses |
Now that you went through the quick overview of all the Mindvalley alternatives let us review each of them in detail below!
1. MasterClass
One of our top picks when we have to choose an alternative to Mindvalley is his MasterClass. Some people are ruling the industry right now with their talents, and what's better than learning directly from these experts? One of the qualities distinguishing MasterClass from other online learning platforms is that each course comes directly from an industry-leading expert in the field. All the courses are personalized and created from scratch.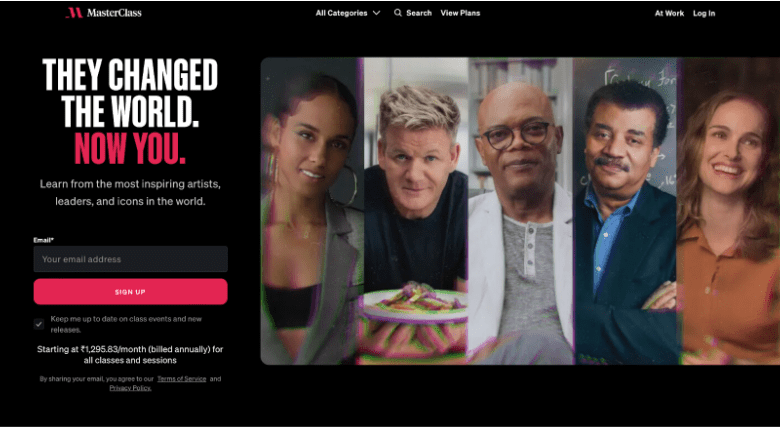 You can find courses in different niches, including travel, marketing, spirituality, fashion, cooking, and more. Another exciting part about MasterClass? It keeps adding tremendous courses from A-list celebrities every month!
If you want to explore MasterClass, you can read our in-depth MasterClass Review!
MasterClass Highlights
150+ courses in 11 different niches.
Extremely high-quality video lectures along with homework included.
Courses are suitable for beginners with zero knowledge to professionals who want to upskill their existing skills.
Sessions where you can discuss your problems and get feedback from the trained assistants and peers.
Download your lessons and learn offline.
Drawbacks
MasterClass doesn't provide free trials or courses. Therefore, it can be challenging to find out if the course is right. However, it does come with a 30-day money-back guarantee.
Price: There are three pricing options available on MasterClass. The individual plan costs $15/mo, the duo plan costs $20/mo, and the family plan costs $23/mo. You can also check the details about MasterClass All-access pass here.
2. Udemy
Another exceptional alternative to Mindvalley is Udemy which gives you access to over 185,000 courses in different niches! From spiritual, marketing, and business to IT, Udemy has an extensive catalog of courses that can help you learn a new skill or elevate your current skills.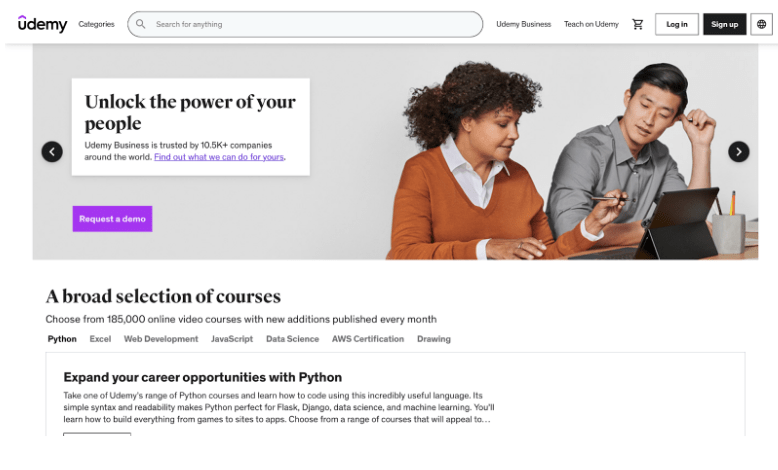 All these courses come with in-depth video lessons of different duration by the courses. However, it doesn't provide a monthly or annual subscription like Mindvalley. Instead, you will have to purchase the course separately. 
Udemy Highlights
Provides courses in multiple fields with a certification.
Provides valuable certificates upon completion that can be added to your resume. 
Udemy app for mobiles to make learning accessible from anywhere.
Affordable courses for beginners and professionals.
Also allows teachers to launch their courses on Udemy and earn.
Drawbacks:
Compared to Mindvalley, Udemy is not a dedicated platform for personal growth and development. Instead, it covers a wide range of courses. While it can be beneficial for users looking for multiple courses, it can be a significant drawback for users who focus on personal development.
Price: There are a few courses available for free. However, each course is priced at a different price. 
3. edX
With 39+ million users worldwide, edX is an emerging online learning platform with a catalog of 3,5000+ courses. edX is created by some of the leading universities, Harvard and MIT. The platform provides interactive video lessons in multiple fields, breaking location barriers. Learners can enjoy some of the top courses from edX at an affordable price. Moreover, you get access to courses, programs, and degrees online from the world's topmost universities. 
Tip: If you need help in picking the right course, you can check our list of the best edX courses that will help you!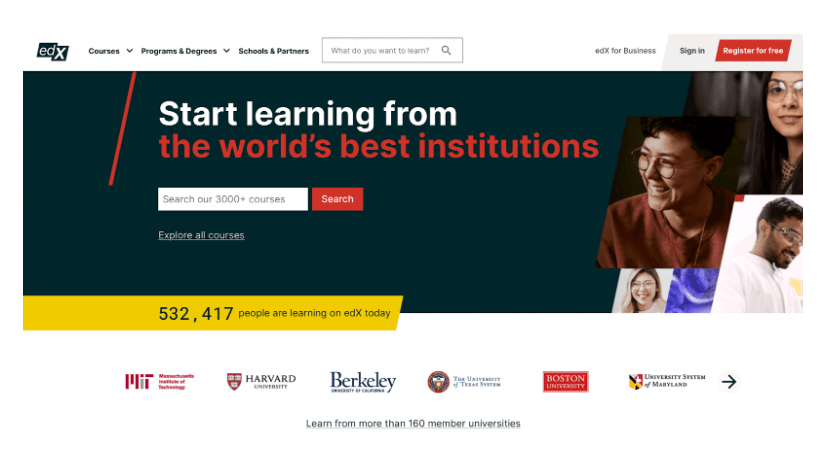 Besides, if you are curious, you can also check our detailed comparison between Udemy vs edX to determine which platform is your best pick!
We have covered a detailed review of edX, where we walk you through our experience with the platform.
edX Highlights
In-depth video lessons committed to helping learners increase their knowledge.
Besides courses, it provides programs and degrees online powered by some of the top universities.
Data visualization and interactive elements to make learning easier.
Courses in multiple languages.
Reliable customer support.
Drawbacks:
The courses available are primarily for technical learners, so if you want to opt for other fields, edX may not be suitable.
Price: Many courses are available for free by edX. However, you can also choose online degrees, which are available at different prices, depending on the course.
4. Coursera
If you are someone who wants to take up courses beyond personal development, Coursera is the right platform for you. Coursera provides some of the world-class development and training courses powered by top teachers globally. With over 5,000 courses, you can even opt for an online degree with professional certificates that add value to your resume or CV.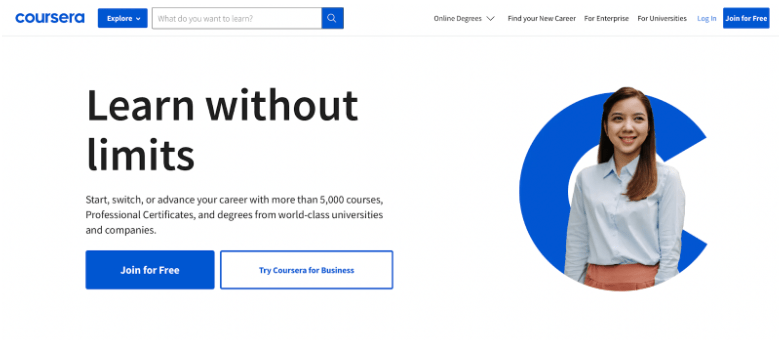 Wondering how Coursera can help? Read our detailed review to know if Coursera is the best choice to learn and brush up on your skills!
Coursera Highlights
Plenty of excellent free courses.
Coursera collaborates with 200+ universities and companies.
Get professional certificates from Google, Meta, and more.
Selection of bachelor's and master's degree programs.
Also provides special plans for teams and enterprises.
Drawbacks:
If you are looking for certificates, you will have to opt for the paid courses, as free courses do not have certificates upon completion. 
Price: Coursera offers plenty of free courses. The paid courses are priced individually. 
Bonus: We have an exclusive Coursera Plus Discount that will help you grab the premium courses at a discounted price.
5. Class Central
Unlike other Mindvalley alternatives on the list, Class Central stands out. The platform connects learners with the appropriate courses from various online learning platforms, including Coursera, edX, Linkedin Learning, Udemy, and more.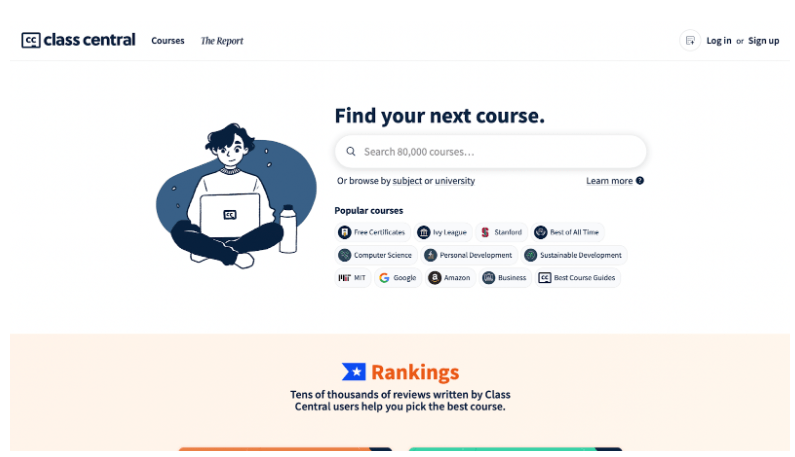 Basically, it aggregates courses from all the resources to find the ideal course in any field of your choice. So, instead of browsing each platform separately, you can search for the right course through Class Central directly.
Class Central Highlights
Connects millions of online learners under one roof.
Supports multiple languages to make learning accessible, irrespective of the language.
An excellent customer support team that helps you in finding a suitable course based on your needs. 
Covers various subjects from IT, computer, health, cybersecurity, law, and more.
Drawbacks:
It may not be ideal for users who want courses on personal development and spirituality.
Price: Since Class Central gathers courses from different learning platforms, it doesn't provide any plans separately. Instead, you will have to pay for the other platform's price on their course. For example, if you choose a course by Coursera, you will have to pay the price set by Coursera.
6. KelByOne
If you are into photography and filmmaking, there is no better platform than KelByOne to enhance your skills. With over 900+ courses, you get to learn all the insider tips in a fun and easy way.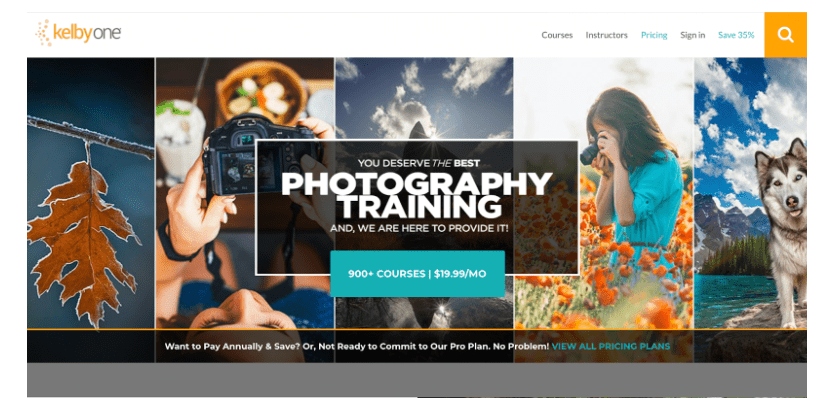 You get detailed courses for various applications, including PhotoShop, Lightroom, VSCO, and more. One of the best parts about KelByOne is that the courses are guides ideal for beginners, too, that help in learning cinematography from scratch.
KelByOne Highlights
Practical learning so that you can implement everything you have learned in real life.
Adds a new course every week.
Expanded training tools for practice.
Regular assignments and tests, so you know how you are progressing.
Technical support from a reliable team.
Drawbacks:
The only drawback of the platform is that it only provides courses on cinematography.
Price: The price for the basic plan starts at $9.99 per month. However, you can also choose the Pro plan at $12,99 per month, which gives you access to all the courses with additional features.
7. Ed2Go
Ed2Go is another excellent online learning platform that aims at providing quality education from a distance. The courses offered are led by teachers from the world's top universities who ensure you learn all the best teachings to exile in your career. Each course provides certificates that create a significant impact on your resume.

Furthermore, it also provides financial resources for learners who cannot afford to pay for the courses, making it ideal for learners to upskill their careers without worrying about paying for hefty courses.
Ed2Go Highlights
Certificate upon completion from over 200 Ed2Go partners.
In-depth courses with updated curriculum and latest technologies.
Courses in multiple fields, including writing, marketing, hospitality, and more.
Customer support is available.
Various free courses.
Drawbacks:
Price: The courses are priced individually. You cannot purchase membership subscriptions. However, there are multiple free courses available.
8. EduCBA
With thousands of learners globally, EduCBA is an excellent online learning platform that gives you access to 2,000+ courses. Industry experts lead the courses by EduCBA, so you can rest assured that you will learn the best! Moreover, the courses are focused highly on skill development, making it a great alternative to Mindvalley. Lastly, there are courses in multiple fields so that you can choose the right course according to your interests.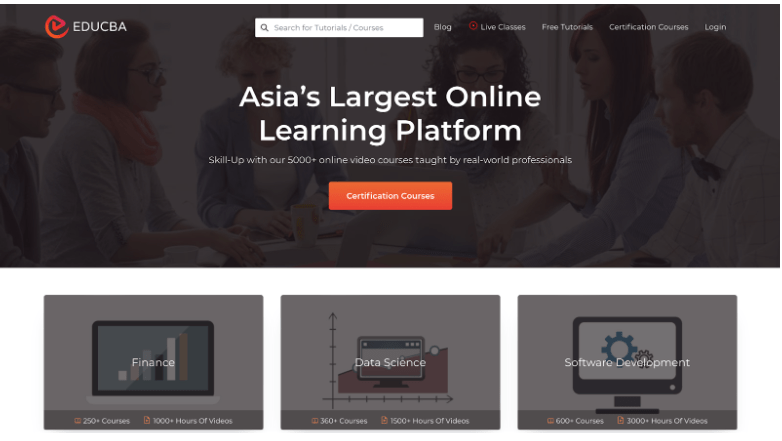 EduCBA Highlights
Valuable certificates after completing the courses.
Offers lifetime subscription to EduCBA.
Intuitive learning platform.
In-depth resource center with complete guidance.
Live sessions to actively learn a new course.
Drawbacks:
As of now, there are no free courses by EduCBA.
Price: The pricing of courses ranges from $49 to $119.
9. Khan Academy
Khan Academy, unlike other platforms on the list, is an online learning platform that is designed for school students. The free learning platform provides multiple courses in different fields and allows students to have access to an excellent education from a distance. Khan Academy consists of free video lectures, resources, lessons, assignments, and more.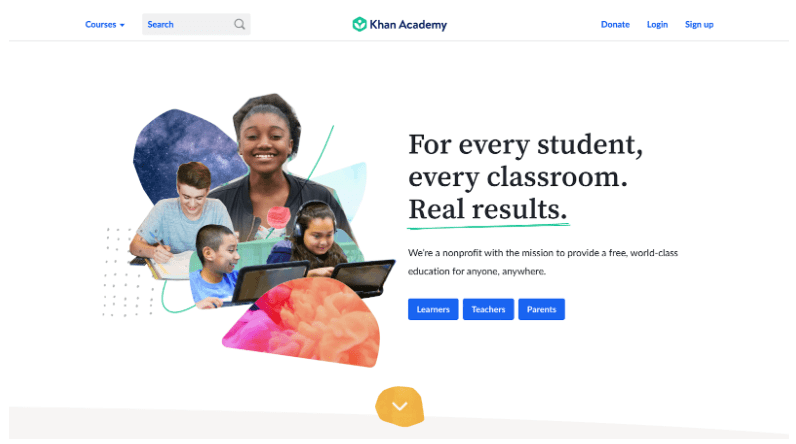 Khan Academy Highlights
Personalized learning experience.
The courses are created by experts, making each lesson valuable.
Provides courses in arts, history, math, science, and more.
Intuitive dashboard to manage everything in one place.
Drawbacks:
Not suitable for older adults or job-seeking professionals.
Last but not least on our list of best Mindvalley alternatives is SkillShare. The platform provides inspiring courses in different niches. With over eight million people in a supportive community, you can find the most appropriate course in your field. Additionally, unlike other platforms, Skillshare offers a 30-day money-back guarantee so you can focus on your learning without worrying about your money being in the wrong hands. 
If you are curious to know how SkillShare stands against MasterClass, you can read our comparison here.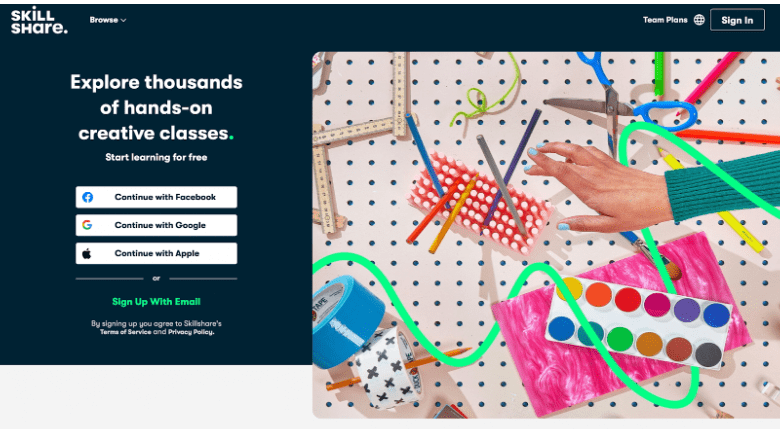 SkillShare Highlights
Offers certified courses.
Various free classes are available so you can learn without paying a single dollar.
All the courses are taught by experts with the best interactive lessons.
Practical approach for the courses.
Drawbacks:
Lacks courses on personal development compared to MindValley.
Price: You get a free trial of all the courses. However, after the free trial ends, the course can be purchased through its membership plans.
Still can't find the best alternative to Mindvalley for your needs? Check our list of Best online learning platforms that can help you explore other platforms.
Final Verdict: Best Mindvalley Alternatives (2023)
Now that we have reached the end of our article, we hope you were able to pick the right alternative according to your needs. If you are overwhelmed with the options and need our quick suggestions, here are our recommendations.
MasterClass -Ideal for learning directly from A-list celebrities.
Udemy and Coursera -For people who want to explore different niche courses.
edX -Best alternative to pursuing online degrees.
All the alternatives to Mindvalley in our list are reliable and offer a seamless learning experience. So, you can choose the one that aligns with your requirements.
Over to you. Which MindValley alternative are you choosing? Let us know in the comment section below!
FAQs On Mindvalley
Which is the best alternative to Mindvalley?
There are various platforms that offer a similar experience, like MindValley. One of the best alternatives we find is MasterClass, as you can get to learn directly from industry experts at an affordable price. 
Which is the best platform for learning data science?
Multiple online platforms offer excellent and in-depth data science courses with professional certificates. These platforms include Udemy, Coursera, edX, and more. 
Why should I look for a Mindvalley alternative?
MindValley is an excellent platform that focuses highly on personal growth and development. However, it lags behind the other platforms in terms of courses. Other online learning platforms cover additional niches that MindValley doesn't, such as IT, data science, law, health, writing, and more. 
Latest posts by Ryan Harris
(see all)