Web development has been a challenging subject for me. I struggled even with the fundamental development of a website and did not know what to do.
I simply searched on Google about courses on web development. That's when I came across Treehouse, but I was skeptical about it at first.
Eventually, I took a course, and guess what? It was well-structured, and I found it helpful in many ways. Hence, I came back to take more courses in Treehouse.
There are 300+ courses in 20+ subjects in Treehouse, where there is also an exclusive Techdegree program that clubs and similar courses offered at a fair price.
After making the best use of Treehouse and its features, I decided to write a review.
In this article, I share my experience of using Treehouse, the courses in Treehouse, the quality of instructors in Treehouse, who is best-suited for Treehouse, the pricing, etc.
I have also answered the verdict – "Is Treehouse worth it?" towards the end.
Treehouse Review: In A Nutshell
Treehouse is an e-learning platform producing courses on tech-based topics.
The 2011 established platform uses engaging lessons, detailed videos, and effective quizzes to simplify the learning process for students of all difficulty levels.
In Treehouse, there is a unique feature/plan called Techdegree; you get real-world projects, a curated list of exclusive courses, and code reviews to get going.
There are also various skill tracks in Treehouse, which helps the users to focus on a specific discipline without getting misdirected by multiple courses of different niches.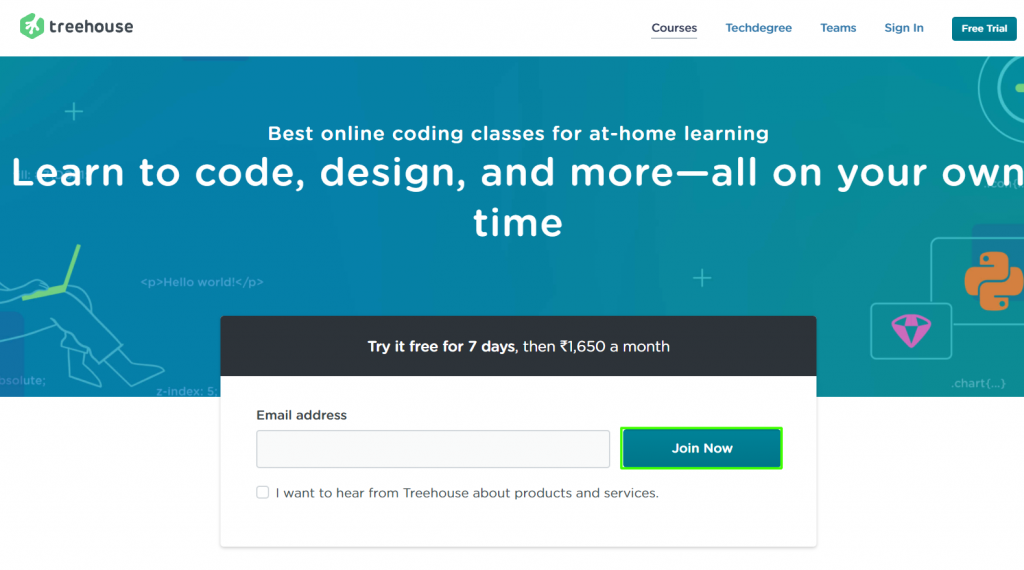 Apart from the courses in Treehouse, you also get extensive workshops and practice sessions, which is an added advantage for the users who have enrolled in Treehouse.
An interactive community forum is also available, which can be used as a conversational panel across fellow students in Treehouse to share thoughts.
The best part about Treehouse is that all the courses are self-paced, which means you can take the courses whenever you want and wherever you want.
Additionally, you can also download the videos offline for later use in Treehouse.
How Does Techdegree In Treehouse Work?
Techdegree is a collective of multiple courses that fall under the same discipline which means if you are looking for courses related to web development, Techdegree adds all the courses that might be helpful in learning web development entirely.
There are several Techdegrees in Treehouse like IOS development, python web development, and full-stack javascript development. Personally, I noticed that Techdegree in Treehouse is similar to Paths in Pluralsight, which is excellent as well.
The learning platform claims that it is a boot camp-style program where users get to pick the plan for a duration of 8-9 months and be able to take multiple courses.
The benefits you get using Techdegree in Treehouse are limitless. I mean unique features like peer review, private cohort community, and real-life projects.
As far as I have researched Techdegree, I realized that Techdegree in Treehouse could also be considered an extended pricing plan with benefits.
Techdegree costs $199/month. That's it. The same pricing is applied to all the Techdegree in Treehouse. Even if you are confused about choosing between different Techdegree programs, an exclusive quiz will help you choose wisely.
The best part about Techdegree is that it will also boost your portfolio because you will be provided with several real projects in the chosen Techdegree program.
Who Are The Instructors In Treehouse?
All the courses in Treehouse are handled by professional experts only, so you do not have to worry about the quality of the instructors. Each instructor in Treehouse had industrial knowledge and prior experience in the respective field of work they teach.
In my research, I found out most of the instructors in Treehouse are full-timers, meaning they have a complete understanding of the subject precisely.
Also, Treehouse hires only new professional experts as guest teachers if there is a requirement. All the instructors working in Treehouse are listed on their website.
The list is simplified with the instructor's proficiency and the field that they work in. This way, you get to know the instructor in-depth before taking their courses.
Treehouse: Their Courses
At the time of this writing, there are 300+ courses in 20+ tech-related topics.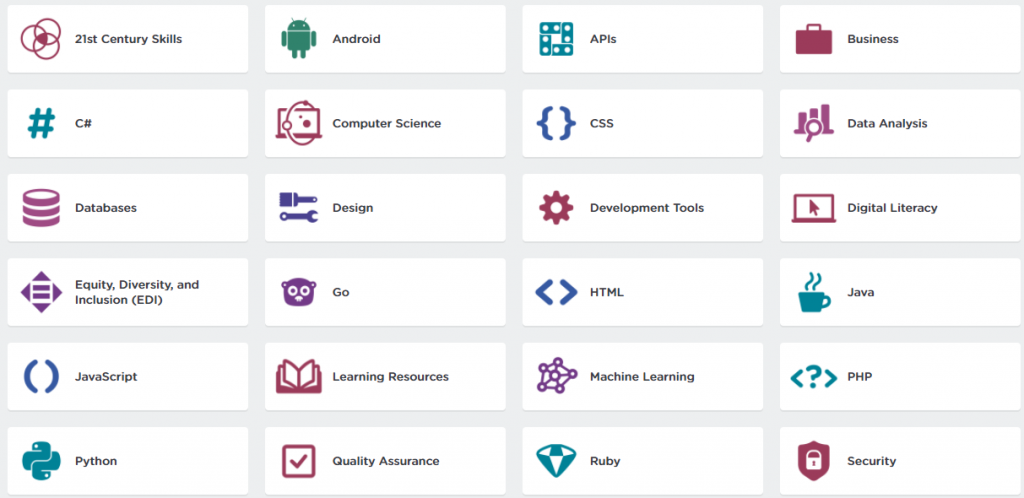 It is evident that all the courses are focused on technology and programming. Let me quickly list the categories of all the courses mentioned in Treehouse:
Computer Science
Development tools
Machine Learning
HTML, JAVA, CSS
Cyber Security
Data Analysis
JavaScript
Android
Python
APIs
Though 90% of the courses are inclined to the technology niche, I was able to find courses related to business, web designing, and marketing, which are great options.
The courses in Treehouse are categorized into different difficulty levels and subjects.
Usually, a course in Treehouse consists of video lessons, real projects, and effective quizzes. Unlike other learning platforms, Treehouse does not constrain itself to only the theoretical aspect of the learning and provides practical teaching as well.
Learning Tracks in Treehouse
Learning Tracks in Treehouse smoothens the process of searching for various courses in the same category and curates an exclusive track for you by itself.
I got to say that the learning tracks are considered one of the best features in Treehouse like it shows the companies you'll be able to get in, the minimum salary package, and a quick trailer of the entire tracklist, which is great.
Don't worry; they provide brief descriptions, even if you are doubtful about a learning track that might not cover the topics/subjects you want to.
Additionally, even the duration of each learning track is mentioned so that you can schedule it accordingly. You can also access learning tracks with the 7-day free trial.
My Encounter With Treehouse (Ease of Use)
After explaining everything about Treehouse, let me quickly brief through the user experience of Treehouse and how effective Treehouse was.
From searching for courses on the official Treehouse website to taking the courses in Treehouse, the entire process was smooth and easy.
Even the user interface and layout of Treehouse is well-prepared, leading to no confusion, and the structuring of lessons in the courses was also neatly done.
The best thing that I noticed in Treehouse is that they did not fail to produce the type of content they promised in their advertising and marketing, which is excellent.
The instructor quality was excellent. As mentioned earlier, all the instructors are professional experts. It was evident in their teaching because the instructors broke down every concept into simple lessons that beginners can understand.
Not to forget, Treehouse brilliantly curated its learning tracks because I could learn multiple skills in one place. The bonus content offered by Treehouse was also helpful.
Who is Best-Suited To Treehouse?
After taking the courses in Treehouse, I figured out that the platform was destined for a particular group of people. They are:
Anyone with no prior experience and wishes to learn HTML from scratch.
Beginners who are exploring programming language by themselves.
Tech students who are struggling with regular learning in colleges.
Apart from the people listed above, anyone can take the courses in Treehouse because every course is simplified and easier to understand from scratch.
Pros & Cons of Treehouse:
Though Treehouse is a good learning platform overall, there is an equal balance of both pros and cons for the platform. They are:
Treehouse Pros:
An in-depth explanation of challenging courses.
Professional level teaching only.
Availability of real-life projects.
Additional bonus content.
Courses are reviewed.
Affordable price.
Treehouse Cons:
Fewer courses compared to other learning platforms.
90% of the courses in Treehouse are tech-related only.
Explained Treehouse Plans
Speaking of the pricing plans in Treehouse, they are categorized into three divisions following subscription-based modules. They are: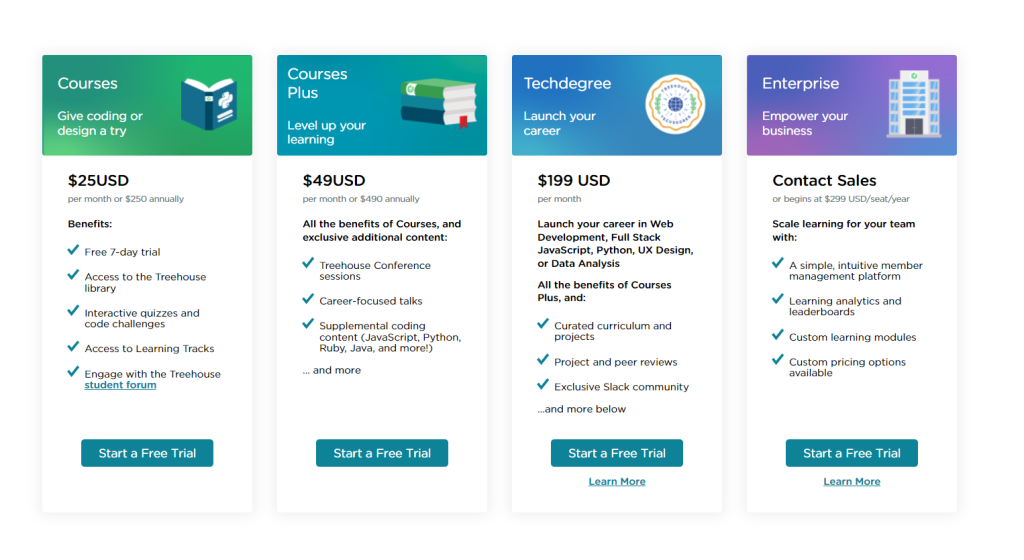 Courses plan – $25 per month or $250 annually (course library, interactive quizzes, access to learning tracks, and basic tools)
Courses Plus plan – $49 per month or $490 annually (Courses plan features + Treehouse conference sessions)
Techdegree – $199 per month (All the features of Courses plus plan and project & peer reviews, access to exclusive Slack Community)
Although the other plans are fairly priced, the Techdegree plan is an exclusive boot camp program about which I explained in-depth earlier in this article.
You will get multiple benefits with the Techdegree plan. It's a win-win situation. Apart from that, the pro plan has the advantage of downloading videos offline.
NOTE: There is a 7-day free trial that can be accessed risk-free because you'll be charged once the trial period is over. Hence make sure to cancel it before it charges!
Alternatives to Treehouse:
Even if you are satisfied with the teachings or, for some reason, do not like Treehouse, I got you covered with an excellent alternative that has similar features.
Pluralsight vs Treehouse
Pluralsight is an e-learning platform exclusively designed for tech courses.
At the moment, Pluralsight has 7000+ skill-development courses on technology with 1500+ incredible experts as instructors, which is outstanding for a learning platform. In Pluralsight, there is also a brilliant self-assessment feature that helps choose the right course without any hassles. What's more, we have compared Treehouse to Pluralsight in our Pluralsight alternatives post here.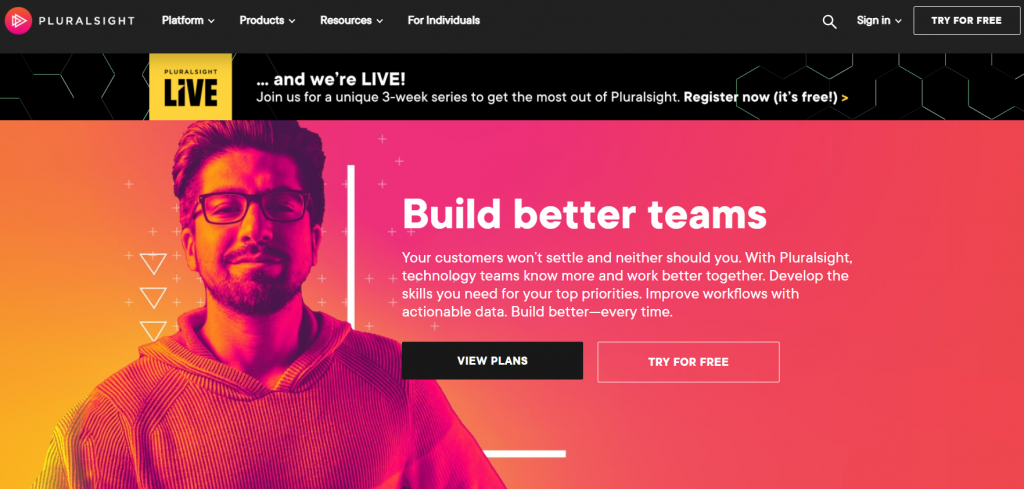 Pluralsight has divided its courses according to the depth of the subject into different levels like Beginner, Intermediary, and Advanced. Like, the learning tracks in Treehouse, there is a similar feature called Paths in Pluralsight, which is excellent.
Related Read:
Final Verdict: Is Treehouse Worth it in 2023?
Treehouse is an excellent choice if you'd like to learn tech-related skills like HTML, JavaScript, or Web development. There are more than 300 great courses.
Are the courses, benefits, programs, and bonus content all worth it in Treehouse? In my experience, I would clearly say yes. Everything about Treehouse was good.
Believe me. The simplified version of learning complicated concepts is all students are searching for across the internet, which is exactly what Treehouse does.
Using the Techdegree plan, I was able to take multiple courses related to the same subject under one roof with a fixed amount of $199/- paid monthly, which was great.
You can take the courses whenever you want because all the courses in Treehouse are self-paced with the option of offline download, which is an excellent feature.
The courses are beginner-friendly while providing advanced-level training, which means even if you know the basics, you can still take courses to enhance it better.
With features like coding exercises, helpful workshops, real-life projects, and effective quizzes, Treehouse is worth it. There is a 7-day free trial that you can try right now!
FAQs On Treehouse Review
What is Treehouse?
Treehouse is an e-learning platform producing courses on tech-based topics.
Is there a free trial in Treehouse?
Yes, there is a 7-day free trial in Treehouse.
What can you learn in Treehouse?
You can learn multiple courses from web development to HTML to JavaScript in Treehouse. There are 300+ courses on 20+ subjects in Treehouse.
What is the cost of Treehouse?
Treehouse has three plans: a basic plan – $25/- per month, a pro plan – $49/- per month, and Techdegree – $199/- per month. There is also a 7-day free trial.
Are there any Treehouse coupons available?
As of now, there is no working Treehouse coupon that allows you to get a discount on Treehouse
Latest posts by Ryan Harris
(see all)