Every engineer has attempted to crack a FAANG interview to land their dream coding job at least once in their career. However, the perfection and speed in answering complex data structures and related topics make the journey toward FAANG challenging.
This is where AlgoExpert's advanced interview prep comes in handy. It helps the candidates understand the coding algorithms' logic, which eventually helps them to code seamlessly for the complex logic and crack the interview or get their dream job.
As someone who thoroughly investigated AlgoExpert, I've covered all the details in this article to help you decide if AlgoExpert is the right platform for you.
So, if you want to prepare for your coding interview, read this AlgoExpert review now!
AlgoExpert: Pros & Cons
Every learning platform has its own boon and bane. Likewise, AlgoExpert has certain pros and cons. Let's weigh them below.
AlgoExpert Pros
Accessibility in all programming languages.
A well-curated list of interview questions.
A code station is available for practice.
Availability of mock coding interviews.
Provision of certification on completion.
AlgoExpert Cons
Not beginner-friendly.
Only designed for coding interviews.
Who is best suited for AlgoExpert?
As I was making the best use of AlgoExpert, I realized that AlgoExpert might not be suited for everyone and was prepared to keep a particular set of people in mind.
In my suggestion, I would recommend AlgoExpert to:
Anyone who is struggling to prepare for a coding interview.
Students who would like to get the experience of a mock coding interview.
Candidates who want to know the questions asked in a coding interview.
It is evident that AlgoExpert is curated for people preparing for coding interviews in different programming languages. Hence, AlgoExpert has done everything it could to prepare you for the interview and ace it brilliantly.
What is AlgoExpert?
AlgoExpert is a one-stop destination to prepare for your coding interview.
The learning platform has well-curated coding interview questions so that you do not have to worry about preparing.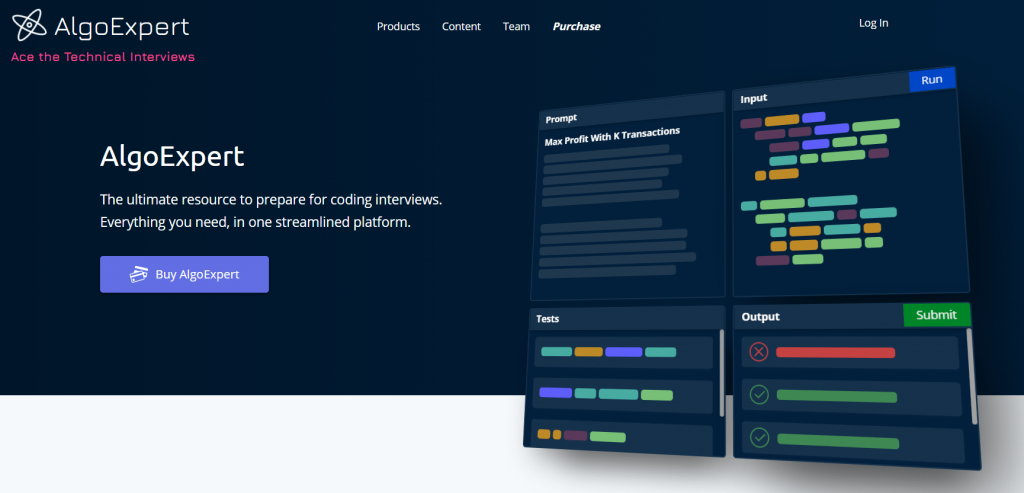 In fact, all the questions are handpicked in AlgoExpert.
The best part about AlgoExpert is that it breaks down the complexity of understanding various algorithms from 400-paged books and journals.
AlgoExpert uses video-formatted lessons with 1080 quality so that you have the smoothest experience of learning and preparing at the same time, which is great.
What's more? AlgoExpert speaks 9 different programming languages, which means even if you do not know or have learned a language, AlgoExpert got you covered.
The programming languages in AlgoExpert include JavaScript, TypeScript, Python, Swift, Kotlin, C++, Java, C#, and GO. You are most likely to find your language easily.
How Does AlgoExpert Course Work?
The AlgoExpert courses are pretty easy to learn and take up. These courses seek to increase your theoretical and practical knowledge of algorithms through the use of visuals.
While AlgoExpert's courses lay a solid foundation for advanced preparation, the practice questions simulate a real-world interview, complete with a timeframe and a few hints as you solve the question. 
As you begin, you'll find many 5- to 30-minute crash courses in programming, machine learning, blockchain, frontend development, and large-scale distributed systems to provide you with an overview of the fundamentals of each concept.

These concepts, however, are not comprehensive, as they lack dynamic programming and related advanced topics that are likely to be covered in the interview.
These crash courses refresh your previous knowledge before you move on to answering questions practically, and they are available from AlgoExpert's website.
For practice, you get 195 practice questions related to graphs, trees, linked lists, strings, etc, in nine different programming languages, including Java, Python, C++, etc. 

When you select any of these questions, a prompt displays on your screen. You can solve it and run a test using the AlgoExpert website and receive a video explanation for the question to make the concept crystal clear.
You are also given a space and time complexity analysis to compare with your own and determine whether yours is optimal.
In the end, you get a certificate of completion. Still, the platform sets a goal for you to finish a specified amount of questions to unlock its certifications, keeping you motivated throughout your preparation for your big day.
What did I like about AlgoExpert?
Unlike other learning platforms, AlgoExpert literally prepared with detailed explanations and compelling visuals. I liked a lot of things about AlgoExpert. They are:
Handpicked questions
I thought there were going to be random questions displayed, but I was wrong. All the questions were handpicked, which was helpful. Additionally, the questions were very similar to what the interviewer might ask in an interview; hence, they were practical.
Different programming language
I have to say that the availability of multiple programming languages is one of the best things in AlgoExpert. I mean, even if you find tools on the internet, it does not offer certain programming languages with which you are familiar. 
If you do not know JavaScript, you have eight other incredible programming languages in AlgoExpert with which you can practice and prepare for the interview.
Code-execution experiment
Even if you are preparing for a maths exam, you would not simply read out the answers and write the exam but practice the sums on a rough note.
Likewise, for coding interviews, it is essential to have practical testing. That's when the code execution environment in AlgoExpert comes to play. Like, I was able to literally practice my coding capability better and learn from the errors quickly.
Real-like coding interviews
Usually, it is quite rare to find mock interviews to attend for yourself. This was something I found in AlgoExpert, which helped me well for the actual interview.
Like, the mock interviews in AlgoExpert are scheduled with real persons so that you literally experience how an actual coding interview works. I am pretty sure this will help you understand how the interview goes and prepare you well.
What I think could be improved in AlgoExpert?
Although I was able to benefit a lot from AlgoExpert, there was something I wondered if was made possible in AlgoExpert.
Only for coding interviews
Even if AlgoExpert is destined to prepare you for coding interviews, it could have included benefits for users looking for general interview preparation. I mean, interviews that are outside the coding and programming spectrum.
That is something I wish AlgoExpert could work on and include in the future.
Only Visual Learning Materials Available
Many people believe that AlgoExpert is not worth the money it is asking for because there is not a lot of content to work with. Also, all the learning material is in videos, so if you're not really fond of visual learning, you won't like it. I
hope they also introduce other types of learning materials, such as PDF files that can be downloaded. It will help learners in learning whenever they want without spending too much time on the videos.
AlgoExpert Doesn't Offer Any Refund
There is no way to know for sure what type of questions you will be getting in the subscriptions because it doesn't offer any free trial or a free version. But they do offer you to try a few questions before purchasing the subscription.
Once you purchase the subscription and don't like it, there is no way to get your money back because it doesn't offer any money-back guarantee. I hope they work on that and at least offer a money-back guarantee on their subscriptions.
What is the pricing of AlgoExpert in 2023?
You have learned everything about AlgoExpert so far. Now, let's dive into the pricing section of AlgoExpert. Is it affordable? Expensive? Let me explain it quickly.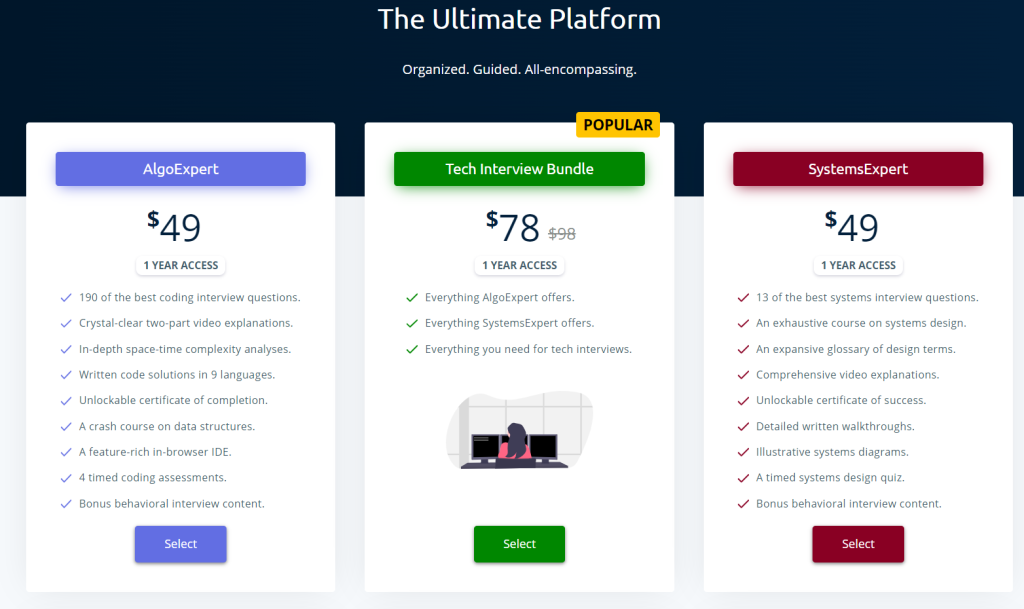 There are multiple pricing and plans available at AlgoExpert, as shown here.
AlgoExpert: $49
Tech Interview Bundle: $78
SystemExpert: $49
FrontendExpert: $49
Frontend Interview Bundle: $78
Fullstack Interview Bundle: $109
ML Expert: $49
ML Interview Bundle: $109
BlockchainExpert: $49
The expert courses are all the same price and include everything like interview questions, glossaries, certificates, crash courses, quizzes, and much more.
However, they focus on different concepts. Such as, AlgoExpert focuses on codes, whereas SystemExpert and frontend experts concentrate on system design and front-end related materials, respectively.
The ML and blockchain specialists will supply you with machine learning and blockchain resources. Furthermore, the package plans are ideal if you want to enroll in 2-3 expert courses at the same time.
Finding AlgoExpert expensive? Don't Worry! You get an exclusive discount of 25% with our AlgoExpert Promo Codes.
AlgoExpert Customer Reviews & Testimonials
Yes, AlgoExpert is really helpful, and it helps you to prepare for your next coding interviews easily and helps you land your dream job.

I purchased your SystemsExpert course in preparation for a Google L6 Eng. Manager role. I'm pleased to say I crushed those two interviews and have officially accepted an offer with a team in my ideal city. Big thanks to the team for your

Hi Clement and team, I am glad I came across AlgoExpert, I have never faced any systems design interviews before but here I am, landed on Google (L5) with 4.5 years of experience. Also got offers from few other companies for the same level. It took only one month to prepare with the great content of AlgoExpert. Thank you so much for creating such a great content and helping us to accelerate our SWE journey. I highly recommend SystemsExpert for anyone planning to land on FAANG and similar companies.
Related Read:
Final Verdict – "Is AlgoExpert worth it in 2023?"
We arrived at the final Verdict after examining every part of AlgoExpert. Overall, AlgoExpert is a fantastic platform for FAANG-styled interview prep, outperforming its competition with extensive preparation and likely to appear questions that feel like classroom practice.
All this you get to prepare for a million-dollar package costs the same as your earbuds, so isn't it the best ROI?
With our exclusive promo code, you can grab up to 25% discount on AlgoExpert. So, grab the plan and take advantage of the discounts!
FAQs:
How much does AlgoExpert cost?
AlgoExpert comes with an annual subscription at $49/- per year.
What is AlgoExpert?
AlgoExpert is a one-stop destination to prepare for your coding interviews.
Is AlgoExpert free?
Unfortunately, AlgoExpert is not free, but you can run code tests for free on their official AlgoExpert website.
Who can take AlgoExpert?
Anyone who is struggling to prepare for coding interviews in general.
Are there any available AlgoExpert promo codes?
Yes, I have listed some of the working AlgoExpert promo codes which helps you save a few extra bucks on AlgoExperts right away. Yes, you save upto 20% off on AlgoExpert right away.
Latest posts by Ryan Harris
(see all)