Fear of exams can be daunting, and it can take a toll on your mental health.
I was worried about how I was going to appear for an exam with no prior experience. Additionally, not knowing the format of the exam made it worse.
That's when I came across Exam Edge.
Though I initially thought it was a total scam for students, I was surprised to find out how adequate and helpful my preparations were with Exam Edge.
I was able to manage time while writing exams for practice and also get familiar with the exam format and questioning pattern in Exam Edge.
Apart from that, Exam Edge also mentioned my strength and weakness in the exam, which immensely helped in my improvement and led me to focus more on the places where I fell back. After making the best use of Exam Edge, I wrote a full-fledged review about my experience with Exam Edge.
In this Exam Edge Review, you'll learn everything about Exam Edge, how Exam Edge is different, what are the exams that Exam Edge offer, their pricing, pros & cons, etc.
In the end, I also share my final verdict – "Is Exam Edge worth it?"
What is Exam Edge?
Exam Edge is an online website exclusively designed for students, which will transform the way a student prepares typically for an exam, especially competitive exams. Revisions with exam edge will result in less test anxiety and a structured writing pattern in your exams.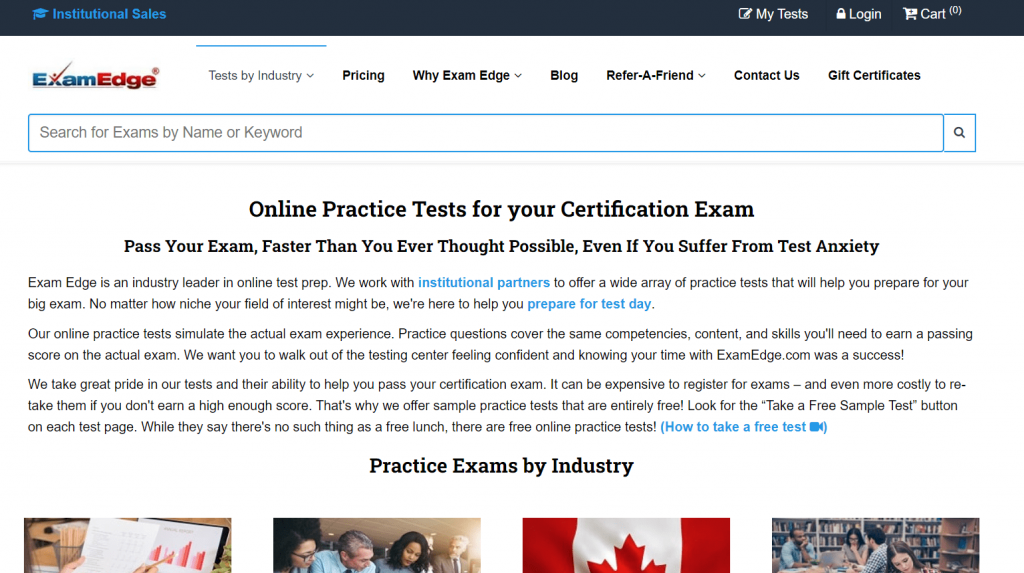 The 2006 established preparation guide, Exam Edge, is said to ease out the preparation process for an exam by providing real-life practical exams.
The best part about Exam Edge is that they also produce timed tests so that you can practice time management with the number of exams that you take, which can be very helpful.
The main aim of Exam Edge is to provide adequate help with pre-programmed exams so that you get an experience of the certification exams prior and get the results earlier so that you get to know the places where you are falling back and the places you are performing the best.
There is no limitation of exams in Exam Edge. You get a plethora of exams from different industries like Medicine, Accounting, Government, Teaching, etc. Exam Edge also provides exams for college placement which can help you ace that exam and get placed quickly.
What's more? Exam Edge also provides international exams, which some students might find trouble in. Hence, there is nothing to worry about how challenging or competitive international exams will be because Exam Edge will give you similarly formatted questions in a structured exam.
Additionally, Exam Edge has also published articles/blogs on topics like how to become a nurse practitioner, how to become a pharmacy tech, and many more, which is beneficial for users.
How Does Exam Edge Work?
Using Exam Edge is really straightforward, and you can easily prep for your certification test. To get started, just visit their official website and, on the search bar, enter the name of the exam you're searching for. You will see plenty of courses related to that exam, click on any of the courses of your liking, and it will show you an overview of its content along with its reviews.
On the right side, you will see the purchase option. Now you have two options; you can either purchase that exam one time or five times. After making your choice, you will see the checkout page where you need to provide your credit card info and complete the purchase. Now you can use the practice exams of Exam Edge to prepare for the real test.
How is Exam Edge different?
Although multiple programs and websites claim to be the best at helping students prepare for exams, Exam Edge approaches their users differently, which is excellent.
From offering certification exams in different industries to scheduling timed practice tests to provide unlimited revisions, Exam Edge has stepped ahead in bettering your preparations.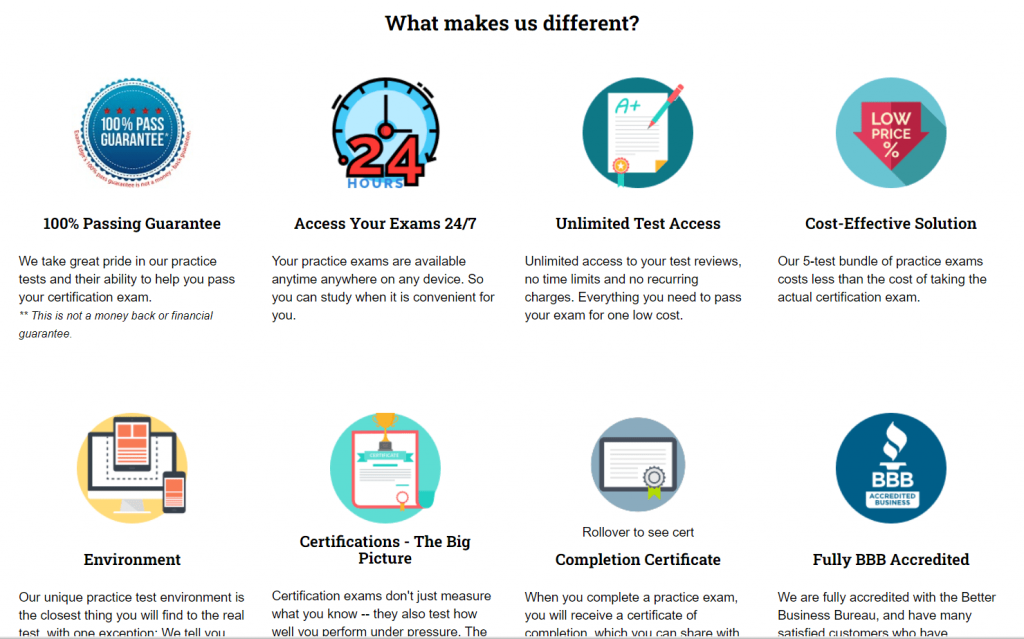 Since the exams in Exam Edge are only practice exams, they are not constrained to a single pattern and are offered in multiple types. For example, even if you are searching for a different kind of exam in the same subject, Exam Edge has still got you covered with a relevant practice exam.
An incredible feature that makes Exam Edge one of the best online exam preparation platforms is that apart from writing the exams, it will explain what went wrong in the exams.
After countless hours of preparation, and if you are still getting wrong answers in your exams, then Exam Edge can come in handy for you and will help in big-time by indicating your weaknesses while also highlighting your strength to keep up your exam game strong.
A convenient and 24/7 accessible platform to help you prepare for all your exams is all you need when you struggle to find time to prepare for an exam that is almost near properly. To add to it, Exam Edge can be used in any device you want, which is also flexible and accessible.
Each exam that you take in Exam Edge will result in a detailed and well-formatted explanation on how you can improve better in an efficient manner so that you can excel on the actual exam.
A unique thing about Exam Edge is that they also encourage their users by providing completion certificates. Though the testing agencies do not recognize the credentials offered by Exam Edge in Exam Edge, it can be shown as a small accomplishment to friends and family.
Most of the things that I have listed above are barely present in other competitors. Hence, Exam Edge can easily be recommended as a "go-to" platform to prepare ahead for exams.
What are the kinds of exams in Exam Edge?
Are you a hobbyist, a student, an employee, or even an unemployed person struggling to prepare for the most demanding exams? Don't worry. Exam Edge provides practice exams in various fields and industries, which can help to ease out the preparation process for the desired exam.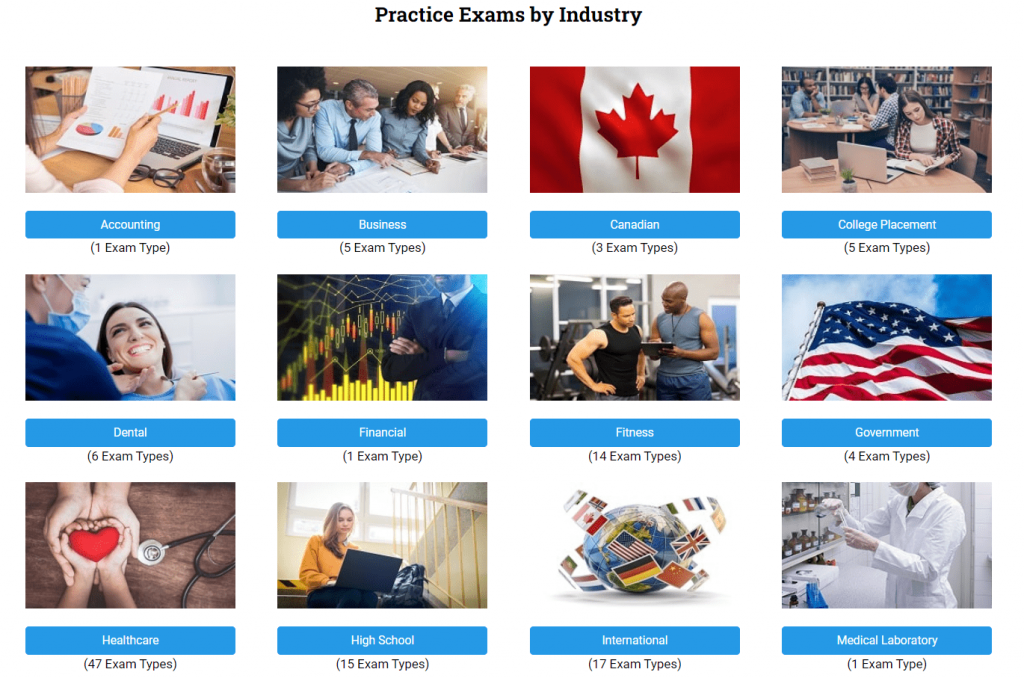 If you are wondering what type of industries are included in Exam Edge, here is an exclusive list of all the industries that Exam Edge covers:
Accounting & Finance
Government
High school
Healthcare
Teaching
Medicine
Nutrition
Fitness
Any exams that you are looking for somehow fall in the above-listed category. Hence, there is no chance of Exam Edge missing out on the exam that you are trying to prepare better.
Note that in the medicinal spectrum itself, Exam Edge covers extended medicinal fields like a veterinary, pharmacy technician, nursing, optometry, and radiology. The options are limitless.
Let me quickly give an overview of some of the most recommended industries prepared with Exam Edge. They are:
1. Healthcare
It is evident that most healthcare-related exams are complex and require a lot of time and effort to prepare to ace the exams. There are 47 unique exam types in the healthcare industry listed in Exam Edge. Even if you are preparing for exams offered by The National HealthCareer Association or HESI, you can make the best use of Exam Edge and get prior experience with it.
2. Teaching
Although anyone can be a teacher in life, a person needs to write and prove their intelligence in a standardized exam on teaching principles and educational concepts. Only by taking the teaching exams, you are considered a qualified teacher by law. In Exam Edge, there are 31 different exam types in teaching. Hence, to quickly clear out such certification exams in education, use Exam Edge for complete preparation.
3. Nursing
After years of studying nursing, a person can become a professional nurse only by writing the final nursing exams officially offered by AANP, ANCC, and other nursing exam institutions. You need not have to worry about the complexities of the exam since related medical exams are challenging in general because Exam Edge has got several nursing exams to prepare and practice. You can write the exams covered in Exam Edge so that you get the hang of how an actual nursing exam is.
4. High school
Apart from everybody else, students deal with many tests regularly, so ensuring that you are a step ahead of your peers by practicing tough exams in Exam Edge can guarantee to get good grades so that you are ranked top academically. Or you can also group with your friends and take the exams in Exam Edge, which will help you and your friends learn together and grow together. There are 15 unique exam types for high school in Exam Edge.
5. International
Great news for international students or anyone seeking help in writing international exams outside their country can easily find practical practice exams in Exam Edge to fully prepare. For international exams which you have no idea about, Exam Edge provides helpful resources which can be accessed to get accurate results with informative content on how to scale up your preparation.
There are 17 international exam types in Exam Edge, including exams like the Canadian Healthcare Field, Dubai Health Authority, American Armed Forces, or IIM CAT in India.
Likewise, there are lots of exams in different industries in Exam Edge which can be prepared way before the due date of the desired exam. Even if you are confused about how to start preparation, simply write an exam for the chosen subject in an industry, and Exam Edge will deliver everything that you need to kickstart your preparation journey and clear those exams.
Who is Best Suited for Exam Edge?
Exam Edge is an open platform for anyone to hop in and prepare for their competitive exams. The platform is so versatile in a way that it is made available for students, workers, or people in business who are writing compelling exams to shift their careers.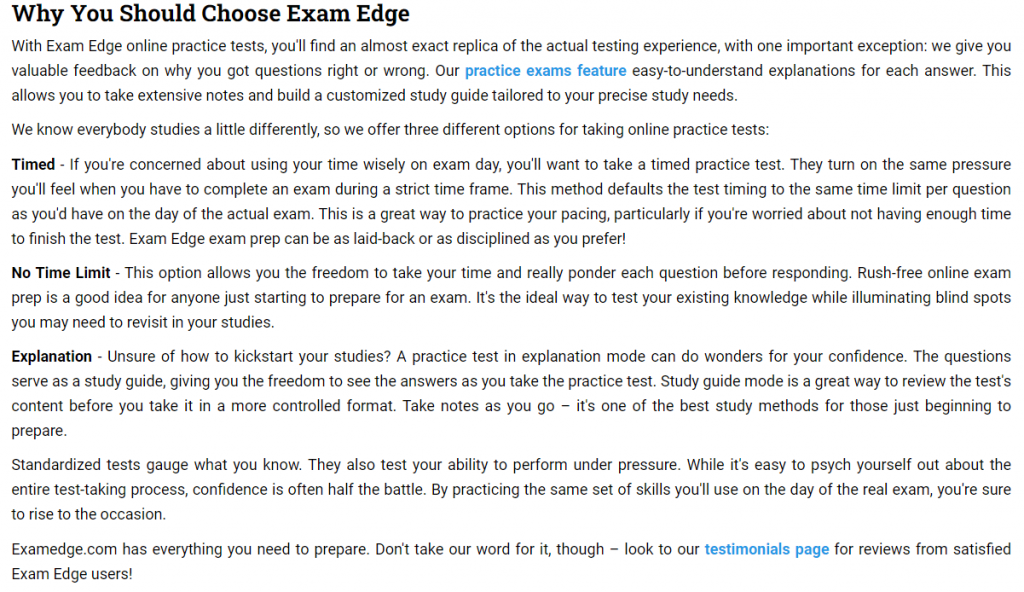 In simple words, Exam Edge is a place where you can write exams, make mistakes, and learn from those errors made in those written exams quickly. Even Exam Edge is recommended to:
People who are battling with test anxiety
Finding trouble how to prepare for an exam
Trying to learn a studying strategy with mistakes
Students who are falling back in regular tests conducted in schools
Basically, any person seeking help to prepare better to ace an exam can use Exam Edge.
Exam Edge: Pros & Cons
Exam Edge helps in the ultimate preparation for an exam. Though the platform comes with a list of perks, a few downsides are least talked about. 
Exam Edge Pros
Familiarity with test formats is achieved.
Flexible to use any device at any time quickly.
Comparatively cheap to other alternative options.
Provide timed tests to build time management skills.
Exam options in various industrial fields are available
24/7 customer support and accessibility is also available.
Evaluates your strength and weakness in every chosen exam.
Resulting in less anxiety about future tests and competitive exams.
Exam Edge Cons
Absence of a mobile application for easy navigation.
There is no money-back guarantee or refund policy available.
Although most exams are available, few exams are yet to be added.
How much does Exam Edge cost? (Pricing plans)
Exam Edge does not follow any standard pattern or a subscription-based module since there are a lot of exams in different fields and industries. Hence, Exam Edge has clubbed pricing in different ways.
For example, if you are searching for a DHA Physiotherapy Technician, you can buy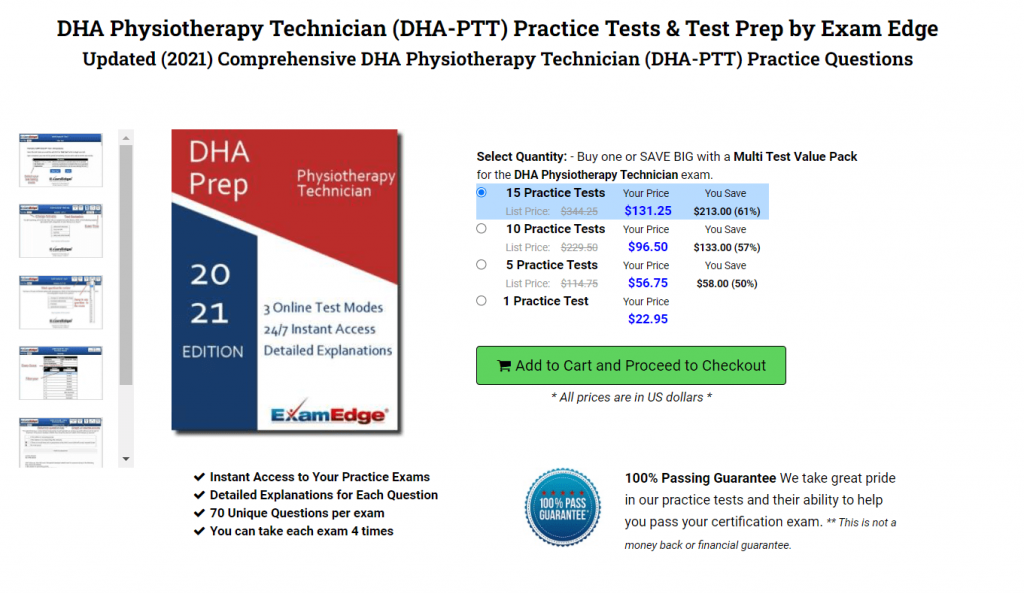 1 practice test for $22.95
5 practice tests for $56.75
10 practice tests for $96.50
15 practice tests for $131.25
Along with the access to the practice tests offered by Exam Edge, you also get detailed explanations on your answers which will be helpful to improve your preparations.
Additionally, you get the option of choosing timed tests, no time limit, and explanations with Exam Edge covered practice exams. Even the level of difficulty can be customized easily.
The example shown above with the DHA Physiotherapy Technician exam is how the pricing structure in Exam Edge works. Each pricing can start with $22 for 1 basic practice test to over $130 for 15 effective practice tests. Likewise, every exam in Exam Edge follows similar pricing.
NOTE: There is a 100% pass guarantee in Exam Edge so that you can give it a try at least once.
Related Read:
Final verdict – Exam Edge Review (2023)
After using Exam Edge for my preparations for the IIM CAT, which is one of the toughest exams in India, I could say that – yes, Exam Edge is worth it. 
Despite the preparations, Exam Edge helped with correcting the areas where I lacked, followed by recommended explanations on how to improve better.
Additionally, I tackled time management issues with the timed tests in Exam Edge because covering many questions in a given time frame is difficult and tiring.
Exam Edge has transformed how I usually prepare for an exam by providing easy practice tests to get hands-on experience before the actual exam. With Exam Edge, you also get the liberty of attempting several times till you are familiar with the desired exam format.
From my experience, I would say that Exam Edge is recommended to crack any exam because, as mentioned earlier, they provide practice exams in multiple industrial fields.
The main motive of taking practice exams in Exam Edge is to reduce test anxiety which can easily burn out a student's mental health due to exam fear and heavy pressure to study hard.
The one thing you need to do before writing any exam is to take a practice exam in Exam Edge to get familiar with the format, get helpful explanations, and learn time management.
Also, Exam Edge is the only platform that is cheaper compared to their alternative. So, what are you waiting for? Take a few practice exams in Exam Edge and start preparing. All the best!
FAQs:
What is Exam Edge?
Exam Edge is an online website exclusively designed for students, which will transform the way a student typically prepares for an exam, especially competitive exams.
Is it effective to use Exam Edge?
Exam Edge is beneficial because you get to know the exam format, develop time management skills, and get recommended solutions to improve.
Why should I take Exam Edge?
You should consider Exam Edge to reduce exam anxiety, gain helpful explanations, get familiar with the exam pattern, and fully understand the exam format easily.
What are the benefits of Exam Edge?
Exam Edge provides various benefits like building time management skills, less test anxiety, a 100% pass guarantee, and numerous exams to practice and prepare better.
How many times can I take one exam?
Exam Edge allows you to take one exam up to four times. This will allow you to become perfect in a certain exam, and it will help you pass the real exam.
Can I leave my exam in the middle and pick up where I left off later on?
Yes, you can leave your exam in the middle on Exam Edge, and your progress will be saved. You can access your progress and carry on from there. Although it will be best if you give the exam in one go.
What will happen once I complete an exam on Exam Edge?
Once you complete an exam on Exam Edge, you will be redirected to the review page. On the review page, you will see a detailed explanation of all the questions of the exam. You will also get a score on how you've performed in the exam.
What is the 100% pass guarantee on Exam Edge?
The 100% pass guarantee is not a refund policy. If you've taken the real exam within 2 months of completing practice exams on Exam Edge, then you are eligible for a 100% pass guarantee. If you by any chance don't pass the real exam, then you will have to provide proof of failure to Exam Edge, and then they will give you access to the practice exams. You will be able to take the exam up to 10 times now.
Can I download the practice exam of Exam Edge?
No, you can not download the practice exams on Exam Edge. You can access the practice exams of Exam Edge on any device which is connected to the internet.
Latest posts by Ryan Harris
(see all)