As the world is becoming increasingly digital; people are looking for ways to acquire skills online. When it comes to improving your data skills, DataCamp may be the first thing to pop up in your mind. Are you looking to find out if it's worth the hype? You're not alone!
With so many biased DataCamp reviews on the Internet, it can be challenging to understand if the platform is actually worth your money. That is why we decided to dig deep and find those answers for you!
Sure, you've heard a lot about DataCamp and its courses. But, you can never be too sure unless you try it out yourself. Don't worry; we've already done that for you.
Here is an unbiased and in-depth review of DataCamp. We hope this helps you arrive at a decision. Let's begin!
DataCamp Review 2023 (A Quick Summary)
Too lazy to go through the entire article? No worries! We know just what our lazy readers want. Here is a quick summary of our DataCamp review that will give you an overall idea about the platform. Here is DataCamp in a nutshell!
| | |
| --- | --- |
| Parameters | Rating |
| Instructors | 4.8/5 |
| Content quality | 4.6/5 |
| User interface | 5/5 |
| Ease of use | 5/5 |
| Pricing | Starting from $6 |
| Overall | 5/5 |
Intrigued by the quick summary? Let us now learn about each parameter in detail!
DataCamp Review: Overview
DataCamp is undoubtedly one of the best platforms to upscale your data skills. 2,500 companies and 80% of the Fortune companies use the platform to upskill their teams. The website is equipped with some of the best courses needed for today's changing world.
In a nutshell, DataCamp offers hundreds of courses taught by highly qualified instructors and provides a hands-on learning experience. It prepares you for the real world so you can successfully apply your skills to solve practical issues by the end of the course.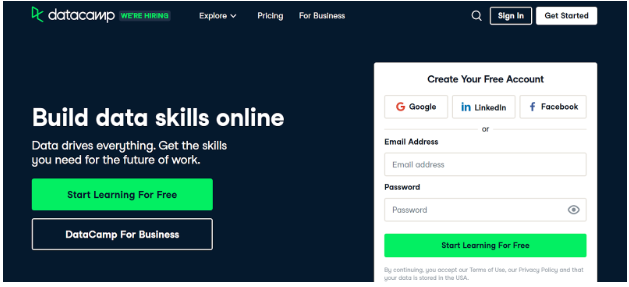 DataCamp has some of the leading experts in data science as their instructors, with people from Amazon, Facebook, DrivenData, Spotify, etc. These people are well-versed in the data science industry, so you are certain to learn a thing or two!
In addition to the things mentioned, DataCamp is packed with various other features that make it stand out in the crowd! We will explore these features further in the article.
DataCamp Review: Key Features
Not surprisingly, DataCamp is packed with many features that make it number one in the market right now! While there are countless features we could include in the list, here are some of the best ones.
The industry experts themselves design the courses.
Bite-sized videos help beginners learn at a comfortable pace.
Career-building learning paths help you launch your new career.
Assessments and interactive exercises help you learn and apply your skills.
Certification is offered at the end of the course that you can add to your resume.
Prepares you for the interview for your dream job.
DataCamp Review: Ease Of Use
One of the things we particularly liked about DataCamp is its ease of use. The platform has an accessible and easy-to-navigate user interface, even for people who are not very tech-savvy. Creating an account and enrolling in courses is simple, and you don't need to complete any complex formalities.
You can easily create an account using your Facebook, Google, or LinkedIn profile. You can always use your email if you wish to make a separate account. Once your account is created, you will get access to a dashboard where you can view the courses you're taking, track your progress, and much more.
The "Explore" option on the website page gives you instant access to a list of data science courses categorically laid out for beginners, intermediate and advanced learners.

You can also search courses by topic, which makes it extremely easy to look for the course you want. If you are looking for a particular course or topic, you can simply search for it using the search bar as well.
Another thing we love about DataCamp is that you can cancel your monthly or annual subscription anytime. You will still be able to access the courses and other resources until your subscription ends.
Website landing pages could not get any simpler than this! You have everything laid out before you to make things easy. You do not have to scour the website to look for information.
Overall, DataCamp has a user-friendly interface.
DataCamp Review: Courses
The courses at DataCamp are divided into three parts: Beginner, Intermediate and Advanced. Again, this makes searching for the right course much easier for the learner. It offers a total of 381 courses in the following fields: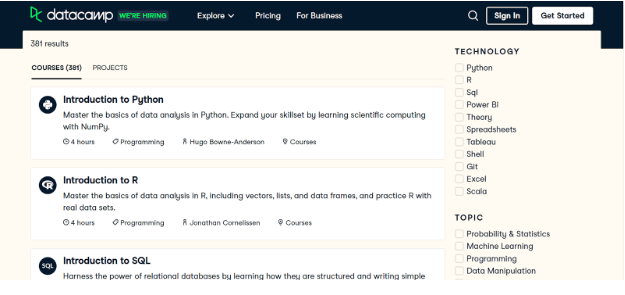 Programming
Data Manipulation
Data Engineering
Case Studies
Importing & Cleaning Data
Reporting
Management
Data Visualization
Probability & Statistics
Machine Learning
Applied Finance
The courses vary in length, course material, and instructors. Here, you get to learn about several topics required in the data science industry today, including:
Python
R
Theory
Excel
Scala
Spreadsheets
Tableau
SQL
Power Bi
Shell
Git
DataCamp uses hands-on learning methods, so it is a great place to start for serious learners. Students can start learning how to program, analyze data, and engineer databases before they even reach the end of the course.
DataCamp Review: Best Courses on Datacamp
Here is a list of some of the best courses on Datacamp that you may consider taking in 2023.
Introduction to Python
Data Science for Everyone
Introduction to SQL
Data Engineering for Everyone
Introduction for Tidyverse
Data Analysis in Excel
Introduction to R
DataCamp For Business
DataCamp for Business is a flexible online training platform for companies who want to integrate data science into their work and upskill their employees. DataCamp's courses help companies gain the data science and analytics skills needed in the current world. It is one of the best platforms on the Internet to learn open-source languages like Python, SQL, R, and spreadsheets.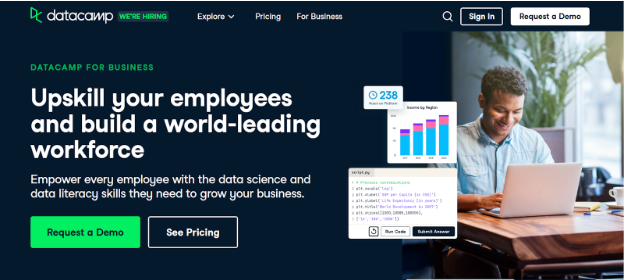 A well-designed dashboard allows you to view your team's progress. View how many people are on board, the number of courses they've completed, and the hours dedicated to learning. Personalized course recommendations are made that understand your company's needs. Additionally, easy-to-read progress reports help you stay on top of everything.
DataCamp For The Classroom
DataCamp Classroom is a free platform for educators and students. Educators can join DataCamp to teach data science and analytics skills free of cost.
DataCamp believes in empowering students with data skills. They generously give up 10% of their revenue to provide a free learning platform. The website has helped half a million students and teachers from 180 countries build their skills for free.
The students can code directly in the browser without installing other software. This offers an effective learning experience.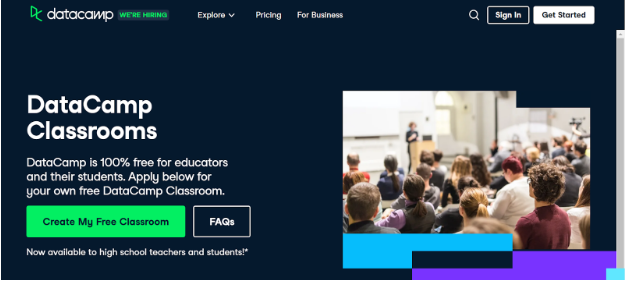 The DataCamp Classroom is just like any other. Educators can create assignments for their students and see who submitted on time and who didn't. Students also get reminded about their homework before the deadlines.
Students can work on group projects in a cloud-based coding environment. Lastly, teachers can track the progress of each student. A leaderboard allows them to see how their students' skills develop over time.
DataCamp Review: Pricing And Free Trial 
DataCamp works on a subscription model, and the plans vary depending on the number of users and purpose of purchase. There are two options for individual learners: one is free, and the other is billed at $18.34/month annually. 
For businesses, there are two plans available- Teams and Enterprise. Teams come at $25/month/user (billed annually), and the price for Enterprise varies depending on your business needs. You need to contact them for a demo and price quote. 
DataCamp offers another set of subscription plans for workspaces. You get a free-of-cost basic plan and a premium plan for individuals for $16.59/month. 
For businesses, the Teams option comes for $16.59/month as well, and the Enterprise option requires you to send them a request for a price quote. 
The prices mentioned are all billed on a yearly basis. You also have the option to go for the monthly subscription plan if you do not wish to make a big commitment. However, when you go for the annual plans, you can save a few bucks!
Coming to the free trial, DataCamp does not offer one. Luckily, the platform offers a free basic plan for both learning and workspaces. The learning free plan gives you access to a few free courses, a professional profile, and job board access. Later, you can upgrade your profile to earn a certificate on those free courses.
The free plan for DataCamp workspace gives you access to unlimited workspaces, collaboration with multiple people, and curated datasets and templates.
Who Is DataCamp For?
DataCamp is for anyone who wants to dive into the world of data science and analytics and build their skills. There are courses for beginners and people who already know a thing or two about data science. So, everyone can find a suitable course.
DataCamp is also a great platform for businesses looking to improve their skills in data science. Teams can learn together and imply their learned skills in real-life projects.
DataCamp free classrooms make it a perfect website for educators and teachers. Anyone can create a classroom for free and teach students modern data science.
DataCamp Review: Pros And Cons 
Let's look at the things we liked and didn't like about DataCamp!
| | |
| --- | --- |
| Pros | Cons |
| Experienced instructors | Free plan has very limited resources |
| Engaging and interactive lessons | Courses are available in English only |
| Affordable | Lacks quizzes and tests |
| Free plan | Limited course categories |
| Beginner-friendly | Courses are not accredited |
DataCamp Content Quality: Is It Worth It?
The content in DataCamp courses is quite impressive. The instructors are globally popular industry experts. Moreover, the platform's success is evident from the fact that it has worked with all kinds of successful companies- Google, eBay, Uber, etc.
DataCamp has certainly created a reputation by working with 80% of the Fortune companies. Whether you use the website for personal learning or your business needs, you can benefit from its in-depth course content.
Overall, if you're looking to gain data science skills and begin the journey towards a new career, DataCamp is a good option.
However, it is noteworthy that even though DataCamp offers a certificate, it is not accredited. If you're looking to earn a certificate from a recognized university, we recommend websites like Coursera and edX.
Related Read:
Final Thoughts! On DataCamp Review (2023)
So, is DataCamp a revolutionary learning platform in the world of data science? The answer depends on you and how hard you're willing to work. If you're truly interested in the field and want to start a career, there are plenty of courses you will benefit from.
Even though DataCamp has its share of drawbacks, it is still a relevantly good learning platform for launching a new career. After all, you can never go wrong with quality content, excellent instructors, and flexible learning timetables.
We covered as many details about DataCamp as possible to help you better understand it. We hope this article helps you decide whether DataCamp is worth your money. If you still feel indecisive, you can always try the Basic plan for free and decide if you want to invest your money.
We hope you liked our article on DataCamp Review. Please leave suggestions or questions in the comment box below.
FAQs
Are DataCamp certificates worth it?
DataCamp certificates are worth it because they prove that you can conduct data analysis and machine learning tasks. However, they are not accredited. 
Can you become an expert in Python using DataCamp?
DataCamp offers some of the best Python learning courses. You can use their in-build program to code without installing additional software. However, DataCamp teaches Python in the context of learning data science and analytics rather than programming. 
Can I buy DataCamp as a gift for someone else?
Currently, DataCamp does not offer any gifting options. You cannot buy gift cards or gift subscriptions from someone else. 
Can I put DataCamp certificates on my job resume?
Yes, you can certainly put your certificates on your resume. It will help you attract employers' attention and show them a glance at your skills. 
How can I make the most out of a DataCamp course?
Here is how you can make the most of a DataCamp course and excel in data science. 
Focus on one thing at a time, and don't get overwhelmed. 
Create a learning plan. 
Practice. 
Study at your own pace
Latest posts by Ryan Harris
(see all)