I had a long time to kill on the weekends, for which I had no idea what to do.
I mean, all I did was watch the "Dark" series and sleep throughout the day until I discovered that I could actually learn the language that the actors speak in Dark.
If you are not familiar with Dark, it is a German Sci-fi series. I went through the internet to see if there was a way to learn German quickly. That's when Lingoda popped up, which is a language learning program. I found Spanish in their list.
Then I realized that I could also learn Spanish because I have been watching Money Heist (a Spanish series) with subtitles only. Hence I took the lessons in Lingoda.
Now, I am watching both series with no subtitles. I mean, it is kind of hard to speak, but I can totally understand what the actors are saying in both series.
Thanks to Lingoda. Anyway, after using Lingoda, I decided to write a detailed review.
In this article, you'll learn everything about Lingoda, how Lingoda works, my experience with Lingoda, how Lingoda is unique, the pricing of Lingoda, etc.
I also answer the verdict – "Is Lingoda worth it?" towards the end.
Lingoda Review 2023: In a Nutshell
Lingoda is one of the best language learning schools online, with thousands of dedicated language learners worldwide.
The 2013 established language learning platform teaches four incredible languages: English, French, Spanish, and German.
The best part about Lingoda is that the classes are accessible 24/7, which means you can learn a language at any time, and there are instructors ready to teach you.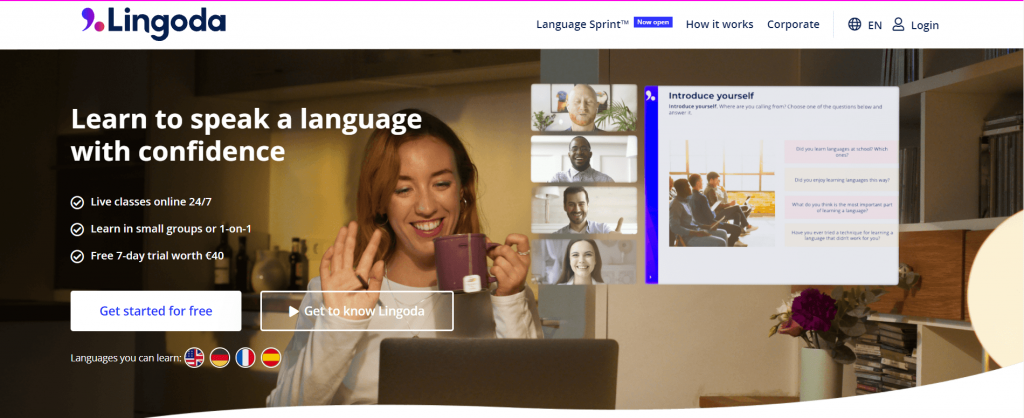 In Lingoda, there are 1500+ well-qualified native speakers of a particular language to get an added advantage of learning local phrases and terminologies.
Their instructors also have prior experience in teaching so that you can learn quickly.
In Lingoda, the learning is also customizable. I mean, you can either in-private with one dedicated native language speaker or learn in a 4-membered group as well.
Also, there are plenty of lessons in Lingoda on different difficulty levels based on your understanding and prior knowledge of the chosen language.
A fun fact about Lingoda is that it was initially launched as Easy Languages with only German as its base language and taught to aspiring learners via Skype calls.
Later, looking at fewer opportunities in the language learning spectrum, Felix and Fabian, the founders of Lingoda, decided to revamp their brand, introduced multiple languages, and hired native speakers of those languages specifically.
The result became a huge hit, and they have tutored 80,000 students worldwide. The count is still increasing as Lingoda is trending and getting all the recognition lately.
How Does Lingoda Work?
Earlier, I talked about what Lingoda actually is. I am pretty sure you must have got an idea of what the platform really does. Now, let me quickly explain how Lingoda works.
Before that, if you wonder whether Lingoda is a long process and there are many complications, let me tell you that you are entirely wrong.
The working of Lingoda is smooth and simple, where all you have to do is create an account in Lingoda, pick a language to learn, and choose your difficulty level.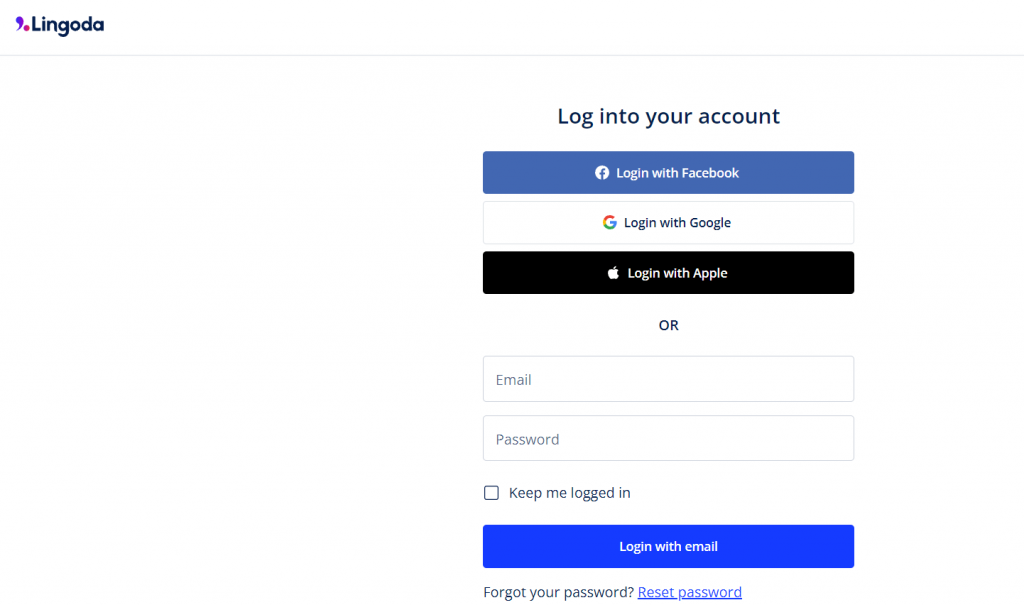 The difficulty level can be anywhere from a complete beginner to a decent speaker; Lingoda has several sets of instructors on all difficulty levels.
Even if you are not sure how well you know a language, don't worry. Lingoda got you covered with an exclusive Liguaskill test that will interpret your understanding.
I took the test in Lingoda and found out I was at the intermediate level. I was given the option to learn individually with an instructor at Lingoda or group myself with four other students. I made a different choice and decided to make use of both of it.
Initially, I learned the foundation and basics individually in the private lessons. Then once I was familiar with the terms, I joined the group lessons over my private lessons.
All the classes occur at Zoom, and Lingoda will inform the scheduling of the date and time once you book a class. At the same time, you'll get downloadable files for further learning, which is beneficial to skim through the language lessons.
The downloadable study material consists of various exercises in all aspects of learning a new language, including writing, speaking, and writing exercises.
Also, the lessons in Lingoda are categorized broadly. Like, each language has certain levels to complete in order to move ahead to the next level, which means you have to clear all the sublevels under the supreme level of a language. For example, to complete B1, you might have to complete sub-levels B1.1 & B1.2.
After completing a class with an instructor in Lingoda, you get insightful homework and simple tasks to recollect to progress your language learning journey.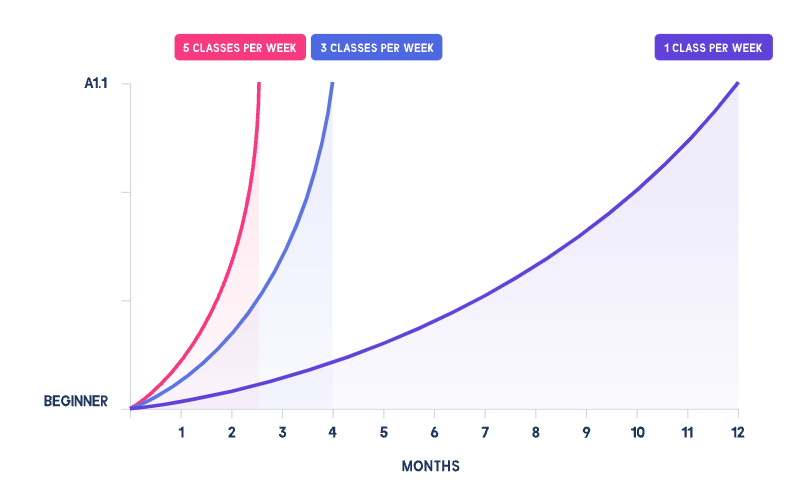 To boost your potential, after completing certain levels in Lingoda, you will receive an exclusive CEFR recognized certificate, which might be beneficial for a few.
Mosalingua is a similar platform that helps you learn different languages. I have already reviewed that platform on NutMeg Education, check the complete Mosalingua review here.
Lingoda's Teaching Method
Lingoda is not your regular language learning application; it is quite different.
In fact, Lingoda is not even an application. It is more of a well-structured online school, where instructors from worldwide are ready to teach a language 24/7.
Lingoda follows a unique teaching method that professional experts researched at two of the world's prestigious universities, Oxford and Cambridge, for 20 years.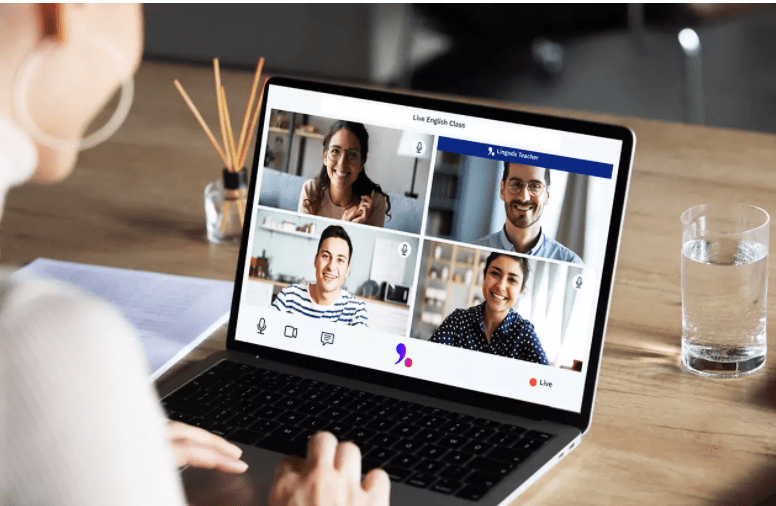 The goal of Lingoda is to teach their students a new language with useful materials, after which they can instantly start speaking it fluently like a native speaker.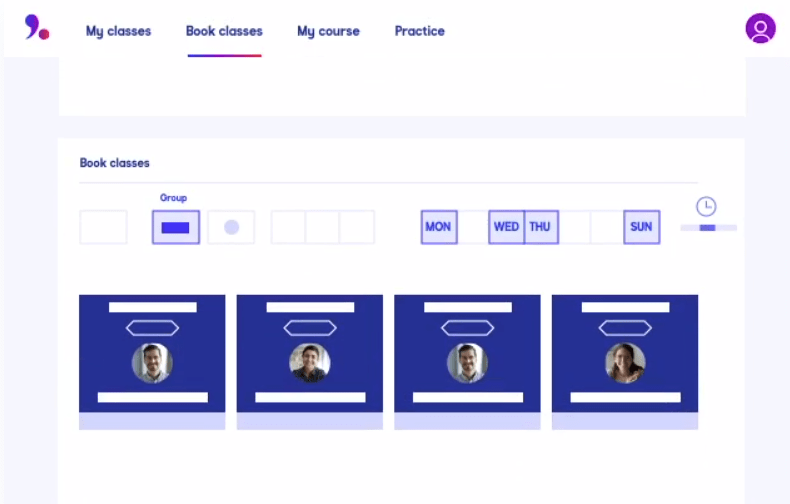 Also, the teaching method includes basics like alphabets and pronunciations and includes local phrases, idioms, and conjunctions.
This way, a student can learn how to survive in a new country with relevancy and a better understanding of the language spoken by a native speaker.
While researching Lingoda, I found out that their teaching method is actually backed up by CEFR, an international level standard describing a student's understanding.
My Honest Experience With Lingoda:
After explaining in-depth about Lingoda and all of its amazing things, now, let me share my experience with the language learning platform and how it was.
I mean, I had a great time jumping from level to level in Lingoda. I opted for Spanish; I have always loved Spanish and wanted to go to Mexico. Hence, if I had to go to Mexico someday, I might struggle without knowing Spanish, so I had taken it.
The instructor's teachings were top-notch. Like, after a point, they started conversing in Spanish while I was slowly trying to keep up with my basics through the lessons.
Also, I noticed that they are not strict and were ready to come down to any level if they want to teach the lessons ideally and improve our pronunciations accurately.
Oftentimes, after completing a class, if there were time left. I would take the study materials that came along with the class and start practicing them independently.
Even if there are doubts about the materials, the instructors are right there for you to sweep away all the confusion instantly.
The experience was indeed something else because it was not constrained only to the grammar and vocabulary but also adequate cultural references.
I mean, the instructors made sure that I learn a language so that I can speak it fluently in their respective countries.
The interaction was not awkward and went smoothly. Like, each instructor in a new class ensured that their students are confident during the learning process.
Lingoda vs Competitors — How It Excels?
First of all, I have to say that Lingoda is indeed a unique language learning platform.
The teaching method was different, and the instructors were native speakers who are also professional experts with qualified prior teaching experience.
Unlike other language learning platforms designed with a bot feature, Lingoda still follows the traditional method of teaching via instructor basis.
Learning a new language cannot be effective if a native speaker does not teach it. I am saying this from personal experience because I have tried many mobile applications which claim to be the "best language learning platform" but miserably failed.
That's when I realized how effective the teaching is in Lingoda.
Does Lingoda offer Certificates?
To reduce your curiosity, I will answer it right away. Yes, Lingoda offers certificates.
The best thing about the certificates provided by Lingoda is that they are certified under CERF, which is an intentionally acclaimed standard for learning.
Also, you are supposed to complete all the sub-levels and reach the end in order to avail your certificate for the chosen language in Lingoda.
Once you are eligible, you can instantly download your certificate in Lingoda and use it wherever you want or even add it to your resume, which might be helpful.
Lingoda Review: Pros & Cons
Here are the pros & cons of Lingoda.
Pros
A refund promotion offer is available.
Private & personalized lessons are also available.
You can schedule your classes according to your convenience
All the instructors of Lingoda are certified and experienced
If you follow Lingoda's curriculum completely, you can learn a new language quickly.
Cons
Group lessons aren't always good, but their quality depends on the students.
It can be difficult to learn study materials alone.
What did I like about Lingoda?
After using Lingoda, I have spotted a few things that I liked. They are:
Study material with annotations
The biggest pro in Lingoda is that the instructor makes digital annotations on the study material provided for the class. After completing the class, you can even download the study material with the annotations made by the instructor.
This incredibly helped me while I was practicing the lessons after class.
Native and certified instructors only
Before taking the courses, I saw that Lingoda had mentioned their instructors on their official website, where they claimed only native speakers are teaching languages in Lingoda. I was skeptical about it and still took the classes in Lingoda.

I was wrong. All the instructors are certified and fully native speakers of the language. It is indeed a practical experience to learn a new language from a fluent speaker.
This is one of the best features of Lingoda. Like, you can literally customize and book your class at any time because Lingoda offers classes 24/7 regardless of the time zones. Also, Lingoda recommends booking the classes seven days prior.
Even I had to take days off; I would compensate by taking extra lessons.
Though Lingoda does not have a mobile application, the website is easy to navigate and mobile-friendly to avoid getting frustrated with unnecessary scrolling.
Like, everything on the website is just a click away, including booking classes. Even the quizzes were easily accessible on Lingoda's website.
What I Feel Could Be Improved in Lingoda?
There were a few downsides that I also noticed while using Lingoda. They are:
An instructor cannot be repeated sometimes
I thought I could choose any instructor and how many times I want, but the booking has to be done well in advance because if not, the instructor might have been assigned to another class. I mean, the timing might clash.
This could be improved where any student can learn with any instructor without facing any trouble in the timing. I had to take classes from different instructors.
Not fully taught within time
The teaching was brilliant, but the time management was something that few instructors lacked in Lingoda. I mean, most instructors did not complete their classes on time, which left me blank with the remaining lessons in the study material.
Few instructors suggested that I complete the remaining by "practicing" it, which I think should be taught only by the instructor.
How Much Does Lingoda Cost?
Lingoda offers two types of live classes, and they charge according to that only. We have explained both of them below: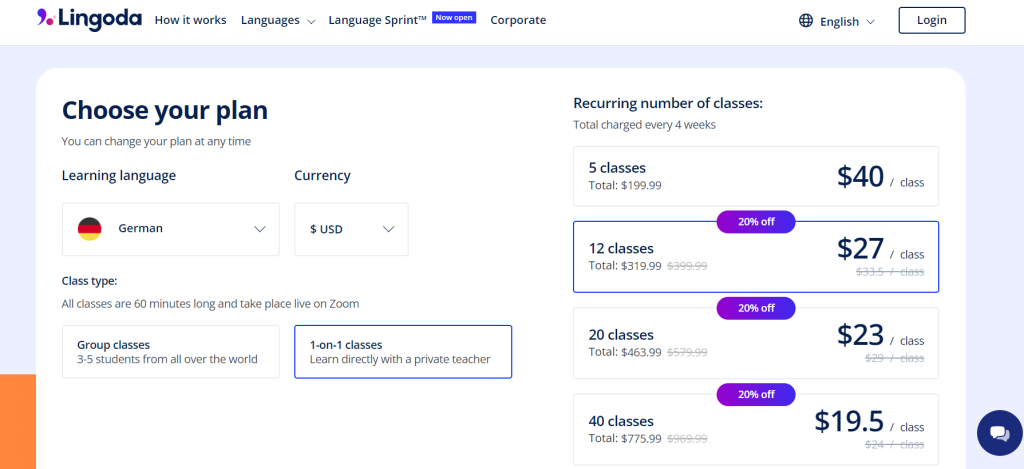 1. Group Classes: In group classes, the instructor will take live classes with 3 to 5 students. The pricing of these classes is different for every language. Here we have given pricing for the German language:
5 Classes – Total $99.99 ($20 per class)
12 Classes – Total $189.99 ($16 per class)
20 Classes – Total $269.99 ($13.5 per class)
40 Classes – Total $489.99 ($12 per class)
2. 1-on-1 Classes: In one-on-one classes, the instructor will take live classes with you only. The pricing of these classes is given below for the German language:
5 Classes – Total $199.99 ($40 per class)
12 Classes – Total $399.99 ($33.5 per class)
20 Classes – Total $579.99 ($29 per class)
40 Classes – Total $969.99 ($24 per class)
NOTE: You also get a 7-day free trial in both the plans in Lingoda.
Recommended Reading:
Final Verdict: Lingoda Review (2023)
After making the best use of Lingoda and all of its features, I'd say yes.
You might want to hear why I said that. In Lingoda, the teaching was immaculate and accurate. The lessons were not constrained to only grammar and vocabulary.
Since the instructors were native speakers, I learned several cultural references, local phrases, and common idioms used by a fluent speaker, which was incredibly helpful.
Even the study materials were effective. Plus, the annotations done by the instructor were accessible after the class. Apart from everything else, Lingoda stood out by providing a CERF acclaimed certificate for completion of sublevels in a language.
However, few downsides were noted but the pros overlapped the cons, making it a smooth experience in using Lingoda. Also, their website was easy to navigate.
The best part about Lingoda was their 24/7 availability of classes. Overall, it was a wonderful experience to learn a new language in Lingoda. I'd recommend it for sure!
FAQs On Lingoda Review
What is the cost of Lingoda?
There are two plans in Lingoda where one plan is a monthly subscription module which costs $9.5/- per class, and the other is marathon courses which cost $6.5/- per class (one-time payment only)
What is Lingoda?
Lingoda is one of the best language learning schools online.
What languages can you learn with Lingoda?
You can learn English, Spanish, French, and German with Lingoda.
Is there a free trial in Lingoda?
Yes, there is a 7-day free trial in Lingoda.
Does Lingoda offer a money-back guarantee?
There is no money-back guarantee. However, there is a 7-day free trial available.
.
Latest posts by Ryan Harris
(see all)