Are you wondering if MosaLingua is the right language-learning platform for you?
Amigo, Listen! I have used MosaLingua for a week, and I know what it's like using MosaLingua hence I decided to write a full-fledged MosaLingua review and share my insights.
In fact, I have also used other language learning platforms to analyze how different and unique MosaLingua really is compared to its competitors.
In this article, I cover everything you need to know about MosaLingua, how it works, the method followed, who it is best suited to, the pricing, the pros & cons, etc.
I also answer the ultimate verdict – "Is MosaLingua worth it?" towards the end.
Mosalingua Review: In a Nutshell (2023)
Following is a quick overview of the Mosalingua Review to check out in 2023.
| | |
| --- | --- |
| Users | Over 12 Million |
| Ratings | 4.6/5 |
| In Industry Since | 12 Years |
| Pricing | $59.90/Year |
| Free Trial Available? | Yes (15 Days) |
| Money Back Guarantee | 30-day money-back guarantee |
| User Interface | 4.7/5 |
| Content Quality | 4.8/5 |
| Features | 4.6/5 |
| Overall Rating | 4.8/5 |
MosaLingua is an independent language learning platform. You only need a mobile (or a computer) to learn a new language with the help of MosaLingua.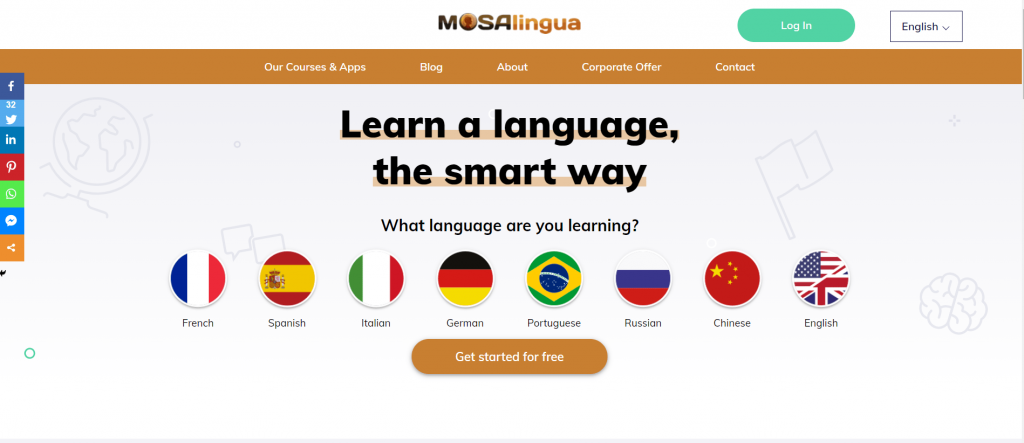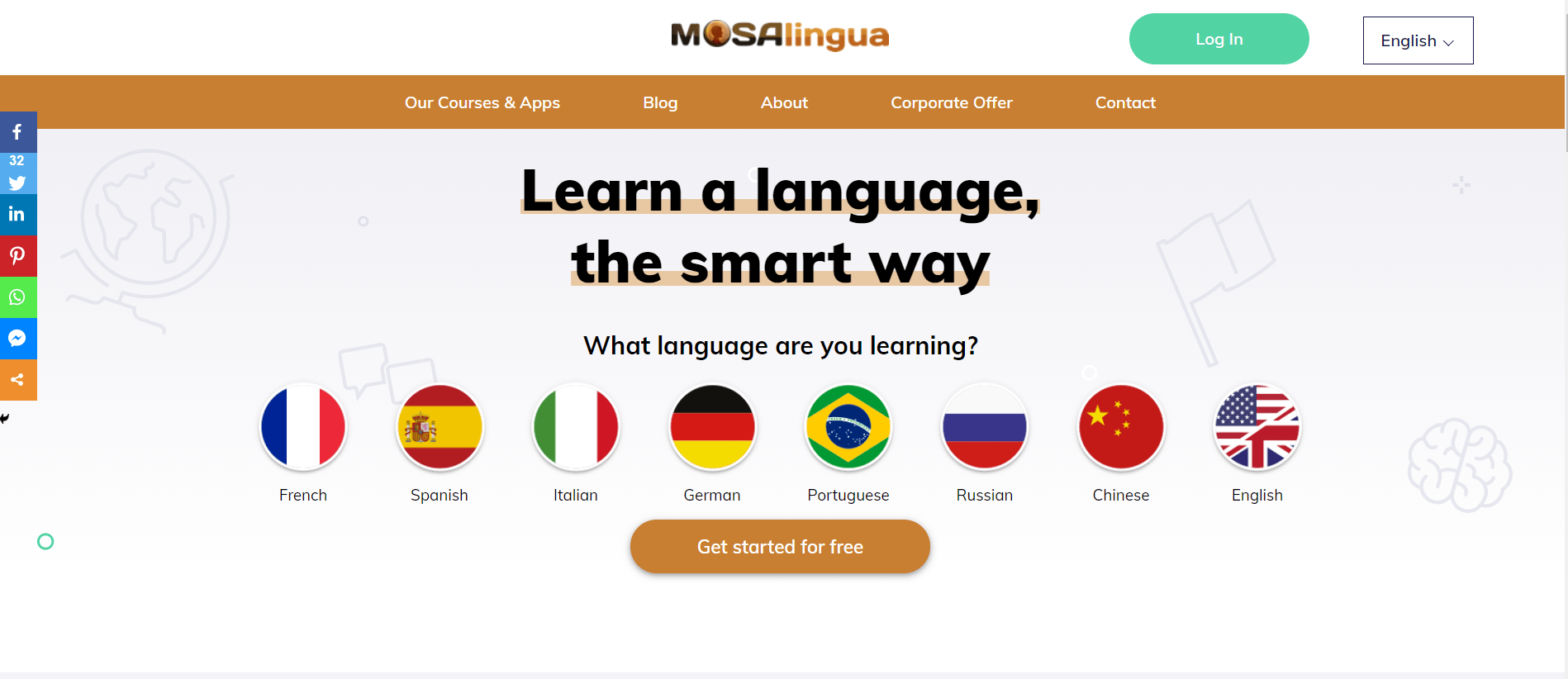 MosaLingua carefully handpicked a set of top polyglots as their instructors, who are incredible teachers for each level. This way, the same instructor does not teach the other level.
You get to be a part of an interactive community filled with fellow language learners worldwide.
Languages Available on MosaLingua
MosaLingua provides courses in 8 different languages, they are,
Spanish
French
Italian
German
Portuguese
Russian
Chinese
English
How does MosaLingua work?
The learning process in MosaLingua is very simple. All you have to do is pick a learning program that suits your budget and requirement for learning a new language then you are set to go.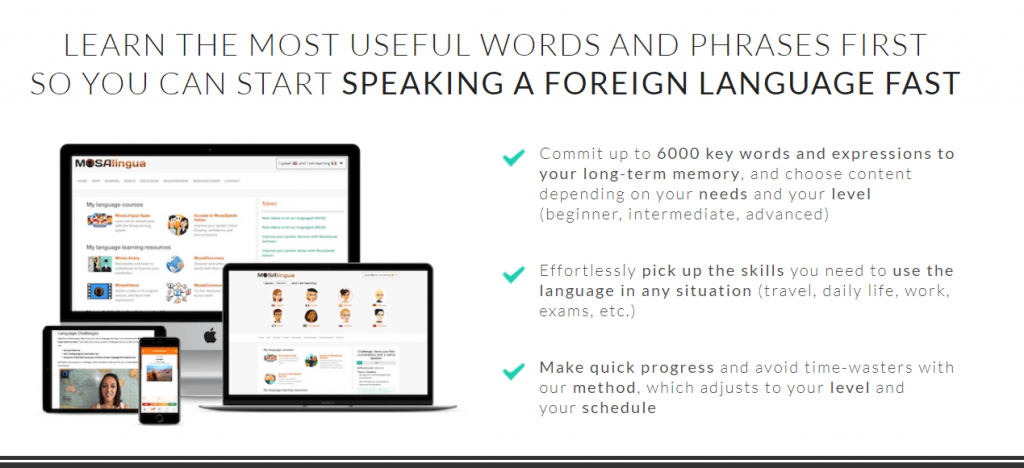 There is a generous number of levels for each language. For the language that I chose, there were 19 levels with dialogues, flashcards, and audiobooks. However, flashcards depend on the language.
A unique teaching method is followed, instantly letting you know if the teaching is desaturating your memory. It is something that is backed up by science used in MosaLingua.
There is no requirement to write a test to pass the learning or acknowledgement of the teachings. You only have to learn with audiobooks and dialogues, which are well-programmed to learn.
MosaLearning: What is it?
MosaLearning is one of the main reasons why MosaLingua stands out from its competitors. The method of learning used in MosaLingua is considered as MosaLearning, which is backed-up science.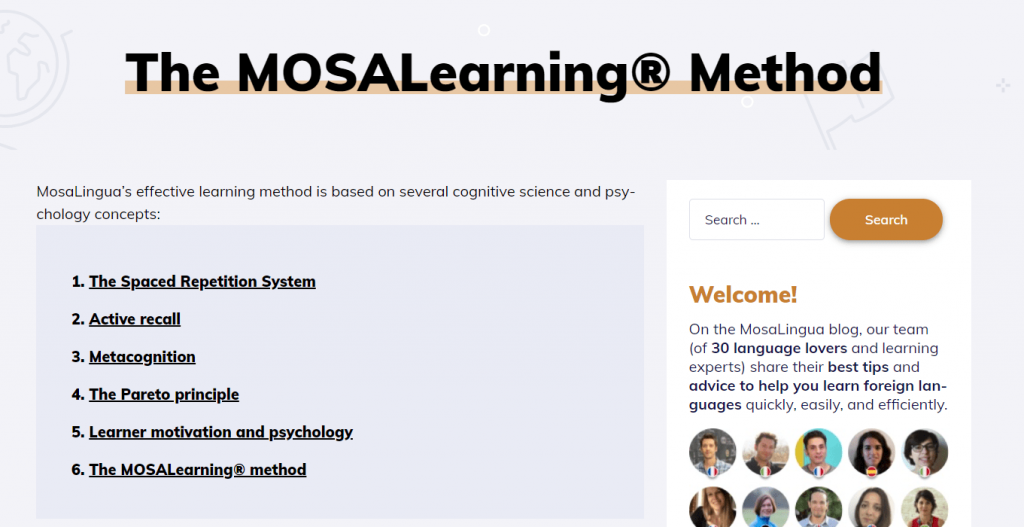 The method consists of various aspects of human psychology in learning a new language. It is tested and approved by global scientists. In fact, over 500,00 people have used the method already.
MosaLearning might seem like an unusual term, but the functions it offers are very much useful. Like, it follows a unique pattern and has a different approach towards teachings which includes:
The Spaced Repetition System
For a long-lasting memory of a concept, you would have to give gaps to learning. For example, the system suggests learning a particular word, giving a bit of a gap, and reviewing it after a while.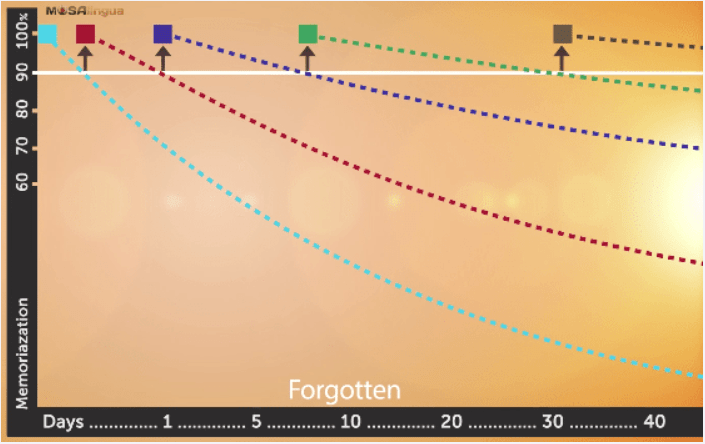 Again, after a few hours, review the same word and do it after a few days to register it to your long-term memory. MosaLingua claims that it is a modified version of a researched algorithm.
Forget the science part; the learning method is effective. I am a living testimony to it.
MosaLingua says that the use of flashcards in their learning modules requires more effort but gives incredible results. Flashcards do work in favour of the learner and are responsive to the brain.
You are entitled to react to the visualization and come up with an answer. That is called active recall.
It claims that in order to learn something, you are supposed to grasp it from memory with no hints.
Metacognition is considered a way to evaluate your learnings via self-assessment before revealing the actual answer, which is simple yet significant.
This way, you can reflect on your thoughts, which results in reinforcing memory.
It is a principle that MosaLingua suggests that wants the learner to learn all the frequently used words instead of ranking word by word because it results in easy and instant progress.
MosaLingua claims that if you can sit for 10 minutes per day using their platform for less than three months, you'll be able to understand the base of the chosen language. Trust me, it is true!
Learner Motivation and Psychology
Normally, a student gets tired after multiple loads of studying hours or under too much pressure.
The same applies to learning a new language. Sometimes it feels like a lot to take in; hence MosaLingua offers free help for learning via mail which is personalized according to you.
The above-listed five components together are known as MosaLearning Method. Although it is established and learners follow its pattern, MosaLingua says they are still updating it.
What it's like taking a lesson in MosaLingua? (My experience)
Now, let me quickly skim you through what a typical lesson in MosaLingua is like.
I opted for Spanish, which is a language that I love. Flashcards were the first introductory set.
It produced an image for visualization coded with audio for pronunciation. The best part is that you can listen to the audio however you want to comprehend the term better.

I took at least five times at first. Then things started going smoothly. For the flashcards, you are told to respond by recording the word in the appropriate pronunciation.
The only downside is that you don't get to listen to how different a word can be pronounced. After the completion of flashcards, a generator will accelerate and track down your progress.
It will show the statistics of the speed of your learning. This can help you improve your learning. Followed by the flashcards comes the dialogues section, which is filled with various sets of dialogues.
Don't worry. The dialogues are short and crisp, which are easier to learn, practice, and pronounce.
You can also unlock a set of audiobooks, music, and videos after completing specific flashcards. There is an exclusive resource tab in MosaLingua which acts as a guide to practice.
It includes a collection of free magazines, newspapers, movies, etc., which can help progressive learning. I read a few Spanish newspapers for the first time in MosaLingua, which was something else.
To sum up my experience, I would say that MosaLingua was indeed a different learning experience.
Initially, I learned vocabulary using flashcards followed by trackage of progress which led me to unlock effective learning materials to keep up with the progress.
Who is best suited for MosaLingua?
Since MosaLingua uses a different approach towards teaching a new language to learners, you might be skeptical about it. No issues, I was too; hence, I took it to know who would most likely be suitable for the teaching method followed by MosaLingua.
You can take MosaLingua if you are:
Someone who likes to learn a new language independently
People who can learn using audio pronunciation and flashcards
Ready to invest in materials for self-learning languages with guidance
Since there are no tests involved in revising the learning language, it will mostly be self-learning with audio pronunciations and suitable materials to get going with the progress.
What I Liked About MosaLingua:
I liked several things about MosaLingua, which can be valid reasons for you to try the platform right away. They are:
All aspects of learning a language 🎌
In MosaLingua, though the learning is sub-categorized in various names and sections, the teaching covers everything about learning a language from speaking to reading to listening. This way, you get a gist of the language you are learning.
This feature is generally absent in other platforms, or they either focus on one teaching line and forget the rest. Still, MosaLingua made sure to produce all sorts of content concerning learning.
I'd recommend looking at this when searching for a language learning platform because you should get the most benefit out of the learning. Fortunately, I found it in MosaLingua.
MosaLearning method 📝
This is easily the main reason I love MosaLingua. Firstly, it is a scientific learning approach, and false advertisements do not fool you since I experienced it live, and it's real.
I could tell the difference between learning in MosaLingua to other language learning platforms with their unique integrated method called MosaLearning.
The platform follows these principles throughout your learning, including memory optimization, learning frequently used words, and reflecting on your thoughts.
Collection of content 📚
You are given lots of content to keep up with the course, like effective audiobooks, language-based videos, and music. Usually, we'd search up google to practice what we have learned so far.
Well, in the case of MosaLingua, every material is in-built within the platform like magazines, newspapers, videos, audio, and even songs. I caught myself in Spanish pop culture later.
MosaLingua Review: Pros & Cons
Here are the benefits & drawbacks of using MosaLingua.
Pros
You can see plenty of flashcards on MosaLingua, and they also cover a lot of real-life situations so it gives you an idea of how you can interact in another language under certain conditions.
You will learn all the elements of language, such as speaking, writing, vocabulary, reading, listening, and grammar.
To help you optimize your memory, they have a scientifically proven method called MosaLearning.
MosaLingua offers different dialogues for you to study a language.
They have an active community of teachers where you can connect directly with them or other students.
Cons
There are a few bad-quality recordings that can hamper the learning process.
MosaLingua's user interface is not interactive as other language-learning apps.
What is the cost of MosaLingua?
Brace yourself because there are exciting pricing plans in various categories in MosaLingua.
MosaLingua: Pricing Plans
MosaLingua Premium has a free trial option at $59.90/- per year (billed as $4.99/- per month), which is the most recommended plan in MosaLingua.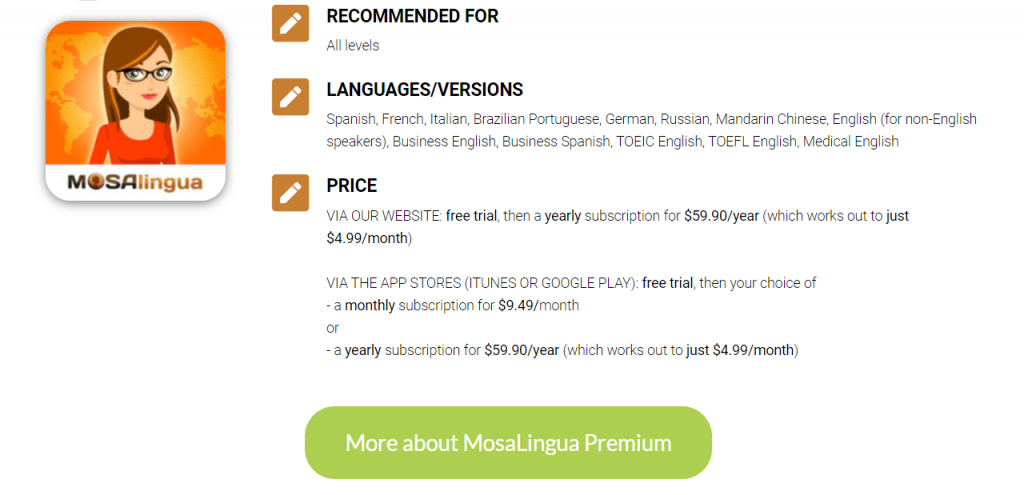 Other MosaLingua add-on packages are:
MosaSpeak consisting of eight modules for $99/-
MosaSeries is a 6-month subscription plan that comes with a 15-day free trial at $9.98/m.
MosaTraining is a premium package that is priced at $130/-
Usually, MosaLingua Premium is what people buy, and these add-on packages are only confusing and do not fully cover the entire learning process of a new language. I went for MosaLingua Premium, and it was effective in learning Spanish.
NOTE: Add-on packages are suggested if you want to upscale your learnings to a different level.
MosaLingua: Refund policy
Although there are no refund policies in MosaLingua, there is a 30-day money-back guarantee that you can use effectively to get back your money despite using the platform.
All you have to do is fill out a form and send it to them. This is a risk-free way to use MosaLingua.
MosaLingua Alternatives:
In case if you are satisfied with the features in MosaLingua or looking for better options. Chill, I got you. Here are some exciting alternatives to MosaLingua that you might like:
1. Mondly
Mondly is an excellent choice if you'd want to learn a new language because of several reasons, like chatbot conversations, game-like experience, progress tracker, community hub, and leaderboard.
You also get an intelligent calendar to get going with the learning. If you compare Mondly with MosaLingua, Mondly has stepped ahead with an augmented reality level update extension.
Although MosaLingua has a scientific approach method, Mondly has various features that make it one of the best applications for learning a new language.
You can buy one language for one month at $9.99/- per month, one language for a year at $4.99/- per month, or $47.99/- per year, and 33 languages for one year – at $479.99/- per year.
2. Rosetta Stone
Rosetta Stone is one of the significant language learning platforms with 25 languages to choose from. It has a flexible user experience that is easier to navigate.
In comparison with MosaLingua, Rosetta Stone has better lessons to learn a language. It uses the formal way of teaching languages which might interest some people.
You can either get lifetime access to the language library at a single payment of $179/- or pay for the subscription plan at $95.88 per year, which can be paid at $7.99 per month.
3. Duolingo
Duolingo is a unique language-learning application with appealing visuals and graphics. It helps users learn a new language in a fun way.
While MosaLingua stands out with the MosaLearning method, amazing audiobooks, and learning resources, Duolingo is limited to words, phrases, and sentences.
The platform is available for free, but you will have to pay $83.33 per year or $6.99 per month if you want to remove ads.
Aspects that I took while reviewing MosaLingua:
There were several aspects that I considered while I was reviewing MosaLingua. I chose the language Spanish since I have always loved the language and wanted to try it.
I took up Level 1 Spanish and decided to take it for a week.
I was able to complete 40+ flashcards which unlocked the audiobooks for me. Later, I learned a few dialogues in Spanish but remembering the words was quite challenging.
1. Learnable Dialogues
You are not instantly allowed to take the dialogue lessons, but once you complete the sets of flashcards, you are given the option to choose accordingly.
There are various ways in which you can learn dialogues. You can turn on audio with Spanish or English subtitles; it is up to you.
This is impressive because you get to learn how to read a sentence, speak a sentence, and listen to a sentence—an All-in-one package.
At first, you are told to listen with no translation or subtitles to hear the sentences in the native language for a better understanding.
2. Use of flashcards
The use of flashcards is one of the main features in MosaLingua, which allows the learner to instantly grasp the word with either an audio or a written word.
In the flashcards section, you can choose the option to listen & repeat, memorize or write. You can also self-evaluate memorization, which is an excellent feature to try.
There is no rush in learning using flashcards because first, you get to listen to the audio of the word followed by the spelling of that word. Later, you are told to record your pronunciation of the word. It is as simple as it sounds.
3. Hands-free feature
Another great tool in MosaLingua is the Hands-free feature which enables a learner to listen to audio of a word in English while also having the word written in English.
The twist is that the learner has to answer it in the chosen language, fun, and engaging practice.
Final verdict – Is MosaLingua Worth it In 2023?
MosaLingua can top the rankings of the best language learning platform with its unique approach called MosaLearning, which is also scientifically proven.
With excellent content, flashcard teaching, and dialogue learning, MosaLingua is a perfect choice if you want to learn a new language with principles.
Although there are a few downsides like an outdated interface, formal lessons, and zero responsiveness in navigating to consider, MosaLingua manages to stay relevant.
Specific tools like the hands-free feature and content library are worth the investment. Just because the platform seems outdated does not mean that the quality of the platform is the same. Overall, I'd say that MosaLingua is worth it.
Remember that you need a platform to learn a new language, and if you are getting all the essential features at a reasonable price, why not give it a try?
FAQs:
How much does MosaLingua cost?
The MosaLingua Premium costs $59.90/- per year (billed as $4.99/- per month) 
What is the method used in MosaLingua?
MosaLingua uses a unique method called MosaLearning, which is backed up by science.
What all languages does MosaLingua cover?
MosaLingua covers Spanish, German, French, Chinese, English, Italian, Russian, and Portuguese.
Does MosaLingua offer a refund policy?
Although there is no refund policy, there is a 30-day money-back guarantee in MosaLingua.
Latest posts by Ryan Harris
(see all)