Looking for a Teachable review is great if you look forward to selling courses online.
The New York Times, Shopify, and Penn Law are among the top firms that use Teachable to educate their audiences. Teachable is undoubtedly, a fantastic platform for excelling in the field of online courses. However, with so many options available, it's becoming increasingly difficult for individuals to select the best platform for online courses. 
We chose to explore every element of Teachable in this review, including its benefits and downsides, pricing, worthiness, features, and so on! By the end of this review, you will have better clarity that Teachable is worth investing in!
But before getting into the details, let's examine the article's key takeaways.
Parameter
Key Takeaways
Ratings
4.4 out of 5.
Ease of use
4.3 out of 5.
Key features
User-friendly interface for both amid and students.
Make your customized brand.
Helps you connect with students directly.
Allows integration with Google analytics, mail chimp, segment, ConvertKit, Zapier, etc.
High-quality playback and ease in handling files.
Types of lessons
Audio lessons, video lessons, text lessons, quiz lessons, Downloadable lessons, coding lessons, PDF lessons, and embed codes.
Price
Starts from $0.
Who should use it?
Small businesses, large corporations, NGOs, and educational institutions.
Now that you have a basic idea about Teachable through the table above let's get into our in-depth review below!
Teachable Review: Overview
Teachable is a cloud-based builder platform to help users generate multimedia lectures or courses. It is an all-in-one platform that not just makes multimedia courses or lectures but sells them too.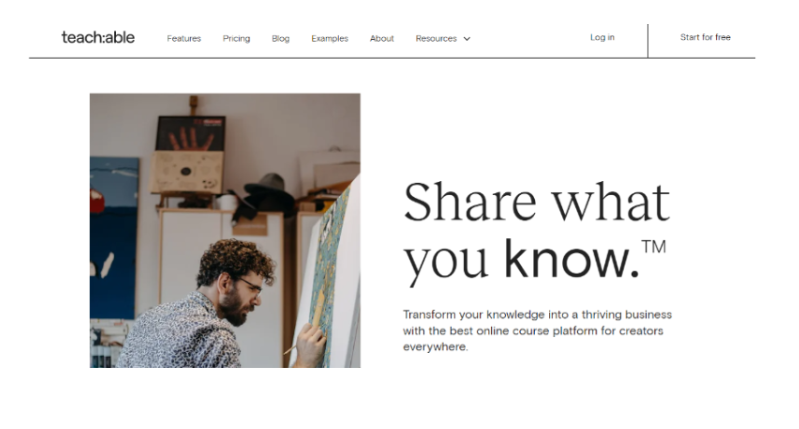 Additionally, it helps in marketing, hosting, designing, and receiving payments without using code or technical knowledge. With Teachable, you can create your online school and start your own business by customizing your courses and providing attractive knowledge to students.
Teachable Review: Key Features
Teachable offers excellent features to its users. Have a look at them below.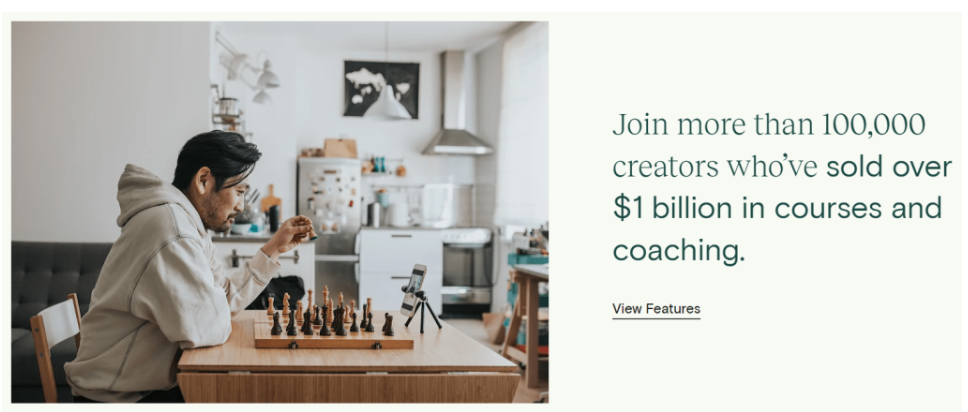 Third-party integration: Teachable provides integration of email, Zapier, and analytics services for flexible functioning.
Custom branding: You can add your brand logo and theme and customize your course with its excellent custom branding feature.
Template editor: Teachable allows you to customize your default email notification.
Landing page builder: lets you Modify your homepage, sales page, checkout, and thank you page.
Easy to use: You can create an online course on Teachable without any technical knowledge with just the drag-and-drop feature.
Direct communication with students: Once a student is enrolled in your course, their email address and name are collected to communicate directly with them.
Teachable Review: Teachable Student User Interface
Teachable provides a fantastic student interface with ease to begin the lecture by clicking on the start button and checking their progress through the progress bar beside every course. Furthermore, students are provided three options for choosing template designs to have a layout of their choice for their perfect experience.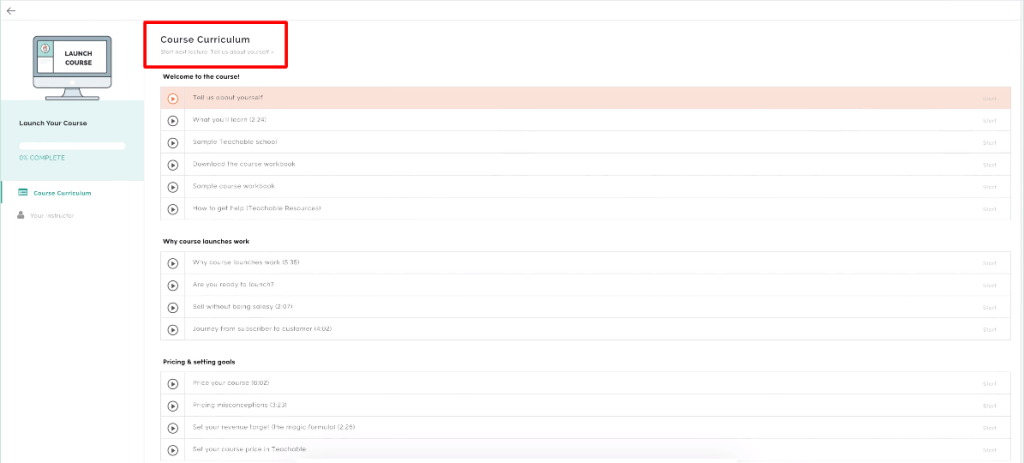 Students can leave a comment or upload files from Google Drive, Facebook, Instagram, Facebook, Dropbox, local devices, etc., to submit homework. Overall the student interface of Teachable is impressive and user-friendly.
Teachable Review: Course Creation
Teachable allows you to create courses on its platform with zero technical knowledge. By following the steps below, you can create a course on teachable.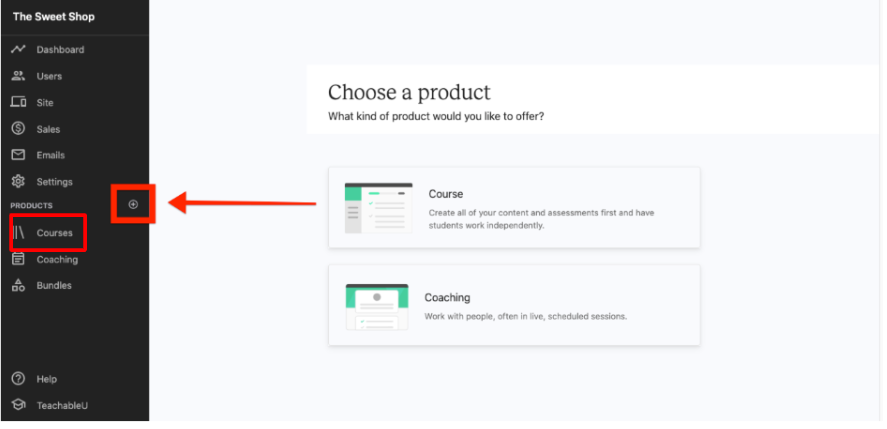 Step 1. Select your course idea:
Start by selecting your course. For this, it's essential to know the market and trends and use google analytics to figure out the hot-selling courses. Provide value and add something that marks your course as unique.
Step 2. Find and define your audience:
Find out who your target audience is. For instance, if you are taking a course on programming languages, your target audience will include coders, software developers, etc. Reach out to these people through social media platforms with cold DMS or emails to pitch them to your course.
Step 3. Set price:
Set pricing and income goals. For instance, if your income goal is $10k, you should set your price as $100 for each, try to start with low pricing, for example, $10, and show results, collect testimonials, and increase your price eventually as your value increases.
Step 4. Create course content:
Organize a curriculum and create valuable lectures with attractive videos, images, texts, pdfs, and every resource you can provide to make students fully aware of the topic.
Step 5. Choose the host platform:
Choose a host platform that would support course formats such as pdf, videos, images, etc. It will also serve as a sales page. There are three main options available for hosting: hosting your site on teachable, self-hosting, or marketplaces like Udemy, skillshare, etc. Always remember to choose a mobile-responsive host platform.
Step 6. Gather your tools:
Gather all the tools necessary for recording lectures, including lighting, cameras, microphones, editing software, green screen, and voice-over slides.
Step 7. Grow your audience:
Grow your audience by spreading awareness about your course. You can do this by sending free resources to your target audience through emails and DMS. You can use ebooks, podcasts, or a mini-free course that will help you earn the trust of your audience and show them what value you can provide them. Doing this will help you turn your free audience into a paid one.
Step 8. Work on sales page customization:
Now, this is an important step. Once your audience visits your website, you can convince them to buy your course through your sales page. Write a headline, subheading, promo video, a clear explanation of your course, testimonials, pricing, and CTA. Make sure you mention your USP clearly on your sales page to stand out amongst the crowd.
Step 9. Launch:
The last step is to launch your course and make sure you post some blog posts, videos, etc., as free content to market your course.
Teachable Review: Types Of Lessons On Teachable?
Teachable provides a variety of lessons to its users. Have a look at them below.
1. Video Lessons
Video lessons are the most used lesson on every learning platform. Teachable video lessons allow you to upload up to 2GB of video files. It supports AVI, MP4, and MOV format files to help students acquire knowledge through attractive visuals.
2. Text lessons
The text lessons on Teachable allow you to format the text of your lesson in bold Italics, making bullet points or key points for easy understanding and adding images, video, and tables. The bad part here is its inability to add youtube videos in text lessons directly like Thinkific. Nevertheless, you can do it using the custom code option.
3. Quiz lessons
The quiz lessons in Teachable will help students practice and test what they have already learned. Go for the quiz creator option to create multiple quizzes, which limits one quiz per video. Moreover, using the graded quiz mode is the best decision if you want genuine answers from students.
4. PDF lessons
The PDF lesson option is convenient for providing students with notes. You are allowed to upload up to 35MG files. You can drag your file to upload it and enable the download file option to allow students to download it.
5. Downloadable lessons
The Downloadable lessons are the ones with the option to download these lessons can either be video, text, audio, PDF, or Quiz. Once you enable the download option, they become Downloadable lessons for students.
6. Audio lessons
Audio lessons are quite efficient. If you wish to provide knowledge through your voice, you can directly upload any audio file on Teachable, making it user-friendly. Furthermore, use custom code blocks to add embedded audio links.
7. Coding lessons
Teachable allows taking coding lectures on its platform by providing the option to add coding snippets with 17+ coding languages, including JAVA, Javascript, CSS, etc. Once you select your code, you can paste it into the editor, and it automatically gets a colour as per the language you select. This lesson option is very convenient and lacking in most learning platforms.
8. Embed codes
The embed codes option in Teachable would allow you to embed links from HTML, javascript code, or CSS. Using this feature, you can embed audio, videos, and forms like Google Forms, live webinars, etc.
Teachable Review: Analytics and Reporting.
Teachable keeps track of course progress, the number of students enrolled, and their engagement updates with its efficient analytics. It helps you know what students are doing well and what number of students are lagging. Have a look over the types of student reports you to get in Teachable.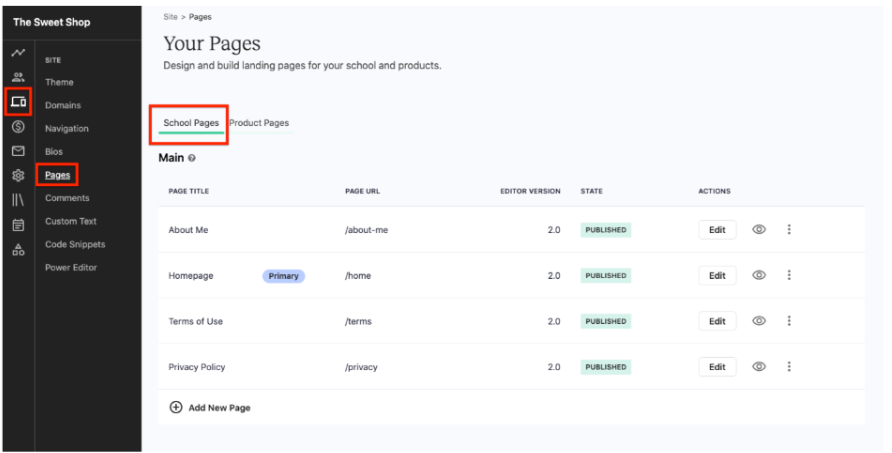 1. Video statistics: 
The video statistics report lets you know the number of visitors to your course with video play and engagement statistics. This helps you figure out the course performing the best and the worst.
2. Quiz scores:
know how your students perform in quizzes through the number of students who appeared for the quiz, their highest and lowest scores, and the average score in the quiz scores report.
3. Lecture completion: 
Know your student's progress by the course's average completion rate.
4. Leadership board: 
Get to know your students by their names, rank, progress, and how the duration of enrollment by having a sneak peek at the leader board.
Teachable Review: Certificates
Teachable provides you with the option to make and design students' certifications for completion. You can select the theme and add text, colours, or any image similar to your brand. There are a variety of customization options available to make eye-appealing certificates Teachable so you do not have to go anywhere else for this step. You can add your signature and view your final copy in the preview before clicking on finish once you are sure with the certificate.
Teachable Review: Coupons
The Teachable coupon generator helps you easily make discount coupons for students. All you have to do is to go on the coupon generator and add your coupon code with other necessary information, including
Expiry date.
Discount amount.
Pricing plan.
The number of coupons.
This option is available with the paid plan, where you get to create two different coupons.
1. Single-use coupon
This kind of coupon can be used only once by a student; it is simply used to offer a discount to a student on any course.
2. Multi-use coupon
These coupons are generated in bulk and are used by a large group of students. You can generate up to 1000 coupons in bulk and use them. For example, using the multi-use coupon, you can set 60% off on your course for the first 200 students.
Teachable Review: Pros and Cons
Every platform has its pros and cons, so it is teachable. We have handpicked these pros and cons to show you what to expect and what not to expect from the teachable below.
| | |
| --- | --- |
| Pros | Cons |
| Unique option to add coding snippets. | Limited free plan. |
| Bulk coupon generator for a large student base. | Transactional charges are put on the basic plan. |
| Helpful customer support. | No stripe payment support for basic plan users. |
| User-friendly interface. | Slow amid interface. |
| Built-in marketing tools help to add students as affiliates. | Not good for scheduling content. |
| The email template editor adds a personal touch to every email. | Quiz lessons lack explanation fields. |
Teachable Review: Pricing in 2023
Teachable offers various pricing and plans to its users. Have a look over them below.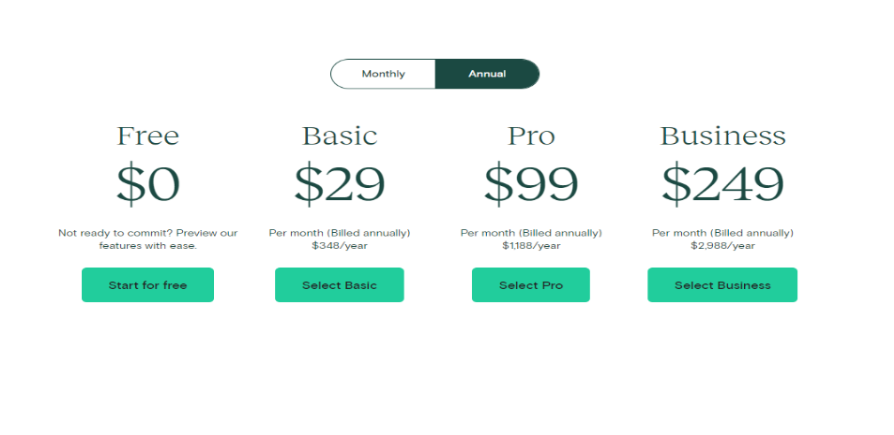 | | | |
| --- | --- | --- |
| Plan | Price | Best in Terms of |
| Free | Nil | Best to preview features. |
| Basic | $29/month | Best to start with. |
| Pro | $99/month | Best of all plans. |
| Business | $249/month | Best to maximize revenue. |
The Teachable pricing plans offer a 30-day refund policy. Additionally, the features it offers its users include.
Unlimited students.
Integrated website builder.
Custom support direct integration.
Public API.
Advance theme customization.
Integrated payment processing.
Tax handling.
Referral affiliate and email marketing.
Advanced Reporting.
Email support.
Private community.
Live group coaching.
Live chat.
Here is the comparison table and the features each annual plan provides:
| | | | |
| --- | --- | --- | --- |
| Features | Basic$29/month | Professional$99/month | Business$249/month |
| Transaction Fee | 5% | Nil | Nil |
| Author Accounts | Single | 5 | 20 |
| Customization | Basic | Basic | Advanced |
| Affiliate Program | ✖ | ✔ | ✔ |
| Advanced Reports | ✖ | ✔ | ✔ |
| VAT Estimation | ✔ | ✔ | ✔ |
| Unlimited Courses | ✔ | ✔ | ✔ |
| Custom Domain | ✔ | ✔ | ✔ |
| Video Hosting | Unlimited | Unlimited | Unlimited |
| Compliance | ✖ | ✔ | ✔ |
| Group Calls | ✖ | ✔ | ✔ |
| Certificates | ✖ | ✔ | ✔ |
| Graded Quiz | ✖ | ✔ | ✔ |
| Integrations | ✔ | ✔ | ✔ |
Teachable Price for Students (2023)
There is various pricing plans available for students. Let's explore the pricing options below!
Free plan: You can create free content for students not willing to invest in paid courses. This increases the trust and efficiency of your course.
One-time purchase: You can set prices for each lecture and allow students to purchase them with a one-time payment to help them acquire the knowledge they need instead of the whole course, which they might not need.
Paid plan: You can offer the fixed monthly payment option to students to pay the entire amount of the course and provide payment options similar to EMI payment.
Subscription plan: You can set up the subscription plan and offer a recurring payment option to students. This allows students to access the course till the time they need.
Who Should Use Teachable?
Anyone can use Teachable if they wish to provide knowledge and have a plan. It's a great way to generate income by teaching students virtually from all over the world. However, we would recommend Teachable for the following.
Educational institutions: Educational institutions willing to expand their offline institute to the online world should try Teachable due to its fantastic features providing knowledge with great professionalism.
Small businesses: Small businesses needing a platform to expand their business without any technical knowledge and complicated procedure should go for Teachable.
Large corporations: Teachable has all the functions that would help you deal with bulk students or train employees with personalized courses.
Non-profit organizations: NGOs can use Teachable ways to connect with volunteers, donors, and stakeholders.
Is It Worth Using Teachable?
A simple answer to this would be Yes; Teachable is worth using, especially considering its pro plan. It is a straightforward and unambiguous response. The transactional charge in its basic plan is a letdown, but if you upgrade to its pro plan, you can expand your business with amazing features at the lowest possible cost.
Teachable is the ideal solution for institutions with a vast student population since its features (price plan features) are best suited for handling large groups of students. Overall, investing money in Teachable is worthwhile, but with a small student base and a limited budget, continuing forward with Teachable alternatives such as Thinkific is the better option.
Related Read:
Summing Up! On Teachable Review (2023)
This concludes this lengthy article. Hopefully, you understood all about Teachable. Teachable is currently the greatest multimedia learning platform.
Investing in Teachable is worthwhile if you have a big student base or want to build your small-scale business. The demand for online courses is expected to rise in the future, and offering digital courses is a viable business venture.
Remember to avoid hot topics while providing results to your target audience. We hope the preceding article provides you with a thorough analysis of Teachable. Let us know what you think of Teachable in the comments section below.
FAQs On Teachable Review
Is Teachable mobile-friendly?
Yes, Teachable is a mobile-friendly application that can be used by phone, tablet, or computer.
What are the transactional fees on Teachable?
Teachable charges 5% transactional fees for its basic plan.
Is Teachable an LMS?
Yes, Teachable is a web-based LMS (learning management system). It offers courses and lectures in audio, video, and text.
Which one is better, Thinkific or Teachable?
Teachable is better than Thinkific in personal branding, creator pricing, and special lectures; However, Thinkific cannot be denied as a great learning platform.
Latest posts by Ryan Harris
(see all)