With the advent of digitalization, it has become simple to communicate and teach your abilities to others.
Online classes are one of the most effective ways to create income. To make your life easier, the market provides online teaching platforms such as Teachable to help you publish your instructional content.
There are numerous methods to design Teachable course sites. It all relies on what you wish to learn, whom you would like to instruct it to, and what aspects you wish to add.
But still, it might confuse you about how your website would look when you create it with Teachable.
So to help you out with this confusion, I have made a list of 10 best Teachable Course examples that will surely inspire you and give you an idea of the website that you are going to create.
These examples come from various market segments and illustrate different cases. So stay tuned till last to get the considerable Teachable course example for your website.
10 Best Teachable Course Examples
Here are the 10 best Teachable course examples that you can refer to for your website creation and building sales pages with Teachable builder tools.
1. Language Courses by CoffeeBreak
Coffee break is a complete guide to various languages that you can learn. These courses are provided by various language experts.
You will find more than 30 languages to learn like French, Italian, Chinese, German, Spanish, English, and Swedish. They all are mini-courses available with very interactive content.
They also provide various podcasts for each and every language course. Moreover, the website also gives access to various video materials and notes.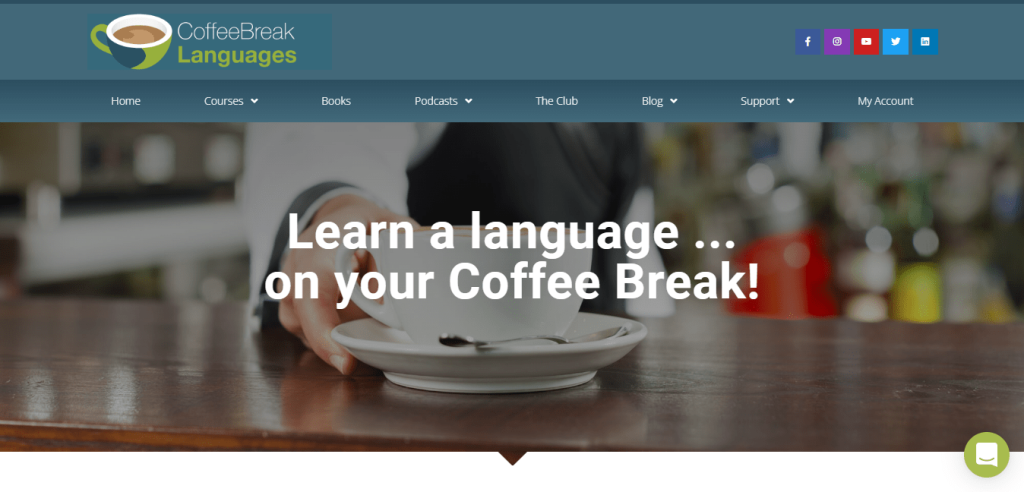 Also, the course provides the content in the season form which contains 40 lessons per season. This website has interactive web content and various call-to-action features that make it different from others.
The website also features access to pre-recorded sessions and live podcasts. Also, learners can track their progress with the help of tracking features.
Similarly, if you are thinking of launching mini or short courses as well as podcasts, then you can get as many features as you want on the Teachable just like the coffee break.
2. Excel Exposure
Excel Exposure is a website that has a wealth of Excel-related materials. It offers premium courses published on the Teachable platform.
It also offers a free course on the main website, which is provided via YouTube Videos and WordPress.
These subscription courses consist of five sessions, the first of which is free. Ben Currier, the founder, has implemented the Teachable Free Sample function to display all classes in the first course accessible to customers.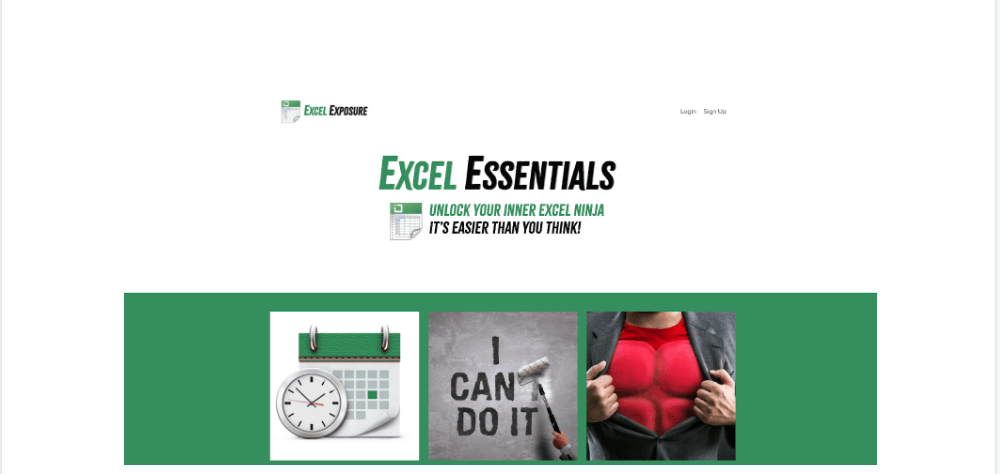 Apart from that, he also utilizes Teachable's capabilities to add multiple sorts of information in one class. As a result, users will find classes in a variety of video, text, and graphic formats.
He has also allowed feedback and comments for the classes so that students can ask any questions and provide suggestions.
Teachable's curriculum builder includes cloud importing, bulk uploading, and bulk tasks for lesson administration, in addition to the functionality stated previously. These features, when combined, make its course developer one of the most powerful available.
3. Creative Watercolour Course by Angela Fehr
If you are an artist and want to teach your skills to others then this is a perfect example of teachable for a sales page and online courses.
If you have a look at the website, you will see the creative outline for the website that helps in attracting people.
Angela Fehr is a great watercolour painter who started giving training on YouTube. Her classes bought her more than 70,000 subscribers on YouTube. So then she launched her website for her online watercolour courses.
Her website allows access to more than 25 course packages as well as individual course packages.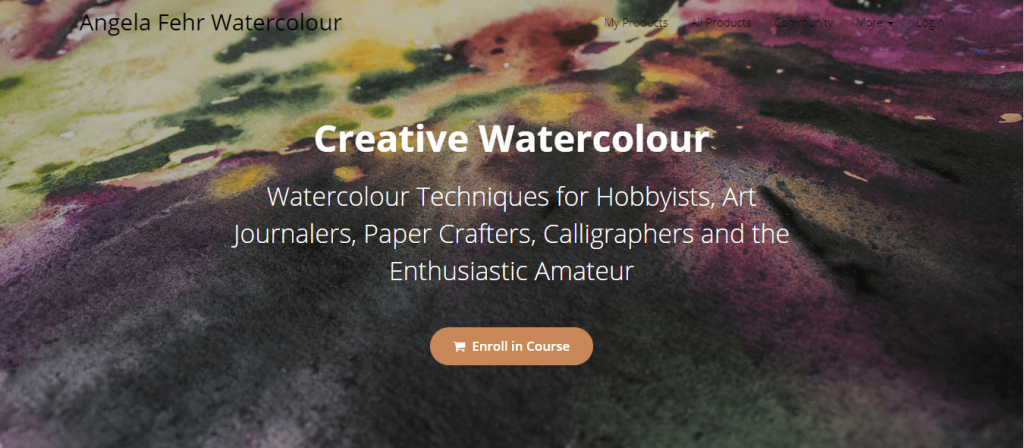 The website also offers weekly watercolour tips given by Angela Fehr and also various recommended supplies that you can buy.
Also, it has a separate page that provides course recommendations for beginners and skill building.
If you are an artist who wants to make your own courses and sell them online, you can refer to this website which gives an artistic look by the Teachable and plan accordingly.
4. Yoga Doctor
This is a classic example of a Teachable sales page and website if you want to begin real quick without wasting time in designing and adding various features to your website.
She provides simple information about yoga and health which is very accessible to learn from. She also uses the membership feature by which customers can buy her membership and as she provides various downloadable resources through her website.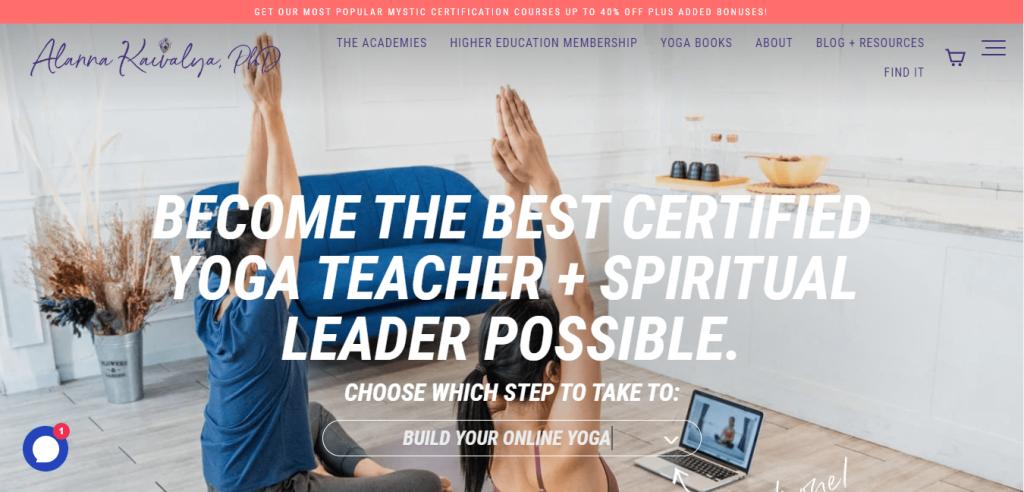 The Teachable course platform's tools enabled her to build a range of video classes and lectures to provide her skills to many users. Every class and post focuses on the fundamentals of yoga.
Students will also be able to buy subscriptions to gain access to content that is premium. In a separate post, the page provides a list of scholarship opportunities for people who are unable to pay such an amount.
So if you want to keep your website simple but effective then this website is a perfect example that you can refer to.
5. Art of Tea
Art of Tea is a tea store that provides tea sachets, teaware, and tea-related products online. They also offer a couple of tea-related courses offered on Teachable.
The courses, which primarily consist of videos, PDFs, booklets, and quizzes, discuss the history of tea, tea varieties, iced teas, and so on.
The interface of this website is straightforward, with few design features. Teachable is mainly used to create the dashboard and sell web pages.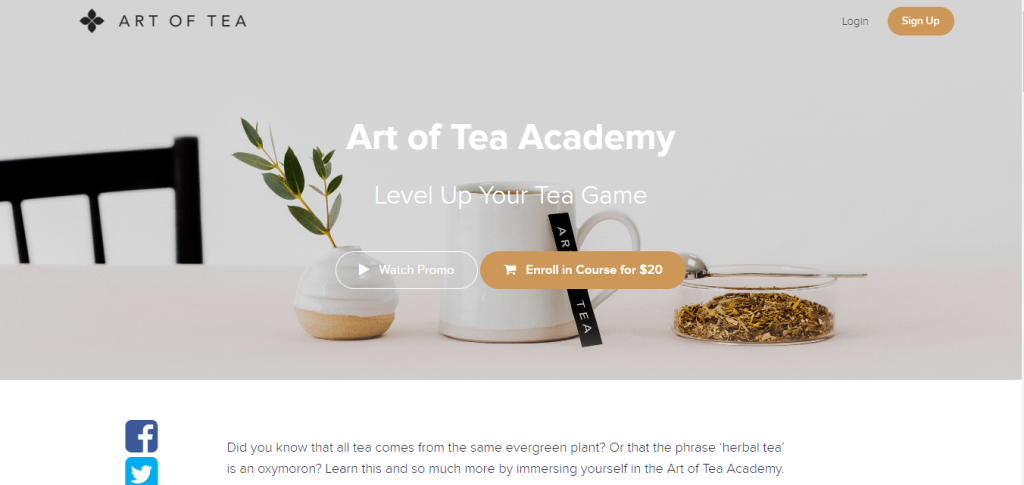 The best part is that you don't need any coding experience to construct a site like this. You simply need to become acquainted with the Teachable website builder, which is extremely simple to use.
If you prefer to keep things easy and simple, then this is the Teachable example to use. You may retain your classes and courses, sales sites, and check out sites on the site, much like this course developer.
6. Music Radio Creative
Music Radio Creative makes tunes and customized soundtracks for RJs, DJs, and various corporations.
Their primary website is built on Shopify, but they also have blogs on WordPress, a Discourse community, and Teachable courses.
It's a great example you can refer to if you are planning to create online courses on Teachable while also using other platforms for selling, blogging, storing, and so on.

Their Teachable website provides five distinct courses, all of which are pricey. The Audio Production course, for example, costs more than $1,000.
The classes are also flexible and contain incredibly simple course content. Each section has tasks, and upon accomplishment, students obtain a completion certificate.
You also can use Teachable resources like certifications and quizzes to ensure that students get the most out of your course. There is also course leaking and locking.
Overall, Teachable provides all of the necessary tools for creating an excellent online course.
7. Mark Dawson's Formula for Self-Publishing
This website was created by Mark Dawson and can benefit both budding and experienced writers. Teachable was utilized to create the Self Published Solution, which serves students with relevant online courses.
On the home page, you can look through the many available digital products. There are podcasts, premium courses, and the opportunity to join Self Publishing Formula's private Facebook group.
Also on the sales page, each online course is designed to cover a distinct area of writing. You can also see video tutorials and ebooks as additional resources.
Also due to it being made with Teachable, it includes email marketing capabilities.
When a learner signs up, they are subscribed to get the emails automatically from the Self Publishing Formula via the email address customers provide while filling up the details. This helps in generating sales.
8. NY Education- Stand-up Course
NY Education Stand Up course is a great example of a Teachable courses website. Standup comedy may indeed be delivered just as readily digitally as it can in real life.
It has educated various well-known celebrities, including Kevin Hart, Jerry Seinfeld, and Chris Rock since its establishment.
On the Stand-Up NY Education sales website, there is a long list of classes that may be taken by the learners. Students can study everything from the fundamentals of standup comedy creation to advanced methods.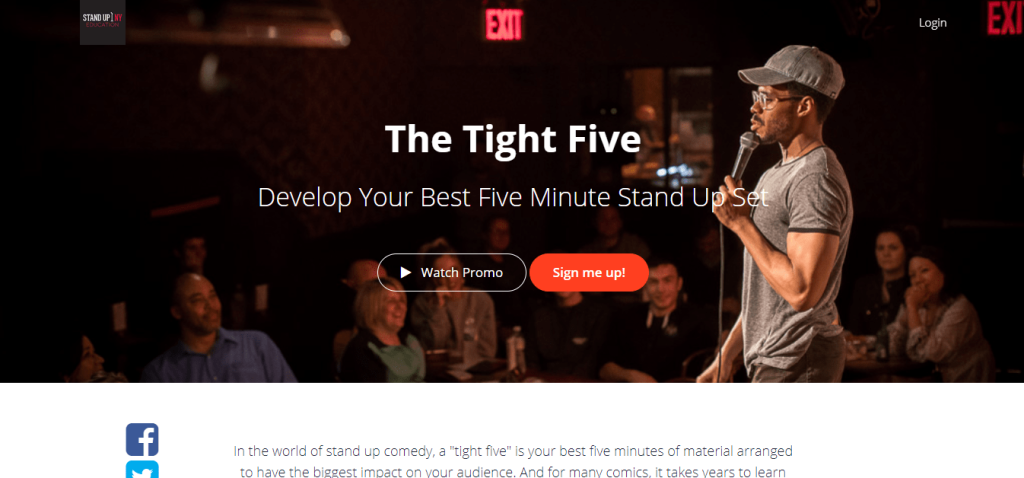 Every student will be educated on something new by the sales page. They can choose the video lesson plan or the course that best meets their requirements and choices.
These courses will help you incorporate your personality and points of view into your comedy writing. If you employ them, you will sound and appear more genuine.
They have also provided the watch promo option that actually helps to watch short promos before enrolling in the classes.
So if you want to create courses based on a real interface like stand-up comedy, then this is a website you can blindly check on.
9. Freelance Mastery
Brad Traversy and Kyle Prinsloo's Freelance Mastery is an online course that demonstrates how to create a successful freelance career.
There are two purchasing options: Standard and Premium. In addition to the basic course information, the Premium course includes access to multiple designs, templates, contract law, and a network.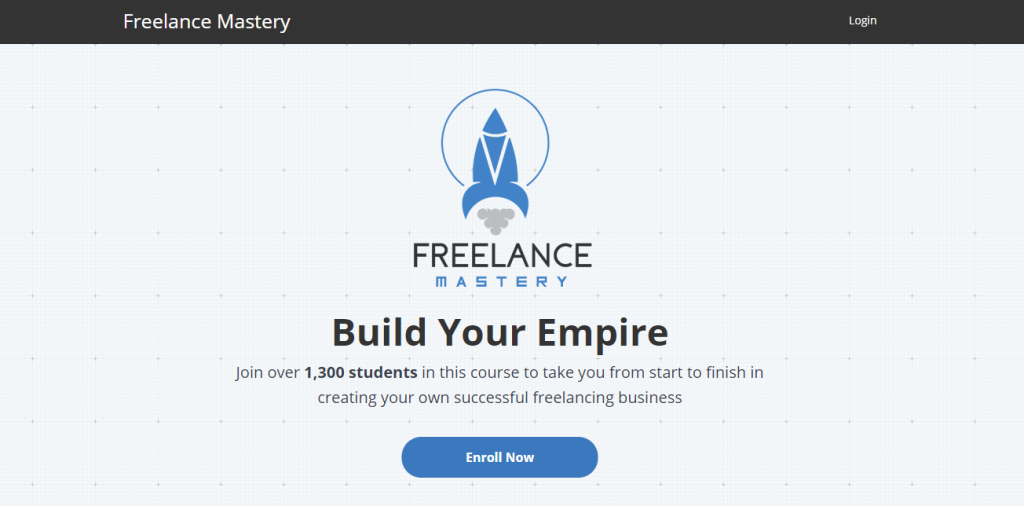 This course website is really unique and is entirely focused on a specific course. And hence their homepage includes the teachable sales page.
Plus, the excellent aspect of the training is the design of the sales page. Brad and Kyle created a custom sales page rather than using the page builder.
Teachable page-building tools are narrow and limited, but if you know how to code, you may entirely personalize your sales page.
10. Every Tuesday
Every Tuesday is a lettering and graphic designer resource library. They provide a wide selection of online courses on Teachable along with tutorials and digital products for selling on their main website.
These course sites are created with the help of Teachable. Though the course library page is built with WordPress, the website runs very smoothly.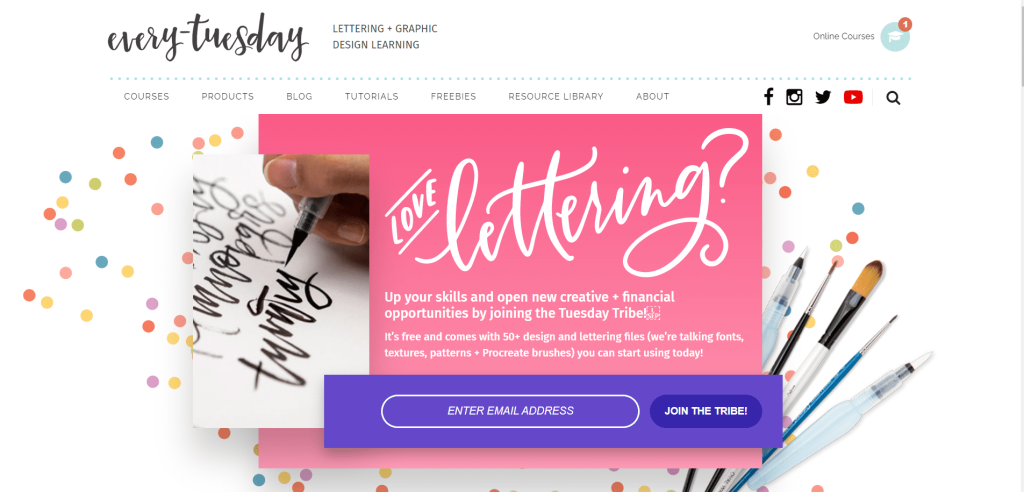 Whenever a student selects a course card, they are sent to the Teachable sales page. This course site uses many platforms to offer the courses like Skillshare and Udemy which is considered another great feature.
Overall it is another great example of a teachable course that is wonderfully designed and provides many features to its users.
Conclusion: Teachable Course Examples 2023
Now concluding the article, I hope you have acknowledged with helpful information on teachable course examples for creating, designing, and setting up your custom Teachable page.
Also, this article gave you an idea of how other creators are using and utilizing the Teachable features that helps them to run different types of niche and businesses.
Refer to these examples and create your own website with various tools of Teachable and with your creativity.
Share your thoughts in the comment section below.
Latest posts by Ryan Harris
(see all)