The best online teaching platforms can help you instruct students and grow your business with undeniable results. Online courses are in high demand due to their accessibility worldwide and the need for qualified workers in the modern workplace.
Top language schools like Oxford are embracing online teaching platforms to reach their students, which is an example of how online teaching platforms are growing in popularity. To assist you in getting to the top of the teaching profession, we've gathered the best online teaching platforms and their prices for you in the article below.
With that, let's get into the details below!
9+ Top Online Teaching Platforms For Teachers (2023)
If you are running out of time, take a look at this quick overview to understand the best online teaching platforms in 2023:
| | |
| --- | --- |
| Platform | Key Takeaways |
| WizIQ | The affordable alternative to Learnyst. |
| Learn cube | Best for teaching small groups. |
| Adobe Connect | Best for teaching children with all abilities. |
| Udemy | Best if you don't want to invest money. |
| Thinkific | Best for beginners. |
| Learnyst | Best in all aspects. |
| Teachable | Best for exceptional course creation tool |
| Kajabi | Best for a suite of marketing and sales |
| LearnDash | Best for customizable templates |
Are you still unable to figure out the best online teaching platform through the above table? Let us go through each platform in detail to help you get hold of it!
1. WizIQ
WizIQ is an affordable LMS software or virtual classroom with a friendly user interface. WizIQ allows teachers to connect with students directly to avoid any communication gap. Simply put, any question asked by a student is answered during the session without delay.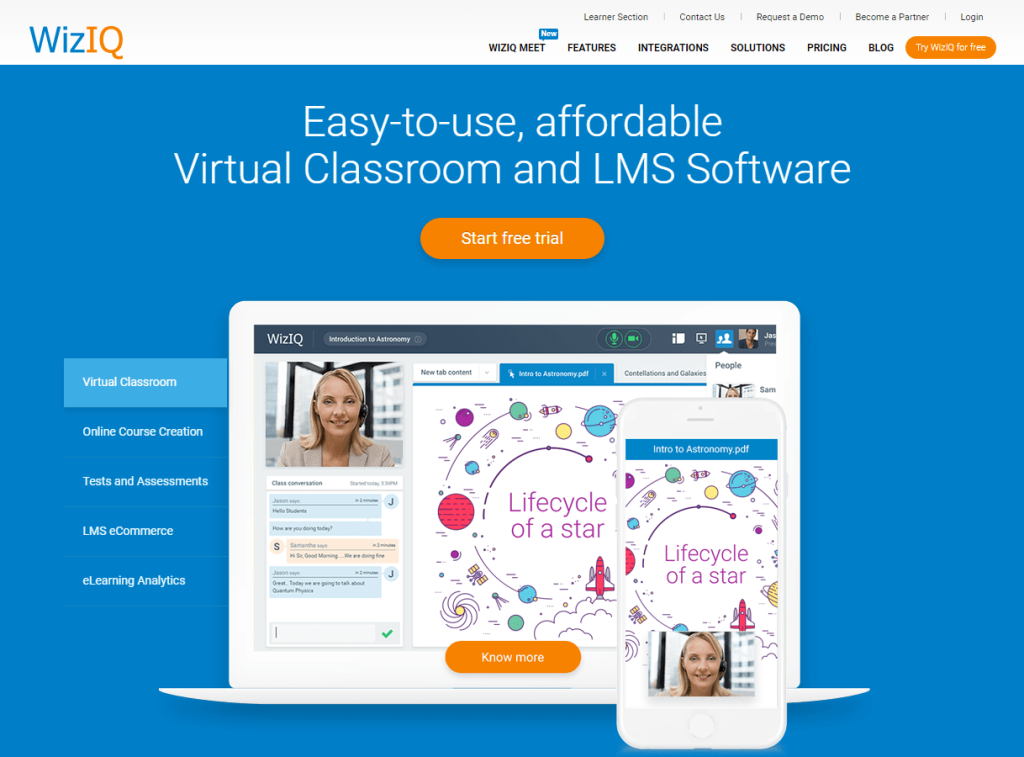 WizIQ also allows users to sell courses on its platform for students looking forward to learning at their own pace. Furthermore, it can educate traders, stakeholder partners, franchise owners, partners, and so on. It also offers high-quality video and audio, with unlimited capacity to store as many attendees and classrooms as you wish and create 32 types of tests with an online creator. The best part remained its availability on all devices, whether Android or iOS and recorded sessions without the help of any browser plugin or software.
Price: WizIQ gives you a basic monthly plan at $25/month. WizIQ also gives you a 14-day free trial.
2. Learncube
Learn cube is a professional virtual classroom for teaching. Learn cube offers custom branding options and learning through web browsers with high-quality audio video. It also lets you upload, save, and access multimedia content to enhance your sessions. You are provided with an interactive online white and file-sharing option.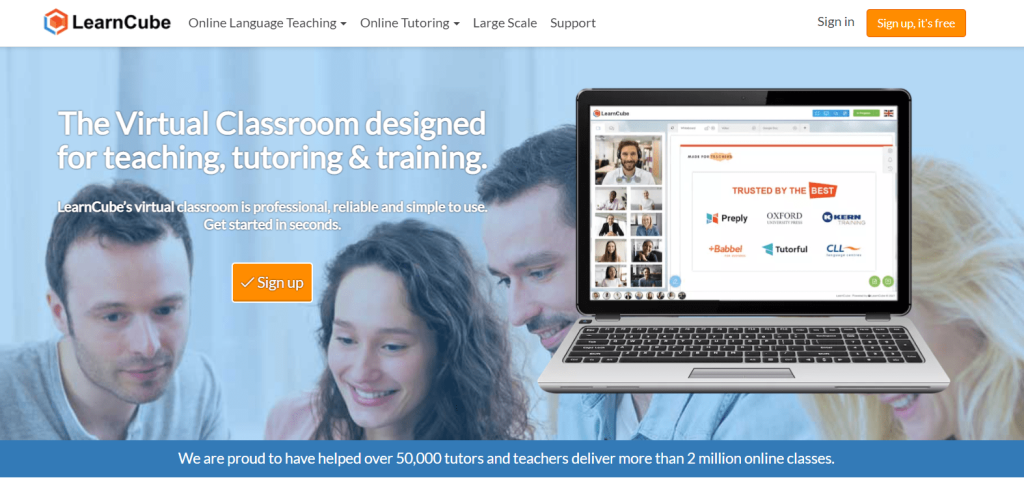 Other features of the learning cube include a class review of past sessions by students for improvement, scheduling a calendar for upcoming classes, and personal attention in homework management for students. Additionally, a private classroom session feature is limited to eight students, making it an excellent choice for small-group teaching.
Price: The basic plan of the learning cube is freely available to all, including a 14-day free trial. The pricing for other plans depends on the features you have.
Whiteboard Pro:$7/month
Whiteboard Pro+ Premium ESL Content:$20/month
Virtual Classroom Pro:$14
Virtual Classroom Pro+ Premium ESL Content:$26.6
Online language teaching:$118/month
Setup:$1497
Virtual classroom pro:1.4 API:$99/month
Virtual classroom 1:8 API:$197/month
3. Adobe Connect
Adobe Connect is a virtual learning classroom to keep the curriculum on track. It enables children to work in groups to keep them productive throughout. Furthermore, it also offers LMS to engage students before and after sessions through blended learning. Additionally, you get special features made keeping children with physical or mental disabilities in mind.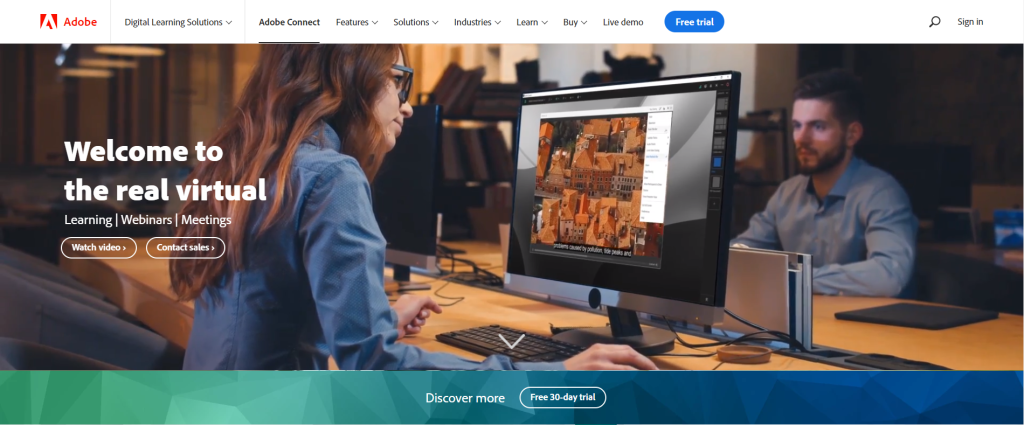 Price: Adobe connect offers you a free trial, after which you can choose the following plans.
Adobe connect meetings:$50/month
Adobe joins webinars:$130/month
Adobe Udemy learning:$370/month
4. Udemy
Note: Check here our detailed Udemy vs Pluralsight comparison here.
With 49 million students on its platform, Udemy is an excellent choice for teachers willing to sell their courses online. Udemy offers complete freedom over how you want to publish your content. However, Udemy charges some amount on the sale, of course. Teaching on Udemy is very motivating, too, since the students receive certificates after completing their course. You can create classes on Udemy using PowerPoint, pdf files, etc.

Price: Udemy does not charge any instructor fee; however, it takes some share of the money earned on each course.
5. Thinkific
Thinkific is a beginner-friendly course for people willing to turn their expertise into revenue by selling online classes. Thinkific allows you to sell and create and market your products. Thinkific will enable you to conduct live lessons, pick course templates, randomize quizzes and give certificates to students after course completion. Furthermore, you leverage student data analytics to understand future course improvements.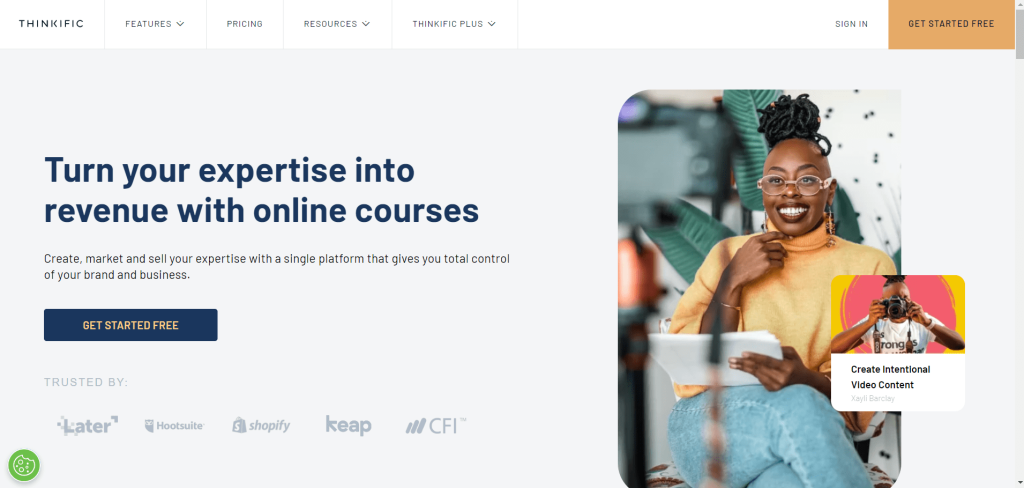 Price: Thinkific offers you a free plan for additional features. You can opt for the paid plan from the following.
Basic:$49/month
Pro:$99/month
Premium:$499/month
6. Learnyst
Learnyst is an online teaching platform designed especially for teachers willing to build their courses from scratch. Uploading your course on Learnyst's SEO-optimised website brings your teaching to the eyes of several students.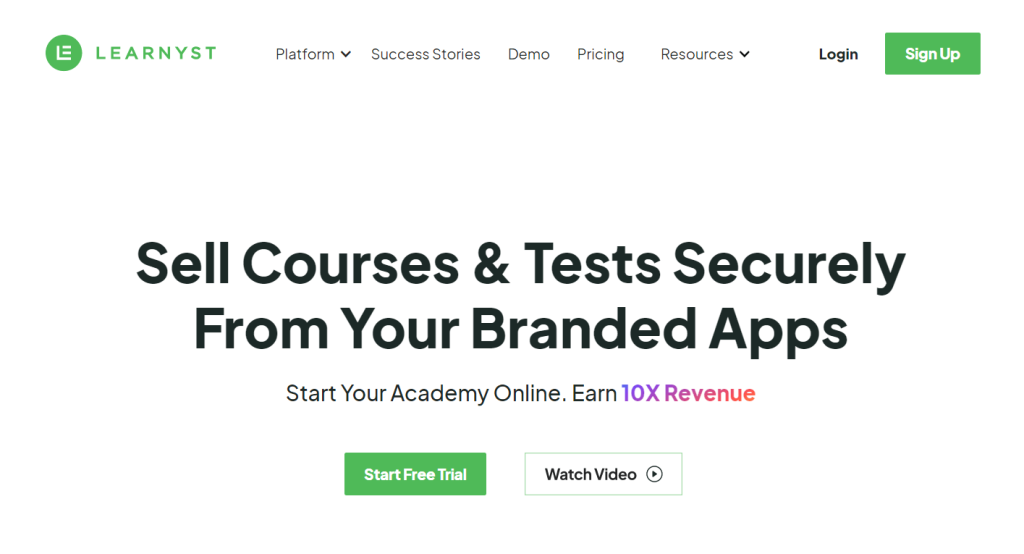 Furthermore, It helps make learning enjoyable by adding quizzes and interactive videos to students' courses. One of the best things about Learnyst is its marketing features that integrate various 3rd party tools. You can also monetize your course content, including pdfs, quizzes, etc., and charge money according to your will.
Price: The pricing of Learnyst starts from $49/month.
7. Teachable
Teachable provides an all-in-one solution for course creation, marketing, and selling, making it an ideal platform for individuals, businesses, and organizations looking to share their expertise and knowledge with others.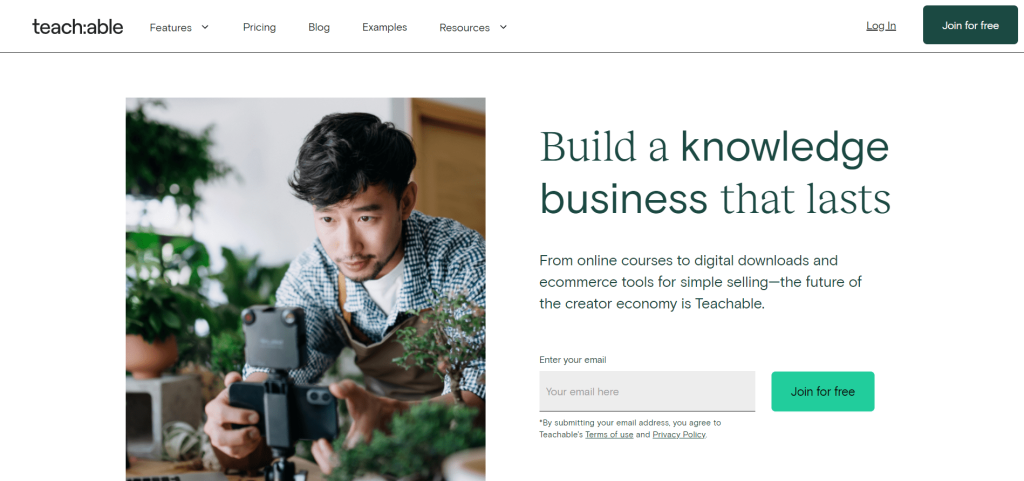 It offers a wide range of features that makes it a top choice for online educators. The course creation tool offered by Teachable allows instructors to create courses easily and quickly by simply using the drag-and-drop interface. It also provides analytics and reporting features that help you to keep track of and monitor the progress of the student along with opportunities in your sales and revenue.
Price: With Teachable you can buy a basic plan for $59 and a Pro plan for $159.
8. Kajabi
Kajabi is a robust and user-friendly platform that is ideal for educators, coaches, and entrepreneurs who want to create and sell high-quality online courses.
Instructors can easily create courses using a range of templates and themes that can be used to create professional-looking course pages and sales pages.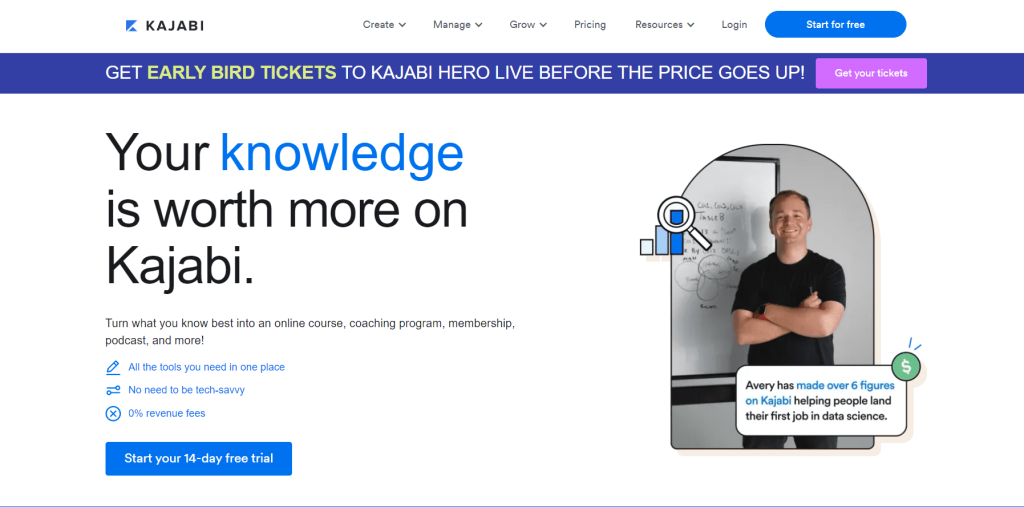 This platform provides instructors with a suite of marketing and sales tools to help them promote their courses and generate revenue. These include email marketing, affiliate marketing, and social media marketing tools. Instructors can also use Kajabi's built-in landing page builder to create sales pages that convert visitors into paying customers.
It also provides a community forum where students can connect with each other and ask questions, which helps to create a sense of community and fosters a deeper learning experience.
Price: Kajabi Basic plan costs around $119/month while the Growth plan comes for $159/month. Moreover, the Kajabi Pro plan costs $319/month.
9. LearnDash
LearnDash is a popular learning management system (LMS) and online teaching platform that allows instructors to create and sell courses online. It is a feature-rich and flexible platform that provides online learning opportunities.
LearnDash provides a range of customizable templates and themes to make course creation even easier.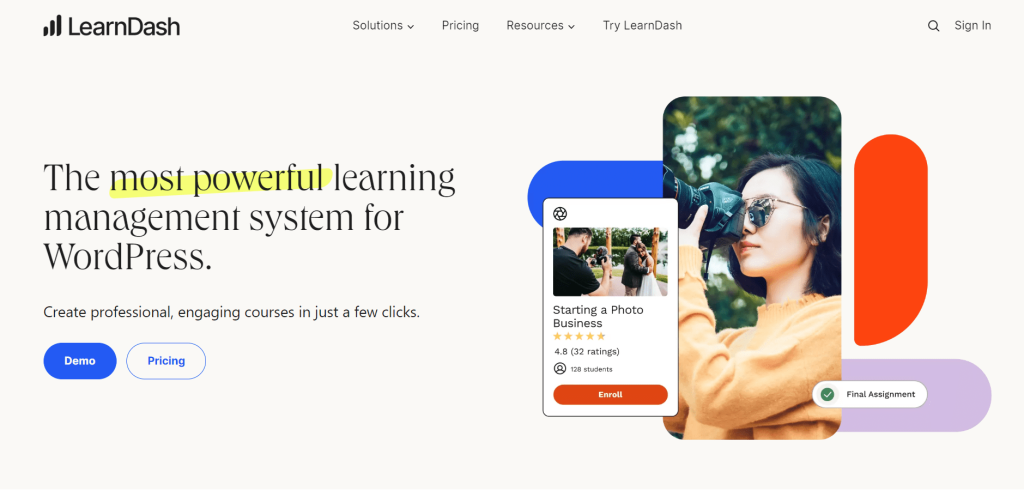 Instructors can use LearnDash to create interactive quizzes, surveys, and assignments to help students learn and engage with the course content.
It also offers a range of integrations with other tools and platforms, such as email marketing tools, payment gateways, and social media platforms. This makes it easy for instructors to integrate LearnDash into their existing workflows and marketing strategies.
Price: LearnDash pricing starts from $199/year.
Summing Up! Best Online Teaching Platforms For Teachers (2023)
This article concludes the list of the top online teaching platforms. By fostering a more severe learning environment, the right platform can give topics and student focuses an entirely new dimension.
To summarize, choose WizIQ or Learnyst for a professional teaching experience, and select Udemy if you want a more comfortable experience with commission fees rather than investing in any plans.
We hope the article mentioned above assisted you in choosing the ideal teaching platform for your requirements. In the comments box below, let us know which teaching platform you believe to be the best.
FAQs
Is google classroom a learning platform?
Google classroom is an LMS that helps engage students in online or remote studies by simply creating, distributing, and grading assignments.
Does Google classroom cost money?
Google Classroom offers limited free services to its users. However, the additional services are available through paid plans.
Which is the best LMS?
Zoom is the best LMS with the best audio, video, and screen sharing features.
Which is the number 1 online learning platform?
Coursera is the number 1 learning platform trusted by millions of students where top educators and universities teach students from across the globe. 
Latest posts by Ryan Harris
(see all)