In this fast-paced era, you need various skills that can help you to compete and grow. You need extra knowledge along with your curriculum in order to stand out differently.
In this case, online courses are the best option to upskill your knowledge. When you study online, you earn the same degree as someone who studies in a classroom at a college or university.
However, unlike traditional courses, online courses allow you to study from anywhere and whenever you want during the week.
In this article, you will find out all you need to know about online courses, from the benefits of studying online to student support and various platforms that provide online courses.
What is an Online course?
Online courses are the medium by which the various niches of education are delivered to learners or students through online platforms. It is a set of learning programs that are organized according to the syllabus in the virtual medium.
These courses can be in many forms, like video sessions, images, audio files, worksheets, and other documents. Many online courses also have various community groups and discussion forums that enable students to communicate with each other or teachers.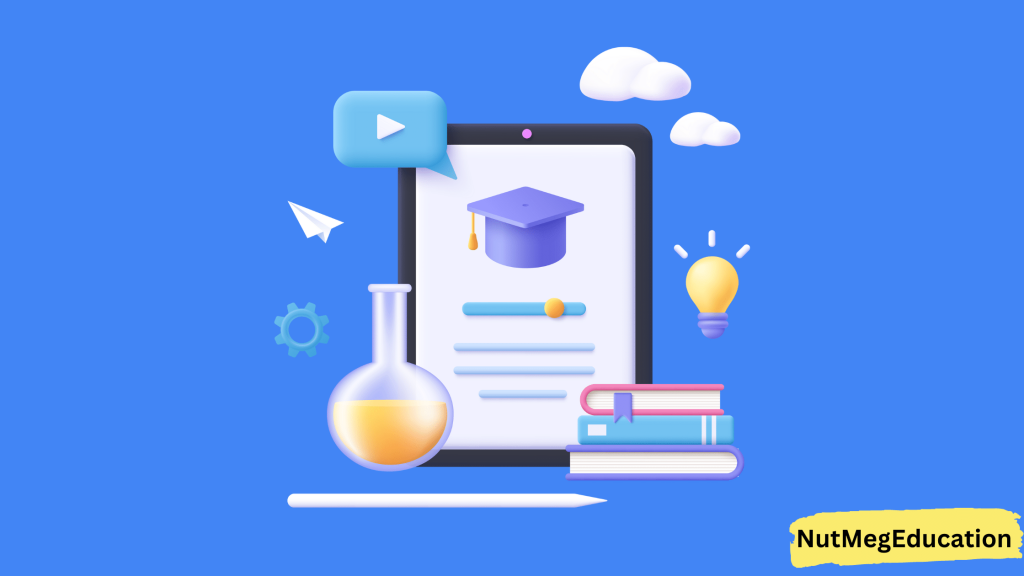 Online courses are pre-recorded and designed before uploading on the platform. They are self-paced so that learners can learn at their own pace.
Usually, they are designed in a sequential format that students can follow. Some courses also provide a system that measures your performance and grades that may help you achieve the goal.
They are generally self-paced, which allows super flexibility to the learners. They are also accessible on mobile devices, tablets, and desktops. This allows convenience to complete the course anytime and anywhere.
Types of Online Courses
There are various types of online courses on various platforms. Here is a broad overview of various types of online courses.
1.) MOOC's Platform:
MOOC platform stands for a massive open online course. They are accessible all over the internet without any charges.
These are typically pre-recorded lectures by experts. They also can be academic which is created by the professors. MOOC courses also include graded assessments, readings, discussion forums, and also certificates with no or small fees.
You can take these types of courses to learn various skills like digital marketing, video editing, photography, and various fundamental knowledge in specific niches.
2.) University Courses:
There are many colleges and universities that provide some of their courses online. These are more helpful for students who are working while doing their education.
This provides super flexibility to the learners with the degree credits that helps to earn the degree.
It is also considered an option to attend full-time school. These courses help to cover all the skills and knowledge without attending college or school.
3.) E-Learning Sites:
eLearning websites focus on providing various online courses that are taught by a wide range of experts. There are various eLearning sites like Coursera, Codecademy, and TedED that provide concrete courses on a wide range of educational topics.
These courses are majorly based on computing, programming, marketing, and digital marketplace courses. These are also open for anyone to create their own courses and sell them.
4.) Company Training Courses:
Many companies provide online training courses that are designed by them to help new joiners instead of wasting time in teaching them.
Companies can also outsource these courses to third-party companies.
These courses usually cover topics like market safety, onboarding, training, customer service, and other topics that joiners need to learn before they start working in the company.
5.) Personal Brands:
Some of the brands offer their own courses directly through their websites or various online course platforms like Teachable.
These courses are mostly paid and offer a wide range of courses in different niches.
6.) Synchronous Courses:
Synchronous courses are typically live classes in which students and professors interact with each other in real time for lectures.
These are specially for students who want distance education and real college experience without attending college. Some schools provide blended synchronous courses, which allows students from both online and on-campus to learn together during live sessions.
7.) Webinars:
These are indeed a type of immersive course in which instructors communicate regularly with their learners via email, chat, email, and video calls.
Webinars are less self-paced than other types of online programs because you must be available for various sessions at a defined time, but they are frequently very engaging.
Benefits of Online Courses
There are various benefits of online learning and online courses. Here are some of the benefits of online courses:
1.) Self-paced and Flexible:
Because of its convenience and flexibility, many individuals prefer online learning.
Online learning allows learners to complete coursework without having to relocate to a physical campus. You can fit your coursework around your already busy schedule and work at your own pace although some online courses require live lectures.
2.) Wide range of Course options:
One of the great benefits of online learning is there is a wide range of online courses available on various platforms. Learners can learn from various universities around the world and enroll in a course that fits their needs.
You can enroll in any course that you want for free or paid. You get training from industry experts that upskill your knowledge and provide you with a greater span of options that helps you to achieve your goals.
3.) Measure your knowledge with various assessments:
Many online courses provide various quizzes and assessments regarding the content that will help you to measure your knowledge after completing the course.
These tests help you to revise the complete knowledge and have a better experience of learning.
The final assessments of some courses need to be passed by the learners to earn the certificate.
4.) Ability to advance the career:
Since online education and courses are flexible, there are many professional courses that are available online that you can take to advance your career.
Online courses help you in advancing your career by taking the relevant courses.
5.) Affordability:
All in all, the cost of an online course varies, however with a broader variety of options and different kinds of credentials coming in a wider array of price ranges. You can select an online course that not just fulfills your professional requirements but also appears to fit within your budget.
6.) Discussion forums and communication with experts:
It is expected that you will interact with classmates and professors via a variety of channels, including electronic mail, web conferencing, and your course learning management solution.
Online learning motivates you to ask any questions, collaborate on team projects, and even attend classes in whichever format suits you best.
7.) Learn Technical skills:
Another advantage of online learning is that you will gain technical skills that will help you both inside and outside of the classroom.
You'll discover how to utilize various software and hardware (such as Zoom or Google Hangouts), as well as how to employ your course learning and navigate digital learning resources.
What to Expect from an Online Course
Online courses can come in a variety of forms. So, based on the type of curriculum you seek, which one to expect varies greatly.
A free online course could be the answer if you want to learn the fundamentals of any particular subject. These are more inclined to be self-paced, which means that an instructor will provide less specific assistance.
If you want to make a more significant career switch or progress into a manager position, you should consider a paid online program that provides a credential. Among many other things, this credential could be a certificate, professional qualification, or a fully online graduate degree.
Paid online courses differ in their structure and content as well. Some of them ask for you to attend live lectures at a specific time. Others expect you to finish coursework within your own time, with weekly timeframes.
You can communicate with your classmates through a variety of methods in online courses, including your online classroom (also known as a learning management system, or LMS), emails, web conferencing, and much more. Some online courses may involve group activities.
Before you commit to online courses, research what qualifications and types of course material can assist you in achieving your goals, if you're furthering your own learning, or enlisting your employees in courses to keep them up-to-date on their skills.
Popular E-learning platforms
Here are some of the popular E-learning platforms that you can consider for online courses. These platforms provide a wide range of courses with different niches.
Coursera:
Coursera is a well-known online learning platform that provides courses from leading educational institutions all over the world. The company has expanded rapidly over time and now offers the world's finest standards of education via MOOC.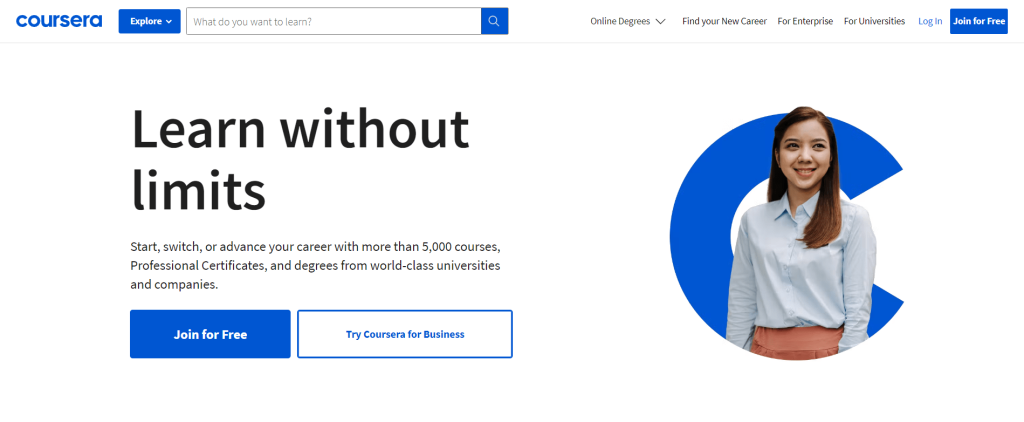 Udemy:
Udemy is a popular online learning platform that enables individuals to advance their careers and pursue a wide range of interests.
They provide a plethora of courses, from website design to public speaking. Udemy's business plan is used by well-known companies such as Lyft, Booking.com, Addidas, and General Mills.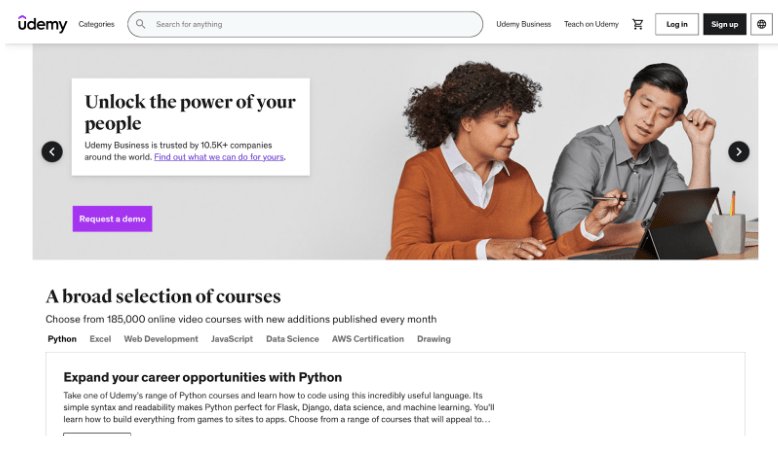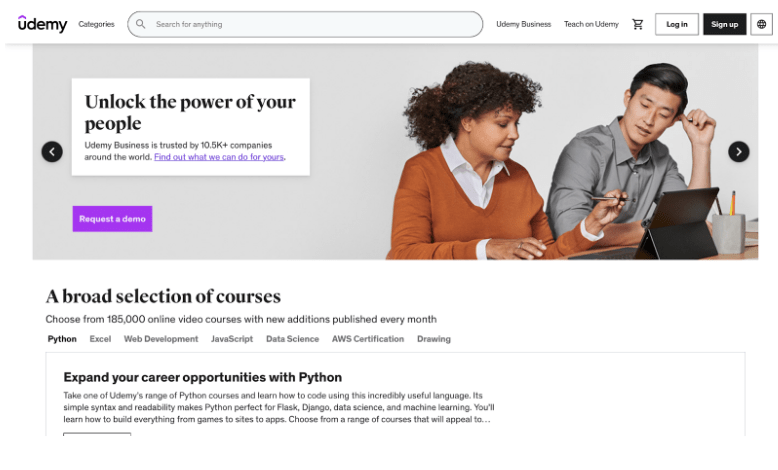 Udacity:
Udacity, Inc. is a commercial MOOC platform that emphasizes on-the-job training. It also provides a micro-credential called a Nanodegree, which tends to focus on in-demand technological skills.
They offer numerous courses that are currently getting in technology, such as AI technology, self-driving cars, and robotics.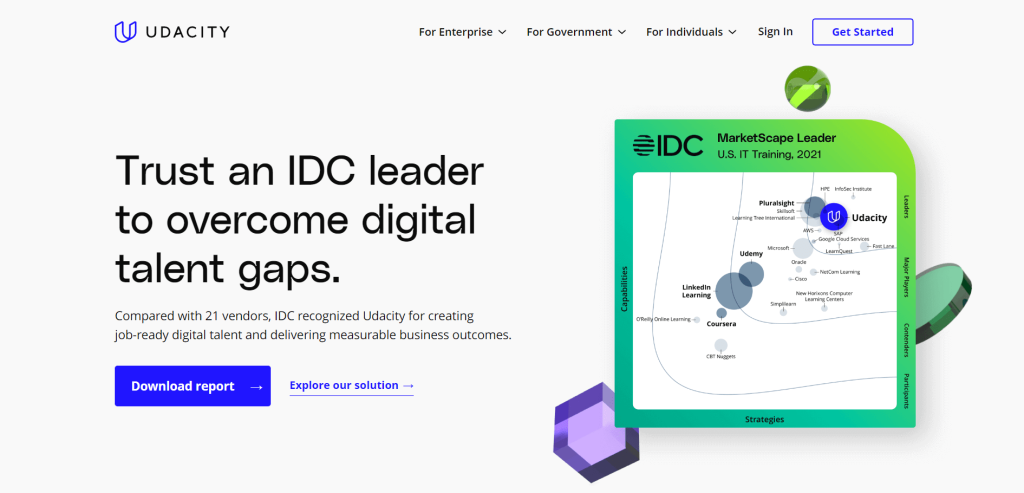 Skillshare is an online learning platform that benefits both teachers and students. Hundreds of courses are available through the website, covering topics such as business, design, marketing, photography, technology, fashion, film, music, cooking, gaming, writing, DIY crafts, and many more.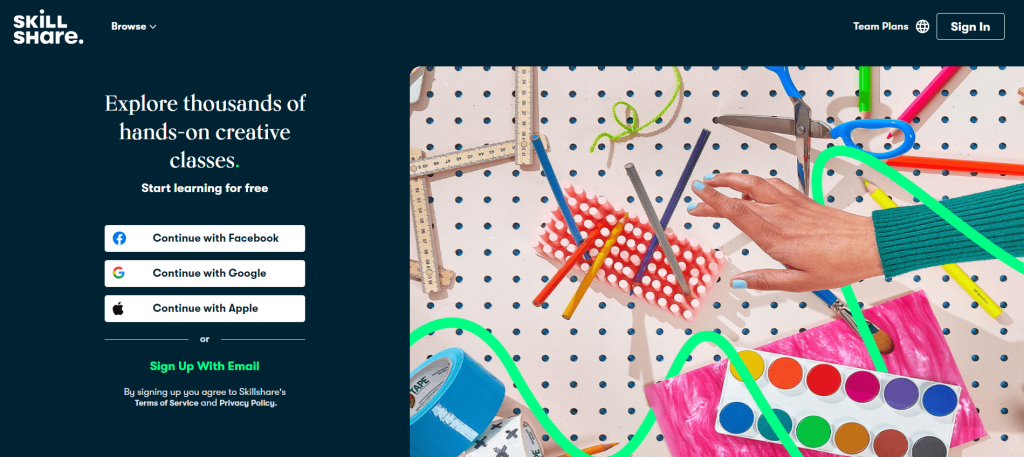 edX:
edX is a MOOC site that provides online university classes. It has more than 120 organizational partners, including Berkeley, Harvard, Delft, MIT, and the Sorbonne.
These programs involve upskilling courses for leisure purposes, meeting current job market opportunities, and helping students improve their knowledge of a subject.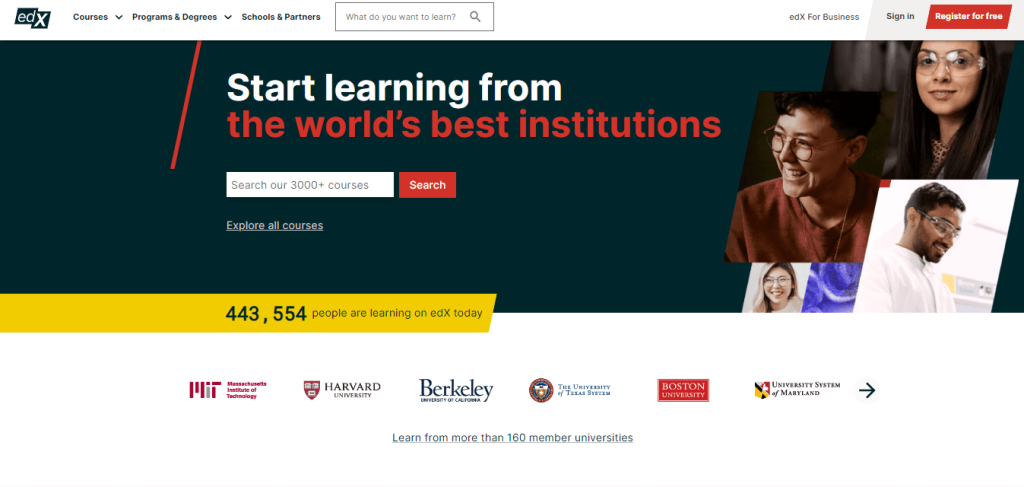 Conclusion: What Is An Online Course
There are numerous online courses available online. If you are planning to enroll in online courses, then you can consider the above platforms from which you can get the best results.
Also, you can check our website, nutmegeducation.com, where we always talk about different e-learning platforms and trending courses and provide you with a complete guide for online courses.
You can also get special discounts on various courses and also regularly updated content.
If you still have any doubts, then let us know in the comment section below.
Latest posts by Ryan Harris
(see all)