We all know that Udemy is one of the most popular websites, especially for online education, mainly preferred by students and professionals. Users usually search for many other Udemy alternatives to aim high at their skills and learnings at an affordable price.
Though online learning is not new, many people love to pick up a unique skill to earn a degree using the best online learning platforms. Many sites are helping us in learning and expanding our creative spirits other than Udemy, as some need a more affordable and flexible platform other than Udemy.
Here in this article, you will get to know about all the Udemy Alternatives that are better competitors of Udemy which can help you in expanding your skills in a great way.
12+ Best Udemy Alternatives in 2023 (In a Nutshell)
We know that some of you may not like to go through the entire article, so here is the list of the best alternatives for all our impatient readers.
| | | |
| --- | --- | --- |
| Sr. No. | Best Udemy Alternatives | Best for |
| 1. | Coursera | Helps you learn without limits with more than 4000+ courses |
| 2. | Skillshare | Best for learning creative and professional skills |
| 3. | Udacity | Best for high-impact courses |
| 4. | Masterclass | Has the top-notch instructors |
| 5. | Treehouse | Best for learning programming and web development |
| 6. | Pluralsight | Best for web development and cloud training |
| 7. | Khan Academy | Offer courses in around 20 different languages |
| 8. | edX | Best for communication, data, design, literature, and more. |
| 9. | LinkedIn Learning | Best for professional development |
| 10. | Cloud Academy | Best for Software Learning |
| 11. | The Great Courses | Best for documentary style serving model |
| 12. | FutureLearn | Best for gaining expertise in various skills. |
12+ Alternatives to Udemy In 2023
In this section, we have elaborated for you all the Udemy Alternatives in detail, describing the best uses, features, and pricing of each.
1. Coursera (The Best Udemy Alternative)
Coursera is one of the most popular courses after Udemy and has been around for years. It has some of the best e-learning courses from the top universities. You can find plenty of on-demand courses that you can handily enroll in for free and build your skills.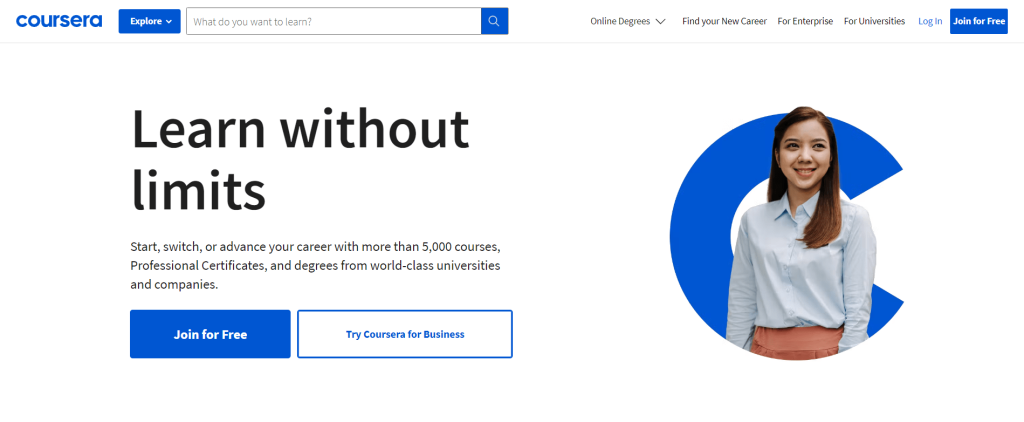 Coursera has collaborated with over 200 international companies; it has many wide ranges of options for people trying to grab some of the greatest skills in demand. Furthermore, it also has a global community of learners that assist you in achieving professional goals.
Key Features
Have free online courses from top universities
More than 4000 courses
Partnered with leading universities
Team-based learning and expert instruction
Have reasonably priced Coursera professional certification and degrees
Pricing and plans
| | |
| --- | --- |
| Monthly Subscription | $59 per month |
| Annual Subscription | $399 per month |
Skillshare is one of the trending online learning platforms whose mission is to bring growth to the lives of people. It is mainly designed to inspire curious learners. It has many classes, especially on freelancing, designing, photography, illustration, and videography.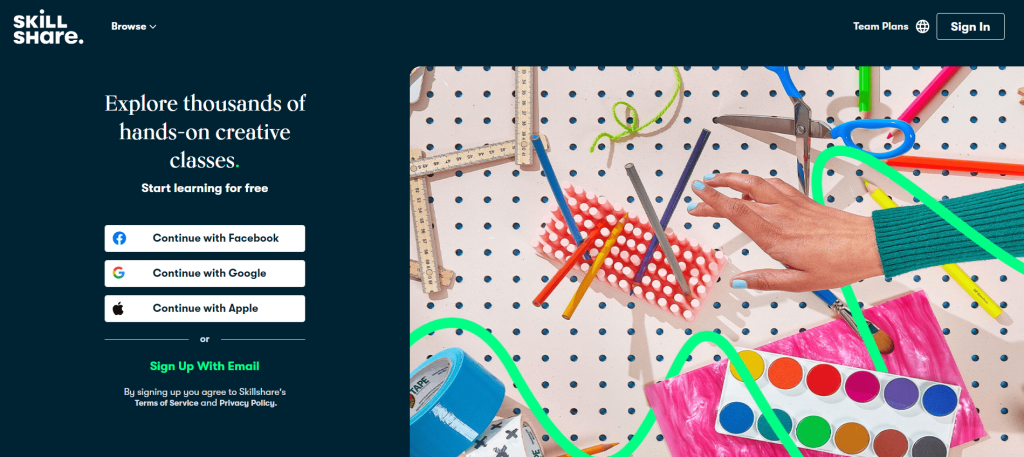 It also has celebrity-taught classes that teach the best technical and creative skills. As compared to Udemy pricing, Skillshare has a fair subscription price. Skillshare also creates subtopics for graphic designers, animators, UI/UX designers, writers, etc.
Key features
Skillshare has limited free tier and team account
Has thousands of courses in every niche
Has 35+ courses and 12+ million users
Provides a great mix of practical and theory
With one account, you can buy as many courses as you want
Pricing and plans
| | |
| --- | --- |
| Monthly Subscription | $32 |
| Annual Subscription | $14 |
3. Udacity:
As compared to Udemy, Udacity is small but is one of the most valuable alternatives to Udemy. It has more than 80+ courses on machine learning, automation, artificial intelligence, etc. It is one such platform that provides you with fast and efficient courses that help you in mastering the skills.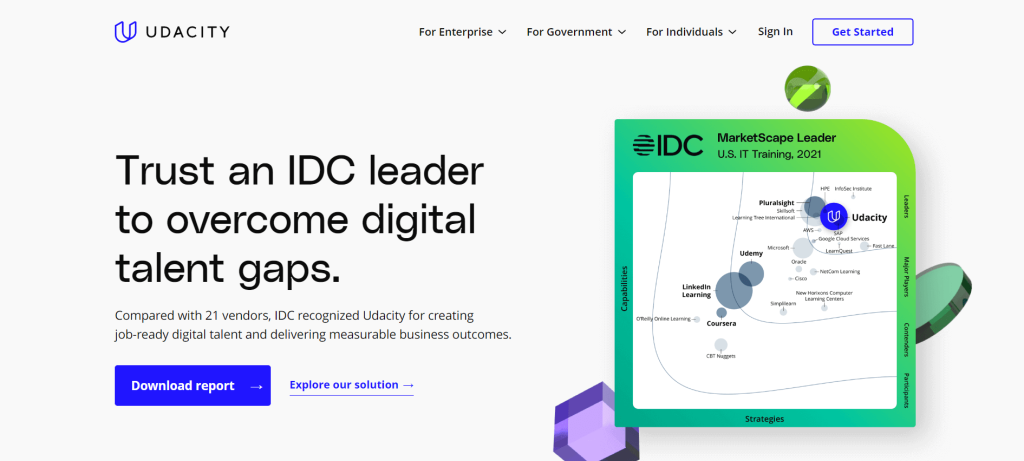 Udacity has more than 200+ industry expert partners from well-known companies like Google, Facebook, Salesforce, etc. Creating high-quality courses. 
Key Features
The courses are taught by industry leaders
Self-paced learning
Mentors are available 24/7
Give real-life projects for completion
Give Advanced level professional training
Pricing and plans
| | |
| --- | --- |
| Monthly Subscription | $399 |
| For 4 months | $1356 |
4. Masterclass:
MasterClass works with the simple idea that everyone should have access to genius. The MasterClass is one such Udemy Alternative with 150+ masterclasses. All are available in 11 categories taught by some of the best globally acclaimed icons in their field of expertise.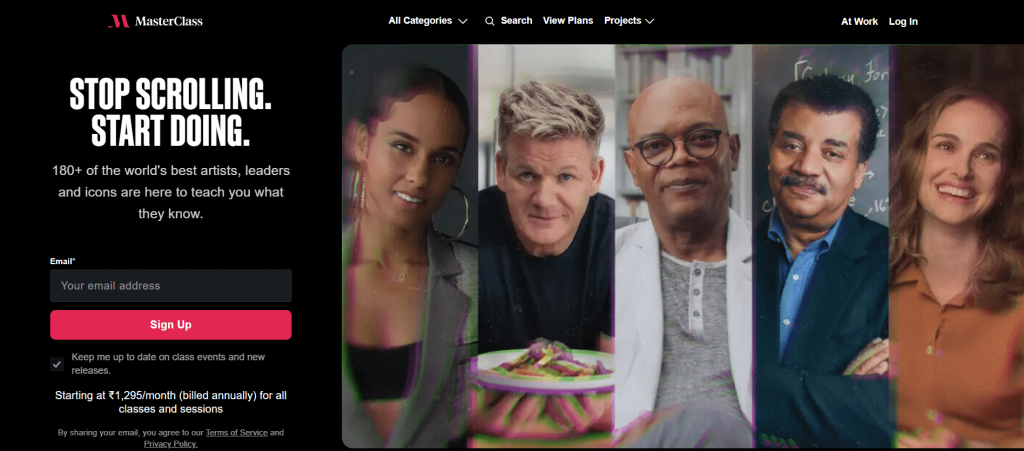 You will get some of the A-list celebrities like Christina Aguilera, Alice Waters, etc., that teach on different topics. It is an on-demand e-learning site providing quality videos as compared to Udemy.
Key Features
High-quality video lessons
Provide bonus content on some content
Have passionate and accomplished teachers
Affordable
Have multi-user options
Pricing and plans
| | |
| --- | --- |
| Individual Subscription | $15 Per month |
| Sharing Subscription | $20 Per month |
| Family subscription with up to 6 members | $23 Per month |
5. Treehouse:
Treehouse is another great Udemy alternative that features more than 300 courses and workshops. The Treehouse is mainly related to tech companies and is trusted by over 50000 students globally.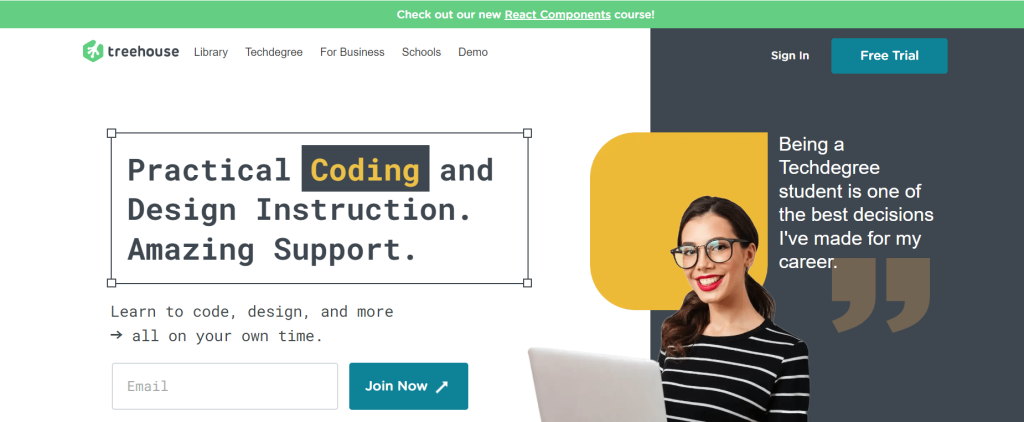 It is the best platform to learn web development, programming, cloud engineering, and more. Treehouse's goal is to make tech more accessible with some affordable online courses and workshops. Programs like JavaScript, Python, HTML, and PHP are highly demanded, and Treehouse provides all of these highly demanded courses at a very affordable price. It is also best known for its award-winning video-based instructor learning platform. 
Key Features
Affordable subscription
Practical coding and designing instructions
Certification for all skills
Gives 7 days free trial
Self-paced online boot camp
Pricing and plans
| | |
| --- | --- |
| Basic Plan | $25 Per month |
| Tech degree Plan | $199 Per month |
| Pro plan | $49 per month |
6. Pluralsight:
Pluralsight is an E-learning platform for tech professionals that has more than 7000 courses and is viewed by subject experts. The platform helps in providing the best skills with authorized content and courses.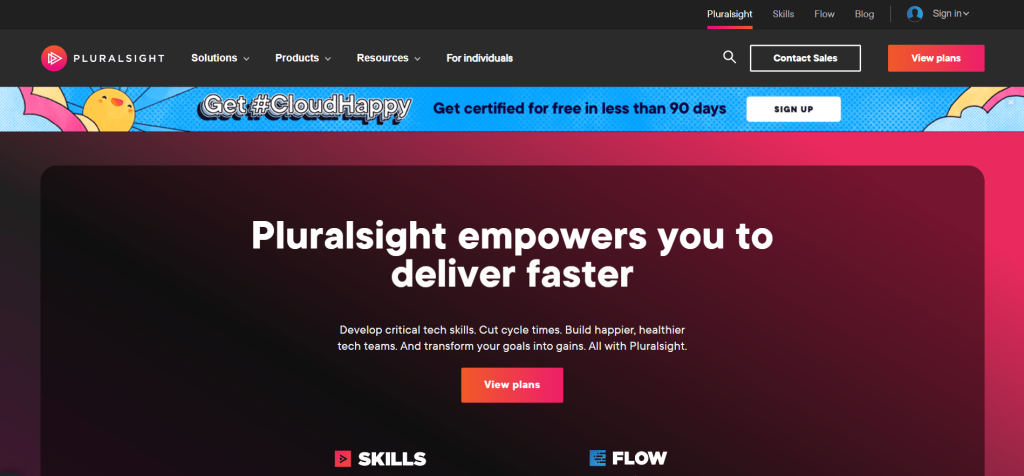 The companies can upskill their teams with the courses that are in demand in IT, Machine Learning, AI, Software Development, data professionals, cybersecurity, and more.
Key Features
Free role Assessments and skill assessment
Highly qualified instructors
Free 10-day trial
Various range of tech courses
Learn offline allowance
Pricing and plans
| | |
| --- | --- |
| Monthly Subscription | $45 Per month |
| Annual Subscription | $499 yearly |
7. Khan Academy:
Khan Academy is a nonprofit organization that aims at providing free online academic courses. With the help of instructors and educators, the courses must follow a professional or formal curriculum for different categories, which American educational institutions primarily serve.
The Khan Academy platform is a super reliable place to start learning as it does not require an account to use and also provides video lectures, college preparation series, quizzes, resources, and a lot more.
Key Features
University level courses
Reliable platform
Personalized learning for free
Easily accessible
Wide range of courses for every student type
Pricing and plans
Free
8. edX:
edX is one of the well-established e-learning platforms where you can learn various courses, and it opened worldwide. The edX learning platform provides various courses on programming, blockchain, database, and the best computer science courses.

Additionally, courses on data science, business, healthcare, communication, and more can also assist in learning a new skill!
Key features
Helps in upskilling
Has collaborated with the best universities
Offer various degrees
Affordable
Well-experienced instructors
Pricing and plans
9. LinkedIn Learning: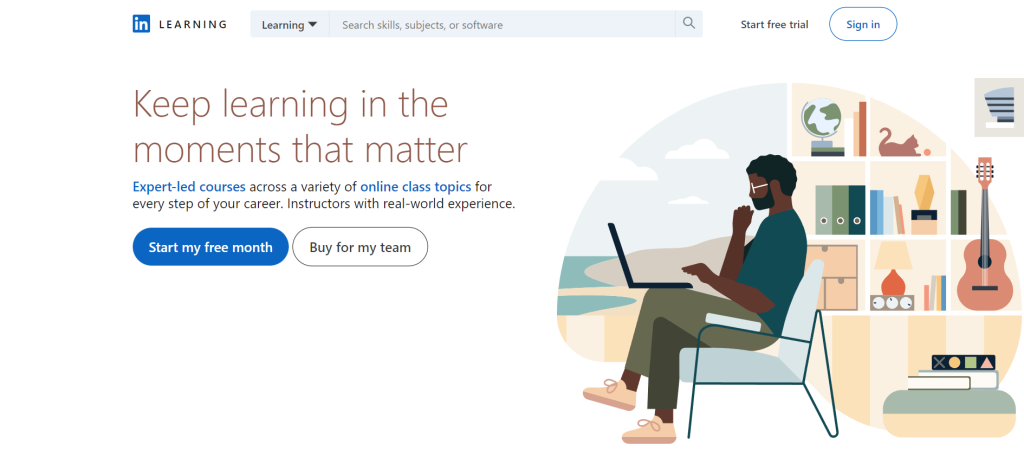 While LinkedIn is a popular social media site curated for professionals, LinkedIn Learning specifically focuses on providing in-depth courses. It has been around for over more than 20 years. It mainly focuses on building professional development, web designing, coding, software development, and more.
Key features
Variety of courses
Certificates
Easily accessible
Get top skills at an affordable price
One-month free trial
Pricing and plans
| | |
| --- | --- |
| Monthly Subscription | $39 per month |
| Annual subscription | $24 per month |
10. Cloud Academy:
Cloud Academy is one such learning platform that is designed mostly for enterprise teams. It is a digital learning platform helping mostly in developing digital skills. Many well-known companies trust it is one such platform for providing the best machine learning.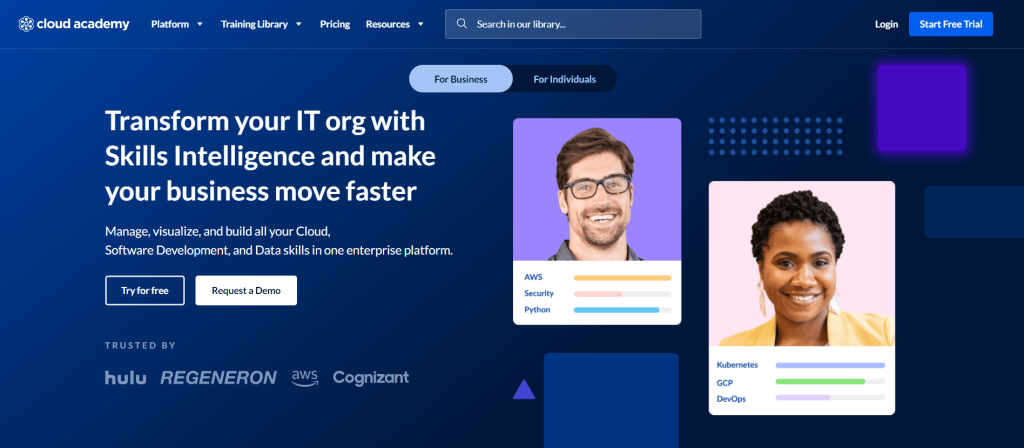 In comparison, Udemy Cloud Academy provides rt instructors and also provides certifications so that you can accelerate your career.
Key Features
Best for Machine learning
Expert instructors
Trusted by top companies
Practical expertise
Affordable
Pricing and plans
| | |
| --- | --- |
| Monthly Subscription | $39 Per month |
| Annual subscription | $34 Per Month ( $399 per year)  |
11. The Great Course:
The Great course is a platform providing more than 400 courses on a wide range of subjects. The platform uses simple documentary-style videos for providing lectures and giving extensive abilities. Some of its classes are produced by well-known producers like The History Channel and National Geographic.

The Great courses have a wide range of subjects like the world, religion, philosophy, and many other topics.
Key Features
High-quality courses
Advanced Degree Instructors
Impressive sets of control
Various range of courses
Easily available and affordable
Pricing and plans
| | |
| --- | --- |
| Monthly Subscriptions | $24 Per Month |
| Annual Subscription | $240 Per month |
12. FutureLearn
This Udemy alternative enables students to learn new skills and expertise in their hobbies with ease. it has more than 2,000 unique learning programs that cover business management, healthcare, creative arts, media and much more. It provides specialized education programs which are accredited by reputable colleges and organizations. the courses are delivered in the form of self-paced video lessons along with articles, quizzes, and many activities.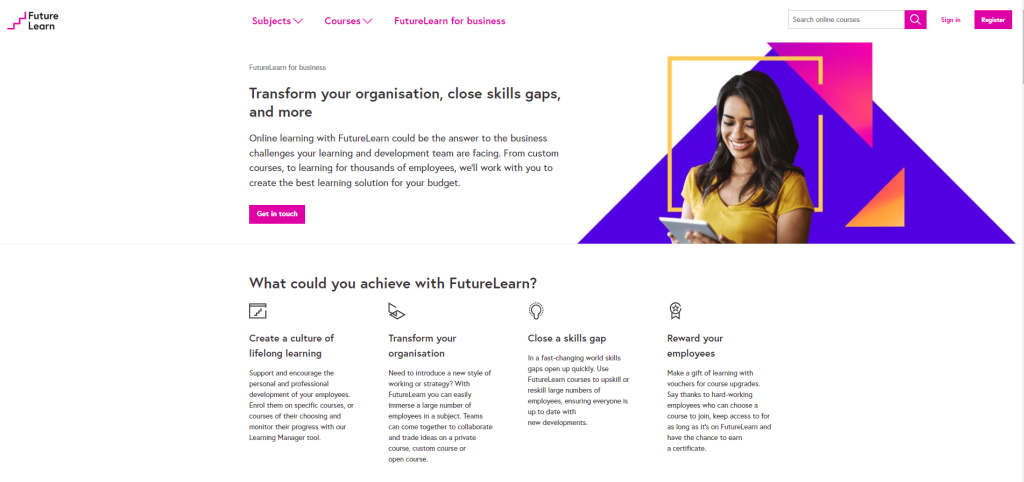 As a Udemy alternative, it offers unique programs that are focused on in-depth courses in various fields. This platform can be a great alternative to Udemy for those who want to expertise their skills.
Key Features:
Wide range of courses to choose from.
Learn with flexibility.
Courses from over 260 top universities.
Boost your CV with ExpertTracks and fully accredited micro-credentials.
Pricing and Plans:
The FutureLearn unlimited subscription plan costs $19.99 for the first month and $39.99 for months thereafter.
Related Read:
Final Verdict:
Learning is something that should not be limited; the more we learn the less it is. Through the Udemy Alternatives mentioned above and online learning platforms, you can easily learn anywhere, anytime. If you want us to recommend you some of the top alternatives to Udemy, we suggest trying Coursera, MasterClass, and SkillShare.
On the other hand, if you want to go with a free Udemy alternative, you can pick Khan Academy.
Any of these platforms can help you in building your skills and professional development and make you a genius in the skill you need to learn.
Latest posts by Ryan Harris
(see all)