Finding jobs with zero skill set on the resume can be hectic.
With competitive online learning platforms like Skillshare and LinkedIn Learning, you can learn in-demand skills directly from industry experts at the comfort of your home.
Don't worry. Even I took several courses on Skillshare and LinkedIn Learning, and it immensely helped in boosting up my resume and finding better jobs.
Thanks to Skillshare and LinkedIn Learning! To share my experience, I decided to write a detailed comparison review on Skillshare and LinkedIn Learning right away.
In this article, you will learn everything about Skillshare and LinkedIn Learning, the instructors in Skillshare and LinkedIn Learning, the suitability of Skillshare and LinkedIn Learning, and more.
Toward the end, I answer the verdict of "Skillshare vs Lynda (LinkedIn Learning) – Which is the best?"
Here are the key differences between Skillshare and LinkedIn Learning:
After completing a course on Skillshare, you will get a real-world project to complete, whereas LinkedIn Learning offers a course completion certificate after finishing a course.
Skillshare courses focus more on creativity and arts, whereas LinkedIn Learning's courses focus more on the web, software, and business fields.
Skillshare is a great platform for those who want to learn creative skills and learn a new hobby, whereas LinkedIn Learning is for those who want to grow in their career and achieve more professional goals.
The pricing of Skillshare is affordable compared to LinkedIn Learning.
Choosing between two similar e-learning platforms that almost offer the same benefit can be a difficult task, especially if you are in a hurry to pick a module to start learning right away.
Don't worry. I did the homework and came up with all the differences from my experience using Skillshare and Lynda (now rebranded as LinkedIn Learning), which you might be excited about.
Without further ado, let me give a brief overview of Skillshare and LinkedIn Learning.
Learning with a fun twist is what makes Skillshare stand out.
In Skillshare, you are exposed to more than 30,000 courses on several creative niches, from animation to marketing to music to writing to photography. You name it. Skillshare has it.
It is evident that Skillshare does justice to its tagline "explore your creativity" because there are unlimited courses for users to take on all difficulty levels from beginner to advanced level.
The best part is that Skillshare is one of the few e-learning platforms that offer excellent courses on a budget with a subscription-based module where you can pay monthly/annually accordingly.
In some cases, the instructors in Skillshare also host training workshops on a subject and conduct sessions which are an added benefit for users making the investment more effective.
Last but not least, all the courses in Skillshare are handled by creative professionals and industrial experts, wherein the instructors have prior experience and adequate knowledge.
Note: We have also compared Skillshare with MasterClass. You can check our detailed Skillshare vs MasterClass comparison here.
What is LinkedIn Learning? (An Overview)
LinkedIn Learning is a popular course provider owned by LinkedIn, where in-demand courses are made digestible in simple video-formatted lessons followed by a self-paced learning module.
In LinkedIn Learning, the course category is perfectly balanced with in-demand courses and creative courses, allowing the users to make the most out of their learning experience.
Although Skillshare offers excellent courses on significant topics, LinkedIn Learning goes deeper into the core subject. For instance, Skillshare might offer courses on design, but LinkedIn Learning might go ahead and offer courses on AutoCAD related to design, which is a job-oriented skill.
Can you sense what LinkedIn Learning is trying to do? Take a guess, it's pretty obvious.
Ever since Lynda got acquired by LinkedIn, the learning provided has been fully rebranded and dedicated to offering skill-development courses that might result in a potential job.
All the learning platforms on the internet are run on the quality of their instructors. Without a compelling instructor quality in e-learning platforms like Skillshare and LinkedIn Learning, the students will not come back or recommend to their fellow peers.
Hence, let me share all the details about who the instructors are and how effective instructors are in Skillshare and LinkedIn Learning below:
Skillshare is a universally open platform where literally anyone can curate a well-drafted course and make it profitable on the internet, and so the instructors are potential individuals globally.
Although Skillshare lets any user sell a course on its platform, each instructor has to go through a robust review process in order to make their course public and accessible to users.

Therefore, Skillshare ensures to select only well-qualified experts with prior experience in the field as their instructors, and so the quality is trusted and promising throughout the platform.
An added benefit of learning from an instructor in Skillshare is that you get to relate with certain entrepreneurial ground levels from their personal experience since the instructor is not funded by an esteemed organization but a mere individual who climbed up their way towards success.
Who are the instructors in LinkedIn Learning?
LinkedIn Learning is owned by LinkedIn, one of the biggest employment service providers globally, and it is evident that LinkedIn does not compromise with its instructor quality.
Even the process of getting enrolled as an instructor on LinkedIn Learning is complicated, where the potential instructor has to go through several authentication processes and scanning.
All the instructors on LinkedIn Learning are industry experts who are also working professionals in the desired field. Each instructor is reviewed by LinkedIn Learning which means you cannot go wrong with their quality since all the instructors are trusted and verified officially.
Apart from every other criterion in selecting the learning platform, only the ease of use calls out for a green flag, and how is it in Skillshare and LinkedIn Learning? Find out for yourself below!
All the sections in a course were properly clubbed in Skillshare, leading to no confusion, and I was able to take adequate chapters and continue my learning at ease.
I did not find any difficulty in finding courses because the difficulty level filter was helpful, and all the tools in Skillshare were easy-to-navigate, especially the course description and details.
There were no annoying pop-up ads or vibrant color tones. Skillshare was minimalistic and straightforward with the design and layout. Even the structuring of courses was well-done.
LinkedIn Learning Ease of Use
LinkedIn Learning has made the utmost benefit of being acquired by LinkedIn where features like who viewed your profile are brought to its platform. You can catch the stalker right away.
Regarding the user experience, the content quality is top-notch and professionally led. There is also the option of a speeding feature if you want to learn at a faster pace.
Additionally, LinkedIn Learning also made learning accessible to non-English speakers by offering courses in more than six languages, namely Spanish, French, German, Portuguese, Japanese, and simplified Chinese. Talk about diversity!
Although the layout and design in LinkedIn Learning are neatly maintained, it feels confusing at times because you are logged in to the same account that you use for LinkedIn.
Therefore, I am not sure if I am taking a course or searching for a job. Can you fix this, LinkedIn?
You know how compelling Skillshare and LinkedIn Learning are as e-learning platforms with great benefits but should you take it? Find out if you are suitable to take courses on Skillshare and LinkedIn Learning by checking the boxes below:
Students, hobbyists, and creatives looking for courses on a budget.
Educators and teachers trying to find a platform to sell a course.
Anyone who wants to acquire creative skills with formatted modules.
Who is suitable for LinkedIn Learning?
Employees wanting to learn in-demand skills via self-paced learning.
People who are looking for courses which might result in a potential job.
Anyone who wants to upscale their skills with guidance from industry experts.
It is obvious to conclude the suitability of Skillshare and LinkedIn Learning even if you have not used Skillshare and LinkedIn Learning previously because Skillshare is a platform dedicated to creative niches. In contrast, LinkedIn Learning focuses primarily on in-demand and job-related skills.
Using Skillshare and LinkedIn Learning was a great experience where I benefited a lot yet noticed some downsides and so let me list them down below:
The option of a free trial is available.
A smooth user experience with no lagging.
The courses are available in all difficulty levels.
Anyone can curate a course and become an instructor.
You can participate in certain workshops hosted by instructors.
A dedicated mobile application is also available in Skillshare.
The courses are available in English only.
Instructors' quality is not the same throughout.
LinkedIn Learning Pros
Sponsored courses by companies are possible.
An employer can track their employees' progress.
The courses can be taken in six unique languages.
The video tutorials are offered with commentaries.
All the courses are led by industrial experts only.
You get the option of speeding up the course.
LinkedIn Learning Cons
No community forum or workshops.
The mobile version is not great.
Let me finally talk about the budget aspect of Skillshare and LinkedIn Learning.
Is Skillshare affordable? or is LinkedIn Learning expensive? Find out below!
LinkedIn Learning Pricing
With great benefits, LinkedIn Learning is a paid course provided which has two exciting plans, namely,
Basic membership plan priced at $19.99/- per month
Premium membership plan priced at $29.99/- per month
In my experience, there were not many differences between both the membership plans in LinkedIn Learning, but I noticed that offline access is only allowed for Premium users.
NOTE: LinkedIn Learning 1-month free trial so that users can access it freely.
A versatile platform like Skillshare is obviously on the run for the money, and so it follows a subscription-based service called Skillshare Premium wherein,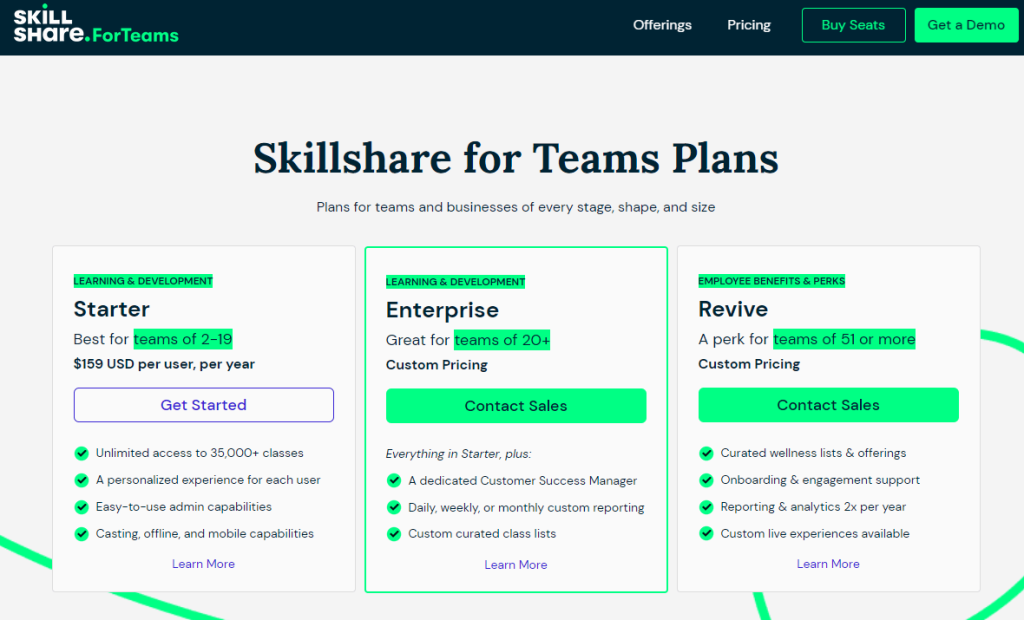 Monthly subscription can be purchased at $19/- per month
Annual subscription can be purchased at $99/- per year
In Skillshare Premium, all the ads will be eliminated, users will get offline access, and can unlock access to the entire course library in Skillshare, which is incredible. Additionally, like LinkedIn Learning, Skillshare also offers a 1-month free trial which can be used effectively.
Related Read:
With the abundance of learning platforms on the internet, finding two of the most competitive learning platforms – Skillshare and LinkedIn Learning were quite challenging, but I am glad that I did.
I took several courses on design, animation, business, and technology on Skillshare and LinkedIn Learning, and let me tell you that both platforms had excellent course quality.
Although the instructor quality was not constant throughout Skillshare, I could find other great courses immediately without having to pay individually again. Plus, the format and structuring were well-arranged and adequately put in Skillshare.
On the other hand, with LinkedIn Learning, I was able to learn extensive in-demand courses like web development from real experts directly. It was not engaging after a while, though.
Additionally, the ease of use in Skillshare exceeded LinkedIn Learning in a catch because everything on LinkedIn Learning seemed to be cramped with no space. Skillshare handled the user experience smoothly, giving the users one of the finest learning experiences.
In conclusion, I would say that Skillshare is the best learning platform considering all the factors, including the pricing, since it is based on a subscription module and you unlock plenty of courses.
LinkedIn Learning is valuable if you are in an urgency to learn an in-demand skill right away!
Latest posts by Ryan Harris
(see all)