You don't need to open Grammarly every time and check your grammar. You can simply download the extension so that it gets easy to correct your mistakes without going to the Grammarly page every time.
Grammarly extension for Opera can't be downloaded directly from the website. However, we have found a simple method to add Grammarly for Opera.
In this article, I have made a step-by-step guide to how to add Grammarly to Opera, so next time you want to check something, you can simply use the Opera extension!
Besides, I have also added key points on how Grammarly works in Opera to help you in improving your experience.
Pros and Cons of Grammarly For Opera
Here's a quick overview of the pros and cons!
Pros
AI paraphrasing tool allows you to rewrite content quickly.
The citation generator is available in the free plan
Seamlessly integrates with MS Word and Chrome
Built-in Summarizer tool
Affordable pricing and a free plan
In-built plagiarism checker
Cons
Doesn't include a tone detector
Allows only 20 pages scan for plagiarism checker
It isn't suitable for writers and businesses.
How to Download Grammarly Extension for Opera
Here is a step-by-step guide on how to add Grammarly Extension for Opera.
Note: Before you proceed with the steps mentioned below, make sure you have signed up with Grammarly.
Step 1: In order to Install Grammarly for Opera, head over to the Opera extension tab.
Step 2: Now, download the "Install Chrome Extension" add-on that you will see. 
Step 3: Once done, click on this Link and search for Grammarly in the search box. 
Step 4: At the right side of your window, tap on 'Add to Opera.' 
Step 5: The extension will be installed automatically. Once the download is complete, head over to Extensions Manager Page and check if you have turned on Grammarly.
That's all! You can now use Grammarly on Opera easily. 
How Grammarly Works on Opera?
The Grammarly extension will show up in the toolbar on the right side and look like a green circular arrow.
If you click the Grammarly option, you will instantly see the sidebar of Grammarly. On that sidebar, you will see all the grammatical mistakes and typos. 
This will also allow you to copy and paste your content and also upload your documents from MS Office, and also you can type your content as well.
Grammarly For Opera works similarly to how it works for the normal Grammarly you use. All the settings and user interface is similar everywhere, so you don't have to worry about any learning curve.
You can read our detailed Grammarly Review Here.
How to Check Reports on Opera
Grammarly offers two kinds of reports. The first one shows your engagement report, clarity, delivery, and correctness report.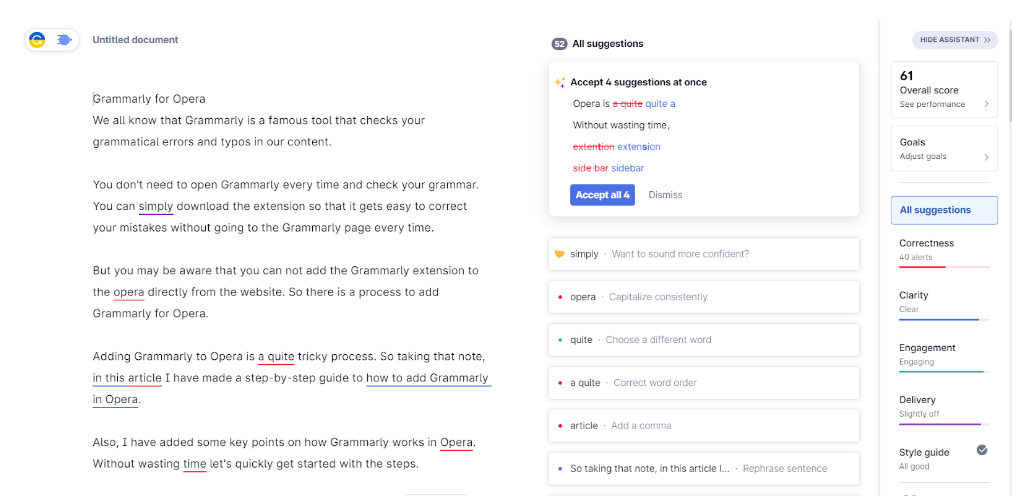 And in the second one will give you detailed reports that will allow you to make corrections on the type of tone you use, sentence readability, choice of words, and plagiarism issues. These reports you can see on the right side of the dashboard where you upload your content.  
To make changes, you can simply tap on the suggestions.
How to Check Plagiarism on Opera
Grammarly scans more than 16 billion websites that will show you if you have any plagiarism in your content. 
You can also see the plagiarism source, eventually helping you know the similarities and make changes accordingly.
Moreover, you will also get a proofreading feature which you will have to pay a fee for other than the premium version. The amount depends on the word count of your content. 
To get professional proofreading help, you can contact Grammarly's support team.
Bonus: If you are a student looking for a plagiarism checker, you can check out our handpicked list of the best plagiarism checkers for Students. Besides Grammarly, you can also find other options.
Grammarly Pricing: Grammarly for Opera
Grammarly offers three plans to choose from –Free, Premium, and Business Plan. While the free version is helpful for basic checking, Grammarly Premium gives you additional perks and is perfect for individuals, businesses, students, and more.
If you need help deciding between Grammarly Free vs Premium, read our detailed comparison here.
Tip: If you are thinking of upgrading to the premium version, you don't have to worry about ripping your pockets. Nutmegeducation readers can enjoy our exclusive Grammarly Discount up to 20% off!
| | | |
| --- | --- | --- |
| Plan | Original Price | Price with our discounted link |
| Monthly | $30 | $30 |
| Quarterly | $90 | $60 |
| Annual | $360 | $144 |
The plans mentioned in the table above are for Grammarly Premium. We encourage readers to go for the annual plan as you can save the maximum on it.
Besides, the Business plan will cost you around $15/per month/user. You can check out How Much is Grammarly Premium to learn about the detailed breakdown pricing.
Related Read:
Conclusion: Grammarly for Opera
Adding Grammarly for Opera might look very tricky or complicated, but I have explained step by step guide on how to add Grammarly on Opera. 
To get the most out of Grammarly for Opera, make sure to grab Grammarly Premium. With our discount, you can save additional 20% on the annual plan.
Go ahead and install Grammarly on Opera and start using Grammarly hassle-free!
Latest posts by Ryan Harris
(see all)