When we discuss e-learning platforms, the most popular names that strike our brains are Mindvalley and Masterclass. You would have then heard students and enthusiasts arguing over which one is better and provides more value to the learners.
If you are also someone who needs an answer to the neverending debate about which one is better, Mindvalley or Masterclass. We have bought a detailed comparison of Mindvalley vs Masterclass.
The platforms serve a unique purpose and cannot be compared. However, there are some common grounds in both platforms. These include key features, pricing, courses, etc. We have considered them as the basis of comparison.
Let us take a detailed look at what they have to offer learners.
Mindvalley vs Masterclass: In a Nutshell (2023)
Here is a quick comparison between Mindvalley and Masterclass.
| | | | |
| --- | --- | --- | --- |
| Sr.No. | Parameters of Comparison | Mindvalley | Masterclass |
| 1. | Ratings | 4.5/5 | 4.8/8 |
| 2. | Pricing | Starting from $499/year | Starting from $276/year |
| 3. | Main Focus | Self-growth | Creative growth and skill development |
| 4. | Number of Categories of courses | 9 | 11 |
| 5. | Number of courses | 50+ | 150+ |
| 6. | Format of video lectures | Detailed lectures that cover the topics and help to understand concepts. | Bite-sized courses for better consumption of topics. |
| 7. | Ways to access | Mobile App and Website | Mobile App and Website |
| 8. | Educators | Experts across the industry | Iconic celebrity teaches the topics they have expertise in. |
| 9. | Customer Support | Monday-Friday 9 am to 5 pm | Everyday 8 am to 6 pm |
Mindvalley vs Masterclass: Overview
Let us start with the basic overview of Mindvalley and the Masterclass. This will help us to understand what the platforms offer before moving to the comparison part.
Mindvalley Overview:
Mindvalley offers courses that focus on personal development and individual growth. You will find the platform suitable if you plan to work on your mental health, spiritual well-being, happiness, personality development, etc.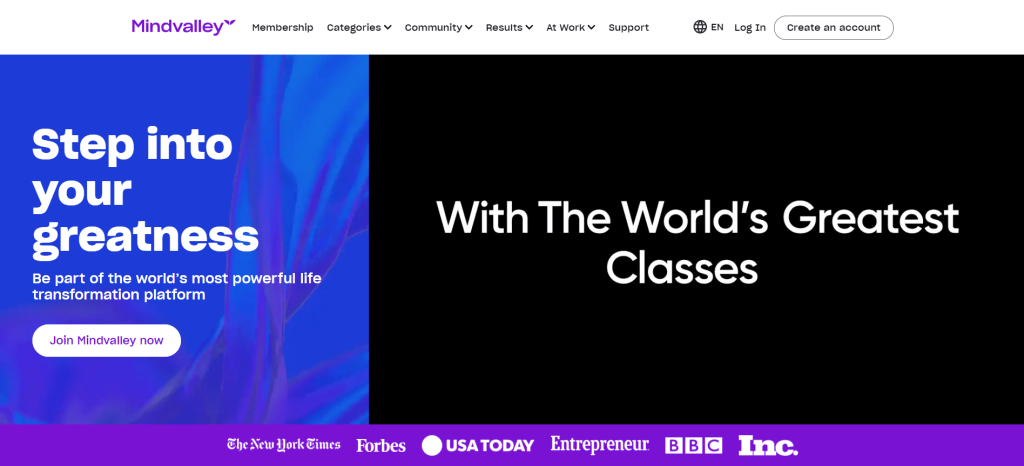 The platform has more than 12 million learners. The courses offered on Mindvalley have high-quality content and video lectures. The topics covered are usually not a part of the academic curriculum. There are over 50 courses available on the platform.
If you are a person who loves mental exercises and maintaining the health of the mind, the platform is suitable for you.
Masterclass Overview:
Masterclass is a platform that covers all the topics and subjects. The top-notch icons of the industry lead the courses in the masterclass. Most of the masterclass courses are unique and you won't find such courses on any other platform.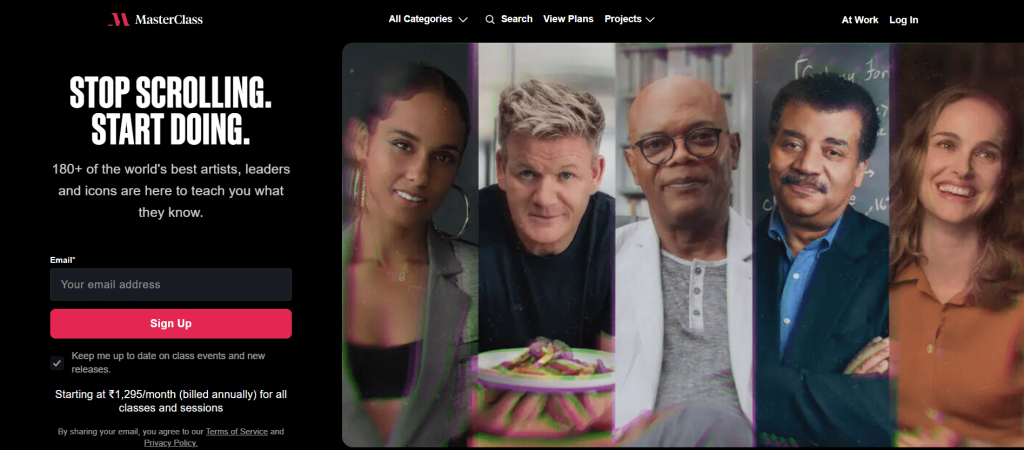 You will find that the platform covers all the topics ranging from Culinary to sports and makeup to film-making. These courses will not only help you to advance in your career but will also help you to increase your skills and creativity.
Mindvalley vs Masterclass: Key Features
Before starting with a detailed comparison of both platforms, Let us take a look at their key features.
Mindvalley Key Features:
Short courses that fit into busy schedules.
Live sessions on the platform.
Mobile app to promote flexible access.
Offline events include workshops, talks, and seminars that include one-on-one interaction with famous personalities and speakers.
Free advanced sessions on
Masterclass Key Features:
Approximately 10-minute classes that are accessible on the go.
Downloadable materials like PDFs, workbooks, notes, etc.
Mobile App that makes it learner-friendly.
Some classes just have audio visions only.
Space for writing your own personal notes.
The courses are self-paced and have flexible deadlines.
Verdict:
After jotting down all the key features of both e-learning platforms, I felt that Mindvalley is lightly better with its features. Especially, it promoting communication between the learners gives it a bonus point.
Mindvalley vs Masterclass: Courses
Let us take a look at what courses Mindvalley and MasterClass have to offer.
Mindvalley Courses
Mindvalley focuses on the overall development of the individual. The platform covers the topic in the categories:
Mind
Body
Soul
Entrepreneurship
Career
Relationships
Partner Programs
As you see Mindvalley provides some exceptional courses and categories. Let's have a look at the top Mindvalley courses for 2023.
Be Extraordinary (Level Up Your Life) by Vishen Lakhiani
Superbrain Quest ( Unleash Your Brain) by Jim Kwik
Duality (The Power of Energy) by Jeffery Allen
10 X Fitness (Gain your Dream body) by Lorenzo Delano
Speak and Inspire (Become a World-class Speaker) by Lisa Nichols
Masterclass Courses
Masterclass has the most unique and efficient courses in the industry. It covers the courses based on categories like
Design and style
Arts and Entertainment
Music
Business
Sports and Gaming
Food
Science and Tech
Writing
Community and government
Wellness
Lifestyle
With such a huge library of categories, Masterclass provides comprehensive courses. These include,
The Art of Negotiation by Chris Voss Masterclass
Interior design by Kelly Wearstler Masterclass
Gordon Ramsey Masterclass
Effective Communication by Robin Roberts Masterclass
Sales and Persuasion by Daniel Pink Masterclass
Verdict:
Here, both platforms offer the best in their respective domains and cannot be compared with each other. Hence, it's a tie for me when it comes to the courses they offer.
Mindvalley vs Masterclass: Instructors
The instructors are the ones who make the platform better with their courses and method of teaching. They play a major role in attracting learners and making a platform a success.
Let us take a look at the instructors of Mindvalley and Masterclass.
Mindvalley Instructors:
Mindvalley is one of the top e-learning platforms in the world. The instructors provide the best courses that are worth the money.
The instructors at Mindvalley are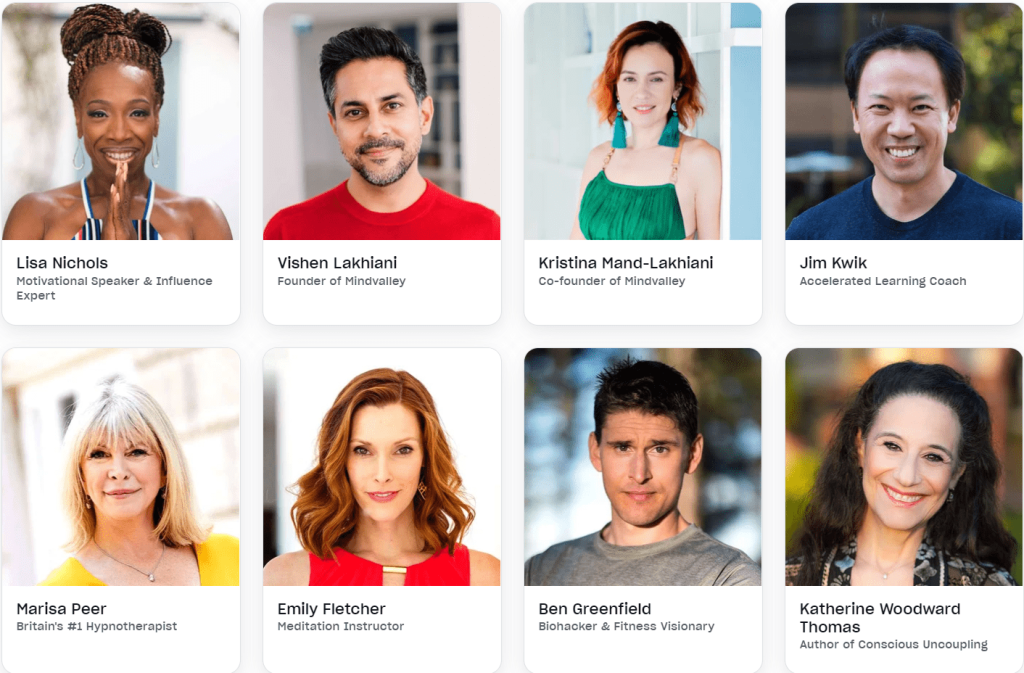 Marisa Peer: The best hypnotherapist in Britain.
Vishen Lakhiani: He is the founder of Mindvalley. Besides he is a best-seller author in NY Times.
Jim Kwik: One of the top-notch accelerated learning coaches.
Other famous instructors include Sonia Choquette, Dr Shefali, Katherine Woodward Thomas, and other well-known therapists, speakers, CEO, entrepreneurs, etc.
Masterclass Instructors:
The Masterclass is no doubt one of the best learning platforms. What makes it best are the iconic instructors from across the world.
Every course is conducted by an instructor that has achieved the expert level in that field.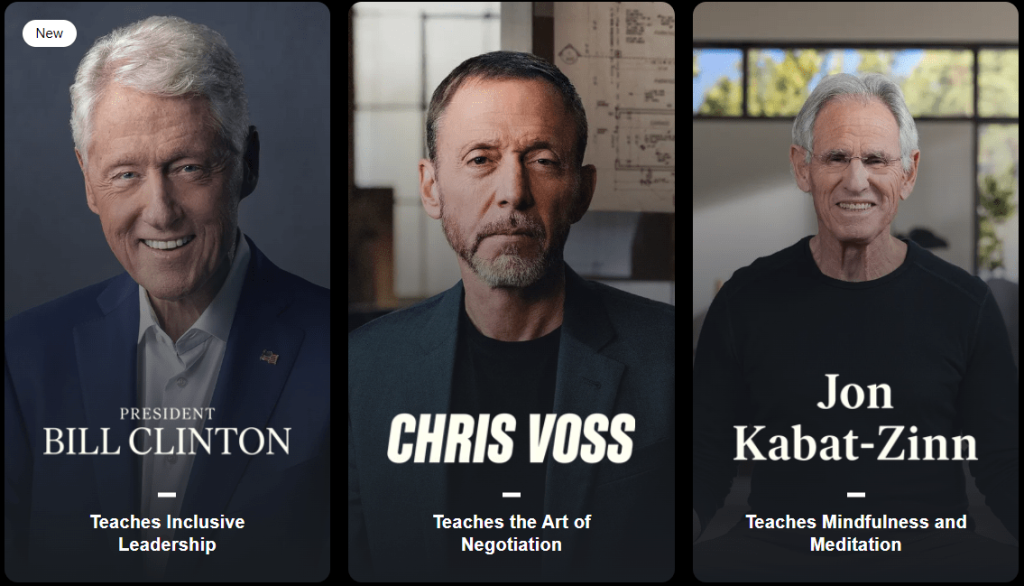 Some of the renowned instructors on the list are
Serena Williams: She is an Olympic-level tennis player with proficiency in her field.
Gordon Ramsey: I guess you won't even need a description about him. However, he is an iconic celebrity chef who has expertise in culinary art.
Mira Nair: She is a top-level filmmaker and has mastered the art of filming.
Other instructors include Martin Scorsese, James Patterson, and Other famous film directors, photographers, Entrepreneurs, etc.
Verdict:
Each platform provides learners with the best instructors available in the industry. The top-notch icons, celebrities, best authors, etc. perform the role of instructors on both platforms.
Mindvalley vs Masterclass — How Are Both The Platforms Priced in 2023?
The pricing of the platforms makes a great for a person who has a tight budget. Mindvalley and Masterclass offer different prices and features.
The pricing of the platforms is as follows:
Mindvalley Pricing:
Mindvalley provides you with an option to pay either monthly or yearly. You can choose the plan that suits your needs. You can also get an exclusive Mindvalley discount here.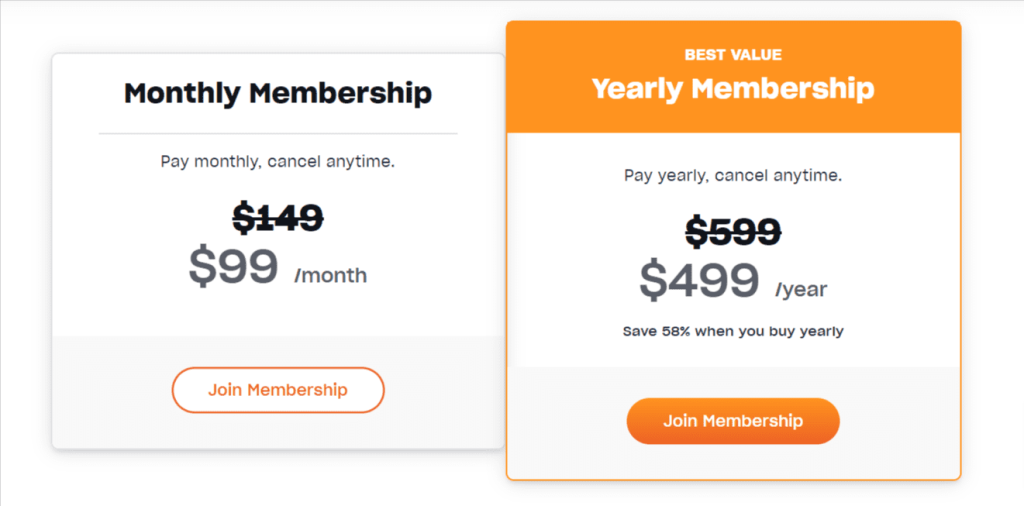 Let us take a look at the plans offered by Mindvalley:
| | |
| --- | --- |
| Plan | Pricing |
| Monthly Subscription | $99/month |
| Yearly Subscription | $499/year |
Masterclass Pricing:
MasterClass provides individual, duo, or family plans. The payments can be done yearly or annually. However, Masterclass provides only Annual plans. You can also save a few bucks with our Masterclass discount offer here.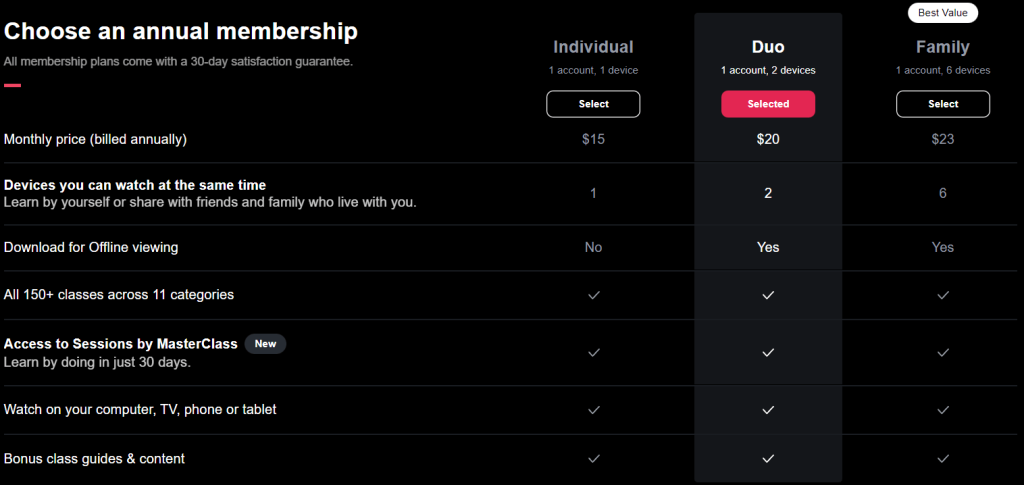 | | |
| --- | --- |
| Plan | Pricing/ Month |
| Individual | $14 |
| Duo | $20 |
| Family | $23 |
Verdict:
The pricing battle is clearly won by MasterClass. It offers an affordable variety of subscription plans to choose from.
Whereas, Mindvalley gives users limited choices and is not that budget-friendly.
Mindvalley vs Masterclass: User Interface
The user interface is a medium that connects a platform and the users. The interface of learning platforms must be easy to use, engaging, and creative.
Let us take a look at the interface quality of Mindvalley and MasterClass.
Mindvalley User Interface:
Mindvalley offers a user-friendly and easy-to-understand interface. The website is easy to navigate. The interface offers a clean and simple look to the website.
In the category section, you will find all the courses that are available in different categories and topics. The dashboard is created with all the buttons that include different features and sections.
Masterclass User Interface:
On Contrary to Mindvalley, Masterclass has a very bold and different look. The website is eye-catching and aesthetic. The intercase is easy to deal with and play around with.
All the features and tools can be found on the home page of the website. You can browse the courses in the All Categories section or search for them in the search bar.
Verdict:
Again it's a tie when the topic is about the user interface. Mindvalley and Masterclass both provide equally good and unique interfaces.
Mindvalley vs Masterclass: Customer Support
When using a service provided by a certain platform, there are times when things may go wrong or some services may crash due to unknown reasons. At such times you will have a person to assist you and help you out in solving the issues.
Customer support service provided by the platforms provides help in times of panic and solves issues.
The platforms give utmost importance to their customer support services to ensure the quality of the platform is maintained. The learners also require direction in case of emergency, and proper guidance elevated the customer reviews and ratings.
Let us take a look at what Mindvalley and Masterclass provide in Customer Support services.
Mindvalley Customer Support:
Mindvalley provides customer support services from Monday to Friday. The platform provides services in more than 5 languages.

The website also includes an article on common customer issues and queries. You can connect anytime with the customer service providers through live chats as well. The timings allotted for support services are 9 am to 5 pm.
Masterclass Customer Support:
The masterclass provides customer services which really adds a bonus point when comparing the two platforms. Their services are available on all days of the week.

Moreover, customer support is available 24/7 for email communication. They usually respond to emails in 24 to 48 hours.
Usually, their time for weekdays is 8 am to 5 pm and on weekdays the timing is 9 am to 6 pm. You can find blogs on their websites which include solutions to common problems. You can also find answers to some of your queries in the FAQ section.
Verdict:
The fight here is clearly won by Masterclass with its 24/7 customer care services.
Mindvalley is equally competent in customer care but loses due to a lack of services on weekends.
Mindvalley vs Masterclass: Pros and Cons
Just like every coin has two sides, Every platform has its pros and cons. You won't find a perfect platform that will satisfy all your requirements.
However, Mindvalley and Masterclass are the top learning platform that has an edge in pros over others.
Let us take a look at the pros and cons of the Platforms.
Mindvalley Pros and Cons:
Let's have a look at the pros and cons of Mindvalley.
Pros:
The Video lectures and the notes are filled with high-quality content.
The courses are always up to date with the changing technology and world.
You can avail yourself access of to unlimited courses in any subscription plan that you will purchase. 
Easily manageable learning format with bite-sized lectures and scientific methodology of teaching. 
The platform encourages communication among the learners and the users.
15 days refund policy.  
Cons:
The subscription does not have multiple subscription options. 
The choices of courses are limited. 
Masterclass Pros and Cons:
Here are some of the pros and cons of the Masterclass.
Pros:
Masterclass has a variety of courses that would cater to your academic as well as creative needs.
Instructors include top icons from the industry.
The subscriptions are affordable and offer variety.
The resources included in the curriculum are downloadable.
The video lectures included in the courses are high quality and engaging.
30-day refund policy.
Cons:
MasterClass doesn't offer completion certificates for the completion of courses.
The platform lacks interactive communities.
Monthly subscription plans are not available.
Verdict:
Mindvalley gets a bonus point with less number of cons. The Masterclass is good enough but loses due to one of the most important factors. Not providing a completion certificate may dishearten some learners and may lead to a loss in their interest in learning and exploring.
How is Mindvalley Different from other e-learning Platforms?
Mindvalley focuses more on individual development and individuals' inner growth. The platform helps learners in leading a better quality of life.
The platform, unlike others, helps you to connect with your inner self and promotes physical health and mental health. Mindvalley connects you with the people who share their experiences and learnings.
Mindvalley focuses more on connecting people online and offline through various meetups and sessions.
How is Masterclass Different From other e-learning Platforms?
Masterclass no doubt, in recent years has performed better than other e-learning platforms. The credit for their performance goes to the iconic celebrities and the experts in the fields.
The platform offers innovative learning with downloadable resources. The platform connects the learners with the people who have mastery in their respective fields.
The courses are developed considering all the needs of the learners and understanding their requirements.
Related Read:
Wrapping Up! Mindvalley vs Masterclass (2023)
Mindvalley and Masterclass are great competitors. They are both best in their ways and have a lot to offer to the learners.
If you need to improve yourself and connect with your mind and body, Mindvalley is the platform that you are looking for.
On the other hand, if you are one who needs to develop your skills or learn new creative things, you must go with Masterclass.
The platforms are unique on their own and serve different requirements. You can choose which best suits you according to what your goals are and what you aspire to be better at.
However, I found Mindvalley to be better and more worth it. In the era of increasing competition, mental health issues have hiked greatly. Maintaining a soul, mind, and body connection will no doubt be a better idea. It will also help you to discover your purpose and goals in life.
Frequently Asked Questions:
Is Mindvalley or Masterclass better?
Both Mindvalley and Masterclass are best in their respective fields. However, Mindvalley gains an edge over Masterclass due to its great features and teaching methodologies. 
Is Mindvalley worth the money?
Mindvalley is a great education platform and ranks at the top when it comes to the best e-learning platforms. Mindvalley is definitely worth the money. It has helped many learners to change their way of life and get better at fulfilling their purpose. 
How can I get a MasterClass for free?
Masterclass grabs a place at the top of the list of the best e-learning platforms. It does not provide any free plan or subscription option. However, you get a free 7-day trial on the platform. 
Who owns MasterClass?
The owner and the founder of MasterClass are David Roger. 
Latest posts by Ryan Harris
(see all)