As someone who has been exploring Mindvalley courses for more than a year now, I have compiled a list of the best Mindvallety courses!
Mindvalley is an empowering platform and has enabled thousands of people (including me) to follow the path of self-improvement.
To help you select the best Mindvalley course for yourself, I have curated the list based on my personal experience with the courses, and each course dwells deep into different areas of self-improvement.
So, let's get into the details!
Best Mindvalley Courses In (2023): Top Picks
SuperBrain by Jim Kwik (rewire your brain)
Wildfit by Eric Edmeadus (become fit rightfully)
10X Fitness (follow the most accurate fitness regime)
SuperReading (double your reading speed quickly)
Duality (heal yourself by eliminating negative energy)
Mindvalley: At A Glance
Mindvalley is an incredible platform entirely dedicated to bettering a person's life in all aspects, including emotional, physical, spiritual, and even financial.
All the buzz about Mindvalley is justified by the top-tier content that it produces. With experts and instructors who have dealt with personal experience, you will get one of the finest learning experiences from Mindvalley, which can also reflect on your growth and show accurate results.
The lessons, known as Quests, are well-crafted and curated in a step-by-step module, making it easier for the ongoing members to grasp and observe the learning fully.
Following the self-paced learning module, Mindvalley ensures to make it convenient for you. Additionally, there is an exclusive Mindvalley mobile application available for all users, which means you can take a 20-minute quest on the go, at a cafe, or even during travel on a bus.
What's more? In collaboration with selective inspiring celebrities, Mindvalley focuses on connecting relatable stories via LIVE classes on special workshops.
Mindvalley has enabled me to understand new perspectives. I have done an in-depth Mindvalley review where I have shared my experience. You can read it here.
Mindvalley Lessons: Quests Explained
The categorization of quests in Mindvalley is something unique and different compared to other competitors. In fact, Mindvalley has stepped up the game to deliver content online with insightful tasks and science-backed lessons.
In Mindvalley, you basically get courses that have several sets of beneficial lessons that are grouped as Quests. Each quest is well-structured with adequate formatting.
You are handed practical tasks, advised to perform activities, and integrate the learning into a daily schedule so that you can visibly see the change after Mindvalley.
Last but not least, the courses are mostly only 20 minutes long, which are short and digestible even if you are on a heavy workload or have a tight schedule to focus on.
14+ Most Recommended Mindvalley Courses: 
Looking at a plethora of categories, sections, and lessons, it is possible that you might feel lost in choosing the right Mindvalley course. Over the last few years, I have taken up multiple courses on Mindvalley.
With the most recommended courses on Mindvalley below, you can pick the right course:
SuperBrain
Wildfit
10X Fitness
SuperReading
Duality
Beyond Fasting
Uncompromised Life
Speak & Inspire
Conscious Uncoupling
Lifebook Online  
Be Extraordinary
The Power of Boldness
The Quest For Personal Mastery
Money EQ
1. SuperBrain by Jim Kwik
Most people tend to use only a mere portion of their brain and forget to utilize its full potential to the maximum, so Jim Kwik beautifully explains how it can be done.
In his Mindvalley course, SuperBrain, Jim suggests ways to activate your brain, improve brain concentration, and increase efficiency at a faster pace.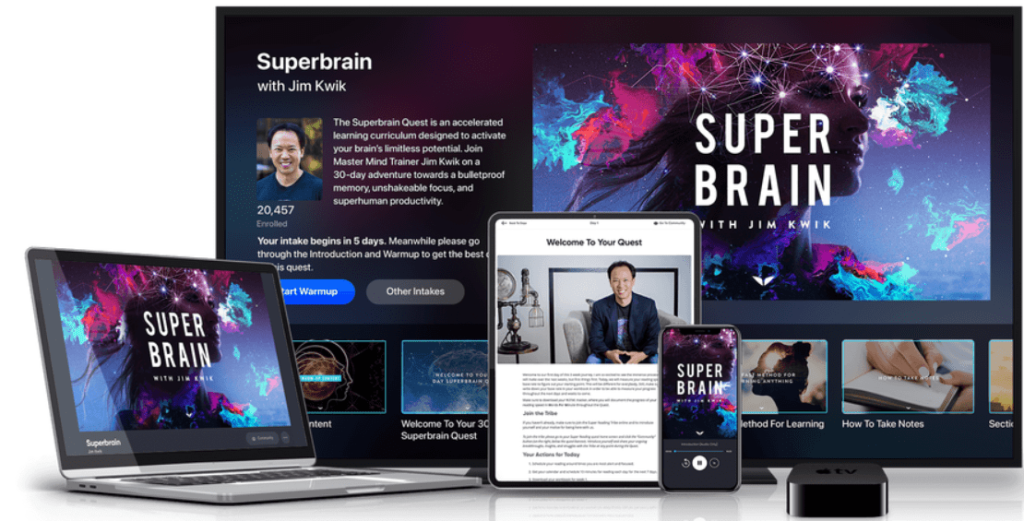 He also demonstrates the techniques that he has used that helped him supercharge his brain. The course was fully packed with insightful tips and techniques backed by science. Plus, learning was relatively easy.
Additionally, Kwik also claimed that the lessons taught in his Mindvalley course also help in enhancing performance and reflecting on habits.
---
2. Wildfit by Eric Edmeades
The term Wildfit already gives an adventurous tone to the course handled by Eric Edmeadas on Mindvalley, where you get to learn about the most anticipated journey.
Any transformative fitness regime recommended by an instructor might seem like a difficult task, but the approach carried down by Eric is different and achievable.
In his Mindvalley course, Wildfit, Eric says that most people are confused with the actual concept of weight gain/loss and miserably fall for fitness hacks online.
With adequate nutritional charts and diet-control recommendations, Eric tells the right amount of food consumed, how to enjoy it, and still be cautious. Moreover, he reveals secret tips like extending lifespan, maintaining weight, and controlling diet.
---
3. 10x Fitness by Lorenzo Delano
Most of us are aware of our health, but are we aware of our fitness? It does not matter if you are skinny, obese, slim fit, cross-fit, or bodybuilder, 10x Fitness has something.
The 12-week well-curated fitness regime led by Lorenzo can be practiced at the home, gym, or wherever you are comfortable with. Before initiating the regime, Lorenzo discusses calculating your current fitness level and how to work out accordingly.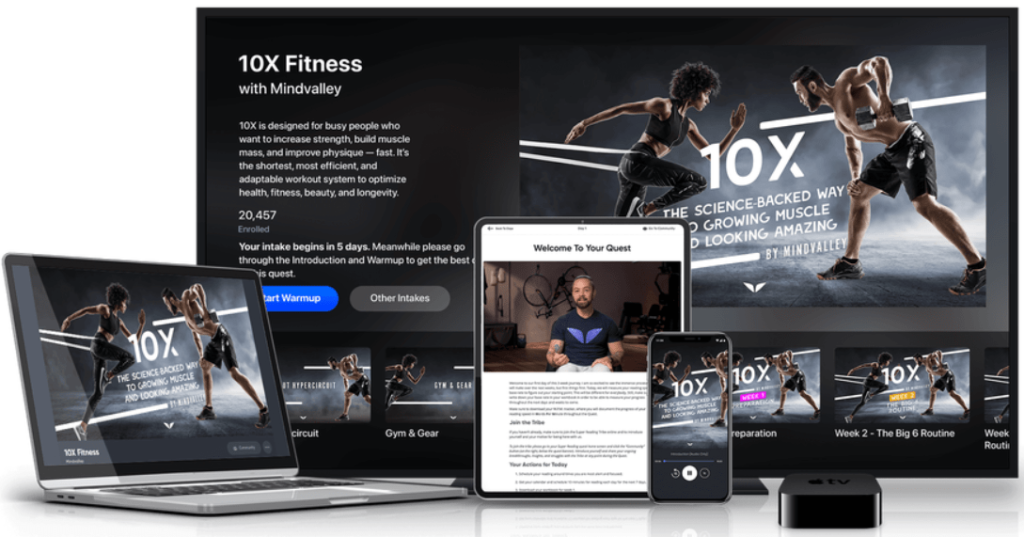 Overall, you are provided everything you need to transform your fitness journey from core exercises to eating habits to burning fat to sculpt your body.
Let me tell you that if you follow everything that Lorenzo suggests in 10x Fitness, you can see the results within weeks. I did, and I am sure you can, too. Obviously, it is not an overnight miracle, but with adequate dedication and consistency, you can.
---
4. SuperReading by Jim Kwik
Memorizing words and information is still a problematic issue for some people. With SuperReading, you can take complete control of your memory.
In SuperReading, expert Jim Kwik teaches the skill to help scan through a plethora of content, emails, and even novels within minutes.
It might seem like a ninja technique but a science-backed-up trick used by fast readers. In the course, Jim discloses how it can enhance your reading skills efficiently.
Like SuperBrain -the other Mindvalley course handled by Jim Kwik, this also helps in memory optimization and concentration, which can significantly help improve studying.
---
5. Duality by Jeffrey Allen
Duality is a productive and manifestation-infused self-healing course on Mindvalley handled by a spiritual guru. You literally get to work on yourself with self-healing tips.
In Duality, you learn to eliminate negative energy, strengthen your chakras, and heal yourself by finding inner peace and manifesting.
In short, Duality in Mindvalley is a motivational guide to healing. The teaching by Jeffrey is genuinely life-changing because often, people find it hard to deal with toxic situations, relationships, and energy in general.
With everyday learning like clearing mental distractions, energizing your body, extending boundaries, and learning about chakras, Duality has a lot of benefits.
---
6. Beyond Fasting by Ronan Oliveira
At first glance, everyone thinks that fasting means eating nothing literally, but it is something that is misguided by most people in general. In fact, fasting actually encourages you to eat appropriate food at a designated time—quick fact check.
In Beyond Fasting, Ronan Oliveira, a health expert, talks about intermittent fasting and how beneficial it is to the common folk. Yes, you heard me, the common folk.
It does not matter how much you weigh but how much you consume and when you consume it. Ronan details all the specifications beyond fasting literally.
Naturally, as humans, we get used to eating only when we feel hungry and tend to slip away from the fact that we should eat on time. Ronan stresses sticking to an eating schedule, working on your food habits, and preparing for the future.
---
7. Uncompromised Life by Marisa Peer
As the title suggests, nobody wants to live a compromised life. With the help of hypnotherapy, you get to live a fully free and uncompromised life.
In Uncompromised Life, Marisa Peer, you are exposed to an abundance of benefits, which include bettering your sleep, growing self-esteem, and attracting a lasting relationship. The transformative 8-week program aims at bringing the best.
You get hypnotic exercises, increase your productivity, and become emotionally unshakeable. Those are only the scraps of Marisa's sessions; you get to be part of engaging activities on an everyday basis throughout the program, which is great.
---
8. Speak & Inspire by Lisa Nichols
It is common for people to feel shy when told to speak in front of a bigger crowd, especially if they are utter strangers.
Henceforth, Speak & Inspire is an encouraging course on Mindvalley where you get to learn tips on breaking the shell and speaking up. Introverts, this one's for you!
In Speak & Inspire, regardless of building the skill of public speaking, you will definitely get inspired by how Lisa teaches and narrows down all the elements in a speech.
Beautifully crafted content is all that a person needs to hear in Speak & Inspire. During the process, you will subconsciously develop confidence and learn how to engage with audiences of all sizes. You might even become a master storyteller.
There are a lot of takeaways in Lisa's Mindvalley course; ensure to take all the lessons!
---
9. Conscious Uncoupling by Katherina Woodward Thomas
Legal separation can be a traumatic experience for a person to go through, especially if it was not mutually decided upfront. Mindvalley can help in a way.
Understanding the seriousness of the situation, Katherine ensures to feel empathy towards her students and provides adequate guidance on how to battle out the trauma, confront the mistakes that have happened, and accept themselves as a whole.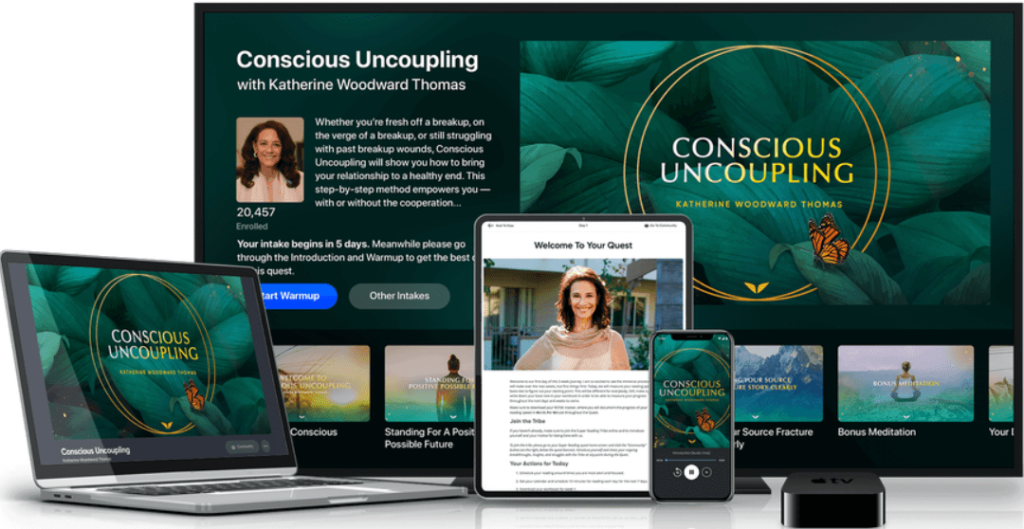 I am sure it is an arduous journey, but Katherina gives you the space to go through the healing process and recover from the wounded part. In the end, you will walk out of the course with a brightening smile and a happy heart, which is guaranteed.
---
10. Lifebook Online by Jon and Missy Butcher
Agreeing on it or not, in Life, there are 2 aspects around which each of us survives. It includes everything from love to money to health to parenting.
I noticed that Lifebook Online is literally a Lifebook that comprises all the aspects that human deals with, and so Jon and Missy Butcher ensure that you are on the right path. With adequate preachings on life, you get to live an enhanced life in peace.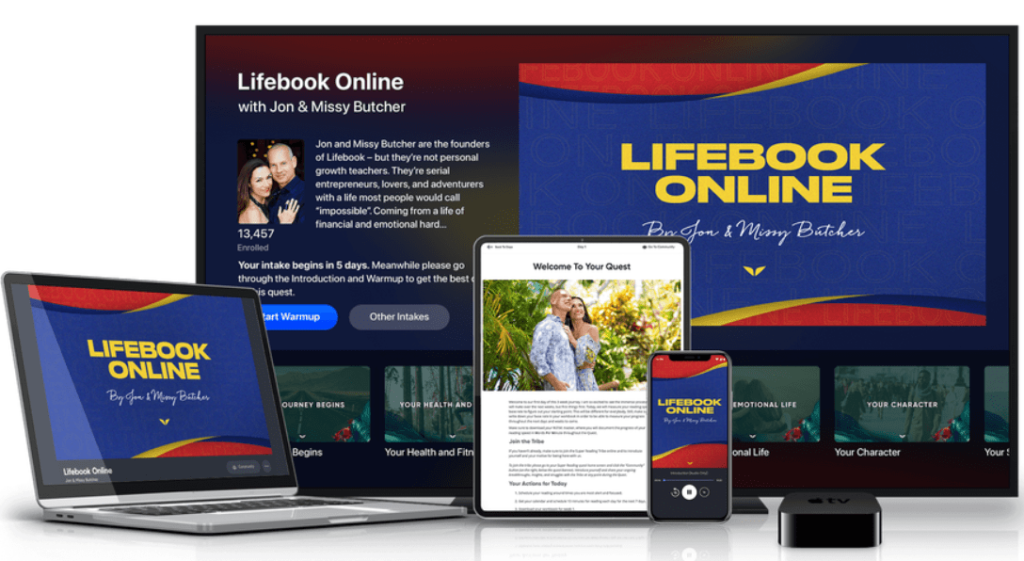 There is no magical spell but fundamental principles and dedicated practices that help in bringing discipline into your life. If followed consistently, you can see the results.
Towards the end, you will be provided with a plan of action based on the tweaks in the triggering parts of your life. The best part is that the plan of action delivered in Lifebook Online is personally tailored according to your needs.
I have already done a detailed Lifebook Online Review here.
---
11. Be Extraordinary By Vishen Lakhiani
This course was previously known as Becoming Limitless, and the creator of this course is Vishen Lakhiani; he originally created this course for his children and himself. The course was the perfect blend of Vishen Lakhiani's learnings over the years when he started Mindvalley. With this course, you can change your outlook on life and mold your brain to perceive things in new ways.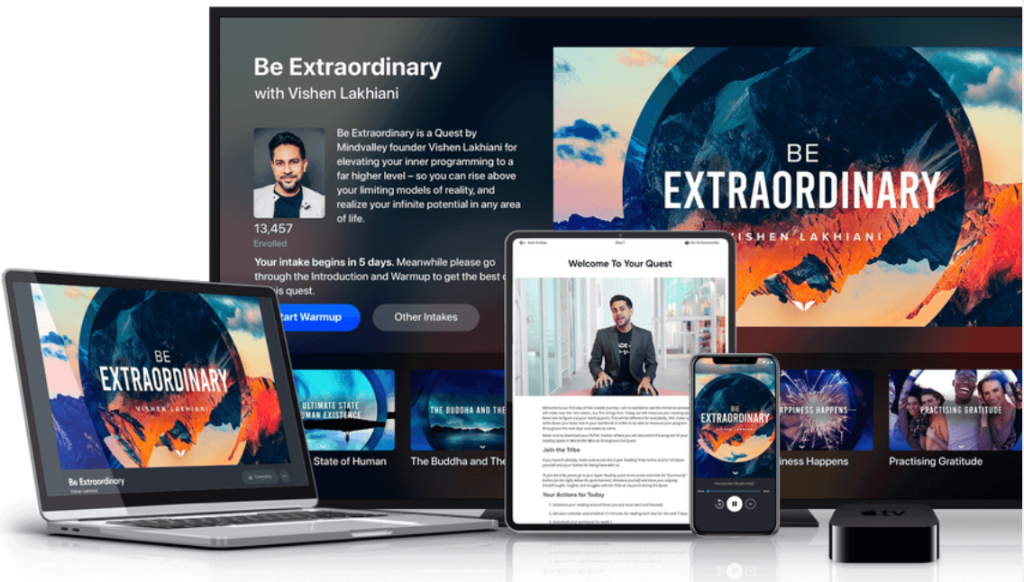 With this course, you can learn to dream more creatively and use your mind to mold your future the way you want it to be. This Mindvalley quest can help you handle your anxiety and depression, conquer your fears, achieve bigger goals for yourself, face defeat ahead on, and then get back up to fight again to conquer.
You can transform your vision into achievable goals and then accomplish those goals with this quest. This course is best for those who are at a crossroads in their life and don't know what to do with it.
This Mindvalley program is a 14-day online course that upskills you with the thought patterns and models of reality. The instructor, Naveen Jain, talks about how to think bigger and perform with your greatest potential.
It will give you an overall idea about creating and realizing your own Moonshot idea. The first part of the course begins with self-reflection. The instructor will guide you on how to take a deeper dive into your inner programming, beliefs, and visionary mindset.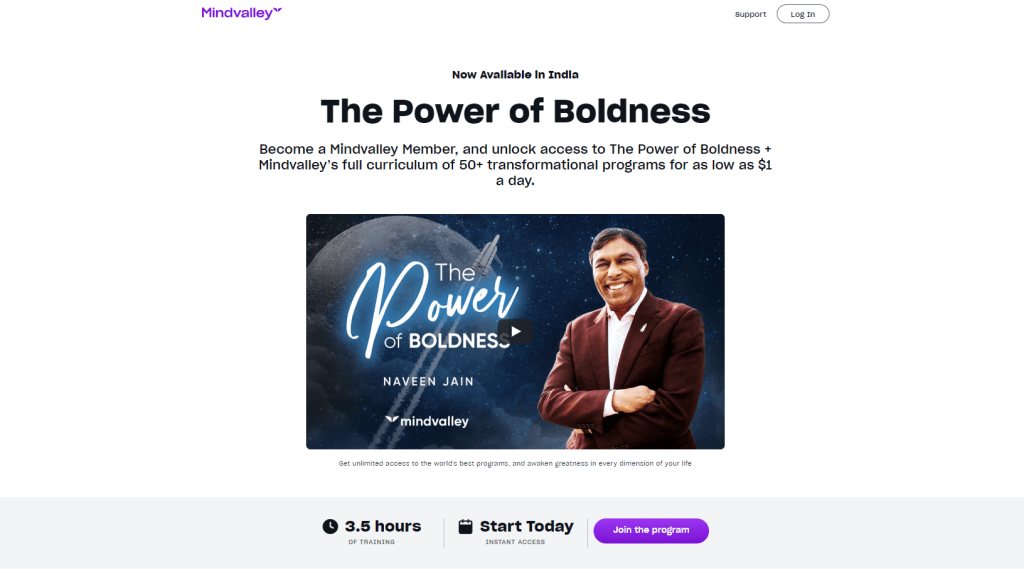 Moreover, the course talks about how to foster your Intellectual curiosity along with a step-by-step guide to cut through distractions.
The most crucial part about this course is that it will help you to explore and develop a mindset that is naturally dependent on positive disruption. You will be guided through the steps to harness your new visionary mindset to launch your Moonshot idea.
---
13. The Quest For Personal Mastery
This course on Mindvalley talks about your total capacity for inner peace, self-mastery, and resilience. It helps in opening the support and the guidance of the universe itself.
This 45-day online program, led by Srikumar Rao, helps to overcome limiting beliefs and develop a successful life.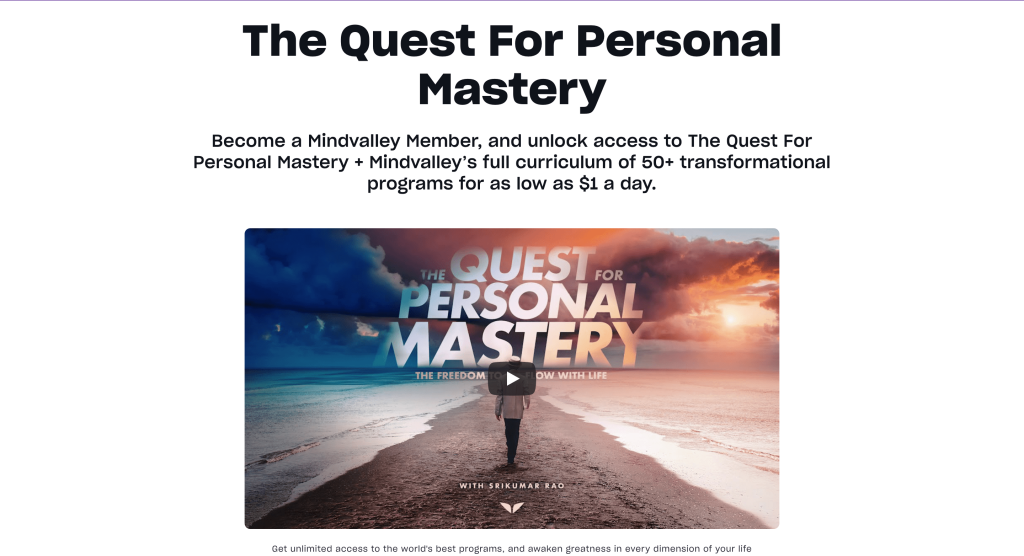 Throughout the program, you will understand the mental models, how to become what you are, how to win inner happiness, and why mindfulness matters.
It is perfect for anyone who is willing to change their mind and understand the reasons for your identity.
14. Money EQ Program
Your money EQ reflects your personal thoughts and beliefs about your money. 
As the name suggests, this program on Mindvalley is a 21-day journey that elevates your money EQ under the guidance of Ken Honda. He instructs you through daily training videos and assessments to transform your relationship with money.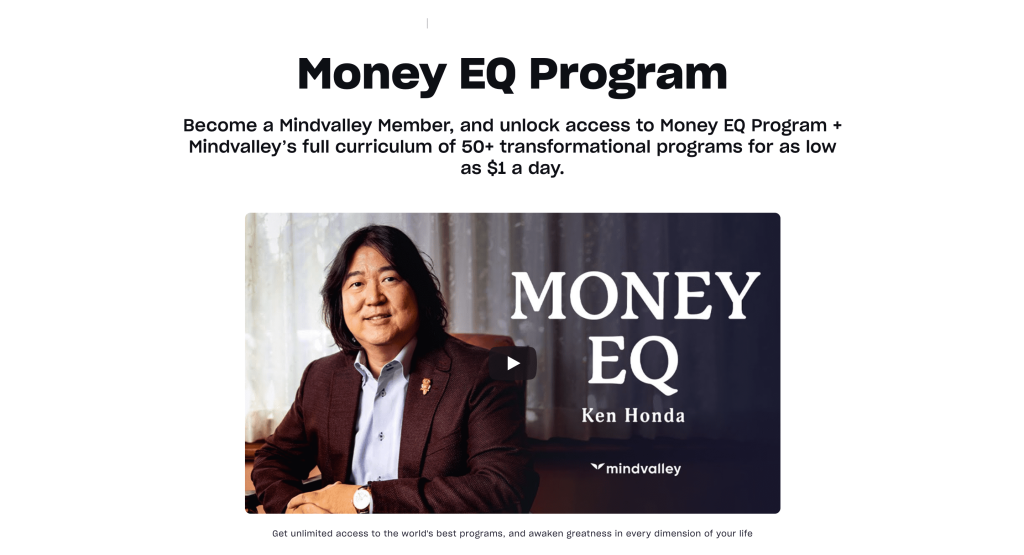 He also guides you through lifelong changes that you will need to make about money. Moreover, you will go through the training exercises that are designed to help you align with a high-money EQ.
By the end of this program, you will definitely learn to earn, multiply, and invest money to create unshakable prosperity.
Pricing: What is The cost of Mindvalley Courses?
Mindvalley offers a simple pricing structure. You can purchase either a monthly or annual subscription.
| | |
| --- | --- |
| Plan | Pricing |
| Mindvalley monthly | $59/month |
| Mindvalley Annually | $25/month ($299 per year) |
We have an exclusive Mindvalley discount that you can grab to save up to 60% on your purchase. Grab yours today!
The features offered in the monthly and annual plans are similar. We will recommend going with the annual membership, as you can save a maximum with the plan. With the annual membership, you pay half of the price that you will otherwise spend on the monthly plan.

Furthermore, the plans are backed by a 15-day money-back guarantee, so you can rest assured that your money is in safe hands.
My Verdict: Best Mindvalley Courses (2023)
Mindvalley is a life-changing experience. Each course is backed by science-based techniques and teaching. The courses are also highly valuable. With our list, you can find the right Mindvalley course for yourself.
If it is your first course, you can begin with Duality or SuperBrain. Similarly, if your focus is on fitness, you can opt for Wildfit or 10X Fitness.
There is no limit to the number of courses you can take on Mindvalley, so you can take up multiple courses and take a step forward to self-improvement.
By the time you complete your course, I would love to see you more self-aware and improving mindfully! 
Latest posts by Ryan Harris
(see all)