As a writer, choosing the right writing software is essential to maintain your productivity and creativity.
If you are a writer, a seasoned author, or just someone who loves putting words to paper, then you have likely heard of the two best writing software – Scrivener and Ulysses.
Both have their own unique benefits and features that can help you stay productive and creative, But which one is right for you to create and edit your draft?
I tried and tested both platforms to help you make an informed decision. So, here in this article, I am going to share my review of the strengths and weaknesses of Scrivener and Ulysses.
I will also share my experience with the specific applications in which they excel.
By the end of this article, you will be better equipped to choose writing software that best matches your creative and professional aspirations.
Let's get into that quickly.
Scrivener vs Ulysses 2023: In A Nutshell
If you are in a hurry and don't have sufficient time to take a look at the details of the platforms, you can go through the table below and choose the one that suits your needs the most.
| | | |
| --- | --- | --- |
| | Scrivener | Ulysses |
| Ratings | 4.7/5 | 4.3/5 |
| Pricing | $59.99 | $39.99 |
| User Interface | Clean and like other word processors | Simple and modern |
| Exporting and Publishing | Multiple features available | Simple process |
| Back up | Can be done when the project is closed | Automatically backups the project when it is open |
| Device Compatibility | Compatible with Windows, macOS, ios | Compatible only with macOS and ios. |
Let us now take a detailed look at all the details of the platforms. I have listed a detailed comparison of Scrivener and Ulysses. I have made a point to list key features, pricing, user interface, writing environment, compatibility with various devices, etc. You can take a look at all the points and decide which platform is the most suitable for you.
Pros & Cons of Ulysses vs Scrivener
While both platforms have excellent features, they have their own advantages and disadvantages. Let's have a look at some of the pros and cons of each.
Scrivener Pros
Perfect for managing and planning complicated writing projects.
Provides a wide range of functions and features.
Comes with a one-time subscription.
Intuitive and beginner-friendly UI.
Use two documents side-by-side in one app.
Scrivener Cons
You will have to enable grammar and spelling checks manually.
The exporting feature might be challenging to use if you are a beginner.
Ulysses Pros
It supports publishing directly to Medium and WordPress.
Provides simple, clean, and focused writing experience.
It does not require much customization.
Doesn't need prior experience to understand its interface
Ulysses Cons
The research feature is not perfect for projects that need extensive research.
Scrivener vs Ulysses: Overview
Let us take a look at the basic overview of both platforms to understand what they are and what they provide. Once we get what Scrivener and Ulysses are about, we will get into detailed features of them.
Scrivener Overview:
Scrivener is an all-in-one solution for your writing. No matter in which genre you write, the Scrivener is sure to satisfy your writing needs. It is used by best-selling authors, fiction and non-fiction writers, Lawyers, students, translators, Journalists, and everyone else that requires an editor. 

Scrivener will provide the users with all the features and tools required to make their writings more impactful and better. You can research, edit, format, decorate, add images, and make your writings more creative using the Scrivener app.
You can also analyze your writings and take a look at what progress you have made in the analysis section. The platform provides you with detailed statistics of your progress and the details of your draft.
Ulysses Overview:
Ulysses is a powerful tool to help you write your drafts. It has a distraction-free interface that will help you to jot down the pieces of your drafts into clean writing. 
Ulysses is used by writers, bloggers, authors, etc., to convert their writing into a masterpiece. You can use it for formatting, in-text formatting, and adding images.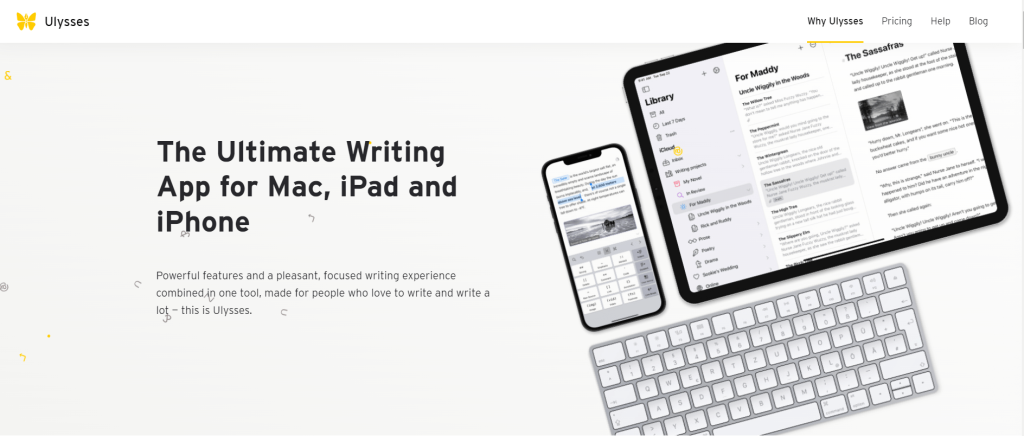 The app provides users with a great experience and makes it easy to edit drafts and format them.
Scrivener vs Ulysses: Key features
Here are the key features of Scrivener and Ulysses. Before we get into a detailed comparison of the platforms, we will try to understand their features and stand-out points.
Scrivener Key Features
The key features of Scrivener are as follows:
Available for desktop, computer, Mac OS and IOS.
You can easily switch between your scripts and plots.
Text editing is similar to that of a simple word processor.
You can easily format your writings as per the format you wish to publish them.
You can easily import any files or folder into the scrivener.
You can easily plan your content, plots, and scenes with the help of Corkboard, available in Scrivener. 
Provides you with readymade templates and icons.
You can easily split screen and work on your drafts.
The writings will be automatically saved and backed up.
Ulysses Key Features
Here are the key features of Ulysses
You can easily gather all your scenes and drafts in one place.
Available across Mac, iPad, and iPhone.
Distraction-free interface helped to increase productivity and kept the water from being distracted.
You will be able to manage large projects and format them.
It provides a built-in proofreader and an editing assistant.
Can convert your writings into any desired format.
You can add images to your drafts.
Verdict: The key features of both platforms are incredible. However, Scrivener gets an edge over Ulysses due to more features and freedom for the writers. The bonus point is that you can import any documents into Scrivener. 
Scrivener vs Ulysses: Pricing (2023)
The price is an essential parameter that the users consider when using a platform. The features and the platform's price makes it the decision point for the users. Let us take a detailed look at the pricing plans of Scrivener and Ulysses.
Scrivener Price
Scrivener does not have a temporary plan. Instead, you can buy the license for a full version of the Scrivener. You can download the product once it is purchased.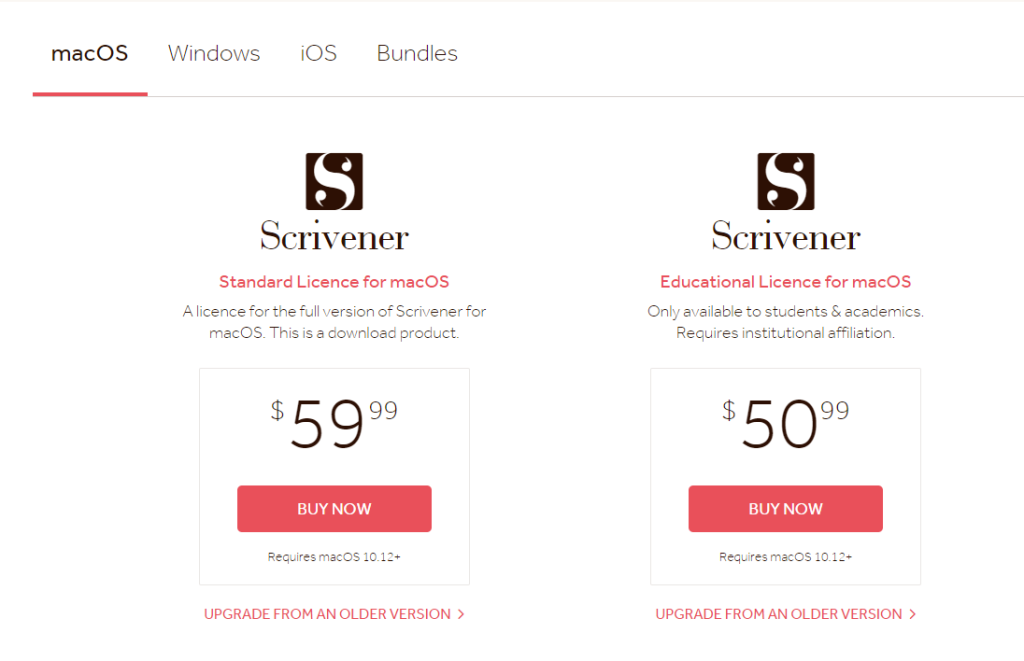 Scrivener needs a one-time payment, and Congratulations, you are free to use Scrivener for a lifetime.
Following are the purchase plans of Scrivener:
| | |
| --- | --- |
| Plan | Price |
| The standard license for macOS | $59.99 |
| Educational License for macOS | $50.99 |
| Standard license for windows | $59.99 |
| Educational Licence for Windows | $50.99 |
| License for iOS | $23.99 |
| License for macOS and Windows | $95.98 |
Ulysses Price
Ulysses does not have various plans and prices. You can get unlimited access to the writing App of Ulysses for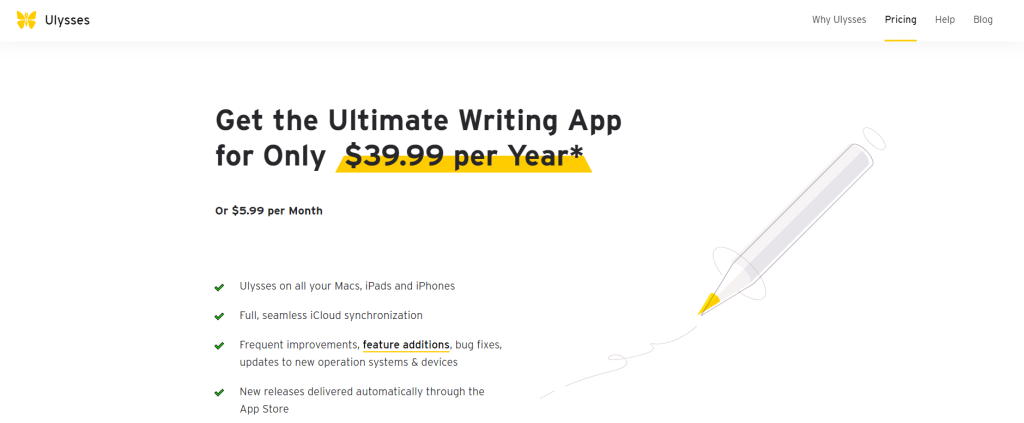 | | |
| --- | --- |
| Plan | Price |
| Annual Plan. | $39.99 |
| Monthly plan | $5.99 |
Let us take a look at what features you get with the paid plans.
You will be able to access Ulysses on all Macs, iPads, and iPhones. 
You can easily synchronize your writing using iCloud. 
Various feature improvements, bug fixes, and feature additions are made in the paid version.
New releases are delivered automatically with the help of the App Store.
You can easily share your drafts or write through Apple Family Share.
Students get the benefit of reduced pricing.
Verdict: There's a clear answer to who wins in the pricing section. Scrivener provides a full license and lifetime validity of the premium plan. If you choose Ulysses, you will have to pay annually to get upgraded to the premium version. 
Scrivener vs Ulysses: User Interface
The user interface is one of the important factors when you choose a platform to edit your drafts. You can see that their interface is relatively similar. There is a writing area where you can create and edit your draft, and on the left, there is a pane that gives you an overview of your entire draft.
Let us take a detailed look at the user interfaces of Scrivener and Ulysses.
Scrivener User Interface
Scrivener is more focused on the project that you are working on. You can access the file or menu to take other actions. You will need to use the menus and the toolbar to perform various actions and to use various features.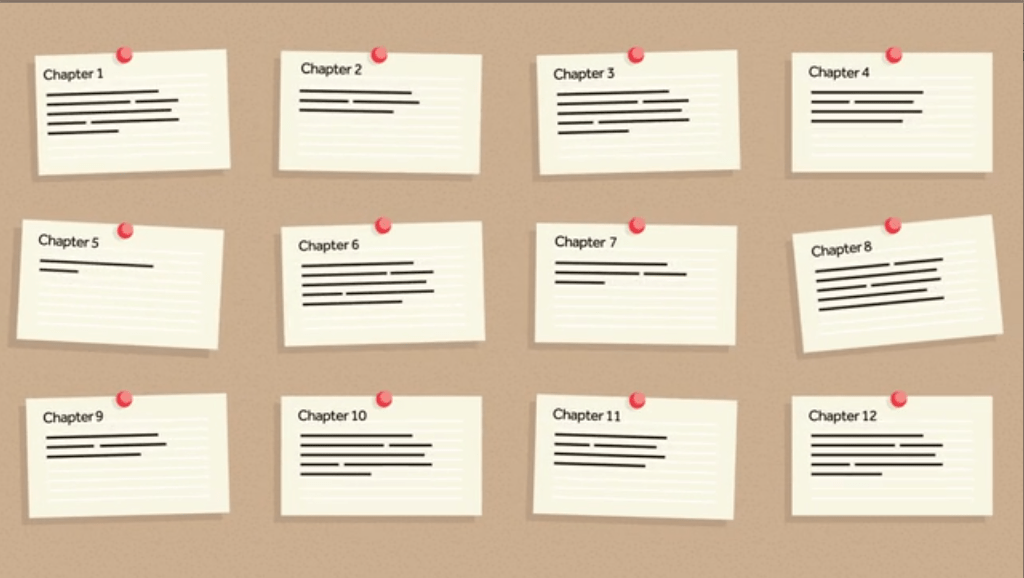 You will find that the Scrivener editor focuses on the functionality of the editor. You can easily work on it as it is similar to other word processors. It is surely easy to use and understand for beginners.
Ulysses User Interface
The user interface of Ulysses is clean and simple. You can easily navigate through all the menus and options. It stores everything in a well-structured format. You can take a look at accessing all the projects from your screen.
Ulysses also provides writers with a distraction-free environment to help them concentrate on their projects. The interface of Ulysses is more modern and minimalist. You can perform tasks with the help of gestures and markup language. 
Ulysses's editor can be difficult to use for beginners. It may get messy for them to understand and work with the app. However, once you are familiar with the interface, it is surely a great deal.
Verdict: Both Scrivener and Ulysses are competent enough with their user interface. I personally liked the distraction-free interface of Ulysses. It is great to work with if you need to see everything in one place. 
Scrivener vs Ulysses: Exporting And Publishing
Once you have completed editing and drafting your content, the next step is to export and publish it. Both Scrivener and Ulysses provide you with various features for exporting and publishing. 
Let us take a look at the publishing and exporting features that are offered by both platforms.
Scrivener Exporting And Publishing
Scrivener has powerful features to print and export your content or draft into various formats according to the selected layouts. There are various templates available to create your own masterpiece.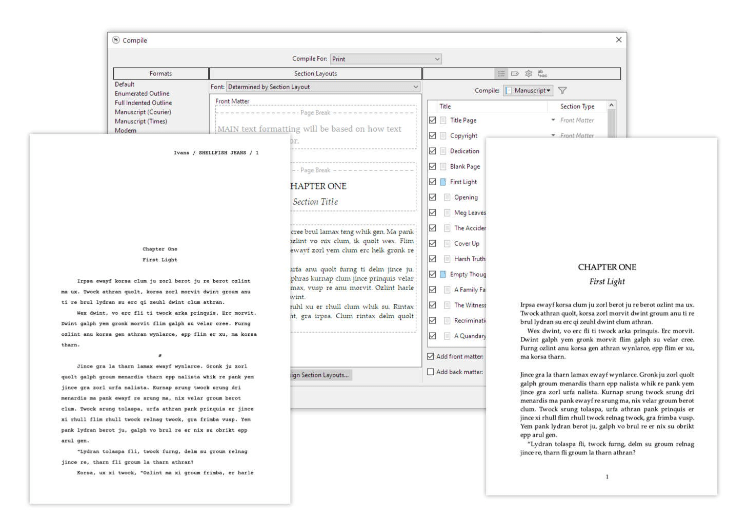 You can also export the desired part of your writing into the required formats. You will have to work and learn to easily export the files from Scrivener as they are a bit difficult for beginners. However, they provide you with more flexibility. 
Ulysses Exporting And Publishing
Ulysses has easy-to-use options. There are various options available in Ulysses for sharing, exporting, and publishing your document. You will also be able to save the HTML version of your content.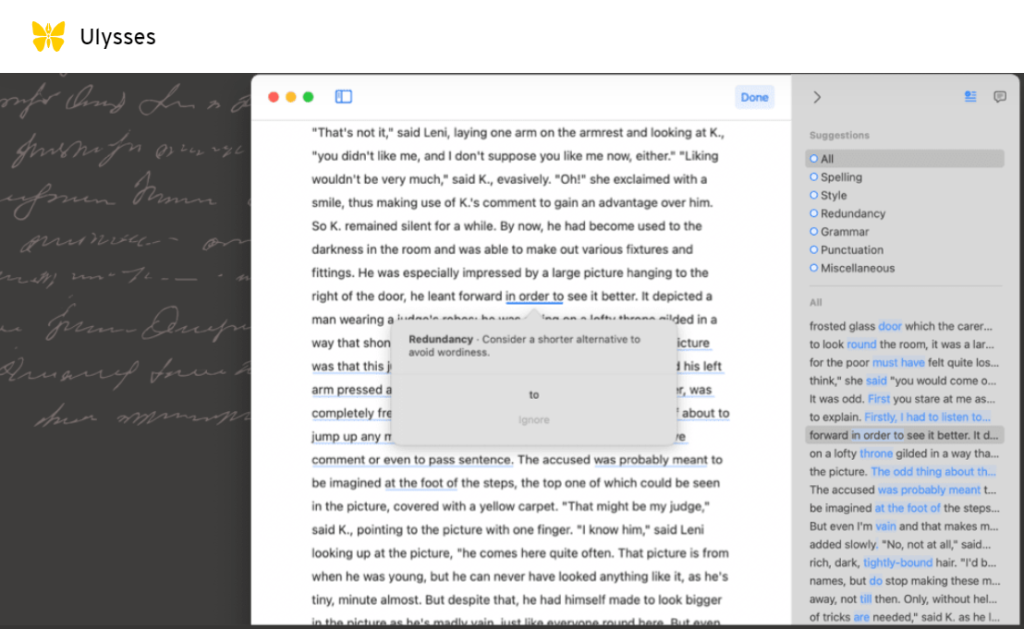 You will be able to create a properly formatted ebook, PDF, or ePub copy of the writings. There are a wide variety of styles and formats to choose from. 
The exporting function of the Ulysses app is easier and more straightforward as compared to the Scrivener. 
Verdict: Exporting and publishing in Scrivener have more functions and features, whereas in Ulysses, it is simpler and straightforward. 
Scrivener vs Ulysses: Collaboration & Control
As a writer, you may have experienced that you spend a lot of time writing a particular part of your text and suddenly acknowledge that it does not look as you thought. This makes you want to restore the older version of your text.
In this case, Ulysses and Scrivener both have you covered.
Talking about Ulysses, you get to save previous versions of your work here. You can easily restore the older version of your text and start working again. However, this feature is available only on Mac devices and not on the mobile version.
While on the other hand, Scrivener covers you with the Snapshot feature that locks versions of your content. With this, you can quickly restore any version of your work. The plus point is that this feature works on both Windows as well as Mac devices.
Regarding the collaboration, Scrivener and Ulysses do not provide a sharing feature. You can not use the Scrivener on more than one device. As a result, it is not a great choice for collective work.
Similarly, Ulysses offers a smooth integration with third-party services, making sharing easy and quick.

Verdict: I would say Ulysses is the winner as it outperforms Scrivener because of its better version control feature and collaboration through third-party services.
Scrivener vs Ulysses: Backup & Sync
Back-Up and Synchronization of your draft with all your devices is an important task and function that every platform should offer. Backing up your data on your devices ensures that your data is not lost or deleted. Sometimes, you may lose your drafts from the cloud. Having backed it up on your device will always be a savior. 
Let us take a look at what facilities Scrivener and Ulysses provide you in backup and Synchronization.
Scrivener Backup & Sync
Scrivener provides an automatic backup for your drafts. If you leave your work in the middle, it will be saved as a backup by default.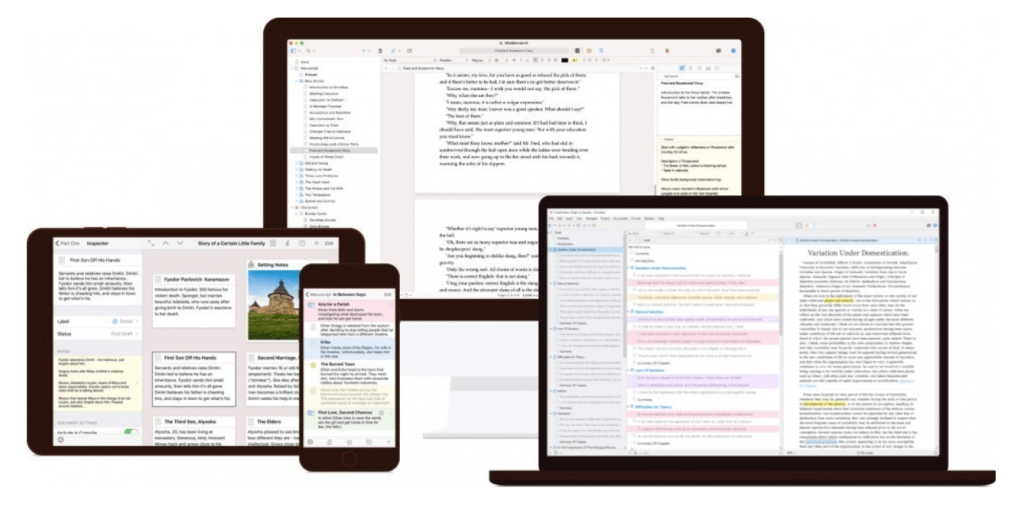 Moreover, you can also back up your drafts on your Windows or Mac from the settings menu. You will have to close the project to work with the backup feature.
Ulysses Backup & Sync
Ulysses tends to save your backups every 12 hours and seven days. It has an automatic backup option as well to save all of your work.  
You will find the backup in your Macs library. You will also be able to find the backup history of Ulysses in the version history. All your new edits are saved there. This function can be used to restore any deleted work and jump to the previous version.
Verdict: Here, the winner is Ulysses. The version history of Ulysses gives it a bonus point. I really liked the way you can back up your work while working even on your draft. 
Scrivener vs Ulysses: Device Compatibility
Device compatibility is a crucial factor when selecting the platform that is suitable for you. The best editors are usually available on all platforms, and you can synchronize your work across all of your devices when needed. Let us take a look at the compatibility of Scrivener and Ulysses on different platforms.
Scrivener Device Compatibility
Scrivener is compatible with all devices. No matter if you have Windows, macOS, iPhone, or iPad, you will be able to use Scrivener devices easily. You will also be able to synchronize your drafts and your work across all of your devices. 
However, you will not be able to access your drafts on Androids. That means you can't edit it even on your tablets.
Ulysses Device Compatibility
Ulysses is compatible only with Apple devices. You can synchronize your files and do the editing of your drafts on devices that are Apple-based, like macOS, iPad, and iOS. 
It is one of the downsides of the app that you cannot access it on Windows. Most Windows users are often disappointed by this as they cannot take benefit of the features available in the Ulysses app.
Verdict: Again, it is a win by the Scrivener. You can surely prefer Schriever if you own the Windows operating system. Ulysses being unavailable for Windows is surely a losing situation for the app, as most beginners and students cannot afford Apple products. Hence, they are sure to choose Scrivener over Ulysses. 
Related Read:
Final Verdict: Scrivener vs Ulysses (2023)
That's all about Scrivener vs Ulysses
Scrivener is a great option to consider if you are an author or a writer who usually writes longer drafts. However, it can be used by all writers to draft their articles, blogs, or other writings. 
Ulysses is an appropriate choice if you are an Apple user and your drafts are short and simple. Ulysses is not able to edit and format extra-large drafts of big books. Also, the price of the Ulysses is not that affordable if you are a student or a beginner. 
I would personally choose Srievener over Ulysses, as it is cost-friendly and provides the users with more features and functions.
I hope that the above Scrivener vs Ulysses article has helped you to pick the best platform that is suitable for your needs and suits your budget. Furthermore, you can take a free trial and find out which one is the best for you.
Which Platform do you think is the most suitable for you, and which one are you most likely to use? 
FAQs
Is Scrivener the best writing tool?
Scrivener is best suited for long drafts, with features such as annotations, search management, and summaries. While it lacks an Android and a Linux app, it still has excellent features that help it write smoothly.
How much do Scrivener and Ulysses cost?
Ulysses provides an annual plan that costs you around $39.99. While Scrivener comes with different pricing ranges starting from $50.99.
Can Scrivener replace the word?
Yes, Scrivener has a feature to find and replace the word. It also allows you to search more than just isolated words.
Latest posts by Ryan Harris
(see all)