Are you a passionate programmer who wants to conquer complete programming from scratch? Or are you a beginner who wishes to learn programming without investing money in courses?
Well, let me tell you the good news! You can become a master in programming at zero cost. In this article, I have listed the top 11 YouTube channels that will help you learn programming that too absolutely free!
Coding is a vast career and a perfect fit for anyone who prefers stimulating work. After researching and analyzing the various YouTube channels, I have listed the most popular and unique channels that explain the various programming aspects.
These are ranked according to their video quality, level of excellence, rating, and number of subscribers.
So what is there to wait? Let's delve into it!
Top 11 YouTube Channels To Learn Programming: In A Nutshell (2023)
For all the individuals who desire to learn to program, here is the list of top YouTube channels to learn programming.
| | | |
| --- | --- | --- |
| Sr No | YouTube Channel | No of Subsribers |
| 1. | Derek Banas | 4.9/5 |
| 2. | Treehouse | 4.9/5 |
| 3. | TheNewBoston | 4.8/5 |
| 4. | The Net Ninja | 4.8/5 |
| 5. | CS Dojo | 4.6/5 |
| 6. | DevTips | 4.6/5 |
| 7. | Programming with Mosh | 4.6/5 |
| 8. | Learncode.academy | 4.5/5 |
| 9. | ProgrammingKnowledge | 4.8/5 |
| 10. | The Coding Train | 4.7/5 |
| 11. | FreeCodeCamp | 4.7/5 |
1. Derek Banas:
Derek Banas is our top pick because he shares quality content about the programming.
His videos are in detailed formats and very interactive, which creates interest in learning programming. All the videos are full of extensive content and a wide range of programming topics like PHP, Java, CSS, MySQL, etc.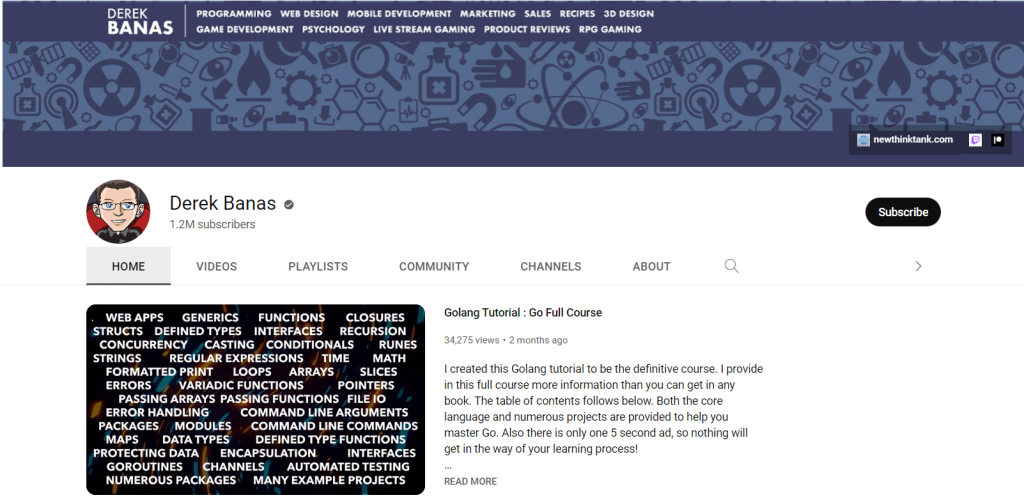 You get simplified explanations on complicated programming topics like C++ programming and Python programming. Thes videos are like short courses; you can learn programming from complete scratch!
In addition, this channel also covers the playlist and practical resources on various programming-related topics like software for Android, investing in data science, technical analysis, and game development.
This channel can work best for you if you want to learn coding and programming from the basics.
Subscribers: 1.19M subscribers
Best Video: Python Programming
Rating: 4.9/5
2. Treehouse:
The Treehouse channel is an online school that teaches technology. It has top-class short video lessons that are perfect for beginners.
The videos are in a very 'easy-to-understand' format and provide value in their content. Team Treehouse offers lessons on various topics including coding in Python, C#, and C++.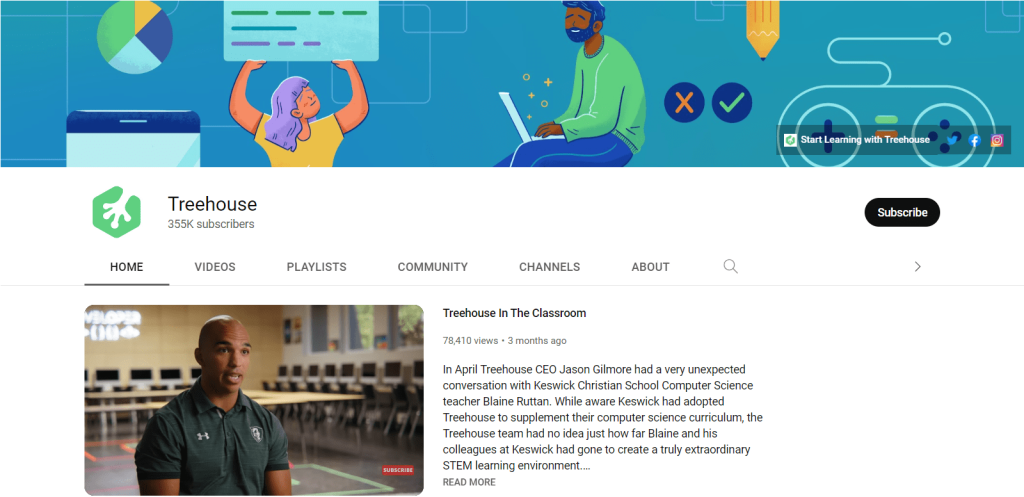 The channel also provides you with different fundamentals of programming like:
How to learn code from scratch
What you need to know before becoming a front-developer
Who does what in the tech industry
Moreover, Treehouse also uploads live coding tutorials that might help you to learn tips with live run question answers.
Subscribers: 353K subscribers
Best Video: How Do I Start a Career in Tech?
Rating: 4.9/5
3. TheNewBoston:
On TheNewBoston channel, you will get a lot of interactive video lessons on web development and different programming languages.
It is led by Bucky Roberts, who shares the best resources on developing, coding, and designing topics. Moreover, it covers various topics like docker,Node.js, modern blockchain, Gulp.js, etc.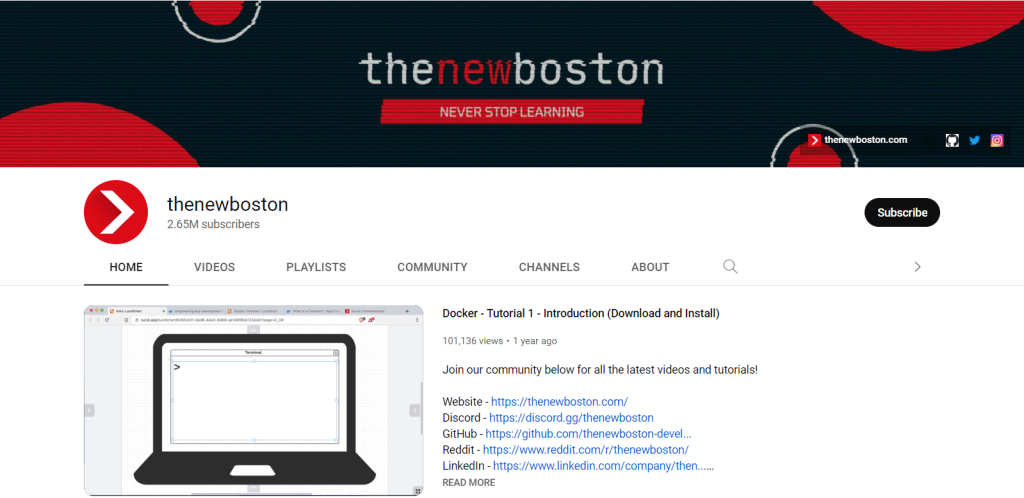 It covers the different topics in a short video format which is easy to understand for beginner-level learners.
TheNewBoston is perfect for everyone, even if you are new to programming because it has really entertaining and 'easy-to-grasp' video content.
Subscribers:2.64M subscribers
Best Video: Java Programming Tutorial-1
Rating: 4.7/5
4. The Net Ninja:
On The Net Ninja channel, you will find a variety of code videos, which can help you upskill your fundamental, intermediate, and advanced programming skills.
It is a great YouTube channel to learn programming, led by Shaun Pelling. He has designed several playlists that are short and perfect for novice learners.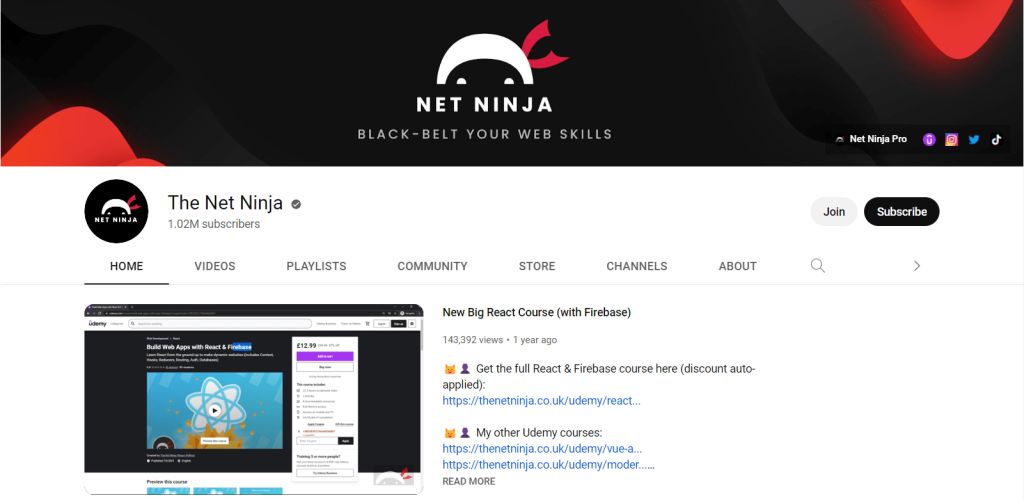 The Net Ninja has more than over 1000 videos covering the topics like HTML, CSS, PHP, React, Vue.js, JavaScript, Node.Js, and MongoDB.
Additionally, you will get the practicals and project examples that make your learning easy and interactive.
Subscribers: 988K subscribers
Best Video: Flutter Tutorial for Beginners #1
Rating: 4.8/5
5. CS Dojo:
YK Sugi is a YouTuber who runs the CS Dojo channel that shares knowledge on various programming-related topics.
He helps learners by uploading fantastic videos about coding, programming, computer science, tech careers, etc.
The channel is best for beginners as well as intermediate-level students. You can easily understand the fundamentals and get mastery's over programming.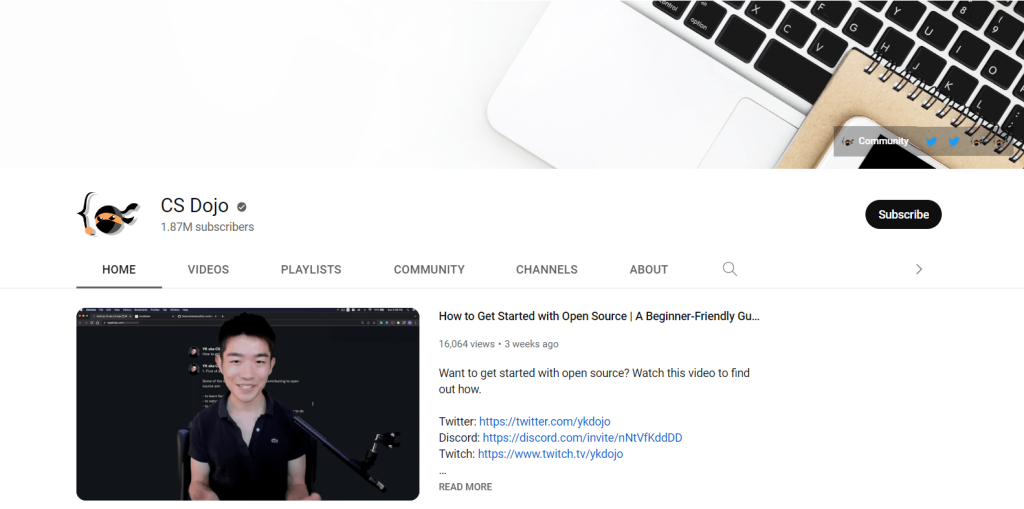 Also, he has videos on the guide to interview questions of big players like Amazon and Google.
YK Sugi also shares valuable videos from other YouTube channels that will complete your learning through these videos.
Subscribers:1.85M subscribers
Best Video: Python Tutorial for Absolute Beginners #1
Rating: 4.6/5
6. DevTips:
The next popular YouTube channel that explains programming and development tutorials is DevTips.
It is an intermediate-level video channel that improves your skills in programming and coding. It also provides secret tips and tutorials for experienced developers. You can become a better developer using these tips.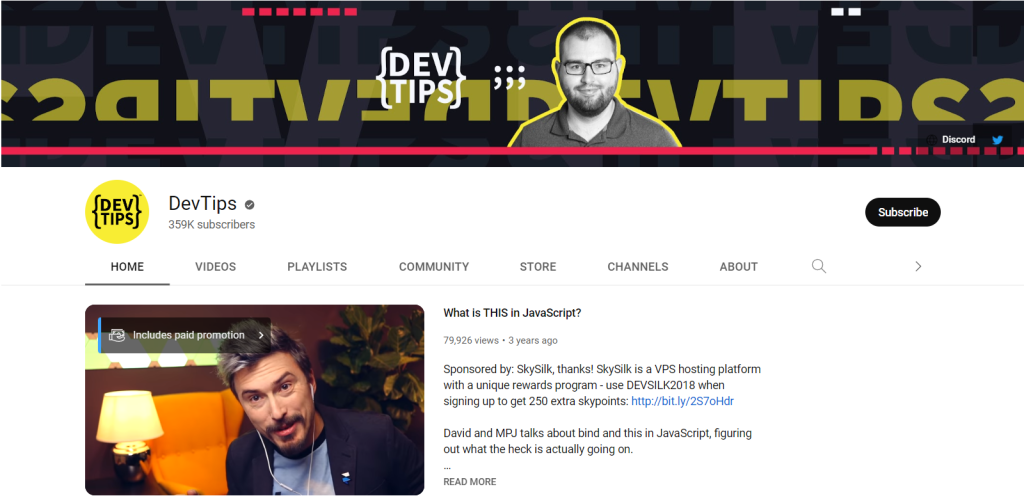 The channel also focuses on software and web development along with a career guide to tech and computing.
And the best part about this channel is you get videos on amazing interviews and lessons from industry experts like Mackenzie Child.
Subscribers: 360K subscribers
Best Video: My Code Editor: Attom, Setup and Packages.
Rating: 4.6/5
7. Programming with Mosh:
Mosh Hamedani wants to develop programmers and software engineers into the kind of talent that employers are looking for.
You can find a ton of tutorials on Mosh for both popular web languages and newly developed web technologies that are gaining ground in the development community.
The channel mostly offers lengthy movies (up to hours) that thoroughly examine each thread and topic in each language.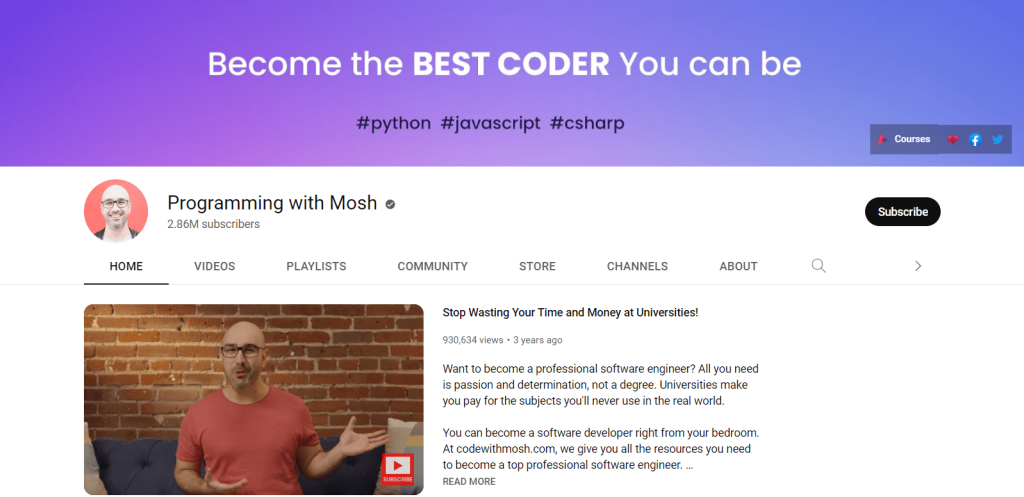 In addition, he teaches people how to ace interviews and blogs and streams videos on YouTube about the industry, developer salaries, hot languages, etc.
You can also enroll in his basic courses on React, Node, Python, Typescript, backend development, frontend development, and more.
Subscribers: 2.71M subscribers
Best Video: Python Tutorial – Python Full Course for Beginners
Rating: 4.8/5
8. Learncode.academy:
Will Stern focuses on programming as it applies to web development in his clear and uncomplicated courses.
You will be guided through subjects like JavaScript and jQuery at Learncode.academy in Stern's speedy and thorough manner. One of Stern's more well-liked videos, the channel's trailer offers guidance on a web development career.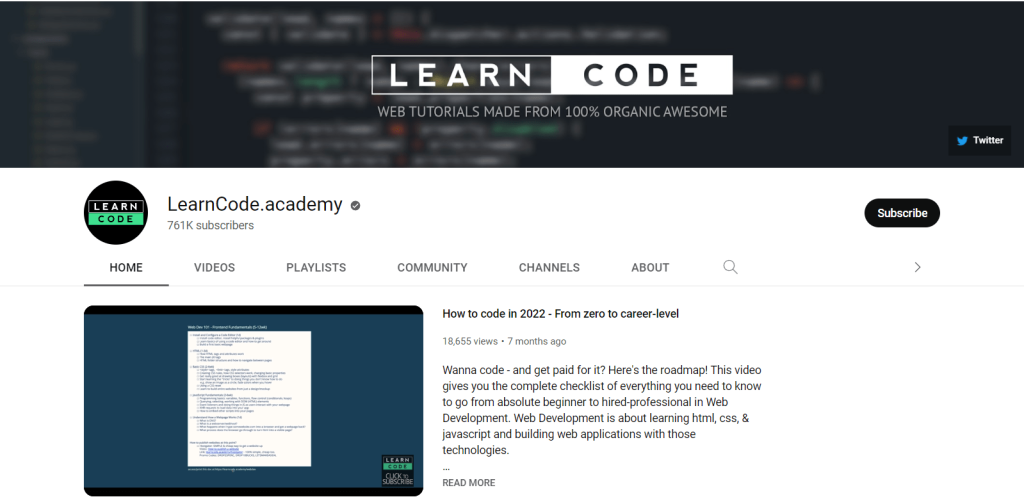 In these useful videos, the routes you can take to become a web developer are described, along with the sequence in which you should study things.
Each tutorial will take you step-by-step through the process so that you quickly become an expert. Beginners without prior coding knowledge are suggested to check out this channel.
Subscribers: 759K subscribers
Best Video: Web Development Tutorial for Beginners
Rating: 4.5/10
9. ProgrammingKnowledge:
Here you will find a selection of videos geared toward beginning programmers. Beginner-friendly lessons for Android, Java, Python, and C++ are all covered in this video channel.
They also feature one of the most thorough video courses available worldwide if you wish to master the C programming language.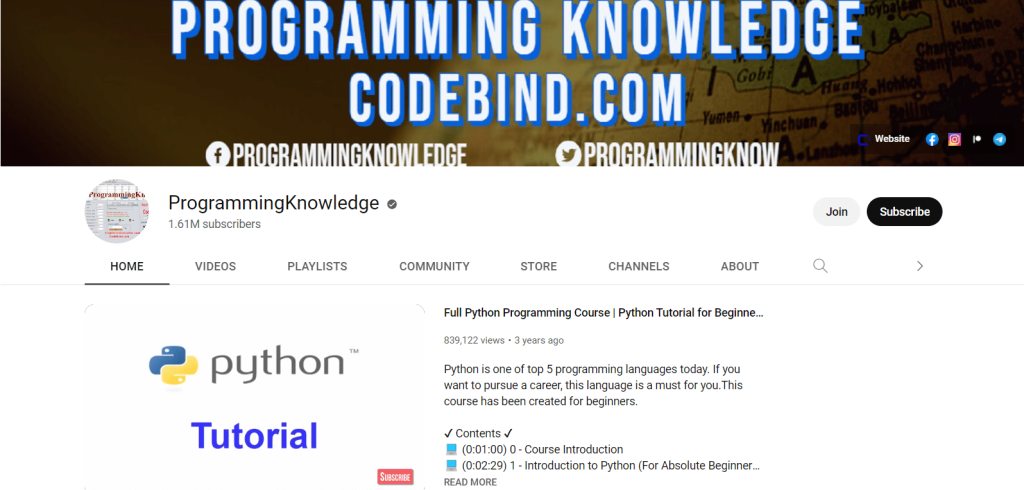 It teaches you about open-source software installation, coding techniques, and online programming tutorials, among other things. Elastic Stack, Flutter, Python, Socket Programming, Android, MongoDB, and other subjects are also addressed in the videos.
For both newbies and seasoned pros who have been in the programming for a while, Programming Knowledge is a perfect YouTube channel to follow.
There are numerous tutorials available for languages like Python, Java, C, and C++, ranging from introductions through review.
Subscribers: 1.59M subscribers
Best Video: How to create a partition on windows 10
Rating: 4.8/5
10. The Coding Train:
The Coding Train channel focus on posting innovative coding video courses on YouTube.
From the fundamentals of programming like Java and JavaScript to generative techniques like computer vision, physics modelling, and data visualisation, a wide range of topics are covered in his videos.
This channel is devoted to teaching beginners how to code. You'll comprehend how to write straightforward code to construct games like Snake and others.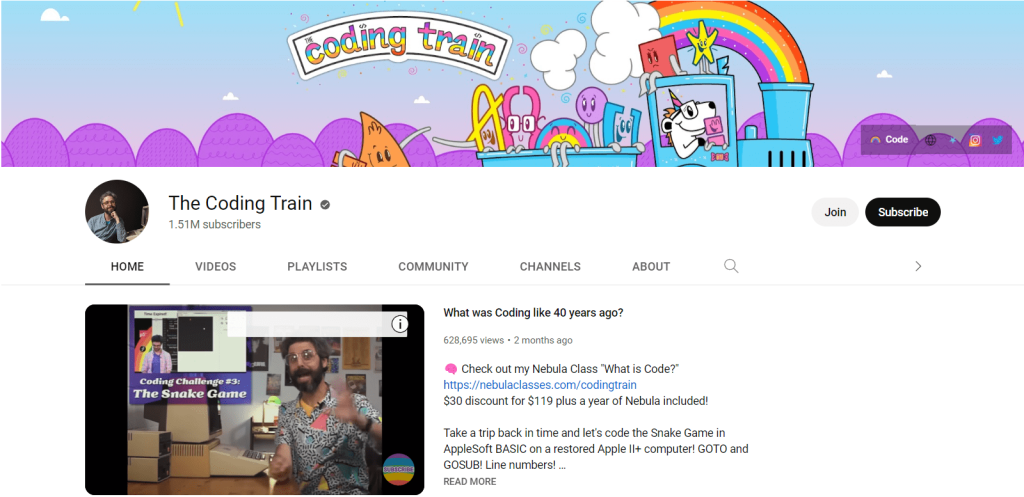 Another videos on this channel cover subjects like simulation, JavaScript, machine learning, etc.
Subscribers: 1.45M subscribers
Best Video: Coding Challenge #3
Rating: 4.7/5
11. freeCodeCamp.org:
FreeCodeCamp, a nonprofit, offers a number of thorough, self-paced coding courses. Many of these courses use YouTube videos with lecturers guiding students through various modules.
FreeCodeCamp broadcasts videos that students watch in a set order to build on their prior knowledge, unlike some other channels on our list. While the majority of the standalone courses on the channel last between one and five hours, one of the longest exceeds 17 hours.

From tutorials for complete novices to more complex subjects like "Linux for Ethical Hackers" and "Code a Snake Game With Python and Pygame – Tutorial," videos are covered on this YouTube Channel.
Additionally, the channel publishes tutorials related to coding, such as "How To Find Freelance Jobs".
Subscribers: 1.45M subscribers
Best Video: Learn Python- Full course for Beginners
Rating: 4.7/5
Related Read:
Final Verdict – Best YouTube Channels to Learn Programming
So this brings us to the end of the blog. I have got you covered with all the top YouTube channels to learn programming.
You can go through all the channels mentioned above and start learning from the one which is best suitable for you!
And still, if you are in confusion, then here are my suggestions;
ProgrammingKnowledge if you are a complete beginner.
You can go for Programming with Mosh for overall programming.
Learncode.academy is best for unique programming insights.
Now it is your turn! Let us know in the comment section below, which YouTube channel you are opting for.
Latest posts by Ryan Harris
(see all)