Don't have enough flexibility in the schedule? Still, you love reading books. Then definitely, an audiobook is the most suitable option for you.
In recent years audiobooks have gained tremendous popularity. The readers have shifted from manual book reading to audiobook listening.
In the starting era of audiobooks, I was doubtful about the narration of the audiobooks. Besides, I didn't find it fair to ditch the traditional method of reading books.
However, the 30-day free trial of Audible changed my thoughts regarding audiobooks. It provides you flexibility and allows ease to read your book at your own pace and comfort.
Audible is one of the most liked audiobook platforms in the world. Well, let me provide you with the details of the unique features of Audible. When you reach the end of the article, you will get answers to questions like, Is Audible a good pick? And is Audible worth it?
Audible: In a Nutshell
Audible is a product of Amazon Company. The platform sells and produces thousands of popular books as well as original Audible titles.
Audible comes up with audiobooks as soon as the books are released. After using Audible for many years, I haven't found a book that is not available on the app.
The plans for the Audible start at $7.95/ month. Over 200,000 books are available on Audible.
The accessibility features and the controls in the app make it easy to operate. You can synchronize your account across all the devices you own.
Moreover, the process is very easy and feasible to cancel the subscription or return a book.
Audible is available on other devices such as Sonos speakers, Alexa-enabled devices, Fire Tv, Kindle, Streaming on your computer online, in the iTunes App, and on Tablets including Android, Ipad, etc.
Audible: Overview
Audible has a 4.3-star with 13 lakh reviews on the google play store. On the other hand, a 4.9-star with 4.2 million ratings on the apple app store. Audible ranks #1 in books on the apple store.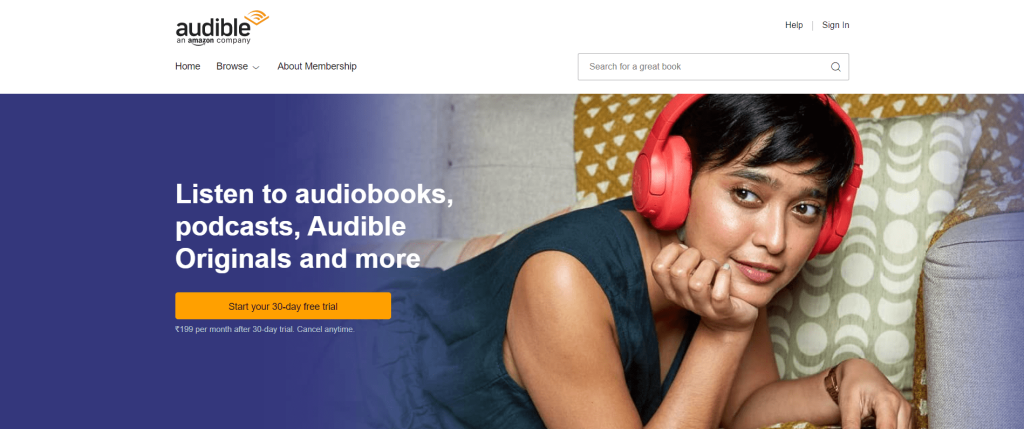 You can start your journey with Audible by using a 30-day free trial. You will later be able to upgrade the plan according to your requirement at the end of the month. The plans come with 1 credit or 2 credits. You can use this credit to purchase the books and keep them forever.
How to use Audible
The audible app has transparent and easy-to-use functions. The app is free to download on google play and the Apple app store.
You will either need a subscription or buy the book in order to listen to the books. Yet, you can keep that book forever, even after canceling the subscription.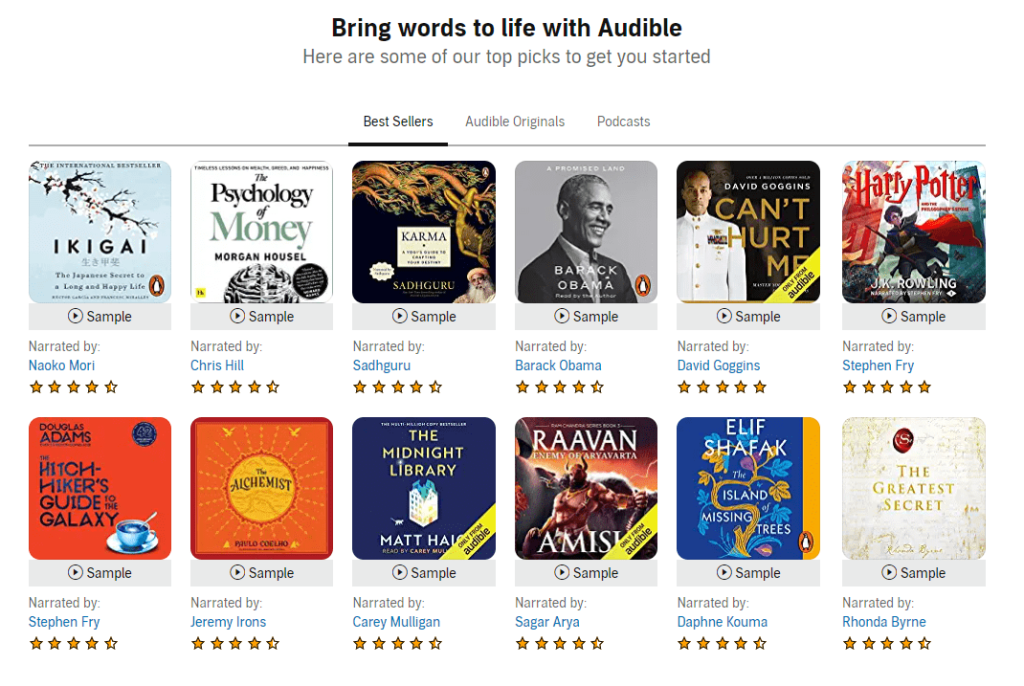 On the top left, there's a down arrow to take you to the main screen.
The Home page includes the recommendations like the books you have preferred and read. Also, you will find the book that you are currently reading.
You will find that the library includes all your books.
In Discover, you can search and find many good books.
You can find your account details, your achievements, and customer support in the 'Your Profile ' section.
The car icon in the top right corner will put you in driving mode.
The title details, rating, sharing, etc options are situated in the menu icon next to the car icon.
There is also a button-free mode available.
The buttons available below the book cover's image are as follows.
Connect to Device: It helps you to connect to a wireless device like Bluetooth.
Controls: Play, pause, rewind, fast-forward, and next chapter, these buttons are included in the controls.
The last buttons on the page are playback speed, Chapter, sleep mode, and clip or bookmark.
Audible Key Features: Explained!
The books are accessible anywhere and everywhere as you always carry your phone with you.
The audible app works smoothly across all android devices and ios devices.
The first audiobook is available for free.
If you don't like your audiobook you can return it. The refund policy is available for the book you bought in the past 365 days.
You can listen to the top authors narrate their books.
| | |
| --- | --- |
| Rating: | 4.6 / 5 |
| Price: | Starts at $7.95/ month |
| Standout Features: | Affordable subscription.Access to only Audible books. Audiobooks are available as soon as the books are released. |
| Who is it best for? | Who love to listen to audiobooks. |
Audible Pricing 2023
Audible offers a 30-day free trial for audible plus and audible premium plus.
You will get 1 credit with the free trial that can be used to download the book and keep them forever. Amazon prime users get the benefit of 2 credit points.
The Audible plus plan offers you 1 credit that you can use to purchase a book. Whereas, Audible premium plus provides 2 credits that can be used to purchase 2 books.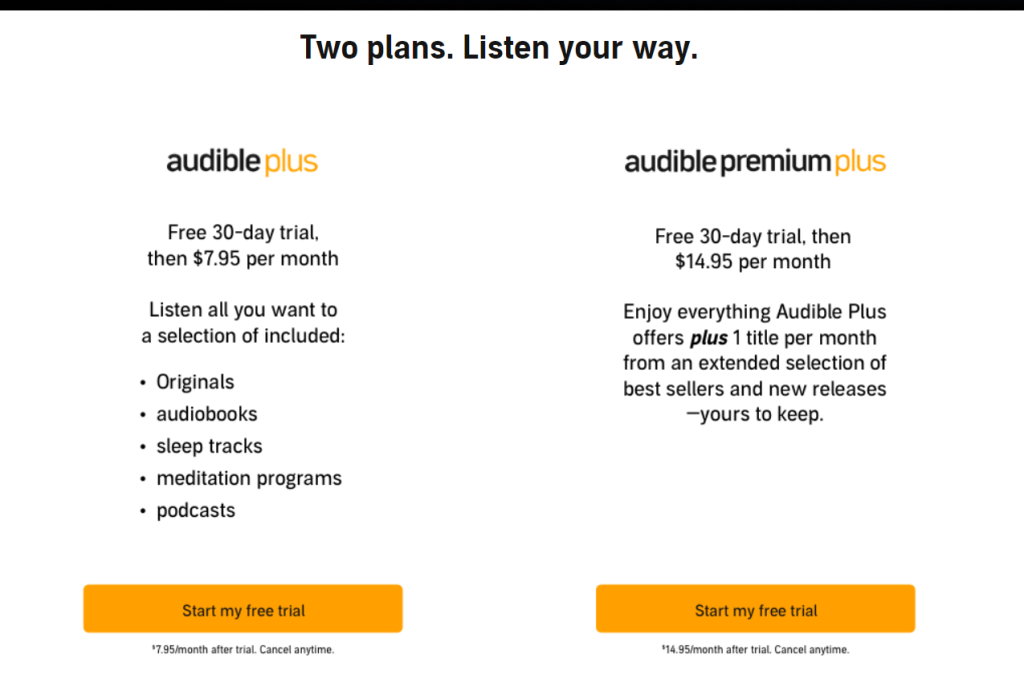 You can cancel your plus plans anytime you wish. The cancellation of the plans is easy and safe. Even after canceling the plan, you will own the books that you have purchased.
Plan
Price
Includes
Audible plus
$7.95/ month
Audiobooks
Originals
Meditation programs
Sleep tracks
Podcasts
Same as Audible Premium Plus
One additional book monthly to keep in your library
$14.95/ month
Same as Audible Premium Plus
Audible Premium plus (2 credits)
$ 22.95/ month
Same as Audible Premium plus
One additional book monthly to keep in your library
Audible Premium Plus Annual (12 Credits)
$149.50 / year
Same as Audible Premium Plus with 2 credits
Audible Premium Plus Annual (24 Credits)
$229.50/ year
Audible Premium Plus
Audible: Pros
Easy to use and simple user interface of the Audible app.
Unlimited access to the books.
Affordable subscription.
Unique books are available as most of the books are Audible-only.
You own your audible books even if you cancel the subscription.
The cancellation of the plan is quick and easy.
Audible: Cons
You cannot re-listen or re-Read the books that you have already completed
Amazon's algorithm may hinder the audible features.
Tricks to Save Money On Audible
Using credits from the subscription to purchase the book on Audible will help to save some dollars.
You can buy an individual book that will cost you around $10 to $25, whereas you get credits to do the same, starting from $7.95/ month.
As compared to an annual subscription, You can choose a monthly subscription as it is more cost-effective.
Audible offers a 60% discount on the purchase of the book to audible members.
Who Should Use Audible?
Whether you are a student, a professional, or just an enthusiast, Audible benefits everyone in all age groups.
Audible has all the genres of books that will satisfy your needs. The app is great if you like to listen to your book on the go and multitask while listening to your loved books.
How Audible Helped Me?
Books play a vital role in a person's life. No doubt, they are said to be a person's best friends. Various books like "The Power of the subconscious mind", "Atomic Habits", "Ikigai", and "How to win friends and influence people," etc. helped me to become a better person in my day-to-day life.
Re-listening to these books helped me gather myself. I turned out to be 1% better and more productive every day. The principles stated in the books helped me to reduce my stress levels, prepare a better schedule, manage my time, and improve my communication skills.
Related Read:
Final Thoughts: Is Audible Worth It? (2023)
Listening to good books helps you to get smarter, reduce stress, be happier, and understand the authors and their journey. Overall it makes your life better and makes you a better person.
Well, I have listed all the features and benefits of Audible. The only question left is, Is Audible Worth It?
Starting off with the basic price that you will have to pay is $7.95/ month. I feel that's a small price in return for the quality and features you get.
Even if your budget is tight, you can compromise on a thing that you don't need. Moreover, you might be already spending on multiple OTT platforms. You can withdraw one subscription and invest in Audible for a better living.
Audible has contributed to changing many lives and has become a routine app for most people around the world.
Above all, I would conclude with my opinion that Audible is definitely worth the price. You get access to unlimited best picks, and a variety of listening options, and get to keep a book per month for just $7.95/ month.
If you have reached here, I hope that the article has cleared all your thoughts on Audible and its offerings. Remember to comment about your favorite features of the Audible app, and Is audible worth it for you?
FAQs
Is it worth it to pay for Audible in 2023?
 Yes, it is worth paying for Audible. You will get access to unlimited books and will be able to keep a book per month.
Can you listen to unlimited books on Audible?
 Yes, you will get access to unlimited audiobooks and podcasts with the Audible Plus membership, starting at just $7.95/month.
How can I get Audible for free?
You will get a 30-day free trial if you are new to Audible. In a 30-day free trial, you will get 1 credit that you can use to own a book forever. If you are a prime member you will get 2 credits in the trial period.
Are Audible books yours to keep?
 The books that you purchase from audible with credits or by paying are yours. You can keep these books forever and can be downloaded.
Can I share my Audible account with a friend?
 The Amazon Audible has an option of Family Library sharing. You can share your books and audiobooks with other members of your Amazon House.
Latest posts by Ryan Harris
(see all)