The UCSB acceptance rate is an important measure to understand how competitive it is to get into this prestigious school.
In the 2021-22 admissions cycle, UCSB received a staggering 19,543 applications from aspiring scholars. Out of this large pool, only 7,924 applicants were offered admission, resulting in a 29% acceptance rate.
These numbers provide a clear picture of the level of competition prospective students encounter when vying for a spot at this institution.
In this article, we will have a look at the UCSB acceptance rate, providing a concise overview of the selectivity of the admissions process.
By examining admission statistics and the key factors that influence acceptance, I will guide you with essential insights to navigate your path toward securing a spot at UCSB.
Let's quickly get into it.
UCSB Acceptance Rate
According to recent data, the projected acceptance rate for the class of 2026 is around 25.9%.
UCSB has received more than 105,600 applications for the class of 2025. This suggests a 29% acceptance rate. Compared to the prior year, they received about 90,963 applications and accepted about 33,385 people.
This calculates the acceptance rate of 30% for the year 2023.
In recent years, UCSB's acceptance rate has been decreasing. The admission rate for 2019 was 35.6%. The acceptance rate was 34.5% in 2020. The acceptance rate was 33.3% in 2021.
This acceptance rate signifies the level of competition and selectivity associated with gaining admission to UCSB.
Here is a complete overview of the average acceptance rate for UCSB.
| | |
| --- | --- |
| Acceptance Rate | 32.2% |
| Average GPA | 3.85 |
| Middle 50% SAT scores | 1330-1520 |
| Middle 50% ACT scores | 30-34 |
| Number of Applicants in 2020 | 93,400 |
| Number of Admitted Students in 2020 | 30,296 |
What GPA Do You Need To Get Into UCSB?
The GPA required for admission to UCSB will vary depending on your other factors, like your SAT or ACT scores, your extracurricular activities, and your personal statement; therefore, there is no universally applicable answer to this issue.
However, the average GPA for admitted students is 3.85, according to the UCSB website.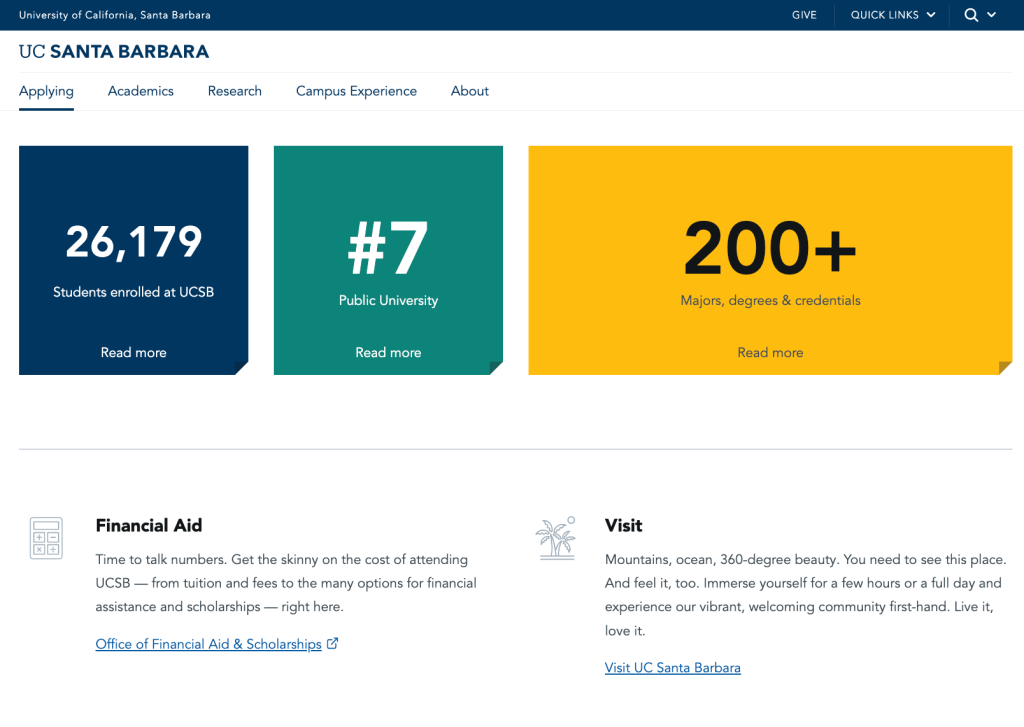 Here is a table that shows the GPA range for admitted students in recent years:
| | |
| --- | --- |
| Year | GPA Range |
| 2021-2022 | 3.68-4.03 |
| 2020-2021 | 3.58-3.96 |
| 2019-2020 | 3.48-3.90 |
It is crucial to remember that these are only ranges, and there will inevitably be exceptions. Some applicants with GPAs below the range and others with GPAs beyond the range have both received admission.
It is important to remember that these are simply ranges and that there will inevitably be exceptions. Others with GPAs over the limit were turned away, while other students with GPAs below the range were admitted.
You will also need to have high SAT or ACT scores in addition to your GPA. For admitted students, the average SAT score is 1330-1520, and the average ACT score is 30-34.
You must also have significant extracurricular activity and a well-written personal statement.
Essential Criteria To Be Accepted Into The UCSB
Here are the essential criteria to be accepted into UCSB.
Academics: UCSB looks for students with strong academic records. This means having a high GPA, taking challenging courses, and doing well on standardized tests.
Extracurricular activities: UCSB ensures the student is well-rounded with interests outside of the classroom. This means being involved in extracurricular activities that you are passionate about and that will help you demonstrate your leadership skills.
Personal statement: Your personal statement is your chance to tell UCSB why you want to attend and what you would contribute to the school. Make sure your statement is well-written and that it highlights your strengths and accomplishments.
Recommendations: Two letters of recommendation are required for your UCSB application. These letters should be from teachers or other mentors who can attest to your academic achievements and leadership qualities.
In addition to these essential criteria, UCSB also considers other factors, such as your intended major, your residency status, and your financial need.
Fees Structure At UCSB
To attend the University of California, Santa Barbara, full-time, in-state residents must pay a total of $36,949 a year.
This includes tuition of $11,442, housing and board of $15,903, books and supplies of $1259, and additional expenses of $2964.
Out-of-state residents pay a total of $66,703, which is 80.5% more than in-state residents.
This tuition charge includes $41,196 for tuition while other expenses stay the same: $15,903 for room and board, $1259 for books and supplies, and $2964 for other fees.
Related Read:
Final Words: UCSB Acceptance Rate (2023)
In conclusion, the acceptance rate at the University of California, Santa Barbara (UCSB) plays a significant role in shaping the university's competitive landscape.
With the precise figure varying from year to year, UCSB's acceptance rate represents the level of selectivity and demand for admission.
You should be mindful of this statistic, recognizing that the university's acceptance rate reflects a combination of factors such as the number of applications received, the qualifications of applicants, and the availability of spaces in the incoming class.
As UCSB continues to attract a diverse pool of talented students, the acceptance rate serves as a benchmark for measuring the university's competitiveness within the higher education landscape.
So what are your thoughts on this? Let us know in the comment section below.
Latest posts by Ryan Harris
(see all)