The transfer acceptance rate at the University of Southern California (USC) holds significant importance for prospective students seeking to join this prestigious institution.
With high competition, USC has a high transfer acceptance rate. In 2020, USC only accepted 11-12% of the freshman applicants.
In this article, we will talk about the USC transfer acceptance rate to provide a concise understanding of the competitiveness of the admissions process.
We will also have a closer look at admission statistics, highlighting key factors that influence acceptance. So if you are an aspiring transfer student, this article provides you with essential insights to navigate the path toward admission at USC.
Let's get into the details!
What Is The Transfer Acceptance Rate At USC?
The average transfer acceptance rate at USC is 22.1%. This means that out of every 100 transfer applicants, 22 are accepted.
The transfer acceptance rate at USC is relatively competitive, but it is not as competitive as the acceptance rate for first-year students.
It is seen that most of the students among the 22.1% of transfer students accepted are local to California. This does not mean that USC only accepts out-of-state students, but it prioritizes local students.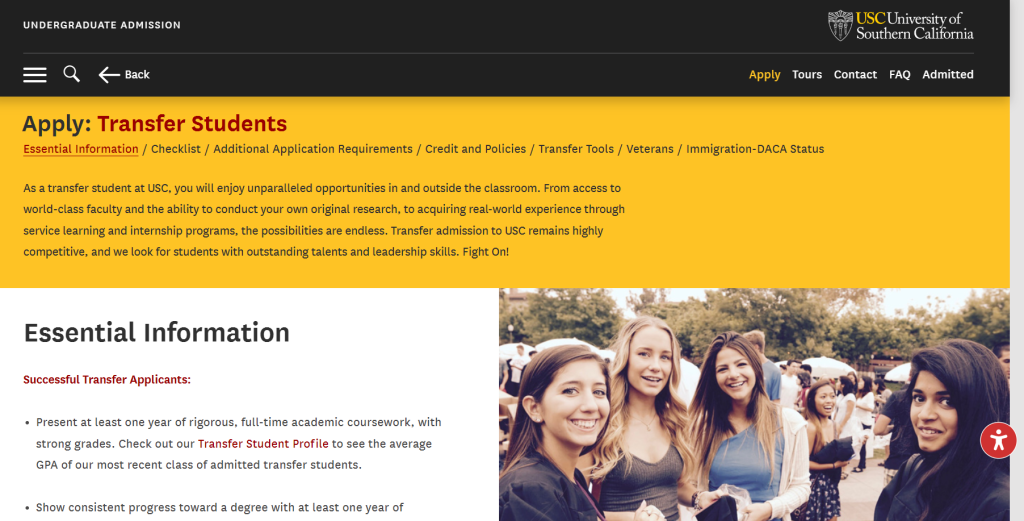 Around 74% of accepted transfer students are from California.
This statistic underscores the importance for non-local students to craft an exemplary application that stands out from the rest.
With an acceptance rate of 21.1%, only 2,208 out of 9,988 applications are accepted. This highlights the importance of ensuring that your application meets or exceeds USC's standards and goes above and beyond its expectations.
Let's have some historical data on the USC transfer acceptance rate:
In 2022, the USC transfer acceptance rate was seen at 23.6%. This means in the fall of 2022, out of 9,100 applicants, only 2,151 students were accepted to USC.
Similarly, in 2021, only 2,208 applicants were accepted out of the pool of 9,888 students. This indicates that the USC transfer acceptance rate in 2021 was 22%.
| | |
| --- | --- |
| Year | USC Transfer Acceptance Rate |
| 2020 | 27% |
| 2019 | 23% |
| 2018 | 25% |
| 2017 | 24% |
Documents Needed To Enter USC
To apply to USC, you will need to submit the following documents:
General transfer application.
Final high school transcripts.
Letter of recommendation.
Official college transcripts.
Transcripts from colleges you attended.
English proficiency exam results.
SAT or ACCT score
The primary resources you will need to include in your application are your high school and college transcripts. If you are not a native English speaker, you will just need to send the results of an English proficiency exam.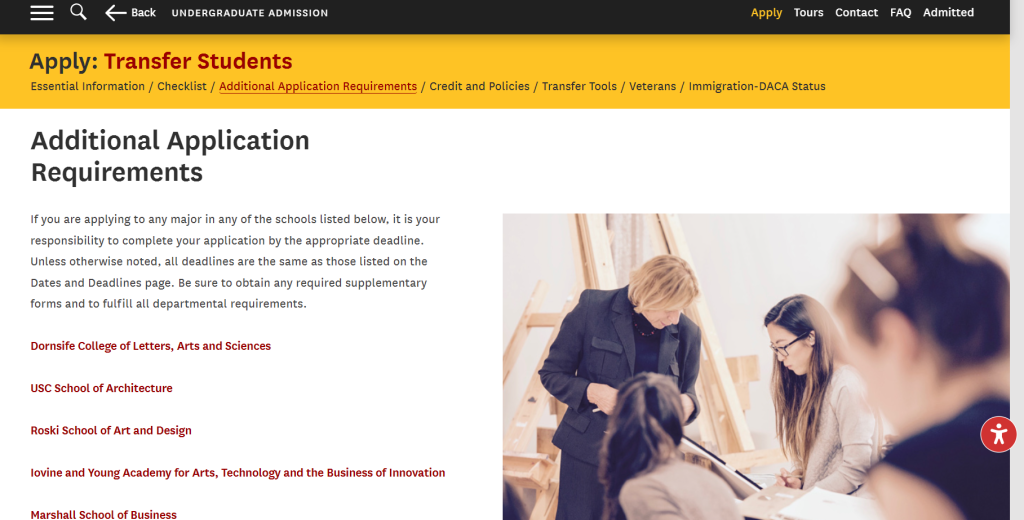 Remember that the resources needed will vary depending on the program you want to apply to. Different majors may necessitate adding extra resources to guarantee that you are qualified to enter that major.
The USC application would also include a few questions that are quite simple to answer. Take your time answering these questions to provide the best possible answer.
USC Average Transfer GPA
Now that you have an idea about the acceptance rate of USC, you should know what GPA is required to get accepted into USC.
The average transfer GPA at USC is 3.83. This shows that only 50% of admitted transfer students had GPAs between 3.70 and 4.00.
However, it is essential to note that GPA is just one factor that USC considers when evaluating transfer applications. Other considered factors include your coursework, extracurricular activities, personal statement, and letters of recommendation.
Is It Hard To Get Into USC?
Yes, USC is very difficult to get into. The acceptance percentage for the Class of 2017 was 11.5%, the lowest in school history. On average, one out of every nine applications was accepted.
There are several causes behind USC's competitiveness. For starters, it is a well-known and renowned university. It is ranked #22 in the US News & World Report rankings and is one of the country's most selective colleges.
Second, USC is in Los Angeles, a huge metropolitan location with plenty to offer students. In Los Angeles, there are countless options for internships, research, and extracurricular activities.
Finally, USC has a strong alumni network that can help students get jobs and connections after graduation.
So, yes, getting into USC is competitive. It is important to present your best self in the application and highlight your unique strengths and experiences.
Related Read:
Conclusion: USC Transfer Acceptance Rate (2023)
Wrapping up this guide, I would say understanding the USC transfer acceptance rate is important if you are looking to be a part of USC.
USC accepts around 24.57% of the transfer applicants, which is competitive.
Moreover, you must have a current GPA of 3.79 to apply easily, along with the applicable ACT or SAT scores.
By exploring historical trends, factors, and required acceptance rates, you can strategically plan your application and improve the chances of acceptance.
FAQs
When are USC transfer decisions made?
Transfer applicants will hear by May 31 if they have been accepted or if they need to submit their spring grades, according to the USC Undergraduate Admission website. If you are requested to submit spring grades, you will be notified of your admission decision by mid-July.
Is there a specific GPA to enter USC?
There are no particular GPA requirements for admission to USC. The average GPA for admitted students, however, is 3.79. This means that to be considered for admission, you must have a high academic record.
Is transferring to USC easy?
Transferring to USC is not simple. USC's transfer acceptance rate is 22.1%, which is greater than the 11.5% first-year acceptance rate. However, it remains a very competitive procedure.
Latest posts by Ryan Harris
(see all)